If you're looking to book a Helsinki to Tallinn Ferry then you have to choose Tallink ferries!
Their ferry line is not only supersize, taking 2800 passengers a time but effortlessly classy and they promise to get you there quickly and in style.
If you haven't already heard, Helsinki in Finland is only a short ferry ride away from Tallinn in Estonia, so it's the perfect place for a day trip. I mean, it's not every day you can tick off a new city, right?!
The Tallink Star and Tallink Megastar are gigantic cruise ships that are almost like hotel resorts over the seas.
They have supermarkets that cover two floors, bars, restaurants, a casino, a sun terrace, a business lounge, and even Burger King and Starbuck's! So, we're not talking about any old ferry here.
In this post, I'm going to cover in detail everything you need to know about the Tallink Silja Helsinki to Tallinn ferry and things to prepare before you go.
Update: for the latest updates on restrictions and safety, see here.
Helsinki to Tallinn ferry timetable
First up let's talk timetables as you will need to make sure that you're booking a good time slot to go.
Although the Helsinki to Tallinn ferry is only two hours and Tallink Silja has the most ferry options, they don't run at all hours of the day. So, you'll need to plan accordingly.
As I wanted to make the most of the day in a new country, I decided to get the 7.30 am ferry which gets you into Tallinn around 9.30 am.
The following ferry is at 10.30 am and this gets you in at 12.30 pm. To me, that seems like a lot of time wasted. But, you may want a sleep in and think differently.
The Tallink star on the way out from Helsinki to Tallinn runs at 7.30 am, 10.30 am, then 13.30 pm so if you're doing a day trip, I'd say the earlier the better. Especially in winter, as you have limited daylight!
Heading back on the Tallinn to Helsinki ferry you can return at 16.30 pm, 19.30 pm, and 22.30 pm. As 19.30 pm is the ideal peak time, this particular ferry is really busy. So, I'd make sure you book in advance of travel or secure a seat in their business lounge.
How much is the Tallink ferry from Helsinki to Tallinn?
A round trip from Helsinki to Tallinn on Tallink Silja ferries is 36 Euro's return on the route I took.
This includes passage onboard both the Tallink Star on the way out and the Tallink Megastar on the way back. I booked the 7.30 am ferry out and then the 19.30 pm ferry back.
If you were to go on the 10.30 am ferry this would cost slightly more as it's a peak time at 39 Euro's return. So, it depends on the times you want to travel. Weekends are considerably more expensive, so I'd try to plan your day trip in the week.
That is just the basic passage fee on the ferry. If you want to add on their comfortable lounge you will pay 24 Euro's extra each way per person.
The business lounge (which in my opinion is well worth it) is spacious and roomy, comes with high-speed WiFi, a scrumptious all-you-can-eat buffet, and a free-pour bar that will set you back 65 Euro's extra per person, each way!
FYI: these prices are on top of your basic ferry fee. So, if you did decide to upgrade to the business you'd be splashing out around 160 Euro's return. It does seem like a lot but keep in mind the food prices in Helsinki, 65 Euros for all you can eat and drink, including alcohol, is a steal!
If you're travelling in a car on board the Tallink Ferries you will also pay extra for this.
Tallink Silja terminal Helsinki and Tallink check in procedure
The Tallink Silja ferry terminal can easily be accessed by taking the tram to Helsinki West Harbour Terminal 2.
It's the last stop on the number 6T and 7 tram lines.
As the check-in finishes 30 minutes before departure, you will need to make sure you get an early enough tram. So, if you're getting the first ferry at 7.30 am this means an early start!
I was so thankful that I was on a business class fare so I pretty much flew through check-in with their dedicated priority line.
The queue for the regular ferry tickets was quite lengthy so I'd make sure you arrive in plenty of time before departure.
Access to the ferry is 40 minutes before departure, so if you're on a business or comfort lounge ticket you can make the most of it!
If you'd prefer there are some self-service machines in the terminal or you can save time with their app.
Do I need to bring my passport on the Tallink ferry?
YES, as you're travelling to another country you will be asked to present your passport to the check-in desk when you check-in at the Tallink ferry terminal in Helsinki.
As I am an EU passport holder, I did not need a visa to enter Tallinn on this short visit but always check beforehand if this applies to your country before you book.
You can check Estonia Schengen visa requirements here.
Tallink ferry terminal in Tallinn and Tallinn ferry check in procedure
The Tallinn ferry will be parked where you left it at the harbour at Tallinn D Terminal.
It has its very own Google Maps pin but it's really easy to navigate from the Old Town as It's only a 15-minute walk and is well signposted.
The great thing about being on a day trip from Helsinki to Tallinn is that you should already have your return tickets with you from the Tallink terminal in Helsinki.
So, you don't need to queue in the Tallinn ferry terminal and you can just scan your tickets straight away to board the Tallink ferry in Tallinn.
This makes the process so much smoother and means more time to enjoy in the capital of Estonia!
But, if you did need to queue you can go through the same process as you did in the Helsinki Tallink ferry terminal. Check-in time again closes 30 minutes before departure.
Access to the ship begins 40 minutes before leaving, so you can make the most of that business lounge or grab a good seat for the journey.
Why you should choose the Tallink Silja line for your day trip to Tallinn!
1. It only takes two hours to sail from Helsinki to Tallinn so it's the perfect day trip
In only two short hours, you will sail into a completely new country and city, how cool is that? Although two hours seems like a long time to travel, it really does fly by on Tallink ferries.
Not only do you get some amazing views of the Baltic sea but there's a whole lot of distractions on board. You can order a drink at the bar, warm yourself on the sun terrace (although it was pretty nippy in April), grab a bite to eat, or go shopping!
Before you know it you'll be pulling into harbour and ready for your next adventure.
2. They have two incredible ferries, The Tallink Star and Tallink Megastar
The Tallink Silja ferry line has huge ships which carry a maximum of 2800 passengers at a time and 45 vehicles!
They are almost like a resort on the water, so there's lots of space to move around. The main ferries in operation for the Helsinki to Tallinn route are the Tallink Star and the Tallink Megastar.
Tallink Star
The Tallink Star shuttle has undergone some huge renovations and it has a brand new shiny makeover! Some new additions are the classy A la carte restaurants on board.
This ship has a delightful buffet, pub seaport, casino area, Burger King, Starbuck's café, and sun terrace at the back.
There is also a supermarket, perfume, and trend shop so there's no limit to the number of things you can do onboard.
You can book three classes;
The Star Class: this is the normal ticket which gets you access to public areas and you buy food from the restaurants on board
Comfort Lounge Class: which allows you a comfier seat, snacks and non-alcoholic drinks.
Business Class: The best part is the roomy business lounge which includes WiFi, newspapers, tax free menu and all you can eat buffet with drinks including alcohol.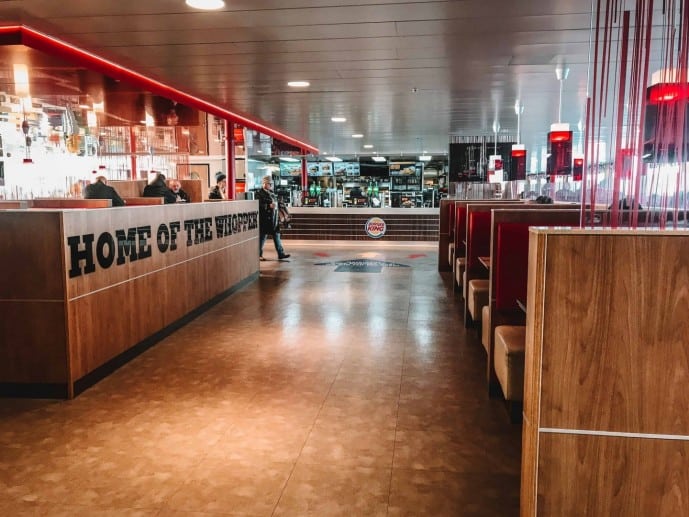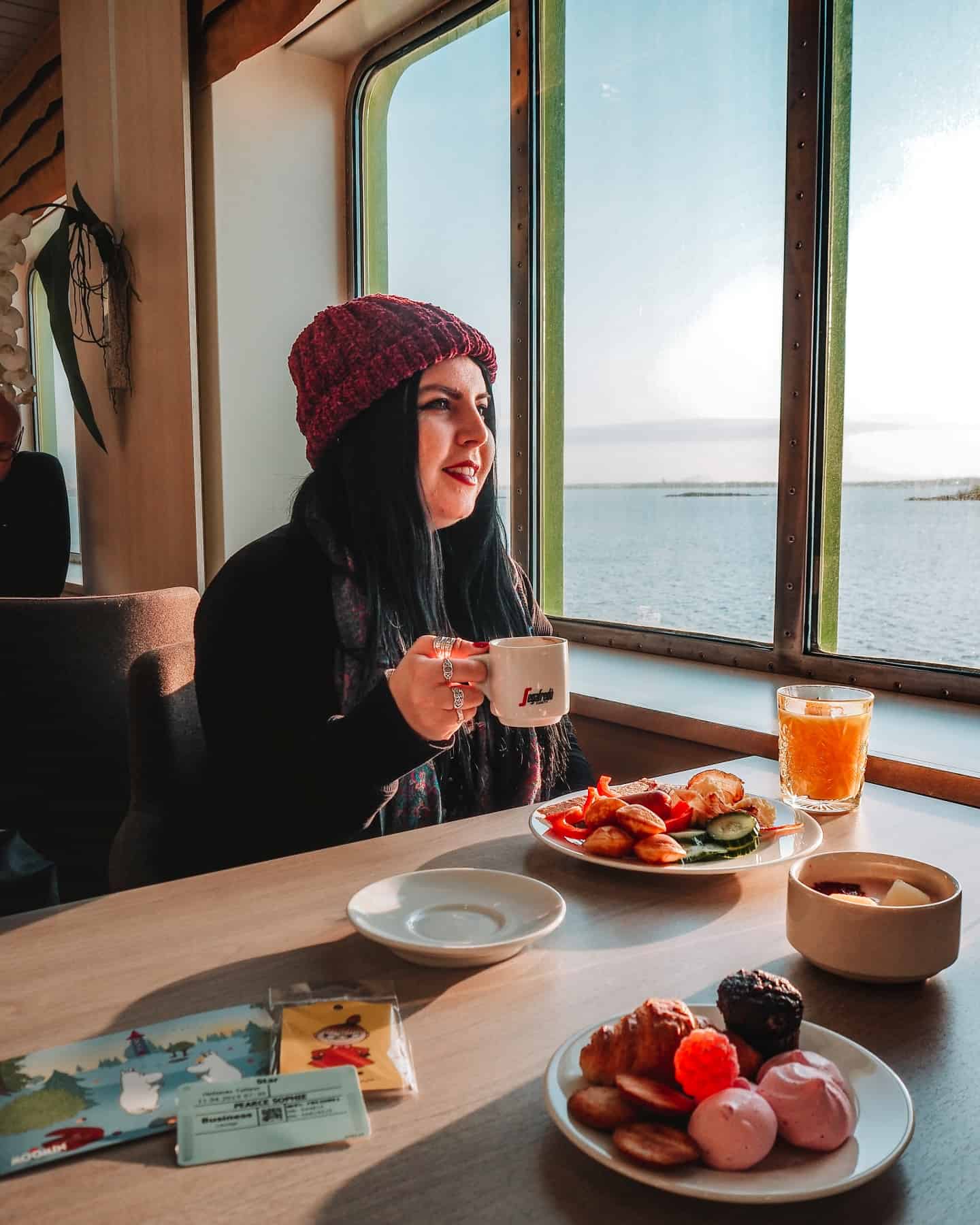 Tallink Megastar
The Tallink Megastar is a beautiful ship and the newest addition to the Tallink Silja Line.
It's 2122 metres in length and has a supermarket superstore on two floors covering 2800 square metres. The shops are endless and you can buy alcohol, sweets, souvenirs, perfumes a lot.
Some of their restaurants were designed by Vertti Kivi a highly revered Finnish designer. There are lots of food choices onboard including a delightful buffet, chef's kitchen, fast lane, and Burger King. You can also have a drink in their café and two bars onboard.
Their business class lounge is super chic with a contemporary design. Although the 19.30 ferry was peak time and crowded in the general areas, it was incredibly roomy in business. There was so much space!
3. You can travel in style with the Tallink ferry business class
If you have enough cash to splurge on Tallink ferry business class, I would highly recommend you do so.
As the Helsinki to Tallinn ferry gets quite busy with as many as 2800 passengers, you may be struggling for space and to find a seat.
But, if you upgrade, you're guaranteed to have a seat in Tallink business lounges with room to spare.
You also get a priority check-in which was a lifesaver with an early ferry time to skip the long queues and you're welcomed on board with a refreshing towel and mints.
Tallink ferries really speak your language in the lounges. They provide newspapers, all-you-can-eat food and snacks, unlimited coffee, free pour alcohol, and non-alcoholic drinks should you choose. On the Megastar, there was even wine on tap!
On the way to Tallinn, I had a really filling breakfast to set me up for the day and a scrumptious dinner on the way back. There were salads and a wide range of international dishes, including the quintessentially Finnish elk meatballs.
As we sailed at 19.30 pm and we didn't pull into port until 22.00 pm, it was great to get dinner included.
They also had FREE high-speed WiFi, so it's perfect if you need to work or to keep in contact while you're sailing.
I absolutely loved my experience in Tallink business class and it made the whole journey relaxing. At an extra 65 Euro's per person over the standard ferry fee, it's a steal for all that's included.
4. You will see the most spectacular views of the Baltic sea
The thing I love most about cruising is the amazing views you pass along the way and the Helsinki to Tallinn ferry route did not disappoint.
Because Helsinki is an archipelago of 330 islands you can see many of them as you're passing through the strait.
In business class, I had a booth with a window so I could see them all from the comfort of my table while eating breakfast.
But, there is also a sun terrace to enjoy the incredible views as you sail away. On coming back from Tallinn, we were treated to the most epic sunset which set the sky on fire.
In Finland, I was always amazed at how long their sunsets lasted and the pink skies which remained. Even at 10 pm, two hours after the sunset, it was still going strong.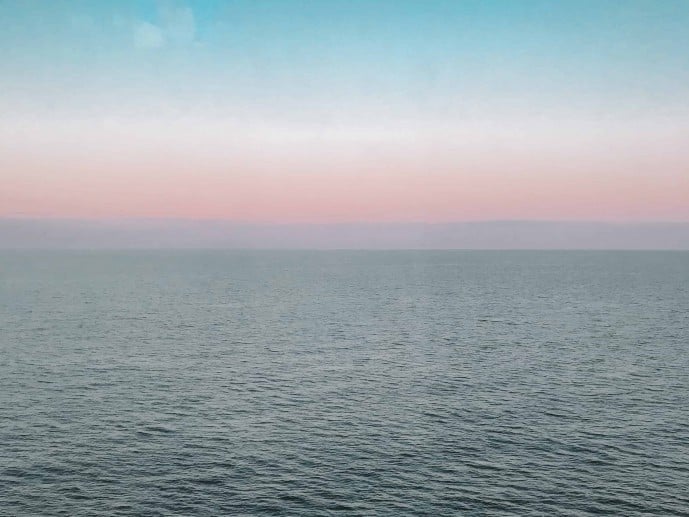 5. Tallink ferries have shops, restaurants and home comforts on board
I loved the wide range of shops onboard the Tallink ferries, the Megastar is even nicknamed the shopping cruise as their traveller superstore covers two floors at 2800 square metres, the equivalent of 11 tennis courts!
Here you can shop until you drop with clothes, jewellery, perfumes, souvenirs, alcohol, and sweets.
They have food for all budgets ranging from a Burger King and Starbucks to your delight buffets and the classier a la carte outlets. There are also bars, arcades, and even a sun terrace if you just simply want to take in the view.
You'll definitely never say you're bored on board, that's for sure.
6. It's a short walk from Tallink ferry port to Tallinn, a fairytale city in Estonia!
Two hours seem to fly by onboard the Tallink Star ferry and you'll soon leave the shores of Helsinki and dock into Tallinn in Estonia!
From here it's a short 15-minute walk to the Old Town square. If there was a city of my dreams, Tallinn would really be it.
The skyline looks like it's straight from Grimm's Fairy Tales, with towers, cobbled streets, ramparts, church spires, and colourful old buildings.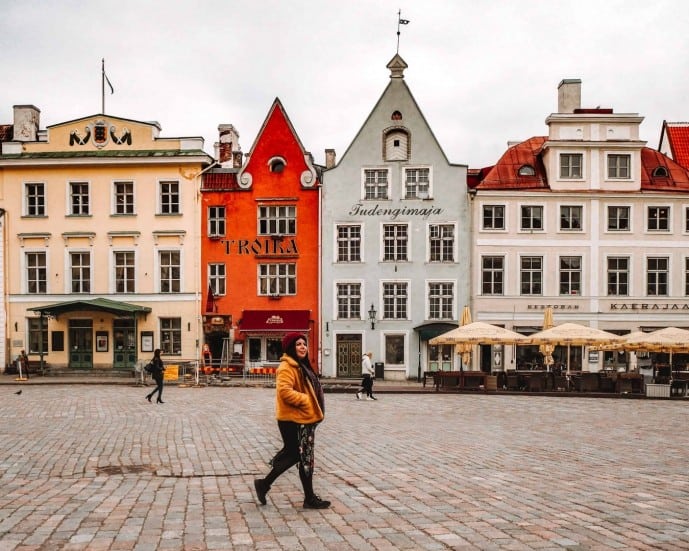 What to do while in Tallinn
You can wander around and simply take in the viewpoints here or visit their many museums and climb some of the walls and towers.
Climb to the top of Olaf's tower for a spectacular view of the whole city. The market square is at the heart of the old town and, from here, you can explore all the cute streets surrounding it.
They also have fun free walking tours by Tales of Reval, where the guides tour in medieval dress.
If you want to explore some of the museums and attractions I would highly suggest you buy a Tallinn Card which will get you FREE access to many of the city's highlights and public transport for the day.
Don't forget to try some of the hot wine while you're here, it's almost essential! Pop into Olde Hansa for some Medieval fun with their tasty mead or grab some lunch in the Rataskaevu district.
There's so much to see and do with a day trip to Tallinn, you'll be spoilt for choice. But don't forget to keep an eye on the time, you're heading back to Helsinki remember!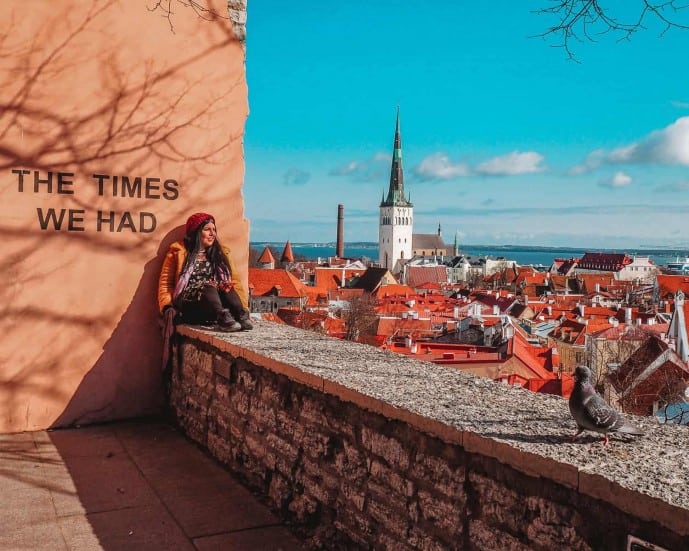 Like it? Pin it!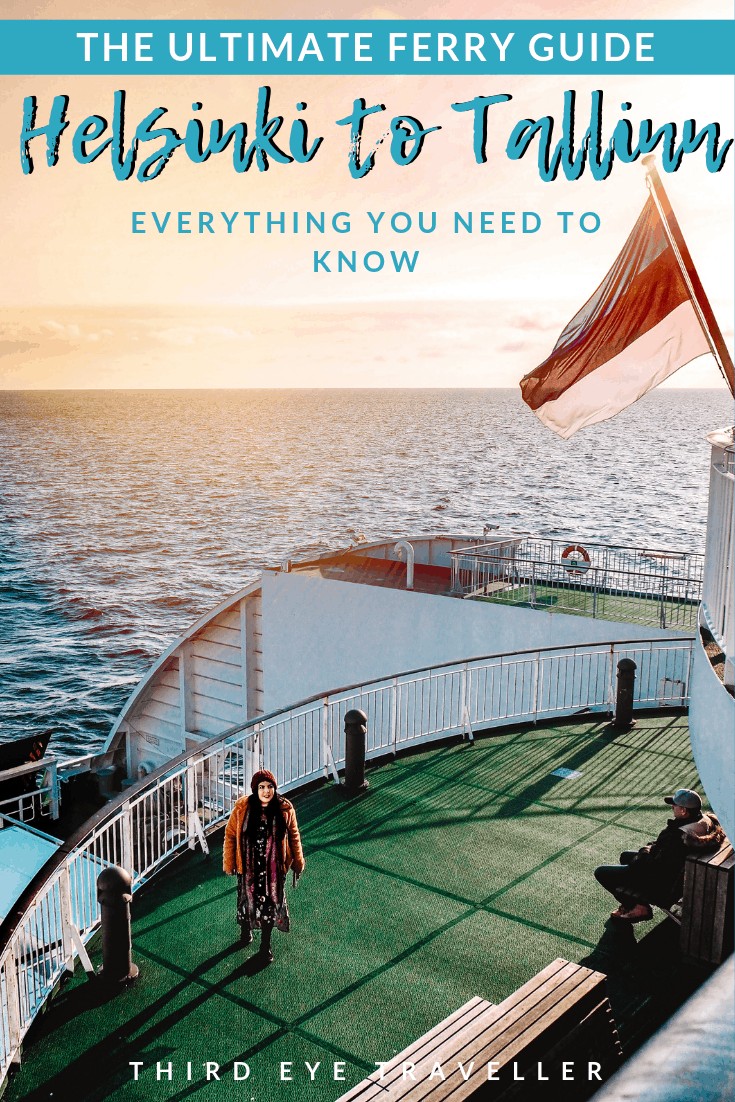 With thanks to Tallink Silja for inviting me on board, it was a pleasure to sail to Tallinn with you in your business class lounges. I was here as part of a press trip with My Heslinki. As always, although I was a guest, all opinions and photos are my own.