This Estonian capital is full of breathtaking viewpoints and buildings. So much so, you'll definitely want to photograph a few of these Tallinn Instagram spots when you visit!
Every corner of this city had a colourful street, vantage point, adorable café, gorgeous door, an inspiring building or historical story to tell.
These act as the perfect muse and backdrop for your Instagram feed.
So, you've got your camera and your game face on. Are you ready to get capturing and make that square grid on point?!
Here's a list of the most photo-worthy Tallinn Instagram spots.
How to get to Tallinn
Estonia borders Latvia and Russia in Eastern Europe and Tallinn is on the edge of the Baltic Sea. I actually visited Tallinn on a day trip from Helsinki.
There are many ferry options available. I took the Tallink Silja line ferry and it was an extremely comfortable two-hour journey.
I went business class and so had a nice buffet breakfast with amazing views of the Baltic sea on my journey!
Flying here from Russia, Finland, Latvia is very reasonable and you can get the high-speed train from here and St Petersburg too.
How to get around Tallinn
I found that Tallinn, and most of the spots on this list, were easily accessible on foot. Especially in the Old Town.
If you don't have a mobile with GPS, it's always handy to pop into the visitor centre and grab a map to find your way around.
A lot of the tourist maps have all the main tourist spots highlighted.
If you're planning on leaving the Old Town, it may be worth getting a Tallinn Card for your trip. Not only does this get you into some of the top attractions in the city, but it also gets you FREE transport too.
You can get a 24-hour card, 48-hour card, and more. See here for all the options of the Tallinn Card available.
12 Tallinn Instagram spots to add to your list
1. The Times We Had Wall / Kohtuotsa Viewing Platform
This is probably the spot you have seen most often on Instagram. The famous 'The Times We Had' wall.
It's called Kohtuotsa Viewing Platform and provides an epic view of the Old Town, the ocean, and the Gulf of Finland in the background.
No one really knows who put the message there or the exact meaning, so I'll leave that up to your imagination. But, it makes for one hell of an Instagram photo!
It's open 24 hours a day, is free to visit, and is quite easy to locate on the Northside of Toompea Hill. It's one of the most Instagrammable places in Tallinn!
Note: This sign has now been painted over (badly) due to graffiti. Hopefully, they repaint it soon. The views are still stunning though.
If you want to read more about this specific point, see my guide: How to Find The Times We Had Wall!
2. Alexander Nevsky Cathedral
This Orthodox Cathedral is a reminder of the Russian colonial heritage in Tallinn. Once upon a time, Tallinn was part of the Russian Empire and so Tsar Alexander III commissioned the design from Mikhail Preobrazhensky in 1894.
It was dedicated to Alexander Nevsky, the Prince of Novgorod, who won the Battle of Ice at Lake Peipus in Estonia. It was meant to be demolished when Estonia regained independence as it caused great controversy.
But, now, it's a beautiful work of architecture with its iconic onion domes! It's also home to the largest church bell in Tallinn weighing a whopping 15 tonnes. This is one of the top Instagram spots in Tallinn.
It's located on Toompea hill and is FREE to visit. This one is pretty hard to photograph as it's a huge structure, but you can get a little creative with composition for a gorgeous photo.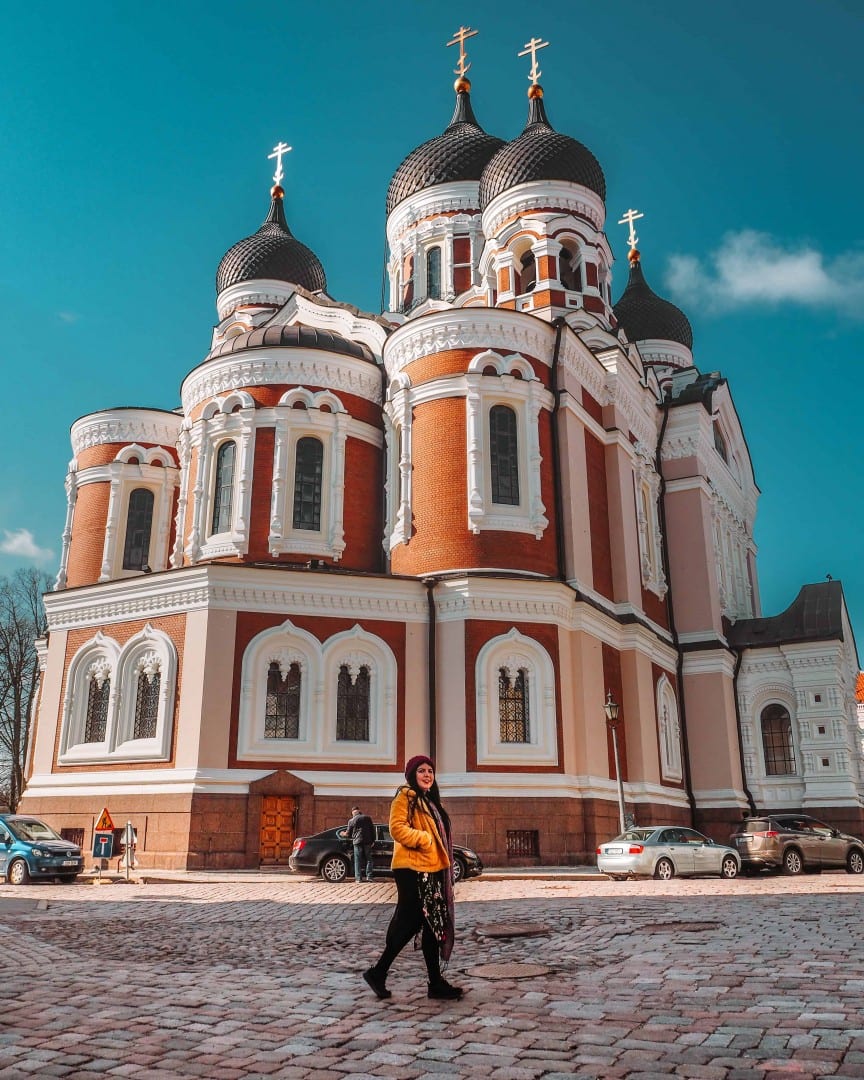 3. Patkuli Viewing Platform
Nearby Kohtuotsa viewing platform on Toompea Hill is Patkuli viewing platform which sits on a limestone cliff in the Old Town.
This is definitely one of the best Instagram spots in Tallinn and is as pretty as a postcard!
From this point, you can get a fairytale view of the Old Town, with its Tallinn Towers, St Olaf's Steeple, The Baltic sea, and beyond!
It can be a busy spot with tourists visiting from cruise ships so it's best to visit during off-peak hours (before 10 am and after 5 pm).
To read more about this viewpoint, see my complete guide for the Patkuli Viewing Platform here.
4. Town Hall Square
One of my favourite parts of any historical European city is their colourful squares with the most resplendent architecture and colours. Tallinn did not disappoint and is home to some beauties!
As you may have guessed the square sits in the heart of the Old Town and has the gothic Town Hall at the helm. Throughout history, this Town Hall took a parliamentary role and even acted as a prison and courtroom!
There are many restaurants in the square and, from here, you can visit one of the oldest apothecaries in the city. Did you know they used to sell Marzipan as a cure for a broken heart?! True story.
What we're interested in for photos is the gorgeous colourful architecture. When I visited at 3pm in April, there was hardly anybody about it! So, it's really easy to get a photo at any point of the day. I can't say the same if you visit in summer, however.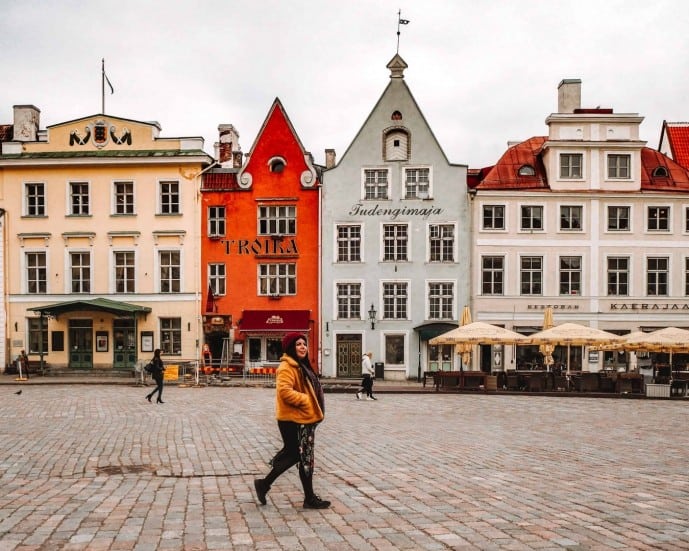 5. St Olaf's Church Tower
The most epic bird's eye view you can get of Tallinn is the view from St Olaf's Church Tower.
Do you know that massive, dramatic church steeple you've been staring at all day? Well, you'll be standing on TOP of it! Yep, you read that right.
It's 232 steps to reach the top of the tower, so be prepared for sore legs, but the views you receive are SO worth it trust me.
I have to admit, Glogg (or Hot wine) was like my lifeline with the zero degree temperatures, so I definitely regret some of my life choices before this climb.
Cue, the wheezing and stopping every few mins much to the annoyance of people behind me! Oops sorry, guys.
But, I honestly could not believe my eyes with this view. That's why it's one of the best Instagram spots in Tallinn.
It's only open from March – October and closed for the rest of the year.
If you want to read more about visiting and what to expect, see my guide for the St Olaf Tower here.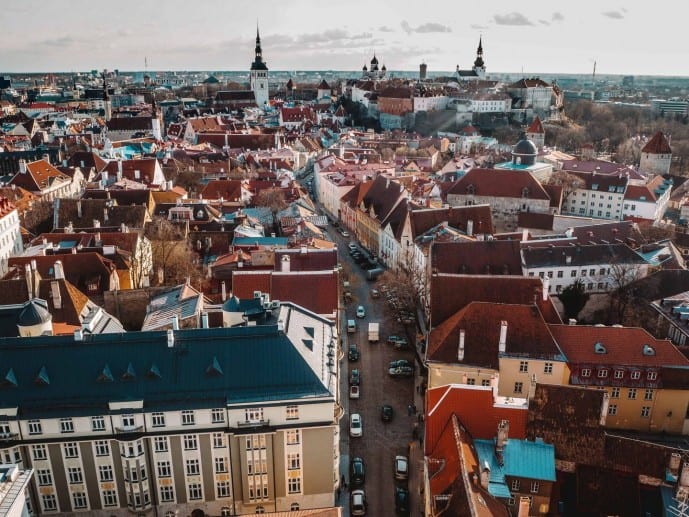 6. Danish Kings Garden / Breathe Baby Sign
The Danish Kings Garden is a big tourist spot in the city, not only for its incredible views but also for its significant chapter in Tallinn's history.
In the 13th century, the Danes invaded Estonia and defeated them in battle. Supposedly, this is the spot where a flag fell that helped King Valdemar II to victory.
That flag became the flag of Denmark and to this day Dannebrog, or the day of the Danish flag, is celebrated here.
You can get some incredible views of the St Nicholas Church and the city beyond. Or, if you're looking for a more Insta worthy spot there is a Breathe Baby sign as you walk in!
For more breathtaking views of Tallinn see my guide to all the best viewpoints in the city here!
7. House of the Brotherhood of Black Heads or Mustpeade Maja
There are plenty of amazing Tallinn Doors to photograph. In fact, people make it a mission to capture as many as possible. But, if you only have time for one, make it the entrance to the House of the Brotherhood of Blackheads.
The brotherhood was made up of unmarried ship merchants from Estonia and Latvia, who set up a trade guild in Tallinn.
This building was previously their headquarters and now it stands in Hamburg in Germany.
It is possible to enter the building on certain days but for photos, the colourful door outside will be your Instagram spot! It's featured on so many postcards of the city.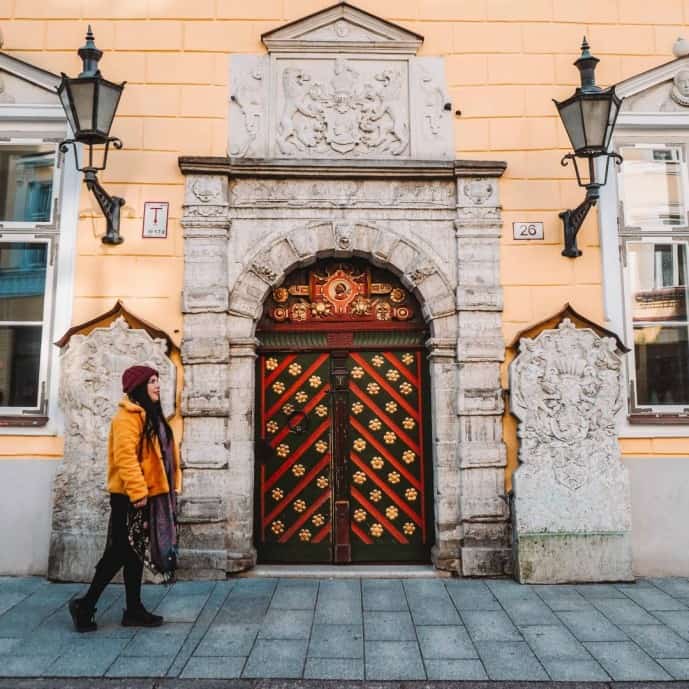 8. St. Catherine's Passage
St Catherine's Passage or Katariina käik is a little street hidden away in the Old Town and is one of the finest examples of a Medieval laneway in the city.
It's got the nickname Monk's Alley and you can find lots of ancient tombstones attached to the walls.
It's completely gorgeous and well worth a wander around. You can also find the St Catherine's Guild that has lots of boutique stores selling handmade products.
9. Pikk Street
Some streets in Tallinn are just so effortlessly picturesque and almost made to be captured. The colourful Pink Street is a fine example of this.
The thing I loved most about arriving in Tallinn in the off-season was how quiet it was! It was chilly but I loved the fact that even though I arrived late on a cruise ship it was like a ghost town and so perfect for photography.
There are many areas around Pikk that are picture-perfect including this amazing Art Nouveau building 'Apotheca'.
10. Kiek in de Kök
Kiek in de Kök means a peek in the kitchen as legend has it that soldiers used to look inside the kitchen from this tower.
This mighty defense tower was the strongest medieval tower in the Baltics.
It's also one of 21 towers still standing out of 36 that were built to defend Reval (old Tallinn).
You can make your way up to the very top to get some incredible views of Tallinn, the Maiden Tower and Toompea Hill.
11. Tallinn City Walls
As well as the towers, visiting some of the old city defense walls in Tallinn has to be up there as a priority on your bucket list.
There are many Tallinn city wall museums you can visit dotted around the city but one of my favourites was 'Neitsitorn'.
The entrance is located in the Danish King's Garden and it's a café as well as a museum. You can walk between the Maiden's Tower and Kiek in de Kök learning about the cities history and defenses as you go.
You will need to pay to enter the museum to enjoy a drink in the café but I think it's worth it. Treat yourself to coffee, a bite to eat, a local beer, or even Glogg that is the equivalent of mulled wine!
I had a great time enjoying the view and keeping warm. It's also a great photo opportunity.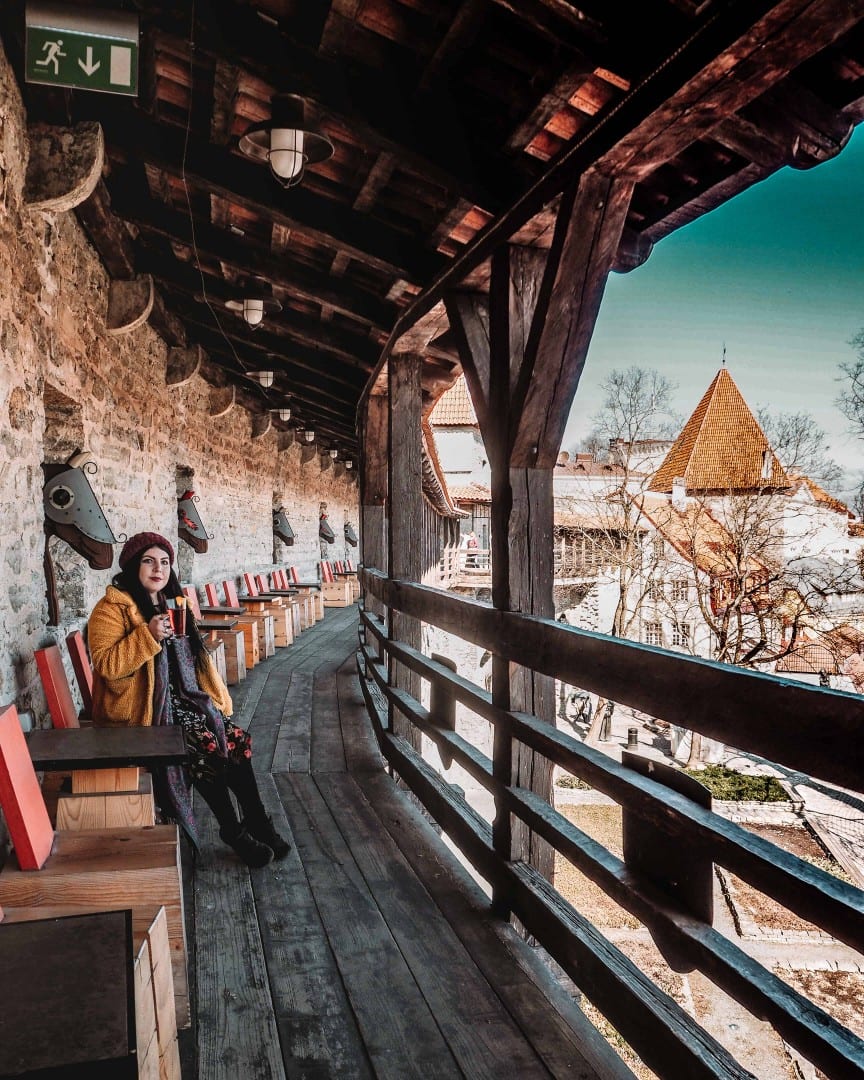 12. Saiakang
One of the cutest streets in Tallinn is Saiakang or "white bread". The name comes from all the bakeries that used to be in the area.
It still does have many and some cafés where you can pop in for a drink.
It's also home to one of the cutest buildings you will see which is the Little Red House or Oma Asi, selling unique artist creations. It's picture-perfect and well worth a visit.
Where to eat in Tallinn
There are so many places to eat in Tallinn you may have a hard time choosing. But, I'll try and help you out with a few popular choices.
A typical tourist thing to do (but, before you groan it is actually cool) is to have a drink or some lunch in some of the Medieval restaurants in the city.
My personal recommendation would be Olde Hansa. It's a traditional Hanseatic Tavern where you can pick up a medieval platter or some Mead. All of the recipes are traditional from the 15th century and their mead is specially prepared.
Or, why not head away from the tourist area and join the locals with a bite to eat from Rataskaevu?!
Rataskaevu 16 is by far the most popular and serves up some scrumptious traditional Baltic food. I found the prices very reasonable and they had lots to offer on the menu.
Read more – my complete guide for Olde Hansa in Tallinn!
Looking for more than just Tallinn Instagram spots?
So, that's all the breathtaking Tallinn Instagram spots you can find in Tallinn.
If you're after more than just Instagrammable places in Tallinn, there are plenty of places to visit in the Old Town and newer districts.
I only visited here for the day but that was more than enough time to explore the city, get acquainted and fall head over heels in love with it!
There's so much to see and do in Tallinn I've created a massive list of things to do in Tallinn Old Town to give you some inspiration.
Save these Instagrammable places in Tallinn for later!
With thanks to My Helsinki for sponsoring my trip to Tallinn and Visit Tallinn for the 24-hour card. Although I was a guest, all photos and opinions are my own.