Everyone who visits the Estonian capital wants a photo with The Times We Had Tallinn viewpoint. I mean, if you didn't get a photo to make your friends jealous, did you even go?!
Haha! I'm just kidding, but Kohtuotsa Viewing Platform is without a doubt one of the best views of Old Town Tallinn.
When I arrived it was one of the first things I wanted to visit, so I started the search for this Instagram-worthy viewpoint.
Here's a complete guide on how to find The Times We Had Tallinn viewpoint or Kohtuotsa viewing platform.
Note: This sign has now been painted over due to graffiti. The views are still gorgeous but the text may no longer be there. Fingers crossed they repaint it soon!
The Times We Had Tallinn meaning & history
Now, I don't know about you but when I first saw the words on the wall, I let out a little sigh. Aw, that's so…bittersweet! I guess it depends on who is reading it.
When I tried to do some research on what the sentence meant or how it got there, it didn't reveal anything at all.
I guess that's the magic of this viewpoint and the beauty is in the eye of the beholder to interpret.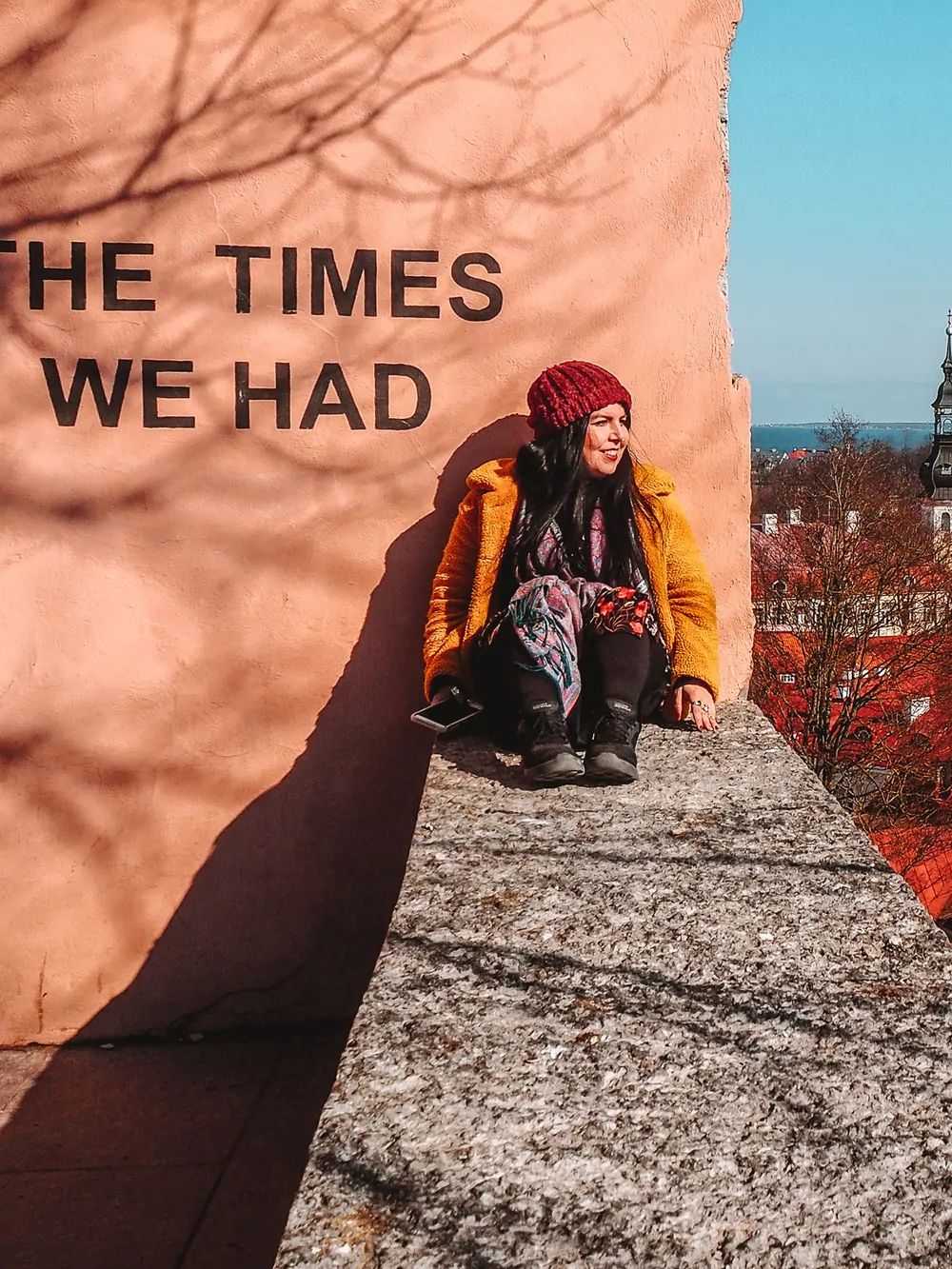 Kohtuotsa viewing platform opening times
As the Kohtuotsa Viewing Platform lies in the Old Tallinn city walls, it's actually open 24 hours a day.
So, you can visit at sunrise, sunset or even at night if you wish! There aren't any barricades or gates to shut you out.
It's a photographer's dream; to not only avoid the crowds but get the best lighting too.
Unfortunately, I was on a quick day tour from Helsinki so I didn't have either of those options. But, the viewpoint is really quiet and accessible, even with tour groups who give people wanting photos with the wall some space.
How much does it cost to visit The Times We Had Tallinn Viewpoint?
Like most touristy places or Instagram spots, I was expecting to pay to be able to take a photo here!
But, as The Times We Had Tallinn Wall is part of the Old Town Tallinn walls, it's completely free to visit at any time of day.
How to find The Times We Had Tallinn Wall?
The Times We Had Tallinn Wall or the Kohtuotsa Viewing Platform is located on the Northern side of Toompea hill.
I arrived from Helsinki by ferry and found it was really easy to access everything on foot around the Old town. But, if you're staying further away, you should definitely invest in a Tallinn Card which not only gets you into over 50 attractions in the city but FREE transport too.
The easiest way to locate the wall is to head up towards the Russian Orthodox Alexander Nevsky Cathedral and then find Kohtu Street from there.
The Times We Had Wall address is Kohtu 12, 10130 Tallinn, Estonia or you can use this handy Google Map pin to follow directions while you're here.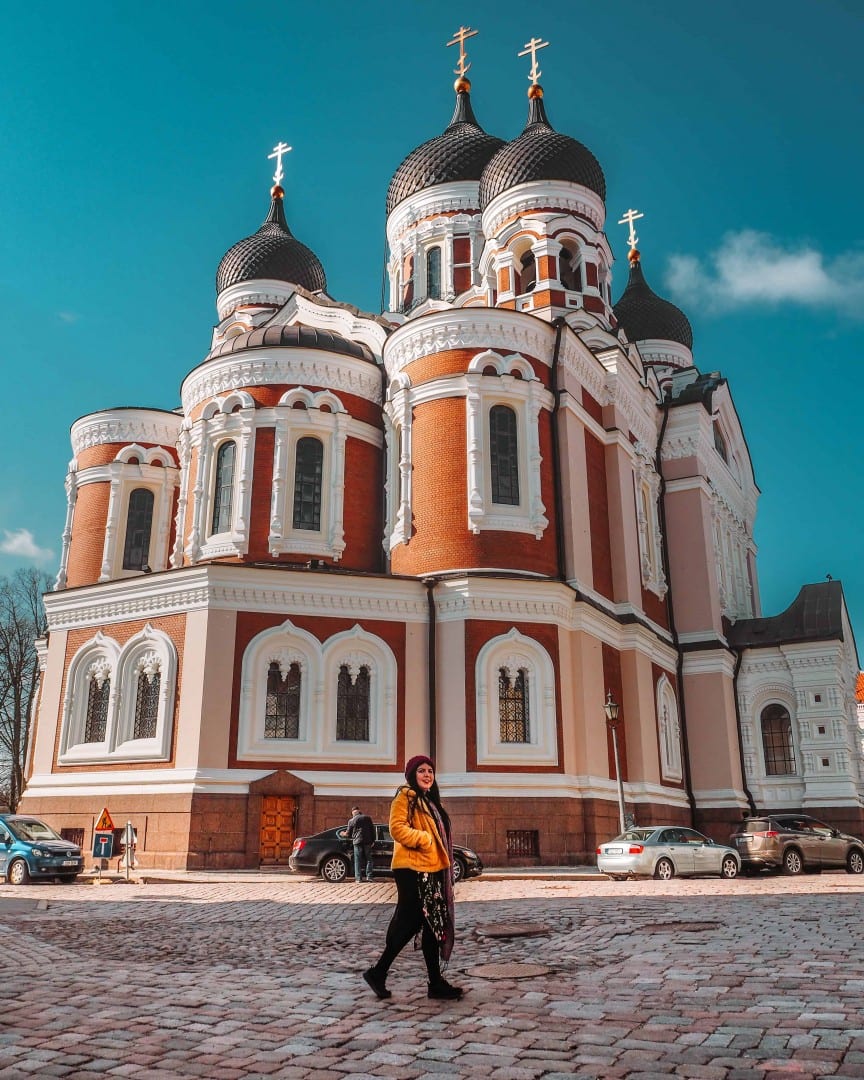 What is there to do at Kohtuotsa viewing platform?
The obvious one is to admire the view! The Times We Had Tallinn wall is here to take a snap with the most amazing backdrop of Tallinn Old Town, with its red rooftops and gorgeous church spires. You can also in the far distance see the Gulf of Finland over the Baltic Sea!
You may be lucky enough to meet Stephen the Seagull while you're here too. I met him but wasn't able to get a photo with him. I guess I had to get a photo with Peter the Pidgeon instead?! Remember to tag #Steventheseagull in your shot.
In winter when I arrived there was a Glogg stand that sells Mulled Wine or there are a few souvenir shops and art galleries you can wander into.
In the Summer, there is a café here where you can enjoy a drink while admiring the view.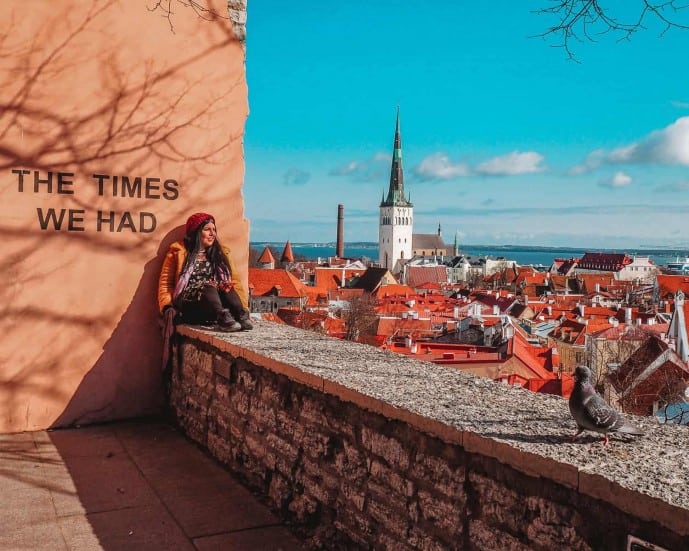 Find more viewing platforms in Tallinn!
Did you know there are so many viewing platforms in Tallinn to enjoy?
As everything is really easy to make your way around on foot, you should check out all of them to take in some beautiful views of the city.
Some of my favourites were;
The Breathe Baby Sign in the Danish Kings Garden
Kiek in De Kök city walls
Read more: The best views in Tallinn guide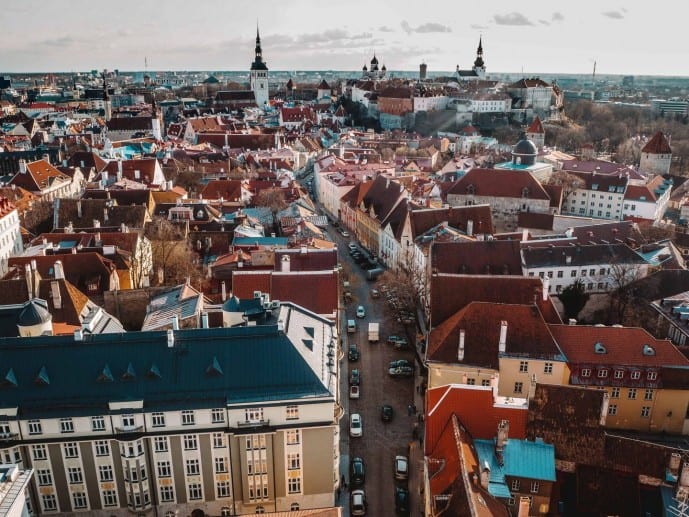 Find more things to do in Tallinn Old Town
I only had 24 hours in Tallinn but that was more than enough time to explore heaps of attractions in the Old Town.
I marvelled in the city square and Town Hall, drank and ate in Medieval bars, visited colourful Tallinn Doors, drank Glogg on the city walls, and climbed up Olaf's tower (not such a great idea on Glogg and Beer I admit).
You'll have the most epic time in this fairytale city and so I've written up a complete guide that gives you all the things you get up to in the Old Town of Tallinn here. Or, check out my complete list of Tallinn Photography spots.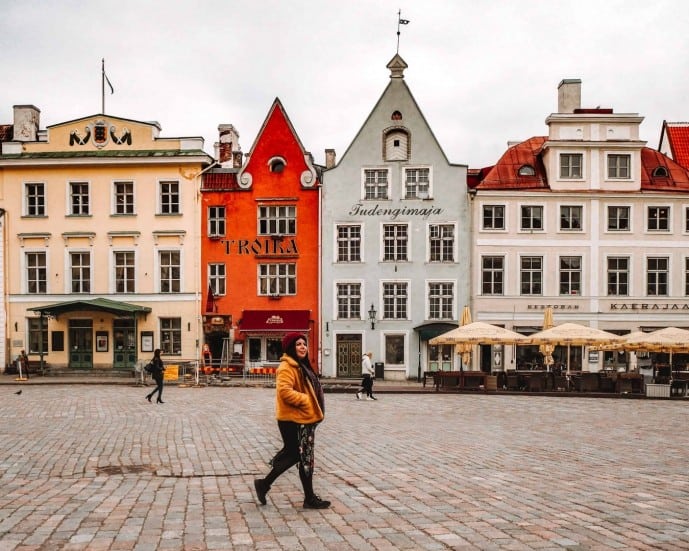 With thanks to My Helsinki who sponsored my trip and Visit Tallinn who gifted me a 24-hour pass to explore the city! Although I was a guest, all photos and opinions are my own.
Save how to find The Times We Had Wall Tallinn for later!