As soon as I knew I was flying into Finland, there was one thing I knew I was going to see a lot of; Moomins!
As it was a part of my childhood, I was dying to experience Moomin culture in some way or another.
So, when I found out about the Moomin Café Helsinki, I pretty much skipped straight there.
Let's get something clear, Moomin's are not just for kids, okay?! In fact, Tove Jansson, the creator of the Moomins, initially never intended her books to be enjoyed solely by children.
Looking back and reading the books now, there are so many mature topics like death, alcohol, sexuality, and smoking that simply go over children's heads. Even my own as a child.
Moomins are a national icon in Finland, have inspired generations, and are a huge household name to Finns.
Families in Finland will collect Moomin mugs and memorabilia as sought-after collector items. So, it's not just a fad of tourist hype, it's actually experiencing part of the culture too.
As a 90s kid, Moomin's were a part of my childhood.
I used to love reading books, and getting to know the characters, and remember watching cartoons on a Saturday morning.
My favourite characters were the sassy Little My and the caring Moominmama. Probably as she let you choose your own dessert haha!
So I definitely found my happy place here in Helsinki. Here are all the reasons why you need to visit the Moomin Café Helsinki!
2023 The Moomin Café is now at Helsinki Airport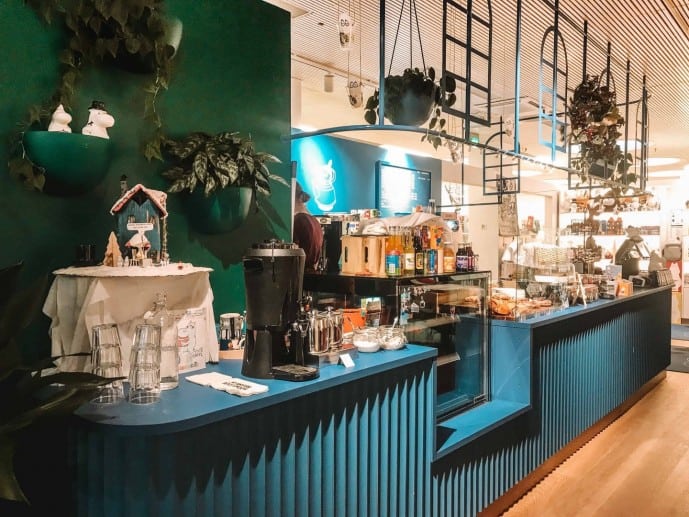 What and who are the Moomins?
If you have no idea about the Moomins and you're curious to know more about who they are, I'll be more than happy to shed some light on the matter.
The Moomins are a fictional troll family and they live in beautiful Moominvalley in their Moominhouse, a place full of nature.
They're a large, white, and roundish family with large snouts! Although a lot of people refer to them as Hippo they are actually meant to resemble Finnish trolls.
The family is Moominpapa, Moominmama, and Moomintroll. But, there are other trolls like Snorkmaiden, Moomintroll's girlfriend, and Snork her brother.
As well as the Moomin Family they also have friends like Snufkin, Little My, Stinky, and the Groke. All have their own distinct personalities which play a part in the tales.
Reasons why you need to visit a Moomin Café in Helsinki
1. The creator of the Moomins, Tove Jansson, came from Helsinki
The original "Moomin Mama", creator of the Moomins, was Tove Jansson.
She is Finland's most loved and revered artist and the most widely read Finnish author in the world.
Born in 1914 in Helsinki, she was part of a large artistic family and grew up with creative and imaginative parents and siblings.
As a child, she studied art in Helsinki and released some of her first Moomin sketches to a magazine called Garm in 1943.
Jansson was actually a Swedish-speaking Finn and so the first Moomin novels that she released were in Swedish and translated into Finnish and English later on.
By 1954 a London newspaper, The Evening News, one of the biggest publications in the world at that time, publishes a comic strip of the Moomin's. Over 20 million people see the strip in 40 countries!
After this, the Moomin became popular worldwide with many of the Moomin novels being translated and sold. Walt Disney even made an offer to buy the rights for the Moomin's off Tove but she refused.
Tove then continued to publish Moomin novels, short stories, and picture books until around 1970, when she decided to more grown-up publications.
In 2001, Jansson passed away and now her family continues to make decisions about the Moomins as she would have intended.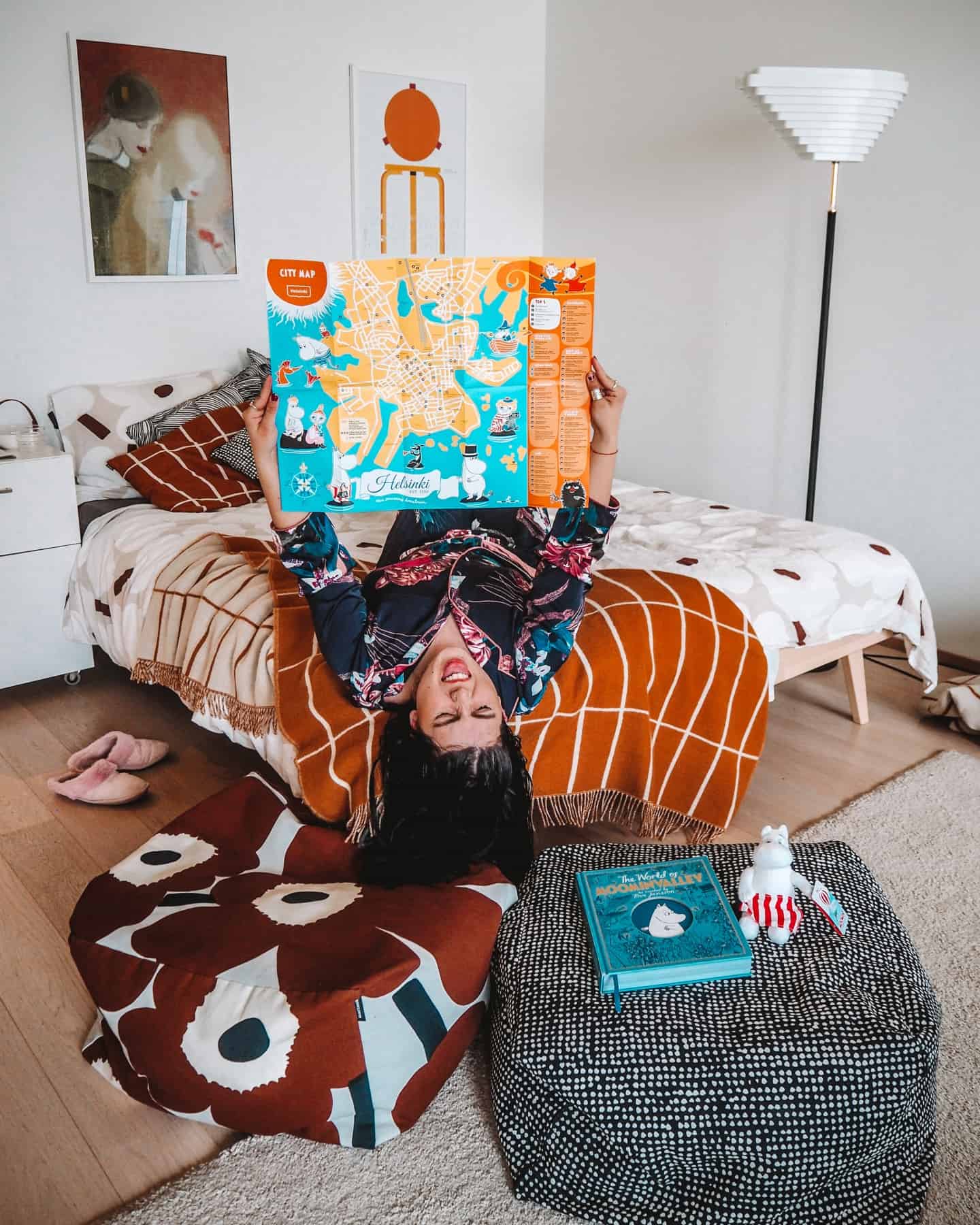 2. Moomins are more than just a tourist attraction to the Finn's
Although the Moomins first made worldwide notoriety due to London's Evening News in 1954, again with the Japanese animation in the 90's and more recently the 3D Moominvalley series, the Moomins have been a big part of Finnish culture for decades.
The Moomins are a national icon in Finland and are part of Finnish identity. Even their national airline, Finnair, uses the Moomins as an ambassador.
It's even said that there's probably not one Finnish family that doesn't own a Moomin mug by the company Arabia. That's amazing!
So by visiting the Moomin Café Helsinki, you're actually honouring Finnish culture and tradition, it's not just a tourist fad.
3. It's set in a fabulous location near to Helsinki cathedral
The Moomin café Helsinki that I visited is set in Fabianinkatu street which is only a five-minute walk to the Helsinki Cathedral. So, it's nice and central.
It's pretty easy to find on the street as there's a Moomin Café sign pointing to it at the top of Fabianinkatu. There's also a big Moomin outside, so you can't miss it!
To get here by Metro you can take Metro 2 from Järnvägstorgets metro station to the University of Helsinki and it's a three-minute walk from there.
There is another Moomin Café in Liisankatu as well but this is a little further out from the city.
There is also Moomin Café at Helsinki airport now, so you can enjoy a Moomin treat while you're waiting to board your flight. How cool is that?!
4. Your favourite Moomin friends can join you for tea
The best part about the Moomin café is that all your favourite characters are available at the café to join you for tea.
Sure, they're in the kid's play area but you won't see a single adult in here that doesn't have a character plush toy on the table with them.
Moominpapa, Moominmama, Moomintroll, Little My, Snufkin, Stinky, the Groke, they're all here to join you! Also, you'll find character cushions here too. It's the cutest thing.
5. The Moomin Café Helsinki menu has some incredible treats on offer!
What I loved is that all the items on the Moomin Café Helsinki menu were lovingly prepared with Moomin's in mind.
Every treat was served in Moomin mugs, on Moomin plates, each cake or drink even had Moomin biscuits on top.
Although I could go with a traditionally Finnish filter coffee (did you know that Finn's drink the most coffee in the world?!), I was actually obsessed with their hot chocolate range.
They had popcorn, white chocolate, and caramel, there were so many choices! In the end, I chose the Moomin special that came with Marshmallows on top.
They also sold some of the most delicious cakes here too! I ended up visiting here twice on my visit as I loved it so much.
They had chocolate cake, cheesecakes, blackberry crumble, and even meringues which were shaped like Hattifatteners!
I was surprised to find it was reasonably priced for Helsinki too. My hot chocolate with cake cost me around eight Euros in total. For the experience, it was priceless.
6. You can read your favourite Moomin tales while you eat
I loved the fact they had the Moomin tales to read while you were here.
As I travel solo, sometimes it can be awkward to know what to do in cafés aside from burying my face in my phone. But, burying my face in a book is a good alternative and also took me on a trip down memory lane.
Some of the books are in Swedish and Finnish, but some are in English and you can always look at the drawings too.
In total, there are actually only eight Moomin novels written by Jansson herself but many more short stories, reworks and picture books to cast your eyes over.
7. Visit the Moomin shop next door to purchase some Moomin souvenirs
After my afternoon tea at the Moomin Café Helsinki, I really wanted a Moomin mug for myself.
I overheard a girl in the shop say her family has over twenty Moomin mugs at home and, as they release new ones each year, they're a sought-after collector's item.
I also heard that a faulty Moomin mug from one of the Helsinki factories sold at auction for over 6,000 Euros! So, they really are popular pieces here in Finland.
As I couldn't decide on one character, I actually bought a Moominhouse mug that had all of them on it. It even came with a little roof to go on top – how adorable!? I also bought that along with my very own Moominmama plush toy.
You can also buy notebooks, toys, pens, postcards, clothes, and even jewellery which is really cute too! There's something for all budgets and they make great gifts.
Official Moomin Shop Helsinki
There is an official Moomin Shop Helsinki which is based in the Forum mall.
This has a full range of mugs, toys, and collectibles. It's quite small but easy to find. Make sure you avoid a weekend as it gets really busy!
They also have a Moomin shop in Itis and don't worry if you forgot to buy something while you're here, Helsinki airport also has a huge store to buy last-minute gifts!
If you want more Moomin attractions in Helsinki…
Aside from the Moomin Café and Moomin shop in Helsinki, there really isn't anything like a Moomin theme park or anything like that in the capital.
If you're travelling further afield in Finland, there is the national Moomin museum in Tampere and a Moomin World in Naantali. Also, there's now a theme park in Japan if you fancied flying a few thousand miles!
But don't fret, in the capital you can go on a Tove Jansson walking tour of Helsinki that can take you to her family home, the places she grew up, studied art, her art studio, and some art collection pieces by Jansson featuring Moomin's.
There are even statues like The Mermaid in Helsinki that were built using Jansson as a model!
To see a whole list of Tove Jansson spots in Helsinki, you can click here to see the My Helsinki site.
Read more articles on Helsinki
The top places to visit in Helsinki
A photography guide for Helsinki
Where to eat & drink in Helsinki
Cafe Regatta – the most Instagrammable café in Helsinki!
Why you must visit Allas Sea Pool
Finnish sauna rules for tourists
The Ultimate Suomenlinna Fortress guide
Taking a ferry to Tallinn from Helsinki
Save the Moomin Cafe Helsinki for later!
With thanks to the Moomin Café Helsinki for having me, I was here as part of a press trip with My Helsinki. Although I was a guest all thoughts, photos and opinions are my own.