If you're looking for something amazing to do this year then you should plan a Warwick Castle day out in England. It's a fabulous, historical, and fun-filled adventure for all the family.
Warwick Castle has a millennia of history to uncover through its exhibits, museums, towers, playgrounds, and live entertainment.
If you're lucky enough to be here from July – early September, Warwick Castle is celebrating their biggest summer ever.
You'll be able to see action-packed live shows like jousting in War of the Roses Live, Falconer's Quest, and a Zog Live Show.
Here is how to spend a day at Warwick Castle with all the epic things to do here!
Warwick Castle history
Did you know that there are over 1000 years of history at Warwick Castle? It has been an important chess piece in the most poignant chapters of England's history for 11 centuries.
In 914 Ethelfled, the Lady or Mercia and daughter of King Alfred the Great, ordered for 'burgh' to be built to protect the area from the Danes.
Later, William the Conquerer replaced it with a motte and Bailey fort in 1068. Henry de Beaumont was appointed the first Earl of Warwick and there was an Earl of Warwick at this castle until 1978!
The wooden fortress was replaced with a stone castle in the 13th century and many of the towers we see today like Guy's tower were built in the 14th century.
Warwick castle remained an important stronghold for many battles including the War of the Roses.
Richard Neville, the 16th Earl of Warwick, gained the title Kingmaker for deposing Henry VI and Edward IV. You'll be able to see this play out in the Warwick Castle jousting tournament with War of the Roses Live.
Then in the 17th century, it became a royal home to the Greville family gifted by King James I. During the Restoration period, Warwick Castle played a part in the Gunpower Plot of 1605 with Guy Fawkes!
The last Greville Earl of Warwick, Charles Guy, was a movie star in Hollywood but he died without an heir.
In 1978, the Tussaud's Group purchased the castle for us to visit today. It sees well over half a million visitors each year!
Why visit Warwick Castle in summer?
I always love visiting Warwick Castle and it is open every day of the year except Christmas Day. Every season has something new or exciting to offer.
But, I truly think summer is the best time to visit Warwick Castle as they have so many shows and activities going on!
You'll get to see knights battling it out for the crown in their War of the Roses Live show plus they have their realm of Zog for kids. You'll find the Zog playground and character meet and greets throughout the day.
Plus, you get the best chance of weather. Warwick Castle is exposed to the elements and it can be a bit miserable if it's cold and wet.
Here are all the things that you can do on a Warwick Castle day out in the summer!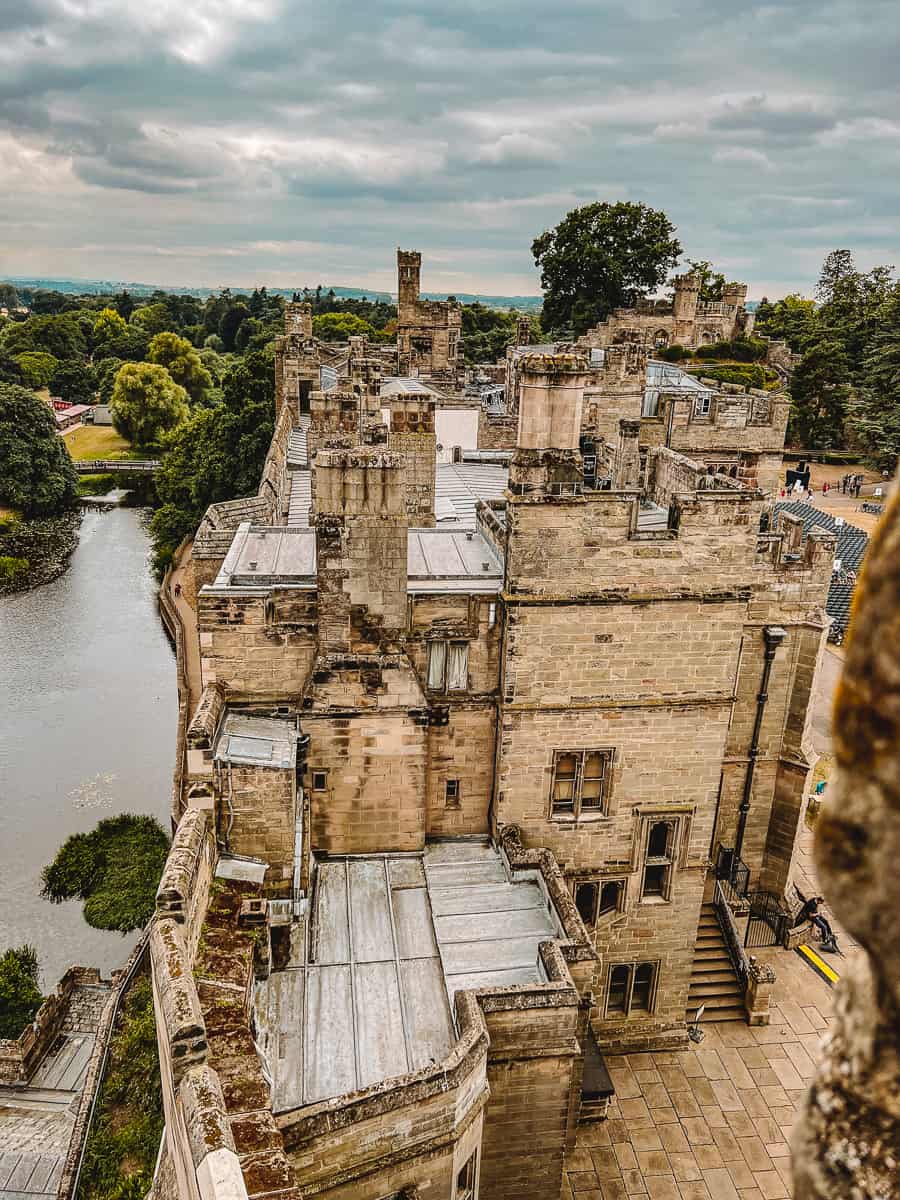 Epic things to do at Warwick Castle in the summer
1. Watch Warwick Castle Jousting – War of the Roses Live!
The main reason why I wanted to visit in summer was to see the Warwick Castle Jousting show they have on here! I even watched A Knight's Tale get pumped up for the tourney.
War of the Roses Live is an action-packed stunt show performed by Knights of Middle England (KOME). The performance follows the dramatic events between House Lancaster and House York.
These are historic chapters of British history, involving the Earls of Warwick, that shaped the future of England forever.
You'll get to choose your side of either the White Rose (York) or Red Rose (Lancaster) and then watch knights ride out to joust, sword fight, and battle for the crown.
This is truly a highlight of the year at Warwick Castle and one of their best shows by far – I absolutely loved it!
It's around 30 minutes long but there is so much action, drama, jousting, and audience participation to keep you entertained throughout.
Make sure to get to the arena around 30-45 minutes before the show begins to bag a place with a good view.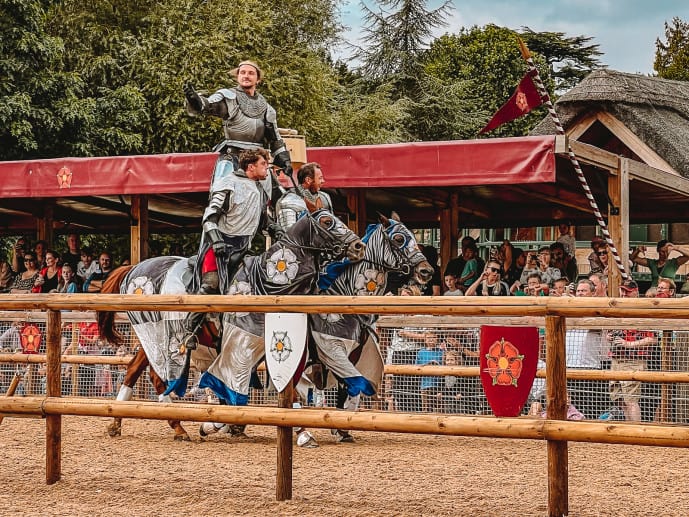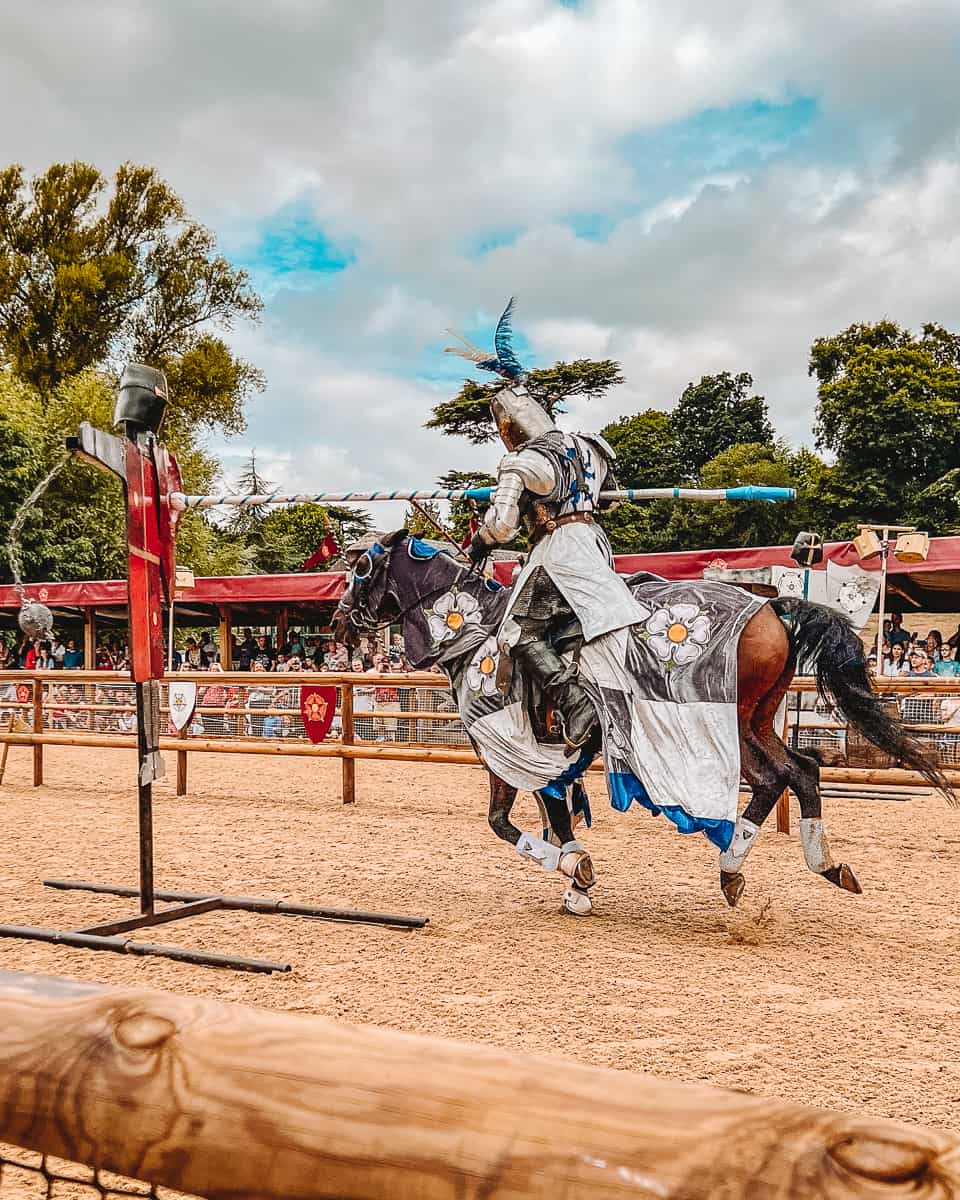 2. Warwick Castle Zog attractions
The realm of Zog is here at Warwick Castle and there is plenty of ways to follow in the footsteps of the young accident-prone dragon.
I wasn't really sure what Zog was before I visited being honest but the kids seem to love it.
If you're also not aware, Zog is a children's book written by Julia Donaldson and illustrated by Axel Scheffler. The same team who created The Gruffalo.
Here are all the Warwick Castle Zog things you can enjoy;
Zog live show – You can sit in the castle woodland to watch Zog live on stage! It's 25 minutes of action and has puppetry, dance routines, and chances to sing along.
Zog Playland – new for this year, you can visit the Zog playland. There are zip wires, slides, swings, and tunnels. You can even climb up Princess Pearl's tower.
Zog character meets – meet and greet your favourite Zog characters throughout the day near the Peacock Garden.
Zog Quest for the Golden Star – You can take part in an active trail to find the Golden Star. Remember to pick up a passport to stamp as you go around.
3. Explore the Horrible Histories Maze
I loved the Horrible Histories books as a kid and these were always my go-to choice during reading time.
They were just so gruesome and funny, plus you learn so many random things. Of course, the CBBC TV Show is just as hilarious and I even enjoy the show as an adult.
For the kiddies (or big kids), Warwick Castle has their very own Horrible Histories Maze. You'll get lost in their labyrinth while overcoming historical obstacles.
You'll discover Vicious Vikings, Terrible Tudors, and Slimy Stuarts along the way.
4. Experience Kingmaker
My favourite attraction in Warwick Castle has and always will be Kingmaker. Yes, it's old school but it's a classic. After watching The White Queen earlier this year, I was excited to see it again.
The year is 1471 and you're following the story of Richard Neville otherwise known as "Warwick the Kingmaker". You'll be watching his army and family prepare for battle.
This exhibition follows the events of the War of the Roses which saw the House of York and the House of Lancaster fight it out for the crown.
It's an immersive experience brought to life by music, soundscapes, smells, tableaus, and animation.
You can even pick up weapons and see a horse in full armour. It's honestly amazing and the vibes are immaculate!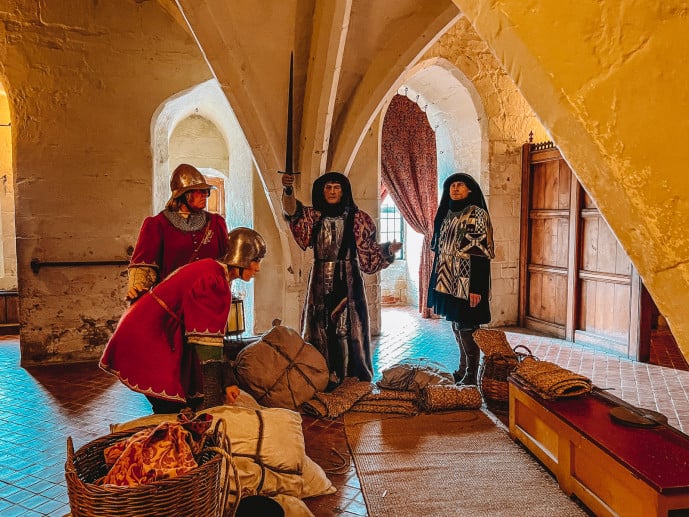 5. Meet the Bowman
Did you know that at Warwick Castle you can join the royal Bowman?
A fun fact we learned was that King Edward III banned men from playing football in the 14th century and forced them to practice archery instead in preparation for war!
Archers were also peasants and the majority of them would die on the battlefield. This is because they would be first in line in front of the knights and nobles on horseback.
It was fascinating to see the Bowman shoot his arrows high into the air and straight through the eyes of a helmet!
This all came with a really informative and entertaining commentary which was hilarious! It's a must-watch and talks take place throughout the day at the front of the castle. Don't miss out.
If you wanted to practice yourself, why not check out Warwick Castle's Have-a-Go archery in the Oak Tree Lawn?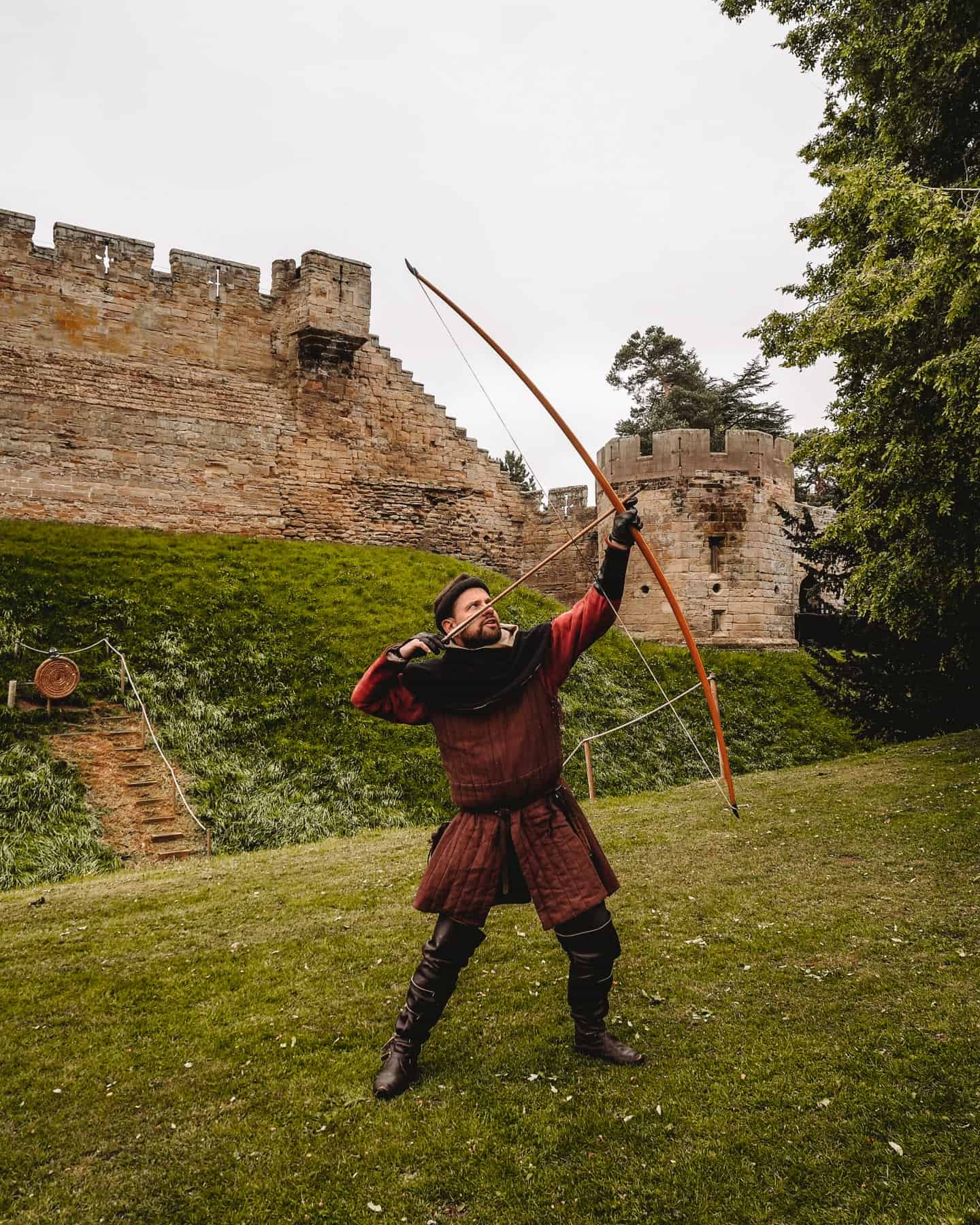 6. Climb up Warwick Castle walls and towers
One of my favourite things to do in castles is climbing on the ramparts and towers. Warwick has an amazing castle wall walk but it's not for the faint-hearted.
You'll be climbing up and down winding staircases to get bird-eye views over Shakespeare County from over 40 metres high!
In years past these battlements would have been patrolled by guards on the lookout for enemies.
Here is a little about what to expect;
Guys Tower – the first defense tower you will see as you enter and is 29 metres high. It was built in the 14th century and the view from the top will make your jaw drop!
Caesar's Tower – Although Guy's tower appears to be the tallest, Caesar's Tower actually trumps this at 40 metres! From here, you can see incredible views of Warwick town and the River Avon.
Barbican and Gatehouse – You can also climb over the Barbican and Gatehouse where you enter the castle. You can peak through small defense holes that were designed for firing arrows through.
Top Tip: These towers do see huge queues on busier days. Little ones may also find climbing these a struggle or scary. I would do this walk earlier in the day to avoid crowds!
7. Have lunch in Warwick Castle Undercroft Café
If you are looking for a place to eat at Warwick Castle, there are some great choices on offer. I personally decided to visit the Undercroft Café.
You'll find the entrance by the exit of Kingmaker underneath the castle. It's a fabulous medieval room with arches, tapestries, and chandeliers. It really takes you back in time.
I would say that the sandwiches and drinks here are on the pricier side. My chicken tikka wrap and Dr. Pepper came to around £9. I guess that is normal these days for a theme park though.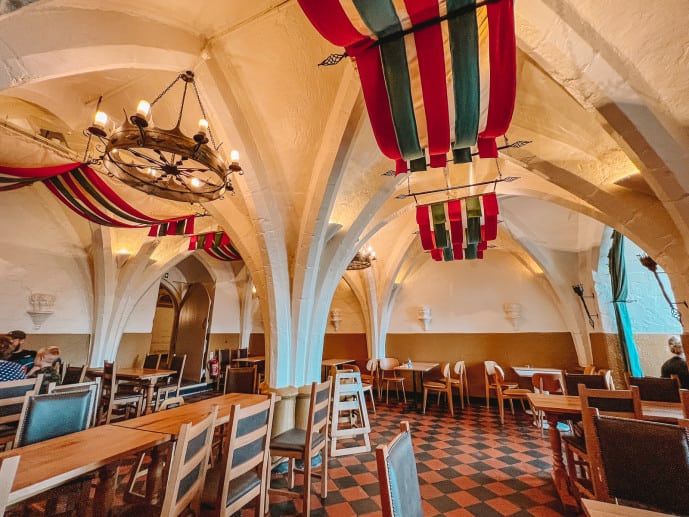 They do have a meal deal where you can get a pastie, crisps, and a drink for £6.95. Annual pass members do get a slight discount.
I was on my own so I didn't mind paying but if you're a larger family I understand this can soon add up.
You could consider packing a lunch instead of buying it and there are plenty of grounds to enjoy a picnic.
I saw many people eat their packed lunches in the arenas while waiting for the shows to start which is an awesome idea as it saves time!
8. Watch a Falconer's Quest Birds of Prey show
The Falconer's Quest is an incredible show that is on most of the year at Warwick Castle. It's a Birds of Prey performance where you can see over 60 birds take to the skies.
You'll follow Hobby on his quest and find birds like Barn Owls, American Bald Eagles, and Andean Condors that fly over your head (quite literally).
As well as being spectacular to watch, you'll get an informative commentary about these Birds of Prey and you can learn all about their hunting skills.
These rare birds are protected at Warwick Castle and they run breeding programmes to ensure their survival for future generations.
My top tips for the Birds of Prey show would be to arrive at least 30-45 minutes before the show begins. Also, the late afternoon showing is a lot quieter than the first one of the day.
9. Great Hall, Staterooms & Royal Weekend Party
The Great Hall is the largest room in all of Warwick Castle and was built in the 14th century!
It was then rebuilt by the Greville family in the 17th century and the one we see today is a reconstruction from 1871.
The Warwick Castle staterooms are magnificently decorated including the State Dining Room. Queen Victoria and Prince Albert have dined in here.
It's a huge hall with a magnificent teak wood ceiling. Don't miss Guy's Porridge Pot, which is over 500 years old and used to cook the stew for a whole garrison.
As you walk around you can admire the opulence of the bedrooms, paintings of royal family members, and all the gold gilt splendour! I love the waxwork of Henry VIII and his six wives.
You'll then make your way to the Royal Weekend Party. The year is 1898 and Frances, the Countess of Warwick, is having a party you're invited to!
Here you can find all the royal guests as waxworks including the Prince of Wales (King Edward VII) and Winston Churchill.
The rooms here are beautiful and give you a feel for Victorian England. I loved all the dresses and ballgowns the women were wearing for the party.
10. Have afternoon tea in the Warwick Castle Peacock Garden
If you were looking for a relaxing moment away from the busier castle attractions, I would recommend hiding out in the Peacock Gardens.
It's easy to see why this garden gets its name as you'll find so many peacocks who wander about freely in amongst the peacock-shaped topiary.
These (rather loud) residents are truly stunning, showing off their colourful feathers while they laze about in the sunshine. If you're lucky you'll see one spreading their feathers too.
In the gardens, you'll find lots of colourful flowers and a gorgeous water fountain in the centre. The whole place is so relaxing.
Don't forget to check out their conservatory from 1786 which holds a reconstruction of the Warwick Vase. This was created from a piece of Roman pottery that was discovered onsite. It's gorgeous inside.
There is a lovely café here to have a cold drink, tea or coffee outside. Or, you can treat yourself to a special afternoon tea for two!
11. Warwick Castle's Princess Tower
Warwick Castle's Princess Tower follows the story of the brave Guy of Warwick who went on a quest to win the hand of the beautiful Felice.
But, poor Guy has been cursed by an evil sorcerer and so now it's up to Princess Felice to break the curse.
You can join her in the Princess Tower to make sure that Guy and Felice have their happily ever after!
Entry to the princess tower is limited and you have to grab a timed ticket to enter. To avoid disappointment, I would personally grab a ticket first thing to guarantee entry on busier days!
12. Walk by the River Avon to the Mill & Engine House
Many people often forget about the Warwick Castle Mill & Engine House on their visit but I would make sure you fit this in during your day out.
You can take a picturesque walk from the jousting arena, along the River Avon by the castle walls to see the old Victorian mill.
It's very beautiful with a cascade, and manicured gardens and you can look out for the ruined 17th-century bridge to the castle too.
You can learn about the waterwheel in their engine room exhibit. There has been a mill on the site since the 12th century, but the one we see today is a reconstruction of the water wheel from 1894.
It may surprise you to know that they actually used the mill for electricity to power Warwick Castle until 1940!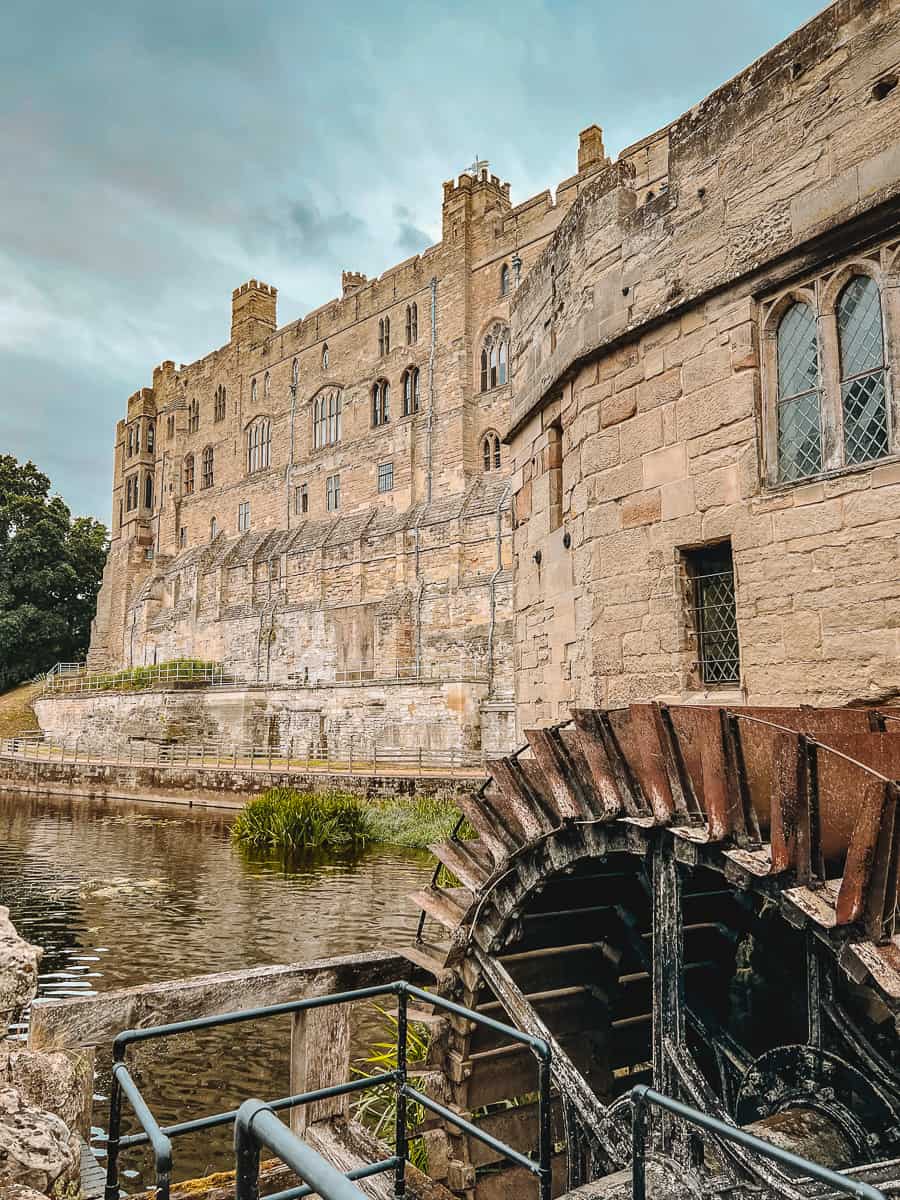 13. Climb the Conquerers Fortress
Many people make a beeline for Guy's Tower and the castle ramparts but don't miss a climb up to the Conquerer's Fortress.
As you make your way up, you can learn about all the battles and sieges that Warwick Castle has faced over the years.
When you get to the top you'll be greeted with fabulous views over the Castle Courtyard and you'll get a great view of the Trebuchet and Jousting Arena too.
On a warm day, this place is perfect as it's mostly shaded by trees and there is a great breeze to cool off.
14. Brave the Warwick Castle Dungeon's
Meet Warwick Castle's resident jester and prepare to take a gruesome journey through the dungeons.
You'll learn about the castle's darkest chapters over 300 years. You'll meet torturers, cursed witches, be judged, and (maybe) meet your maker in the execution room.
It's a dark, scary, immersive experience that is only for the brave. You'll be with a group and escape all together.
All of the Dungeon shows in Merlin resorts like Alton Towers have an extra charge. But, they don't take place within a real castle's walls.
So, if you're going to shell out on the spooky experience, I would pick Warwick Castle's Dungeons over the others. You're living history here!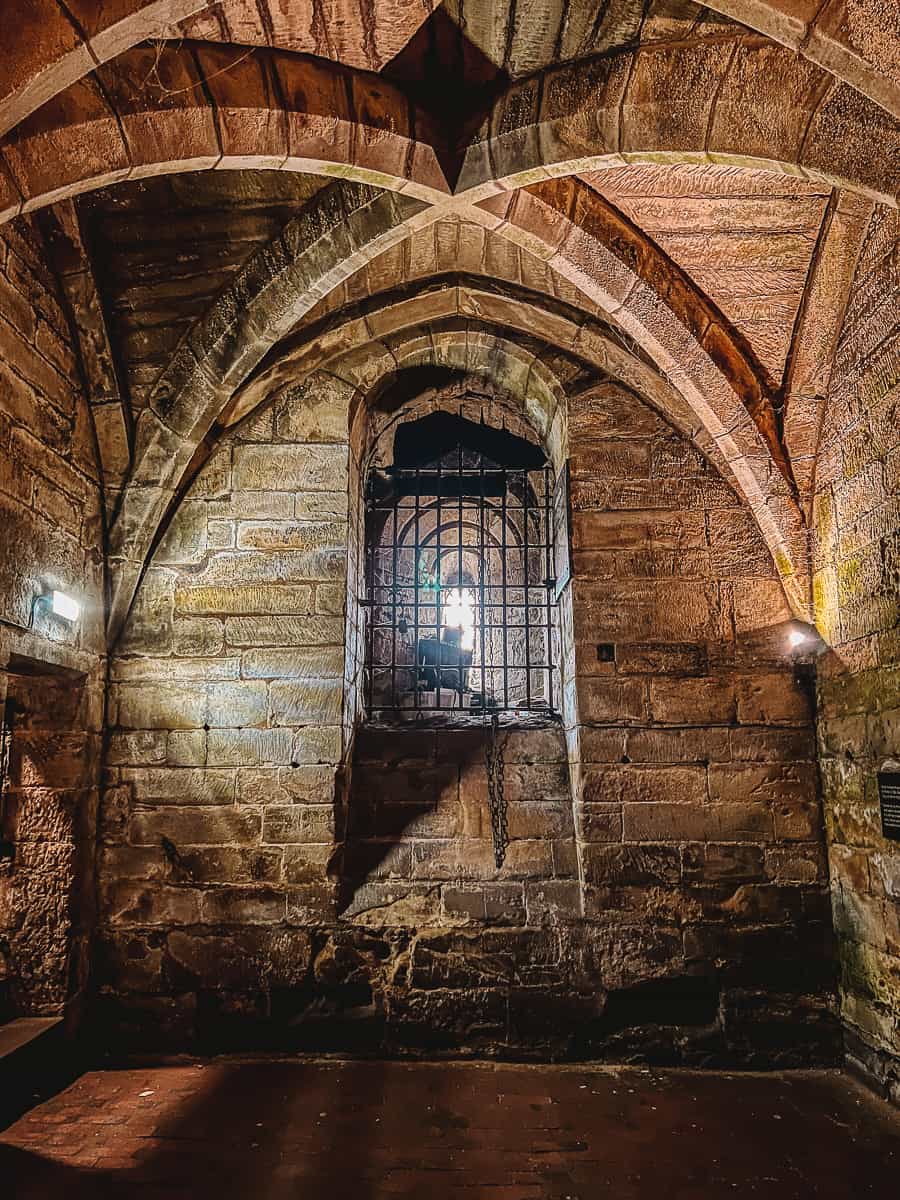 15. Mighty Warwick Castle Trebuchet
The Warwick Castle Trebuchet is an authentic representation of this battle machine and is the largest of its kind in the world.
It stands at 18 metres tall and is made of solid English Oak so it weighs a whopping 22 tonnes!
A trebuchet is essentially a huge catapult that hurls big boulders and fireballs to destroy your enemies.
During a siege in the middle ages, they even used to hurl animals and decapitated heads into the fortresses they were trying to conquer to force surrender.
A trebuchet required manpower to move and men used to walk like hamsters on the wheels that turn inside.
Some even used to throw up due to the motion only for it to fall back on their heads! That's why they used to use blind people.
They have trebuchet talks throughout the day but they also used to have a really awesome show where they would catapult a flaming ball into the sky and over the fields!
It hasn't run for a while but I'm really hoping they bring it back. Apparently, they are working on getting this trebuchet reconstructed so watch this space.
16. Watch Dragon Slayer – Epic Nighttime Spectacular!
On select dates in August, once the sun goes down, you can take a seat in the Castle Courtyard Arena to watch an epic nighttime spectacular!
Brought to you by Knights of Middle England, Dragon Slayer is an action-packed show that has medieval fantasy, valiant knights on horses, a fire-breathing dragon, fated romance, and fireworks!
The story follows Guy of Warwick on his heroic quests to win the love of his fair Felice. The majority of the show is a stage performance with talented actors and horses. You'll meet knights, noble ladies, evil dukes, Vikings, giant trolls, and more.
You'll then see part two when night falls and this is where you'll see incredible projection mapping of a fire-breathing dragon laying waste to the castle. It all ends with incredible fireworks!
It was a breathtaking performance that I would highly recommend booking. You do need to buy a separate ticket and seat prices start from £19 per adult.
Click here to read more in my detailed Dragon Slayer review!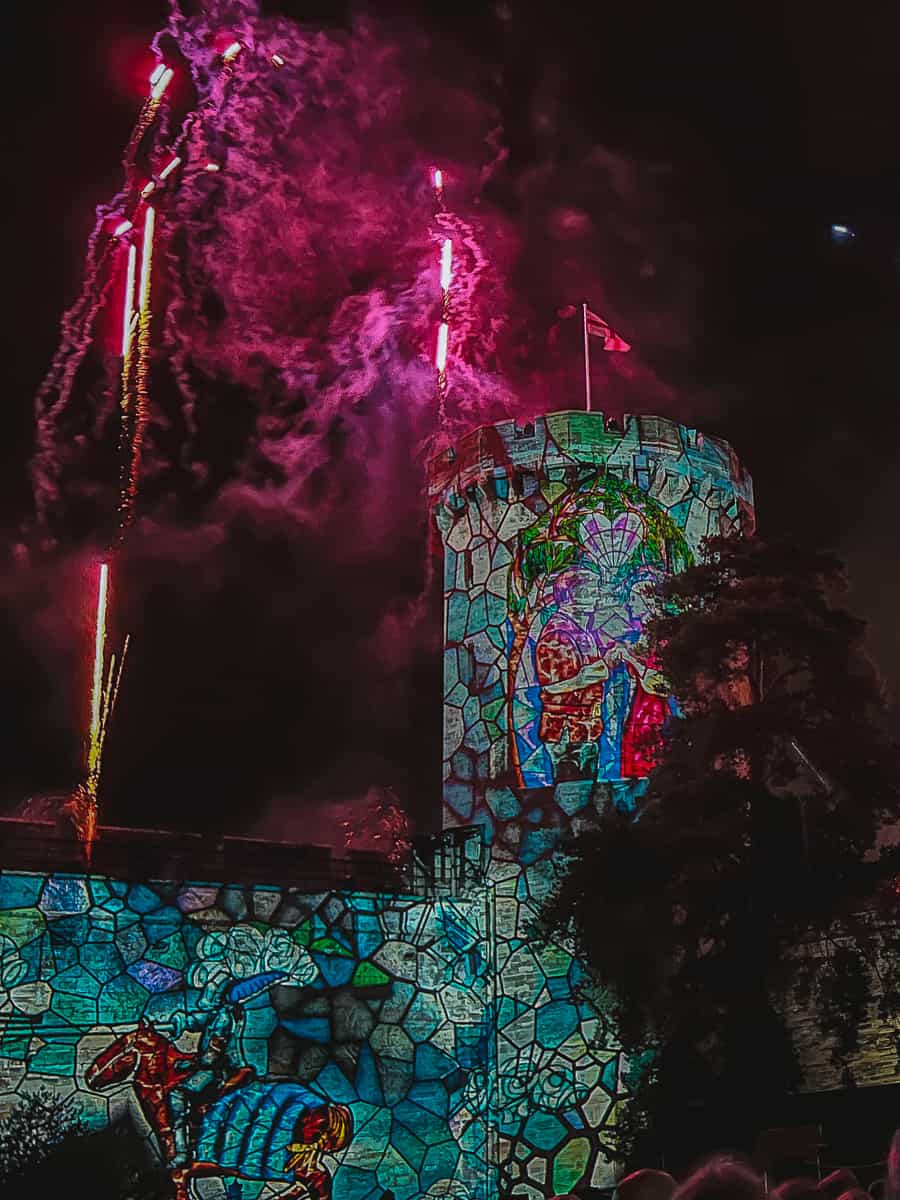 Is Warwick Castle good for adults?
YES. Although there are lots of things here that are made with children in mind, Warwick Castle is not just for children.
Adults and teenagers will love Warwick Castle too. There are plenty of walks around the grounds, and castle walls with amazing views, the shows are entertaining for all ages and the dungeons certainly are not for kids.
I have been visiting since I was a (Merlin Pass) kid with my family and even now I love visiting Warwick Castle as an adult.
You can definitely find enough to do for a whole day here whatever age you are!
How long do you need at Warwick Castle?
I would set aside an entire day to visit Warwick Castle. It's one of the largest castles in Britain and there is so much to do here that you'd struggle to fit everything into half a day.
There are exhibitions, mazes, play parks, shows, castle walls, activities, and food outlets. The time here seriously flies!
In fact, if you have the cash and time, I'd extend your visit to two days with an overnight stay in their Knight's Village!
Having two days would mean that it's not such a rush and it's the perfect option if you're staying for their Dragon Slayer night show.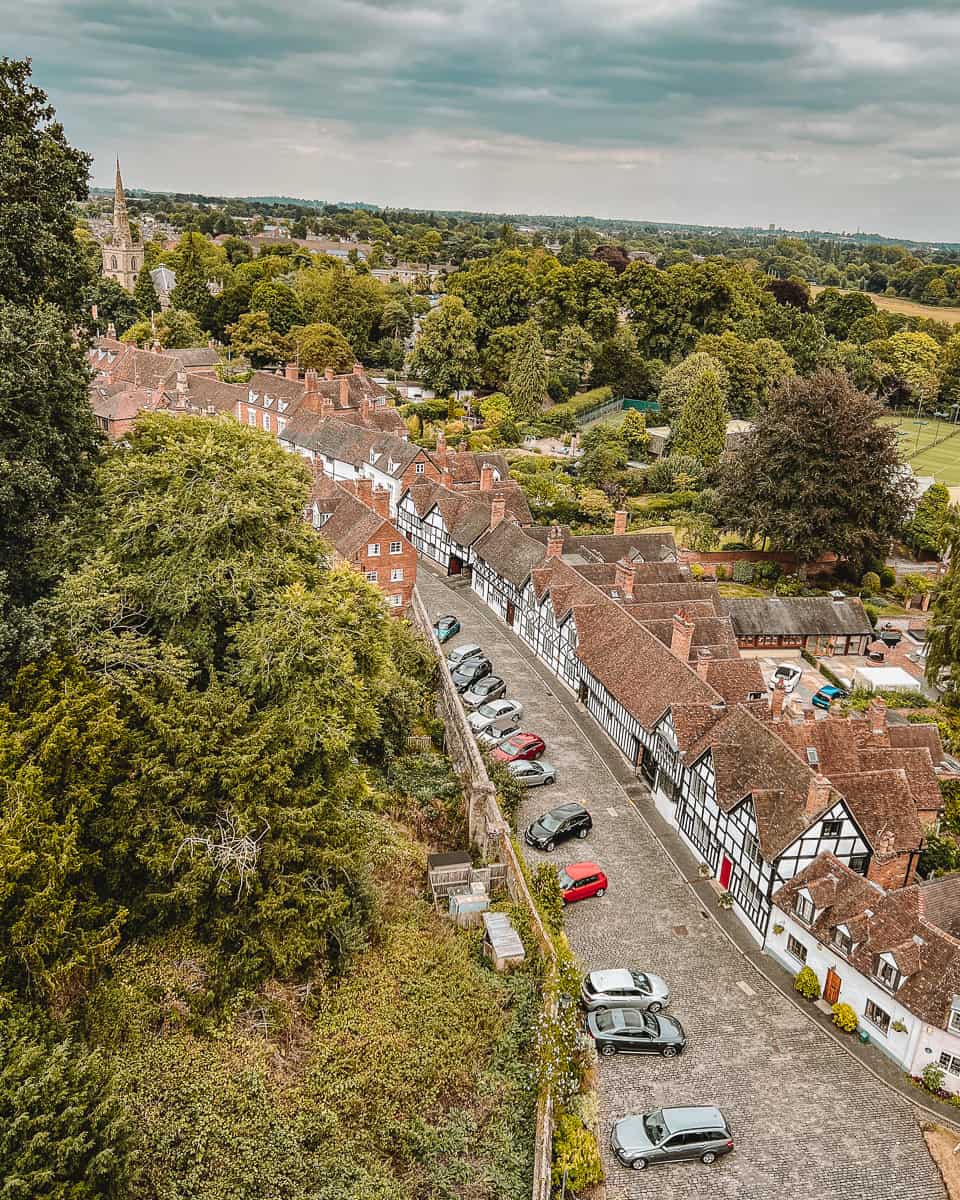 My top tips for visiting Warwick Castle
Wear sensible shoes – Warwick Castle has lots of hills, stairs, towers, gardens, and uneven ground that make it a bit of a workout! Wear sensible shoes for a full day of walking.
Pack your lunch and drinks – There are always comments about the price of food and drinks here. Many pack their lunches and drinks and eat them while waiting for the shows in the arenas.
If it's a rainy day – Warwick Castle has a rainy day guarantee if it's bad weather. Ask the staff members what to do next if it's a miserable day.
Avoid weekends (if you can) – the castle packs out on the weekends and they start using an overflow car park which is a 20-minute walk away! I would get here very early on weekends.
Arrive at shows early – I would arrive at show arenas at least 30-45 minutes before they start. They are always popular and seats get taken fast. Early birds catch the best view and experience.
Limited accessibility – although there are flat pathways throughout, Warwick Castle is an old castle and many of the attractions here have very limited accessibility for wheelchairs and pushchairs. There are lots of steps, ramparts, and cobbles.
How much are tickets for Warwick Castle?
A one-day entry ticket to Warwick Castle starts at £24 for an individual. Adults and children pay the same fee. Under 3's and carers go free. The prices do go up in summer to around £32 per person.
It's well worth paying for your Warwick Castle tickets in advance as they do go up in price if bought on the day. For example, if the castle ticket price is £32 in advance, the tickets will go up to £37 on the day.
There is the option to buy a quencher refill and show ticket combos at a slight discount. Plus, the Warwick Castle dungeons require an extra charge that you can purchase at checkout.
You can buy a Warwick Castle annual pass if you like to go regularly which has lots of extra benefits. These start at £45 per person. Or, Merlin Annual Pass members get FREE entry.
Click here to buy your tickets for Warwick Castle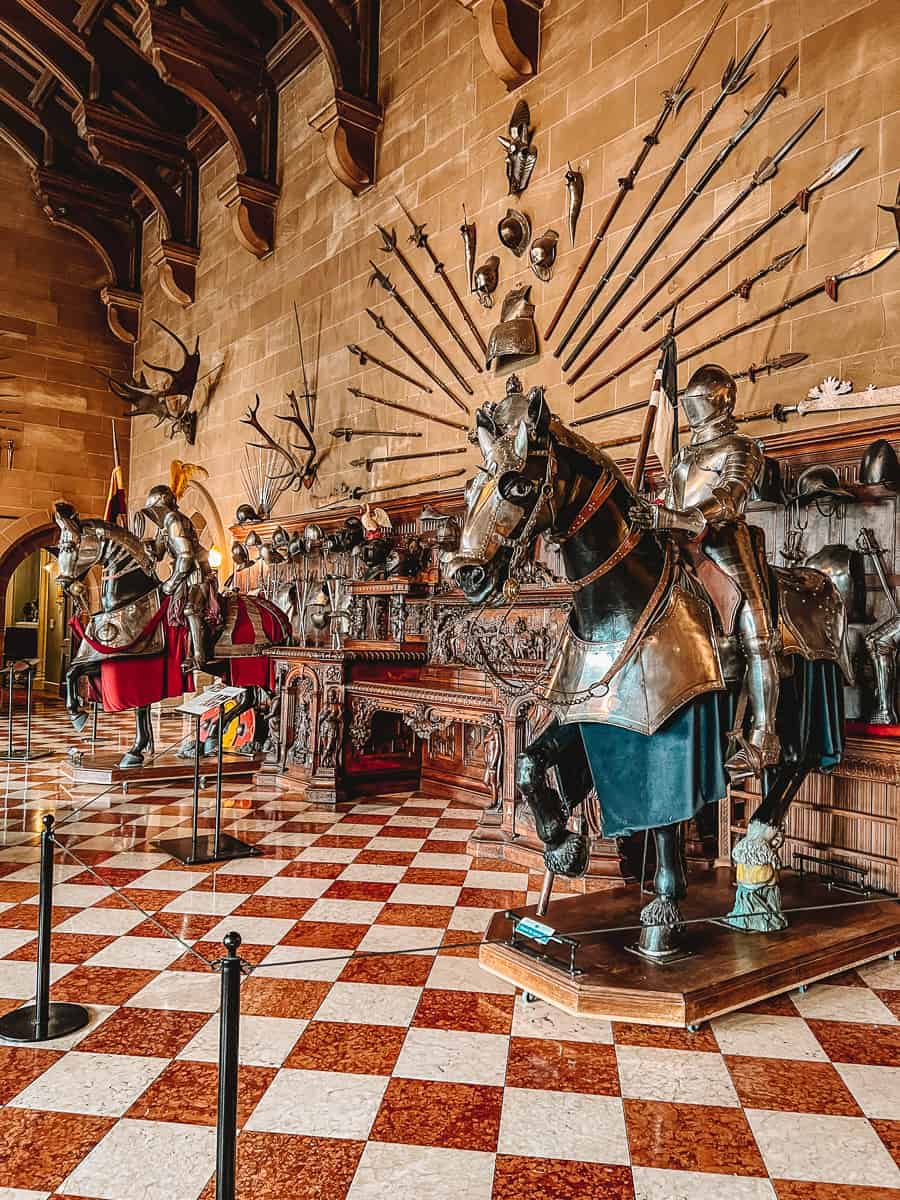 Warwick Castle opening times
Unlike other Merlin attractions, Warwick Castle is open all year except Christmas Day. In summer, opening times are usually 10 am – 5 pm, and in winter that changes from 10 am – 4 pm.
There are plenty of events going on throughout the year for Halloween and Christmas that are included in your regular ticket.
Or, sometimes there are shows, events and concerts that require an extra fee. Make sure to check their calendar of what's going to be happening on your visit.
What to wear to Warwick Castle
Ankle supporting shoes – there are lots of walking on uneven ground. Plus, you'll be climbing up towers and stairs.
Consider shorts – I wouldn't wear a mini dress like me. If you do, I'd put a pair of cycling shorts on underneath. Those towers and castle walls are windy and tend to blow your skirts up!
Pack a layer/coat – Warwick Castle is mainly outside. So, if it's miserable weather, it's going to be a wet one. Also, it's the UK so we do have chilly days even in summer.
A hat – you'll be exposed to the elements most of the day. If it's sunny protect your head.
How to visit Warwick Castle
Warwick Castle is located centrally in the town of Warwick which lies on the banks of the River Avon in Shakespeare's county of Warwickshire;
Warwick Castle by Car – Warwick Castle can easily be accessed from the M40 by coming off at junction 15, from here it's an easy 2-mile drive that's well signposted.
Warwick Castle by train – From London Marylebone, there is a direct train heading to Warwick Castle that should take you around 1 hour 45 minutes. If you're heading from Birmingham you can get a direct train from Birmingham Snow Hill to Warwick. After that, it's a one-mile walk to the castle. Check rail routes with National Rail.
If you are heading here by public transport, be aware that the show doesn't end until after 10pm and you'll need time to get to the station.
Make sure to plan your onward journey in advance. If you're coming from far away, I would consider staying the night.
Warwick Castle address is Warwick Castle, Castle Lane, Warwick, CV34 4QU. Click here for a Google Pin!
Do you have to pay for Warwick Castle parking?
Yes. Parking is not included in your ticket to Warwick Castle unless you're a guest at the Knight's Village or it's included in your Merlin annual pass benefits.
The main Warwick Castle parking area is located in Stratford Road car park. This is a 5-10 minute walk to the castle entrance but blue badge parking is available which is much closer.
If you're visiting on a busy day or a weekend, Warwick Castle does tend to open their overflow car park and this is 20 minutes walk away from the castle entrance.
Warwick Castle parking prices are £6 for the entire day but in the evening the price goes down to £3 per car if you're just visiting Dragon Slayer.
On entry, the barriers will lift to let you into the car park. Then, you buy a token at the parking machines by the castle before you leave.
Don't forget to do this before you go! Make sure to present the token at the barriers when you exit.
Extend your stay at the Knight's Village
These days there is so much to do at Warwick Castle that it may be a struggle to fit everything into just one day.
Did you know that Warwick Castle has its very own Knight's Village that is packed with medieval-themed accommodation?
You can choose to glamp in one of their tents or they have a selection of cosy Knight lodges. You'll even get to visit a knight and train while you're here!
All of the Knight's Village stays come with breakfast, free parking, a one-day pass to Warwick Castle (a discount to upgrade to two days), and exclusive evening entertainment in their banquet hall.
Click here to book your stay at Warwick Castle Knight Village!
Read more of my Shakespeare County articles
Amazing Shakespeare things to do in Stratford upon Avon
Why you must stay at the Arden Hotel in Stratford
Things to do at the RSC theatre
Why you must visit Anne Hathaway's Cottage
How to visit the Confetti Flower Fields in Wick
Things to do in Honington Cotswolds
Visiting the Primark Disney Café in Birmingham
Save these things to do in Warwick Castle for later!
Thanks to Warwick Castle for inviting me to visit. Although I was gifted this experience all opinions are my own.