One of the best views in all of Stratford upon Avon can be accessed 32 metres above street level in the RSC Tower!
You can get the lift all the way up from the Royal Shakespeare Theatre and be immersed into a bird's eye view of the home of Shakespeare.
On a clear day, you can see views for up to twenty miles across four counties in England.
Make sure you bring your camera, as this is the ultimate selfie spot with unrivalled views of Stratford. Here's all you need to know about the RSC Tower.
Where is the RSC Tower in Stratford?
The RSC Tower is part of the Royal Shakespeare Theatre in Stratford Upon Avon on The Waterside.
You can't really miss the RSC building in Stratford as it's a huge red brick building on the banks of the River Avon near Clopton Bridge as you drive into the centre. The postcode for your reference is CV37 6BB.
Stratford Upon Avon is quite compact and easily accessible on foot.
The RSC Tower is only a five-minute walk from Shakespeare's birthplace and a 15-minute walk from Stratford Upon Avon train station.
Some practical information about visiting the RSC Tower
Opening times of the RSC Tower
The RSC Tower is open daily and can be accessed from 10 am. These times differ in Summer and Winter;
March – October – 10am – 5pm.
October – March – 10am – 4.30pm
During performances, access may be limited. Always check before you visit. The visits are restricted to 20 minutes and if you have a big bag or suitcase you will be asked to store it in their cloakroom free of charge.
Prices and Tickets for the RSC Tower
A visit to the RSC tower is a bargain and only costs £3 per adult. Tickets can be purchased online, or on the day at their box office.
If you're spending the day at the RSC, you can save by purchasing their Explorer Pass ticket. These are £15 but include a behind-the-scenes RSC theatre tour and entry into their award-winning exhibition The Play's The Thing. This gives you a saving £5, which is a winner in my books.
Accessibility at the RSC Tower
The tower is some 174 steps up, but thankfully there is a convenient elevator to take you all the way up to the top as part of your ticket price!
What can you see from the RSC Tower?
I went up to the RSC Tower with my Mum and we couldn't believe the breathtaking views we got from up here.
I had never seen Stratford Upon Avon from this perspective and I could have spent all day taking in the sights from this level.
Make sure you grab a map from the staff so you can spot the sights.
From the RSC Tower, you can see 360-degree panoramic views of the whole of Stratford Upon Avon and beyond.
On a clear day, the view expands 20 miles and covers the four counties of Warwickshire, Gloucestershire, Oxfordshire, and Worcestershire.
To the West, you can see all of Stratford town. Stratford has stunning Tudor beamed houses on every street corner and you can see so many of them up here. Like Shakespeares' Schoolrooms, his Birthplace, and a load on the High Street.
To The North, you can see Clopton Bridge, The Stratford Wheel, Snitterfield where Shakespeare's dad came from, and the Welcombe hill and Obelisk.
To the East, you can see Charlecote and in the South, you can look out towards Holy Trinity Church where Shakespeare was buried. As I kid, I used to call this the 'owl in the party hat' because it really does look like it haha!
We went up around 2 pm and had it almost completely to ourselves! We couldn't stop taking photos and we even saw some birds flying over.
Some fun RSC Tower facts
The RSC Tower is 32 metres above street level, the same size as 7 double decker buses
The design of the RSC Tower was based on the old water tower that was part of the Shakespeare Memorial Theatre before it burned down in 1927
There are 174 steps up to the top of the RSC tower from the bottom
You can see for 20 miles across Warwickshire, Oxfordshire, Gloucestershire and Worcestershire.
The Welcombe Obelisk you can see North is the same size as this tower!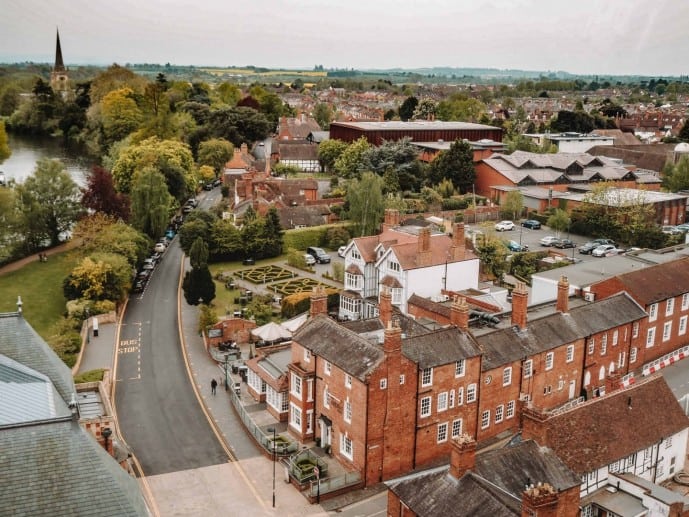 Is the RSC Tower worth a visit?
100% YES! Of course, Stratford Upon Avon is pretty on the ground level as it's a gorgeous gem in the Warwickshire countryside.
But, from here you can not only get a fantastic view of the town with all of Shakespeare's museums but the River Avon, Holy Trinity Church, neighbouring estates, and beyond!
My Mum and I loved coming up here to take in the views. We couldn't stop taking photos and trying to point out all the places with the Tower Map the RSC gave us.
It's a picture-perfect opportunity that won't break the bank and gives you a whole new perspective of Stratford!
Looking for more things to do at the RSC?
There is so much to do at the RSC in Stratford you will be spoiled for choice.
You can take a theatre tour, watch a play, go shopping, visit art galleries, marvel at exciting exhibits, have a coffee and a cake in the cafés, and enjoy delectable pre-theatre dining.
Some of the exhibits are FREE and you can get an RSC Explorer Pass for some serious savings.
Read more – amazing things to do at the RSC Theatre in Stratford Upon Avon!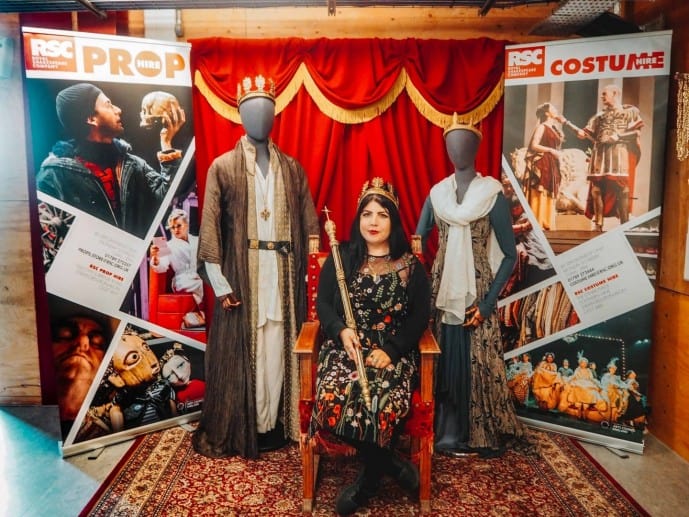 Shakespeare museums in Stratford upon Avon
If you're mad for Shakespeare, you will love Stratford Upon Avon. Shakespeare was born here, lived, and died here so there are plenty of museums dotted around the town to visit.
You can visit his birthplace on Henley Street, his retirement home at New Place, his daughter's house at Hall's Croft, and Anne Hathaway's Cottage, his wife's Tudor family home.
These are all part of the Shakespeare Birthplace Trust and you can buy one ticket to see the whole story.
If you want to learn about what school was like in Will Shakespeare's time you must check out the Shakespeare Schoolrooms and Guildhall. You can also pay your respects at his gravesite in Holy Trinity Church.
Read next – all the Shakespeare spots you cannot miss in Stratford!
Where to stay in Stratford Upon Avon
If you're looking for a place to stay in Stratford, then look no other than the Arden Hotel.
It's located opposite the Royal Shakespeare Theatre. So, it's the ideal location if you're planning a visit to the RSC and to watch one of their shows! You only have to walk a few steps and your bed will be waiting.
I stayed here on my visit and I absolutely loved it!
They have luxurious suites, a Tudor knot garden with views of the theatre, The refurbished No 44 Waterside Brasserie for pre-theatre dining, and a Champagne Bar to celebrate.
Click here to read my full review of the Arden Hotel!
With thanks to the RSC for sponsoring my visit to the RSC Tower as part of my RSC Explorer Pass. Although I was a guest, all views and photos are my own.
Save this RSC Tower review for later!