There are a number of places to choose along the Northumberland Coastal route while you're in this gorgeous part of England. But, there is nothing quite like staying near Holy Island at The Lindisfarne Inn at Beal.
Holy Island is by far one of the most magical places in Northumberland, there is an atmosphere here that spans the ages.
It's an inhabited island that can only be accessed at low tide and has a history of pious monks and violent invaders, most famously the Vikings!
This was their first spot on their raids in England and you can still visit the ruins of the priory where they left their mark.
The Lindisfarne Inn is a great option to base yourself on as you're not restricted by tide times staying off the coast in Beal.
That means you're free to roam around the county when you choose and visit Holy Island when the causeway appears beneath the tide. The inn is only a few minutes' drive away from there.
This cosy hideaway also provides a modern, comfy retreat for your holidays with a tasty restaurant and friendly bar onsite. Here's a full review of The Lindisfarne Inn in Northumberland!
Disclaimer: I was sponsored by the Lindisfarne Inn in Northumberland in exchange for this review. Although I was a guest, all opinions and photos are my own.
Where is the Lindisfarne Inn in Northumberland and how do I get there?
The Lindisfarne Inn is located in Beal in the Berwick on Tweed area.
The great thing about this hotel is it's positioned just off the A1 motorway that snakes straight through Northumberland, so you won't get lost finding it!
It's easily signposted and as soon as you turn off, The Lindisfarne Inn will be located on your right.
From here, Holy Island is only a five-minute drive away along the causeway.
WARNING: Please check the tide times before you cross over to Holy Island. The tide times differ dramatically each day. You can only access the island at low tide so don't take any risks. Always cross when the route is safe. The Lindisfarne Inn will have a copy of the tide times with them.
Parking at The Lindisfarne Inn
The Lindisfarne Inn has adequate free parking for all guests and those wanting to eat at their restaurant.
Although it was peak season when I arrived, there were always spaces and they were only a few feet away from the hotel rooms nearby. So, you won't have to carry your cases far!
Saying that you will have to carry your cases up to the second floor. There is no lift I'm afraid. So, if you need an accessible room request one on the bottom floor.
All the reasons to stay at the Lindisfarne Inn
1. The Lindisfarne Inn is a comfy retreat in Northumberland
The Lindisfarne Inn is part of The Inn Collection Group, so you know you're in safe hands when booking with them.
Having stayed at two of their properties now, I live in the comfort of knowing that all of their rooms are modern, spacious, and spotlessly clean.
There was enough space for a whole family to be staying in my room with a huge double bed, sofa, wardrobe, and bathroom.
I always love their huge dressers with a beauty mirror, TV, and complimentary tea and coffees. They always come with some scrummy biscuits which are great for a pick-me-up in the afternoons.
The bed came with crisp white sheets and you could almost sink into the mattress and pillows. It's always lovely to come back after a long day of sightseeing to a comfy place and this had it all.
I always love relaxing in bed but if you'd rather that it be kept for sleeping, there was also a sofa which provided a great reading nook too!
WiFi at The Lindisfarne Inn
The signal can be notoriously bad up in Northumberland but, not to worry, there is free WiFi access for guests that can be accessed in your hotel room and the dining room.
I always love being able to stay connected and video call family back home so this was ideal!
2. The breakfast is worth waking up for
When your morning alarm goes off in the morning it can be a bit of a hassle, especially if you're on your holidays! But, it isn't so bad when you know there's a yummy breakfast waiting for you downstairs.
You simply have to follow your nose down to the restaurant and smell what's cooking and you'll be excited about what's in store.
The Lindisfarne Inn provides a hearty breakfast for all their guests which includes continental options like cereals, toast, fruit, yogurts, and the nation's favourite; a hot full English Breakfast cooked to your liking. Bacon, eggs, sausage, hash browns, mushrooms, black pudding, and beans!
A yummy breakfast will always start your day in the right way for a day of exploring.
3. They have an incredibly tasty restaurant and bar on site
The thing I always love about The Inn Collection Group is that they have a bar and restaurant on site.
As I was driving around Northumberland, I couldn't stop for drinks along the way so it was always nice to know there was a pint waiting for me when I got back to the hotel.
Restaurants can also be a bit challenging in Northumberland with most in the area taking last orders for food around 7.30 pm!
So, it was always a comfort to know that The Lindisfarne Inn serves up dishes from their menu until 9 pm.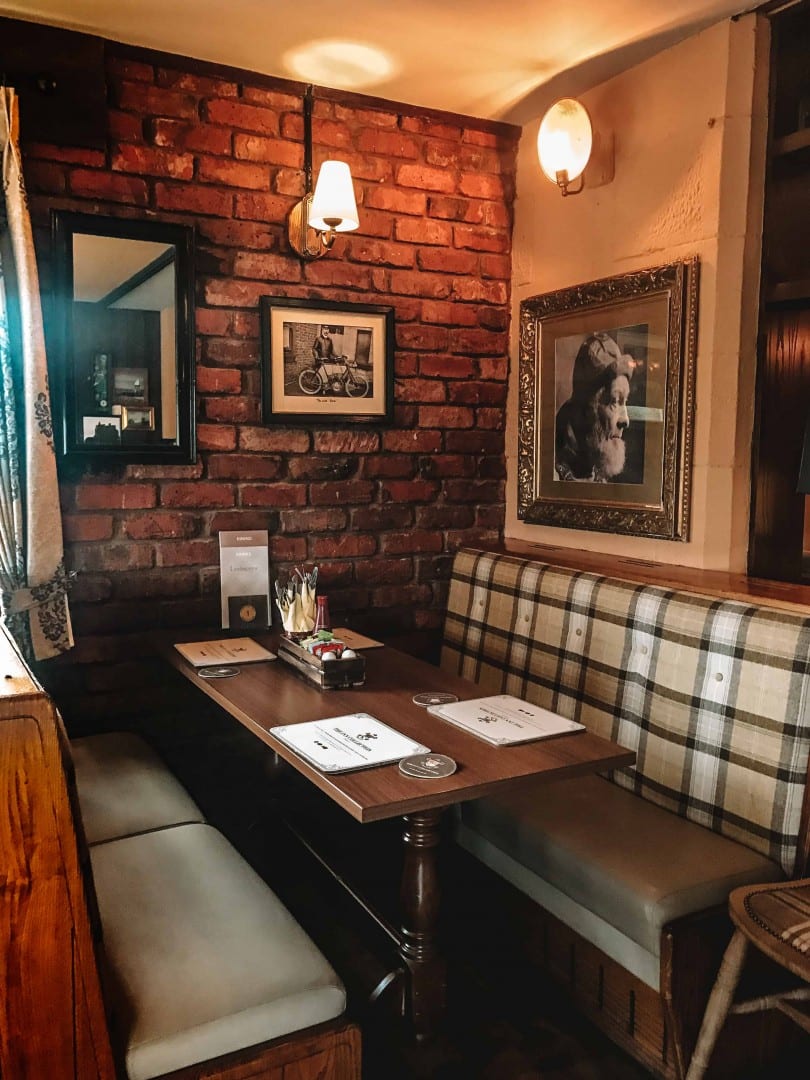 Their menu was also varied with lots of English and international food options and fresh daily specials including a catch of the day from the local fisherman. As you're based on the Northumberland coast, sampling the fresh fish here is a must!
As it was Sunday when I checked in, I was missing my weekly roast back home. So, I decided to treat myself to The Lindisfarne Inn's tasty roast dinner. It was an absolute feast!
I ordered the pork and it came with two hefty slices of meat and lots of roast and boiled potatoes. The plate was filled to the brim with veggies and Yorkshire puds too.
I like my roast drowning in gravy so I was happy I had an extra jug to pour on with apple sauce. It was divine and I struggled to eat it all.
The second evening, I enjoyed a three-course dinner at their restaurant. First of all, I started off with their lobster bisque soup with bread and butter on the side.
It was incredibly moreish and much-needed comfort food after a really breezy day on the coast.
Then I treated myself to their slow-cooked shoulder blade of beef with mashed potatoes and veggies in a yummy red wine sauce. The meat was so tender and it was cooked to perfection.
Then to finish as a treat for a big walking day around St Abbs, I indulged in their scrumptious sticky toffee pudding with ice cream. It was deliciously sweet but so worth the calories haha!
I was really pleased with the quality of the food here that was served up and gladly washed it down with a large glass of their White Zinfandel Rosé.
4. You're not restricted by the tide times
At first, I was tempted to stay on Lindisfarne island itself as it must be incredible to be on the island while it's swept up at sea. But, this does come with some complications and means you're restricted by the tide times to go out exploring.
Tide times aren't like the weather. They do not change and vary massively from day to day. So, one day you could have six hours of low tide and the next only three.
Then, you're restricted to exploring off the island during those hours and having to drive back so you can stay in your room for the night!
Staying at The Lindisfarne Inn means none of those things matter. You're located on the mainland so you can come and go as you choose. But, you're only a few minutes' drive away from the island when you want to have a look around.
As you're staying so close, I would highly recommend going over for the second low tide in the evening if possible. Although most of the attractions are closed, having the island pretty much to yourself is an incredible experience. Most of the crowds will have gone home for the day so you're free to wander!
5. It's only a short drive away to the Holy Island of Lindisfarne
The main draw for staying at The Lindisfarne Inn is being so close to Holy Island. A truly magical place that is only accessible over the sea.
Just being on the island itself is an adventure but there are many spots and attractions on the island to visit.
You can check out the ruin of Lindisfarne Priory and learn about the Viking invasion, behold the iconic Lindisfarne Castle which stands proud by the sea or sample some Lindisfarne Mead from St Aidan's Winery; a must for any visitor!
Click here to read all about visiting the winery here
You can also hike over to St Cuthbert's island, pay a visit to the harbour, see the local boat huts, or visit one of their many restaurants and cafés. I would highly recommend The Ship Inn and Pilgrim's Coffee as my personal faves.
There is so much to do on this island and it has all the facilities that you would expect including a Post Office and the Village Shop. Remember to use the visitor Car Parks to protect the village and I can confirm the public toilets are open through the evening to my surprise.
6. It's in Northumberland; England's hidden secret!
Northumberland is England's best-kept secret. It's almost like people want to keep it to themselves! It's a lush, green county full of unspoiled beauty and amazing villages, castles, and beaches.
There are so many places to explore from The Lindisfarne Inn you'll be spoilt for choice; you can even visit Scotland which is only a twenty-minute drive away from here! I'll list a few of my personal favourites;
Bamburgh Castle
The king of castles, Bamburgh is a highlight you must visit along the Northumberland Coast. At over a thousand years old, it's stood the test of time through countless invasions and has had lots of royal families stay within its walls.
Here, you can explore their battlements inside the castle, wander around their staterooms, enter their dungeons (if you dare), and receive some of the finest views of the coastline.
They have a lovely tea room to treat yourself in and an amazing gift shop selling souvenirs, local handicrafts, and bespoke spirits.
A wander along the beach at Bamburgh is a must and from here you can receive some fascinating views of the castle in all its glory on the shoreline.
This is also the location of Uhtred's Bebbanburg in the Last Kingdom on Netflix! Click here to read my fan guide.
Farne Islands (from Seahouses)
If you head down to the village of Seahouses you can easily board a boat heading to the Farne Islands where you have a great chance of seeing the nation's favourite furry friend; puffins!
These cute creatures love to make a home on the Farne Islands along with colonies of birds made of thousands. It's an incredibly loud and smelly adventure but when you disembark on the islands you can grab your binoculars to take a closer look at them. It's a trip that can't be missed.
I chose to sail with Billy Sheil's Boat Trips which was two hours including one hour on the main Farne Island. Some islands may be restricted during mating seasons.
Click here to read my guide for the Farne Islands!
Alnwick Gardens and Castle
If you're a Harry Potter fan, then Alnwick Castle has to be on your list. There were many scenes filmed here including the broomstick flying classes when Neville Longbottom shoots out of the castle!
They have really taken on the Harry Potter theme by holding their own flying lessons that you can take part in and buy your house colours from their gift shop.
No visit to Alnwick can be complete without a visit to the fabulous Alnwick Garden.
Here you can see their fantastic botanic displays and wander around their poison garden to learn more about plants that kill.
While I was here, they had the largest white cherry blossom festival in the world going on – it's a must-visit if you find yourself in Northumberland in April!
After, the Treehouse Restaurant is well worth booking a spot for. It's like something out of a fairytale and you can dine in a real treehouse! Their menu is incredibly tasty and the dishes are out of this world. I would highly recommend it.
Read my Northumberland posts!
Harry Potter locations at Alnwick
How to see the Alnwick Cherry Tree Blossom
This garden at Alnwick can kill you!
Eating in a treehouse at Alnwick
Visit the magical Barter Books in Alnwick
Why you must visit Bamburgh Castle at Christmas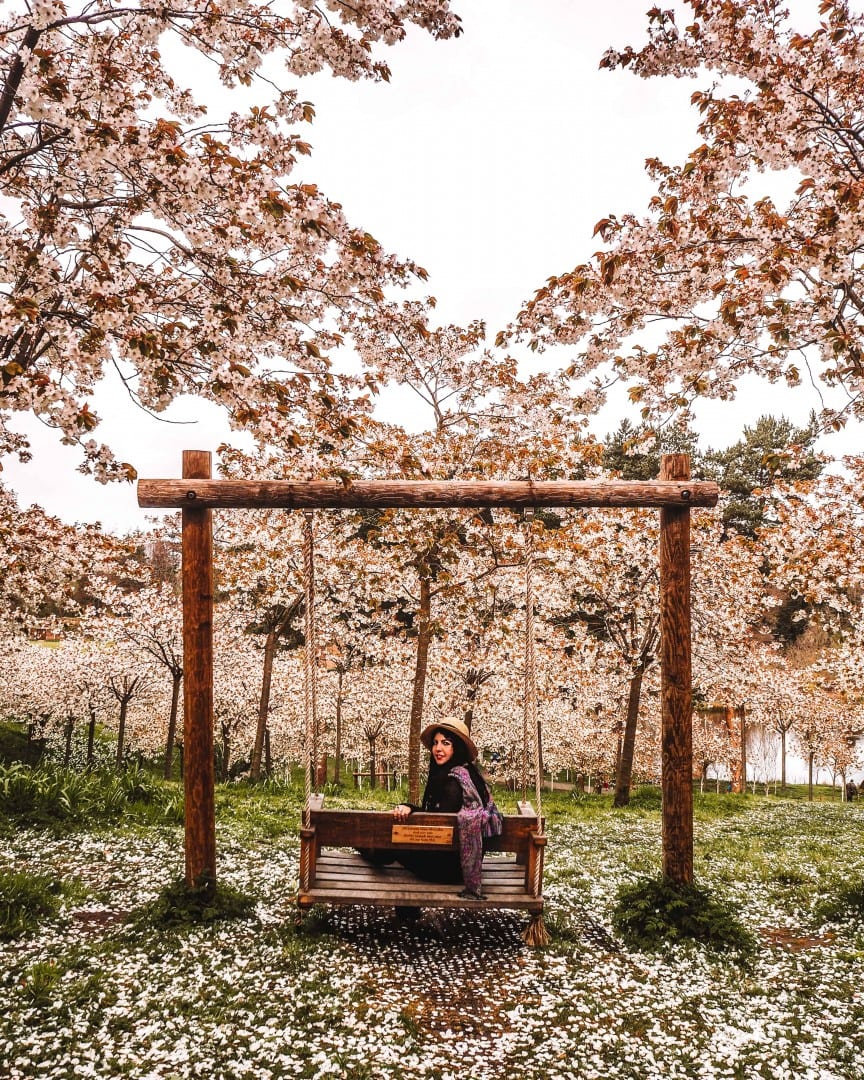 Dunstanburgh
One of my favourite walks in Northumberland is the one from the harbour village of Craster to Dunstanburgh castle ruin.
You can take a walk along the coastline taking in dramatic views of Dunstanburgh Castle.
There are no roads nearby and it's not overly crowded after the castle closes so it's just a peaceful stroll, bliss. Best paired with sunset.
Click here for my Dunstanburgh walking guide
Ford & Etal Estates
The Ford & Etal estates are now entirely to blame for my fascination with Border villages.
Those are the villages that lie between the border of England and Scotland. As a history buff, I can't avoid being fascinated with feudal ties between the two.
The Ford & Etal estates are actually made up of Ford, Etal, and Heatherslaw. Once upon a time, they were all at war with each other! Now, it's just one beautiful hidden countryside gem to visit.
You can visit a traditional working mill in Heatherslaw that still makes flour today or catch their steam railway. Etal is famous for its ruined castle that was at the forefront of many an Anglo-Scot battle including the Battle of Flodden with the battlefield just a few miles away from there.
Ford is famous for its gorgeous Lady Waterford Hall which was painted by the Marchioness of Waterford, Louisa Anne Beresford. Louisa painted beautiful pre-Raphaelite biblical murals that we can enjoy admiring today.
There is so much to this little place and you could easily spend a whole day here!
Click here for my complete Ford and Etal guide
St Abbs
This once sleepy fishing village in the Scottish Borders has now shot to fame and become a favourite for Avenger's fans.
This is due to it featuring in the latest movie 'End Game'. Now the village is twinned with New Asgard, you'll see plenty of tourists flock here for a picture with the sign and a wander around the harbour.
Even if you're not a fan of Avengers, this village is well worth a potter about. It's effortlessly picturesque with incredible views of the coastal path.
Click here to find all the Avengers film locations here
The St Abbs coastal path is a well-recommended hiking route that will take you over craggy cliffs, lochs, nature and rare butterfly reserves, bird colonies, and lighthouses!
This seemingly short walk may turn into a few hours for nature or photography lovers. There's just so much to see.
The cliffs were also another spot featured in 'Avengers: End Game' so look out for recognisable scenes while you're making your way around.
Cove Beach
Now, you know a beach is a secret when even some of the locals don't know where it is! It's a beach that can only be accessed through the cliff in a hidden tunnel.
It looks a little creepy, but when you make your way through you'll be greeted by the most beautiful cove. The great thing is, you'll have it almost to yourself!
I feel almost bad talking about it online as it feels like a secret that shouldn't be shared but it's well worth shouting about.
If you head back through the tunnel, you can explore the abandoned harbour and houses on the other side. The whole thing felt like a movie set!
You will need to park up in Cove and take the steep (but safe) walk down to the beach but it's well worth your time.
Click here for directions for Cove Harbour Beach!
Like it? Pin it!