After having returned from an amazing trip in South Devon with my Mum, on reflection, we stayed in some pretty spectacular places.
One of the hotels that really took my breath away was the Cary Arms and Spa near Babbacombe Bay!
It's a luxurious 5* resort in Devon and we had a deluxe private beach suite that was right next to the sea.
So, through the night we slept with the sounds of waves crashing on the shore, and in the morning we woke up to unobstructed views of the ocean.
Although we were in touching distance of the sea (and rain!), our suite was super cosy making it the perfect seaside retreat.
Here's my complete review of the Cary Arms and Spa in Devon with all the reasons to visit!
Heads up: my stay at the Cary Arms and Spa was sponsored in partnership with Visit South Devon. Although I was a guest, all photos and opinions are my own.
Why visit and stay in Babbacombe in Devon?
Devon is a huge county in England with unsurpassed natural beauty, so it can be hard to know where to stay while you're here!
Although it is tempting to base yourself in the busier areas like Plymouth, Exeter and Torquay, what I loved about Babbacombe was its quaintness.
Although it is a smaller area, it's still packed with amazing things to do and some hidden beaches without all the crowds.
Babbacombe Bay is a picturesque and secluded area where you, quite literally, drive down the cliffside to reach it.
So, the Cary Arms and Spa is like your own private resort on the coast! It's perfect for a few days of peace and quiet.
Here's all the reasons to check in to the Cary Arms and Spa
1. The Cary Arms has a long and colourful history
The Cary family are a big name in these parts, especially around Torquay. I learned a lot about them in the Torre Abbey Museum that you can visit nearby.
They first move into the area in 1662 and the Cary Arms is named after this influential family. As well as owning Torre Abbey, they also owned Cockington and Babbacombe.
Most famously, they held over 300 Spanish prisoners of war in their Spanish Barn. The Cary Family were paying for them out of their own pocket just to keep them alive!
Babbacombe Village
Babbacombe Bay has always been a secluded beautiful area and traditionally was a small village on the cliffside made up of fisherman's cottages near the sea.
Throughout time, it's been a popular spot for smugglers and ship wreckers too. Using this place to hide their contraband away from the revenue officers.
There is also a Babbacombe regatta held here since the 1820s and it's one of the oldest in the UK!
Royal Connections
The area even has some royal connections! The Whitehead family moved into the bay in the 1830s and Mrs Whitehead was a lady in waiting to Queen Victoria's mother and tended to Victoria as a baby.
Victoria loved visiting Torquay as a child and had a fond interest in Babbacombe Bay, often being rowed out to admire the scenery for her sketches.
Later, Prince Albert with his sons Edward the Prince of Wales and Prince Alfred came to visit Babbacombe Bay and have tea with Mrs Whitehead.
They were staying at the Imperial Hotel and were driven to Oddicombe. They were then rowed out to Babbacombe and requested a traditional Devonshire Cream Tea at the Cary Arms.
But, the story goes that the landlord William Gaskell had run out of cream. So, another diner offered their cream and the day was saved, plus the reputation of the Cary Arms too!
2. The Cary Arms and Spa is a unique 5* hotel right on Babbacombe Beach
What I loved about the Cary Arms and Spa was it's fabulous location by the sea!
On our first day we arrived, we went to Oddicombe Beach and were looking right at it over the bay.
From here you can really see how its nestled into the cliffs and the spectacular views you can get from there.
I love hotels with a sea view but this place was on another level. You were pretty much on the bay!
A few steps and you would be in touching distance of the rocky sea front and waves.
So, whether you're having dinner, a drink on the terrace, trying to spot dolphins from the edge of the cliff, or snuggled away in your room, you can't escape the epic views here!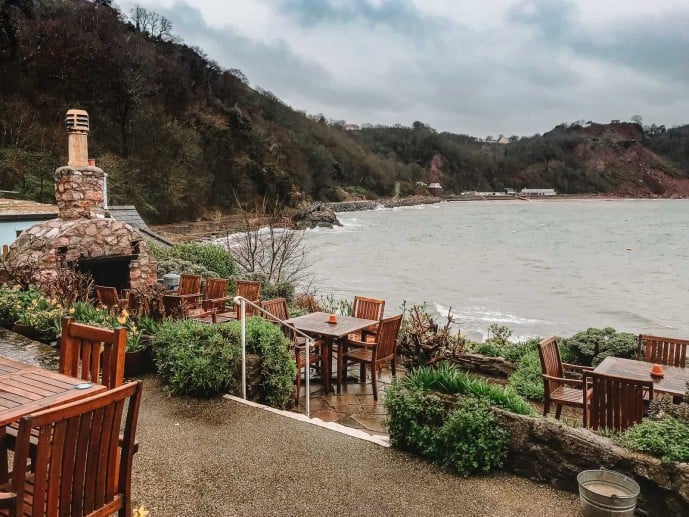 3. They have private luxury beach suites right on the sea
As well as having some cosy rooms inside the Cary Arms, they also have some unique luxury beach suites which sit on the bay.
When we first checked in and we made our way down, I couldn't get over the journey to our own area of the hotel.
As we descended down the stairs, we were taken to our private apartment. We had our own white picket fence and decking just for us.
This balcony area had some deck chairs to lounge on and you were right on the edge of the cliff.
Usually, the sea around Babbacombe Bay is quite calm. But due to stormy weather on our visit, the waves were crashing on the shore.
I loved watching them from the comfort of my warm room with a coffee!
A tour of our Cary Arms and Spa Beach Suite
Our Cary Arms beach suite had all the amenities you could wish for. Our spacious apartment had a lounge area, a huge bathroom and a double bedroom too!
The best part? We had underfloor heating so it was lovely and warm.
In the lounge, we had a fireplace, a TV, a massive sofa, and snug chair, plus tea and coffee facilities.
As part of the beach suite, you get unlimited soft drinks and snacks from the fridge!
Our bathroom had a huge deep bath tub, plus a walk in shower, heated towel rails, robes, slippers and even lovely smellies from The White Company.
Then our bedroom had two comfy single beds you could sink into with a huge window overlooking the sea. It was amazing waking up to those views.
I struggle with sleeping in light spaces, so was a little anxious about the huge window situation. But, I was pleased to find out they had black out curtains too! So, it was nice and dark.
Click here to book your stay at Cary Arms & Spa!
4. Their top rated sea view restaurant has a delicious menu
As we were comfortable here in the bay, we decided to have dinner at their top-rated Cary Arms restaurant for the evening.
Their indoor terrace looks right out onto the sea, so you can dine whilst overlook some amazing views.
Their menu has a select choice, but I always appreciate a smaller menu as it usually means the meals have been prepared with quality ingredients.
My mum and I both went for their chicken and leek pie with dauphinoise potatoes and seasonal vegetables. It was much-needed comfort food after a day exploring in the rain!
They also had 'catch of the day' dishes, beef fillet and some vegetarian options as well with an amazing wine list.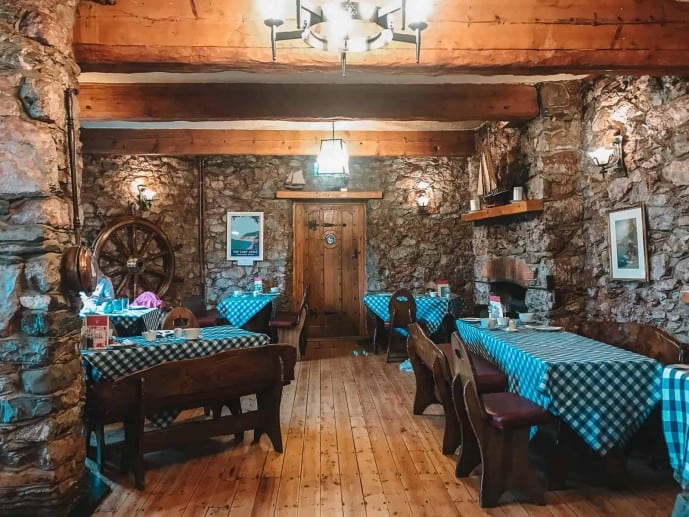 5. Plus, they have a sea view terrace bar & lounge area
As we arrived at the Cary Arms and Spa in the winter, we were graced with some typical English weather. Which was cloudy with a side of drizzle.
But, their terrace bar would be the perfect place in the summer to relax with a drink.
As well as being a popular spot with residents, their sea view bar is also popular with tourists and locals alike!
If it is a little chilly for you, I would definitely check out their residents lounge with a roaring fire.
Inside it has some cosy chesterfield sofas, a library of books, some vintage board games and even a pool table to pass the time!
6. You can visit the Cary Arms spa for luxury treatments
As the name would suggest, this seaside resort has a spa that you can book in for some pampering.
The Cary Arms Spa area has an incredible hydrotherapy plunge pool overlooking the sea, where you can relax and have some me time. Plus, there is also a sauna, steam room, experience showers and a gym.
The spa has a series of Thalgo treatments that you can book. It's a marine spa style of therapy that uses the healing powers of the sea and it's nutrients.
They have a range of full-body treatments that you can book to relax and tone plus some rejuvenating facials too.
I did see that residents can book in a complimentary consultation and hand treatment. So, if you were keen on sampling some of their treatments first, this is a good option.
Residents and non-residents can book into the spa at the Cary Arms for a special break or just for the day. They even have a couples treatment room.
7. Wake up to an incredible breakfast in by the sea
Breakfast is always my favourite part of the day and the Cary Arms breakfast is pretty special.
We sat in their terrace, sipping on coffee whilst overlooking the ocean. It was another stormy day, so it was nice to tuck into some comfort food.
As well as serving up some continental options like cereals, yoghurt, toast and fruits. You could also choose a hot breakfast made to order from their kitchen.
My Mum and I both went for their full English, which was huge and it was really tasty. Perfect to set us up for a full day of exploring the area!
8. It's the perfect place to explore more of Devon
Although Babbacombe is a lovely seaside retreat away from the hustle and bustle of the busier towns. It's also the perfect place to go exploring some of the highlights of South Devon!
There is so much to do in the area that you may struggle for choice. So, I'll list out some of my favourite places below;
Babbacombe Cliff Lift
No visit to Babbacombe is complete without a ride on the Babbacombe Cliff Railway down to Oddicombe Beach.
This vintage funicular has been transporting people up and down the cliffs here since 1926! As you travel down to Oddicombe beach, you'll struggle to believe you're still in England.
When we arrived we were greeted with blue skies and crystal clear turquoise waters.
Oddicombe cliffs have seen a few landslides in recent years, so you'll find that Oddicombe beach has red sand!
It's a tiny place that's tucked away on the cliffside but you can take a stroll along the shore, or visit the bistro 'Three Degrees West' while you're here.
Click here to read my complete guide for the Babbacombe Railway!
Torquay
Torquay is in touching distance of Babbacombe and is the main hub of activity.
This Victorian seaside resort is lined with its iconic palm trees and there is so much to do here for history, walking and beach lovers alike.
You can take a walk along the graded Princess Pier, spy on the yachts from the harbour or visit some of the hidden coves and beaches.
If it's a rainy day you do have a few options like Torre Abbey Museum, home to the Premonstratensian "white canons" and the Cary Family.
Or, pop into Kents Cavern Pre-historic Caves which were formed over 2 million years ago when Wooly Mammoths and Sabre-Tooth Tigers walked the Earth.
Inside you can see bone fragments from pre-historic humans dating back to 44,000 years ago and experience true darkness with their "black out".
If you're a fan of Agatha Christie, then you must visit Torquay. The Queen of Crime was born here in 1890 and to honour her the town have made their own Agatha Christie mystery mile.
It will take you from the Grand to the Imperial Hotel and on the way you can visit some iconic spots that inspired her life and works.
Click here to read my complete guide for the Agatha Christie Mile in Torquay!
Cockington
Coming away from the shore, if you drive into the countryside you can visit the quaint Cockington Village.
Although it's only half a mile away from Torquay, you'll feel like you've been transported back in time.
This village is a world of thatched cottages, buildings that date back to the Domesday books, stately manor homes and Lutyens style architecture!
Although many people think that this place is just a row of cottages, there's actually so much more to do here.
Click here to read my guide to Cockington & all the things you can do!
Greenway
Greenway has a long history since the medieval era but is most famously known as Agatha Christie's summer home in Devon.
She bought the property in the late 1930s for £6,000 after seeing it for sale in Country Life Magazine. Ever since then, her family spent many happy years here.
Today, it's own by the National Trust. You can visit the house itself which contains hundreds of artefacts from her unique collections and also walk around the manicured gardens too.
Don't forget to visit the infamous Boat House! This spot featured in Agatha Christie's novel, 'Dead Man's Folly' as the murder spot of Marlene Tucker.
You can arrive here by car, by steam train, on the River Dart ferry or walk!
Click here to read my complete guide for Greenway House!
Dartmouth & Brixham
Dartmouth is a picturesque town that sits on the banks of the River Dart opposite Kingswear in South Devon.
One of my favourite spots here is Bayard's Cove Fort. A Grade II listed building which you can explore.
There are so many reasons to visit Dartmouth, you'll struggle to find time to see and do it all. But, the highlights are Dartmouth Castle, the Blackpool Sands beach and walking along the river front taking the epic views.
Brixham, with it's gorgeous collection of colourful houses on the sea, is a historic fishing town.
Although it is effortless picturesque today, it used to be a haven for pirates and smugglers!
You can even climb onboard a replica of the Golden Hinde. Get lost in the fish markets here, visit the old lighthouse, take a boat ride out or just admire the views.
Burgh Island
Burgh Island is a tidal island in the South Hams area of Devon where you can cross over at low tide.
In the medieval era, this was known as St Michael's Island with small monastery and chapel and later was a popular spot for the Huers who used to call out to the fisherman on the arrival of Pilchard shoals.
Today, it's most famously known for the Burgh Island Hotel that was built in the 1920s. It's a temple for Art Deco and has seen the likes of Agatha Christie and Noel Coward walk through its doors.
My Mum and I treated ourself to afternoon tea in the hotel but there are plenty of things to do on Burgh Island that are free.
Click here for my complete Burgh Island Travel Guide or read my full review of the Burgh Island Hotel afternoon tea!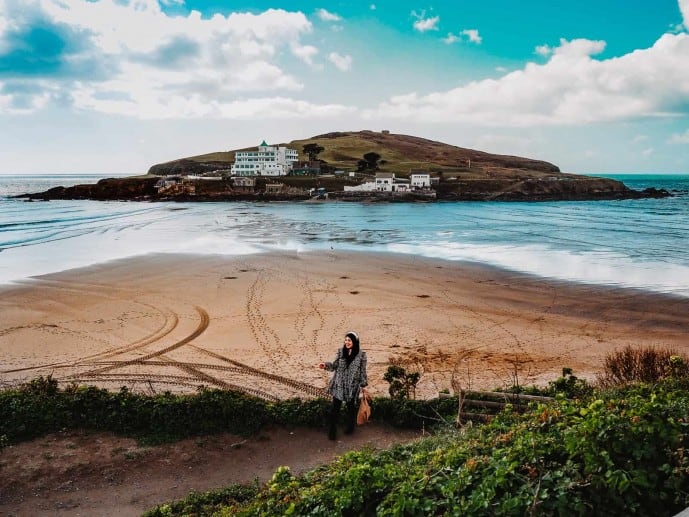 Where is the Cary Arms and Spa in Devon and how to get there?
The Cary Arms and Spa hotel is located in Babbacombe in the Torbay area of South Devon. It's part of the stunning English Riviera, the South West Coast Path and is an Area of Outstanding Natural Beauty.
By Car: by far the easiest way to get here is by car. It's located down quite a steep cliff, so if you have luggage to bring down here you may struggle a little by walking!
From the North, you can take the M5, then head over to A380 towards Torquay following signs to Teignmouth and then Babbacombe. The Postcode is TQ1 TLX.
By Train or Bus: The nearest train station to the Cary Arms and Spa is Teignmouth. From the train station, you can catch the number 22 Stage Coach South West bus service towards Paignton and alight at Babbacombe high street. It's then a 10-minute walk.
Cary Arms and Spa Parking
When I was driving down to the Cary Arms, I couldn't believe how steep the hill was down to the hotel! I swear my car was almost vertical so I would definitely keep a low gear as you head down the cliff road.
Luckily, once you pull up to reception the staff will park your car for you in their resident's car park. So, you don't have to stress about navigating these roads more than once.
Parking is included for residents as part of your room rate.
Read more of my Devon travel guides
The House That Moved in Exeter
Harry Potter locations in Exeter
Is this Exeter's Diagon Alley?
Walking down the Narrowest Street in Britain!
How to visit Wistman's Wood on Dartmoor
How to visit Lydford Gorge & White Lady Waterfall in Dartmoor
How to visit Brentor Church in Dartmoor
Woolacombe Bay Holiday Parks Review
Magical Valley of the Rocks Devon guide
Like it? Pin it!