If you're looking for the perfect hideaway on your Outlander tour of Scotland, then you have to stay at River Edge Lodges in Perthshire.
Sitting on the River Earn in the gorgeous Scottish countryside, you can take some time away to relax in your own cabin for a few days.
It may also surprise you to know that these lodges are featured in series 4 of the Outlander TV show. So, you're staying in an Outlander film location too.
This is a complete guide to the River Edge Lodges Outlander location and how you can book your stay!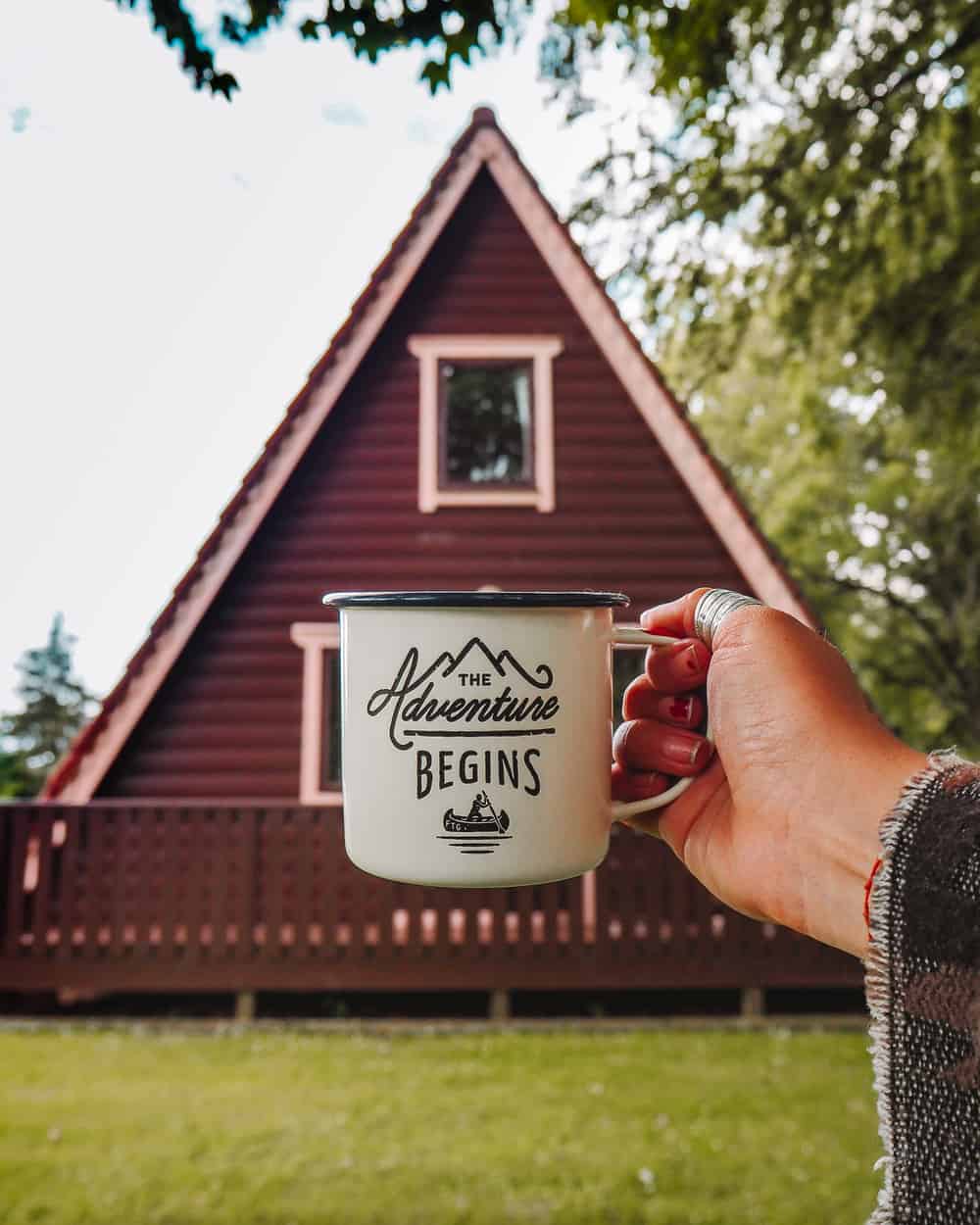 What was River Edge Lodges in Outlander?
River Edge Lodges featured in series 4 of Outlander. In episode 3, 'The False Bride', Bree and Roger head to North Carolina to attend the Scottish Festival.
Although the festival itself was filmed near Glasgow, the cabins at River Edge Lodges provided the perfect location for the cabins that Bree and Roger slept in during the event.
Of course, a lot of the cabins were completely redecorated for the show as the time period was the 1960s. Everything was changed, down to the light sockets, to make it true to the era.
Outlander fans will be happy to know they can book a night in the exact cabin that was featured in the show (more details on that below)!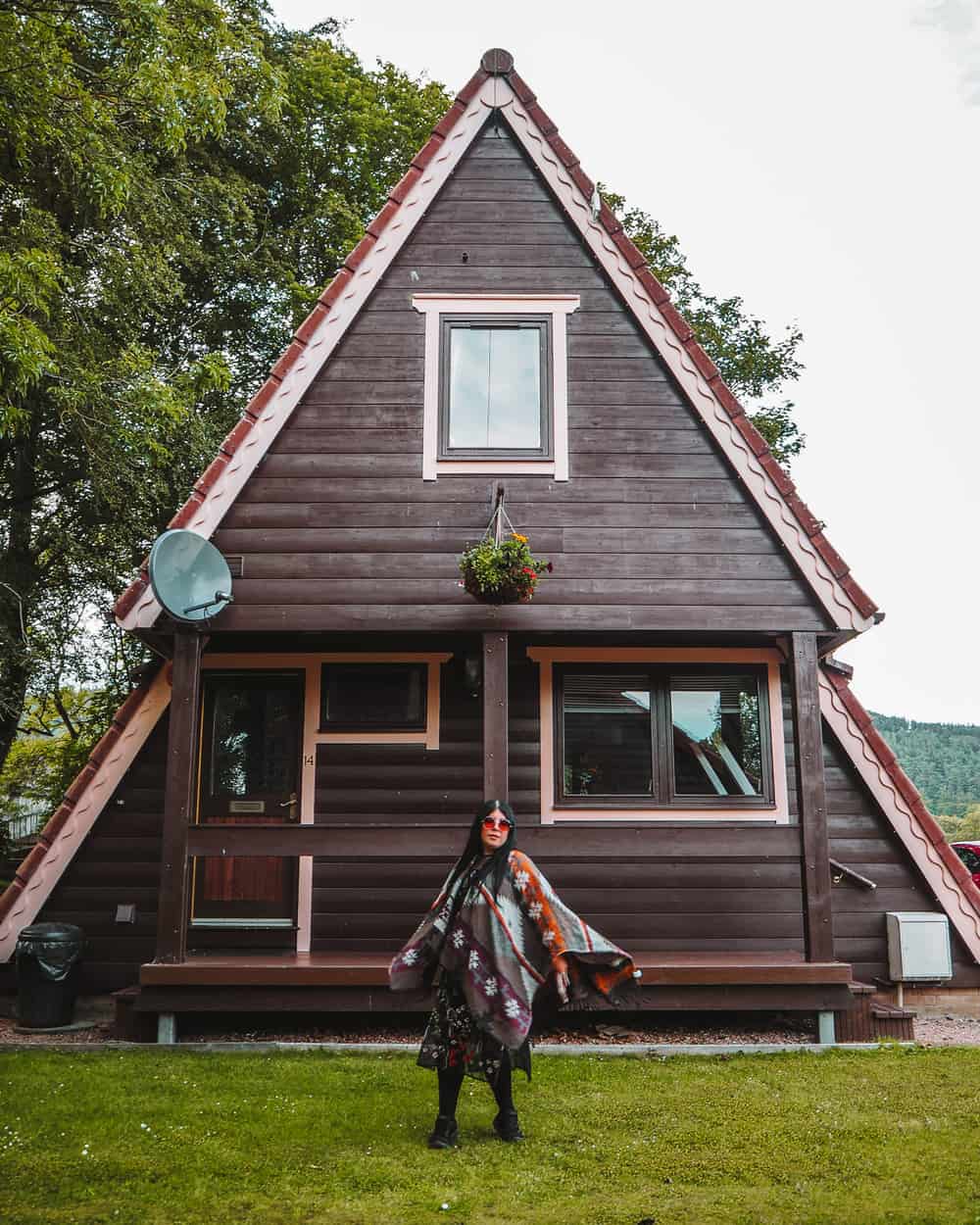 Where was the rest of the Highland festival filmed in Carolina?
If you're keen to know where the rest of the Highland festival was filmed for series 4, it's actually in Pollock Country Park near Glasgow.
As well as featuring in series 1 as the grounds of Castle Leoch and in series 2 as the duel location between Jamie and Black Jack Randall in Paris, the park was used for the Highland festival events.
In reality, it is just a field. But, visiting the park makes for a lovely free day out in the countryside. The part that made it worth it for me was the gorgeous Highland Cows that are here. Even babies! They made my heart melt.
Click here to read my complete Outlander guide for Pollok Country Park
Can you book a night at River Edge Lodges?
YES! The great thing about River Edge Lodges being used in the Outlander series is that it's actually accommodation where you can book your stay for the night.
As mentioned before, the inside won't look anything like the TV show. But, it's a beautiful modern cabin with all the amenities you need for a break.
To reserve a cabin, have a look for tariffs and availability on the River Edge Lodges website here
Where is River Edge Lodges in Scotland and how to get there?
River Edge Lodges is tucked away in the Perthshire countryside by the Bridge of Earn which bridges the River Earn. It's well signposted as you make your way over here, so you won't have much trouble locating it.
Getting to River Edge Lodges from Edinburgh will take you around an hour via the M90 taking an exit on the A912 road.
From Glasgow, it will take just over an hour via the M9, A9, and then onto the M90 to the A912 road to the Bridge of Earn.
By far the most convenient way to get here is via your own car. But, if you're planning on getting here with public transport you can make your way to the Kinross Park and Ride and then take the bus to the Bridge of Earn. Use Travel Line Scotland to plan your journey.
Parking at River Edge Lodges
The great thing about River Edge Lodges is that every cabin has its own dedicated parking space, so you don't need to lug your suitcases, food shop, and other bits too far away.
I found this so convenient, especially if I had left something in the car or I needed to grab something. It was also nice and close to pack things away or to grab the car to go into the village to buy dinner!
A look around the cabins that Bree and Roger checked into in Outlander
On my visit to River Edge Lodges, I was lucky enough to be staying in THE cabin that was used in the Outlander series!
This was Cabin 14, the one Bree was sleeping in. Rogers cabin is right next door, so you can snoop around both at the same time.
What I loved is how close the cabins were to the River Earn out the back. The views from the cabins were spectacular and the backdrop was almost like a portrait.
The river flowing with lush fields and cows, goats, and sheep grazing with the mountains in the distance was like a dream.
Looking from the outside, I could see exactly why the Outlander production decided to use the cabins. They do look like they're straight out of an American campground!
River Edge lodges cabins and amenities
As there were two floors, two bedrooms, a kitchen, lounge, and bathroom, checking in here was like having my own house for the night!
Although I checked in as little old me, there was enough space for a whole family to stay here for the night with their cases and more.
The cabins all have excellent facilities and are set up to provide a home away from home for a few days. There's a microwave, oven, washing machine and all the cutlery, saucepans and dinnerware you will need for your stay.
I loved the way it felt so cosy and homely. There were sofas that provided the perfect reading nook and a balcony with a table and chairs to enjoy the views outside. What more could a girl need?!
Where to eat around River Edge Lodges
It's good to note that River Edge Lodges is completely self-catering. So, you will need to think about what you would like to bring for meals before you get here.
Being the terrible planner that I am, I didn't have time to go to a shop before I arrived. But, luckily, there were a few takeaways and a Co-Op in the village to buy some supplies. Rosé and chocolate… Yes, I went shopping very hungry and made bad nutritious life choices haha!
Since I was an expat in India, I have completely gone off curry, but for once I decided on buying some from the local Indian 'Spice Garden'.
Again, I ordered while I was starving (bad idea) and had no idea about the amount of curry I would be getting! It was delicious though.
If you don't fancy curry, there are leaflets for lots of the takeaways in town and many of them deliver to your cabin for you so you don't have to lift a finger.
I highly enjoyed eating Al Fresco with just the flow of the River Earn for company. It was complete bliss! Although I did feel bad as I made the goats jealous who came to check it out.
What is there to do around River Edge Lodges?
Beyond an Outlander location, River Edge Lodges is in the middle of the Perthshire countryside so there are plenty of things to do around the area.
In my opinion, the top priority would be to meet the friendly goats that live on the property. There are three of them.
One is an old boy called Tim called and the other kids called Kali and Cleo.
They have a great time prancing around, well Tim is a little slower, and they come up to meet you. Also, there are chickens that make their rounds of the cabins too and it's oh-so-adorable!
Outside, you can also pop in to check out the Bridge of Earn village located in between Moncreiffe Hill and the Ochils.
It's previously won a Britain in Bloom competition and there are lots around the area for art and culture lovers with its shops and galleries too.
If you're into your historic castles you can visit Elcho Castle, Scone Palace (pronounced scoon), Glamis Castle, and Falkland palace that brings me to my next subject.
Outlander locations near River Edge Lodges
River Edge Lodges is also a great base for some Outlander location hunting. There are plenty of Outlander locations in Perthshire and Fife to visit which are nearby.
Falkland village is quite close and Outlander fans will recognise it as historic 1945 Inverness from series one.
This also is home to Mrs Baird's B&B and the fountain where the ghost of Jamie stands.
Click here to read my complete Outlander guide to Falkland with all the filming locations!
Aberdour Castle plays the Abbey in Scotland where Jamie recovers after Wentworth Prison and Dysart Harbour features as the historic port of Le Havre.
You can even visit the Christabel ship which is the Reaper Tall boat in the Scottish Fisheries Museum.
Tibbermore Parish Church was where they held the Witch Trial in Cranesmuir or visit Tullibardine Chapel that featured as a hideout during the Jacobite risings.
Drummond Castle Gardens will transport you to Paris and the grounds of Versailles and Doune Castle played the seat of Clan MacKenzie, Castle Leoch.
You can even visit Deanston Distillery for a whisky tour so you can visit Jamie's cousin Jared's wine warehouse in Le Havre.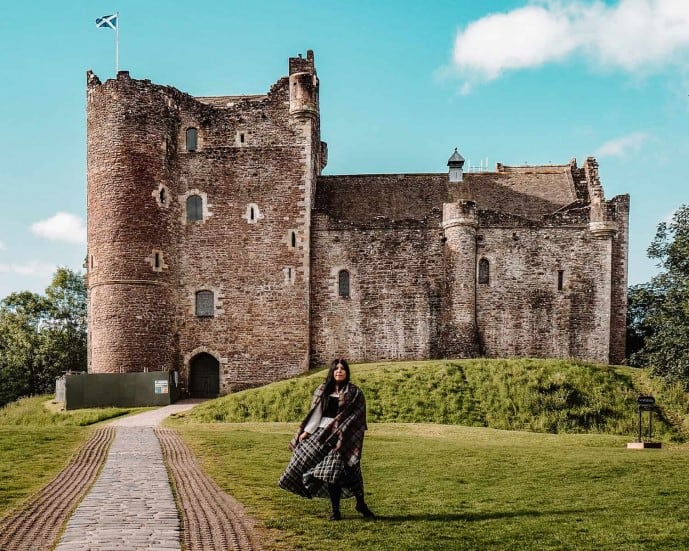 Even more Outlander locations to visit in Scotland
If you're looking for more Outlander locations to visit in Scotland, I have lots of guides about where to find them.
You can find my EPIC list of all of them here, or find the locations around the main cities of Edinburgh and Glasgow too.
The Hopetoun Estate in South Queensferry has many Outlander locations including the ancestral home of Broch Tuarach, Lallybroch at Midhope Castle.
Or, visit Hopetoun house and grounds for many more Outlander locations including the Duke of Sandringham's red room. Abercorn Church is nearby that featured in season 4.
Wentworth Prison can be found in Linlithgow Palace and you can see Fort William, where Jamie was flayed, in Blackness Castle. Bo'ness is also the location where Claire and Frank say goodbye in World War II.
Culross played the village of Cranesmuir and its Palace gardens were the herb gardens of Castle Leoch. Or discover the Black Kirk for yourself in the West Kirk.
In East Lothian, Gosford House played Helwater Estate and Preston Mill and Phantassie Doocot featured as Lallybroch's mill.
Roslin Glen country park was where Jamie says 'you're ripping my guts out Claire' and Glencorse Old Kirk is where Jamie and Claire get married.
Craigmillar Castle acted as Ardsmuir Prison in series 3 and Summerhall in Edinburgh has a historic lecture theatre where Claire met Joe Abernathy in Boston.
The Royal Mile has many Outlander locations to check out like Bakehouse Close that has the Outlander print shop and Tweeddale Court which is where Claire and Fergus were reunited.
Why not follow in their footsteps to the World's End Tavern where they went to find Mr Willoughby or have afternoon tea a the Colonnades to see the Governor's Mansion in Jamaica.
See my self guided Outlander walking tour of the Royal Mile here (with map).
Save this River Edge Lodges Outlander guide for later!