If you're looking to visit the Hunterston House Outlander locations in Scotland, then it is possible with a little pre-planning.
It's not currently open to the public but you can arrange private tours and Angus of Clan Hunter kindly allowed me to pop along and check it out on my Outlander tour of Scotland.
There are many Outlander locations that were filmed at Hunterston House, including Mrs Baird's B&B, The Reverend Wakefield's house and even some scenes from Paris in series 2 as well.
Hunterston House is based in the countryside in West Kilbride around an hour out of Glasgow. So, it's a great day out if you're a fan of all things Outlander!
Here's a guide to all the Hunterston House Outlander locations and how to book a tour and explore for yourself.
Who are Clan Hunter?
The Hunters of Hunterston have held the Hunter Clan lands since 1107; that's over 900 years!
The Hunters were originally gifted the lands, Hunters Toune, by David I of Scotland.
In the 14th century, Robert II of Scotland gave a grant of lands to William Hunter. It read, "for his faithful service rendered and to be rendered to us in return for a silver penny payable to the Sovereign at Hunterston on the Feast of Pentecost".
To this day, silver pennies are kept inside Hunterston Castle minted in the era of Robert II and George V. Just in case rent is due.
Throughout history, the Hunters were responsible for the royal forests and Arran and Little Cumbrae. They were then stationed in the military with John Hunter losing his life in the famous Battle of Flodden in 1513.
In more recent history, Lieutenant-General Sir Aylmer Hunter-Weston fought in many battles including the Egyptian Wars. He then went onto the Boers Wars, World War I and the Gallipoli Landings. He also commanded the 8th army on the Western Front.
To this day dependents of Clan Hunter live on the property and they are such a lovely family! I would highly recommend booking a visit and getting to know them.
If you have a surname of Hunter, Hunt, Hunter, Huntress or Hunta you can join the Clan Hunter Association here.
What is Hunterston House?
Hunterston House is the neoclassical ancestral residence of Clan Hunter that was built in the 19th century.
The work began in 1799 for Eleanor & Robert Hunter (the 23rd Laird of Hunterston).
It sits on the grounds next to its more famous neighbour, the Grade A listed Hunterston Castle. This keep has been the seat for the Laird's of Clan Hunter since the late 13th century.
As well as Outlander, it has been used as a filming location for famous programmes like Malevolent on Netflix. Also, Vincent Van Gogh painted with words, the Jonathan Creek Christmas special, Sherlock Holmes (BBC movie), 39 Steps and Rebus.
Hunterston House Outlander film location
The Outlander series used Hunterston House as a film location in all 4 series of the show.
It was used as Mrs Baird's B&B, the Reverend Wakefield's House, Robert's home and scenes from Paris too!
I was kindly allowed to look around the house on a private tour with the Hunter family and Mary the housekeeper. So, I was able to explore all of the rooms and locations on my visit!
Here's an in-depth look at all the Hunterston House Outlander locations on the property.
"Let's start at the top of the house and we'll make our way to the bottom" was what my kind host Mary suggested. So, that's how I'll write this e-tour of Hunterston House.
Although the house won't look exactly like the series, Mary had her photo folders of the Outlander locations. That helped me see what it looked like while filming and what rooms are which.
9 Hunterston House Outlander locations to visit
1. Mrs. Baird's B&B Reception
Although the outside of Mrs Baird's B&B in 1945 Inverness is filmed at the covenanter hotel in Falkland. The interiors of all the B&B scenes were filmed in Hunterston House which is in West Kilbride!
If you head up to the top of the staircase at Hunterston, that's where you'll find the area where they built the makeshift reception of Mrs Baird.
Although when you visit, it looks nothing like the reception. A door and a desk must have been installed. But, if you look closely, you can tell from the bookcases and the colour of the walls in the background that it is the spot.
This is where Claire and Frank sign in and talk to Mrs Baird about the Eve of Samhain and folklore in Inverness.
2. The bedroom that Claire and Frank stay in at Mrs Baird's B&B
Claire and Frank check into Mrs Baird's B&B while in Inverness It's also the spot where the ghost of Jamie stands by the Bruce fountain looking up at Claire in the bathroom.
Although the exterior reels of Claire were filmed on location in Falkland, the room where they were sleeping in Inverness was located at Hunterston.
They kindly let me take a few photos of the bedroom used. It had different furniture placed for the series which was relevant to the time period but it did have the same floral wallpaper as the first episode.
The door leading off into the 'bathroom' in the series is actually a storage cupboard. Meaning, they must have used the room in the Covenanter hotel for that part.
3. The bedroom where Claire and Frank have a heart to heart
On the first floor, is Claire's bedroom where she stays after she returns through the stones in series 2.
This is where she invites Frank in to talk about where she has been for the last two years over a dram of whisky. It's also where she tells him that she is pregnant with Bree and where they make plans to move to Boston.
Apparently, the owners had recently painted the walls in this room before the filming of the second season. But, the Outlander team wanted a more 1940s colour of the paint. So, it was changed for the show and hasn't been changed back!
4. The Reverend Wakefield's sitting room
The first scene we see of the Reverend Wakefields home is when Frank and the Reverend are studying some records to find Frank Randall's lineage.
This is also the first time we hear the name Jack Randall too who turns out to be Black Jack Randall.
These scenes were filmed in the lounge area of the house while reappearing quite a few times in the 1st, 2nd, 3rd and 4th series too.
This includes when Frank and the Reverend are searching for Claire in series 1 and when Claire returns in series 2. It also reappears in the Reverend Wakefield's wake in series 3 and when Robert is moving out of his house in series 4.
5. The bedroom/library at the Reverend Wakefield's
If you head into the library at Hunterston House, you'll instantly recognise it as the room that Frank stays in with the Reverend Wakefield on the search for Claire in series 1.
In the second season, this room was changed into a drawing-room/library room at the Reverend Wakefields. This is where Frank and the Reverend watch Claire looking for Jamie.
In series 3, this is the room where Claire, Roger and Bree are on the search for Jamie. You can tell by the drawing board hanging by the bookcases in the room.
6. The kitchen where Mrs Graham performs Claire's tea reading
In the first episode of Outlander, Mrs Graham invites Claire into the kitchen at the Reverend Wakefields for a cup of tea. She then offers to perform a tea reading for Claire and asks to look at her palm.
She tells Claire that she will marry twice and her lifeline is forked. Also, she will go on a journey but also stay put. We soon later find out that all that Mrs Graham predicted was true!
This scene happens in the kitchen at Hunterston House. Although you'll only find the stove is the same as the series. Most of the location was changed to stay true to the time period.
Mary told me that the Outlander team had put in some wallpaper but it looked too new, so they borrowed her tea bags to stain it!
7. The garden where Claire looks for Jamie
In series 2, Claire returns through the stones and stays at the Reverend Wakefield's House with Frank.
She is desperately looking through the archives of Culloden to see if she will find Jamie's name there. At this point, she doesn't know if he survived the battle or not.
The gardens outside of Hunterston House were used for the scene where Claire looks through the books. This is also where Mrs Graham tells her to stay with Frank rather than chase a ghost.
Some hedges were placed outside to give it a garden feel, whereas actually, it's a field!
8. The potting shed Frank destroys
After Claire admits to Frank she is pregnant with Bree and it's Jamie's baby, Frank is obviously not impressed with this news. So, he goes on a wild rampage and ends up destroying everything inside the Reverend Wakefield's potting shed in series 2.
This scene is actually filmed on the grounds of Hunterston House in the walled gardens.
There's nothing inside the shed now, but it must have been some fun for Tobias Mendez, who plays Frank, to completely wreck the place in the series. A great stress reliever!
9. Suzette's attic room in Paris
The last location you can find at Hunterston House is located in the rooms outside of Hunterston Castle.
Once Hunterston House was built in the 19th Century, the castle was used as a servants quarters. It's now used as accommodation for tenants on the property.
The attic in these rooms was used for Suzette's attic room in Paris where we see her with Murtagh…well, doing their thing if you get my meaning.
It's completely empty now, so the team must of put lots of props and furniture in to make it look like a Paris apartment.
Exploring the grounds of Hunterston House
There's lots more to explore around the Hunterston estate and one of those is the gorgeous walled gardens on the estate.
It's in the process of being renovated, but you could see lots of colourful flowers in the manicured parts. As it was summer, they smelled amazing on a warm sunny day. Unusual for Scotland but it was gorgeous!
They have plans to convert the area into a wedding venue and for private events, so I would watch this space.
Hunterston Castle
As one of the oldest castles in Scotland, the Grade A Hunterston Castle is famous in these parts. It's a 13th-century keep and was the home of the lairds of Hunter for over 800 years!
The Hunter family were kind enough to take me on a tour during my visit.
Having toured quite a few keeps on my visits around the clan lands of Scotland, I found that something they had in common was little or no windows! Raids from other clans were pretty common and you could get targeted in your home if you were visible.
Nowadays, the castle is a museum and has lots of artefacts, original furniture and historical pieces of Clan Hunter.
Some of the historical documents, like the deed of lands, and Viking jewellery pieces found at the site are duplicates. The originals are placed in museums across the country.
From the top lookout, you received some amazing views of the West Kilbride countryside and the Isle of Arran.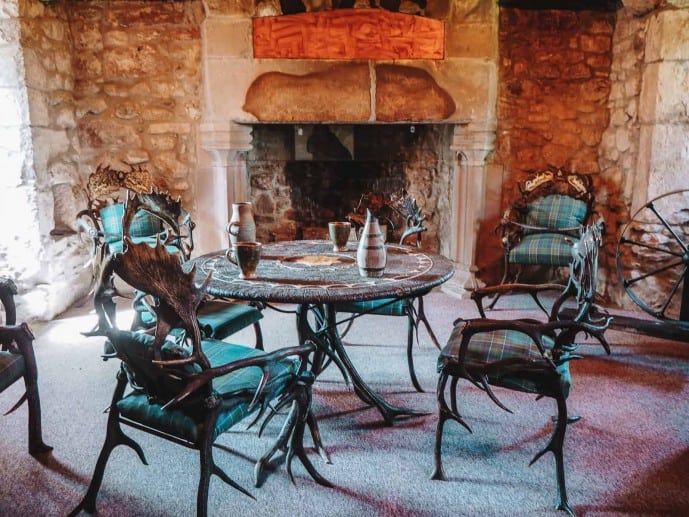 How to book a Hunterston House Outlander tour?
I found it quite difficult to get in touch for a tour, but while I was here I enquired on the best way to book a tour of the property.
But, please be aware this is a private residence and so a visit is not always guaranteed if the family are busy.
Book onto a private Outlander banquet with Highlander Tours – I was really excited when I saw this tour. You can visit Hunterston House with Andrew from Highlander Tours and even have an Outlander banquet 18th-century style. They invite in the chef that made food for the Outlander series and you can even get the chance to dress up! Click here to see when the next tour takes place. They also do bespoke Outlander tours of Scotland that you can check out here.
Book via the Hunterston House website – coming soon – On my visit, I suggested that a website should be created to advertise the tours to make it easier. They are looking to offer private tours to visitors on cruises docking in at Greenock and those just looking to visit for the tour from elsewhere. It will be sometime before its created but as soon as I have the link, I'll include it here.
Where is the rest of 1940's Inverness filmed in Scotland?
If you're looking for the place where the Outlander team filmed 1940s Inverness, then you only need to visit Falkland village in Fife.
It's a bit of a stretch to visit there from Hunterston house, but if you're touring Scotland it's around an hour drive from Edinburgh.
Here, you can visit 1943 Inverness, pose by the Bruce Fountain where the ghost of Jamie looks up at Claire, or pop into Mrs Baird's B&B for a cuppa!
Read my full Outlander guide here and my review of staying the night at Mrs Baird's B&B too.
You can read my ULTIMATE list of Outlander locations in Scotland here, or read my Outlander in Edinburgh & Outlander in Glasgow guides
How to reach Hunterston House in Scotland
Hunterston House is located in West Kilbride, around 4 miles out of Largs and an hours drive out of Glasgow dependent on traffic. There is a high possibility of getting stuck behind slow tractors on one-lane roads, haha!
Make sure you leave enough time to reach the house if you are booked onto a tour.
The most convenient way to reach Hunterston is to drive as there are no buses that stop anywhere near the property. From West Kilbride train station it's an hour walk so opt for a taxi.
Save time and book a tour!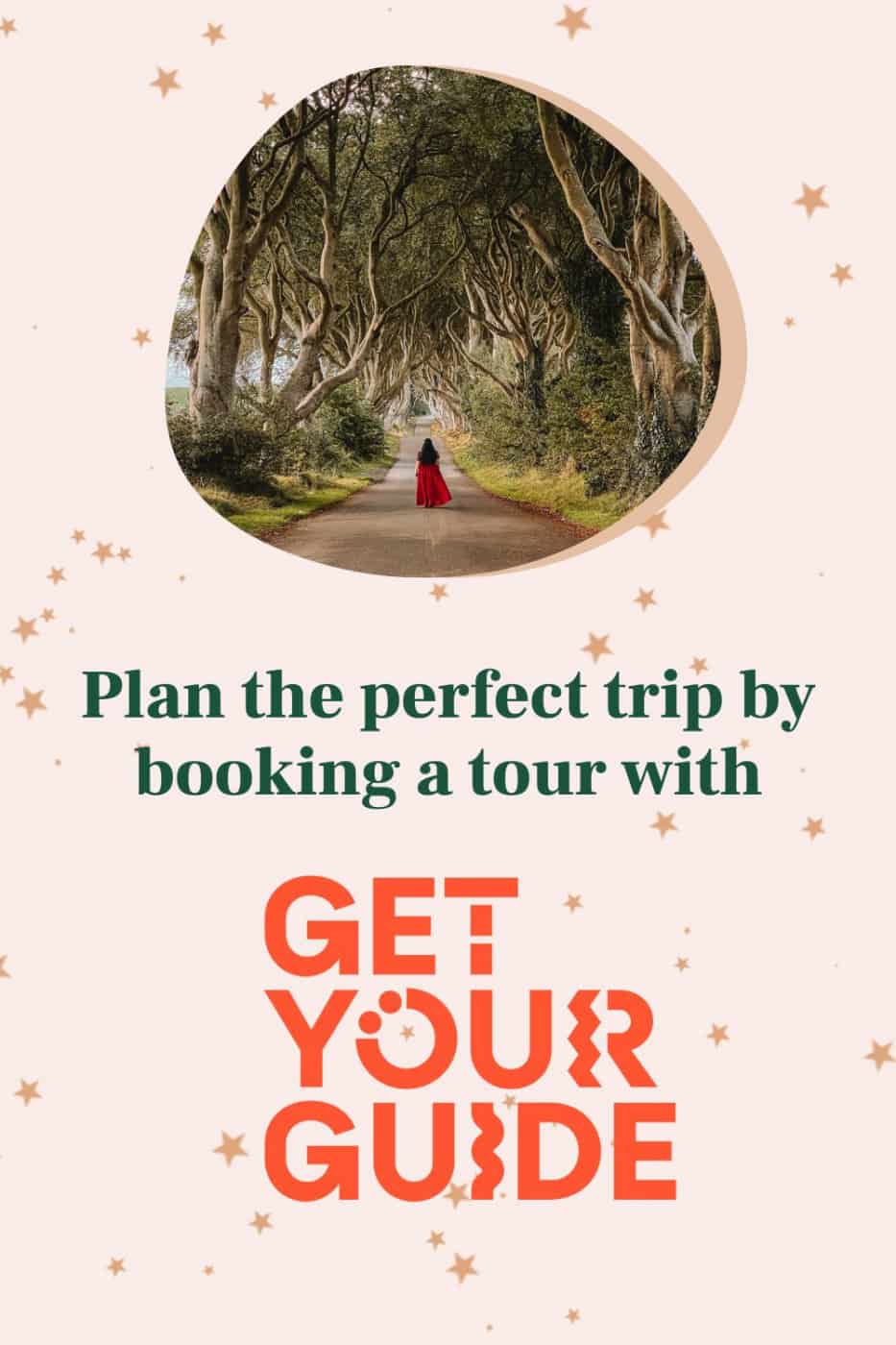 Book tours & tickets for Glasgow!
Outlander locations around Hunterston House
If you were looking to add on a few Outlander locations after your tour of Hunterston House there are a couple around West Kilbride and Ayrshire.
Dunure / Silkies' Island
Dunure has been put on the map by the Outlander effect and they even have a cute sign to shout about it!
Here you can visit the ruined castle from the Silkies' island, although you'll be glad to know it's not offshore on a castaway isle. It's actually on the shores at Dunure and is FREE to access.
You can then make your way to the beach where Jamie and Claire watch young Ian being captured by the pirates on their ship.
If you walk about 800 yards further, you can find yourself at the port where Jamie and Claire seek passage to Jamaica.
Then, in series 4, Dunure harbour was used again for Bree to find a boat heading to Carolina. Roger soon follows after her soon after he's walked through the stones.
Click here to my Dunure Outlander guide!
Troon
Troon is a world-famous beach resort that has miles of pretty coastline and Royal golf courses. But, it was also a filming location at the very end of the first series.
After Jamie recovers from his ordeal at the hands of Black Jack Randall, he is taken to an Abbey in Scotland to recover. While they're here, Murtagh secures them passage onboard the Christabel heading to Paris.
The part where Claire, Murtagh and Jamie say farewell to Willie, Angus and Rupert is filmed on Troon beach.
You can read more about this in my Troon Outlander guide here!
The Devil's Pulpit / Liar's Spring
The Devil's Pulpit is up there as one of the more remote Outlander locations to visit and has come under fire a lot.
It's quite hard to locate and even harder to get to. But, if you're feeling brave and you're prepared it's one of the most magical places I think I've visited in my life!
The Devil's Pulpit or the Finnich Glen featured as the Liar's Spring in season one where Dougall asks Claire to drink from the river to prove if she's being truthful.
See my full guide for visiting the Liar's Spring here!
Outlander locations around Glasgow
Glasgow has plenty of Outlander locations and you'll need at least a day to explore them all! Make sure you look at my full list here.
Start off at the University of Glasgow to find Havard University where Frank was a professor in Boston. Or, make your way over to Kelvingrove Park to see where Claire walks to study.
George Square was the spot where Claire and Frank were married in London.
You can visit L'Hôpital Des Anges at the Glasgow Cathedral and take a walk up Dowanhill street to find Claire and Frank's house in Boston.
Pollock Country Park has scenes from the grounds of Castle Leoch and the duel between Jamie and Black Jack Randall in Paris and Dean Castle Country Park featured in the Fox's Lair.
Save this Hunterston House Outlander guide for later!