Did you know that there was a Glasgow Cathedral Outlander location? Because I certainly didn't before I explored this incredible city!
The lower crypt in the High Kirk of Glasgow is featured in series 2 as L'Hôpital des Anges or the Charity Hospital in Paris.
Beyond an Outlander fan site, Glasgow Cathedral should be at the top of your list of attractions to visit whilst exploring.
With the area dating back over 1,000 years, the Kirk boasting stunning architecture and heaps to see and do inside; you'll need to leave lots of time to explore.
Here's a complete guide to the Glasgow Cathedral Outlander location and things to do in the area!
Glasgow Cathedral History: The High Kirk of Glasgow
Glasgow Cathedral has been a dedicated church since the year 1136 AD, making it the oldest cathedral on mainland Scotland and the oldest building in Glasgow!
It is supposedly built on the same site as where St Mungo built his church. He was an apostle of the Scottish Kingdom of Strathclyde in the 6th Century and his tomb can be found in the Lower Crypt. He was the patron saint who brought the Christian faith to Scotland too.
It was built before the reformation and is one of the finest examples of Gothic architecture in the country that survives today.
In fact, it's lucky to have remained fully intact after the reformation took place in the 16th Century. Most of the Cathedrals across England and Scotland were destroyed and the roofs removed.
Another interesting fact is that Glasgow Cathedral was the beginning of the University of Glasgow.
Classes for the University were held in the precinct of the Cathedral until the 15th Century when the original campus was built. The University of Glasgow is the fourth oldest university in the English-speaking world.
Related post – my complete Outlander guide for Glasgow University!
What is the Glasgow Cathedral Outlander location?
In series 2, Claire is working for a charity hospital in Paris called L'Hôpital des Anges which is in Paris. This is run by Mother Hildegarde and the nuns of the Couvent des Anges.
Although the exterior of the Church was filmed in Prague in the Czech Republic, the Interiors were filmed in the lower crypt of Glasgow Cathedral. This is also where the tomb of St Mungo is buried.
We see this hospital many times in series 2 while Claire is attending patients. Finally, we see Claire recovering here from losing Faith, Jamie's and Claire's first baby.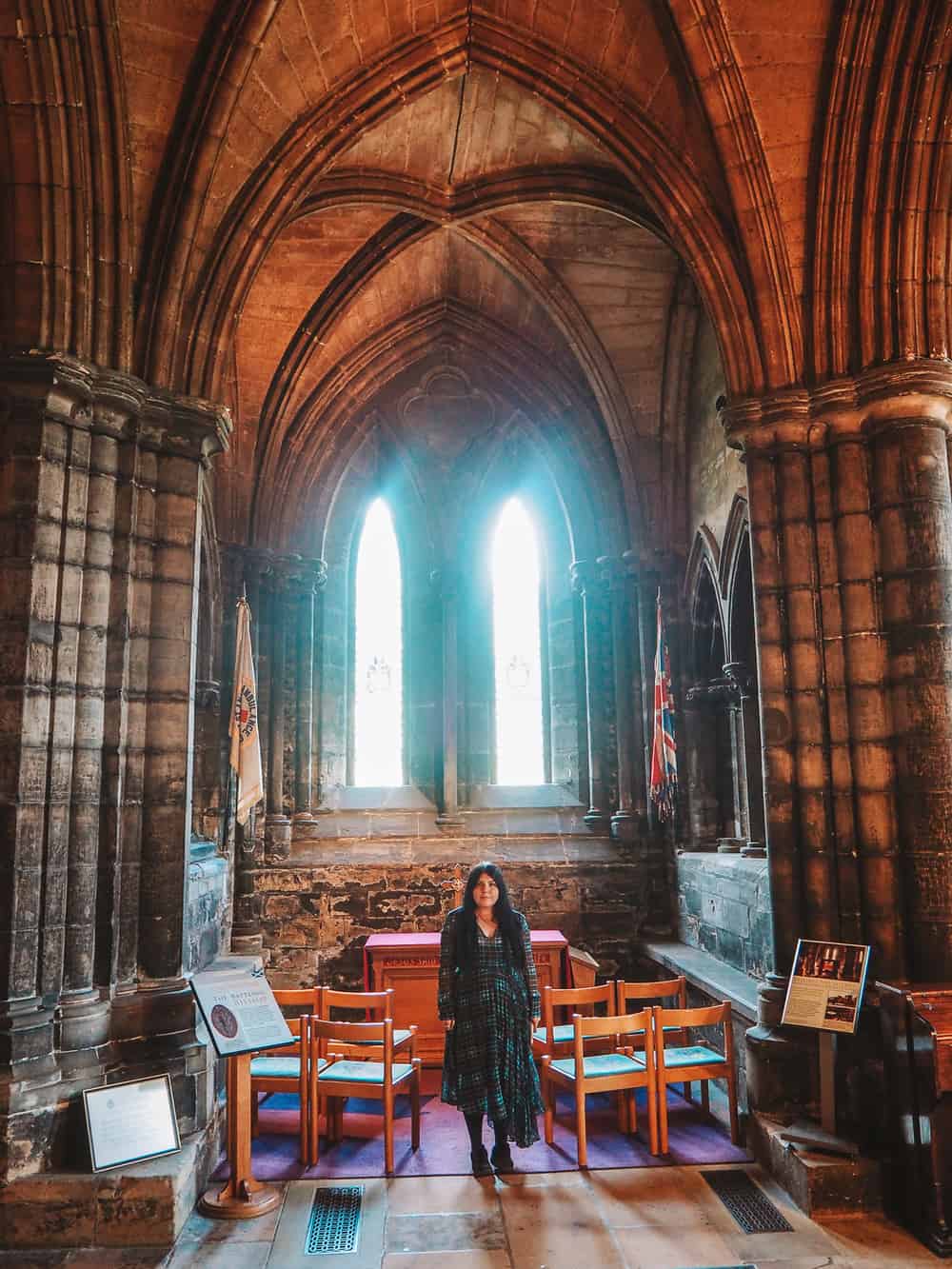 Exploring L'Hôpital des Anges in Outlander – Glasgow Cathedral Lower Crypt
When you enter Glasgow Cathedral you will need to make your way down to the Lower Crypt of the Cathedral.
Please be aware, this is subject to certain opening times and closed during worship.
As soon as you enter the crypt, you'll feel like you've been transported to 18th century Paris.
The whole area, with its iconic cloisters, will make you feel like Mother Hildegarde will greet you with Bouton, her clever medical dog.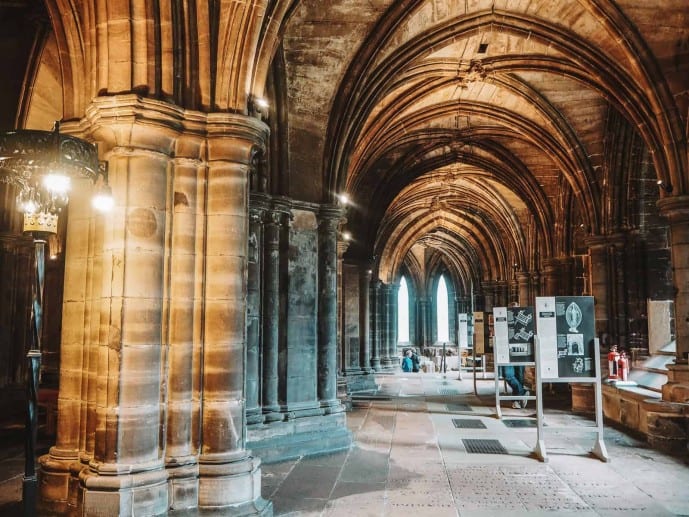 If you want to see the exact location where Claire recovers in her bed, then look for the crypt of St Mungo.
There is an Outlander sign there that tells you a bit more about the location and some Behind the Scenes of the film set. You can recognise it easily from the stained glass windows on the wall behind.
When you are walking around the area, there are many displays with useful information and artifacts that have been found at the site. These were all removed for filming.
Where is the exterior of L'Hôpital des Anges filmed?
The exteriors of L'Hopital des Anges were filmed in Prague, in the Czech Republic.
The gorgeous church that was used was Vojensky Kostel Svateho Jana Nepomuckeho (Military Church of St. John of Nepomuk).
I haven't actually been there, so I couldn't comment much on what to expect. But, from what I can see online, it looks stunning inside with domed architecture and roof paintings.
Definitely, a must-visit for Outlander fans if you find yourself in Prague!
Other things to do in Glasgow Cathedral
Once you're done ogling over the amazing cloisters in the Lower Crypt. There is far more to do in Glasgow Cathedral.
When I arrived on Sunday afternoon an Organ was playing and it made such an atmosphere. It's also worth visiting at this time to see the Choral Evensong too;
Take a guided tour – The Friends of Glasgow Cathedral run guided tours at 11 am and 2 pm. There is no specific charge but donations are welcome. Also, you can grab a pamphlet and take a self-guided tour too.
Explore the Cathedral Nave – Once you make your way from below, make sure you don't miss the chance to see the spectacular Nave in the cathedral. The stained glass windows and architecture is mind-blowing. Take a pew for a while and don't forget look up – the ceiling is so ornate.
Listen to the Choral Evensong – This happens on a Sunday only at 4pm, so for once, I planned my visit at the right time without knowing it! The acoustics in the church really highlight the beautiful voices and it's such a lovely sound that floats throughout the building.
Click here to see more things to do at Glasgow Cathedral
How to get to Glasgow Cathedral
Glasgow Cathedral is just a 10-minute walk from the city centre but is also easily accessible with Glasgow's amazing public transport system.
If you plan on driving, there are around 5 car parks dotted in the Cathedral Area. These do cost a fair bit (£3 for all day and you can't pay less) but on a Sunday parking is free in the laybys.
The most convenient way is by bus, I use Travel Line Scotland to plan my journeys. Or, take the Glasgow City Sightseeing Bus that has a dedicated stop right here.
Glasgow Cathedral opening times and prices
Glasgow Cathedral is FREE to visit and open to the public, but certain areas of the church have specific opening times;
April – September: Monday – Saturday between 9.30am and 5pm. Sundays admission from 1pm – 4.30pm.
October – March: Monday – Saturday between 10am and 3.30pm.
Outlander fans should also be aware that the lower crypt closes 15 minutes earlier than the closing time. So, get there in plenty of time to explore.
Book an Outlander tour from Glasgow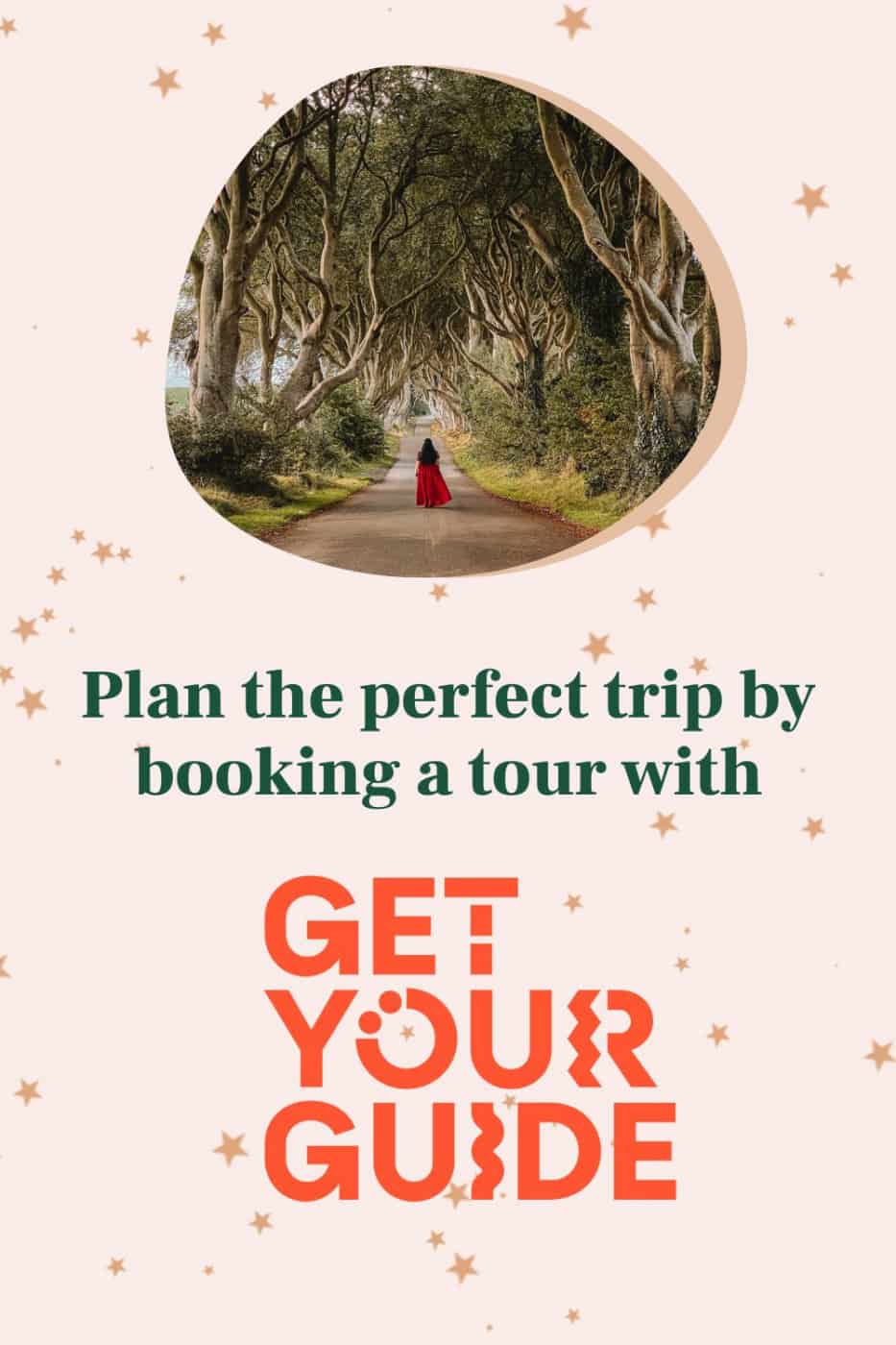 Book tours & tickets for Glasgow!
Things to do around Glasgow Cathedral
Once you've finished exploring Glasgow Cathedral, there are quite a few attractions close by that are worth exploring. Also, somewhere to get a Sam Heughan fix!
St Mungo Museum of Religious Life and Art – directly outside of the Cathedral, you'll come across the St Mungo Museum. This is a FREE museum that explores religious life from all over the world. Its main aim is to promote an understanding of different faiths and unity.
Glasgow Necropolis – The Glasgow Necropolis is a Victorian Cemetery, it is thought that over 50,000 people are buried here and there are over 3,500 monuments and tombstones! There are guided walking tours that you can check out here.
Sam Heughan at Tennents Brewery – If you're after a bit of a Sam Heughan fix then head over to the Tennent's Brewery to see an advert for their lager with a familiar face. I'm so gutted I missed this while I was here! This wall is only around a 10 minutes walk from the cathedral, so easily done.
Outlander locations in and around Glasgow
Glasgow has plenty of Outlander locations and you'll need at least a day to explore them all! Click here to see my full guide of locations in Glasgow or read about individual locations below.
Start off at the University of Glasgow to find Havard University where Frank was a professor in Boston. Or, make your way over to Kelvingrove Park to see where Claire walks to study.
George Square was the spot where Claire and Frank were married in London. Or, take a walk up Dowanhill street to find Claire and Frank's house in Boston.
Pollock Country Park has scenes from the grounds of Castle Leoch and the duel between Jamie and Black Jack Randall in Paris and Dean Castle Country Park featured in the Fox's Lair.
The Devil's Pulpit is also an incredible location hidden away in the countryside that doubled up as a Liar's Spring. See my complete guide on how to find the Liars Spring from Outlander here!
You can read my ULTIMATE list of Outlander locations in Scotland here, or read my Outlander in Edinburgh guide
Where to stay in Glasgow
If you're looking for a modern and affordable hotel in Glasgow, then Motel One is your ticket.
Located next to Glasgow Central Station I was worried I wouldn't have a good night's sleep. But, I had nothing to worry about. The hotel has amazing soundproofing and I slept like a baby!
The design was flawless, modern and it had a European flair to it. It's also in the heart of Glasgow and just minutes away from some of the cities top attractions.
Here's my full Motel One Glasgow review and how you can book your stay