Thousands of tourists and performers flock from all over the world to experience the Edinburgh Fringe Festival.
The city comes alive with music, dances, comedy, magic, street performers, and more!
I performed here myself back many years ago when it was called Jenny Ha's (now the Kilderkin) on the Royal Mile and they were some of the best two weeks of my life.
Handing out flyers, street walking to advertise our show, and then performing each night to a new audience was breathtaking.
Edinburgh has a fantastic vibe to the city anyway but the Fringe is the cherry on top of the cake.
Make sure you visit the Scottish capital in August to experience the amazing Edinburgh Fringe festival.
Here are the top things you need to know before you visit.
1. Plan out how you're going to travel to the Edinburgh Fringe Festival
By Air: You can fly into Edinburgh's main airport from most cities or fly into London/Manchester and grab a connecting flight.
By Rail: You can also grab the Virgin train directly from London to Edinburgh and can arrive here in around 8 hours. Check out National Rail for details.
By Car: If you're driving like me the road trip will take around 7/8 hours from London depending on traffic. You can either do it all in one go or stop over for the night at the many places along the way. I would recommend the Lake District as it is a beautiful part of the country.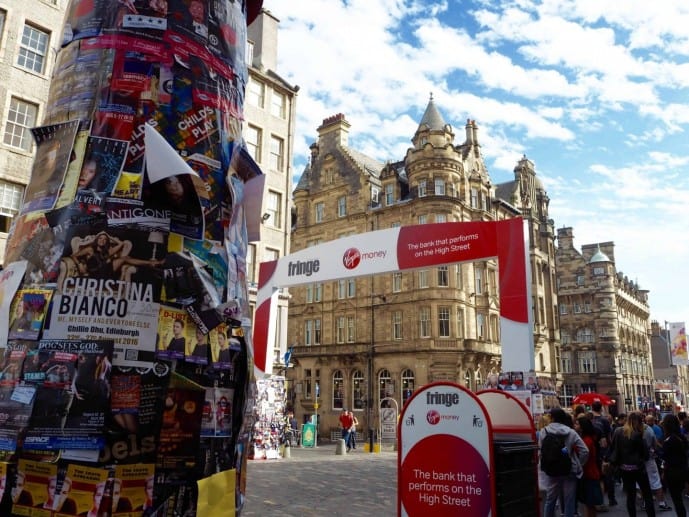 2. Find out what the Edinburgh Fringe Festival is all about
It's the largest arts festival in the world and has been running since 1947 for 3 weeks every August and in that time the city is buzzing with atmosphere.
The story goes that eight theatre groups decided to invite themselves to the Edinburgh International Festival unannounced and performed a show on the 'fringe of the festival'.
Coining the name 'Edinburgh festival fringe', this popular tradition continued for around a decade until 1958 when it became an official festival in its own right.
As true today to its values then, it publishes anyone who is here with a story to tell and is against vetting any talent who graces the streets at this time.
It is a festival which means a lot to me as I was one of those performers who was given a chance to take the stage.
We were in magazines, given a venue, reviewed in the local newspaper, featured in the official Fringe programme, and were provided with amazing support from the Edinburgh Festival Fringe Society.
Society has amazing tools, advice, support, and contacts to give artists a chance at becoming professionals or advice on how to develop their talents.
It is an incredible festival that truly promotes everything that is to do with the arts and champions talent.
3. Book your hotel for the Edinburgh Fringe Festival in advance
The fringe festival isn't like a normal music festival where you camp for a couple of days in a field. No, no, no. It's amongst the streets, pubs, and buildings!
So, you can leave your tent packed up at home and book a room in the city to get involved.
Around the fringe, the hotel prices rack up as it is peak season after all, but a top tip, if you're on a budget, would be to stay at the student accommodation around the city.
In the summer when the students are on break, the dorms transform into hotel rooms and you can bag one at a bargain price!
What's even better is that a lot of the rooms are single beds and so you can save a pretty penny if you're a solo traveller.
I would highly recommend Pollock's halls which are located on Holyrood Park road – almost touching distance to Arthur's seat.
There are hundreds of rooms available and come with an all-you-can-eat breakfast every morning. (Look at that view, sigh!)
4. Make sure to grab a programme of Edinburgh Fringe Festival Shows and Events
You can grab your brochure from the Edi Fringe Shop on the Royal mile which will give you information about everything you need to know for that year's fringe.
I will warn you the brochure is massive as there are just tonnes of stuff going on but make sure you give it a thorough read as you may find something which intrigues you!
5. There will be all types of shows at Edinburgh Fringe Festival
There are a plethora of shows which take place around the city. Stand-up comedy and comic shows are the main attraction with famous comedians taking the stage.
To add to the fun there is also drama, cabaret, variety acts, opera, spoken word, dance, circus, juggling, balloon making, exhibitions, and a variety of other things going on!
As the festival goes on for 3 weeks some performances may tour the whole festival, some may just stay one week or even one night.
They may stay in the same venue or move around different ones so check your programme for a full listing. Some are free, some paid and some a downright expensive but If you're really keen it will be worth it!
6. You can find venues almost anywhere across the city!
There are literally hundreds of fringe venues dotted around the city (over 400!) so you will have to plan your evening if want to watch a few shows as they may be spread far apart!
Luckily, Edinburgh is quite a compact city and so the walk shouldn't take you long.
Venues can be found in many forms such as historic theatres, courtyards, pubs, churches, museums, restaurants, alleyways, cafes, and more!
Some of them you will have to pay to enter but some are completely free.
7. Make sure you visit the Edinburgh Fringe Festival Half-Price ticket stand
A top tip If you're after a particular show and want to get a cheaper price is to try your luck at the half-price tickets stand which is located on Prince's street by the National Art Gallery.
If you're not too picky that's even better as you will get a cheap ticket on the day for something spectacular.
You may be waiting a while – but it's worth it!
8. Don't forget that shows are also on the streets too
If you ask me some of the best performances which you can catch at the festival are on the street.
Every day throughout the fringe you will see happenings from actors advertising shows, and street performers drawing in a big crowd to show off their circus skills.
Statues waiting patiently for your pennies, fire performances in the evening, and buskers playing acoustic melodies.
Just join the crowd and get involved, it is just an amazing atmosphere and brings a smile to so many faces!
9. Attend the AMAZING Royal Military Tattoo
Another favourite which also comes around every August is the Royal Military Tattoo.
Tickets for this always sell out months in advance but it is a stunning show of Bagpipes and military performances in a stadium built near the castle.
If you can't get yourself tickets or just want to save some money, you can watch their amazing fireworks display from Prince's street park or from the Forth Bridge.
Another handy tip is to hang around the top of the Royal Mile after the last show of the evening.
Once the show is over, the performers will parade down the street and continue to play their pipes to give you a taste of the experience!
Save these Edinburgh fringe festival tips for later!
The most important thing about visiting the Edinburgh Fringe Festival is to get involved.
Volunteer in the street performances, laugh at the stand-up, try and experience something new or give an amateur theatre group your attention and time.
You have the arts literally at your fingertips anywhere you go here in August!
Be open, be present and immerse yourself in what the fringe has to offer you.
Want to read more Edinburgh travel guides?
Edinburgh is one of my favourite cities, EVER!
So, I have plenty of travel guides if you wanted to take in some of the tourist sites around the city too;
The ultimate list of experiences in Edinburgh
Harry Potter locations in Edinburgh
The best viewpoint in Edinburgh
Visiting a quaint village in the capital of Scotland
My complete photography guide to Edinburgh
A complete list of Outlander film sites in Edinburgh
Why you must visit Bakehouse Close
A complete guide to the Vennel
The hidden gem of Tweeddale Court
Why Craigmillar Castle has to be on your list
Afternoon Tea? The Colonnades & The Balmoral are the best!
Discover Liberton Kirk in Autumn
Read more of my posts on Scotland
Where is the pink castle in Scotland?
All the Harry Potter filming locations in Scotland
Why you must visit the Kelpies
A complete list of Outlander filming locations in Scotland
Cove Beach on the Scottish Borders
How to find the Devil's Pulpit