If you're looking for where Claire and Frank's house was filmed in Boston, then you only need to look for the Downhill Street Outlander location.
It may surprise fans to know that all of the scenes for Boston in Outlander weren't actually filmed in the United States of America at all! They were all filmed in bonnie Scotland.
This also goes for the outside of Claire and Frank's home on Furey Street which was filmed in the West End of Glasgow.
These gorgeous Victorian red brick houses were a perfect fit and similar to those at Beacon Hill in Boston, the oldest city of Massachusetts.
Here's a complete guide on how to find the Dowanhill Street Outlander location in Glasgow.
Please note: Dowanhill Street is a private residential area. Avoid knocking on doors or peering through windows. It's a matter of respect.
What is Dowanhill Street & History
Dowanhill Street actually covers a HUGE area of the West End of Glasgow. It's a residential estate lined with Victorian red brick houses and lots of communal parks for residents.
The West End of Glasgow has long been known as the more Bohemian district of the city. With places like Byre's Road, Argyle Street (Finnieston), and areas with independent shops, cafés, and art galleries.
It sits near Kelvingrove Park with the Kelvingrove Art Gallery and Museum which was built in 1901. Also, it's close to the ancient University of Glasgow and the Glasgow Botanical Gardens.
The West End even has its own festival that takes place annually in June! If you wander down for a walk, you may even feel like you've been transported to Boston with its architecture ;)
What was Dowanhill Street Outlander location
In series 3, episode 1 'The Battle Joined', we see Claire and Frank in their Boston home before Bree is born. They buy a home on Furey Street where they raise Bree for 20 years together.
The interiors of the house were filmed in the studio but the exterior of the street was filmed at Dowanhill.
There were significant alterations made to the street to make it appear like the 1940s – 1960s. I'm not sure how the residents felt about all that palaver happening around. Also and the fact they would have to move their cars to make way for vintage ones, but still.
As I said before Dowanhill Street covers quite a large area and a long stretch of road, so I'll narrow down the search for you.
124 Dowanhill street Outlander house
124 Dowanhill street was the exact house that was used to film the outside of Claire and Frank's home in the Outlander series.
Parts of the surrounding street were also used throughout series 3. This was for cars pulling up, interactions with neighbours, and that famous scene where Claire steps into the taxi to fly back to Scotland and find Jamie!
But, I must stress, you're totally welcome to walk on the street outside of the house. But, please, don't walk onto the property. Or, try to look inside or disturb the owners. It's a private residence!
After you've made a stop and got a snap, there's not really much else to see here. But, there are more Outlander locations in Glasgow that you can visit that feature as Boston.
How to get to Dowanhill Street in the West End of Glasgow
As before, Dowanhill Street is located in the bohemian West End of Glasgow and it's easy to make your way around on foot, drive or take public transport.
There are many time-zone restrictions on parking in the area as it is reserved for residents with parking passes. But, after 6 pm and before 8 am it's free.
If you want to get a bus to Dowanhill, you can use Travel line Scotland to put you in the right direction. The subway has a convenient stop near Dowanhill called Hillhead SPT Subway Station. From here, it's a quick walk.
Save time and book a tour!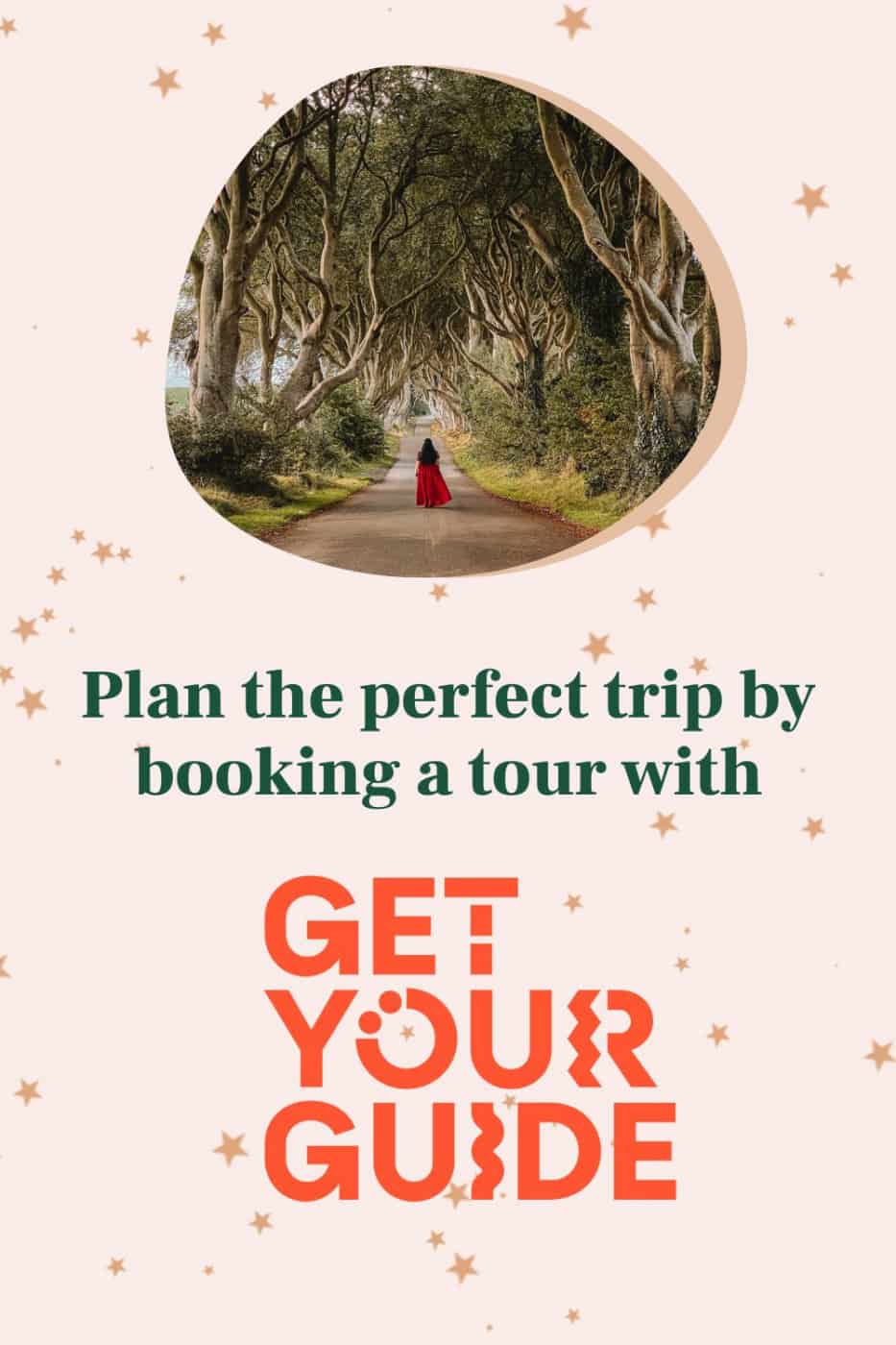 Book tours & tickets for Glasgow!
Want to see more of Outlander's 'Boston'?
If you would like to see some more Outlander scenes that were used for Boston in the series, you can take yourself on a self-guided Boston tour of Glasgow if you fancied it.
Read my whole list of Outlander filming locations in and around Glasgow right here. Or, you can read my ULTIMATE list of Outlander locations in Scotland here and my Outlander in Edinburgh guide.
University of Glasgow / Havard University
The reason why Frank and Claire moved to Boston is that Frank has a position as a professor at Harvard University!
The exterior scenes of Harvard University in Outlander were actually filmed around the University of Glasgow Campus.
You'll recognise the famous photo-worthy cloisters that Bree and Roger visit and some areas around the grounds too.
Having been to Harvard on a tour myself in Boston, there weren't any similarities that came to mind between the two.
Visitors are welcome to visit the University grounds for FREE and it's a popular tourist attraction in the city.
Click here to read my complete Glasgow University Outlander guide!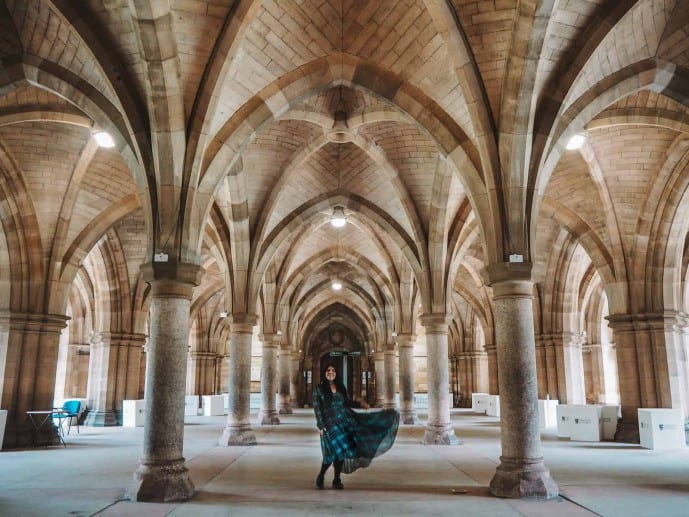 Joseph Black Building / Bree's Classroom
A classroom inside the University of Glasgow was used for one of Bree's classrooms at Harvard in Series 3, episode 5 'Freedom & Whisky'.
The Joseph Black Building which has the School of Chemistry was used for a lecture where the class discuss Paul Revere.
It's best to visit this classroom in the summer months when classes are not taking place.
Kelvingrove Park Glasgow / Boston Park
The famous Kelvingrove Art Gallery and Museum sits on the grounds of Kelvingrove Park.
In series 3, we see this location a few times. Firstly, when Claire is pushing Bree in her pram and then when Claire is on her way to medical school. She sees the busker playing the Bagpipes which reminds her of Scotland and Jamie.
This part of the park used for the scene can be found near Denkmal or Kelvin Walkway. If you get stuck, head toward the Kelvingrove Bandstand.
There will be a bridge crossing over the River Kelvin and you should be able to see the University of Glasgow (That played Harvard university) in the distance.
Click here for directions on how to find this Outlander location in Kelvingrove Park
More Outlander locations in and around Glasgow
George Square
In the first series of Outlander, we see a flashback of Frank and Claire on their unplanned wedding day outside of the City of Westminster registry office.
This scene was not filmed in London, but outside of the Glasgow City Chambers by George Square.
You can head around to John Street to see it for yourself, look out for the number 45 marker to find the spot.
As well as an Outlander location, a tour around the Glasgow City Chambers is well worth a visit.
Read my full guide on visiting George Square and how to book a City Chambers tour here
Glasgow Cathedral
Glasgow Cathedral, High Kirk of Glasgow, or St Mungo's Cathedral is one of the most popular attractions in the city. With the history of the grounds dating back over 1,000 years, it should be at the top of your list when planning a trip.
In Outlander series 2, the chambers of the cathedral are featured as the L'Hôpital Des Anges or the charity hospital in Paris.
Beyond an Outlander location, the cathedral has some seriously stunning architecture and you can even catch the choir practicing inside which brings such a beautiful atmosphere.
Click here for more information on visiting this Outlander location in Glasgow Cathedral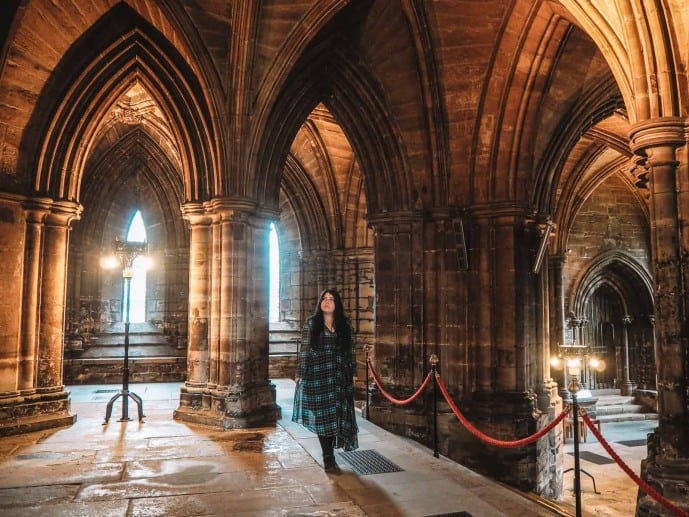 The Devil's Pulpit
The Devil's Pulpit is around an hour's drive from Glasgow and was used as the Liar's Spring in Outlander series 1.
It's not a tourist attraction by any means, on private land (don't worry it's legal) and the walk is pretty treacherous.
However, if you are feeling brave enough the payoff will be AMAZING! It's an emerald green cavern with a flowing red river, just like a fairytale.
Click here to read more about visiting the Liar's Spring in Outlander
Where to stay in Glasgow
I stayed centrally in Motel One Glasgow for my trip, it's a relatively new hotel and the design throughout is flawless.
Although the hotel is situated right next to Glasgow Central Railway station, the hotel has some incredible soundproofing which makes sleeping easy. I'm a light sleeper and I slept soundly, even on a weekend!
They have an organic breakfast to start your day and their One Lounge where you can relax and order drinks from the bar too.
Click here to read my full Motel One Glasgow review and how to book
Save this Downahill Street Outlander guide for later!