If you're looking to find the port of Le Havre from Outlander, I'm afraid you won't find it in France. It's actually filmed in Dysart Harbour in Scotland!
The Dysart Harbour Outlander location doesn't look like it did in the series, however. A lot of the historical houses and shops on the port were added with CGI.
But, in my opinion, it's still definitely worth a visit as it's a stunning picturesque harbour on the Kingdom of Fife coast.
Here's the ultimate Dysart Harbour Outlander location guide!
What is Dysart Harbour & Dysart Harbour History
Dysart Harbour is a historic port in the Kingdom of Fife. It is still a lively working port today, so you can expect to see lots of boats and fishermen who run their trade from here.
The legend of Saint Serf mentions Dysart Harbour which runs all the way back to the year 500.
But, the first recorded mention was from the 13th century and the harbour dates back to 1450. It mainly shipped out salt and coal to the Low countries and then expanded to the Baltic Regions.
Dysart eventually bagged the nickname of the "Salt Burgh" and "Little Holland" from the Dutch that used to visit there. In 1929 the Lady Blanche Coal Pit was destroyed and so the coal trade ceased.
Ever since Dysart was moved into the Royal Burgh of Kirkcaldy.
What is Dysart Harbour in Outlander?
In series 2, episode 1, 'Through a Glass, Darkly', Claire and Jamie arrive in Le Havre in France with Murtagh.
Previously, they rescued Jamie from Wentworth Prison after he was at the hands of Black Jack Randall and they escaped to Paris.
Le Havre is where Jamie and Claire discuss changing the future and Claire sees some of the Sainte German's men with the smallpox being taken into a warehouse on the port. This warehouse happens to be Jamie's cousin Jared's storehouse.
The Harbourmasters house and the West side of Dysart Harbour were used to represent the port of Le Havre.
How to get to Dysart Harbour in Scotland
Dysart Harbour is located in the Kingdom of Fife, in Kirkcaldy on the coast. It's around a 40-minute drive from Edinburgh.
How to get to Dysart Harbour from Edinburgh: The most convenient way is to take the MA92 then the A921 road. It will take around a 40-minute drive through North Queensferry.
How to get to Dysart Harbour from Glasgow: It will be around an hour's drive from Glasgow, take the M8 then the A92 road.
Dysart Harbour by public transport: The nearest train station is Kirkcaldy and then you can take a bus service towards Leven to stop in Dysart. Use Travel Line Scotland to plan your journey.
Parking at Dysart Harbour
There isn't a designated car park at the port (or I didn't find one) but there is a hillside road that you can park on for free just outside of the harbour.
It is quite a steep way down so, if you are planning on walking, make sure that you're prepared for a steep walk back up!
Exploring Le Havre Port from Outlander
You'll probably pass the Harbourmasters home first on the East side of the port.
This is the guesthouse that Murtagh organises rooms in on the port for Claire, Jamie and himself.
This is also where they meet Jared, three weeks later, to try and get an invitation with the Jacobite connections in Paris.
The Harbour Masters House used to be called the Shore House and is now the headquarters of the Fife Countryside and Coast Trust.
It's a B-listed 19th-century building and gives you a great opportunity to learn about the history of the harbour and what there is to see and do on the Fife Coastal Path.
Then if you make your way over to the West side of the port, this is where the Christabel pulls into the harbour and the historic buildings are in Le Havre.
This is also where Claire notices the sick men being carried off the ship and follows them into Jared's wine storehouse.
Although you won't be able to see any of these historic houses, a walk along Dysart Harbour is very picturesque and you can see the coast with the boats pulling into port.
Where is Jared's Wine Warehouse filmed in Le Havre?
The scenes where Claire inspects the sailor's smallpox, much to the disdain of the Sainte Germain, were made to seem like they were still in Le Havre.
But, I'm afraid they didn't shoot the inside of Jared's wine storehouse in Dysart Harbour. This was actually shot nearby Doune Castle, or Castle Leoch, in Deanston Distillery.
To see it, you will need to go on a tour of their distillery and the staff will be more than happy to show you their barrelhouse (which is where the scenes were shot) and some behind the scenes about filming too.
As well as an Outlander location, learning and sampling some Scottish whisky is a must-do while in Scotland so this is the perfect place to do it!
Read my Outlander guide to Deanston Distillery here!
Can you visit the Christabel from Outlander?
Yes! The Christabel that was featured in Outlander is a real ship, called The Reaper, and is one that sits in the Scottish Fisheries Museum in Fife.
It's birthed in Anstruther Harbour not far from Dysart Harbour so it's the perfect accompaniment to an Outlander day out. It was built by J & G Forbes in their port near Fraserburgh in 1902 for the Buchan family.
She was a two-masted sailing lugger and in 1930 held the record for the largest catch of herring in Shetland, a quarter of a million fish (or 223 crans if you can speak sailor).
She was donated to the Scottish Fisheries Museum in 1974 and today she is a museum boat for everyone to enjoy. The boat often tours around the country, so double check she will be there before you visit.
I was gutted as she was undergoing renovations when I visited Scotland and she opened the day I left! I guess it gives you a reason to go back.
Find more about visiting the Scottish Fisheries Museum here
Where to eat near Dysart Harbour
There is a Bistro in the Harbour Masters house that you can visit that serves up hot and cold drinks and light bites throughout the day.
You can sip on your cup of coffee with a view of the harbour, apparently seals often bob their heads up around here so keep a lookout!
You can find out more about the Harbourmasters bistro here!
Outlander locations near Dysart Harbour
There are plenty of Outlander locations in Fife that you can visit after Dysart Harbour.
Aberdour Castle is not far away that played the Abbey where Jamie recovers after being rescued from Wentworth Prison. It's actually one of the oldest Castles in Scotland so, it's a must-visit.
Culross village doubled up as Cranesmuir village where you can visit Geillis Duncan's House and the Palace gardens playing the herb gardens of Castle Leoch. Or visit the West Kirk that played the Black Kirk.
Balgonie Castle featured as MacRannoch's home before the Wentworth Prison rescue and Falkland village doubled up as 1945 Inverness. You can even stay in the same hotel room as Frank and Claire too at the Covenanter Hotel.
You can read my ULTIMATE list of Outlander locations in Scotland here or Outlander in Glasgow guide here
Outlander locations around Edinburgh
There are plenty of Outlander filming locations in and around Edinburgh. You can find my complete list here or look below;
You can visit Hopetoun House and visit 17 Outlander locations there, or to the village of Abercorn Church which featured in Season 4. Or, become the new Lady or Laird of Broch Tuarach at Midhope Castle, Lallybroch!
Bo'ness is where Claire and Frank said their goodbyes, Linlithgow Palace featured as the dreaded Wentworth Prison, and Blackness Castle was where Jamie was flayed by Black Jack Randall.
You can head to the seat of Clan MacKenzie, Castle Leoch in Doune or visit Drummond Castle gardens that doubled up as the grounds of Versailles.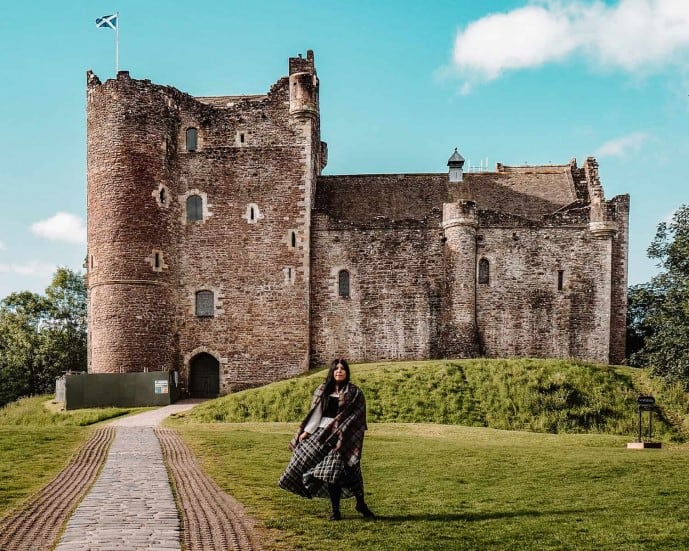 Preston Mill featured as Lallybroch's Mill with its water wheel and Gosford House which doubled up as Helwater Estate in East Lothian.
Roslin Glen Country Park has some gunpowder mills that featured in season 1 and Glencorse Old Kirk was where Jamie and Claire were wed.
Craigmillar Castle is featured as Ardsmuir Prison in series 3 and likewise, Summerhall has a lecture hall where Claire meets Joe Abernathy.
The Royal Mile has many Outlander locations including Bakehouse Close that featured as the Outlander print shop. Tweeddale Court doubled up as a market street where Claire and Fergus were reunited and you can visit the Worlds' End Tavern where Mr Willoughby gets into a brawl.
Visit the Colonnades for afternoon tea and it will transport you to the Governor's mansion in Jamaica.
See more: My Outlander walking tour of the Royal Mile. Or read my EPIC list of every Outlander filming location you can visit in real life here!
Save this Dysart Harbour Outlander guide for later!