There are plenty of beautiful locations to visit in County Antrim but none so dramatic and eerie as Cushendun Caves.
These dramatic natural sea caves are popular with Game of Thrones fans as they featured in two seasons of the show.
You'll recognise these caves as both the Stormlands of House Baratheon and the caves in King's Landing.
So, you must make a stop here on your Northern Ireland road trip if you wanted to see part of the seven kingdoms of Westeros.
Here is a complete guide on how to visit the Cushendun Caves Game of Thrones filming location in County Antrim, Northern Ireland (2023)!
Cushendun Caves history
It may surprise you to know that these caves were formed due to natural erosion over the course of 400 million years!
A mix of humidity, salt, and the proximity to the ocean formed small caves and crags into the cliffs and what is left is what we can visit today.
Cushendun is a small coastal village in County Antrim and the name derives from the Irish "Cois Abhann Duinne" which means "beside the River Dun".
In 1567, an Irish King called Sean O'Neill was killed here by his enemies the MacDonnells. His head was brought to Dublin Castle during Queen Elizabeth's reign.
It is said that his vengeful ghost haunts the caves and coast! You can visit his cairn above the village.
The village of Cushendun was designed by Clough Williams-Ellis in 1912. It eventually fell into the hands of the National Trust in 1954.
Today, it's a gorgeous unspoiled village in County Antrim with lots of shops, cafés, beaches, coastal walks, and a population of red squirrels!
Cushendun Caves Game of Thrones filming location
Although these caves have been here for millions of years, they've only really started to get famous with tourists in the last decade due to Game of Thrones.
That's right, Cushendun Caves featured in two seasons of the award-winning Game of Thrones TV show!
We first see these caves in season 2 of Game of Thrones when Ser Davos Seaworth rows the Red Priestess Melisandre to the caves to have her creepy Shadow Baby in the Stormlands.
Then, we see Cushendun Caves again in series 8 when Euron Greyjoy fights Jaime Lannister in King's Landing.
So, if you are a Game of Thrones fan you must make a stop here on the Antrim Coast in Northern Ireland! It's very easy to do from Belfast.
How to get to Cushendun Caves in Northern Ireland
Cushendun Caves can be found in the National Trust village of Cushendun in Balleymena on the Antrim Coast Road.
If you're heading along the coast you'll pass the villages of Carnlough, Waterfoot, and Cushendall before Cushendun.
It's easiest to drive to Cushendun village to access the caves. It's around an hour's drive from Belfast but it's easy enough to pair up your visit with other stops on the Antrim Coast or Causeway Coast route.
There are lots of amazing stops on the North coast including some Game of Thrones locations like Fair Head, Carrick-a-Rede, Ballintoy Harbour, Dunluce Castle, Giant's Causeway, and Downhill Beach. All are very easy to drive to in a short amount of time if you leave early enough.
If you're travelling by public transport, you can get a bus from Belfast to Ballymena. Then, switch to the Ballymena to Cushendun bus service. It will take you a couple of hours though.
If you're not driving in Northern Ireland, I would recommend taking a Game of Thrones tour that includes Cushendun Caves like this one from Belfast. It will save you lots of time and money!
Cushendun Caves address is Ballymena, BT44 0PG. Click here for a Google Pin for the Cushendun Caves car park!
Cushendun Caves parking
There are two car parks in Cushendun Village, one is near the public toilets and another can be found opposite Mary McBride's Bar which is closest to the caves.
Make sure to park in the right one if you want a shorter walk to the caves! It's right next to the beach and is completely FREE to park in.
It's a small car park though so it can get busy, especially on weekends. Remember to park with consideration.
Cushendun Caves directions
The caves aren't really signposted well in the village but they are quite easy to find from the waterside Cushendun car park.
Here are some walking directions for you;
1. From the Cushendun Car Park walk towards Mary McBride's Bar opposite. Make a left and walk over the arched bridge.
2. At the end of Cushendun Bridge make another left and you'll see the Johann Statue. This was the last goat to be put down during the foot and mouth crisis
3. Walk past Johann on your left and you'll pass the old Cushendun Hotel on your right. Keep walking on this path that swings around to the right heading into Strand View Park.
4. You'll now see two grey brick buildings that lead you to the beach and the Cushendun Caves.
5. There are two paths that lead you to Cushendun Caves. One path on the left takes you along the beach. This is fine but you should be warned that it is pretty uneven and there is lots of debris and seaweed. It's pretty dangerous if the waves are fierce. Very Game of Thrones though.
6. Another path can be found behind on the right by the houses and has an upper level to avoid the waves and beach. Personally, I'd choose the upper-level path as the beach is gross. Also, if you need accessibility the beach is a no-go. Use the flat path for a safer visit.
7. Then, walk straight and you've made it to Cushendun Caves! Unfortunately, the Game of Thrones filming location sign is no longer there. But, you're now free to explore the Stormlands in Westeros!
What is inside Cushendun Caves?
I have to admit, I didn't expect these caves to be so short! I guess on the pictures and screen they look a lot bigger.
But, you'll definitely get all the Game of Thrones vibes as soon as you approach them as they will transport you to the Stormlands.
The right-hand side cave is the largest one and as you walk in you'll notice there is lots of green foliage on the caverns inside. There are barriers at the very end for safety so you do have to stop and turn back.
If you go to the left-hand side of the caves through the small tunnel, you'll find a small cave beach on your left.
This is the beach that featured in both series 2 and series 8 of Game of Thrones! So, make sure you don't miss it.
Cushendun Caves Iron Throne
Something I found hilarious was the fact that someone has put a Game of Thrones seat inside the cave!
It's basically an abandoned old lounge chair that someone has donated with a few wooden swords on it but I guess will make do for an Iron Throne.
I was a little dubious to sit on this as I wasn't sure if it was going to be wet. But, it was actually fine!
Definitely one for the Game of Thrones fans so makes sure to get your cameras out for a souvenir photo.
Cushendun Caves Game of Thrones filming locations
So, Cushendun Caves actually featured in two seasons of Game of Thrones. The most famous was in series 2 near Storm's End.
Then, it reappeared again in series 8 as the beach near King's Landing.
Here is all the Cushendun Caves Game of Thrones filming locations you can find here!
1. Melisandre has her Shadow Baby
So, most people remember these caves from series 2 when Sir Davos Seaworth delivers Melisandre aka the Red Priestess to the caves by rowboat to have her creepy Shadow Baby.
After Stannis and Melisandre get together, she promises to give him a son…but I'm pretty sure this is not what Stannis was expecting!
Melisandre gives birth to the shadow in front of Davos and then it travels over to Renly Baratheon's camp and kills him in his tent.
These scenes are a bit of a turning point in the way that we can see just how powerful Melisandre is but also how far Stannis is willing to go to capture the Iron Throne.
You'll find where they land in the rowboat at the beach found at the end of the left-hand cave. Walk through the tunnel and then turn left to see the small beach just in front of it.
Then, they filmed Melisandre's shadow baby birth scenes in the bigger right-hand caves. I'm not sure if they filmed through the barriers there or if they set some up.
Click here to watch the Red Priestess Shadow Baby scene!
2. Jaime Lannister and Euron Greyjoy fight
The next time we see Cushendun Caves in Game of Thrones is in series 8 episode 5. This is in the fight between Jaime Lannister and Euron Greyjoy.
Euron Greyjoy confronts Jaime Lannister on the beach in the Battle of King's Landing and says that he wants to be the one to end him.
Euron Greyjoy at this point is King of the Iron Islands and so he asks Jaime how it feels to kill yet another king.
Jaime kills Euron by stabbing him in the gut but Euron delivers mortal wounds to Jaime as well… he says, "I'm the man who killed Jaime Lannister". Hmmm…about those rocks…
You'll find where they filmed this fight scene on the small beach at the end of the left-hand tunnel in Cushendun Caves!
Click here to watch Jaime Lannister and Euron Greyjoy fight!
Why not book a Game of Thrones tour of Cushendun Caves?
If you're planning on visiting some Game of Thrones filming locations in Northern Ireland and you're not planning on driving, it may be worth booking a guided tour with an expert guide.
Booking a guided tour can save you lots of time and money on your holiday and you get to visit Westeros in the process!
This guided tour from Belfast takes you to Carrickfergus Castle, Carnlough Harbour, Dark Hedges, Cushendun Caves, Carrick-a-Rede, Ballintoy Harbour, Giant's Causeway, and Dunluce Castle in just one day.
Click here to book your Game of Thrones tour to Cushendun Caves
How long is the Cushendun Caves walk?
From the Cushendun Caves car park, the walk to the caves will be around 5-10 minutes.
It's a very short and easy walk across the river via the bridge and then around the corner from the residential areas. So, be mindful of residents when visiting.
There are two pathways to access the caves. One along the beach and another just before you reach it by the flats.
Personally, I would use the pathway away from the beach as the beach is very hard to walk on and there is lots of debris there which makes it a little dangerous.
It also stinks of the sea and fish and will leave you and your shoes smelling disgusting.
I'd recommend spending around 15 – 30 minutes at Cushendun Caves, there isn't a lot to see as they are small. As they say, good things come in small packages!
Can you visit Cushendun Caves at high tide?
Personally, whenever I visit beaches or caves on the coast I check the tide times just in case you get there and you can't access anything.
But, you don't have to worry about the tide when visiting Cushendun Caves. The sea doesn't get inside the main part of the caves. So, you can visit anytime on your road trip!
If the tide is high, I would always use the upper path to access the caves for safety rather than the beach. On stormy days, the waves can tend to get very choppy around here.
Cushendun Caves opening times and prices
Although owned and protected by the National Trust, Cushendun Caves are actually open 24 hours a day. So, they make the perfect place to visit for a road trip as you can be flexible with when you arrive.
They also make a great stop in the morning on the way to the north Causeway Coast from Belfast.
Saying that I wouldn't want to visit these caves in the dark. There is limited lighting at night time in the village and it's said to be haunted.
Cushendun Caves are also completely FREE to visit which makes this a great budget activity for your Northern Ireland road trip.
My top tips for visiting Cushendun Caves
Visit early morning or late afternoon – I visited here around 10.30 /11 am and four Game of Thrones coach tours visited these tiny caves with around 60 people each time! I'd visit before 10 am or later in the afternoon for a quieter visit. They only visit for around 20 minutes though so you could just wait it out…
Wear a decent pair of shoes – the walk is small but the beach is pretty uneven and rocky with seaweed, debris etc. Also, the caves can get pretty wet in the off-season!
Park in the National Trust car park – the parking area near Cushendun Caves is private. So, make sure to park up in the National Trust car park and walk over. It's free.
Don't plan too long here – if you're on a road trip, this stop will be a quick one (max 30 minutes) unless you're staying for sightseeing in the village and food (I recommend Mary McBride's Bar, see below!).
Things to do in Cushendun Village
If you're stopping for the caves, I would recommend having a quick look around the small village of Cushendun.
It's a perfect spot in the Glen's of Antrim and you'll find lots of cute shops, cafés, and small beaches.
Unlike the north coast, this small village is very 'unspoiled' and peaceful. So, you can escape the crowds here which is perfect.
You can visit Glenmona House which is a lodge built in 1834, there is a Cushendun Old Church and you can also spot some Red Squirrels here too!
I was lucky enough to see one from the road on my drive down. They are quite rare in the UK now so it's special if you spot one.
Don't forget to visit Mary McBride's Bar!
If you're looking for a place to eat near Cushendun Caves, then I would look no further than Mary McBride's Bar in Cushendun Village.
Its bang slap opposite the car park, so it makes a very convenient place to eat and it's more like an institution in Northern Ireland.
It was once one of the smallest bars in Ireland with a landlady called Mary McBride years ago. They now serve up some wholesome pub meals every day!
For Game of Thrones fans, you'll definitely want to visit as Mary McBride's Bar is a proud owner of one of the Game of Thrones Doors!
The Journey of Doors is a trail that came about in 2016 when the Dark Hedges were damaged due to over-tourism. Some of the beech trees sadly suffered permanent damage and had to be removed.
Some clever artists repurposed the wood and created some Game of Thrones Doors which you can find in pubs around Northern Ireland.
Make sure to grab your Journey of Doors passport and get yours stamped at Mary McBride's. You'll find the door at the very back of the pub.
Here, you'll find Door number 8 with "Valar morghulis. Valar dohaeris" carved on there. It tells the story of Arya Stark's journey to the free city of Braavos.
In the center, you'll find the Faceless Man Coin and you can even spot her trusty sword Needle!
Click here to see how you can find all 10 Game of Thrones doors
Cushendun Caves FAQs
How far is Cushendun Caves from Belfast? It's around an hour's drive from Belfast to Cushendun.
How far are Cushendun Caves from Dublin? It's around a 3-hour drive from Dublin. It's easiest to visit from Belfast!
Are there toilets at Cushendun Caves? Not at the caves no. But, the Cushendun Beach car park a little further up the village has free public toilets to use.
Looking for more Game of Thrones filming locations nearby?
There is plenty of Game of Thrones filming locations in Northern Ireland and some right nearby Cushendun Caves that you can travel to after your visit!
If you're heading down south towards Belfast, I would recommend stopping at Murlough Bay, and Fair Head where Jon Snow meets Daenerys' Dragons.
You can also visit Carnlough Harbour where Arya lands in Braavos or you can pop to Steenson's Jeweller's workshop that made lots of the props for the show. I even got to wear a prototype of Sansa's Queen of the North crown!
You can head on down to Cairncastle to see where Ned Stark executed a deserter of the Night's Watch.
If you're heading north towards the Causeway Coastal Route, you'll find the Carrick-a-Rede rope bridge which was the inspiration for Pyke's rope bridge.
Nearby is Larrybane Quarry which was Renly Baratheon's Camp. Also, you'll see Dunluce Castle ruin which was the filming location for Pyke Castle.
You can visit Ballintoy Harbour to see Lordsport, the main port of Pyke in the Iron Islands. You'll remember scenes from Theon Greyjoy's baptism to reaffirm his allegiance to the God of the Sea.
Don't forget to pop by the Dark Hedges or the King's Road and Downhill Beach that doubled up as Dragonstone.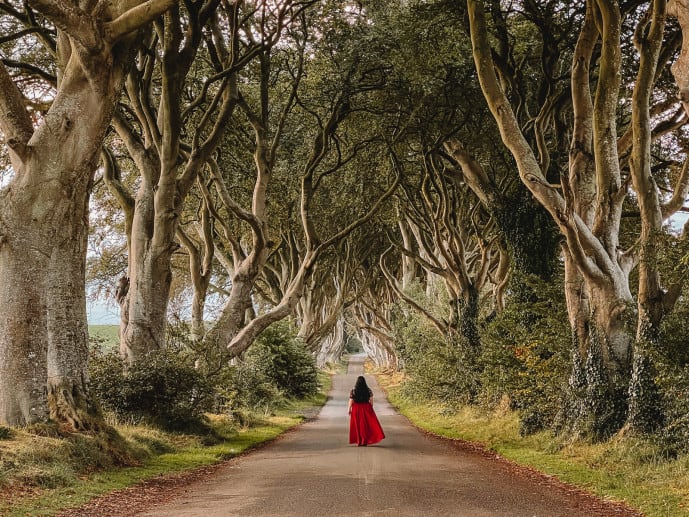 Although they didn't use the Giant's Causeway in Game of Thrones, no visit to Northern Ireland would be complete without a stop here.
It's a magical, sacred and ancient place with some 40,000 black basalt columns that lead into the sea.
Save time and book a tour!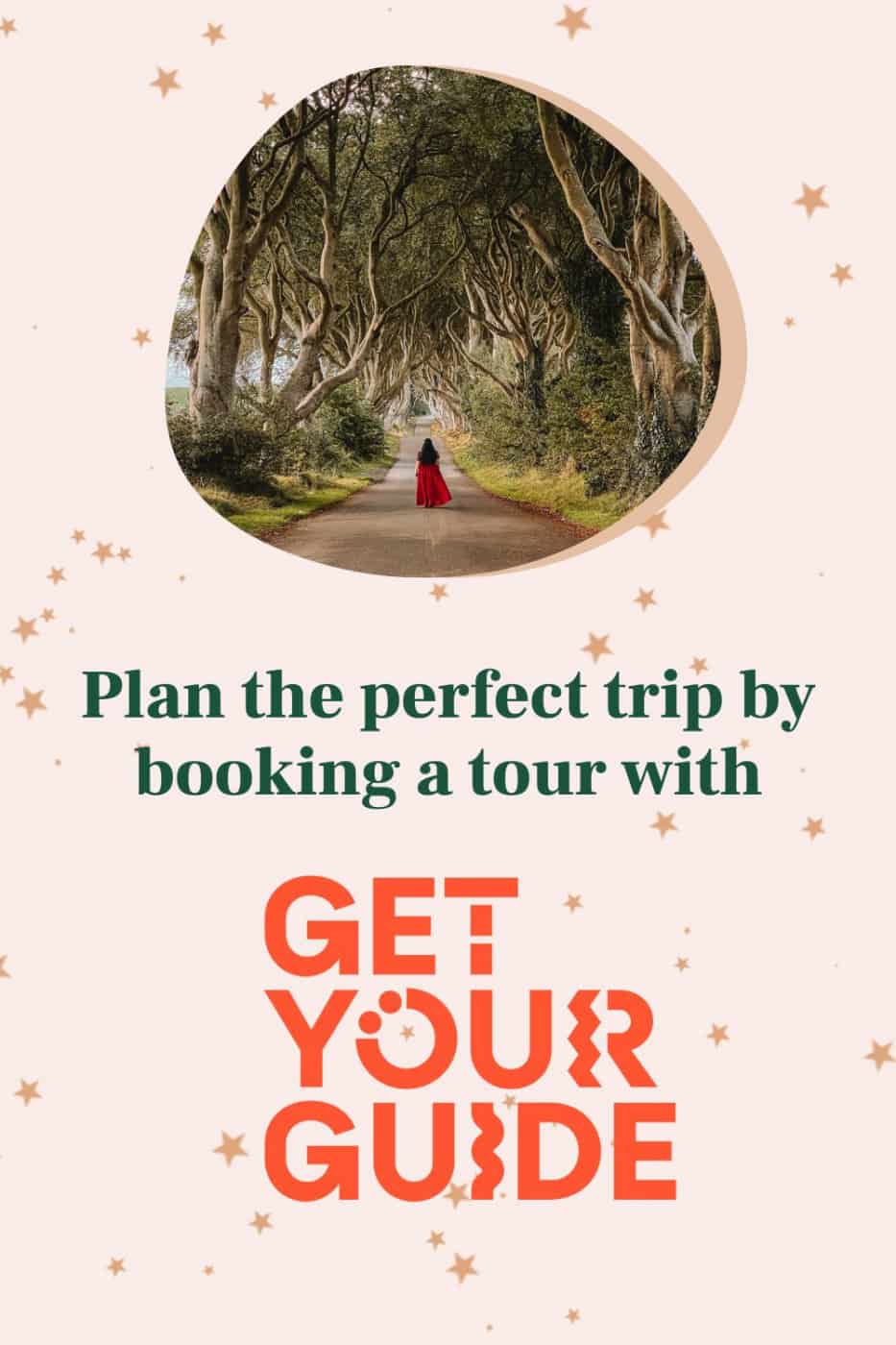 Read more of my Ireland articles
Game of Thrones Studio Tour Review
How to visit Belfast Umbrella Street
How to visit the Pollnagollum Cave Game of Thrones location
Magical Tollymore Forest Park Game of Thrones filming locations
Why you must visit Kinbane Castle
How to visit Inch Abbey aka Riverrun in Game of Thrones
How to see the Game of Thrones Tapestry in Belfast
Glass of Thrones walking trail in Belfast
How to visit Lough Tay aka Guinness Lake
How to find the Ballinastoe Boardwalk in Wicklow
Guinness Storehouse in Dublin review
Save this Cushendun Caves Game of Thrones location for later!