Did you know that there is an Umbrella Street Belfast that has a colourful display in the Cathedral Quarter?
Commercial Court is home to the famous Duke of York pub and the owner commissioned a vibrant neon installation to brighten up the dark street.
It's a great photo opportunity in the city as well as the perfect place to grab a drink in the evening once the sun goes down.
Here is how to find Belfast's Umbrella Street and everything you need to know before you visit.
What is Umbrella Street Belfast?
Belfast's Umbrella Street is a delightful courtyard that has 21 colourful neon umbrellas hanging above it.
The vibrant display is part of the fun decorations that the Duke of York has as part of their pub.
There are also lyrics from a Creedence Clearwater Revival song that reads "Have you ever seen the rain, coming down on a sunny day?".
On the other end, it reads "There are only seven types of rain in Belfast. Monday, Tuesday, Wednesday…"
Although Umbrella Street Belfast is beautiful during the daytime, seeing it at night with all the lights on is completely magical!
The whole street seems to come alive with a colourful rainbow glow and it looks fabulous along with the lively atmosphere.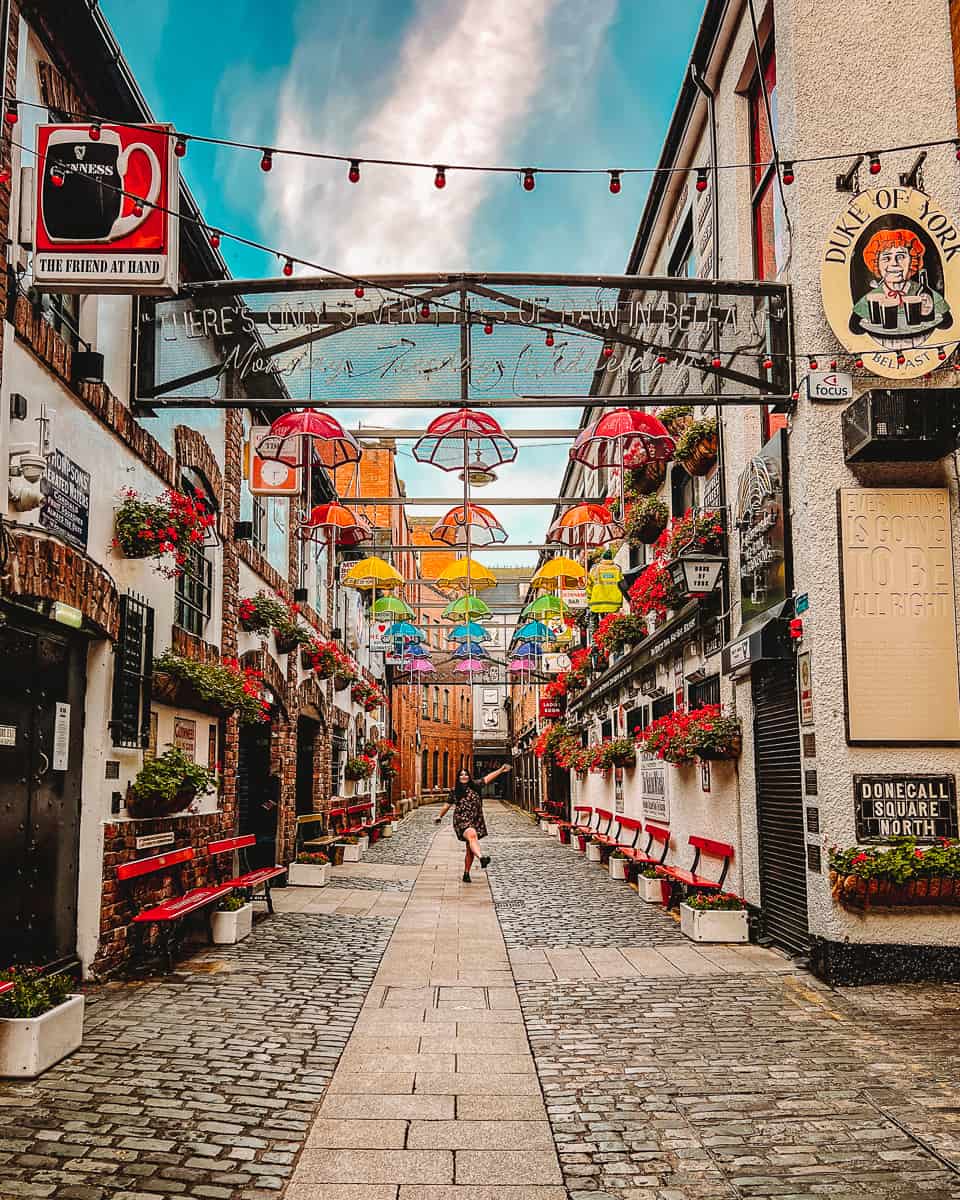 Where is the street with umbrellas in Belfast?
The Umbrella Street Belfast can be found in the vibrant Cathedral Quarter of the city which has St Anne's Cathedral at its heart.
If you head towards Commercial Court, which is home to the Duke of York and The Dark Horse, you'll find the umbrellas hanging over the alley there!
They form part of the Duke of York's eccentric decorations which have lots of quirky signs, old advertisements, and funny slogans.
The Belfast Umbrella Street address is 7-11 Commercial Court, Belfast, BT1 2NB. Click here for a Google Pin!
How to visit Belfast's Umbrella Street
Belfast is a really easy city to explore on foot and you'll find Commercial Court in a short walking distance of The Mac, High Street, and The Big Fish.
However, it's good to note that Titanic Belfast is around a 25-30 minute walk away from here! So, make sure to plan your route accordingly.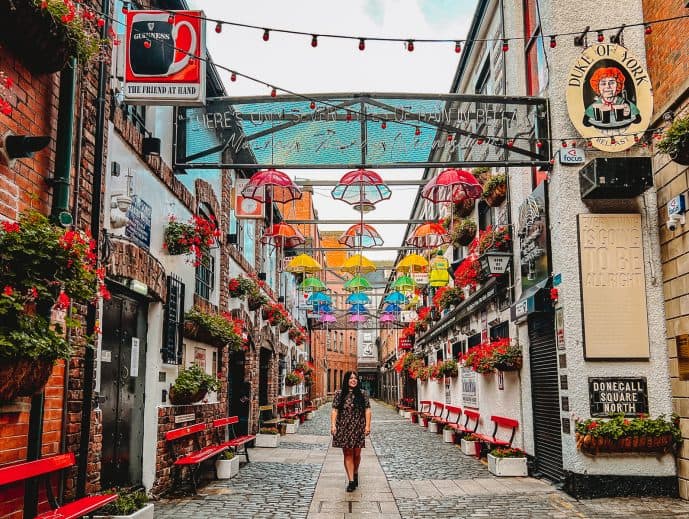 If you're using public transport to approach the Cathedral Quarter, it's best to alight on the High Street, Victoria Street, and North Street and then walk the rest of the way.
Commercial Court is largely pedestrianised but there are lots of off-road parking spaces found around the area.
What to expect at Belfast's Umbrella Street
To avoid the crowds for some photos, I decided to visit this umbrella street early in the morning around 8 am. There was no one around at that time save a few commuters.
So, I had the place pretty much to myself for a while which made it really easy to capture.
Although the name suggests it's a courtyard, it's more of a long alleyway. But, there's so much to see here alongside the umbrellas.
You'll find flowers and lots of fun decor on the outside of the Duke of York pub. Plus, some great street art around here.
Alas, I wasn't able to visit at nighttime to see the neon lights. So, I have it on my list for next time!
I would definitely recommend visiting Commercial Court in the evening though so you can see the display light up.
You can plan to visit some of the famous pubs around the Cathedral Quarter at the same time.
Related post – how to visit Dublin's Umbrella Street!
What is the best time to visit the Umbrella Street Belfast?
I don't really think there is a bad time to visit this umbrella street as it looks gorgeous all day.
But, as Commercial Court is predominantly a bar and café area, I would definitely recommend visiting Belfast Umbrella Street in the early morning to avoid the crowds.
That's if you're visiting solely for photography. But, I will warn you that the neon lights will not be on at that time! It still looks really pretty and colourful though and it will be largely empty.
The very best time to visit the neon umbrella installation would be in the evening time but you would have lots of crowds in and out of the pubs at night.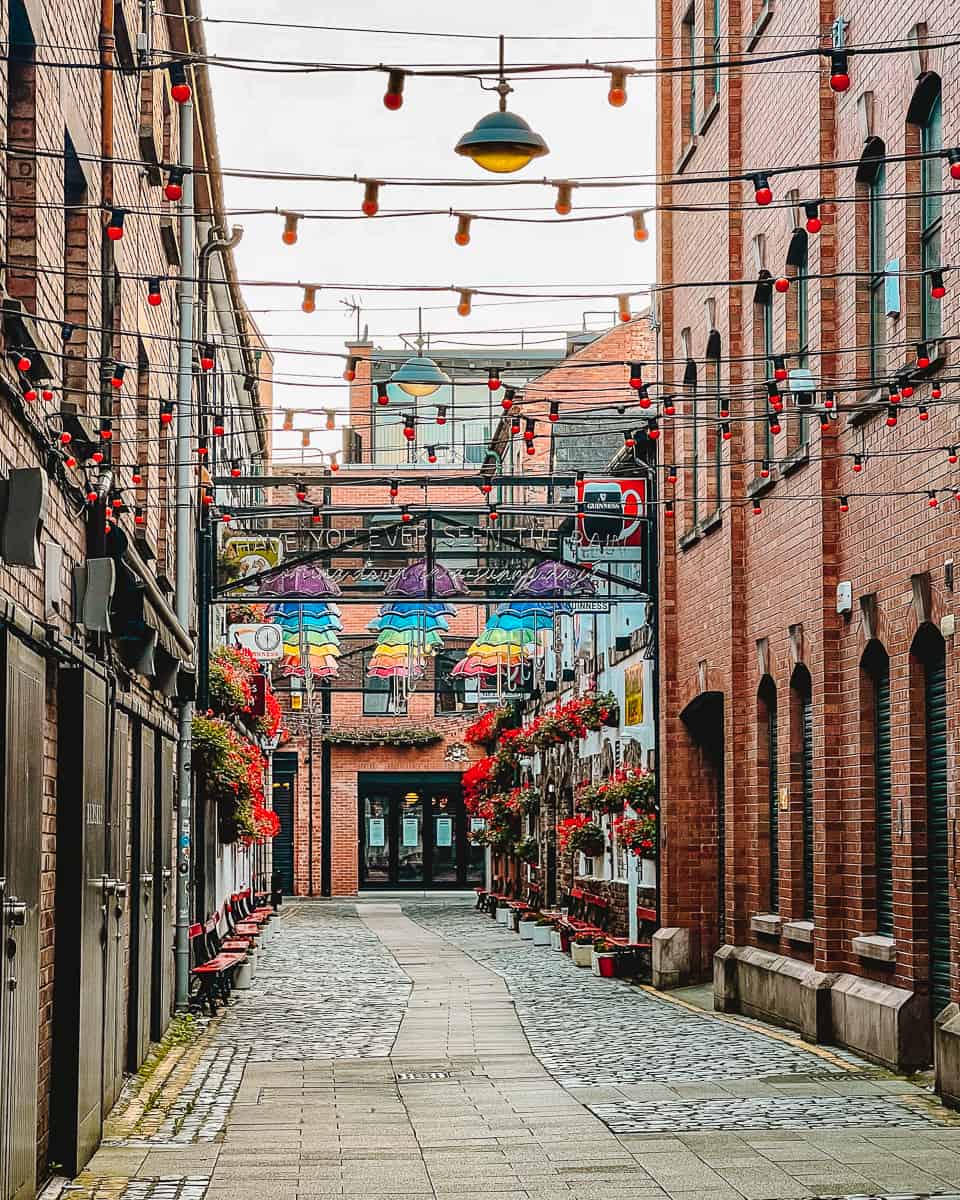 Things to do in Belfast Cathedral Quarter
So, after you've snapped some colourful photos of Belfast Umbrella Street, what else can you find around Commercial Court?
Well, this is the most vibrant area of the city and you'll find lots of pubs, restaurants, street art, and attractions.
Here are all the things to do in Belfast Cathedral Quarter.
1. Visit the Duke of York pub
If you only have time to visit one pub in Belfast it has to be the Duke of York and not just because of this colourful umbrella installation.
The Duke of York in Belfast is one of the most famous traditional pubs in the entire city where you'll find a warm welcome, craic, drinks, and live music.
When you step inside you'll find the entire place crammed with memorabilia, mirrors, art, old signs, and bric-a-brac.
They have live music from Thursday – Sunday and it's a range of traditional tunes and classic rock.
2. The Dark Horse
Just across the way from the Duke of York, you'll find The Dark Horse café and restaurant.
It's a gorgeous setting filled with polished copper, mirrored walls, velvet chairs, vintage lampshades, artwork, and all sorts of memorabilia from Belfast's most famous hotels.
They serve up a great range of coffees and Suki teas as well as a delectable food menu throughout the day.
3. Dark Horse Courtyard
The best part about visiting The Dark Horse has to be their outdoor courtyard which is filled with all sorts of colourful murals!
It's an outdoor gallery of sorts centred around a beautiful oak tree. You'll find lots of dioramas with Ireland's most famous celebrities and chapters in history.
It's a bit of a hidden gem and entry is exclusively found through the Dark Horse Bar. You must visit whilst you're here.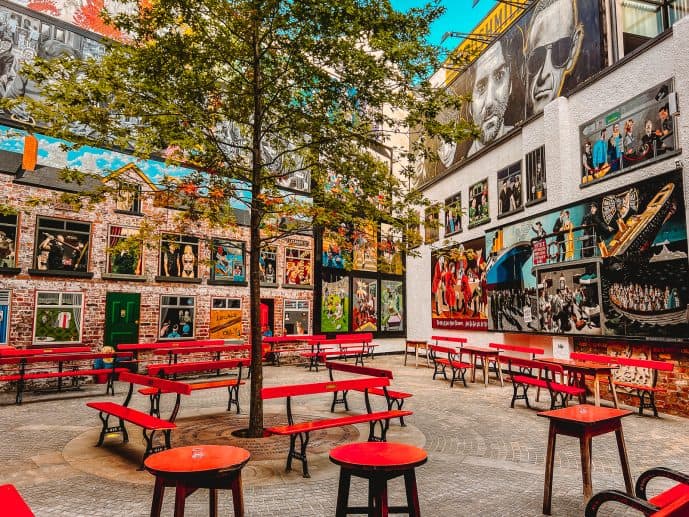 4. Visit the Game of Thrones door
Another reason to visit The Dark Horse is the fact that this bar is the proud owner of one of the Game of Thrones doors!
If you weren't aware of the Journey of Doors trail, the beech trees at the Dark Hedges were damaged some years ago due to over-tourism, and some of them were sadly knocked down.
A group of clever artists re-purposed the wood and made a series of Game of Thrones doors.
The doors were gifted to pubs dotted around Northern Ireland. Many of these pubs were places that the cast/crew used to eat, drink or sleep in after filming!
The Dark Horse pub has one of these carved doors and depicts the events during King's Landing of Westeros in series 6.
So, remember to pick up a Journey of Doors passport and get it stamped here. You can then find all the doors around Northern Ireland.
Love Game of Thrones? Read more of my filming location guides!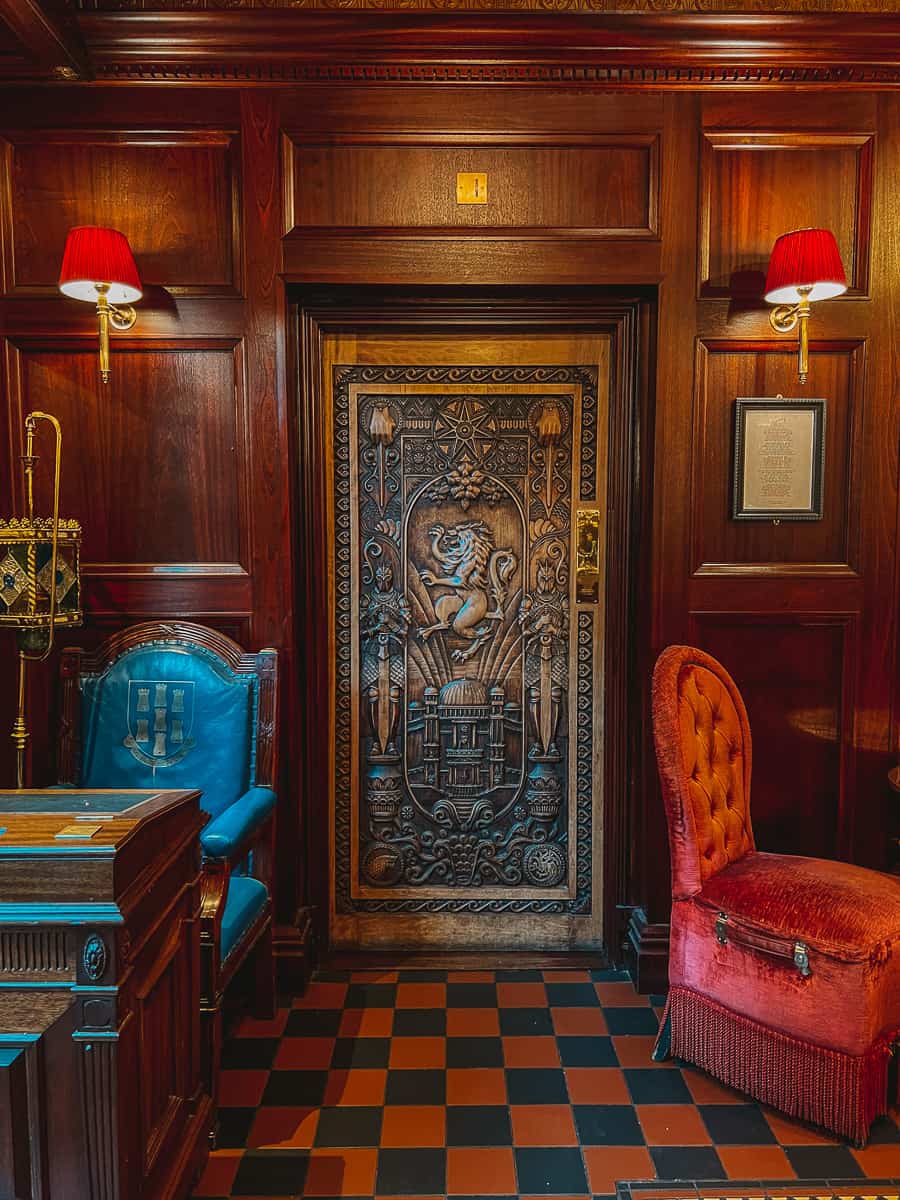 5. Find all the colourful street art
There is lots of colourful street art to find around Commercial Court and the Cathedral Quarter in Belfast.
Just walk down the tunnels and through the streets and you'll find lots of artwork painted on the walls.
If you're a Game of Thrones fan you can find a cute installation called 'Winter is Coming' in one of the alleyways by #J_ACE. You'll see three faces of Tyrion, Cersei, and Jon Snow.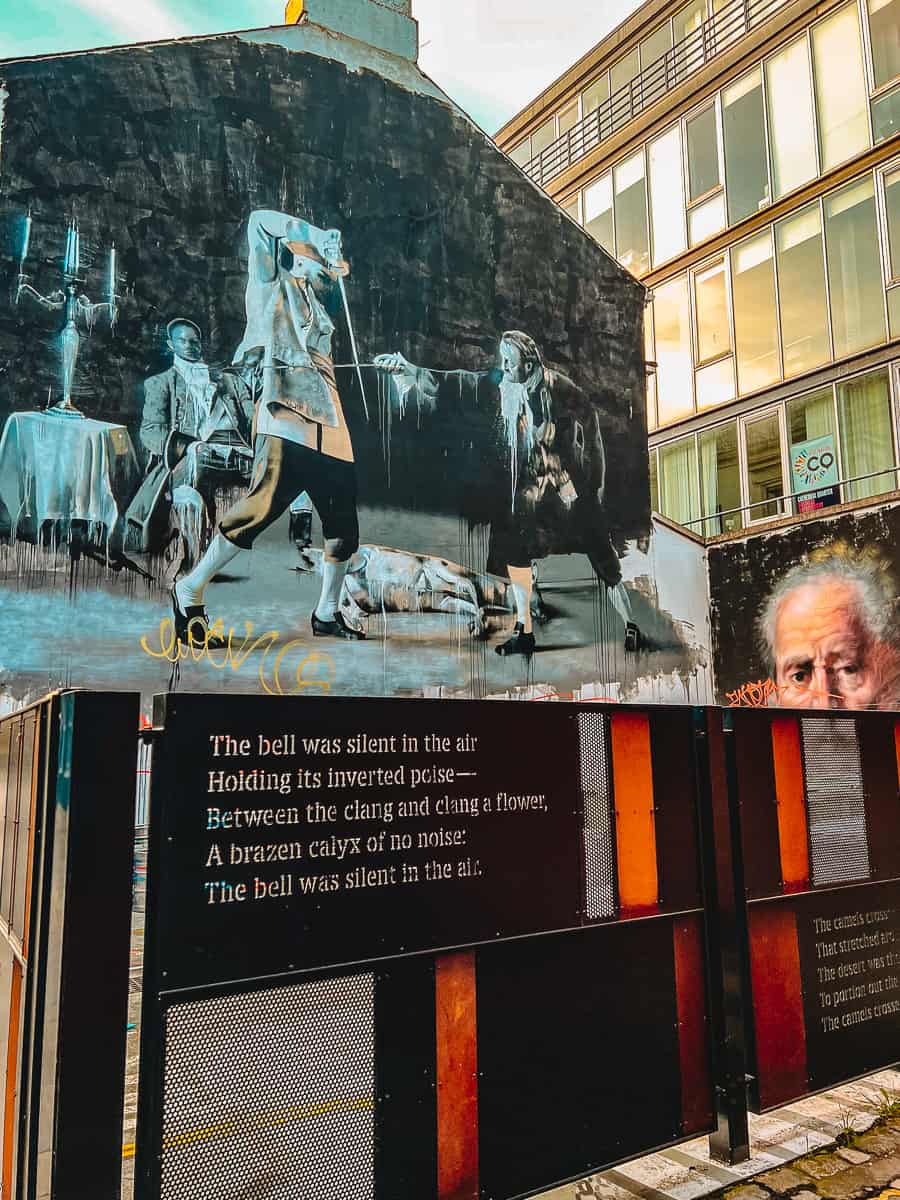 6. The Dirty Onion & Yardbird
Another one of the famous pubs in Belfast is The Dirty Onion which is a traditional pub with a modern twist.
It's set in one of Belfast's oldest buildings dating back to 1780 and you'll always find events and music going on during the week.
You can treat yourself to a Guinness or a dram of whiskey inside or head up to their Yardbird Restaurant for something delicious to eat.
It's open every day from 12 pm -1 am (sometimes 12 am) and you can find it on Hill Street.
7. St Anne's Cathedral
Belfast's Cathedral Quarter is centred around St Anne's Cathedral and you'll find it on Donegall Street.
The current building replaced an earlier structure from 1776 and you'll still find a window from that old temple today. This is because they actually built the new church around the old one!
St Anne's current structure was started in 1899 and was used for services in 1904. But, the building wasn't completely finished until 1981! Some spires were not installed until 2007.
Today, you can visit for a self-guided tour which costs £2 on Mondays to Saturdays. It's services only on Sundays but all are welcome.
There are lots of things to see inside including The Spire of Hope, Titanic Pall, and the Tomb of Lord Carson. Click here to find out more.
Looking for more things to do in Belfast?
Beyond the Umbrella Street Belfast, there is plenty to do in this gorgeous city in Northern Ireland.
No visit to Belfast would be complete without a visit to the Titanic Museum where you can see the real story behind the ship that was never meant to sink.
You can head to the Belfast Botanic Gardens which are gorgeous and Queen's University which is a dark academic dream.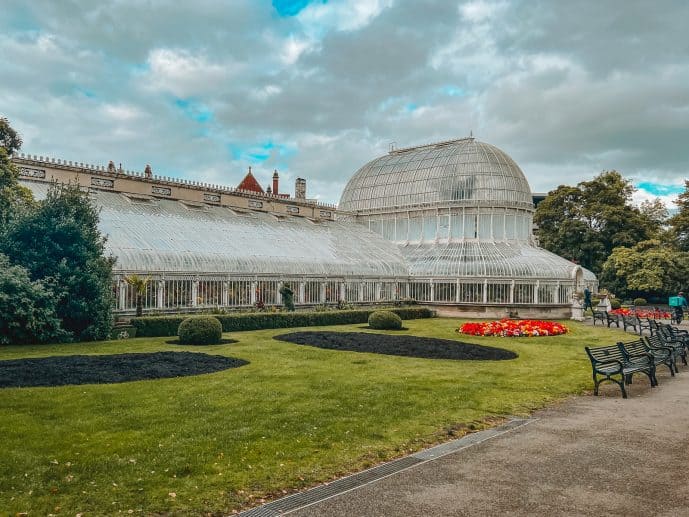 The Belfast City Hall is also very impressive in the city centre along with the historic St Anne's Cathedral.
Belfast Castle is also somewhere I would recommend stopping by. It has a wonderful garden and endless views over the city and coast as it's located on a cliff.
Game of Thrones is a big thing here and you can head on a walking tour of Glass of Thrones. This has six stained glass windows to find.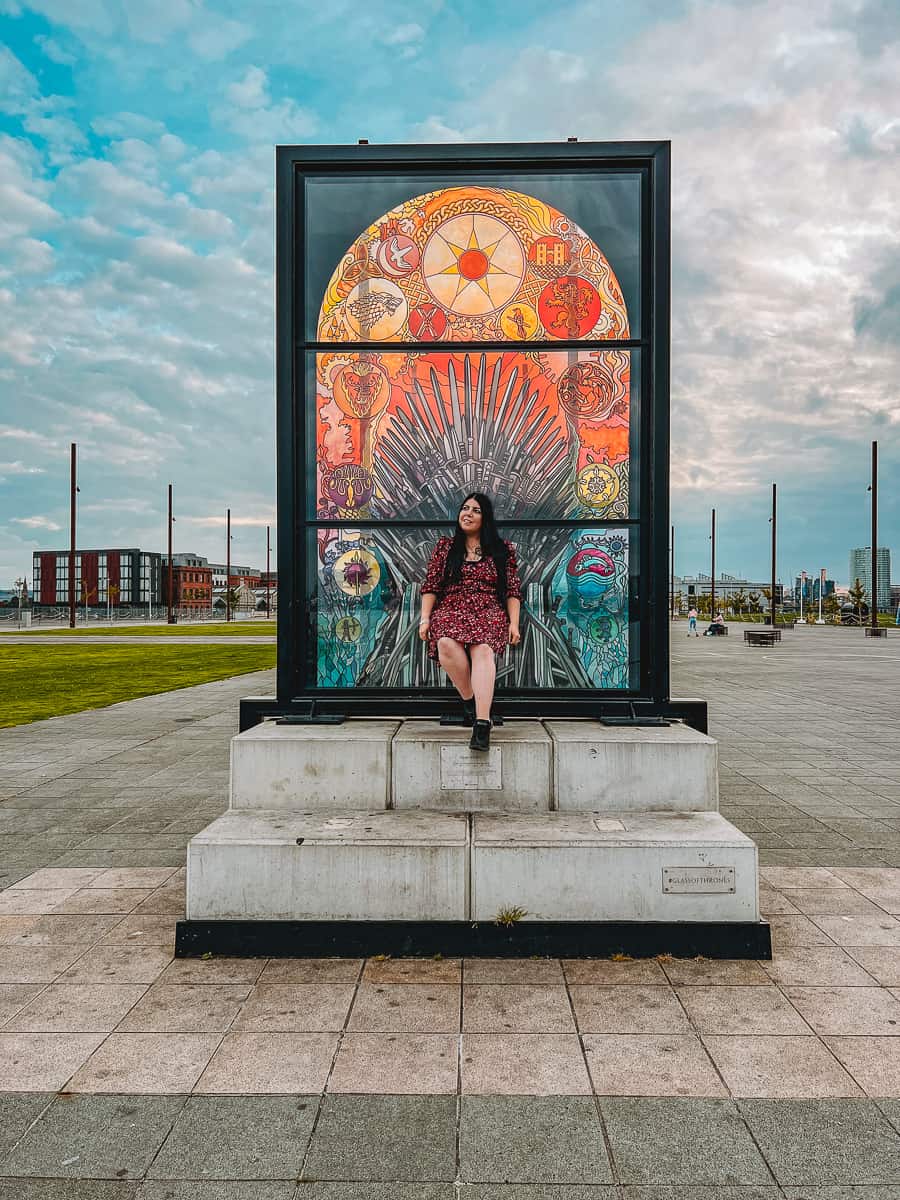 Or, why not head to the Ulster Museum and visit the Game of Thrones Tapestry? It's a 90-metre-long tapestry that has scenes from every episode from The Red Wedding to the Mad Queen.
There is even a Game of Thrones Studio Tour that you can visit located just outside of the city in Banbridge.
Never forget that from Belfast, you're only a 60-minute drive away from the ancient and magical Causeway Coast!
You can visit highlights like the Dark Hedges, the Giant's Causeway, Dunluce Castle, and the Carrick-a-Rede rope bridge.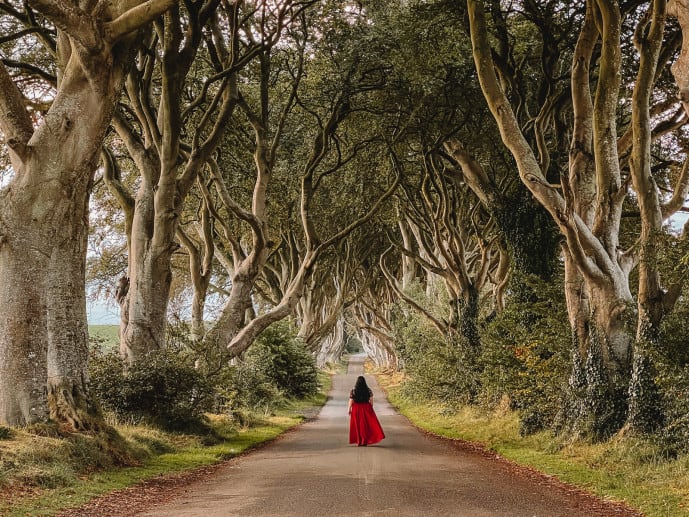 Belfast Cathedral Quarter FAQs
What is the Cathedral Quarter in Belfast best known for? Pubs, street art, and its lively atmosphere in the evening.
Where are the umbrellas in Cathedral Quarter? They are hanging above Commercial Court beside the Duke of York pub.
Where is the street with colorful umbrellas in Belfast? Commercial Court
Read more of my Ireland travel guides
How to visit Ballysaggartmore Towers Ireland
Marsh's Library – visit the oldest public library in Ireland
Game of Thrones Studio Tour Review
How to capture Deck of Cards Cobh
How to visit the Pollnagollum Cave Game of Thrones location
Tollymore Forest Park Game of Thrones filming locations
How to see the Game of Thrones Tapestry in Belfast
Glass of Thrones walking trail in Belfast
How to visit Lough Tay aka Guinness Lake
How to visit Cushenden Caves in County Antrim
How to find the Ballinastoe Boardwalk in Wicklow
Guinness Storehouse in Dublin review
Save the Umbrella Street Belfast for later!