One of the most magical places I visited in Northern Ireland was Tollymore Forest Park in the Mourne AONB.
It's a beautiful park that looks like you're wandering through a fairytale with stepping stones, grottos, and a seemingly endless forest.
You can stroll beside the Shimna River and cross over the many bridges to take in the natural beauty. You could easily mistake this place for Tolkien's Middle Earth!
Fans of Game of Thrones will also love visiting this park as it was featured in the very first episode of the TV show.
Here is a detailed Tollymore Forest Park visitor guide and where to find all the Tollymore Forest Park Game of Thrones filming locations!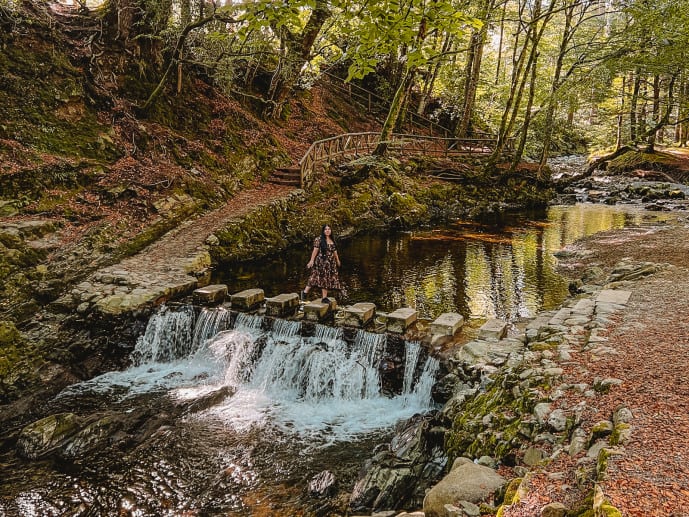 Tollymore Forest Park history
Tollymore Forest Park covers just over 630 hectares at the foot of the Mourne Mountains in County Down.
Years ago, this used to be the estate of the Earls of Clanbrassil who used to live in Tollymore House.
James Hamilton, the 1st Earl of Clanbrassil, was mainly responsible for the grottos, follies, and bridges found around the park. They were designed by Thomas Wright of Durham who was a close friend.
His son James Hamilton, the 2nd Earl of Clanbrassil then added onto this with the estate entrance and exit gates.
Tollymore is also the earliest arboretum in Ireland and the planting began in 1752.
The estate eventually passed onto the Jocelyn Family or the Earls of Roden. Oak wood from Tollymore was taken for White Star line ships including the Titanic which was built in Belfast.
Tollymore Park has been run by the Forest Service since they purchased the Roden Estate in 1941. Tollymore House eventually fell into ruin and was knocked down in 1952.
Today, Tollymore Forest is a public park that everyone can enjoy. Recently, it has grown in popularity for being a Game of Thrones filming location.
Tollymore Forest Park Game of Thrones connection
That's right if you're a Game of Thrones fan you may be interested to know that scenes from the series were filmed right here in this magical park.
It's easy to see why they chose this location as it looks like something from a fairytale and fits perfectly into the seven kingdoms of Westeros.
Tollymore Forest Park is featured throughout the very first episode of Game of Thrones 'Winter is Coming'.
You'll recognise it as the land south of The Wall with the Wildling Pit and the forest near Winterfell Castle!
Notable scenes filmed here are when the Knight Watch scouts see the White Walkers and when the Starks find the Direwolf pups.
Love Game of Thrones? See all of my GOT travel guides here!
Where is Tollymore Forest Park located in Northern Ireland?
Tollymore Forest Park is located in the Mourne Area of Natural Beauty (Mourne AONB). This is located in County Down in Northern Ireland which is in the far south.
It's located around 33 miles from Belfast and will take around an hour's drive, and 89 miles from Dublin which is a 1 hour and 45-minute drive.
It's just five minutes away from the gorgeous seaside town of Newcastle which is overlooked by the Mourne Mountains – the highest peaks of Northern Ireland!
This is where I would recommend staying as a base to explore County Down and some of the Game of Thrones filming locations found in this area.
How to visit Tollymore Forest Park
By far the easiest way to visit Tollymore Forest Park would be to drive there. As before, this is a 60-minute drive from Belfast and a 5-minute drive from Newcastle.
From Belfast, you can take the A24 road heading south to Clough Village and then join the A2 road heading to Newcastle. Take the turning just past Dundrum. The park will be signposted.
If you're heading here from Newcastle you can take the road towards Bryansford Village and then turn when you see the signs for Tollymore.
There isn't a bus stop near Tollymore Forest Park. The easiest way would be to arrive in Newcastle from Belfast by bus (take the Europa 237 service) and then take a local taxi from there to the park.
Alternatively, the closest bus stop to Tollymore would be Drumee Cemetery on the 18 bus service from Newcastle heading to Ballynahinch. But, it's still a 1.5 mile walk to the park from there.
You could walk to Tollymore Forest Park from Newcastle but this will take you around an hour and is 2.4 miles.
Personally, if you're not driving and wanted to visit Tollymore for Game of Thrones filming locations, I would book a guided tour like this one from Dublin. It will save you lots of time and money on your holiday!
Tollymore Forest Park's address is Bryansford Rd, Newcastle BT33 0PR. Click here for a Google Pin!
Tollymore Forest Park opening times
A great thing about Tollymore Forest Park is that it's open every single day of the year. So, you're not restricted on when you visit.
But, if you're visiting for the day, it's good to note that Tollymore Forest Park isn't open 24 hours.
Visitors arriving at the park must do so between 10 am – sunset and pay their parking fee at the toll booth.
This park does tend to get very busy, especially on weekends, so I would try to arrive at opening time or early morning if you can.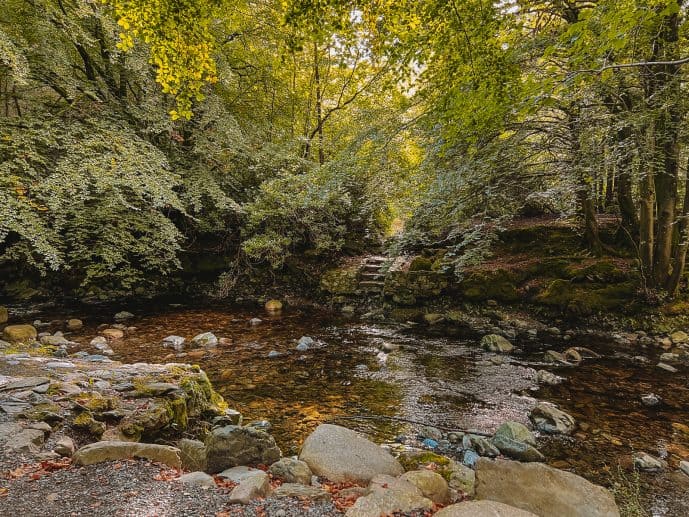 Do you have to pay to visit Tollymore Forest Park?
Yes, you do have to pay to enter Tollymore Forest Park but only if you're arriving in a vehicle.
You can pay by either cash, card, or contactless at the toll booth. You'll then be handed a parking pass.
Tollymore Forest Park ticket prices are as follows;
Pedestrians are normally not charged to enter the park on foot.
Tollymore Parking
Although you drive into Tollymore park initially, you do have to park your car and continue your adventures on foot through the forest.
There is a large car park situated at the end of the road after the toll booth. This has a map with some signs providing more information about the park, its history, and the wildlife found here.
There are some free toilets located in the car park and I would recommend using these before you go as there aren't any on the trail!
Tollymore Forest Park Game of Thrones filming locations
If you wanted to find some of the Tollymore Forest Park Game of Thrones filming locations there are quite a few dotted around.
This park was used for Winterfell Forest and the land surrounding The Wall in the far north of Westeros.
All of these filming locations appeared in the very first episode of Game of Thrones 'Winter is Coming'.
Here is the Tollymore Forest Park Game of Thrones filming locations and where to find them.
1. The Wildling Pit near The Wall
One of the main Tollymore Forest Park Game of Thrones filming locations would be the Wildling Pit.
This appeared in the very first episode at the beginning when scouts from The Knights Watch find a pit full of dead wildlings.
Their limbs are arranged in a strange pattern like a warning and this is where we get our first glimpse of the White Walkers.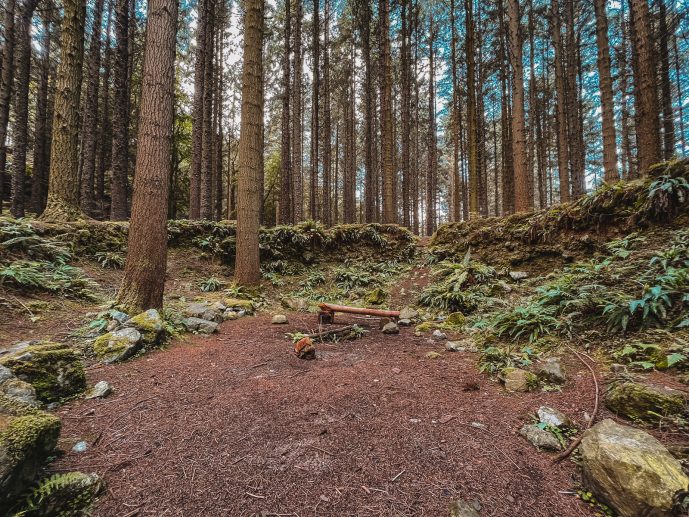 The White Walkers kill most of the scouts but let one called Will live. He runs south but is later executed by Ned as a deserter of the Knights Watch.
Apparently, as snow struggles to land here through the trees, the TV crew placed hundreds of mats on the forest floor. They then sprinkled fake snow on the ground.
It took weeks to set up the area for filming and once it was finished they had to take it all back again.
You can find the Wildling Pit just beyond the new wooden bridge. There is even a Google Pin to locate it!
2. When Jon Snow & Tyrian chat on their way to the wall
Almost opposite the Wildling Pit a little further down on the river bank, there is a tree where Jon Snow and Tyrion Lannister camp out on their way up to The Wall.
Jon wants to join the Night Watch to follow in the steps of his uncle, Benjen Stark, and Tyrion…well, Tyrion simply wants to visit to relieve himself over the top of The Wall!
Jon Snow quietly broods as he normally does whilst Tyrion explains that the men joining him in the Night's Watch are criminals.
Jon asks Tyrion why he reads so much and he explains that a mind needs books like a sword needs a whetstone.
If you're a Kit Ramsey fan, there is even a stump here that you can sit on for a photo! My guide said you could 'scratch and sniff' haha (ewww).
Click here to watch this camping scene!
3. Parnell's Bridge
If you carry on the river trail, you'll eventually reach Parnell's Bridge which allows a crossing over the Shimna River.
This appeared in Game of Thrones series 1, episode 1 when Ned is travelling with his children through the Winterfell Lands after executing the deserter.
They find a huge stag in the middle of the road with its guts ripped out and debate what could have ended its life.
Theon thinks this is a mountain lion but they follow the trail of organs over the bridge towards the river and find a dead Direwolf.
Click here to watch the Stag / Direwolves scene!
4. The Starks find Direwolves pups
Just below Parnell's bridge, you can visit another Tollymore Forest Park Game of Thrones filming location.
This is the location where they find a dead Direwolf and learn that she has given birth to a brood of Direwolf pups.
Although Ned wants the pups put to the sword, Jon Snow convinces him to bring them back to Winterfell Castle as the Direwolf is a sigil of his house.
They take one pup for each of the Stark Children. Even Jon gets to find the runt of the litter, a fluffy white pup called Ghost.
I would not recommend walking down to the river from Parnell's Bridge the way the Starks did as it's quite steep.
It's much easier to walk over the bridge and then loop around to see this filming location across the river bank.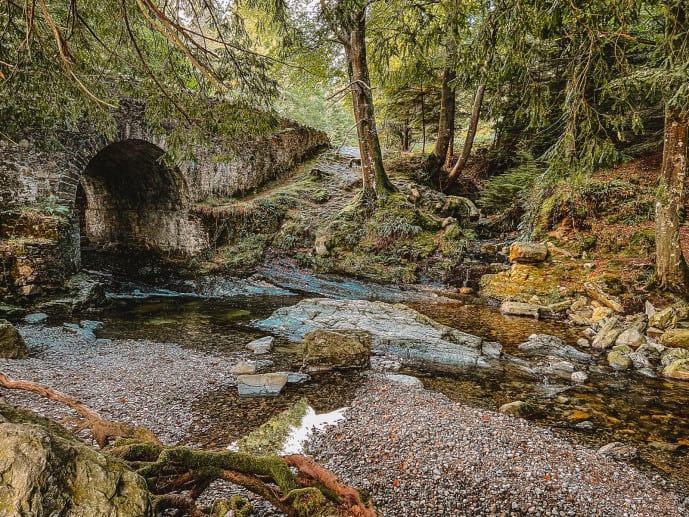 Book a Tollymore Forest Park Game of Thrones Trek
As Tollymore Forest Park is so large, finding some of these Game of Thrones filming locations can be a challenge.
That's why I decided to join a Game of Thrones Trek on my visit which guided me to them all. It's extremely affordable at just £10 a person.
We each received a fur-lined cloak and followed our guide through the forest who was a wildling chieftain in the show!
At each stop, he got out an iPad that played out all the scenes from Game of Thrones that were filmed where we were standing.
Also, he provided some great information from behind the scenes including some gossip! There were loads of photos taken of us from the tour and it made my visit even more memorable.
The only thing I would say is that you'll be joining the trek with daytrippers from Dublin and they are on a very tight schedule. So, it can be quite a rush to keep up.
The good thing is you can stay and explore the park at your leisure afterward.
Click here to book your Game of Thrones Trek in Tollymore
Other things to do at Tollymore Forest Park
Once you've had your fill of chasing down Tollymore Forest Park Game of Thrones filming locations there are plenty of other things to do in Tollymore.
This beautiful forest looks like something from Middle Earth in Lord of the Rings and so you could spend hours enjoying the magical landscape.
There is the option to cycle or walk through the park. But, you don't have to go on a big hike or a large cycle route if you don't want to.
Personally, after my Game of Thrones trek, I simply enjoyed a slow stroll by the Shimna River to see some of the main attractions!
Stroll by the Shimna River
Most of the main historical sites, stepping stones, and grottos you can visit in Tollymore Forest Park are located along the magical Shimna River.
The Shimna snakes through the park and you can enjoy the sounds of the water babbling over the rocks and brooks. It looks like something from a fairytale.
If you didn't want to do a huge walk in the park. I would simply follow the path around the river in a scenic loop.
Along the river, you can find the Ivy Bridge, Foley's Bridge, the Hermitage, the Stepping Stones, and a wooden bridge that leads you to Wildling Pit and Parnell's Bridge for the Direwolve's location.
Visit the Hermitage
One of my favourite locations in Tollymore Forest Park has to be the small Hermitage Hut and Grotto.
This medieval looking-folly looks like something from a storybook with all the creeping vines over it in the forest!
The sign says that it was erected by James Hamilton, the 2nd Earl of Clanbrassil in memory of his friend the Marquis of Monthermer who died in 1770.
In the 18th century, the gentry would use this place as a summer house. The ladies would sit inside the grotto to cool off in their heavy linen dresses whilst the men would fish below.
You can climb into the grotto through the bridge and take a pew inside. There is a bench where you can take a breather.
If you're visiting in the summer, the water underneath the Hermitage is a popular wild swimming location!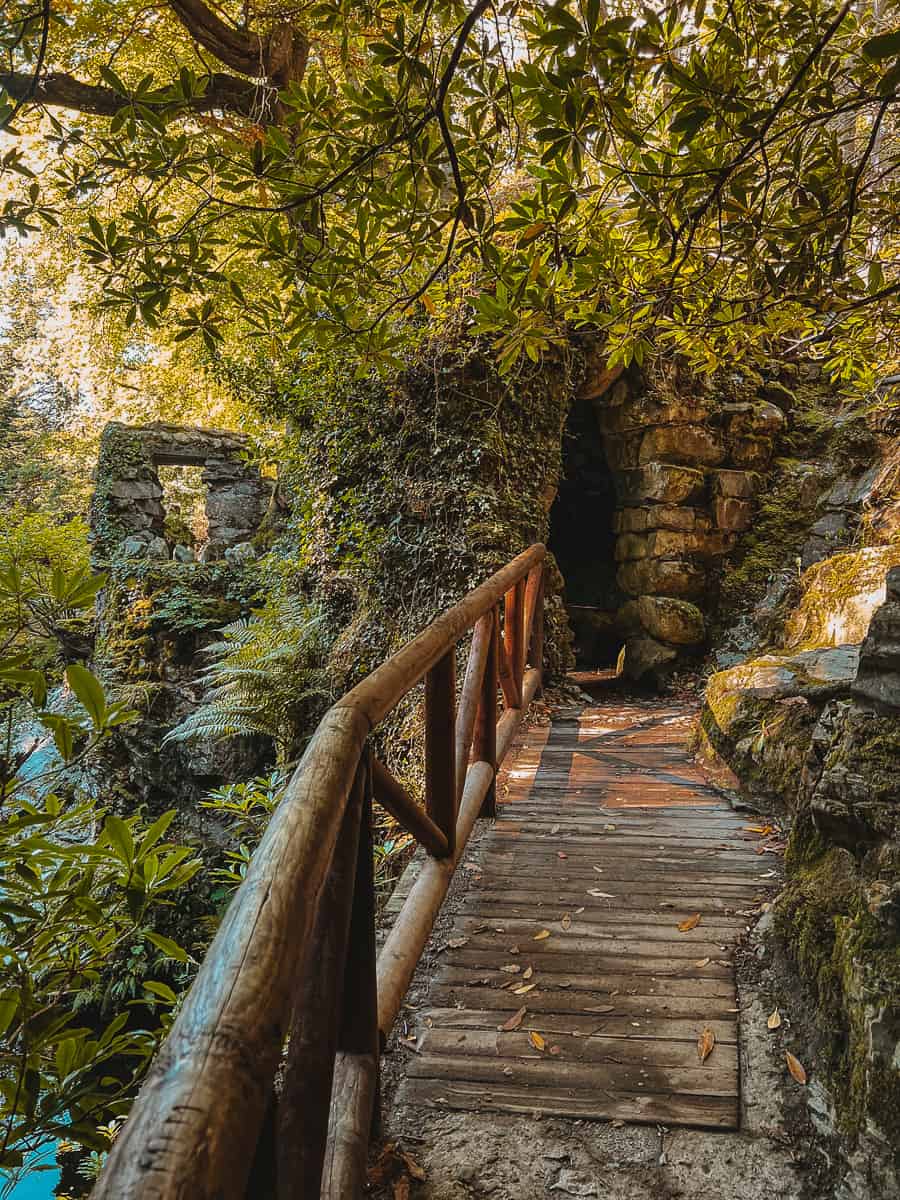 Tollymore Forest Park stepping stones
I will shamelessly admit that one of the main reasons I wanted to visit Tollymore Forest Park was to visit these stepping stones and get a photo with them!
This row of beautiful stepping stones allows you to cross over the Shimna River and the river flows through the gaps creating a gorgeous waterfall.
These can be found around a 15-20 minute walk from the car park and are next to the Altavaddy Bridge.
If you are on limited time and wanted to head straight there, here is a convenient Google Pin to help you find the stepping stones.
Take a Tollymore Forest Park walk
If you were the type that likes to take longs hikes through the forest, there are some hiking routes that you can take around the park;
The River Trail – If you wanted to walk an 'end-to-end' river trail as a loop you can do so in 3 miles which will take you around 1-2 hours depending on your speed. This is marked in red.
Arboretum Path – Tollymore is one of the oldest known arboretums in Ireland. The planting began in 1752. You can walk this blue trail in 30 minutes as it's half a mile long.
Mountain Trail & The Drinns – this is around 5.5 miles in length and is considerably more complex. But, you get great views of Luke's Mountain. This difficult trail is marked in black and will take you 3-5 hours. You can add on a further 3 miles by taking the Drinns route.
There are also cycling routes through the park. Horse riding is also available and it's managed by the Forest Service.
Tollymore Barbican Gate
As you enter Tollymore Forest Park, you will see the fabulous Tollymore Barbican Gate which looks like a mock folly of a castle.
Although it can be difficult to stop on this road, there is a small lay-by next to the gate where you can get out to have a quick look or take a photo.
This gate was built around 1780 and was designed by architect Thomas Wright of Durham.
When the estate was privately owned by the Earls of Clanbrasill, this was the entry gate for the main drive leading to Tollymore Park House.
Centuries ago, this entryway was manned by a gatekeeper as security and he used to live in a wee cottage attached to the gate!
My top tips for visiting Tollymore Forest Park
Wear comfortable shoes – The park has relatively flat pathways but you'll be walking on uneven ground. Wear comfy shoes that support your feet and ankles.
Pack water and snacks – there is sometimes a food van at Tollymore car park selling cakes and drinks but this is seasonal. It's best to take a packed lunch for your visit.
Prepare for zero phone signal – Once you're in the park, phone signal is almost non-existent. It's nice to disconnect but I would save any Game of Thrones filming location references beforehand.
Wrap up in winter – The park is mainly covered by trees and provides limited sunlight. Wrap up warm on chilly days!
Where to eat near Tollymore Forest Park
You could easily bring a picnic to enjoy in Tollymore on your adventures. There are many picnic benches dotted throughout the park.
But, if you're on a Game of Thrones road trip in Northern Ireland, you could easily plan to eat at one of the pubs that have a Game of Thrones door in the area after Tollymore Forest Park.
There are actually three of these Game of Thrones pubs in County Down and they make great places to stop for food and drink whilst chasing filming locations.
If you don't know about the Journey of Doors, it came about when the Dark Hedges was damaged due to over-tourism.
They repurposed the wood and made some Game of Thrones-inspired doors. They were then gifted to pubs across the country. Many of these were used by the cast and crew while filming.
You can get a Journey of Doors passport and collect stamps at them all. It's the perfect trail for Game of Thrones fans as they are all near popular filming locations.
You don't technically have to eat/drink in restaurants to visit the doors. But, it's nice to support local businesses in the area.
Click here to see how you can find all 10 Game of Thrones doors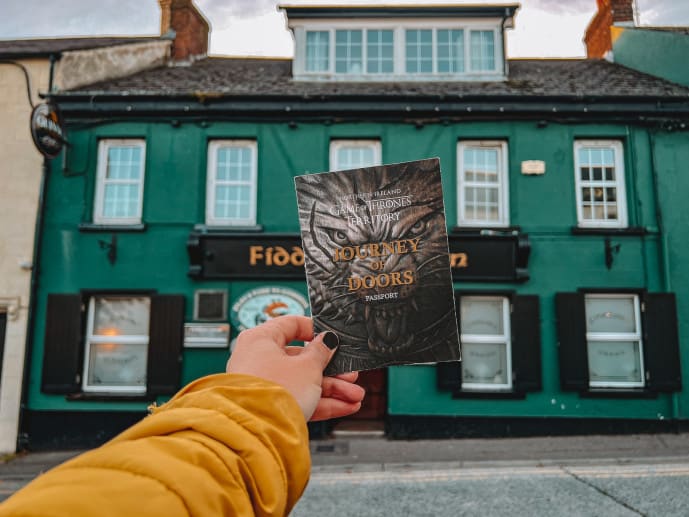 Here are the pubs and restaurants you can visit in County Down;
The Percy French – this is the closest to Tollymore Forest Park. It is a beautiful restaurant located in Newcastle serving up a diverse menu of delectable food. It has a great atmosphere and the fireplace makes it so cosy.
Fiddler's Green – this traditional Irish pub can be found in Portaferry where you need to get the Strangford car ferry. They don't sell food but you can get a drink. Don't forget to visit Quintin Bay nearby featured in Game of Thrones.
The Cuan – this used to be a bit of a Game of Thrones haunt but now it's changed management so they don't do any of the Game of Thrones banquets or themed nights anymore. But, you can get wine and food.
Where to stay near Tollymore Forest Park
Tollymore Forest Park is ideal for those with campervans as they have their own camping ground where you can stay overnight in the park.
It's a great opportunity to pitch up and stay in the Mourne Area of Outstanding Natural Beauty. You can see their charges here.
But, if you're looking for a base hotel for your stay in County Down, I would recommend staying in the gorgeous town of Newcastle.
It's a pretty beach town that is overlooked by the Mourne Mountains, the highest peaks of Northern Ireland!
You could stay in Slieve Donard, which is a luxury hotel on the coast, and visit The Percy French Inn for food that has a Game of Thrones door nearby.
Alternatively, you could stay in Strangford which is close to more Game of Thrones filming locations. The Cuan is where most of the cast stayed while filming in Castle Ward which was Winterfell.
It has changed hands recently so they no longer serve up the Game of Thrones banquets. But, it is still worth visiting for food and seeing the Game of Thrones doors.
Looking for more Game of Thrones filming locations nearby?
If you're doing a self-guided Game of Thrones tour of Northern Ireland, there are plenty of filming locations you can visit near Tollymore Forest Park.
If you haven't already, I would download the Game of Thrones Northern Ireland app that has most of them included. You will get iPhone Maps pins to guide you to each location.
There are six more filming locations that you can visit in this area. If you leave early enough you could easily visit them all in one or two days!
Here are all the Game of Thrones locations to visit near Tollymore Forest Park;
Castle Ward aka Winterfell
One of my favourite Game of Thrones filming locations in Northern Ireland was Castle Ward which played Winterfell in the series.
We see this keep in the North throughout season one where we are introduced to the Stark Family and the main characters of the show.
This is where Robert Baratheon and his royal party arrive to see Ned Stark. He plans to ask him to become the Hand of the King.
You can also visit where Bran, Jon, and Robb are practicing Archery in the courtyard and Arya bests him with a bulls-eye after getting bored of her sewing.
There are actually over 20 filming locations to find around Castle Ward and Audley's Field. You can see them all on a Game of Thrones bicycle tour or walking tour.
Or, why not have a go at archery yourself with Winterfell Tours? You get to practice in the exact same place where they filmed these Winterfell scenes in Game of Thrones!
Audley's Field aka Oxcross & The Twins
If you walk 20 minutes from Castle Ward beside the sea, you'll eventually come across Audley's Field where there are plenty more Game of Thrones filming locations to find.
In series 1, we see Robert Baratheon arrive by Audley's Field. Then in series 2, this field becomes Robb's camp in the Battle of Oxcross.
It's here that Robb meets Talissa, who is a healer from Volantis. Whilst she is tending wounded soldiers, Robb falls in love with her and he later asks her to marry him. These scenes happen in Series 2, Episode 4: Garden of Bones.
Audley's castle also featured as The Twins in Game of Thrones (the other tower and crossing were inserted with CGI).
This is when Theon Greyjoy takes down one of the messenger ravens from Walder Frey's towers sent to warn about Robb's army.
On the walk, you'll also stumble across the hanging tree here where Brienne comes across three women who were hanged by Stark soldiers.
Inch Abbey aka Robb's Riverrun Camp
This Cistercian Abbey appeared in series one when Robb makes camp at Riverrun.
After Joffrey has taken the throne, he asks Robb Stark to pay him fealty. Robb refuses as he knows his father has been held prisoner at King's Landing.
Robb calls his bannermen and marches Stark soldiers to go to war with the Lannisters. Robb goes on to win the Battle of the Whispering Wood taking Jaime Lannister as a prisoner.
Robb camps near Riverrun and it's here that Robb hears from his mother Catelyn that his father Ned has been executed.
So, the Houses of the North and the Riverlands show fealty to Robb and cry out: "The King of the North"! And so starts the beginning of the War of the Five Kings.
Read my guide on how to visit Inch Abbey in County Down!
River Quoile aka Riverrun
The River Quoile besides Inch Abbey also featured as Riverrun in series 3 episode 3: Walk of Punishment.
After Hoster Tully dies, the responsibility for Riverrun passes onto his son Edmure Tully. The Tully funeral tradition is to place the body in a boat on the river and then set it aflame by an arrow.
Of course, Edmure Tully is terrible at this and so his uncle Brynden, aka Blackfish, takes the reins and lands a perfect blow.
These scenes were filmed in the Quoile Pondage Nature Reserve which is surrounded by the rolling hills of the countryside.
It's a huge place and you could be driving/walking for miles before you find the exact location.
If you wanted to save time, there is actually a Google Pin to the exact Game of Thrones filming location where you'll see the sign. There is a free parking area just behind it!
Click here for a Google Pin to the exact Quoile River GOT location!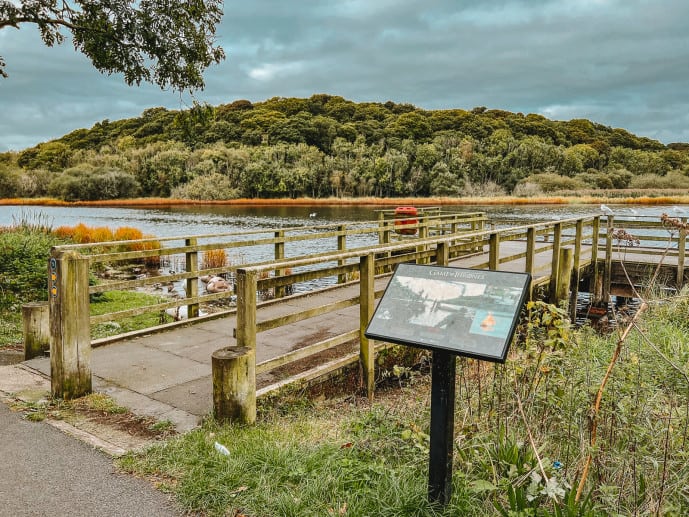 Godswood, Winterfell Lands & Castle Stokeworth
The other three locations are nice to visit if you have the time. They aren't 'main' filming locations but are still worth visiting if you're an avid Game of Thrones fan.
The first is the Godswood which is thought to have been filmed at Rowallane Garden. You can visit their lake in the pleasure gardens to see where Ned Stark would have visited to contemplate his big decisions.
The Weirwood Tree won't be there but it is a lovely National Trust property where you can take a walk through nature.
There is also Leitrim Lodge which is located in the Mourne Mountains. This is where Bran flees with Rickon, Hodor, and Osha towards Castle Black after Theon Greyjoy takes Winterfell.
Then lastly, you can visit Quintin Bay which is in Strangford and featured as Castle Stokeworth. To avoid a long drive you can take the Portaferry over the water.
After Jaime Lannister promises to bring Myrcella back to King's Landing from Dorne, he visits Ser Bronn of the Blackwater at Castle Stokeworth and asks him to help him.
You'll find these scenes in series 5, episode 2: The House of Black and White.
Book a Game of Thrones Tour
If you're not driving in Northern Ireland, or you just fancy taking a break from driving. I would highly recommend taking a Game of Thrones tour to some of these County Down filming locations.
These tours are very affordable and are run by expert guides who were extras in the show. So, you'll get to see the filming locations and hear some behind-the-scenes gossip too!
There are four major filming locations located in County Down where you can experience 'The North' and Winterfell.
These are Tollymore Forest Park, Inch Abbey, Castle Ward, and Audley's Field. You can take a guided tour from Dublin that covers them all in one day!
Click here to book a Game of Thrones tour of County Down!
Tollymore Forest Park FAQs
How much is it to go in Tollymore Forest Park? £5 per car.
Is Tollymore Forest Park National Trust? No, it's been owned by the Forest Service since 1941.
Was Game of Thrones filmed in Tollymore? Yes! There are a few filming locations from the very first episode dotted around the park.
Are there toilets at Tollymore Forest Park? Yes, there are some free toilets in the car park. Make sure to use them before you head out on your walk as I didn't see any in the park itself.
Read more of my Ireland guides
Game of Thrones Studio Tour Review
How to visit Belfast Umbrella Street
How to visit the Pollnagollum Cave Game of Thrones location
How to visit the Dark Hedges in Northern Ireland
How to cross Carrick-a-Rede Rope Bridge
Why you must visit Kinbane Castle
Visit Ballintoy Harbour aka the Iron Islands in Game of Thrones
Was Dunluce Castle used in Game of Thrones?
How to visit Lough Tay aka Guinness Lake
How to visit Cushenden Caves in County Antrim
How to see the Game of Thrones Tapestry in Belfast
Glass of Thrones walking trail in Belfast
How to find the Ballinastoe Boardwalk in Wicklow
Guinness Storehouse in Dublin review
Save these Tollymore Forest Park Game of Thrones filming locations for later!