Pollnagollum Cave is a gorgeous emerald cavern fed by a cascading waterfall and is located in the magical Belmore Forest.
Fans of Game of Thrones will want to visit this location as it was used to film the Brotherhood Without Banner's hideout aka Hollow Hill in series 3.
It's a little further out of the way than the other filming locations in Northern Ireland but I thought a visit here was worth it.
Plus, there's a Journey of Doors trail stop nearby in Enniskillen if you wanted to stamp your passport.
Here is how to visit the Pollnagollum Cave Game of Thrones Filming Location aka the Brothers Without Banner's hideout!
What is Pollnagollum Cave & History
Pollnagollum Cave is Ireland's longest cave and is over 16 kilometres in length. Inside, you'll find a labyrinth of caverns and connected passageways.
Its name in Irish translates to 'hole of the doves' and the cave is surrounded by lush foliage, crawling vines, overgrowth, and moss. It looks like something from a fairytale!
The highlight is the 13-metre high waterfall that cascades down in front of the cave into a pool below.
It's often explored by cavers but is also a popular tourist attraction and can be seen by a small viewing platform in Belmore Forest.
It's gained popularity in recent years due to filming taking place here for the HBO series Game of Thrones!
Pollnagollum Cave Game of Thrones filming location
If you were a Game of Thrones fan, you will recognise Pollnagollum Cave from series 3 where it was used to film the exterior of the Brothers Without Banner's hideout or Hollow Hill.
Beric Dendarrion was the Lord of Blackhaven and Head of House Dendarrion until he formed a resistance group called Brotherhood Without Banners.
In series 3, Beric takes Arya, Gendry, and Sandor Clegane (The Hound) to his hideout cave. He explains how he has converted to the Lord of Light.
Arya accuses the Hound of murdering her friend Mycah. Beric then challenges Sandor to trial by combat and is slain. But, moments later, we see Beric resurrected by Thoros!
These scenes all happen in Game of Thrones series 3, episode 4 'And Now His Watch Is Ended'.
It was only the outside of the caves that were used in Game of Thrones, the interior scenes were filmed in a studio.
But, you can still visit this filming location for yourself in Northern Ireland if wanted to see it!
Where is Pollnagollum Cave in Northern Ireland?
Pollnagollum Cave is located on the far west side of Northern Ireland in County Fermanagh, near Enniskillen.
It's in a hamlet called Boho (how cool?!) and within the Marble Arch Global Geo Park & Boho-Belmore Mountains.
It's in quite a remote area and so it's best to plan your way there and back beforehand. There are few public transport links available.
Pollnagollum Cave address is Enniskillen BT74 5BF. Click here for a Google Pin!
How to visit Pollnagollum Cave
The easiest way to reach the cave would be to drive to Boho in Enniskillen, park up, and then walk over there.
But, Game of Thrones fans, be aware that this location is at least 2 hours drive from Belfast and is far away from other filming locations/attractions!
Everywhere I read online said that you needed to go on a long 5-mile walk to reach the cave but there's actually a car park that's located around 2 minutes walk from the cave viewing platform.
So, you could easily make a quick stop here as part of a Game of Thrones road trip. There's even a Game of Thrones door nearby (more on that later) if you were on the Journey of Doors trail.
The nearest town is Enniskillen and no bus runs directly to the cave area. You could get a Translink bus from Enniskellin to Boho and walk from there or get a taxi to the cave area from the town.
Pollnagollum Cave parking
If you head towards the Pollnagollum Cave area from Boho, you'll eventually be driving up a single lane with passing places toward the cave.
Just before you reach a corner in the road, you'll find a small lay-by on your right with an information board about the cave. Click here for a Google Pin for the car park.
This car park is the closest you can get by car to Pollnagollum Cave. It's free and open 24 hours a day.
Parking places are limited but this area is quite remote so you shouldn't have too much trouble finding a space.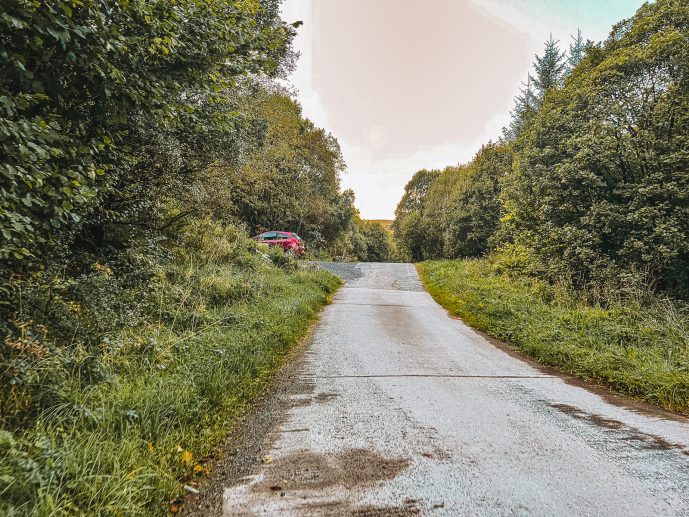 Walking over to Pollnagollum Cave
Once you've parked up, head into Belmore Forest and walk straight up the path.
You'll pass by the ruins of an old quarry and you'll eventually see a sign for Pollnagollum Cave on your left in around two minutes walk.
Take a left and follow this path until you enter a woodland clearing. Walk over to another information board about the history and geography of the cave at the far end.
By now, you'll probably hear the sounds of the waterfall already and this is how you know you're really close.
You'll see some stairs on your left leading down to a viewing platform and this is where you can see Pollnagollum Cave & Waterfall!
Exploring Pollnagollum Cave
Once you walk down the steps, you'll find a small platform where you can view Pollnagollum Cave and the waterfall.
The whole area is covered in foliage with trees, crawling vines, lush plants, and moss.
It really does look like something from a fantasy world and you can easily see why Game of Thrones wanted to film here!
Although they only filmed the outside of the caves, there is a large cave system inside but you shouldn't go in without a professional guide.
On my visit, the gate on the platform was open so I just walked down the steps to look a little closer from the outside. I wouldn't recommend doing this if the waterfall is too heavy.
It will be a short visit if you don't plan to explore more of Belmore Forest or the Marble Arch Cave Geo Park.
So, you could easily plan an extended walk or a visit to the Marble Arch Caves as part of your trip here.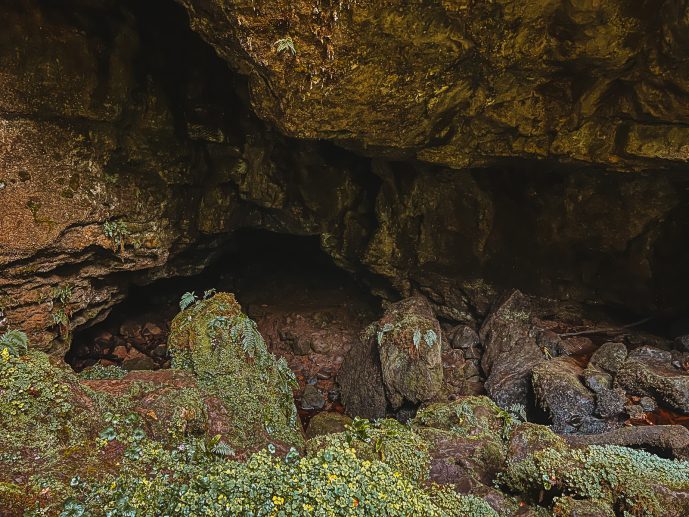 Pollnagollum Cave walk
Driving isn't the only option for visiting the cave. Most people like to take a scenic walk through the Belmore Forest to visit the natural wonder.
You can take a 3.5-mile loop around the dense forest and see some spectacular sights along the way.
There are many highlights to see including Lower Lough MacNean, Ross Lough, and Cuilcagh Mountain.
Click here for a map of the circular walking route!
Opening times and ticket prices
Pollnagollum Cave is open 24 hours a day and so you can visit anytime you wish.
I wouldn't like to visit this area at night though, the dense forest is dark enough during the day let alone when the sun goes down.
There's also no lighting in the forest or on the country roads in this part of Boho.
Parking and visiting the cave are both completely FREE so it makes a great budget activity in Northern Ireland.
My top tips for visiting
Have a SatNav prepared – the signal here in Boho is very limited as it's a mountainous area. It may be easier to have a SatNav if you are driving.
Wear sensible shoes – Although the platform is close to the car park, it's best to have sensible shoes on to walk to the cave. Belmore Forest can get very muddy and the rocky steps can get slippy.
Wear a coat in the rainy season – in bad weather, this waterfall can be very intense! So, wear a waterproof to shelter from the spray.
Keep dogs on a lead – dogs are allowed in Belmore Forest but must be kept on a lead at all times.
Stick to the paths – there are quite a few quarries in this area that are unsafe to explore. Stick to the designated paths and take care.
Why not visit Marble Arch Caves?
The highlight attraction of the Global Geo Park would be the Marble Arch Caves that were formed over 340 million years ago.
They were discovered in 1895 by Edouard-Alfred Marte and Lister Jameson on invitation by the Earl of Enniskillen. It opened as a tourist attraction in 1985.
You can take a guided tour through their labyrinth of underground caves with stalactites, stalagmites, and the Owenbrean River.
Visiting is not free and does require booking a guided tour, these last for around 60 minutes.
Click here to book your tour of Marble Arch Caves!
Head to the Blakes of the Hollow in Enniskillen next!
If you're a Game of Thrones fan you will be happy to know that you can visit one of the Game of Thrones doors near Pollnagollum Cave in Enniskillen.
If you weren't aware of the Journey of Doors trail, the beech trees at the Dark Hedges were damaged some years ago due to over-tourism, and some of them were sadly knocked down.
A group of clever artists re-purposed the wood and made a series of Game of Thrones doors.
The doors were gifted to pubs dotted around Northern Ireland. Many of these pubs were places that the cast/crew used to eat, drink or sleep in after filming!
Click here to see how you can find all 10 Game of Thrones doors
The Blakes of the Hollow pub has one of these carved doors so remember to pick up a Journey of Doors passport and stamp it here.
Blakes of the Hollow is one of the most famous Victorian pubs in Ireland and is famous for its heritage.
It was established in 1887 making it the oldest pub in County Fermanagh and can be found on Church Street.
Beyond just being a traditional pub they also have a café, atrium, and club as part of their chain aswell!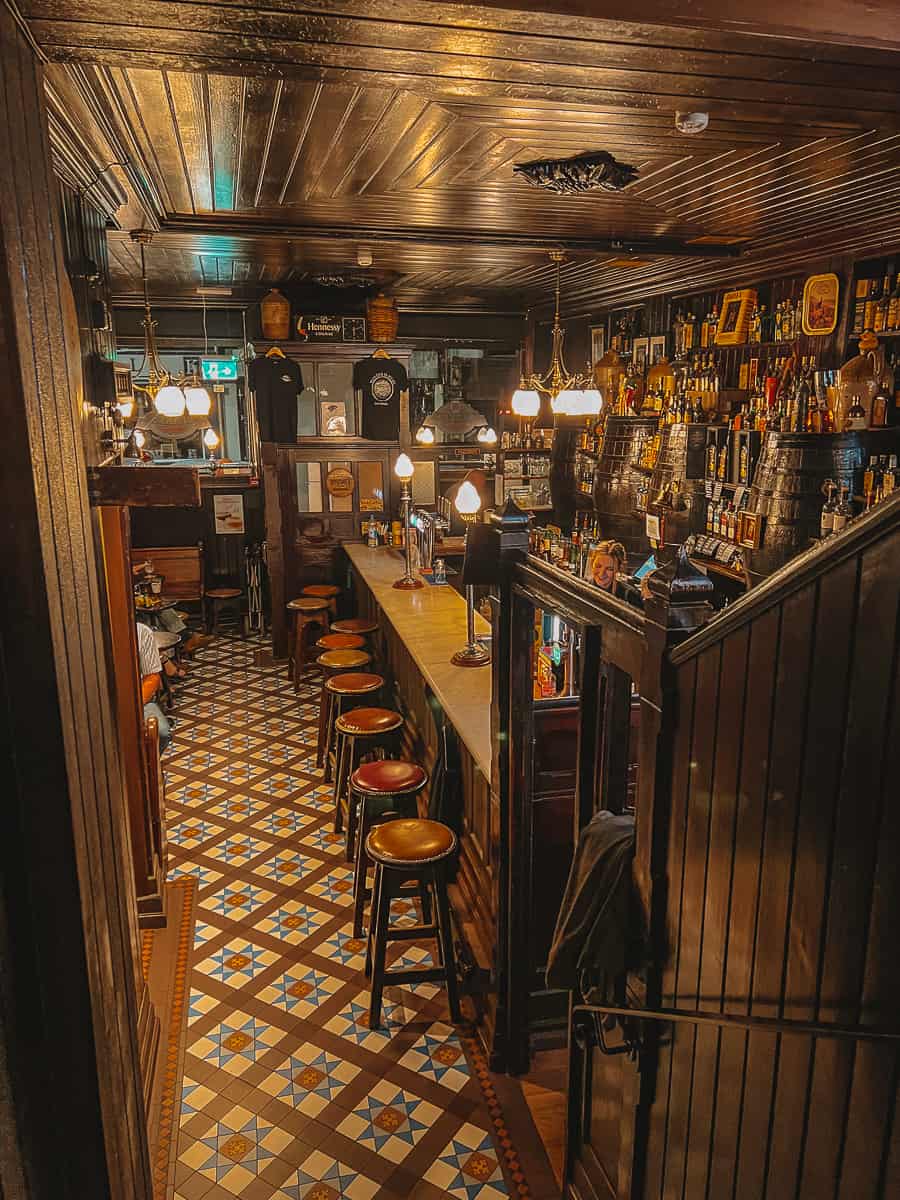 Blakes of the Hollow Game of Thrones door
The Blakes of the Hollow Game of Thrones Door can be found inside the pub at the very back.
If you head towards the bathrooms, you'll find the door near the stairs leading to the upper floor.
The intricate design features the highlights of the Targaryens and Arryns. I loved seeing the dragons carved on this door!
Once you've seen the door, make sure to stop for a pint and to take in the friendly and vibrant atmosphere. It's a traditional Irish bar and sometimes there is live music.
Read more of my Ireland guides
How to visit Belfast Umbrella Street
How to see the Game of Thrones Tapestry in Belfast
How to visit Ballysaggartmore Towers Ireland
Game of Thrones Studio Tour Review
Glass of Thrones walk guide in Belfast
Dunluce Castle aka Castle Greyjoy in Game of Thrones
How to visit Cushendun Caves from Game of Thrones
Visit Ballintoy Harbour aka the Iron Islands
Visit the hidden gem of Kinbane Castle
How to cross the Carrick-a-Rede rope bridge
How to visit Inch Abbey from Game of Thrones
Tollymore Forest Park Game of Thrones filming locations
How to visit Lough Tay aka Guinness Lake
How to find the Ballinastoe Boardwalk in Wicklow
Guinness Storehouse in Dublin review
Save how to visit Pollnagollum Cave for later!