There are many castles in the Kingdom of Fife but none quite like the amazing 12th century Aberdour Castle.
Although it's been famous for centuries, In recent years, it's also gained popularity as an Aberdour Castle Outlander film location too!
Located in the gorgeous historic village of Aberdour, you can come face to face with one of Scotland's oldest standing castles!
Beyond stalking an Outlander film location, there is plenty to see and do here. You can explore the ruins, discover the gardens, dress up in traditional clothes and learn about what life was like here in years gone by.
Here's a complete guide to the Aberdour Castle Outlander film location!
What is Aberdour Castle & Aberdour Castle history
Aberdour Castle is argued to be one of two of Scotland's oldest standing castles, the other being Castle Sween in Argyll.
It was originally built in the 1100s by Sir Alan de Mortimer who owned the Barony of Aberdour lands.
His family built the High Hall, one of the oldest parts of the castle, and St Fillan's Church that still stands today nearby.
In the 14th century, Sir William Douglas of Liddesdale acquired the Barony granted by King Robert the Bruce, and the Douglas family made significant improvements and developments to the castle.
The castle then switched hands to many noblemen over the reign of James V and Mary Queen of Scots.
During the Jacobite risings in 1715, many troops were stationed here and after a second fire, it was significantly damaged.
Eventually, the Morton family, who owned the castle bought a nearby estate, Cuttlehill House, and abandoned the castle. It eventually fell into disrepair.
In 1924, Historic Environment Scotland bought the property and significantly renovated it and it's still standing for everyone to enjoy today!
What is the Aberdour Castle Outlander location?
In the novel 'Outlander', Jamie is rescued from Wentworth Prison after being at the hands of Black Jack Randall.
In the second novel 'Dragonfly in Amber' Jamie is taken to the Abbey Ste. Anne de Beaupré in France.
However, in series one, episode 16 'To ransom a man's soul', once Jamie is rescued from Wentworth, he is taken to an Abbey in Scotland to recover from his injuries. It's here that Claire fixes Jamie's hand and confesses her time travel to the priest.
Aberdour Castle grounds and the castle itself plays the Abbey in Scotland. The good news for Outlander fans is that it is open to the public to explore so you can visit the film location for yourself!
How to get to Aberdour Castle
Aberdour Castle is located in the historic village of Aberdour, in Fife, and sits on the Firth of Forth. For a small village, it's got lots to offer including the castle and two beaches on the coast!
How to get to Aberdour Castle from Edinburgh: It takes around 40 minutes to reach Aberdour Castle by car. Take the A90 or the M90 over North Queensferry, then take the A921 road.
How to get to Aberdour Castle from Glasgow: It's around an hour's drive from Glasgow. The quickest route is the M8, then the M90 then the A921 road to Aberdour.
How to reach Aberdour Castle by Public Transport: Aberdour has a train station so it's an easy and direct 30-minute train journey from Edinburgh Waverley. From Glasgow, this means a quick change over in Haymarket. Use Travel Line Scotland to plan your journey.
Aberdour Castle Parking
There is limited parking directly outside of the castle for those that need accessibility or have pushchairs.
For everyone else, there is a FREE car park in the Aberdour train station that you can park in.
If you're visiting on the weekend, around the Edinburgh festival, prepare for this car park to fill up!
Lots of people park here to get the train into Edinburgh for the day. When I visited it was on a weekend and around the Royal Highland Festival and I struggled to find space.
Aberdour Castle opening times
The castle is open all year round but opening times vary on the seasons;
1st April – 30th September: 9.30am to 5.30pm daily (last entry 5pm)
October: 10am – 4pm (last entry 3.30pm)
1st November – 1st March: Saturday – Wednesday 10am – 4pm (last entry at 3.30pm, Thursday and Friday CLOSED)
Aberdour Castle ticket prices
Adults: £6
Concessions: £4.80
Child: £3.60
Children under 5: FREE
Did you know that Historic Environment Scotland owns a lot of the castles used in the Outlander TV series?
If you're planning on visiting Doune Castle (Castle Leoch), Blackness Castle (Fort William), Linlithgow Palace (Wentworth Prison), or Craigmillar Castle (Ardsmuir Prison), it may be worth buying an Explorer Pass.
This pass will gain you entry into all of them and lots of other historic properties around Scotland too. Click here to find out more.
Aberdour Castle Outlander locations
There are many Aberdour Castle Outlander locations you will recognise from the series as you wander around.
If you're stuck, ask the friendly staff members who will be happy to let you know the exact locations of where they filmed in the series.
Many of them have screenshots and there is an Outlander location sign in the Kitchens as soon as you walk in for some context too!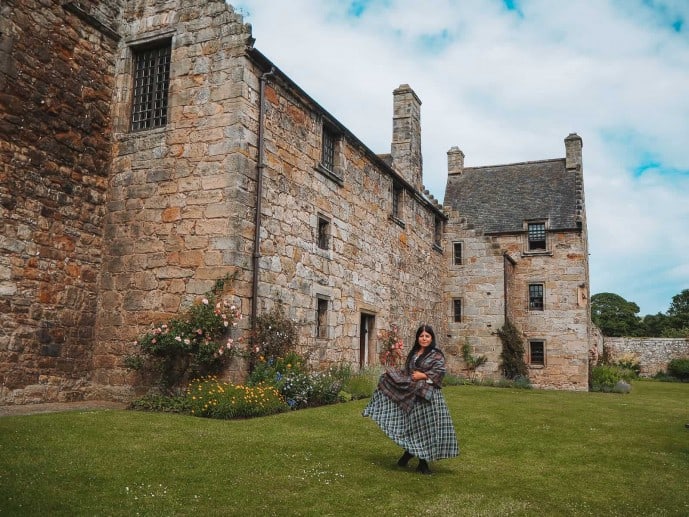 1. The exterior of the Abbey / Where Jamie is carried
After the march of the Highland Cows, Jamie is released from Wentworth Prison and taken by horse and cart to the Abbey to recover.
We first see the outside of the Abbey, where Claire speaks to Father Hanmore to thank him for letting them stay.
If you head to the back of the tea rooms towards the walled garden outside, this is the wall where Claire, Rupert, Angus, and Murtagh stand awaiting word from Willie that the coast is clear from redcoats searching for Jamie.
2. The stables / Where Claire faints
After Jamie is rescued, Brother Paul fears that they will not be able to save his soul. Also, Jamie asks Willie to hand over a knife so he can end his life.
Murtagh comes back to the Abbey to say he's found a safe passage on the Christabel to France but Claire confronts him about what Jamie asked of Willie.
Murtagh then admits that he knew and Claire faints fearing she can't save him. This scene happens in the stables of Aberdour Castle right by the ticket desk.
3. Upstairs Gallery / Church where Claire confesses
An unlikely place for a church, but it was a clever spin by the Outlander production team on the Upstairs Gallery at Aberdour Castle. They converted the back of the room into a church area.
This is where Claire is praying and Father Hanmore asks to hear her confession. So, she tells him everything about her time travelling adventures and the story so far. Father Hanmore says that it's a miracle and blesses her.
It won't look like a church when you arrive, but if you head towards the back of the gallery at Aberdour Castle you can recognise the windows and the doors where this scene happened.
4. Aberdour Castle Old Kitchens / Where Jamie recovers
As part of the Outlander locations, I was informed that Aberdour Castle's Old Kitchens were used as a film location (below). But, having looked back I couldn't find a part in the episode that looked like it featured that room at all.
My feeling is that after the stables room there is another whitewashed room and I feel that this is the room where Jamie recovers in the Abbey.
But, I may be wrong. So, if you know where these parts were filmed. Let me know in the comments below!
What else is there to see at Aberdour Castle?
Beyond an Outlander location, there are plenty of things to discover at Aberdour Castle. One of my favourite parts was exploring the old castle ruins.
You can also relax in the beautiful walled gardens or check out the Doocot at the end of the gardens with a beautiful view of the Forth!
Inside the Castle, you can also take a mat and lie down to admire the original 16th-century painting ceilings. A great way to relax for a moment.
Next door to Aberdour Castle is the St Fillan's Church, dated back to 1123, which is one of the finest examples of a Norman Church in Scotland.
Where to eat in Aberdour Castle
There is a tea room on-site if you wanted to grab a hot or cold drink and some light bites while you're here.
Also, if the weather is nice, there are a few picnic benches outside of the tearooms where you can enjoy a picnic. When I visited, the sun was shining and it was a lovely day for it.
Alternatively, if you're after a hot lunch, you can have a look in Aberdour village for options. Popular choices are Room with a View, McTaggart's, and Sands.
Outlander locations near Aberdour Castle in Fife
There are plenty of Outlander locations in Fife that you can visit after Aberdour Castle.
You can read my ULTIMATE list of Outlander locations in Scotland here, or read my Outlander in Edinburgh & Outlander in Glasgow guides
The historic Dysart Harbour is only 20 minutes away that featured as Jared's wine warehouse in Le Havre. Or you can visit the Reaper boat, that played the Christabel at the Scottish Fisheries Museum.
Culross village doubled up as Cranesmuir with the Palace and its gardens playing the herb gardens of Castle Leoch. Or visit the West Kirk that played the Black Kirk.
Balgonie Castle featured as MacRannoch's home before the Wentworth Prison rescue and Falkland village doubled up as 1945 Inverness. You can even stay in the same hotel room as Frank and Claire too at the Covenanter Hotel.
Read more – my complete Outlander guide for Falkland!
Outlander locations around Edinburgh
There are plenty of Outlander film sites around Edinburgh. Take a look at my full list here or see my list for Glasgow here;
You can visit Hopetoun House that has 17 Outlander locations or drive to the village of Abercorn to see the Church which featured in Season 4. Outlander fans will be very familiar with Midhope Castle that plays the Broch Tuarach, or Lallybroch.
Linlithgow Palace featured as Wentworth Prison which is where Jamie was before this abbey, Blackness Castle was where Jamie was flayed by Black Jack Randall. Bo'ness is where Claire and Frank said their goodbyes.
Drummond Castle gardens featured as the grounds of Versailles. Or, you can head to the seat of Clan MacKenzie, Castle Leoch. Deanston Distillery was also featured in Outlander as Jared's wine warehouse in season 2.
East Lothian is home to Gosford House which doubled up as Helwater Estate or Preston Mill featured as Lallybroch's Mill.
Roslin Glen Country Park has some gunpowder mills that featured in an argument and Glencorse Old Kirk was where Jamie and Claire were wed.
Craigmillar Castle that featured as Ardsmuir Prison and Summerhall has a lecture hall where Claire meets Joe Abernathy.
The Royal Mile in Edinburgh is full of Outlander locations including Bakehouse Close that featured as the Outlander print shop. Tweeddale Court doubled up as a market street where Claire and Fergus were reunited and you can visit the Worlds' End Tavern.
Or, visit The Colonnades for afternoon tea and visit the Governor's mansion in Jamaica.
See more: My Outlander walking tour of the Royal Mile!
Save this Aberdour Castle Outlander guide for later!
With thanks to Historic Environment Scotland for sponsoring my visit. Although I was a guest, all photos and opinions are my own.