If you have ever Google searched the Isle of Skye in Scotland, you've probably seen that beautiful rainbow row of houses sitting by the water from above.
Well, those magical photos are taken from the Portree Colour House Viewpoint in the cute harbour town of Portree on the Isle of Skye.
Those colourful houses are located in the bustling Portree Harbour and this viewpoint is by far the best place to capture them. What's more, is that it's surprisingly really easy to visit and doesn't require a long walk.
Here is a complete guide on how to find the Portree Colour House Viewpoint on the Isle of Skye.
What is the Portree Colour House viewpoint?
The Portree Colour House Viewpoint is one of the most iconic views on all of the Isle of Skye.
It's a row of gorgeous Portree coloured houses sitting on the harbour over the sea with rolling hills and it's a panorama worthy of a postcard.
Many people want to capture this view on their travels through Skye and this viewpoint is by far the best place to do it.
How to get to the Portree Colour House viewpoint
The Portree Colour House viewpoint is located in the town of Portree on the Isle of Skye. This is in the Western Isles of Scotland and you can easily drive here over the Skye Bridge.
You'll find the viewpoint from houses 9-1 of Bosville Terrace which sits above Portree Harbour near the Co-op.
Although there is a Google Pin for the Portree Colour House Viewpoint, it's not always straightforward to find a place to park in Portree to get there.
Especially in the bustling town of Portree, which is a hot mess of chaos most of the time. Portree is located on the main A885 road and it's always busy with traffic and pedestrians.
The Colour House Viewpoint has no parking spaces or lay-by next to it. So, it's not always easy to find quick parking and capture the view in a couple of minutes.
You have to firstly find parking in Portree and then make your way up to the Portree Colour House Viewpoint on foot.
This is easy to do from either Portree Market Square, Portree Harbour or Bosville Terrace itself.
The Colour House Viewpoint postcode is 9-1 Bosville Terrace, Portree, IV51 9DG. Click here for a Google Pin!
Portree Colour House viewpoint parking
As you approach the Google Pin for the Portree Colour House viewpoint, you'll probably notice cars parked up along this row of Bosville Terrace on your right.
However, all of these parking spaces are private and reserved for residents of the B&Bs & hotels here. So, you can't park there.
But, if you head around the corner on Bosville Terrace as if you're leaving Portree on the A885, you'll find a huge lay-by full of free parking spaces you can use here.
From the Bosville Terrace parking area, it's a two-minute walk to the Portree Colour House Viewpoint walking back the way you came!
I will warn you though, these spaces get filled up, especially in the evening and on weekends!
If you can't get a space, just turn around and head back into Portree. Park up by the main square and walk up to the viewpoint from there.
Portree Colour House Viewpoint directions
Here are some more detailed directions on how to find the viewpoint while you're in Portree on the Isle of Skye.
These start at Portree Harbour, Portree Market Square and the free Bosville Terrace Parking area.
1. From the Bosville Terrace parking
So, if you're lucky enough to find some parking on Bosville Terrace, it really is as simple as turning back on yourself. Turning the corner and then walking to the viewpoint along the stone wall.
The walk should take you less than five minutes and it's located by the Scorrybreac Scottish Restaurant sign. This really is the best place to park if you can find a space.
2. From Portree Harbour
If you're landing by ferry in Portree Harbour or you fancy capturing the Portree coloured houses from the viewpoint.
You can easily do this by taking the steep steps up Beaumont Crescent. You'll then see the Portree Co-op on your left.
Take a right here and then follow the stone wall until you reach the Scorrybreac restaurant sign. Then, you'll find the colour house viewpoint.
3. From Portree Market Square
If you're arriving by bus into Portree, you'll alight at Portree Market Square. From the bus stop, find the Portree Hotel and then walk behind it onto Wentworth Street.
Follow Wentworth Street all the way along until you reach the end and then turn left. Walk up Bank Street until you see the Co-op on your left.
Take a right onto Bosville Terrace and follow the stone wall along until you find the Scorrybreac Scottish Restaurant Sign. Here you'll find the Portree Colour Houses Viewpoint.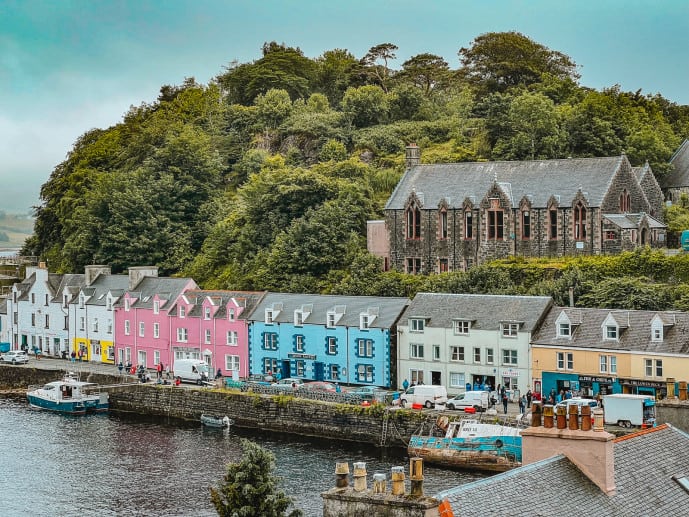 What to expect at the Portree Colourful Houses viewpoint
Although the amazing view of the colourful houses is worthy of Instagram, I have to admit that the viewpoint area is definitely nothing to write home about.
You'll be standing in a corner of the stone wall in amongst dumpster bins and parked cars to get your photos. But, I assure you, it's definitely worth the struggle (and smell).
Also, you will need to watch out for traffic as this viewpoint is located on the main A885 road of Portree and there is no pavement or sidewalk on this side of the view.
Another thing to note is that in summer there is a lot of foliage around the viewpoint so you'll need to work around that to get a good angle.
But, I would still 100% recommend making a stop here as it's one of the best photo locations on the Isle of Skye!
Why not head down to Portree Harbour next?
Once you're finished admiring the Portree colourful houses from the viewpoint, you can always make your way down Bosville Terrace and then the steep steps of Beaumont Crescent to visit Portree Harbour.
As Portree is one of the busiest towns on Skye, the harbour is usually a hive of activity throughout the day. There are tourists, fishermen, locals, boats and all sorts going on here.
In Portree harbour, you have some great Fish & Chip shops like the Lower Deck, cafés like Sea Breeze and ice cream counters too.
You can even take a boat trip for a wildlife safari from the Isle of Skye with Stardust Boat Trips. You'll get the chance to see pods of whales, schools of dolphins and even white-tailed eagles!
Looking for more things to do in Portree?
Portree is the main town on the Isle of Skye where many visitors choose to base themselves.
Although there are many magical things to do around Portree, don't skip exploring this delightful town as there are many attractions to surprise you.
After your visit to the Portree Colour House viewpoint, you can head up to the Apothecary Tower at The Lump for some more incredible views.
You can go shopping in Portree Market Square, I personally loved a shop called Starry Skye that had all sorts of crystals and pretty things.
There are also many restaurants you can dine in come the evening like the View Restaurant at the Cuillin Hills Hotel. It's also somewhere I would highly recommend spending the night.
Click here to book your stay at the Cuillin Hills Hotel in Portree!
Where to next on the Isle of Skye?
In Portree, you're in a perfect location to explore the Isle of Skye as it's almost bang slap in the middle.
From here you could head up to the port town of Uig where you can catch a CalMac Ferry to the Isles of Lewis & Harris with the famous Callanish Standing Stones.
The Fairy Glen is one of my favourite places on Skye where you can find emerald hills, a ruined castle, magical rowan trees and even a labyrinth to make wishes to the Fae.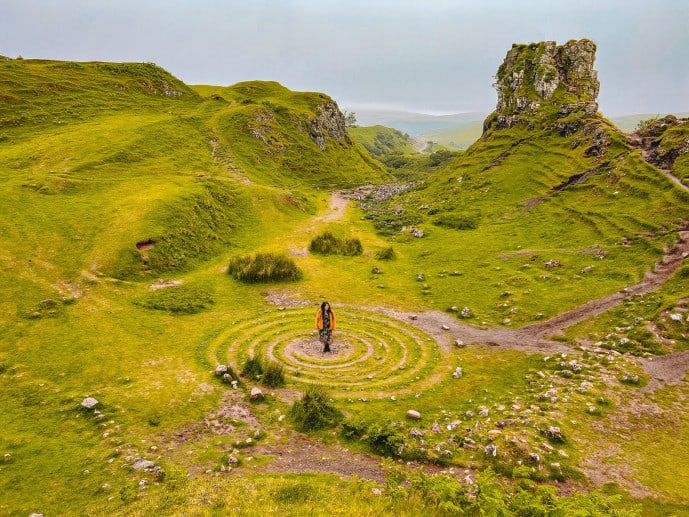 You can also add on a trip to the Quiraing where you can see it at the viewpoint or take a hike to it. Kilt Rock and a hike up to the Old Man of Storr. It's a tough hike but worth it for the views!
The Isle of Skye is also full of magical 'fairy' attractions like the Fairy Pools which is one of my all-time favourite hikes.
Here, you can visit magical crystal clear pools with waterfalls overlooking a backdrop of the mountains. It's a great place for wild swimming.
Explore the historic Dunvegan Castle & Gardens if you're looking for a cultural day out to learn the history of the island.
Or, why not head to the uppermost edges of Skye by visiting Neist Point?! It's a Lighthouse walk with spectacular views. There are so many mystical places to visit on this spectacular island.
Don't forget there are many magical attractions near Skye in the Kyle of Lochalsh like Eilean Donan Castle and Plockton. The best view of Eilean Donan Castle is from the Carr Brae Viewpoint.
Also, you must visit the hidden gem of Manuela's Wee Bakery!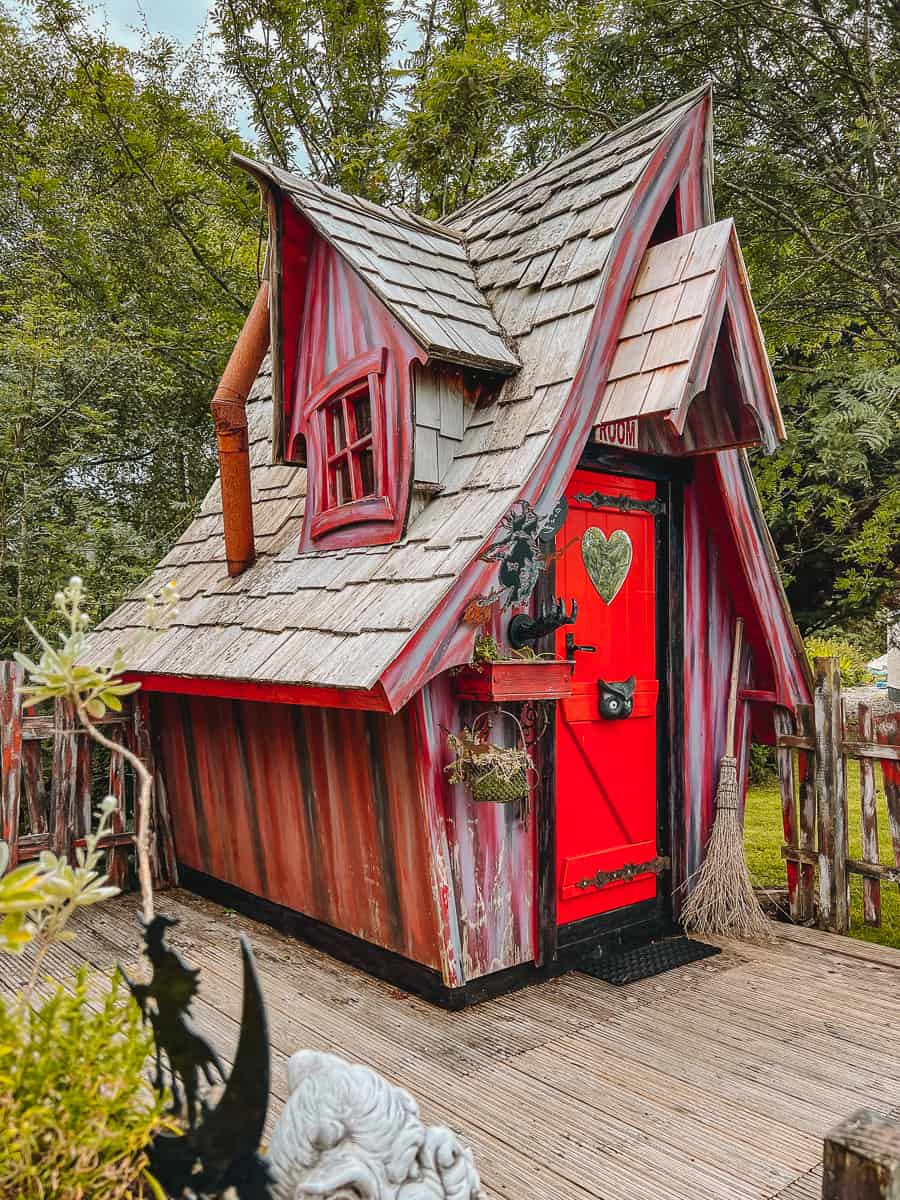 Read more of my Scotland posts
Where is the pink castle in Scotland?
How to visit the Kelpies in Falkirk
Incredible Harry Potter locations in Scotland
Edinburgh Harry Potter locations
How to visit the Wee White House in Glen Coe
A complete guide for the Glenfinnan Viaduct Viewpoint
How to visit the Corpach Shipwreck
Outlander locations you can visit in Scotland
How to visit Lallybroch from Outlander
The magical Kilchurn Castle viewpoint in Argyll
How to visit Castle Stalker in Scotland
How to visit Smoo Cave & Waterfall
How to Find Balmoral Pyramid in Scotland
Things to Do in Gearrannan Blackhouse Village
How to visit Dunrobin Castle – Scotland's fairytale chateau
Why you must visit Leakey's Bookshop Inverness
Save the Portree Colourful Houses Viewpoint for later!