Kilchurn Castle is a gorgeous romantic ruin that sits on the banks of Loch Awe in Argyll and Bute. It's an iconic view of Scotland and well worth visiting if you're in the Highlands.
You may be surprised to know that the best view of Kilchurn Castle is not from the ruins themselves but from a place called Kilchurn Castle Panorama Viewpoint on Kilchurn Grazings.
You may have already seen pictures from this viewpoint on Instagram. It's picture-perfect, with the ruins of the castle and the peaks reflected in the water.
The good news is that it's easy enough to visit the Kilchurn Castle viewpoint on the A85 road from Oban. The bad is that the walk can be a bit muddy and is definitely an 'Instagram vs. Reality' moment.
Here is a complete guide on how to visit the Kilchurn Castle Panorama Viewpoint on Kilchurn Grazings, Loch Awe Scotland!
Kilchurn Castle history
Kilchurn Castle (pronounced Kil-urn) has had an interesting history from a medieval stronghold, a garrison, and then a romantic ruin.
It was first built by Sir Colin Campbell, the 1st Lord of Glenorchy, in the 1450s. He was granted the land of Loch Awe by his father to ensure his loyalty to the clan.
Clan Campbell were a powerful family and used Kilchurn as their base for over 150 years. The castle acted as a defensive keep from other clans and a show of their power.
In the 17th century, Sir John Campbell retired his seat and then converted Kilchurn Castle into a military garrison. It saw very little use, even during the Jacobite Risings.
A century later, it lay abandoned and fell into ruin. Then, Historic Scotland took over the site and protected it for years to come.
Today, the castle stands as a romantic ruin on the banks of Loch Awe under the dramatic Ben Cruachan, the highest peak in Argyll and Bute.
It's an iconic view of Scotland, similar to Eilean Donan Castle, and one I would highly recommend visiting if you're in the Highlands.
Many people think that Kilchurn Castle has featured in Harry Potter and Outlander. Although it is very magical and could easily fit in both fandoms, I'm afraid it didn't feature in either!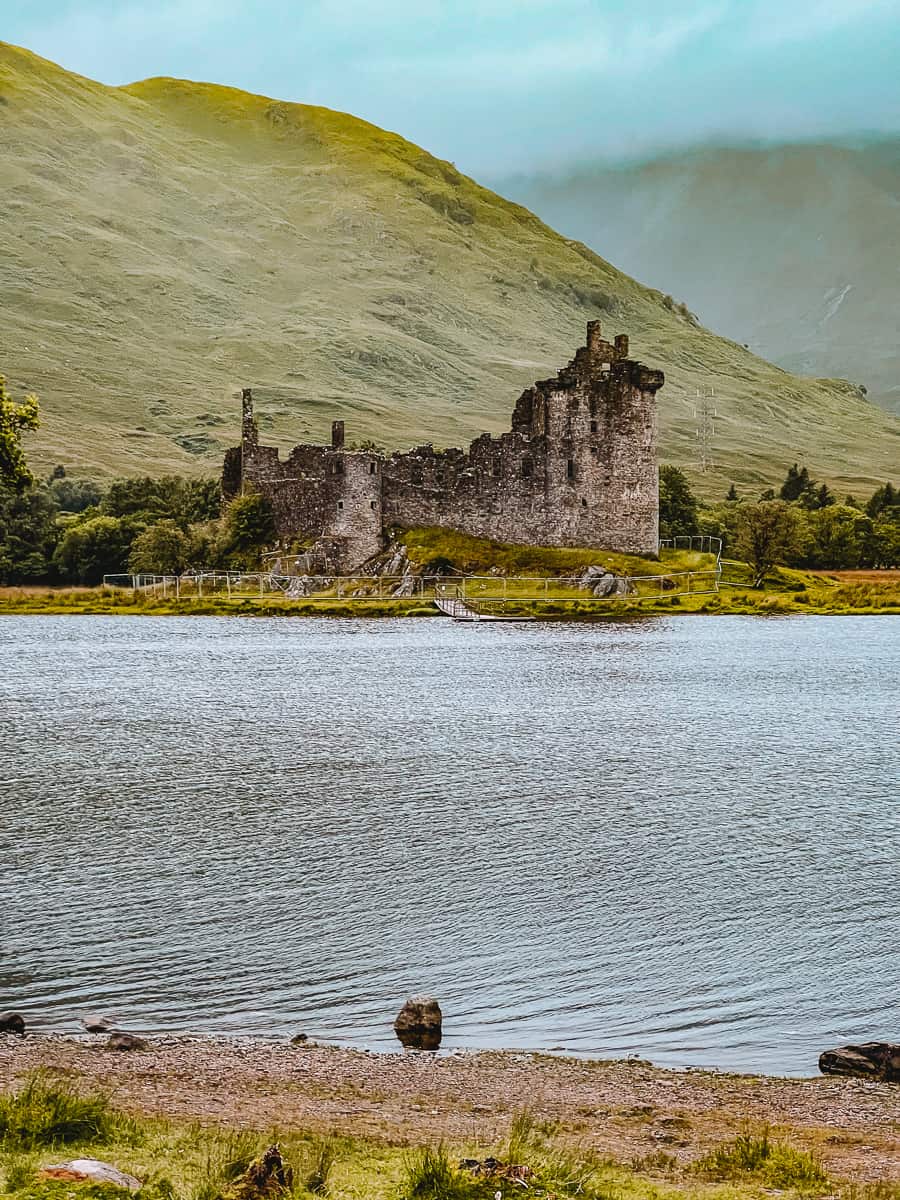 Can you visit Kilchurn Castle in Scotland?
YES! Although the castle is a ruin, it's owned by Historic Scotland and opens up for visitors from April – October.
There is no convenient Kilchurn Castle parking next to the castle as the path is blocked off for vehicles and it's not signposted at all.
To visit, you need to park up at Kilchurn Castle car park off the A85 and then walk around a mile to the castle ruins around Loch Awe to visit.
But, don't fret, there is an alternative (and in my opinion better) option to see the castle and it's a lot easier to visit.
If you happen to be visiting Scotland outside of April-October or you just don't fancy a trek over to the castle ruins – the best view of the castle is via the Kilchurn Castle Panorama Viewpoint on Kilchurn Grazings on the A819.
Kilchurn Castle Viewpoint on Loch Awe
The Kilchurn Castle Viewpoint, or Kilchurn Castle Panorama Viewpoint, is the most famous scene of this ruined castle and the one you've most likely seen on Google, TikTok, or Instagram!
Usually, you'll see Kilchurn Castle sitting by the loch with a perfect mirror reflection, and it's surrounded by mountain peaks.
But, like most things we see on social media, the Kilchurn Castle viewpoint is not all it seems. Getting here is definitely up there as an 'Instagram vs. Reality' moment.
The walk to the view is seriously boggy, there is a whole symphony of warnings before you even set out like there being adders here (eek) and you don't always get those picture-perfect reflections and mountain views.
Regardless, I still believe this spectacular viewpoint is worth a stop in the Scottish Highlands. It was one of my favourite locations for photography on my road trip!
You could easily fool yourself into thinking you were walking through an oil painting, it's that lovely.
How to visit the Kilchurn Castle Panorama Viewpoint on Kilchurn Grazings
It's definitely easier to drive to Kilchurn Castle as it's in a remote location in Argyll and Bute. It's located in Lochawe which is in the Scottish Highlands between Inveraray and Oban.
Kilchurn Castle address is Lochawe, Dalmally PA33 1AF but it's good to note the castle isn't sign-posted at all.
The Kilchurn Castle Panorama Viewpoint on Kilchurn Grazings can be accessed via the road to Inveraray on the A819. Click here for a Google Pin!
You will need to follow the A85 road heading away from Oban and then make a turning at the junction to Inveraray on the A819. The lay-by for the viewpoint is near the junction.
Alternatively, you can take the bus to Kilchurn Castle on the service from Glasgow or Oban in summer. The CityLink will drop you off at Lochawe Hotel. Click here to plan you journey.
It is pretty easy to find the Kilchurn Castle viewpoint once you've parked up as it's one straight path to the lochside. But, you'll definitely want to know what you're getting into before you visit.
Kilchurn Castle viewpoint directions
1. Park up on the A819 lay-by
Firstly, you'll need to find space in the small lay-by on the A819 just off the turning to Inveraray on A85.
This is a small parking area and can get quite busy if you're here in the summer months. I would always recommend visiting either early morning or later in the afternoon.
There is room for around 6-8 cars, less if there is a big lorry or motorhome parked here. There is also an access gate which you should not park in front of.
2. Hop over the stile to Kilchurn Grazings
Once you've parked up in the lay-by make your way over to the stile which has a whole symphony of red warning signs to take in.
Do not camp or fish without permission, no drones, no commercial or wedding photography, dogs kept on a lead, and…watch out for adders! Say, what now?!
I have to admit, I freaked out a little when I saw that. But, don't worry, you should be absolutely fine. It just warns you to stick to the main path so you don't disturb them.
In the UK, snakes are not vicious unless provoked and bites are pretty harmless unless you have underlying health conditions. But, to be safe, if you are unfortunate to get bitten call 999 immediately.
Once you've absorbed the endless list of rules, climb over the stile and walk over the main path towards Loch Awe over Kilchurn Grazings.
As the name would suggest it has lots of wildlife who graze here so remember to be respectful of their home.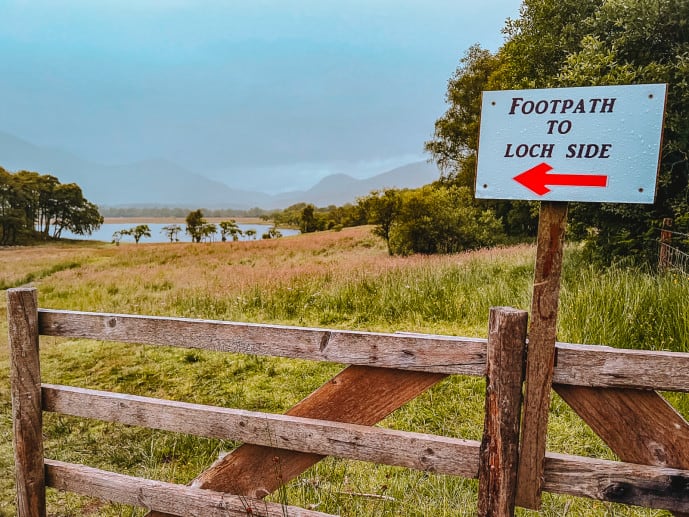 3. Walk over the boggy mud path to the edge of Loch Awe
This is where the 'Instagram vs. Reality' moment really starts to kick in. The walk down to Loch Awe is a short one over the grazings but can be incredibly boggy even in summer!
The heavy rains mixed with the amount of footfall over the peat start to make this path really mucky with lots of puddles.
There are some plastic coverings on the boggiest parts but as these have holes in they do tend to sink down.
I would wear a pair of waterproof boots or wellies for this walk. They may not look good in photos but you can always change them once you're at the beach by Loch Awe!
4. Arrive at Kilchurn Castle Panorama Viewpoint
Once you've made it over the boggiest bits, you'll love seeing the dramatic views of Kilchurn Castle over the loch.
You can walk along the shores of Loch Awe, relax on the 'beach', or go swimming if you really wanted to!
It's a large area by the lakeside and there is lots of room here to take photos. Getting here really makes the mucky walk worth it. It's honestly breathtaking.
How long do I need to visit Kilchurn Castle Viewpoint
The walk to the viewpoint from the parking lot should only take you around 5 minutes maximum over Kilchurn Grazings.
But, you'll definitely want to take in the views and leave time for photography here so I wouldn't rush.
I would personally allow at least 30-45 minutes for your visit to the Kilchurn Castle Panorama Viewpoint on Kilchurn Grazings
Note: It is not recommended to walk to Kilchurn Castle from the viewpoint. You must drive over to the Kilchurn Castle parking area on the A85 road and walk on the designated pathway to the castle from there. It's around a mile's walk.
When is the best time to visit the Kilchurn Castle Viewpoint?
The best time to visit the Kilchurn Castle viewpoint would be in the early morning or later in the evening at sunset for a more atmospheric scene.
There will also be fewer crowds around these times as most people will not want to get up or would have gone home for the evening.
Also, there really isn't a 'bad season' to visit Kilchurn Castle. It will be gorgeous all year round whenever you decide to visit.
But, in autumn, the fall foliage found around here is spectacular. Also, in winter you get snow on the peaks!
Kilchurn Castle photography
The best conditions for photography would be on a clear day when there is limited wind and that way you can get those picture-perfect mirror reflections of the castle in Loch Awe.
But, this is Scotland and you could see four seasons in one day! A mirror reflection in the loch and a clear view of the mountains are not a guarantee even in summer.
I visited in July in the evening around sunset and got a view of the peaks for around 15 minutes before the mist and rain covered the hills completely.
I loved using the small grove of trees by the Loch in the foreground of my photos and the views over the Loch 'beach' were lovely too.
The castle is quite far away from the viewpoint over the loch so bring a good zoom lens. Or, simply use the iPhone zoom x3 – this worked pretty well.
If you want photos of yourself, the loch, and the castle – you'll be spoiled for choice with options here. I liked the view from the beach personally by the little sighing tree!
Important: Drone photography is strictly prohibited at Kilchurn Castle. Also, you cannot take wedding photos or any kind of commercial photography.
My top tips for visiting the Kilchurn Castle Viewpoint
Wear a waterproof pair of shoes or wellies – the path down to the viewpoint is wet, muddy, and really really boggy! Some covers have been put down to help but they don't do much.
Stick to the main path – there is a 'main path' down to Kilchurn Castle Viewpoint on the grazings. Stick to this to avoid disturbing adders and the wildlife who graze here.
Camping/fishing – is not allowed unless you have prior permission. There was a group here camping and catching fish while I was here taking photos!
Facilities – There are no toilet facilities at the viewpoint or castle. The nearest public toilets are located in Inveraray. The Gatehouse Tearoom near St. Conan's Kirk has one but is for customers.
Swimming – bring your bikini, trunks, or swimsuit so you can go Loch Awe swimming. But, try to avoid algae and scum! Also, the water will be bracing even on a hot day.
Watch out for midges – if there is little wind by the water, these pesky bugs will be out for blood. Wear something like Smidge to protect yourself from bites.
Visit Conan's Kirk next
Just down the road from Kilchurn Castle is an interesting place called Conan's Kirk. Although it's one of the most popular attractions in Argyll it's still considered a bit of a hidden gem.
It was built by Walter Campbell between 1881 and 1886 for his dear old mum. You see, after the Callendar and Oban railway was built, he purchased the island of Innis Chonain on Lochawe and built a family home.
The nearest church to the island was in Dalmally and this was quite far to travel. To save his mother such a long journey, he decided to build Conan's Kirk a little closer to home.
After the initial construction, he started work on a far more ambitious church in 1907 and continued to work on it until he died in 1914.
His sister carried on the legacy until her death in 1927 and it was finally completed by trustees. It opened up to the public for worship in 1930.
The church didn't take on any particular style but many of the carvings and cloisters were inspired by Iona Abbey. The Bruce Chapel is a highlight that is said to contain one of Robert the Bruce's bones!
It's well worth stopping by and you can visit Conan's Kirk easily on the A85. There are a couple of layby's outside the church to park up and visit.
Opening times are 9 am – 6 pm in summer (April to September) and 9 am – 5 pm in winter (October – March). Entrance is by donation and the suggested amount is £3 per person.
The gatehouse tearoom near the Kirk serves up light lunches or some afternoon coffee and cake.
Where to next in Scotland?
Kilchurn Castle is close to the port town of Oban which is a gateway to the Scottish Isles. From here, you can take a trip to the Isle of Mull, Iona, or Staffa to see Fingal's Cave on the Calmac Ferries.
Another romantic ruined castle near Oban is Castle Stalker. This is located on a remote island off Loch Linnhe. This was the 'Castle of Aargh' in Monty Python.
Click here to read my complete guide on how to visit Castle Stalker!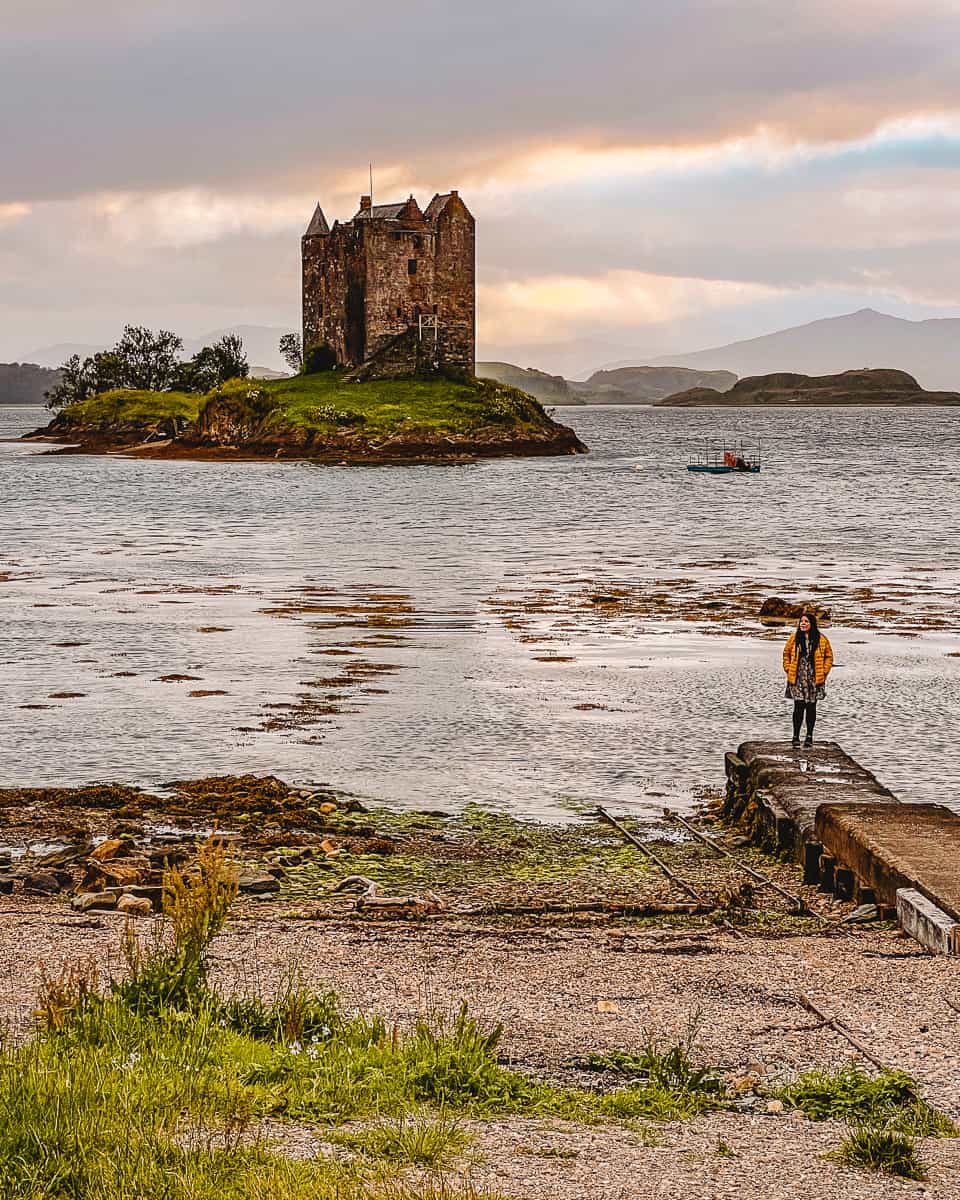 You're also close to Inveraray which is home to the famous Inveraray Castle.
The loch nearby is home to the San Juan de Sicilia, a Spanish galleon shipwreck that is meant to have hidden treasures inside it. Divers have been searching for years.
It also featured in Downton Abbey and A Very British Scandal.
Or, why not head out on the magical Puck's Glen fairy trail? It's a magical walk named after Puck from A Midsummer Night's Dream.
Or, from Kilchurn Castle, you can begin one of the most scenic drives in Scotland via the Bridge of Orchy to Glencoe.
Here, you can stop by the visitor centre, the Wee White House, Loch Etive for the James Bond Skyfall Road, and the place where they filmed Hagrid's Hut in the Harry Potter movies!
There are plenty of Harry Potter filming locations in and around Glen Coe and Fort William like the Glenfinnan Viaduct Viewpoint, the island where Dumbledore was buried, and Steall Falls.
Click here to read my complete guide on all the Harry Potter filming locations in Scotland!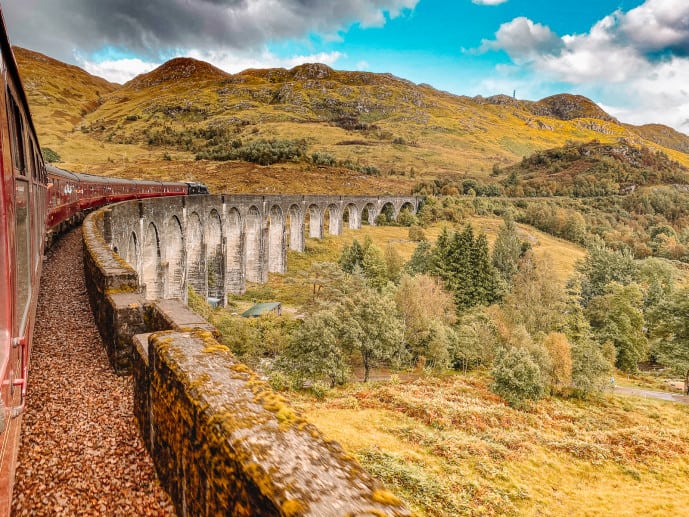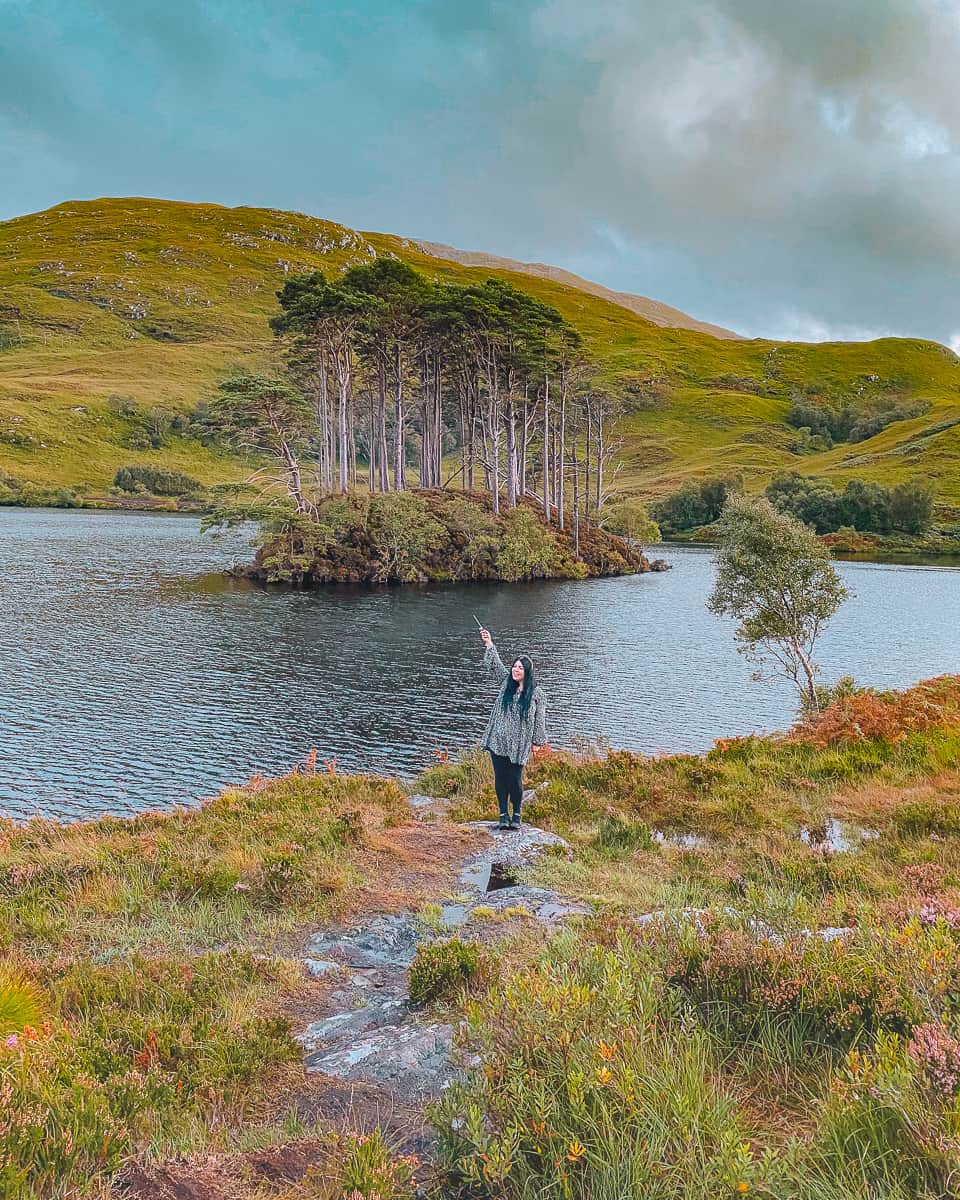 Read more of my Scotland articles
Where is the pink castle in Scotland?
How to visit the Kelpies in Falkirk
Edinburgh Harry Potter locations
Outlander locations you can visit in Scotland
How to visit Lallybroch from Outlander
How to visit the Corpach Shipwreck
Visiting the Fairy Pools on the Isle of Sky
How to visit Smoo Cave & Waterfall
How to Find Balmoral Pyramid in Scotland
Things to Do in Gearrannan Blackhouse Village
How to visit Dunrobin Castle – Scotland's fairytale chateau
Why you must visit Leakey's Bookshop Inverness
How to visit the Callanish Stones on the Isle of Lewis
How to visit the Green Loch Aviemore
Save the Kilchurn Castle viewpoint for later!