If you want to know how you can visit the magical Green Loch Aviemore in Scotland, then keep reading.
I have heard about the magical green loch for years, a gorgeous lake with a deep and vivid turquoise colour.
Supposedly, this is a place where fairies and pixies wash their clothes, hence the otherworldly waters that look like something from a fairytale.
Despite it being a hidden gem in a remote location, An Loch Uaine is surprisingly easy to visit on a well-laid track through Glenmore Forest.
Here is how to visit the Green Loch Aviemore and everything that you need to know before you go.
What is the Green Loch Aviemore?
The Green Loch Aviemore is known locally as An Lochan Uaine and is a small freshwater loch in the Cairngorms National Park. The largest national park in the Scottish Highlands.
It's a hidden gem tucked beside Greag Nan Gall or 'Angel's Peak' and at the foothills of Sgor mountain in Glenmore Forest Park.
It has a bowl shape and is surrounded by peaks and trees. It is called the green loch due to its deep green turquoise colour!
Why is the Green Loch in Avimore green?
The cause of the vivid colours of An Lochan Uaine has been widely debated. How did this loch get such beautiful and unique colour?!
Well, many people say it's due to the trees that are reflected in the water. But, if you look there aren't many trees on Greag Nan Gall and they are a forest green colour rather than teal.
It is generally agreed that the Green Loch in Aviemore is green due to the algae that sits underneath the water.
But, there is another local legend that says the loch is green due to fairies and pixies who come out at night to wash their clothes and socks in the loch!
I definitely love this version more and you cannot deny that there is a magical feel to this place.
Where is the Green Loch Aviemore?
The Green Loch can be found deep within Glenmore Forest Park around 10 miles from Aviemore in the Cairngorms.
Many people find this loch as part of a strenuous mountain walk but you can visit the Green Loch on its own and it's very easy to do so.
The green loch is referred to in maps by its Gaelic name of Lochan Uaine and the postcode is Ballater, PH22 1RB.
How to visit The Green Loch in Cairngorms National Park?
You cannot drive directly to the Green Loch, you must park nearby and walk or cycle to An Lochan Uaine.
It's a very easy and flat track through Glenmore Forest Park and well signposted if you approach the loch from the Glenmore visitor centre.
There are a few ascents but they are not particularly steep. Plus, there are a few benches on the way if you need a break.
Where do you park for the Green Loch Aviemore?
I parked up at the end of the road near Glenmore Lodge which is a little further along than the Reindeer Centre. There are a few free off-road spaces there at the side of the road.
From here it was a very short and easy 20-minute walk to the Green Loch through Glenmore Forest.
Yes, you can park up at any of the off-road side spaces at either side of the end of the road beyond Glenmore Lodge for free. These are not restricted.
But, don't block the access gate or turning circle as it's required for emergency vehicles! If all the off-road spaces are full, you will need to use a different car park.
There are other parking spaces at Glenmore Visitor Centre or the Allt Mor Car Park. Both of these are charged by the hour and it will take a bit longer to walk to the lake from these.
How long does it take to walk to the Green Loch?
From the parking near Glenmore Lodge, it took me roughly 20 minutes to walk to Green Loch Aviemore. It's around a mile from the parking area (1.6 kilometres).
But, if you're approaching from the Glenmore Visitor Centre it could take as long as 45 – 60 minutes as it's around 2 miles or 3 kilometres from there.
It's a well signposted route and the track is very well laid out. The path is relatively flat but there are a few small ascents. It's nothing unmanageable and is suitable for most abilities.
Although it had been raining I found the paths very easy to walk on and they weren't mucky at all. However, I'd still wear sensible shoes.
It's the perfect walk for kiddos and a wee bit of an adventure, especially when they reach the turquoise loch.
There are 'trickier' routes you can take over hills and steep paths. But, I didn't bother with those. Why make it harder for yourself?
Although it's a short walk, it's still a bit of a trek through the forest to get to a small loch and taking a more complicated route seemed a bit pointless to me when there is a very simple route.
I would recommend leaving around 1-2 hours for your trip to Green Loch Aviemore.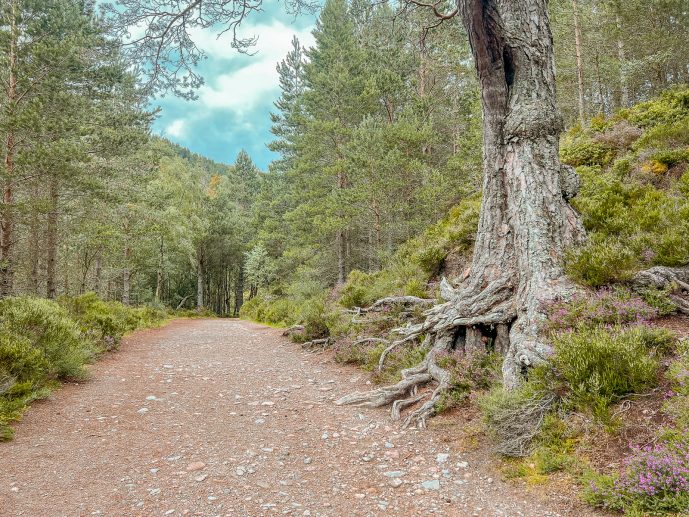 What to expect on the Green Loch walk through Glenmore Forest Park
I had read online that the Green Loch walk was 'boring' through the easier Glenmore Forest track. But, I actually found it really beautiful.
You pass by so many tall trees, see lots of wildlife and have some gorgeous views of the high peaks found in this area of the Cairngorms.
There are lots of signposts on the way to direct you to the lake and it's generally just a straight path through the forest the entire way. But, it is very scenic nonetheless.
You feel like you're miles away from traffic and modern life and can just escape into nature and breathe fresh air for a while.
Reaching the Green Lochan
Eventually, on the forest path, you'll reach the Green Loch! You'll instantly see the turquoise colour through the trees and it looks utterly magical. I gasped when I arrived.
Even on a cloudy day without a bit of blue in the sky, this loch looked otherworldly in colour. It was so so green.
There are many paths to walk down to the loch through the trees but most people use the stone staircase that is available as its easiest.
Things to do at the Green Loch
So, now that you have made it here – what can you do?!
Well, beyond admiring this fairytale lake and the gorgeous colour of the water. There are plenty of things you can do to make it worth a visit.
View the loch from the platform
I have to admit that although the loch is beautiful at the shore, the best views of the 'green' water can be seen above and through the trees.
I'm not sure if it's the lighting that made a difference but when you're beside the lake it's not as easy to see the green colour.
There is a small platform above the lake with a viewpoint and bench that has been set up to relax on.
There used to be a gorgeous wooden fence that had gnarled branches and looked like something from a storybook. But, sadly this has been dismantled.
There is still a wire fence in place and you can see the green loch perfectly from there!
Take a stroll around An Lochan Uaine
There is a sandy shore or 'beach' that is by the lake which is perfect for a stroll around the water to see the reflections and turquoise colours.
The water at the edges is very clear and shallow so you can see all the rocks and debris under the water.
The vivid green parts can be found in the deeper parts of the loch beyond. It's easiest to see it if there is little to no wind. You get a perfect reflection of the sky and trees.
There's lots of wildlife that make a home here, I saw many ducks and birds paddling and waddling around on my visit.
Have a picnic
Many people stop here as a picnic spot on a walk through Glenmore Forest Park.
It's on the Ryvoan circuit and so the loch is a great place to rest and eat with a gorgeous view.
There are no picnic benches but a few places to perch by the lake to eat your sandwiches.
Just make sure to take all your rubbish with you and don't litter. There are no bins. Remember to respect the area and leave only footprints.
Is it safe to swim at the Green Loch in Aviemore?
Yes! there are no particular rules about swimming in the green loch and you can swim there according to the Scottish Access Code.
The water is very very cold though, even in summer, so you won't be swimming for long. Especially if the sun isn't out!
There is a sandy 'beach' on the outskirts of the loch where you can set up towels. But, again this is Scotland so don't expect to sunbathe unless there is a heatwave.
I did hear from a few locals on my visit that you're not really meant to swim in there due to the algae. It could give you a rash, skin irritation or make you really sick if you ingest anything.
There are also leeches *shudders* so make sure to look out for those as they can sometimes attach to you.
You need to use your own judgement, follow basic wild swimming rules in Scotland and be careful not to swallow anything.
Visit the Ryvoan bothy
As the Green Loch is on the Ryvoan route, you can walk a bit further on and check out the Ryvoan bothy.
If you weren't aware, a 'bothy' is a safe shelter should there be any hikers who have lost their way or get stuck in bad weather. It's unlocked and free to enter.
The Ryvoan Bothy is just a ten-minute walk from the Green Loch and is well worth checking out for the views if you're interested.
Beyond a shelter, the bothy is very scenic and makes a great photo opportunity. It's rustic and appears desolate and wild.
My top tips for An Lochan Uaine
Wear sensible shoes – although it's a flat track it's always best to have a sensible pair of shoes on for the walk.
Bring your swimmers – many people like to take a dip here but be careful. It's icy cold, has lots of algae and possibly leeches.
Watch out for midges – these bugs like to hang out by the water in summer. They aren't poisonous but they do bite and you get itchy blotches. Bring some repellent like Smidge.
Respect the land – you're free to visit the green loch but remember to leave only footprints. Don't litter, leave dog poo, or start fires.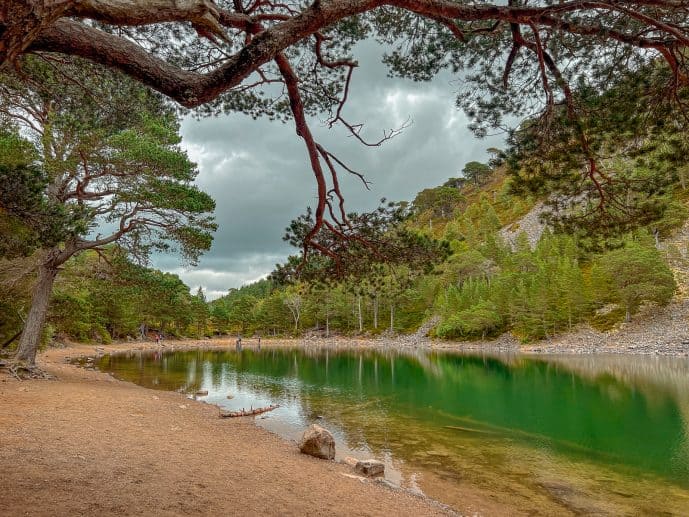 Is visiting the Green Loch worth it?
I believe so, yes! The colours of the water are unbelievable and like something from a fairytale. It is very impressive and I've never seen water so green before.
However, I did only walk 20 minutes to get there and so it didn't require very much effort.
I think if I'd hiked an hour or two to reach this loch over the hills I would have thought differently.
But, as it was such an easy walk I thought it was well worth it to see this magical lake that is home to all manner of fairies, pixies and magical folk.
I would definitely make a visit when you're travelling through Aviemore.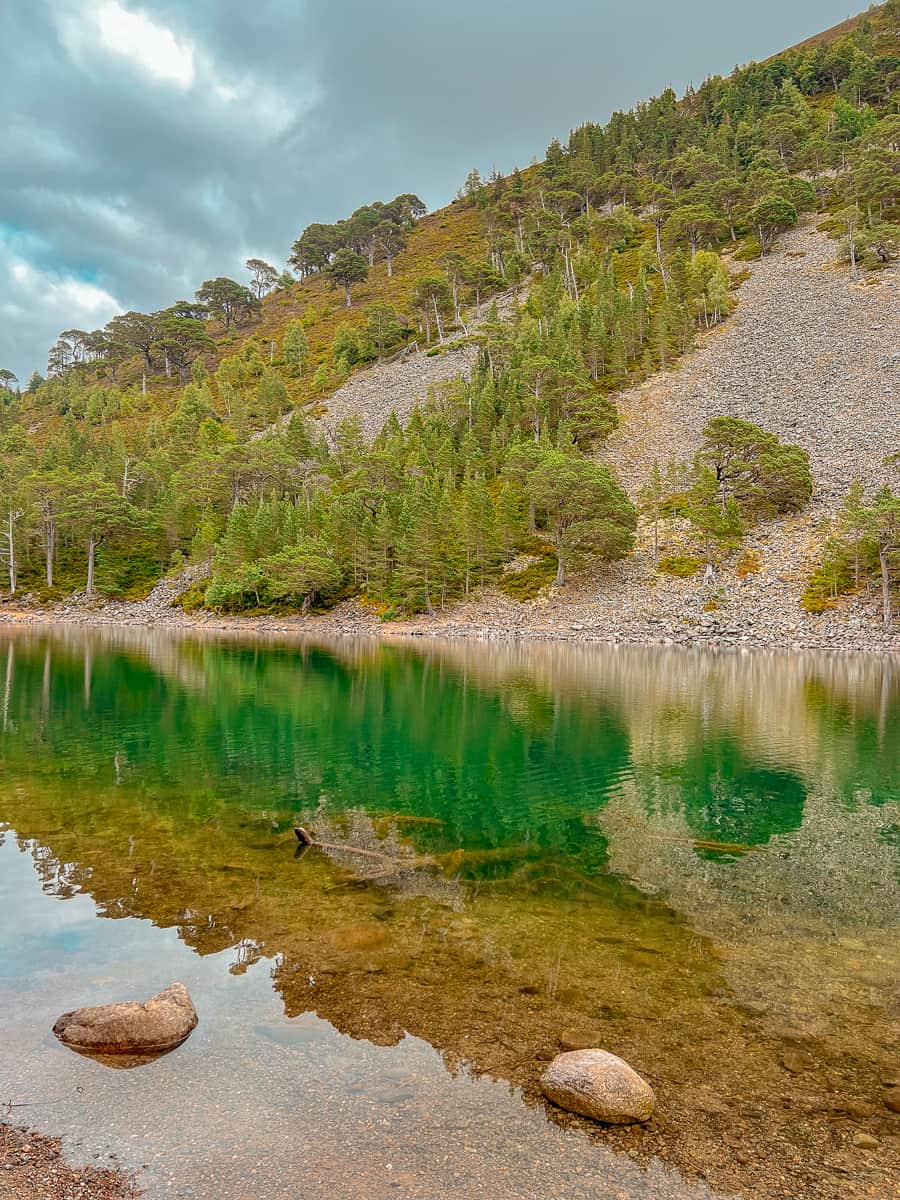 Green Loch Aviemore FAQs
Why is it called The Green Loch? Because the colour of the water is a very deep green! Almost like something from a fairytale in the right conditions. They do say that the water is green due to fairies and pixies who wash their clothes here.
Is the Green Loch dog friendly? Yes, there were many dogs at the loch! But, it's best to keep them on a lead due to the wildlife roaming the area.
Are there toilets at the green loch? No, you should make use of the facilities in the Glenmore Forest Park Visitor Centre before you set out on the walk.
Can I wild camp at the Green Loch Aviemore? Yes, wild camping is legal in Scotland. Just make sure to be respectful of others.
What is the best time to visit the green loch? I'd say early morning or later evening to avoid crowds and to ensure a free parking spot. It's getting very popular from going viral on social media.
Read more of my Scotland guides
Highland Folk Museum Outlander guide
How to ride the Hogwarts Express in Scotland
Harry Potter filming locations in Scotland
Edinburgh Harry Potter filming locations
How to Find Dumbledore's Grave
A complete guide for the Steall Falls walk
How to find the Corpach Shipwreck
How to find the Kilchurn Castle viewpoint
Magical Dunrobin Castle in Scotland
Where is the pink castle in Scotland?
How to visit the Kelpies in Falkirk
How to visit the Wee White House in Glen Coe
A complete guide for the Glenfinnan Viaduct Viewpoint
Outlander locations you can visit in Scotland
How to visit Lallybroch from Outlander
How to visit the Pink House on Loch Glass
Visiting the Puck's Glen Fairy trail
Isle of Mull Cheese Glass Barn Café review
Save how to visit The Green Loch Aviemore for later!