Manuela's Wee Bakery is a hidden gem just inches away from the iconic Eilean Donan Castle that lies on Loch Duich.
Often described as 'Hansel & Gretel meets Braveheart', this fairytale bakery in Scotland is one you simply cannot miss.
You can grab a coffee, baked goods to go, some fairytale gin that is distilled on-site, and even indulge at Pizza Jo's in the evening.
Here is a complete guide to Manuela's Wee Bakery in Scotland and how to visit this fairy foodie storybook location in Ardelve, Kyle!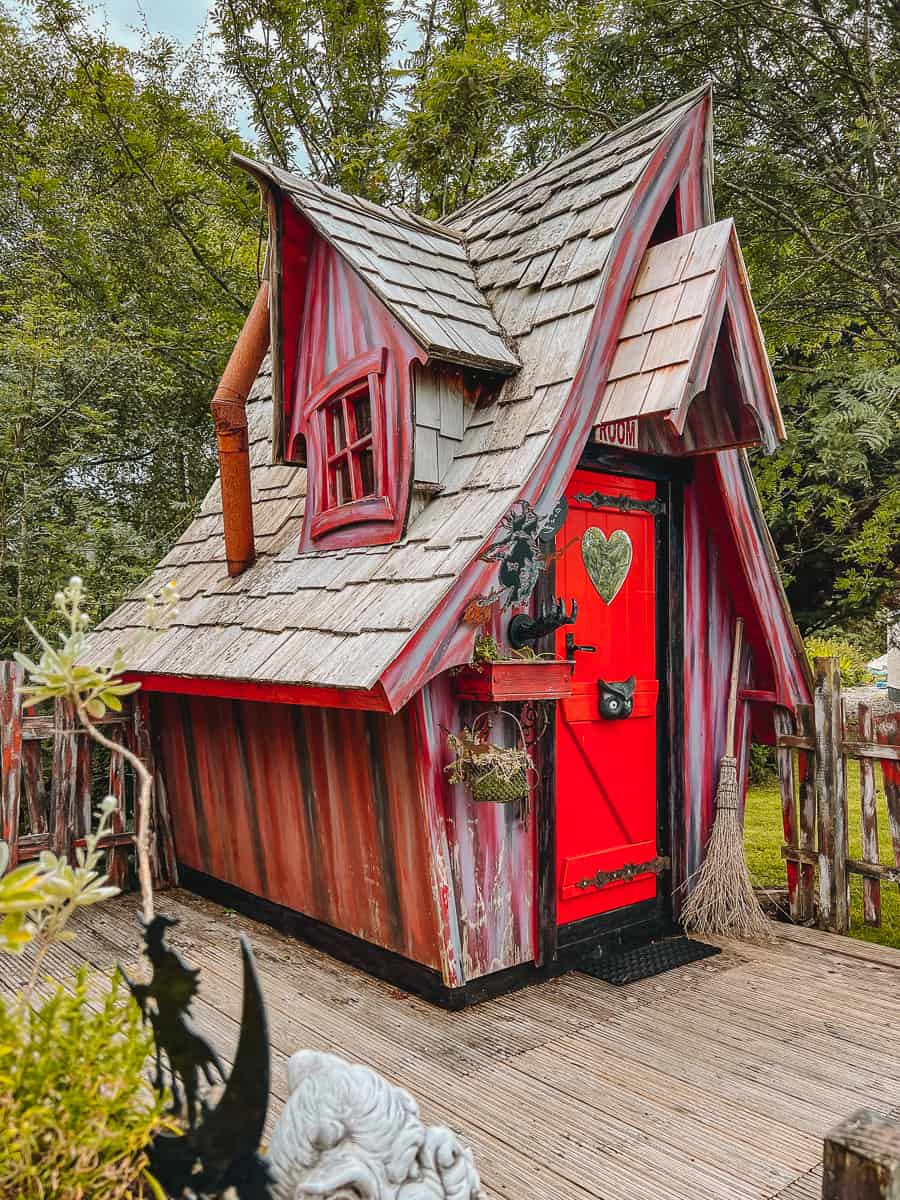 What is Manuela's Wee Bakery?
Manuela's Wee Bakery is a fairytale location hidden away near Loch Duich in Ardelve in Kyle of Lochalsh.
It is owned by a German family; Thomas Gottwald, Manuela Kohne-Gottwald and their daughter Jolene Kohne.
They travelled to Scotland, fell in love and in 2013 found the ideal place to create a foodie haven straight out of the pages of a storybook.
Together, they have created a magical place that has a cosy bakery, gin distillery, fairy shop and pizza cabin.
It's a magical location that you must not miss when visiting Eilean Donan Castle and the Isle of Skye in Scotland.
Where is Manuela's Wee Bakery in Scotland?
Manuela's Wee Bakery is located in Ardelve in Kyle and Lochalsh in Scotland and is just a five-minute drive away from the iconic Eilean Donan Castle.
Most tourists who are driving to the Isle of Skye on a road trip will be travelling on the A87 road that leads you straight there.
After you have passed Eilean Donan Castle, keep heading straight over the bridge and past the Dornie harbour viewpoint. You'll eventually see a sign for 'Bakery 300m' and Ardelve on your left.
Turn left and head down this road and you'll see the parking for Manuela's Wee Bakery on your right! You'll see a big road sign for it.
It's the perfect stop for some breakfast, lunch, or dinner after a visit to Eilean Donan Castle.
Manuela's Wee Bakery address is A87, Ardelve, IV40 8DY. Click here for a Google Pin!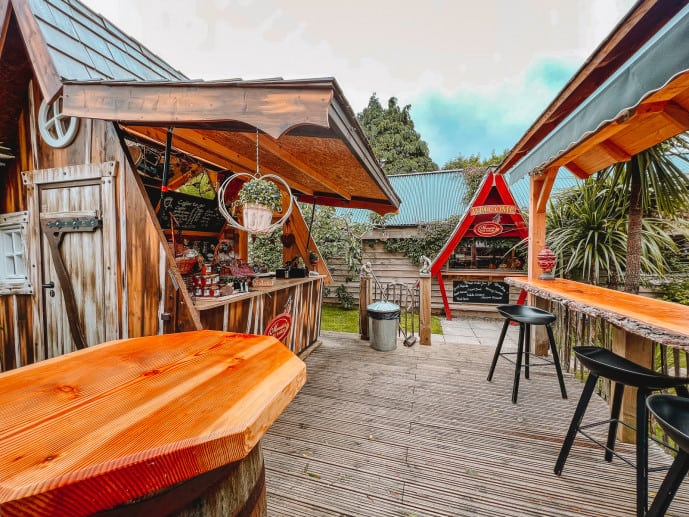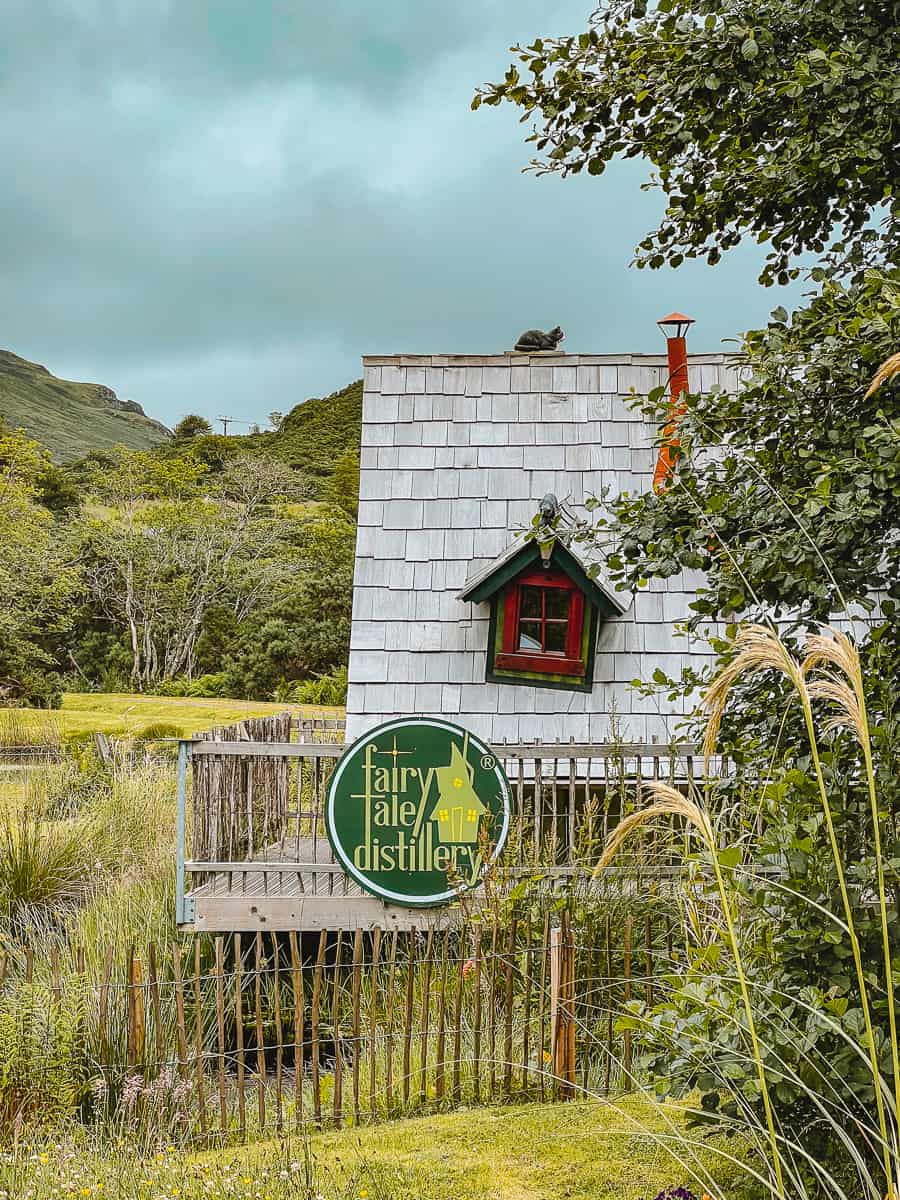 Things to do at Manuela's Wee Bakery
So, what is there to do at this fairytale bakery when you get here?! Well, there is actually quite a bit which makes it the perfect road trip pitstop.
You'll love exploring this storybook location as you can find coffee, baked goods, fairytale gin, and even pizza in the evenings.
Here are all the things to do at Manuela's Wee Bakery in Scotland.
1. Visit the bakery and buy yummy cookies
So, of course, the main reason why most people visit is to purchase some yummy baked goods at the fairytale bakery!
It is takeaway only and you'll be choosing through their window but there are lots of freshly baked goodies to choose from.
You'll find artisan bread loaves, cheese rolls, fruit buns, Nutella croissants, and the most wonderful sweet cookies at Manuela's!
The cookies are not traditionally round and they look a little like pizza subs but they are SO delicious.
I had the pear and vanilla cookie which had crumbly pieces on top and it was divinely paired with a freshly brewed coffee.
You cannot sit inside the bakery but there is lots of outside seating and picnic benches that you can perch on.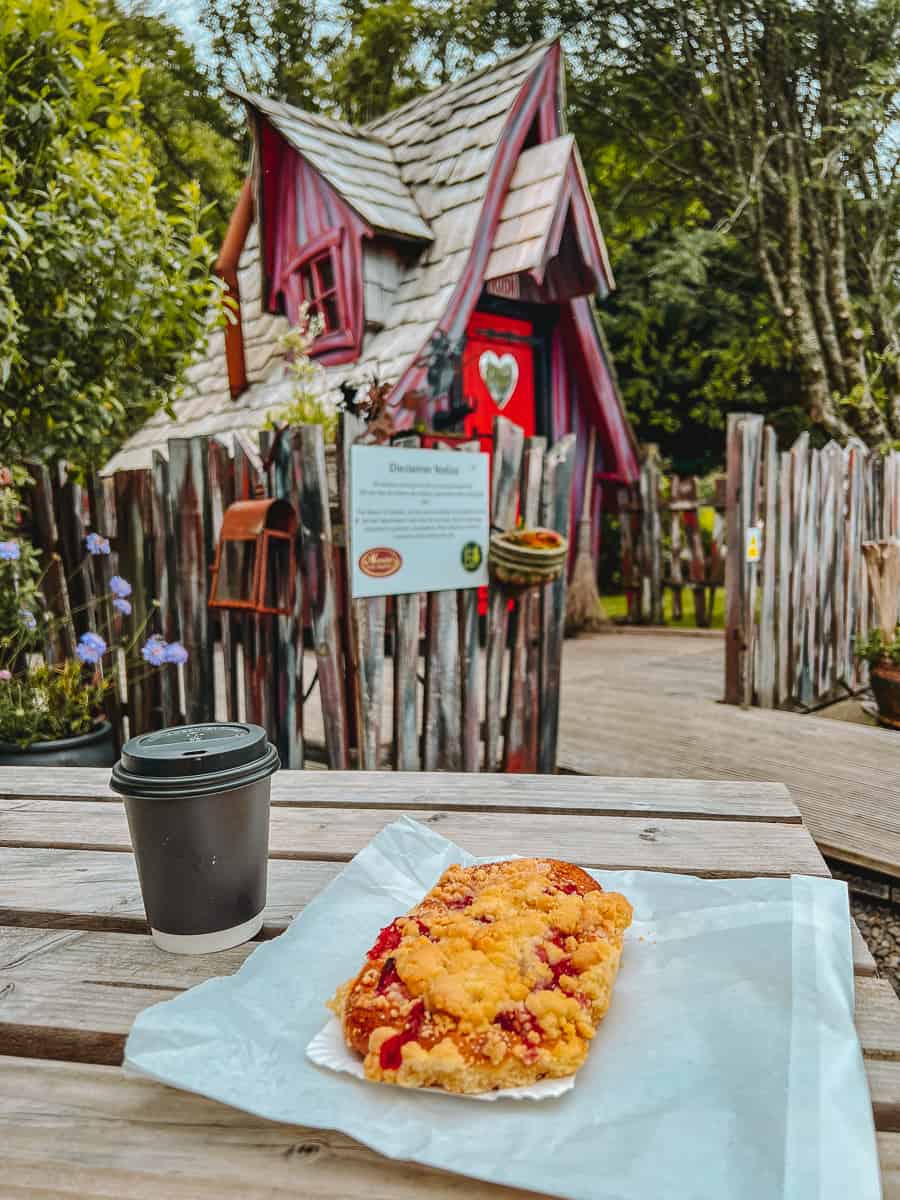 2. Have coffee from their Fairy Shop
Coffee is a good friend when it comes to those long Scottish road trips and Manuela's Wee Bakery have some freshly brewed for a pick-me-up.
They serve it in their cute wee Fairy Hut at the bakery which also has some of their Scottish gin to purchase that they distill on site.
You'll also find some postcards, gifts, cakes, and sweetie bags – all protected by fairies of course!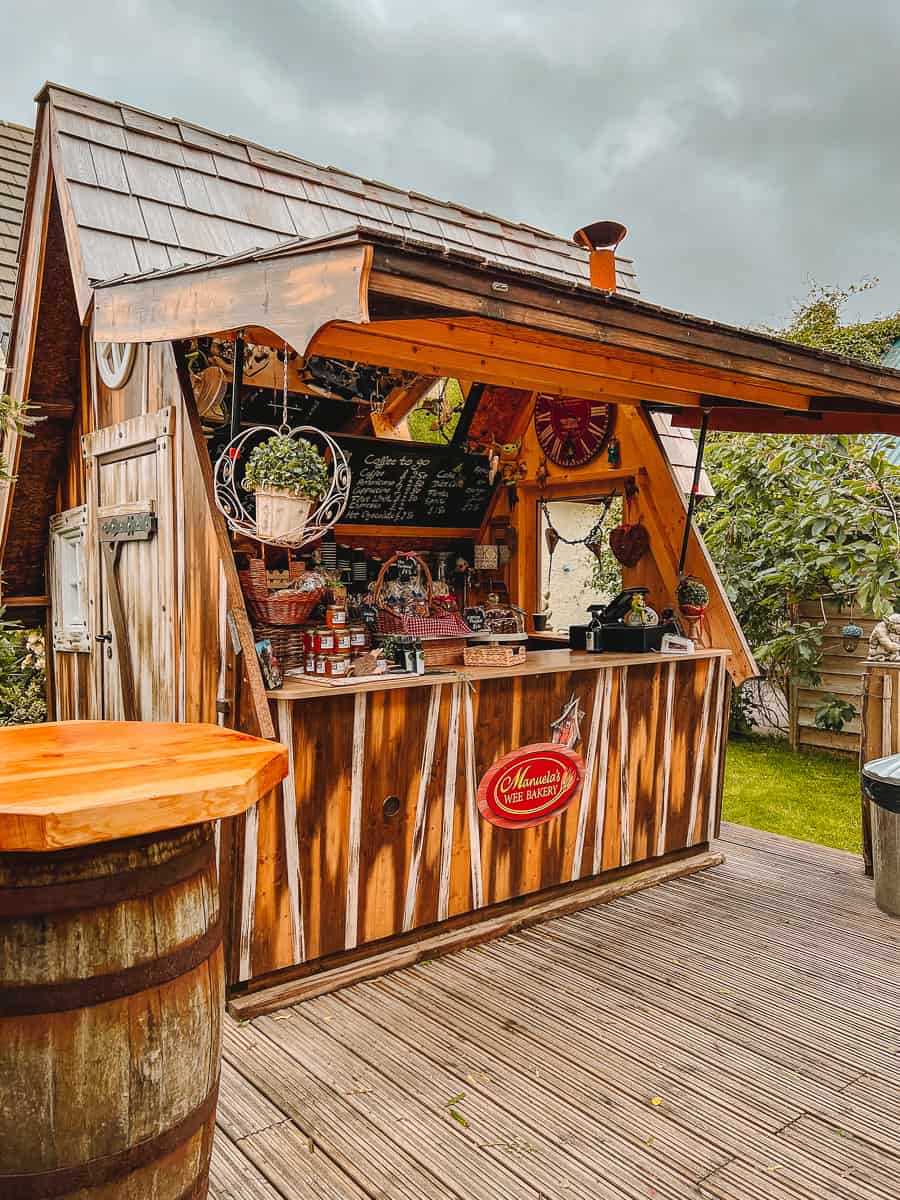 3. Take a tour of the Fairytale Distillery
The Fairytale Distillery is located at the back of Manuela's Wee Bakery and distills a magical and tasty Scottish Highland Gin.
You can see the little fairy huts hard at work here and I loved the sign that said 'if there is no gin in heaven, I'm not going!'.
If you fancy it, you can arrange a tour which includes a tasting with them. If not, it's well worth purchasing a bottle at their Fairy Shop to take home.
4. PizzaJo to Go
On Tuesday – Saturday evenings, you can find freshly made pizza at PizzaJo's to Go here at Manuela's Wee Bakery.
The pizza hut sits just beside the bakery and serves up pizzas from 5 pm – 9 pm.
You do have to ring ahead with your order but it's a great place to have dinner after a visit to Eilean Donan Castle.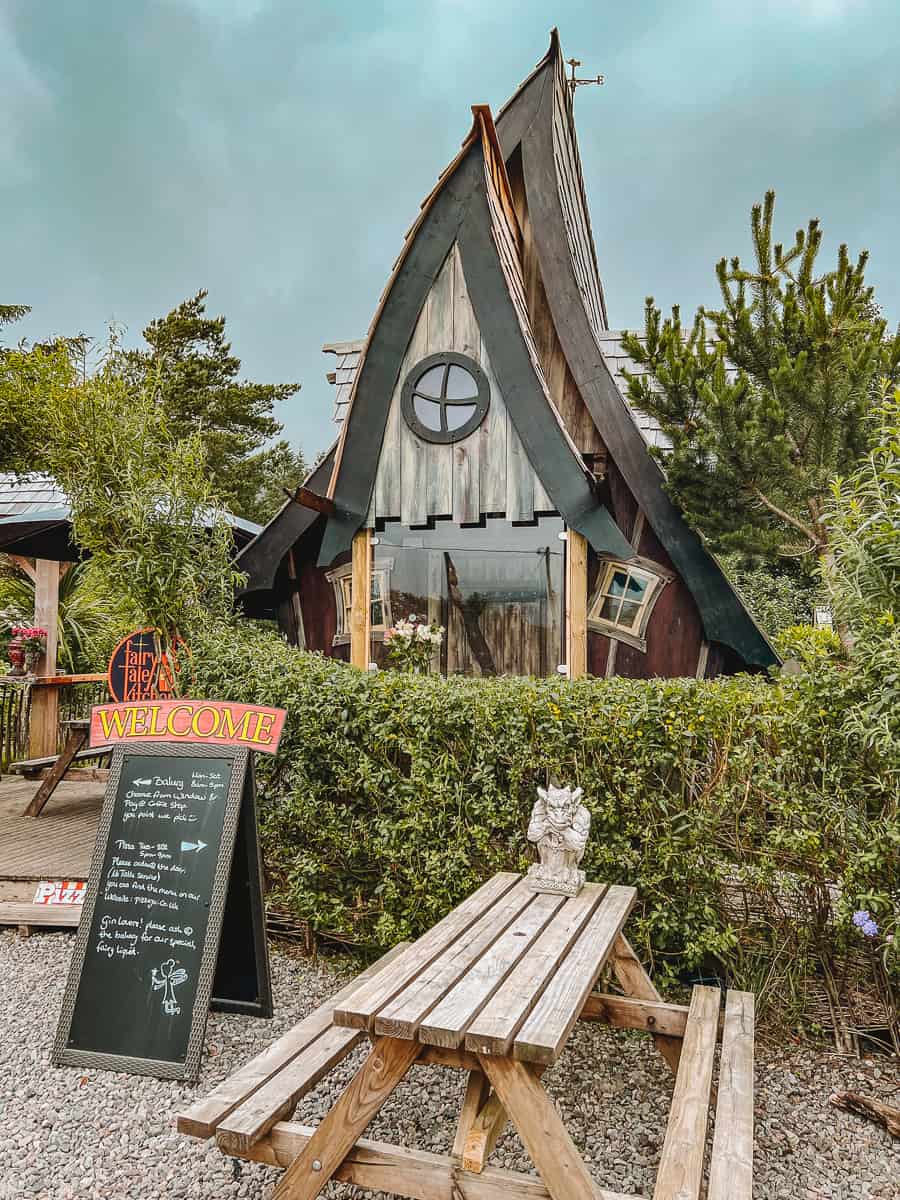 5. Find magical surprises!
Aside from the shops, there are so many magical things hidden around this site. You'll find dragons, witches, gargoyles, faeries, and all sorts of magical creatures in abundance. It is really like a storybook here.
My favourite building was actually their loo! The Wee Room is such a cute little witchy house that sits just outside of PizzaJo's.
You do have to ask for a key to use the toilets and it's for paying customers only but it's honestly adorable! The perfect place for a photo.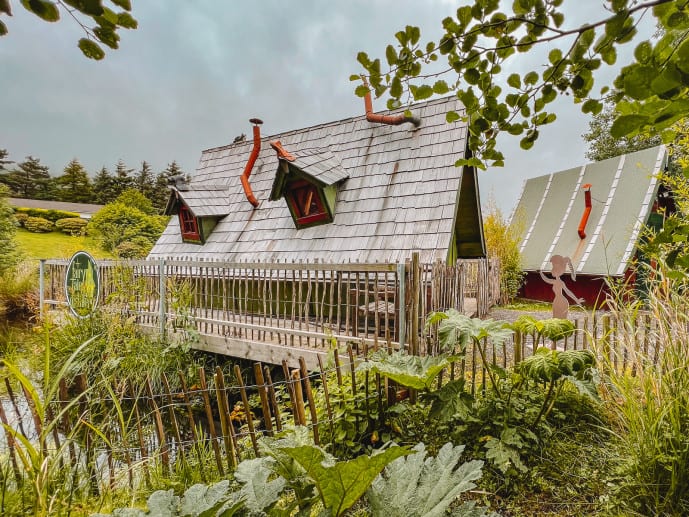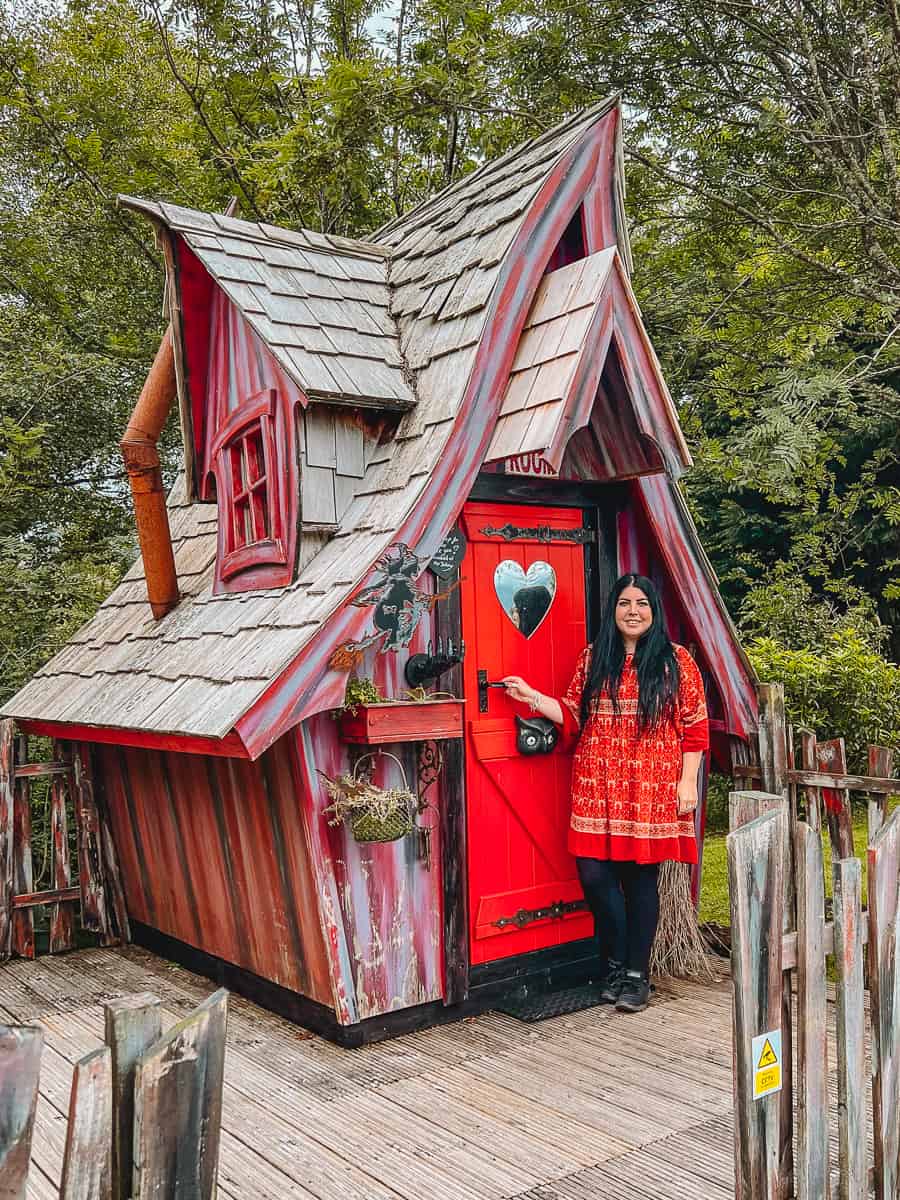 How to get to Manuela's Wee Bakery in Scotland
It's easiest to drive to Manuela's Wee Bakery as it's in quite a remote location in Ardelve in the Kyle of Lochalsh region.
If you were looking to get the bus, there are CityLink buses that make a stop at Ardelve/Eilean Donan (Dornie Bridge) that run from Glasgow and Fort William to Uig on the Isle of Skye and vice versa.
These CityLink buses make a stop at both Kyle of Lochalsh and Kyleakin so you can travel easily from both locations and there are a couple of services a day.
Just remember to plan your journey in advance and to book onward transport – it's essential! You don't want to get stranded or it's a long walk back.
Manuela's Wee Bakery parking
There is free parking just outside the fairytale bakery in Scotland for customers. You can park up on the gravel as you enter and there are some logs that separate the parking spaces.
There are only six parking spaces so it can get quite busy in the peak season!
Alternatively, there is some roadside parking outside if it's full. But, remember to park with consideration.
Manuela's Wee Bakery opening times
Manuela's Wee Bakery is open from 8 am to 5 pm Monday to Saturday. It is closed on Sundays.
The Fairytale Shop selling the Scottish gin is open from 10 am – 5 pm Monday to Saturday. If you wanted a gin tasting, contact the Fairytale Distillery directly.
PizzaJo's is open from 5 pm – 9 pm Tuesday to Saturday. It is closed on both Sundays and Mondays.
Visit Eilean Donan Castle next
So, if you haven't already, I would highly recommend paying a visit to the breathtaking Eilean Donan castle which is located nearby the fairytale bakery.
This magical castle is the most iconic image of Scotland and for a very good reason. It's a gorgeous medieval keep sitting on the small island of Donan on Loch Duich surrounded by mountains!
Its history dates back to the 7th century but the castle we see today was built in the 14th century. Fans of Highlander may recognise this as a filming location.
Click here to read my guide on how to visit Eilean Donan Castle
A little tip, if you didn't want to go inside, is to visit late in the evening once the crowds have gone home.
You can still walk around the castle on the island and it's completely FREE (even parking is free after 5 pm)! I visited around 8 pm and walked around Donan Island and I had it all to myself.
Another tip if you're visiting when it's busy is to head up to the Carr Brae Viewpoint which is a short drive away above the castle. You'll see a sign pointing to it on the road just beyond the main castle parking area.
From up here, you can get an incredible view of Eilean Donan on Loch Duich. No drone required!
Where to next in Scotland?
Most people make their way over to the magical Isle of Skye after Eilean Donan Castle. This is a large island off the coast of Scotland which you can drive to over the Skye Bridge!
The Isle of Skye is full of magical attractions like the Fairy Glen which is a unique and magical place where you can climb up to the ruined Castle Ewen!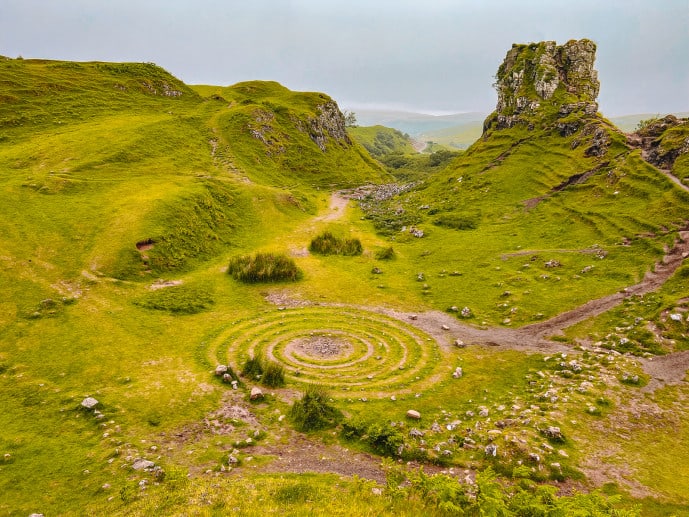 This is near the port town of Uig where you can catch a CalMac Ferry to the Isles of Lewis & Harris with the famous Callanish Standing Stones.
You can also visit the colourful houses in the harbour of Portree, explore Dunvegan Castle & Gardens, or climb up to the Old Man of Storr.
The Fairy Pools is one of my all-time favourite hikes where you can visit magical crystal clear pools with a backdrop of the mountains. It's a great place for wild swimming.
Or, why not head to the uppermost edges of Skye by hiking the Quiraing or Neist Point?! There are so many mystical places to visit on this spectacular island that you'll be spoiled for choice.
Read more of my Scotland guides
Where is the pink castle in Scotland?
How to visit the Kelpies in Falkirk
Incredible Harry Potter locations in Scotland
Edinburgh Harry Potter locations
How to visit the Wee White House in Glen Coe
A complete guide for the Glenfinnan Viaduct Viewpoint
How to visit the Corpach Shipwreck
Outlander locations you can visit in Scotland
How to visit Lallybroch from Outlander
The magical Kilchurn Castle viewpoint in Argyll
How to visit Smoo Cave & Waterfall
How to Find Balmoral Pyramid in Scotland
Things to Do in Gearrannan Blackhouse Village
How to visit Castle Stalker in Scotland
How to visit Dunrobin Castle – Scotland's fairytale chateau
Why you must visit Leakey's Bookshop Inverness
How to visit the Callanish Stones on the Isle of Lewis
Save Manuela's Wee Bakery Scotland for later!