Eilean Donan Castle is a historic keep that sits on a tidal island where three sea lochs meet in the Highlands of Scotland.
It's surrounded by rolling hills and looks like something from a fairytale. It's easily one of the most magical places that you can visit in the entire world.
As an iconic image of Scotland and the most photographed castle in the country, you will find that this area can get really busy with crowds.
But, what most people don't know is that you can visit Eilean Donan for FREE once the castle has closed for the day.
Here is a complete guide on how to visit Eilean Donan Castle in Scotland and for free without the crowds in 2023!
Eilean Donan Castle history
Eilean Donan is a small tidal island in Scotland that sits where the three sea lochs of Loch Duich, Loch Long, and Loch Alsh meet.
The island has an early Christian history of a hermitage in the 6th and 7th centuries but the incredible castle we see today dates back to the 13th century.
It was built during the reign of Alexander II as a defensive keep to protect against Viking invasions. Back then, the land of Kintail was its very own sea kingdom of the Lord of the Isles.
It was a harsh kingdom, ruled by the waterways and power was determined by how many men you had to fight for you. Naturally, this was the cause of many clan feuds and ownership changed regularly.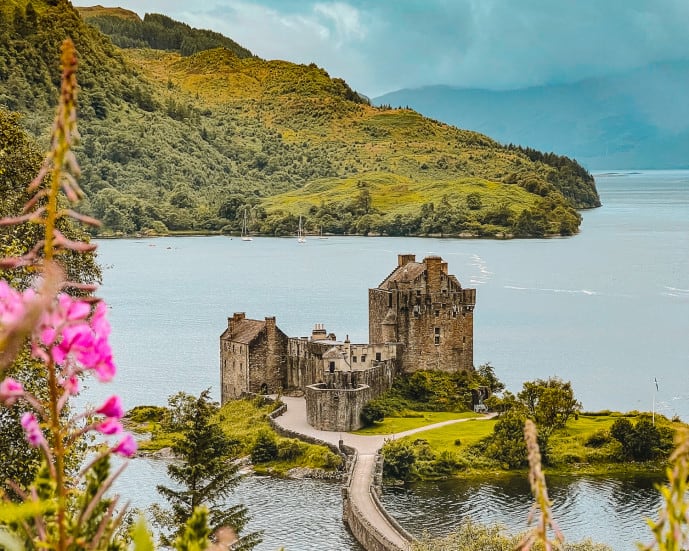 Eventually, this castle faced destruction due to its involvement in the Jacobite uprising. It was garrisoned by Spanish soldiers who supported the Jacobites and the English destroyed it.
It lay in ruins for almost 200 years until Lieutenant Colonel John MacRae-Gilstrap bought it in 1911. He funded a massive reconstruction and re-opened the castle in 1932.
Today, Eilean Donan Castle is open to the public for visitors and it's featured in many famous movies over the years including James Bond and Highlander.
It is now the most iconic image of Scotland and is recognised all over the world!
How to visit Eilean Donan Castle in Scotland
Eilean Donan Castle is located on the western side of the Scottish Highlands and is located near Kyle of Lochalsh and the Isle of Skye.
Most people will be heading here either from Fort William or Inverness and you can take the A82 towards Fort Augustus and then take the A87 road heading to Eilean Donan and the Isle of Skye.
The easiest and most convenient way to arrive here is to drive as it's in quite a remote location in Scotland.
But, there are City Link buses from Glasgow/Fort William heading to Uig (Isle of Skye) that can make a request stop at Dornie Bridge.
If you are going to use public transport in the Scottish Highlands just remember to pre-book your journeys in advance and book onward transport – it's essential!
If you're not planning on driving in Scotland, it may be easier to book a tour that includes a stop at Eilean Donan Castle.
You can look at this Iske of Skye day trip from Inverness or this 3-day Scottish Highlands trip from Edinburgh.
Eilean Donan Castle address is Dornie, Kyle of Lochalsh IV40 8DX. Click here for a Google Pin!
Eilean Donan Castle opening times
It's good to note that Eilean Donan island doesn't technically close and after castle operating hours you can walk around the outside of the castle for FREE!
This is what I would recommend doing if you wanted to avoid crowds as this area can be heaving during the day, especially in summer.
It's one of the most photographed monuments in all of Scotland and almost every tour bus heading to the Isle of Skye/Inverness stops here.
But, if you wanted to visit Eilean Donan Castle for the visitor centre, coffee shop, and castle tours they are subject to opening times.
In winter (November – March), the visitor centre, restaurants, and castle will be open from 10 am – 4 pm.
In the 'summer' season (March – October), the facilities will be open from 9 am / 9.30 am / 10 am – 6 pm depending on the month.
Outside of these opening hours, you can park and cross over the bridge to Eilean Donan island for free in accordance to Scottish outdoor access rights.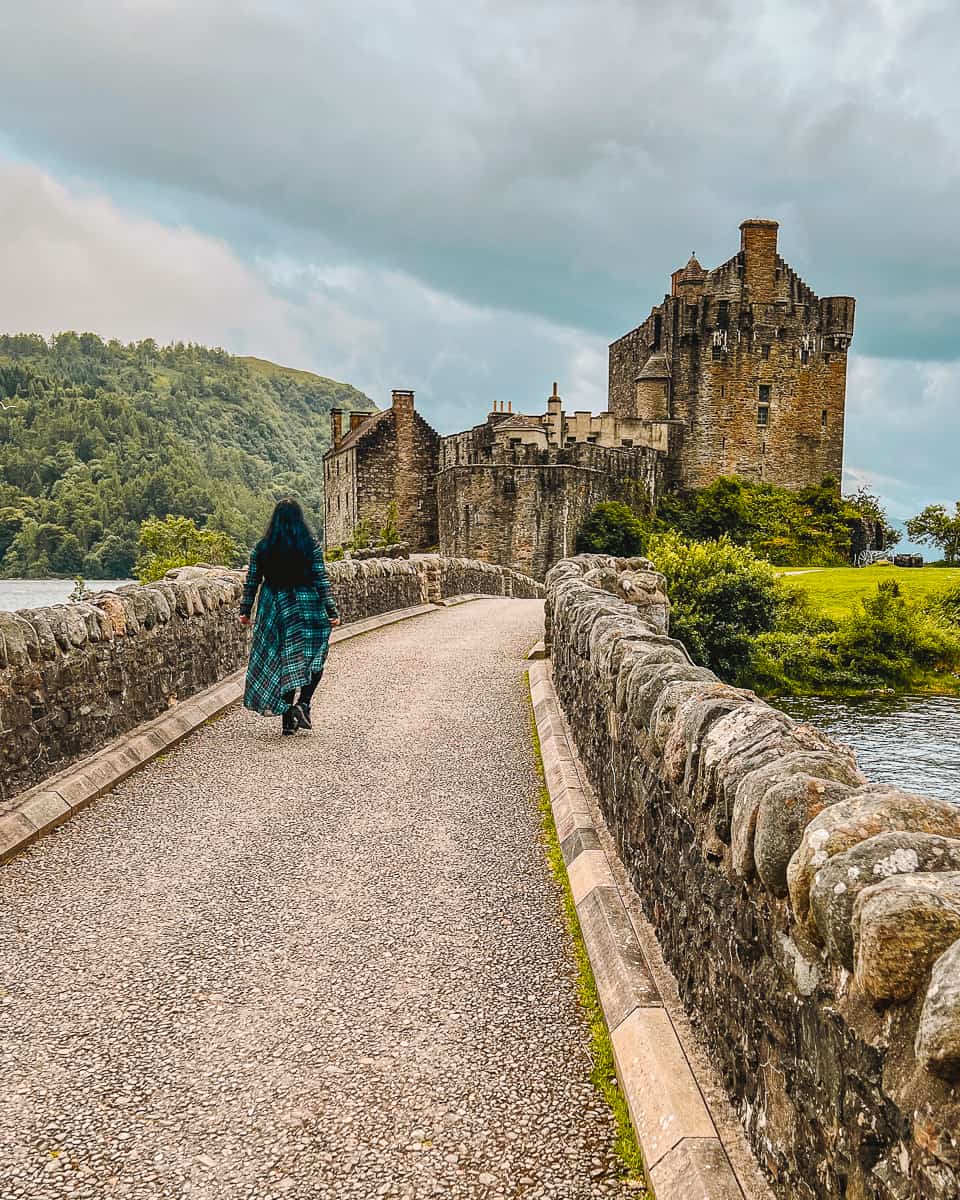 Where to park for Eilean Donan Castle?
There is a large parking area located directly in front of Eilean Donan Castle. Although it's a big car park, this can get very full during the day.
I keep seeing online that people are advertising that parking is free here. It's not, you do have to pay for parking during castle operating hours. Parking is charged by the hour.
There are some larger parking spaces for motorhomes and coaches towards the back of the car park.
If this parking area is full, you can carry on down the road to the Dornie community centre car park. There is a view there and some free toilets in the centre nearby.
You can then walk back towards the castle in around 5-10 minutes. Plus, you get some great views of the castle over the loch!
Note: Eilean Donan parking charges only apply when the castle and visitor centre are open. But, outside of these times parking is free.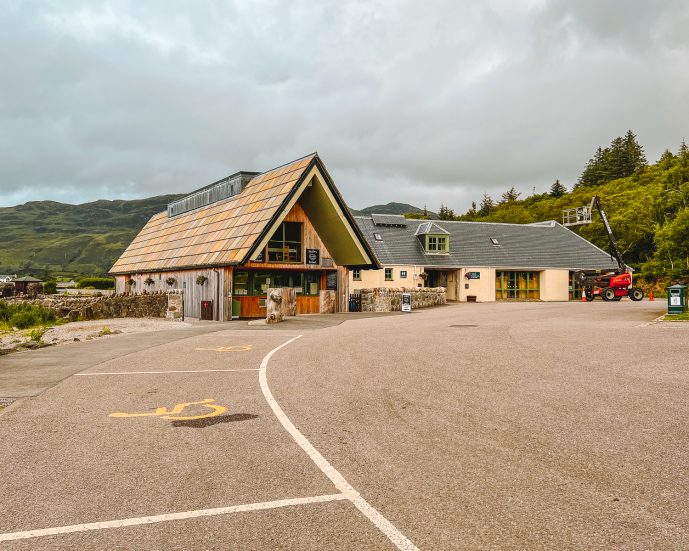 Eilean Donan ticket prices
If you wanted to visit the inside of Eilean Donan Castle then you will need to buy tickets at the visitor centre. You cannot pre-book tickets online.
Ticket prices are £11 for an adult and £10 for concessions. Children's tickets (5-15) are £6.50 and those under 5 go in for free.
Photography is not permitted inside the castle and they have a large policy so you should leave them in your vehicle.
If you don't have transport, there are secure lockers you can rent at the visitor centre to store luggage.
Can you see Eilean Donan Castle without paying?
YES, something that many people don't know is that after the castle and visitor centre have closed for the day you can park up and visit Eilean Donan Castle for free.
Now, you can't go inside the castle for free. Also, the visitor centre and facilities will all be closed but you can walk around Eilean Donan Island and see the castle from the outside.
The best part about visiting the island when the castle is closed is that most of the crowds have gone home for the day and so you can pretty much have it to yourself!
There is nothing more magical than crossing over the cobbled bridge towards Eilean Donan Castle and being here alone was like a fairytale.
Personally, I don't visit straight after closing time as it will still be quite busy. But, if you wait a few hours towards 7 / 8 pm (ish) it will be empty. It's the perfect time for photography.
Alternatively, you could visit this area early before opening time. I think sunrise would be fabulous!
Things to see in Eilean Donan Castle
Most people plan to make a short stop at this magical castle on a Scotland road trip.
But, you may be surprised to know that there are plenty of things to do in Eilean Donan Castle.
If you're here during the day, you can explore their visitor centre and gift shop. Or, have a coffee and some lunch in their café/restaurant. Then, you can buy a ticket to explore the inside of Eilean Donan Castle.
I would plan around 1-3 hours to visit Eilean Donan, as there are lots of things to do and plenty of short walks around the area that have magnificent views!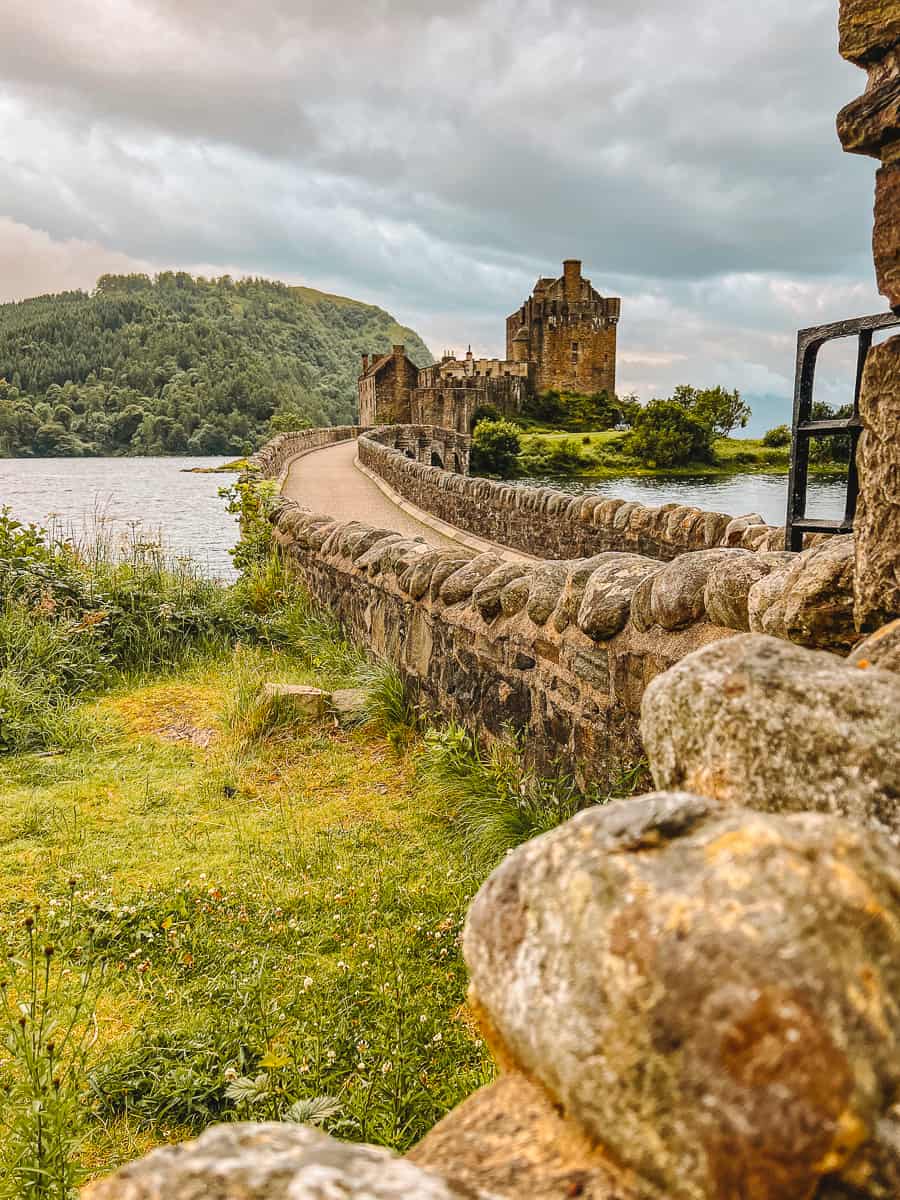 Eilean Donan visitor centre & gift shop
When you get here, it is worth having a look inside the Eilean Donan Visitor Centre.
There isn't an exhibition as such but you will find some tourist information about sights and attractions in the local area.
If you wanted to take a tour inside Eilean Donan Castle there is a ticket centre inside. You can only buy castle tickets on the day of your visit, you can't pre-book online.
They have a small gift shop that includes some Clan Macrae Society souvenirs. You will find tartan, fudge, magnets, mugs, books, and music – all the typical Scottish souvenirs!
Eilean Donan café
If you were looking for refreshments on your visit, you can stop by the coffee shop in the visitor centre that overlooks the castle.
It's a very cosy tea room, with wooden furnishings and has a light and airy vibe. It's the perfect place to fuel up on a road trip.
They serve up a selection of hot and cold drinks, homemade cakes, paninis, baked potatoes, and sandwiches using local ingredients.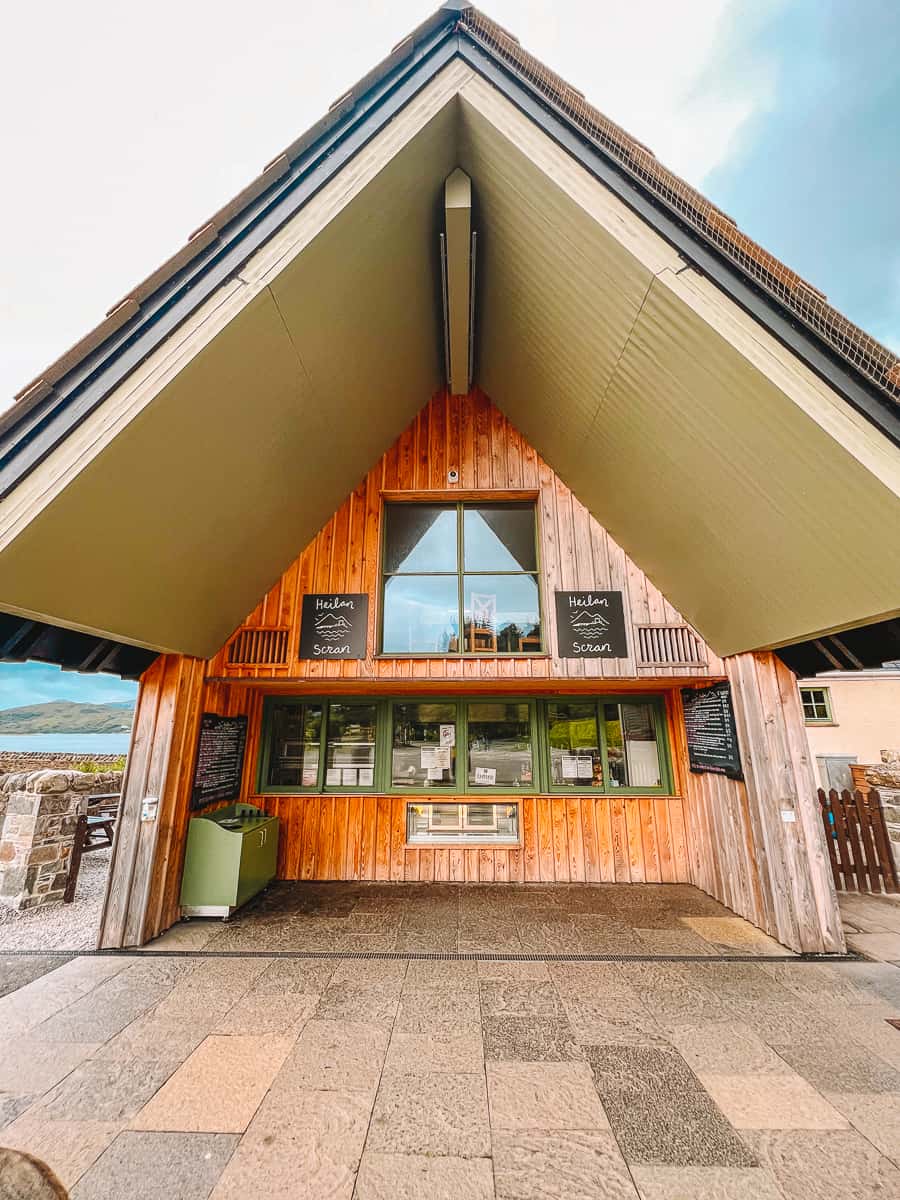 Cross over the bridge to Eilean Donan Island
I honestly think that walking over the cobbled bridge to Eilean Donan Castle over Loch Duich is the most magical experience you can have in Scotland.
It feels like you've travelled back in time and you will feel like a princess living in a fairytale!
The views of this castle over the loch will take your breath away and you will have to pinch yourself to check if it's real.
After the castle has closed for the day, you can visit this island for free and have it pretty much to yourself.
It's the best way to experience this magical castle and a memory I will always cherish of my trip to Scotland.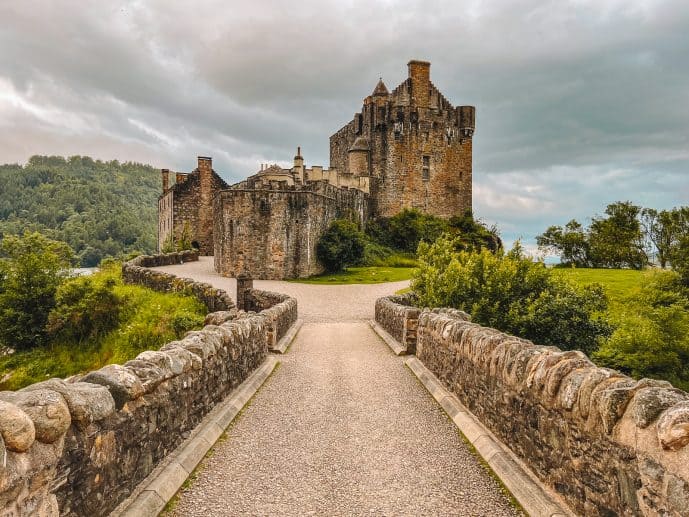 What is on Eilean Donan Island?
Eilean Donan Island is very small and is largely taken up by the keep. But, there is a path that will let you walk around the castle on a short loop.
On the walk, you can see the outside of the fortress and then the path will lead you right beside Loch Duich with fabulous views of the rolling hills.
There is a Clan Macrae war memorial dedicated to those members who lost their lives in WWI and some interesting cannons beside it.
But, that's it really! The main highlight would be the castle itself and it's worth heading inside if you have the time.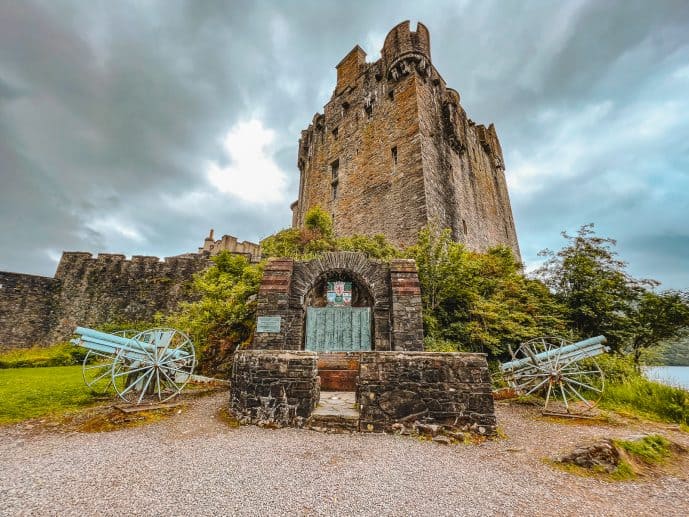 What's inside Eilean Donan Castle?
If you plan to go inside Eilean Donan Castle you will need to plan at least an hour for the tour.
The rooms are very rustic with exposed stone, Chippendale and Sheraton furnishings, Clan Macrae tartan, and precious artifacts.
As the castle was renovated in the 20th century, it's more modern inside than a traditional medieval keep.
Once you walk up the steps, you can head inside the Billetting Room which has many Macrae family items and portraits on display.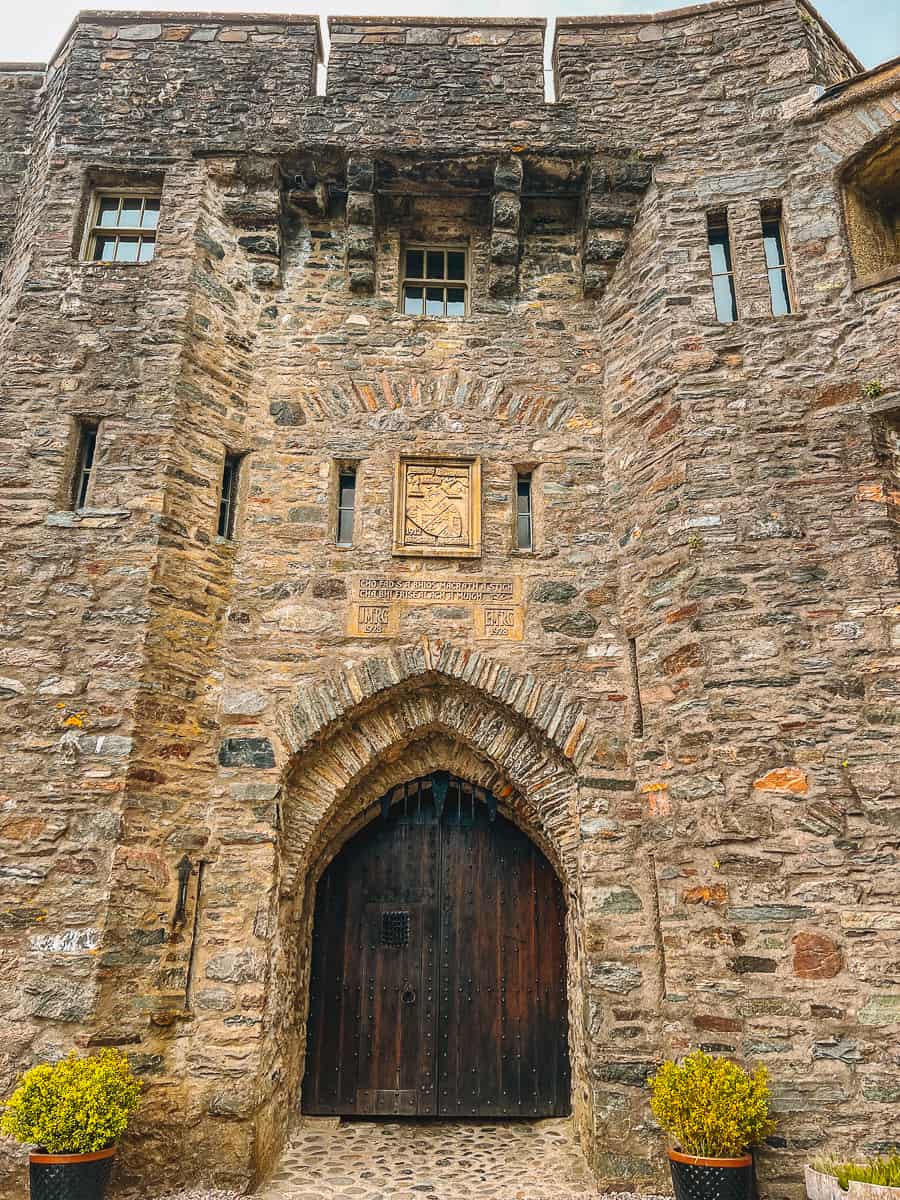 There is a large banqueting hall with a timber-beamed ceiling and some bedrooms that you can explore as well.
It's quite a small tour through the castle but it is worth it in my opinion if it's your first time here.
I've been inside the castle twice now and I don't feel I need to see it again! I just visit the island and take it in from outside as the views are so magical.
Photography is not permitted inside the castle, unfortunately.
Can you stay in Eilean Donan Castle?
No, you can't spend the night in Eilean Donan Castle although that would be a dream. However, they do have some accommodation you can book.
The Eilean Donan Cottage sleeps four people and has a double room, twin room, bathroom, lounge, and kitchen facilities.
It sits on a small headland that looks out at the castle over the loch and it must be magical to wake up to these views in the morning.
You usually have to book it for an entire week but sometimes they will let you book it for a shorter four-night break with early notice.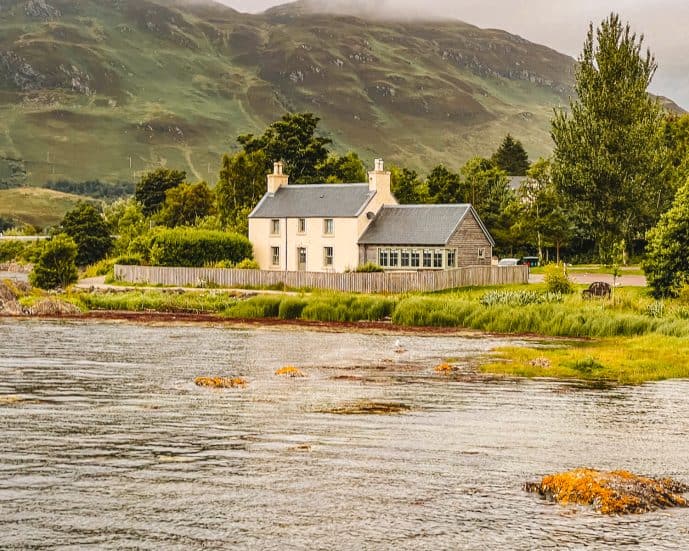 Take a walk around Loch Duich
You can get some fabulous views from the Eilean Donan car park of the castle whilst you're here for photos. But, it can be really busy due to the crowds.
If you wanted to get some space and better views, there are many short walks that you can take around Loch Duich.
If you exit the car park and head in the direction of Dornie village, you can follow a footpath beside the road that provides amazing views of the castle over the water.
Many tour buses stop at the Dornie Community Centre car park as a toilet and photo stop.
There is a slipway that is used for boats where you can stand to get some great snaps of Eilean Donan reflected in the loch.
Is Eilean Donan Castle worth visiting?
I really don't think that any trip to the Scottish Highlands would be complete without a trip to Eilean Donan Castle. A trip here is utterly breathtaking.
It's one of the most magical places in the country and there is nothing quite like crossing the bridge over the loch to this fairytale keep!
At the very least, I would recommend stopping here and walking around Eilean Donan island once the crowds have gone home.
Eilean Donan Castle FAQs
Why is Eilean Donan Castle famous? It's one of the most beautiful castles in Scotland and is the most photographed. It's also been in many famous movies like Highlander and James Bond.
Can you go inside Eilean Donan Castle? Yes, you can pay to go inside Eilean Donan Castle. Photography is not permitted though.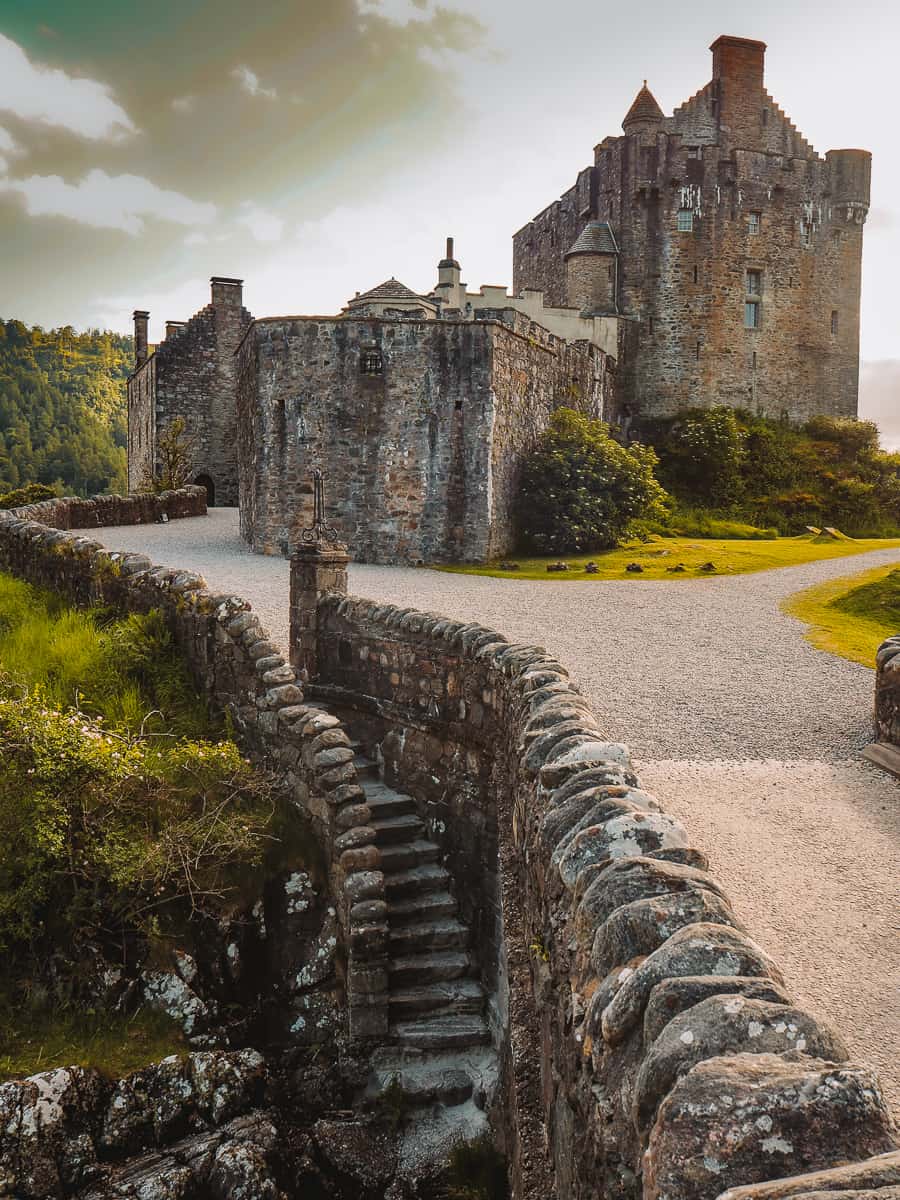 Can you visit Eilean Donan for free? YES, you can visit the island for free outside of the castle's operating hours. It's the best way to see it without crowds.
What films has Eilean Donan Castle been featured in? Many! You'll recognise it in huge Hollywood movies such as Highlander, Elizabeth: The Golden Age, James Bond: The World is Not Enough, and The Wicker Man.
What does Eilean Donan mean? Island of Donnán. It's named after a Celtic saint called Donnán who lived in Eigg and was martyred in 617.
Things to do near Eilean Donan Castle
So, after your magical visit to Eilean Donan, you're probably wondering where you should go next?
Well, this area of Scotland is particularly stunning and you will have plenty of choices. Here are some amazing things to do near Eilean Donan Castle in Scotland!
Eilean Donan Lookout
The Eilean Donan Lookout is a perfect view of Eilean Donan Castle from above that sits on Loch Duich.
Many people visit Eilean Donan Castle to see it packed full of tourists and it can be quite hard to get good photos of it during the daytime.
Visiting this viewpoint is arguably one of the best views of Eilean Donan Castle as you get a bird's-eye view, well away from the crowds.
It's also a spectacular perspective as you get to capture the most iconic view of Scotland from high up.
So you get to see the castle, where three sea lochs meet, and the surrounding mountains too!
It's a drone-worthy photo without a drone and you can achieve it with very limited effort. You can drive to the viewpoint in just five minutes from the Eilean Donan Castle parking area.
Click here to read my guide on how to find this amazing viewpoint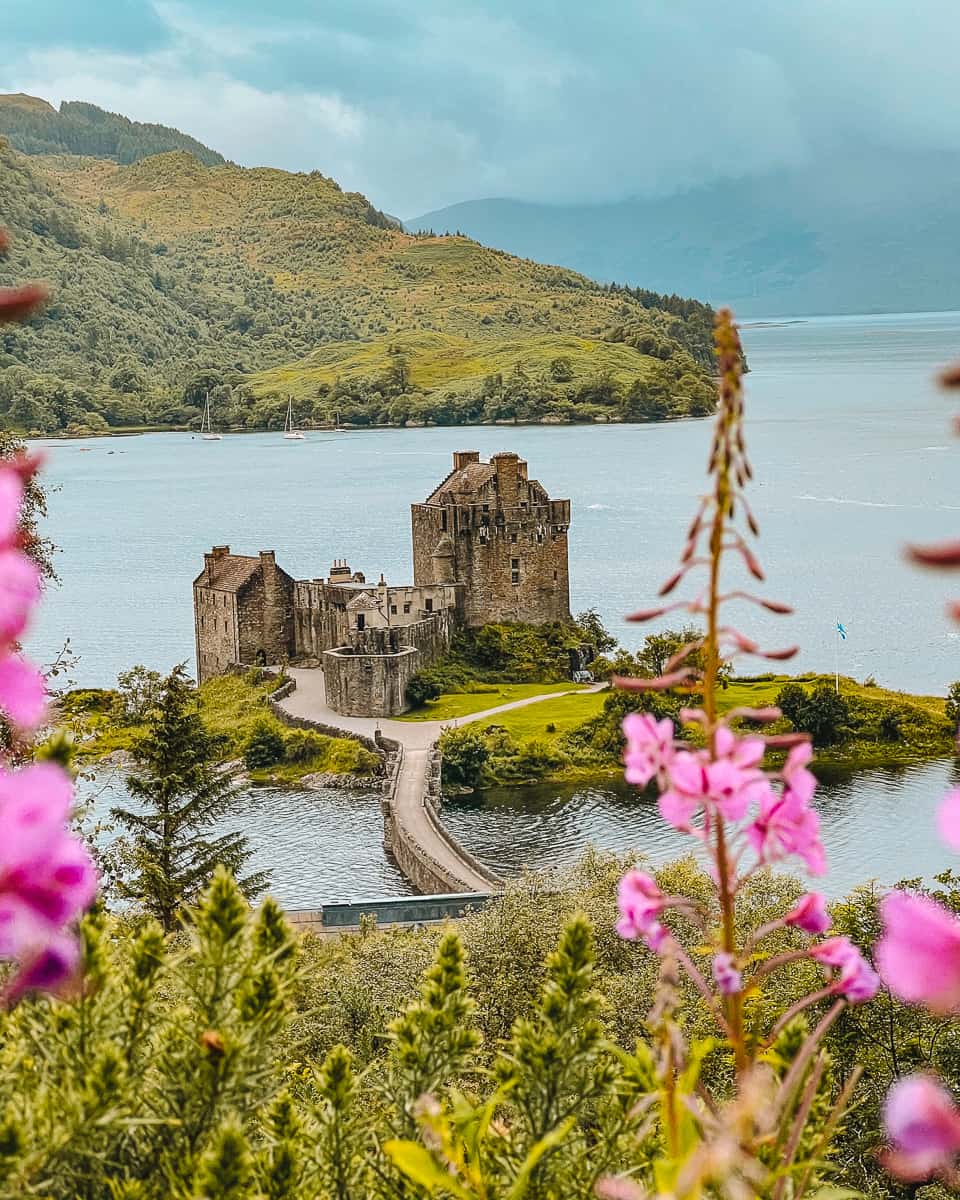 Manuela's Wee Bakery
Just nearby Eilean Donan and Dornie is another hidden gem of Manuela's Wee Bakery in Ardelve.
As you cross over the bridge to the Dornie Harbour area on the A87 towards Skye, you'll eventually reach a sign that says 'Bakery 300m' and 'Ardelve'.
Make the turn on the left and you'll eventually arrive at a fairytale bakery, gin distillery, and pizzeria. All the shops are located in these cute witchy huts!
Here you can treat yourself to coffee and all sorts of artisan baked goods. I would recommend their cookies, they are mouthwatering!
PizzaJo's would also be the perfect place to have a late-night dinner after an evening visit to Eilean Donan Castle.
Click here to read my complete guide for Manuela's Wee Bakery!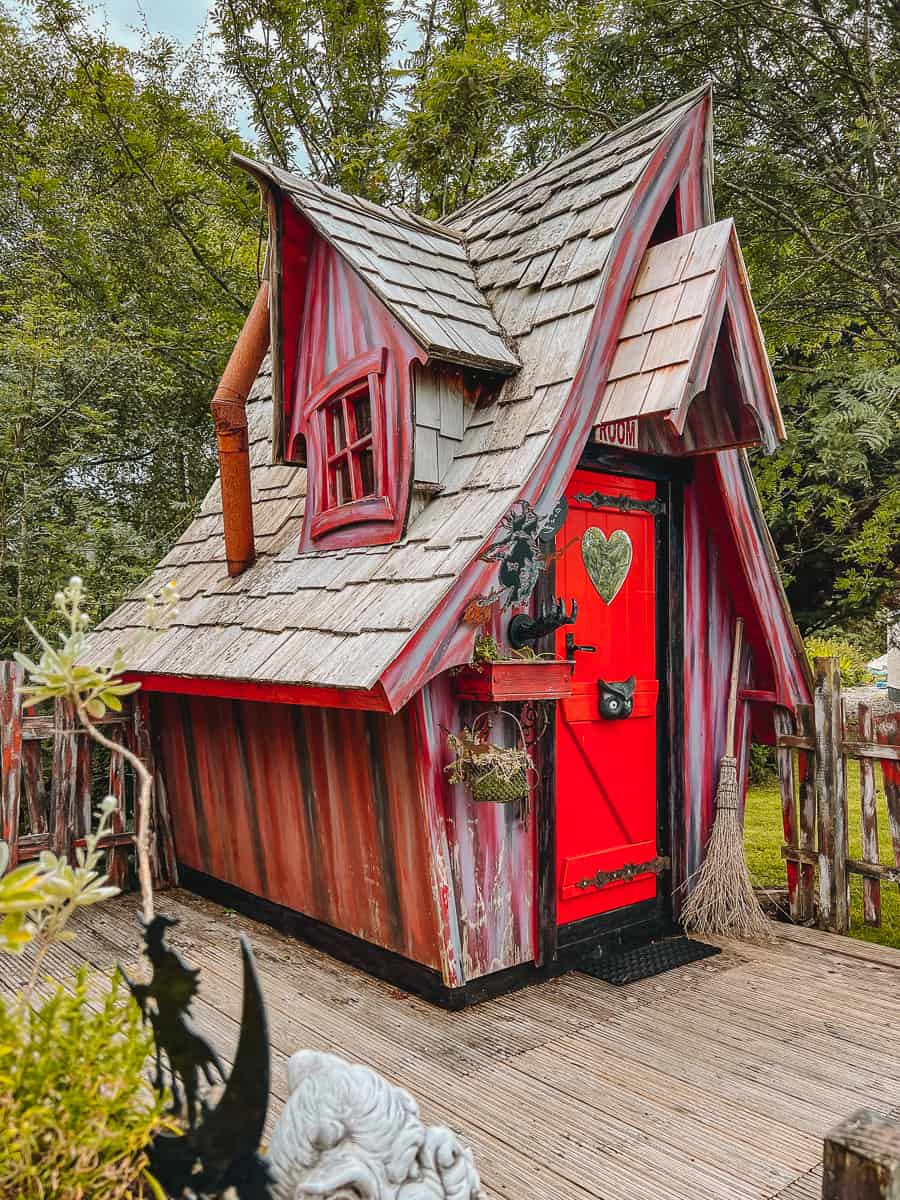 Kyle of Lochalsh & the Isle of Skye
Most people make their way over to the magical Isle of Skye after Eilean Donan Castle. This is a large island off the coast of Scotland which you can drive to over the Skye Bridge!
The Isle of Skye is full of magical attractions like the Fairy Glen which is a unique and magical location where you can climb up to the ruined Castle Ewen!
This is near the port town of Uig where you can catch a CalMac Ferry to the Isles of Lewis & Harris with the famous Callanish Standing Stones.
You can also visit the colourful houses in the harbour of Portree, explore Dunvegan Castle & Gardens, or climb up to the Old Man of Storr.
The Fairy Pools is one of my all-time favourite hikes where you can visit the magical crystal clear pools with a backdrop of the mountains. It's a great place for wild swimming.
Or, why not head to the uppermost edges of Skye by hiking the Quiraing or Neist Point?! There are so many mystical places to visit on this spectacular island.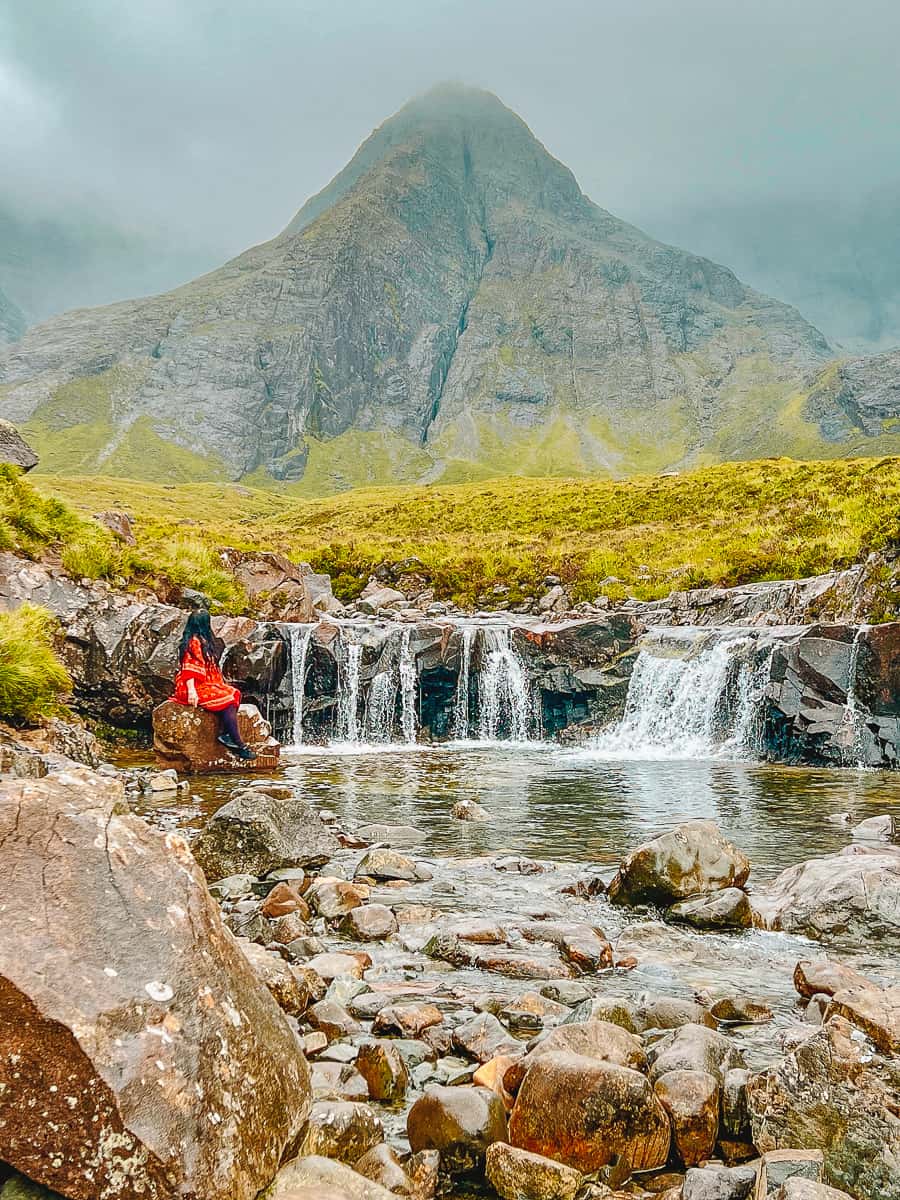 Read more of my Scotland guides
How to ride the Hogwarts Express in Scotland
Harry Potter filming locations in Scotland
Edinburgh Harry Potter filming locations
How to find Dumbledore's Grave
A complete guide for the Steall Falls walk
How to find the Corpach Shipwreck
How to find the Kilchurn Castle viewpoint
Magical Dunrobin Castle in Scotland
How to visit the Green Loch Aviemore
Where is the pink castle in Scotland?
How to visit the Kelpies in Falkirk
How to visit the Wee White House in Glen Coe
A complete guide for the Glenfinnan Viaduct Viewpoint
Outlander locations you can visit in Scotland
How to visit Lallybroch from Outlander
How to visit the Pink House on Loch Glass
Visiting the Puck's Glen Fairy trail
Isle of Mull Cheese Glass Barn Café review
Save how to visit Eilean Donan for free for later!