So, you've seen Gaudi's Park Güell, Casa Batllo and maybe even La Pedrera but have you heard of Sant Pau Recinte Modernista in Barcelona?
It's an Art Nouveau hidden gem that is near the Sagrada Familia and used to be an old hospital in the city centre.
The architecture looks like something from a fairytale and you could easily spend hours admiring the vaulted ceilings, stained glass windows and ornate architecture.
It's not as busy as the other UNESCO sites in the city and I was so surprised at what this historic hospital had to offer.
Here is why and how to visit Sant Pau Art Nouveau Site in Barcelona or the Sant Pau Hospital!
Sant Pau Recinte Modernista history
Although the building that we see today is a modernist site, this hospital has over 600 years of history.
It was first established in 1401 when six medieval hospitals were founded in the city. Today, these older buildings house an art school and the National Library of Catalonia.
The former Hospital de la Santa Creu i Sant Pau was created by Lluís Domènech i Montaner in the modernist Art Nouveau style between 1901 and 1930.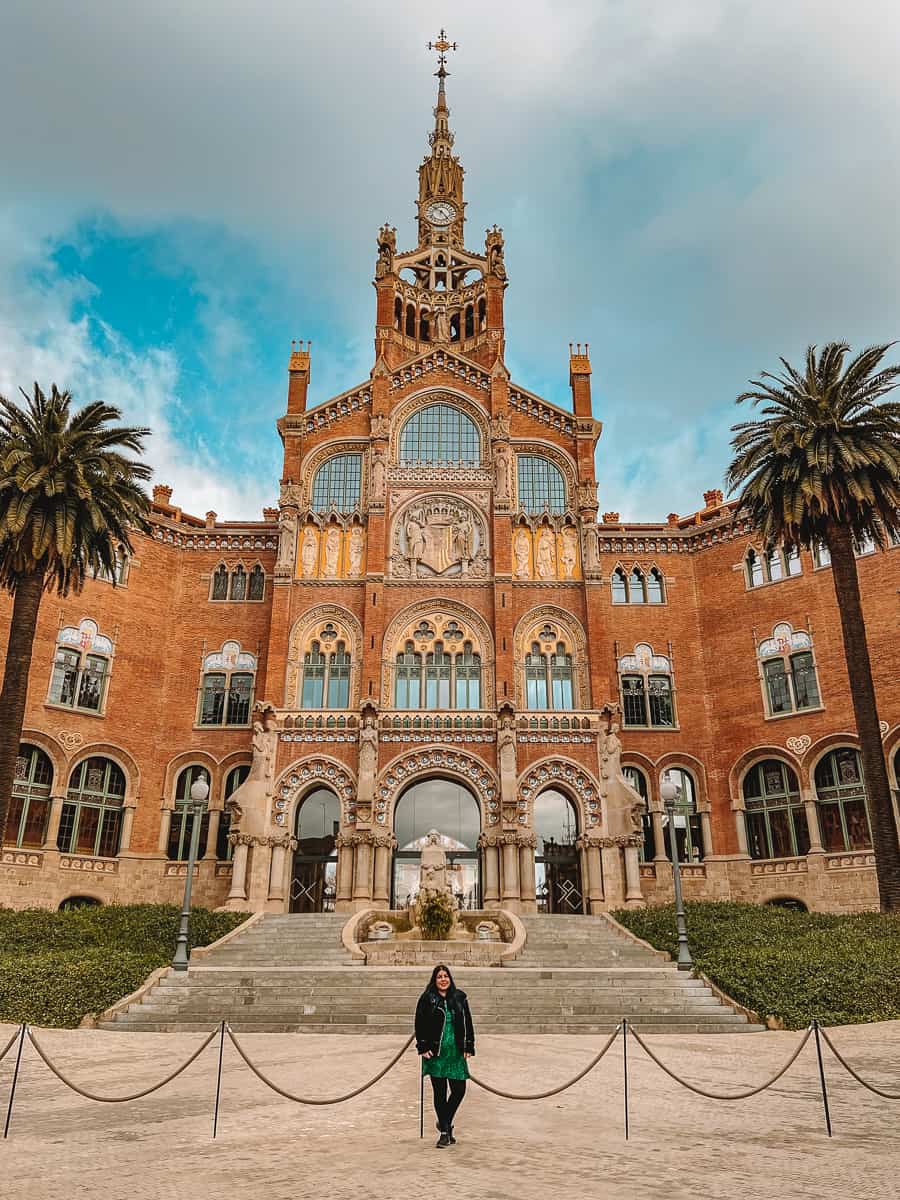 It's one of the largest Art Nouveau buildings that has been constructed in the world with 12 connected pavilions and open green spaces.
For years, it functioned as a major hospital in the centre of Barcelona until a newer hospital was built behind it in 2009.
The Modernista building was declared UNESCO status in 1998 and then the old wards were renovated. It opened to the public as an Art Nouveau site, event space and museum in 2014.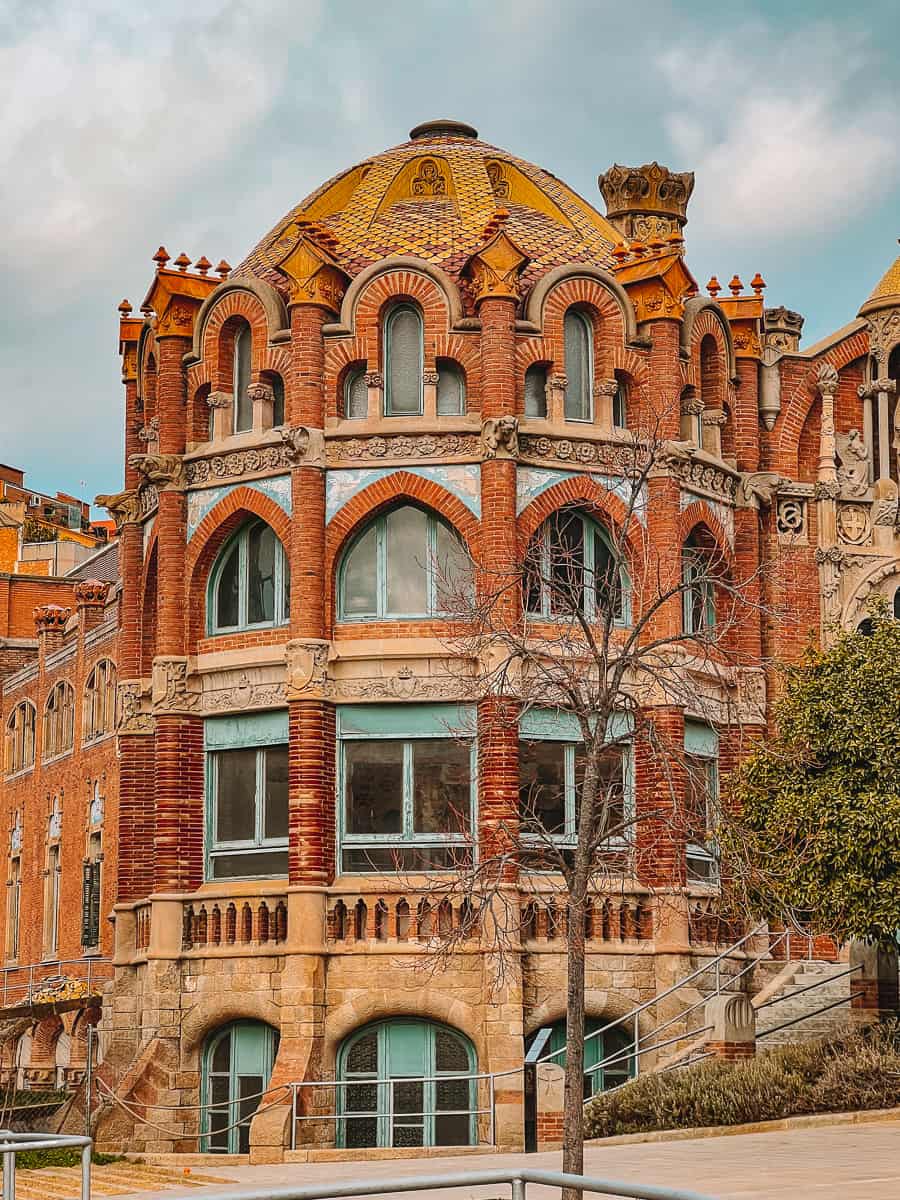 How to visit Sant Pau Recinte Modernista in Barcelona
Sant Pau Recinte Modernista is easy to find in Barcelona as it's only a 10-minute walk from the Sagrada Familia.
If you're using the Barcelona metro, the closest station would be Sant Pau – Dos de Maig station which is close by.
If you haven't yet, it may be an idea to purchase a Hola Barcelona Card that gets you free transport around the city.
When you arrive, pass through the entry gates and you will find the ticket office/gift shop in the building to your right.
Recinte Modernista de Sant Pau address is C/ de St. Antoni Maria Claret, 167, 08025 Barcelona, Spain. Click here for a Google Pin!
Things to do in Sant Pau Recinte Modernista
So, what is there to see at Sant Pau Recinte Modernista that makes it worth visiting?
Well, aside from the architecture being breathtaking, it's also a museum and you can learn about the history of the hospital and what it would have been like staying/working here years ago.
Here are all the things to see & do in Recinte Modernista de Sant Pau on a self-guided tour!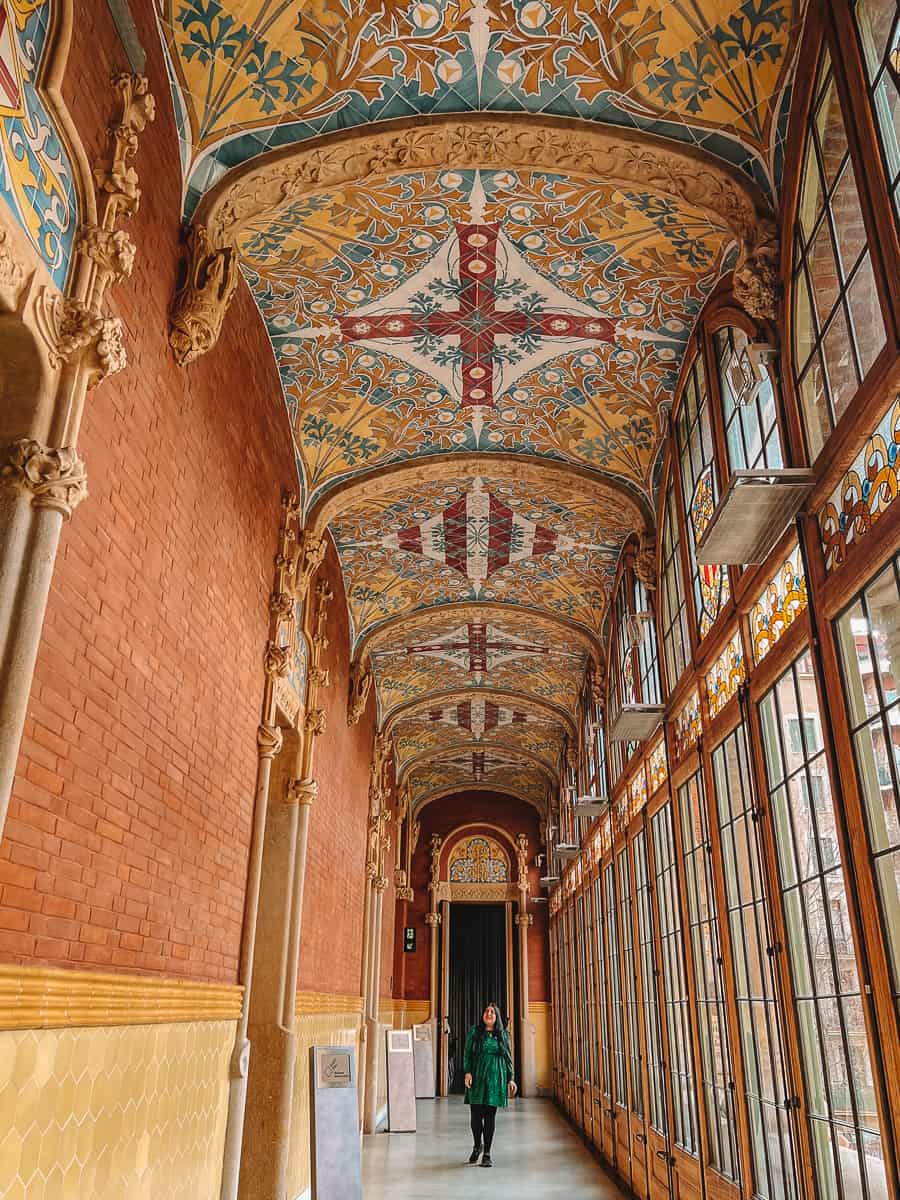 1. Sant Salvador Pavilion exhibition
The first major room you will arrive in is the Sant Salvador Pavilion which is a huge tiled room.
This is an exhibition that explains more about the history of the hospital, the construction of the Art Nouveau site and modern history as well.
I thought it was very creative how the exhibitions were laid out with colourful patterned sculptures and parts of it were interactive on screens.
This is a great introduction to the site and learning the history will give you some context about the building's many functions when you're exploring the site.
2. Outdoor gardens & Art Nouveau buildings
Once you've learned the history of the Sant Pau Recinte Modernista, you will enter the outdoor space of the complex.
These gardens are stunning with open green spaces, dotted with palm trees and have some benches to take a rest on if it's good weather.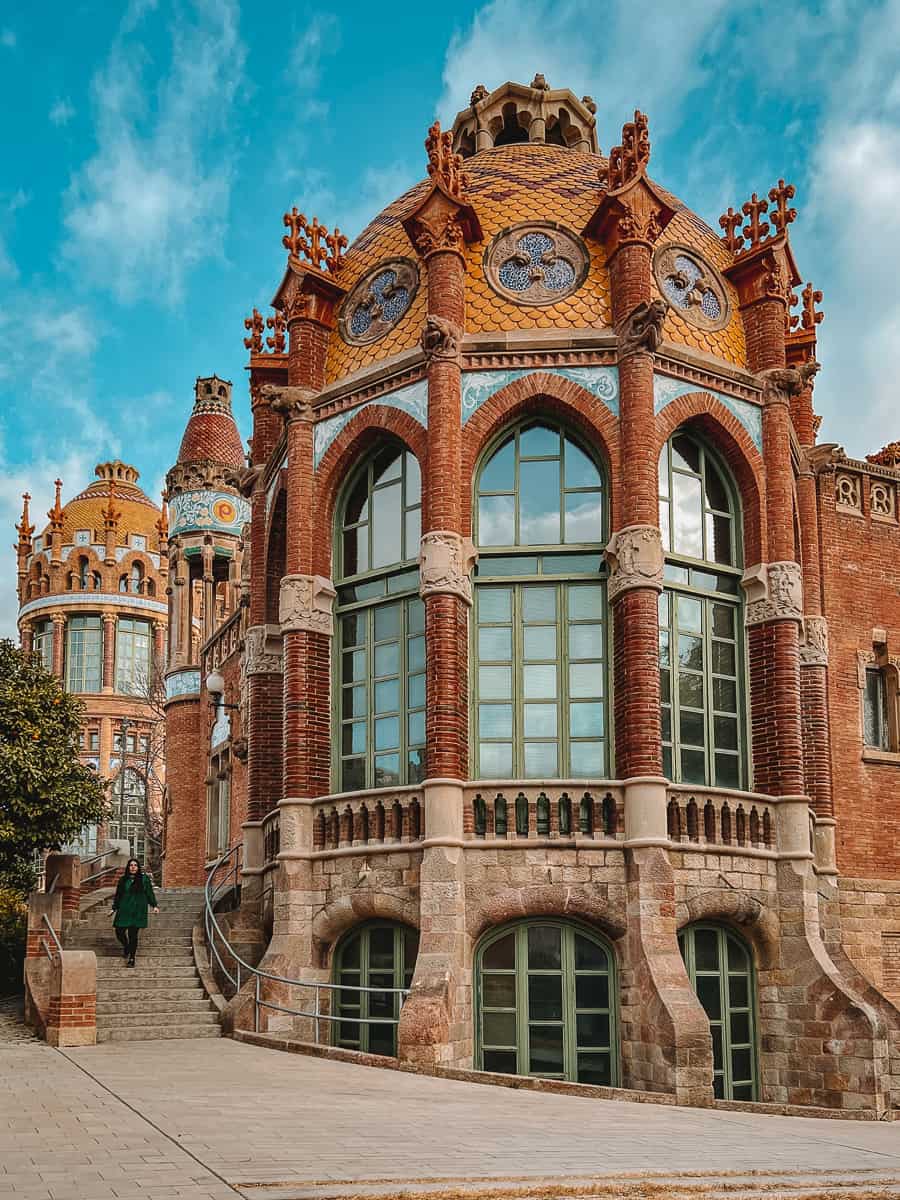 There are 12 Moorish Art Nouveau pavilions in the complex that are interlinked by corridors.
Some of these buildings are private and not open to the public. But, you can easily tell which ones are open as part of the museum as there are signs.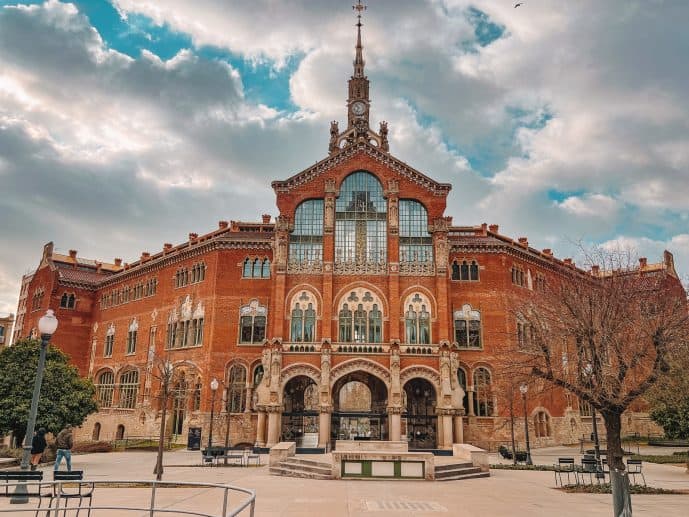 3. Old hospital wards
One of the highlights of visiting Sant Pau Hospital is seeing what the old wards would have looked like when there were patients staying there.
They have set up one of the tiled rooms with old-fashioned hospital beds to set the scene. They also have old medical equipment on display in the cabinets behind it.
This is by far one of the prettiest hospitals I have ever seen and it looked so luxurious for a medical ward.
4. Main administration pavilion (Pavelló de l'Administració)
The entry hall to the Main Pavilion at Sant Pau Recinte Modernista is one of the highlights of a visit and I couldn't get over the size of the room with its high vaulted ceilings.
If you look up, you'll see that many of the domes have shining pink tiles with coats of arms and a date of construction on the top!
It was fascinating to wander around this space. It is usually used for security to scan bags but they do often hold events here from time to time.
5. The Lluís Domènech i Montaner Room
The Lluís Domènech i Montaner Room is one of the most impressive rooms you can see on your tour of Sant Pau Recinte Modernista.
It's the most richly decorated room in the building with a high vaulted ceiling, tall pillars, portraits, intricate tiled patterns, oil lamps and ornate carvings.
The huge windows at the back provide a panoramic view of the entire complex! So, make sure to have your camera ready.
You could spend so much time just admiring the small details in this room. It was breathtaking.
6. A window of the Sagrada Familia
When you leave the Lluís Domènech i Montaner Room don't miss the window that has a view of Sagrada Familia.
The view looks straight down the Avenue de Gaudi and you get an unobstructed view of the largest unfinished Catholic Church in the world.
Maybe the artist purposefully built this window with the view so the patients could feel closer to God. Who knows…
7. Ornate corridors & vaulted staircases
Even just wandering around the corridors that link the Art Nouveau pavilions was something to savour.
I particularly loved the ornate ceilings on these corridors with Catalonian patterns, the cross of St George and vibrant colours.
Plus, the staircases that lead to the upper floors looked like something from a palace in a fantasy world!
It was all so intricate with enormous carved ceilings, old oil lamps and stained glass windows.
8. Sala Pau Gil
There were many event spaces that you could walk through on a tour of Sant Pau Recinte Modernista.
The most memorable was Sala Pau Gil which looked like an old church with its huge domed ceiling.
This can be rented out as an event space but on my self-guided tour, I used the seats to sit down, listen to my audio guide and have a breather!
Hospital de Sant Pau opening times
Sant Pau Recinte Modernista is open from Monday to Sunday for self-guided visits from 10 am – 6.30 pm from April – October. From November to March, it's open to the public from 10 am – 5 pm.
If you wanted to visit for a guided tour these only run at certain times of day in Spanish and Catalan. Tours in other languages are available on request.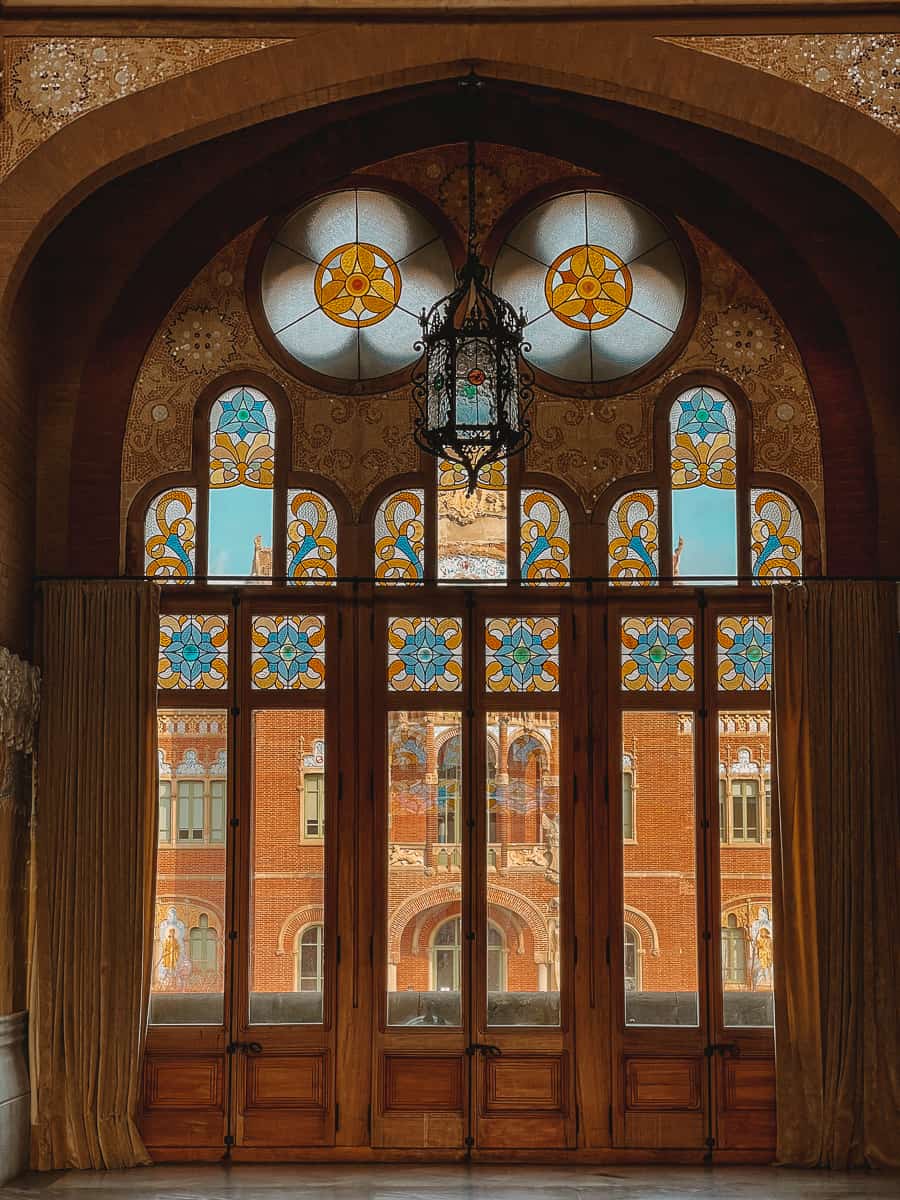 Audio guides are available at an extra cost (4 Euros each) and come in multiple languages. Or, you can use their app with an audio guide on your phone for 3 euros.
I would personally get here for opening time if you wanted to enjoy a quieter visit. It can get quite busy in the middle of the day and afternoons.
Sant Pau Recinte Modernista ticket prices
Like most Barcelona attractions, I would recommend booking your tickets online and in advance of your visit.
You have to book a specific timeslot and slots do tend to get full/sell out in peak season.
Regular tickets for a self-guided visit to the Sant Pau Hospital museum are 16 euros for an adult and 20 euros for a guided tour.
There are reduced rates for BCN residents, young people (12-29) and people over 65 at 11.20 euros a ticket. There are also free tickets for those under 12 and the unemployed (proof will be needed).
If you have a Barcelona card you can also get a slight discount. Click here to see all the ticket options available.
My top tips for visiting Sant Pau Recinte Modernista
Although not as well known as other Barcelona attractions, this UNESCO site can get very busy. So, I'd try to visit early morning around opening time if possible.
You can book tickets online in advance of your visit.
I would allow at least 1-2 hours to look around as the complex is huge with lots to see and do.
Don't miss the view of the Sagrada Familia from the top floor!
Photography and video are allowed but they did get annoyed about my tripod in the main hall so be discreet.
Looking for more amazing architecture in Barcelona?
If you're a fan of architecture, you're going to love the different sites and Gaudi attractions that you can visit in Barcelona.
One of my favourite buildings is the Sagrada Familia, the largest unfinished Catholic Church in the world! It's due to be finished in a few years but even now it's wonderful to see inside.
You can get lost in the many pillars and colourful stained glass windows. Or, climb some of the towers for birdseye views of the city.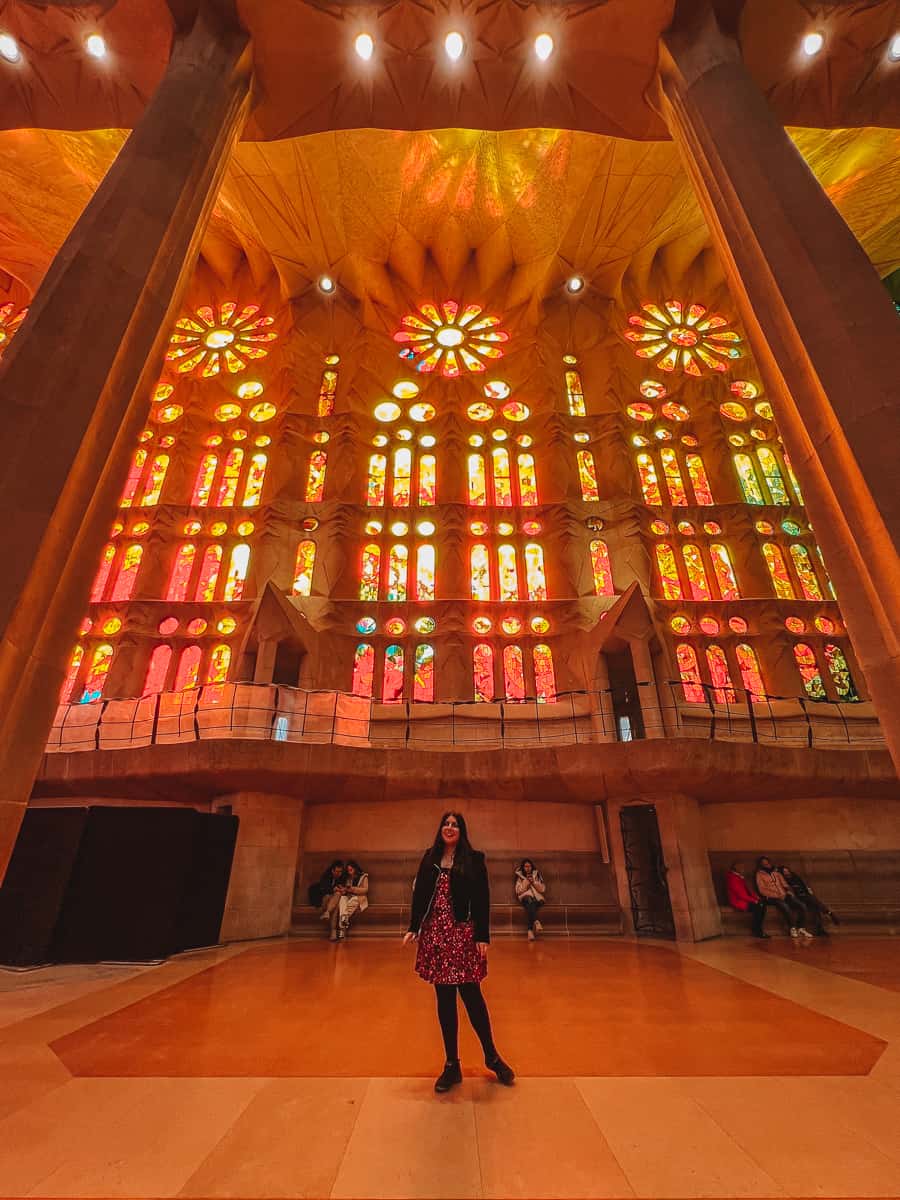 The Palau de la Música Catalana is another building that was awarded a UNESCO Heritage Status around the same time as the Sant Pau Hospital.
It's one of the most ornate opera houses in Spain and you can visit their colourful tiled balcony as part of your visit.
Casa Batllo is another one of Gaudi's masterpieces that will blow you away. Based on the Catalan legend of St George slaying the dragon, it's a colourful house that is nicknamed the house of bones.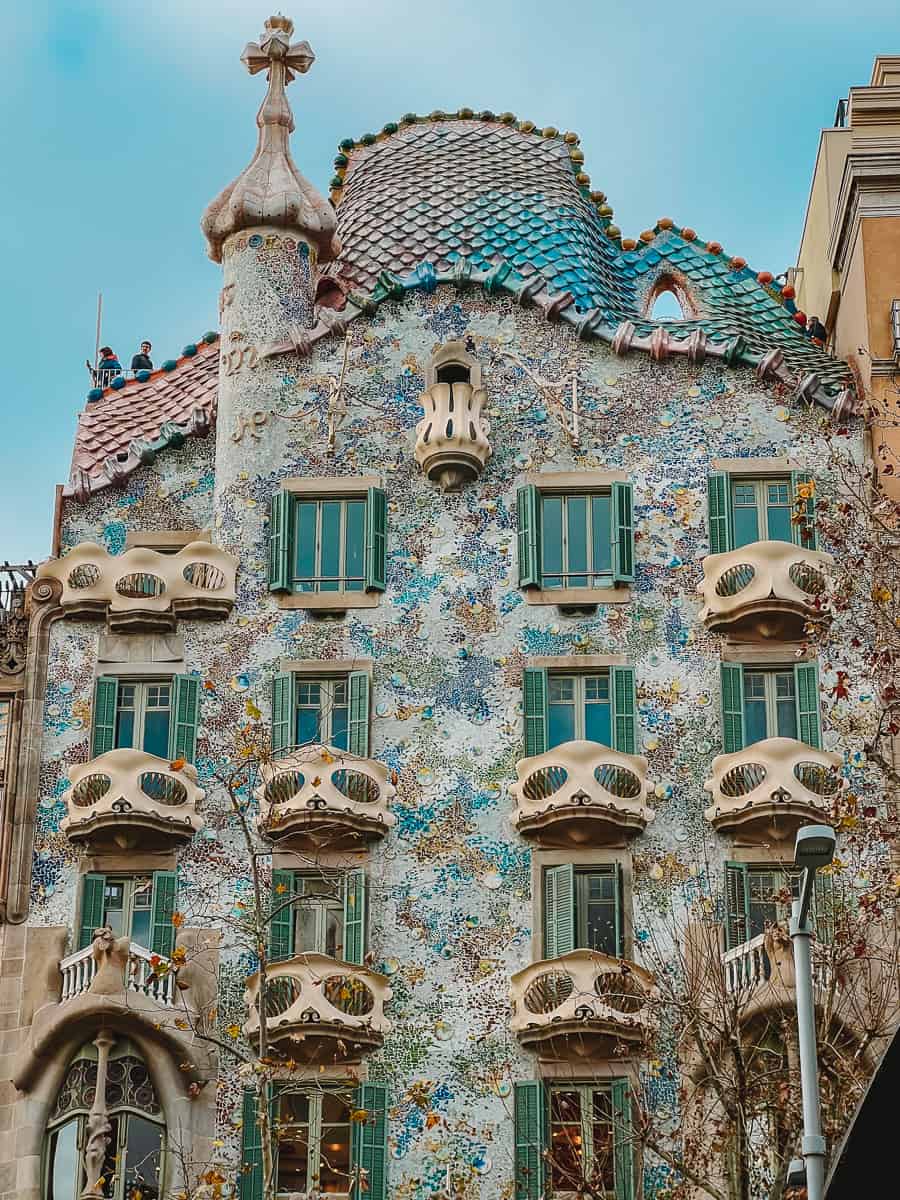 Casa Mila or Le Pedrera was one of Gaudi's least favourite sites by the Catalan Bourgeoisie but now is experiencing a renaissance in recent years.
Its unique undulating facade houses many apartments and a museum you can explore. But, the highlight would be the rooftop terrace that has many unique sculptures and views over Barcelona!
I would recommend their 'sunrise tour' to beat the crowds and see the warrior rooftop in peace. Or, visit at night time to see a light show.
Casa Vicens was one of Gaudi's first projects and is a colourful modernist building that houses many intricate rooms and exhibitions about Gaudi's early years.
Finally, you can't leave Barcelona without visiting Park Güell. It's a hot mess with tourists but I would recommend visiting early to see the Serpentine balconies, Hypostyle Room and El Drac!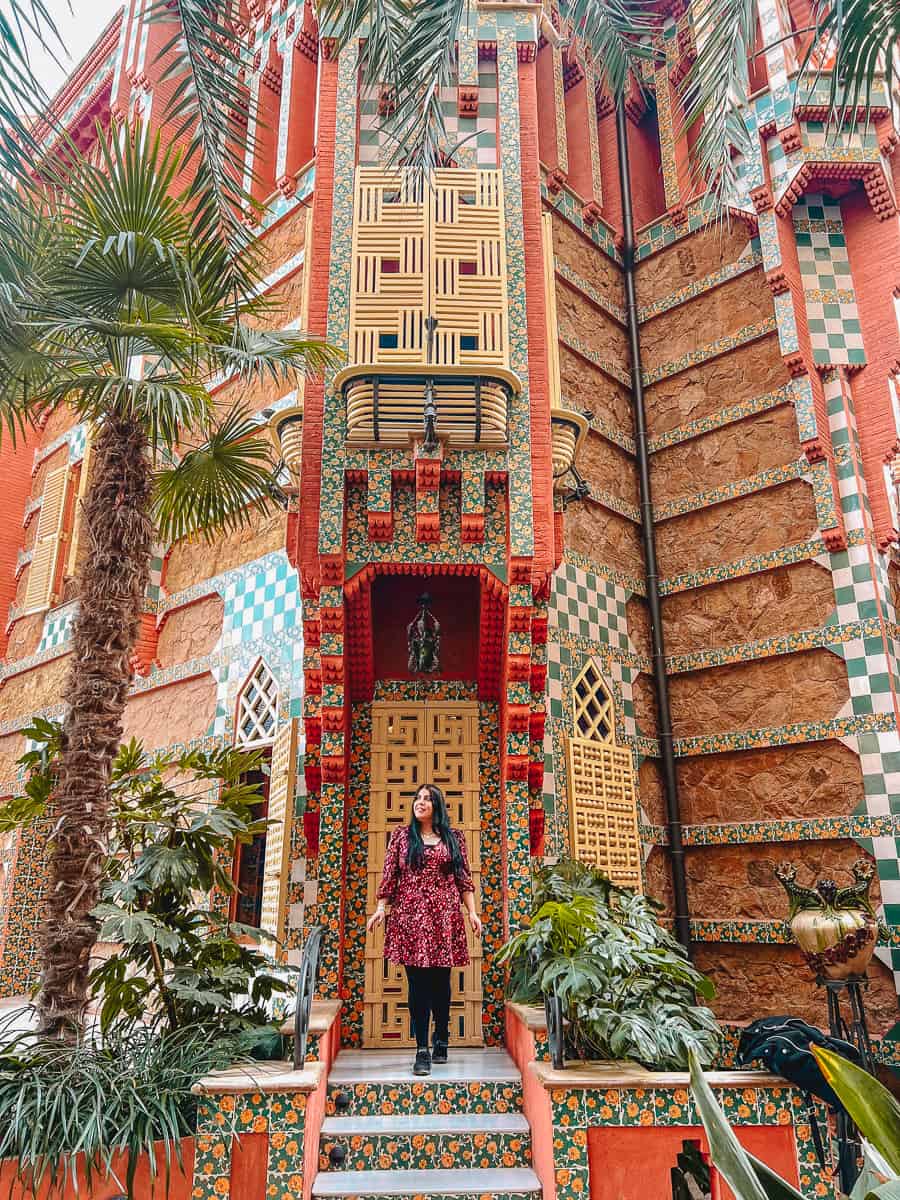 Where to stay in Barcelona
On my visit, I stayed in the magical Sercotel Rosellón which was located right beside the Sagrada Familia and had one of the best views of the city.
Not only do most of the rooms face the Sagrada but they have an incredible rooftop terrace where you can sip a drink and enjoy tapas with this breathtaking view as well.
The rooms were very clean and comfortable and it was close to most of the city centre attractions.
Also, the metro was just a minute's walk away which links you with the rest of Barcelona!
Click here to book your stay at Sercotel Rosellón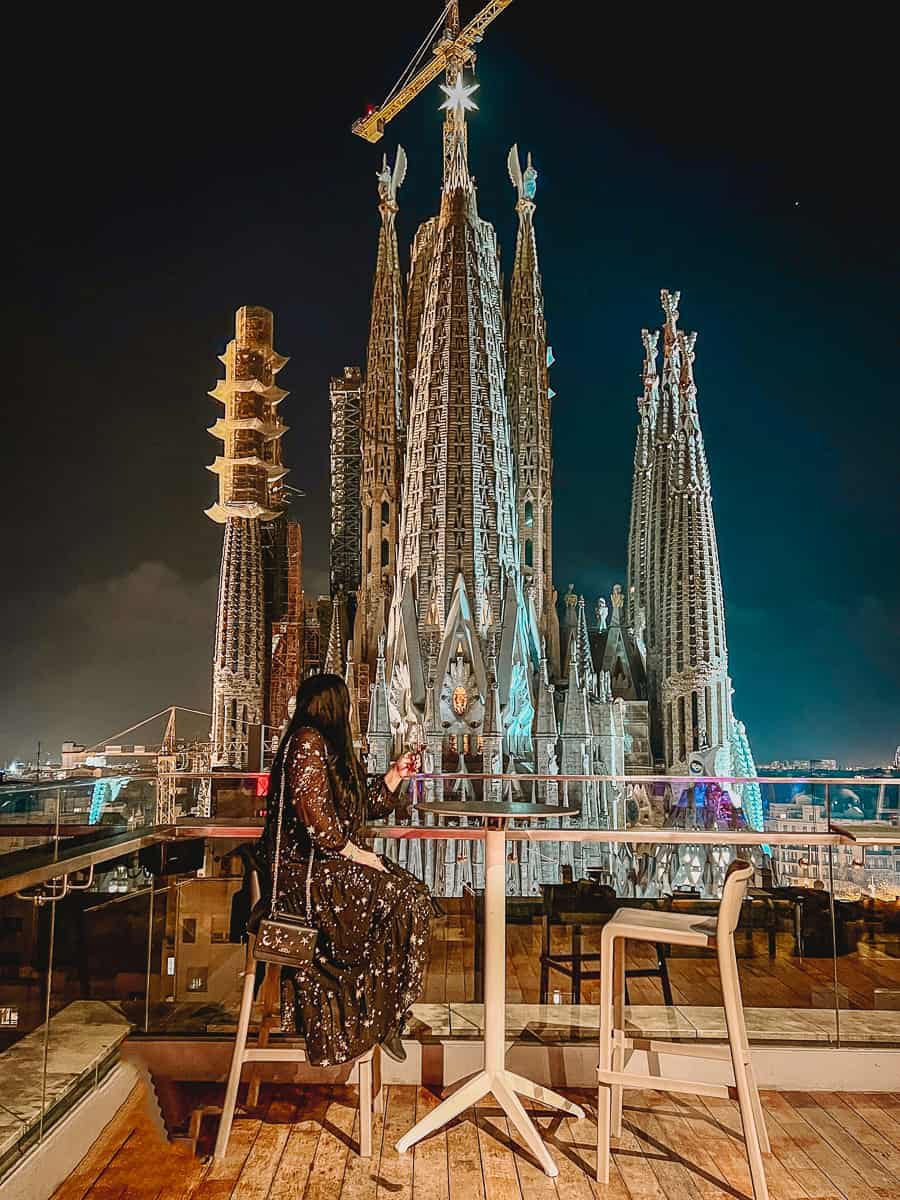 Save time and book a tour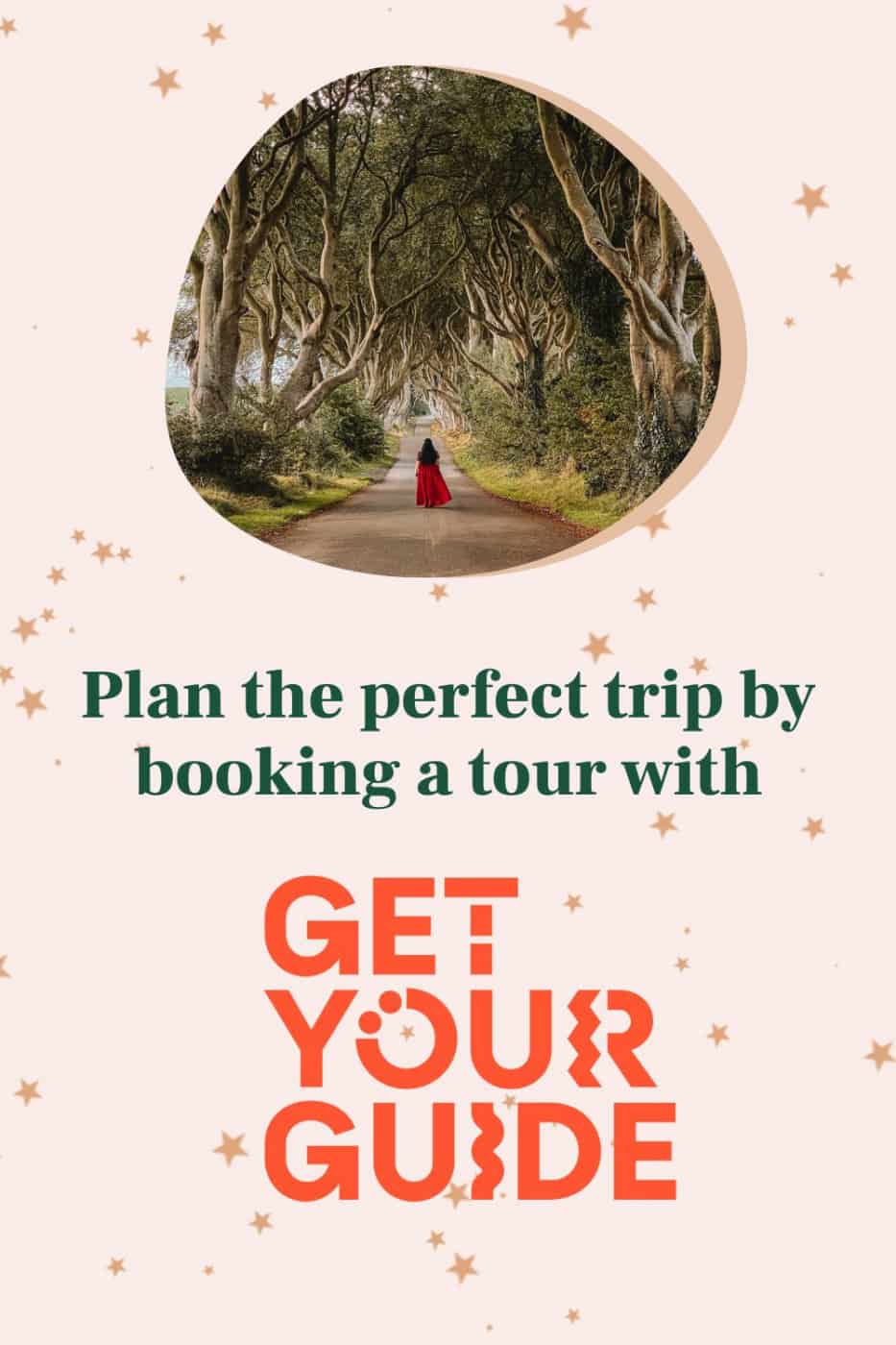 Book tours & tickets for Barcelona!
Read more of my Barcelona guides
30+ Instagrammable Places in Barcelona
How to visit the Fairy Bar in Barcelona
Cascada Monumental – discover Gaudi's fountain
How to find the Kiss of Freedom
Secrets of Pont el Bisbe bridge in the Gothic Quarter
How to visit the Barcelona Bunkers del Carmel
Save how to visit Sant Pau Recinte Modernista for later!