Did you know that there is a magical Barcelona Fairy Bar? It's a hidden gem called El Bosc De Les Fades and it's a must-visit!
You can escape from the crowded shopping street of La Rambla into an oasis where all manner of faeries and magical creatures live in the forest.
Whether you want to stop for a coffee, lunch, or some nighttime drinks this Fairy Forest is a welcome respite in the city.
I've been a lover of fantasy worlds, magic, and the fae since I was a kid. Now I'm older, I always have my head buried in a steamy fantasy romance novel. So, I just had to check this place out for myself.
Here is a complete guide to El Bosc De Les Fades and how to visit this magical Fairy Bar Barcelona!
What is El Bosc De Les Fades Barcelona?
El Bosc De Les Fades is a Fairy Bar that will make you feel like you've been transported to another world.
You'll escape modern life and be surrounded by a magical forest with secrets to uncover around every corner.
Beautiful music floats through the air and you'll find waterfalls, lanterns, springs, and faeries hidden in the trees.
It acts as a café throughout the day and a bar throughout the night. So, you can sip a coffee, treat yourself to a cake or sip sangria in this enchanted woodland.
It's such a unique bar in Barcelona and I don't think I've ever been anywhere like it on my worldly travels!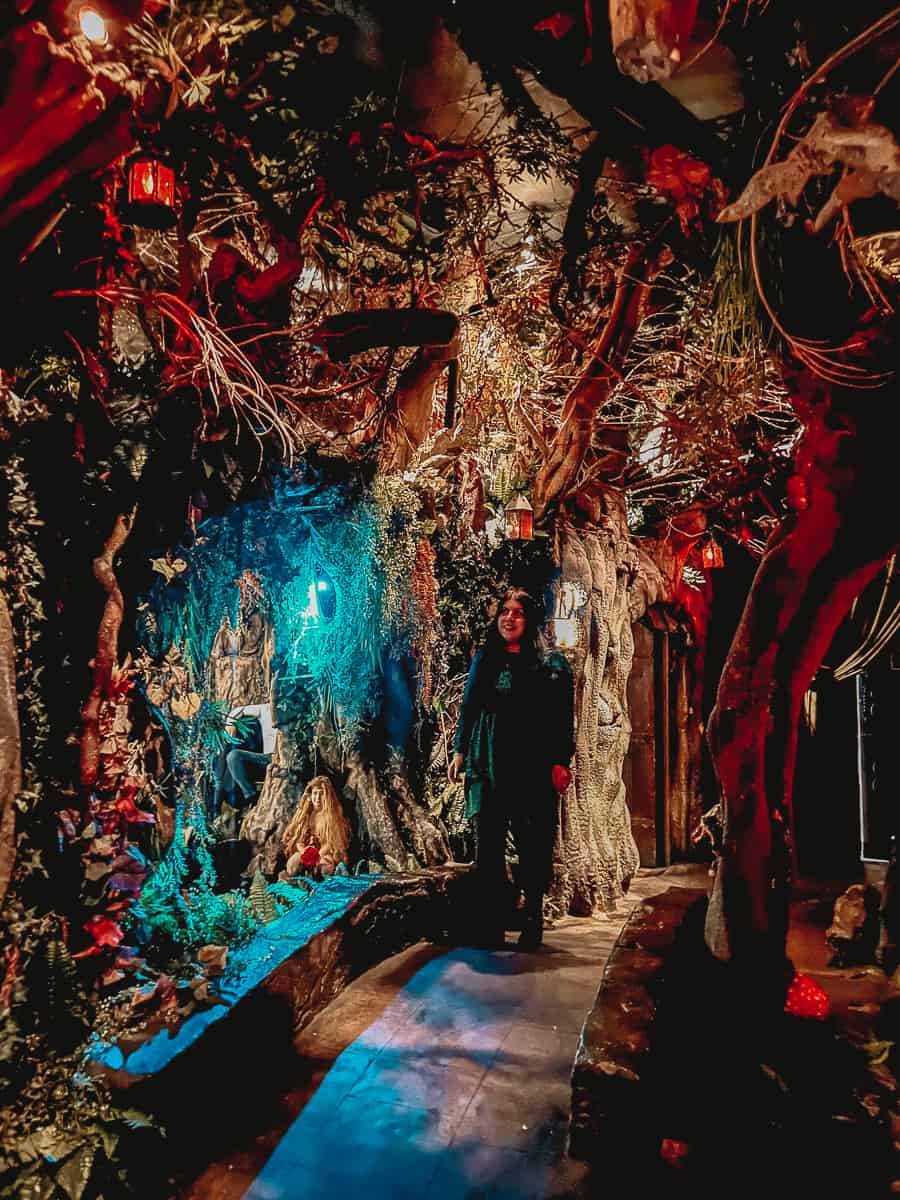 What's it like inside El Bosc De Les Fades?
The Fairy Bar in Barcelona is such a vibe. You'll escape the bright sunbathed streets into a mysterious dark forest lit by candles and lanterns with twinkling stars overhead.
If you have ever been in a Rainforest Café, imagine that but replace all the animals and jungle with faeries, waterfalls, and enchanted trees. That's the magic of El Bosc De Les Fades.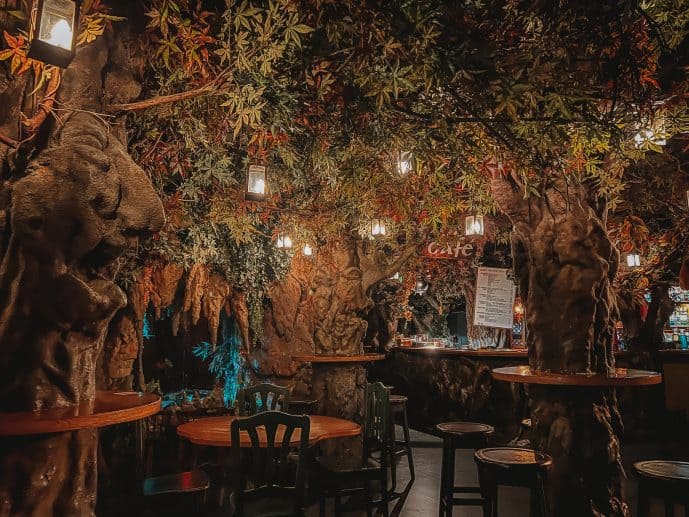 The whole bar has been decorated as a woodland with magical creatures. You'll even find a storybook castle bathed in moonlight.
Because it was so dimly lit, there was a surprise waiting around every corner! So, don't be shy and make sure to look around on your visit.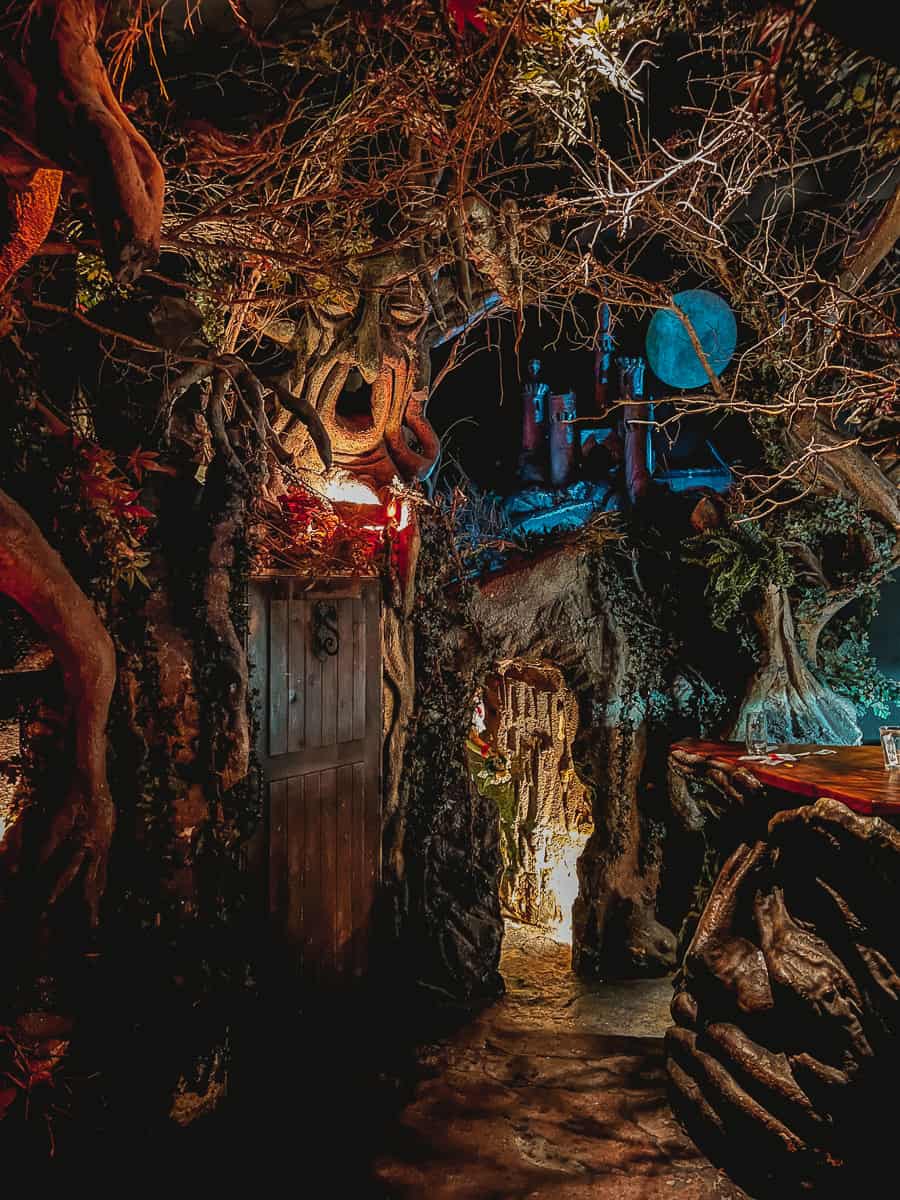 Explore the magical fairy forest!
There are many rooms that makeup El Bosc De Les Fades café and I would recommend snooping around all of them.
The first room you will enter is the fairy forest which has some log-shaped tables underneath lantern-lit trees. You'll find some waterfalls here and magical springs.
If you escape beside the bar, you'll see a hidden walkway! This is a very dark room where you can stroll by a magical spring and see faeries bathing here.
You'll spot enchanted trees, and people hiding inside the trunks as well as the full moon and the castle.
Towards the back of the café, you'll find a well-lit room if you would prefer to see your drinks and company.
Or, if you head around to the right from there you'll find some more rooms with faeries and lights on the ceiling!
All of the rooms in the Fairy Bar Barcelona are spectacular. So, it's your choice where you'd like to sit.
I always chose the main room in the Fairy Forest underneath the trees. Every 20 minutes or so, the bar goes completely dark and a 'thunderstorm' happens with the crash of thunder and flashes of lightning. It was so cool!
El Bosc De Les Fades menu
The Fairy Forest is open from around 10.30 in the morning until late into the night and so they have a menu that will suit any visit.
Personally, I visited mid-morning for a coffee and a cake stop. They didn't have any breakfast options but they did small pastries and muffins.
For lunch/dinner, they have a menu of snacks, hot tapas, sandwiches, burgers, fries etc.
In the evening, they have a great selection of beers, wines, cocktails, and sangria/vermouth for you to sip on in this fantasy setting!
Note: you cannot reserve tables at the Fairy Bar Barcelona. So, I would recommend visiting on a weekday to guarantee a table.
El Bosc De Les Fades experiences
If you wanted to enhance your experience at the Fairy Bar, you can always book one of the special packages that they have on offer.
They have a 'Regala Bosc' pack where you can have two gin and tonics with snacks. Or, soft drinks and sandwiches. These will come with a reserved table.
Or, if you wanted to take someone on a date here they do romantic packages where you will receive a bottle of cava and chocolate-covered strawberries.
The table will be specially decorated for the occasion and it sounds so dreamy for a date!
They even have proposal packages where you can get down on one knee and ask your one true love to marry you here in the fairy forest. And they lived Happily Ever After…!
Click here to have a look at all their experiences on offer!
How to visit the Fairy Bar in Barcelona
This magical fairy forest café can be found on one of the busiest streets in the city, La Rambla. But, luckily, it's tucked away making it a bit of a hidden gem!
It's near the famous Columbus Monument and you'll find it in the courtyard of the Wax Museum on Passatge de la Banca.
When you see the sign on La Rambla, head under the arch towards the Wax Museum and then turn right until you see the entrance. There's a cute sign with a lantern above the doorway.
It's best to use a mixture of walking and the metro to explore Barcelona. The nearest metro stop to the Columbus Monument is Drassanes (L3).
Alternatively, you can take a local bus here (N9) and alight at the 'Colom – La Rambla' stop. You can buy a Hola Barcelona travel card to help you get around.
El Bosc De Les Fades address is Passatge de la Banca 7, La Rambla. Click here for a Google Pin!
El Bosc De Les Fades opening times
El Bosc De Les Fades is open every day of the week and opens its doors around 10.30 am.
Personally, I would recommend visiting earlier in the morning on a weekday to ensure a more peaceful visit.
That way, you can explore the Fairy Bar and see all the magical areas without having to lean over people sitting on tables.
I visited on a Saturday afternoon and it was packed – I had to wait at least 30-45 minutes to find a table!
The second time I visited, it was around 11 am on a weekday and it was so much nicer as there were only a few patrons.
I went for a coffee and a cake stop and there were lots of tables free. The apple muffins were divine by the way!
You could hear the music and take lots of nice photos and just imagine you were in a different world.
The Fairy Bar Barcelona is a day-to-night café and so you can visit later in the evening for alcoholic drinks too!
They are usually open until 1 am / 1.30 am so there's lots of time to visit El Bosc De Les Fades Barcelona on your visit.
The Fairy Bar in Barcelona is also completely FREE to visit, there is no cover charge to go inside.
El Bosc De Les Fades photography
The good news is you're allowed to take as many photos and videos as you like inside the Fairy Forest Barcelona. You'll definitely want to as this place is so magical.
In fact, they encourage you to do so and you definitely need to tag @elboscdelesfades if you're posting it on social media!
The bad news is that this café is super dark and it can be a challenge to take photos with a DSLR.
Luckily, the iPhone has amazing low-light settings and I would recommend using this for your photos and videos. Flash was a little too harsh in my opinion.
Selfie sticks and tripods are not allowed to stop blocking traffic. So, make sure to have a buddy to take photos for you.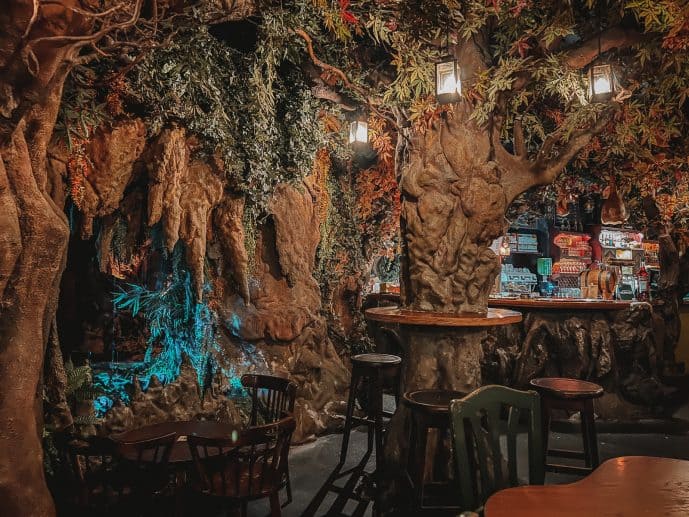 My top tips for visiting the Fairy Bar in Barcelona
You can't reserve a table – You cannot reserve a table at El Bosc De Les Fades. It's a case of showing up and hoping one is free.
There are toilets – but you need a code, ask a staff member!
Visit earlier for a quieter visit – Despite being hidden away on La Rambla, the Fairy Forest can get very busy, especially on weekends. You may struggle to find a table and there could even be a queue outside. Visit in the morning on a weekday for a quieter visit.
It's very dark inside – The Fairy Bar is super dark and it's a magical vibe but it's not for everyone! They have one room at the back that's a bit lighter if you'd prefer to sit there instead.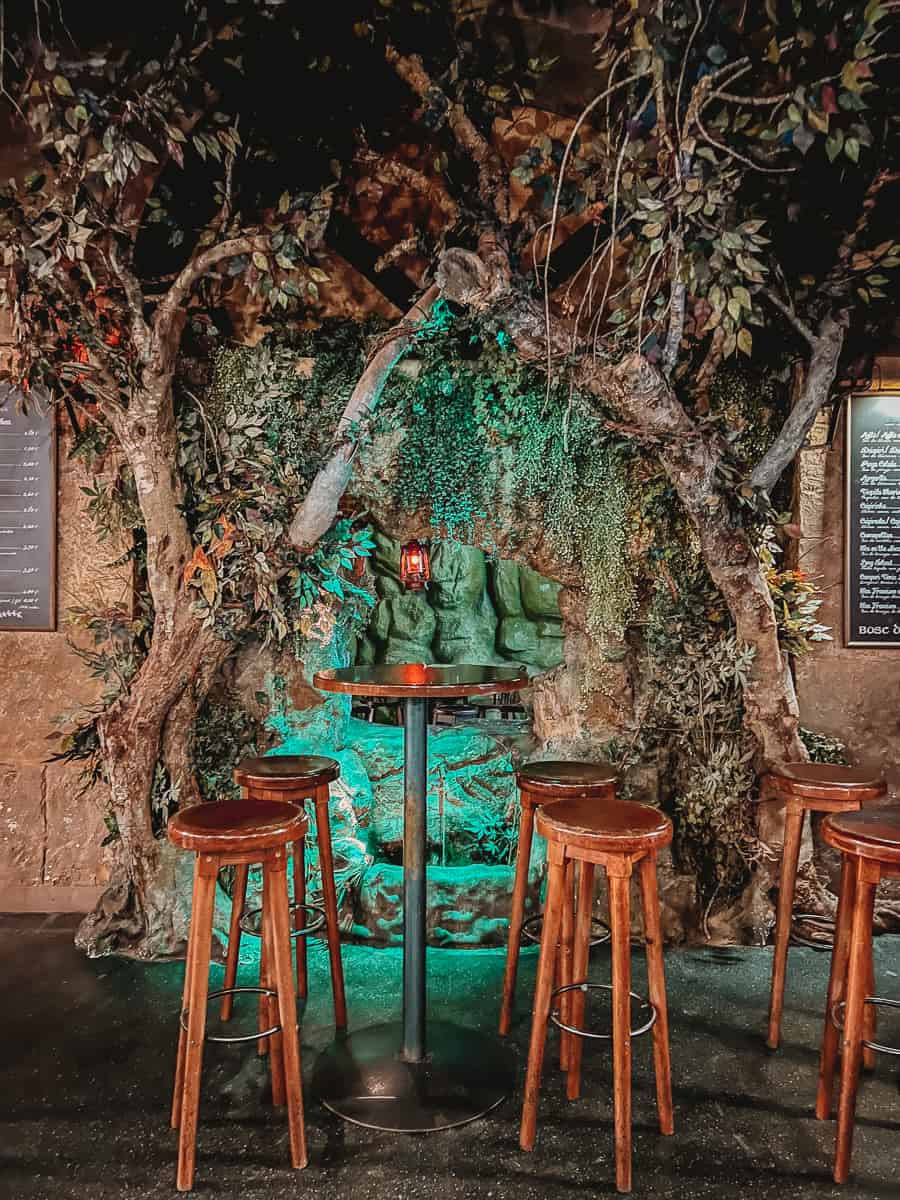 Remember to look around – This forest bar is stunning and there's so much magic to see. The little details are spectacular. Remember to head around to the back area of their faerie walkway lit by lanterns. You'll see fountains, a waterfall, faeries, tree folk, and a storybook castle bathed in the moonlight!
Limited phone signal – They were meant to have an online ordering system where you can access the menu by QR code but no signal meant this didn't work. There is WiFi but this didn't work either. It's not a huge issue as the staff service was great, but you may have to wait a while to order in person.
Things to do near the Fairy Bar Barcelona
So, once you're ready to teleport back into the real world, there are many things to do near the Fairy Bar Barcelona after your visit.
Here are all the attractions near El Bosc De Les Fades;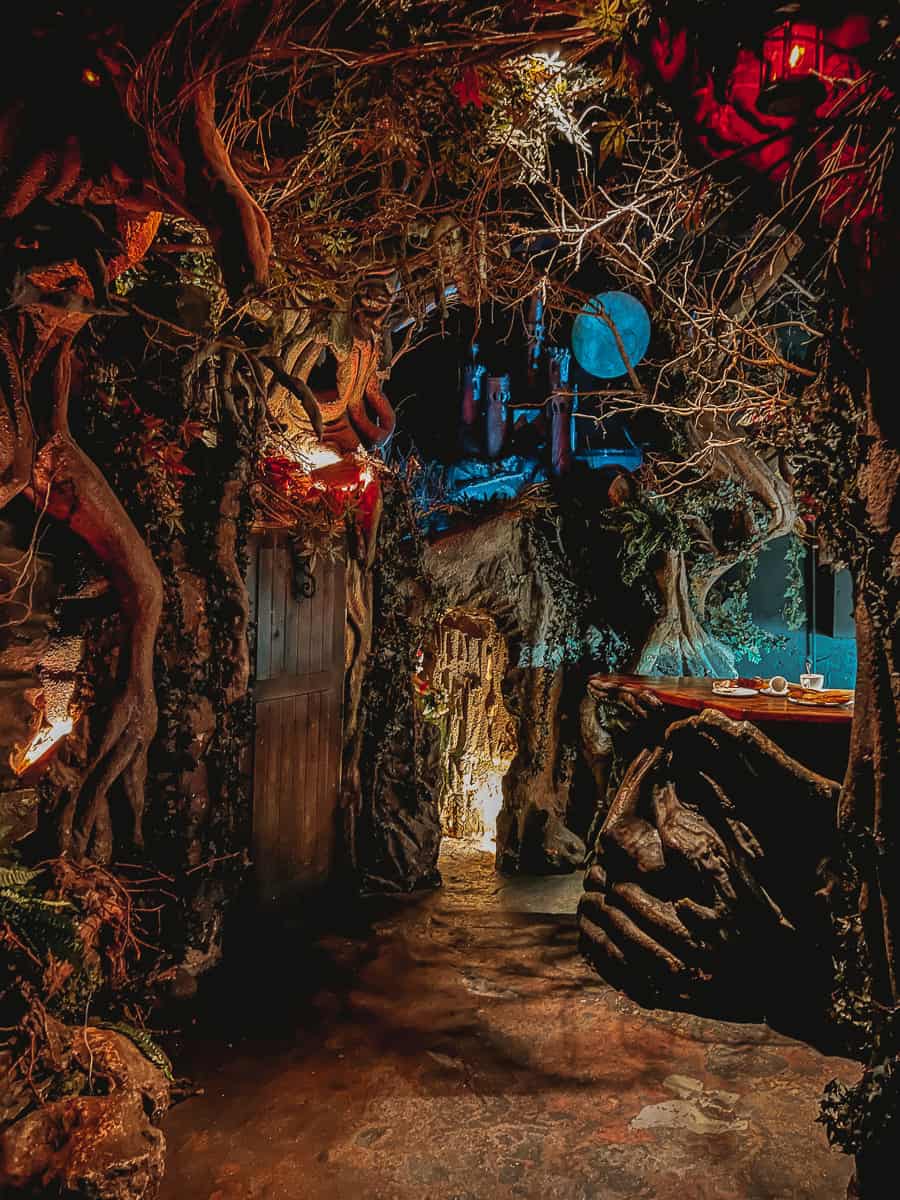 Museu De Cera – Barcelona Wax Museum
The Fairy Bar is actually part of the Barcelona Wax Museum and is something you'll pass by to visit the café.
Similar to Madame Tussaud's, you'll find more than 150 models in over 28 scenarios. There are famous figures from the past to the present.
There are all sorts of rooms from Catalan culture, the jungle, pirates, space, and magical worlds to uncover inside!
Tickets are 21 Euros each and they also sell combo tickets which get you access to climb the Columbus Monument tower too.
Even if you don't go inside the wax museum, you can check out their cute gift shop in the museum courtyard.
Columbus Monument / Barcelona Port
Right next to El Bosc De Les Fades, you'll find the huge Columbus Monument overlooking Barcelona Port.
It's a 60-metre tall tower (197 feet) dedicated to the famous Italian explorer Christopher Columbus in memory of his first voyage to the Americas.
It was built for the Exposición Universal de Barcelona in 1888 and you'll see a large statue of him pointing over the horizon. You can even climb up the tower to get a unique view of the city!
The Barcelona Port is a stunning place to visit, especially in the sunshine. You can see all sorts of tall ships and yachts in the harbour or cross the bridge over to the modern shopping malls.
La Rambla / Boqueria Market
The most famous street in Barcelona is La Rambla which is filled with shops, restaurants, entertainment, and moving statues!
This is the most crowded street in the city and you will either love it or you will hate it. Personally, I think walking down once is enough as it can be sensory overload.
Make sure to keep hold of your belongings, (try to) avoid scams and don't eat anywhere along here as it will be a rip-off!
If you're looking for food, I would head to Mercado de La Boqueria (Boqueria Food Market) as they serve fresh fish, olives, tornados/twisted potato chips, and paella at lunchtime all at a cheap price.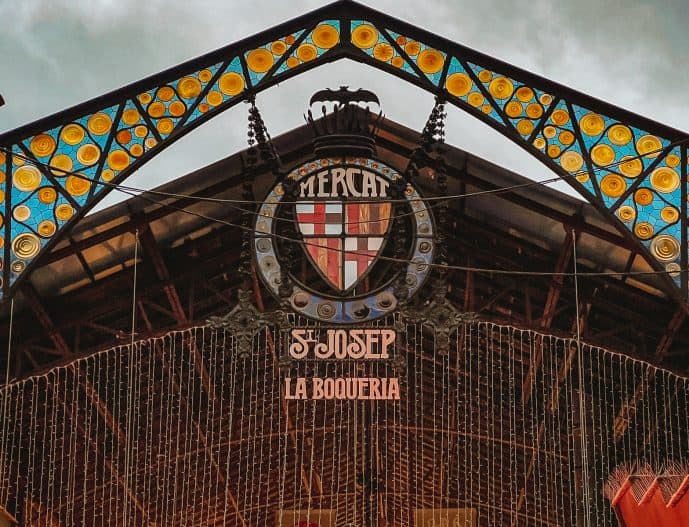 Barri Gòtic – Barcelona Gothic Quarter
The Gothic Quarter in Barcelona was my favourite part of the city. You'll find ancient buildings, cathedrals, and artwork and you can follow in the footsteps of Pablo Picasso around El Born!
One of the best places to visit would be Barcelona Cathedral which is the seat of the Archbishop of Barcelona. It has a history since the 5th century!
I would recommend buying a cathedral and museum ticket that gets you access to the rooftop! You can see the entire city skyline from there.
Other highlights of the Gothic Quarter are Pont del Bisbe Bridge, Plaça Reial, Basílica de Santa Maria del Pi, Picasso Museum and The World Begins With Every Kiss mural.
Palau Güell
Palau Güell was Gaudí's first true commission and he designed this mansion for the industrial tycoon Eusebi Güell.
It was built between 1886 and 1888 and is situated right beside La Rambla in the heart of the city.
It's not as well known as Park Güell, Casa Batlló, or Casa Mila but it forms part of the UNESCO World Heritage site of the works of Antoni Gaudí.
At the time, the Raval District was quite run down. So, this luxurious residence was quite a surprise. Inside, you'll find a fine example of how the Catalan bourgeoisie used to live!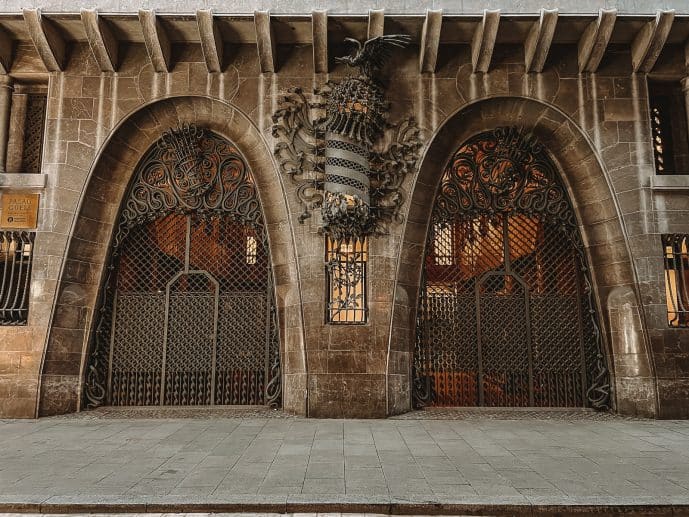 Where to stay in Barcelona
On my visit, I stayed in the magical Sercotel Rosellón which was located right beside the Sagrada Familia and had one of the best views of the city.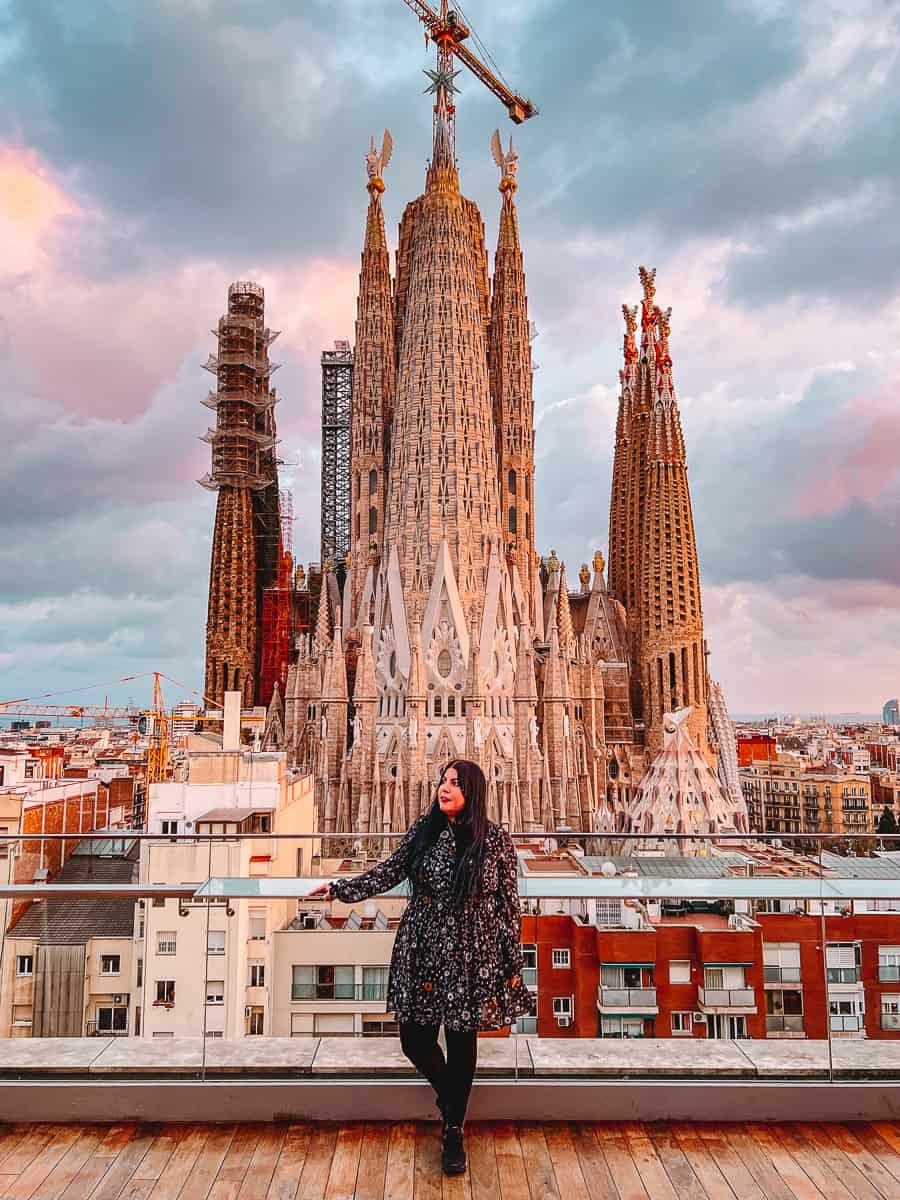 Not only do most of the rooms face the Sagrada but they have an incredible rooftop terrace where you can sip a drink and enjoy tapas with this breathtaking view as well.
The rooms were very clean and comfortable and it was close to most of the city centre attractions.
Also, the metro was just a minute's walk away which links you with the rest of Barcelona!
Click here to book your stay at Sercotel Rosellón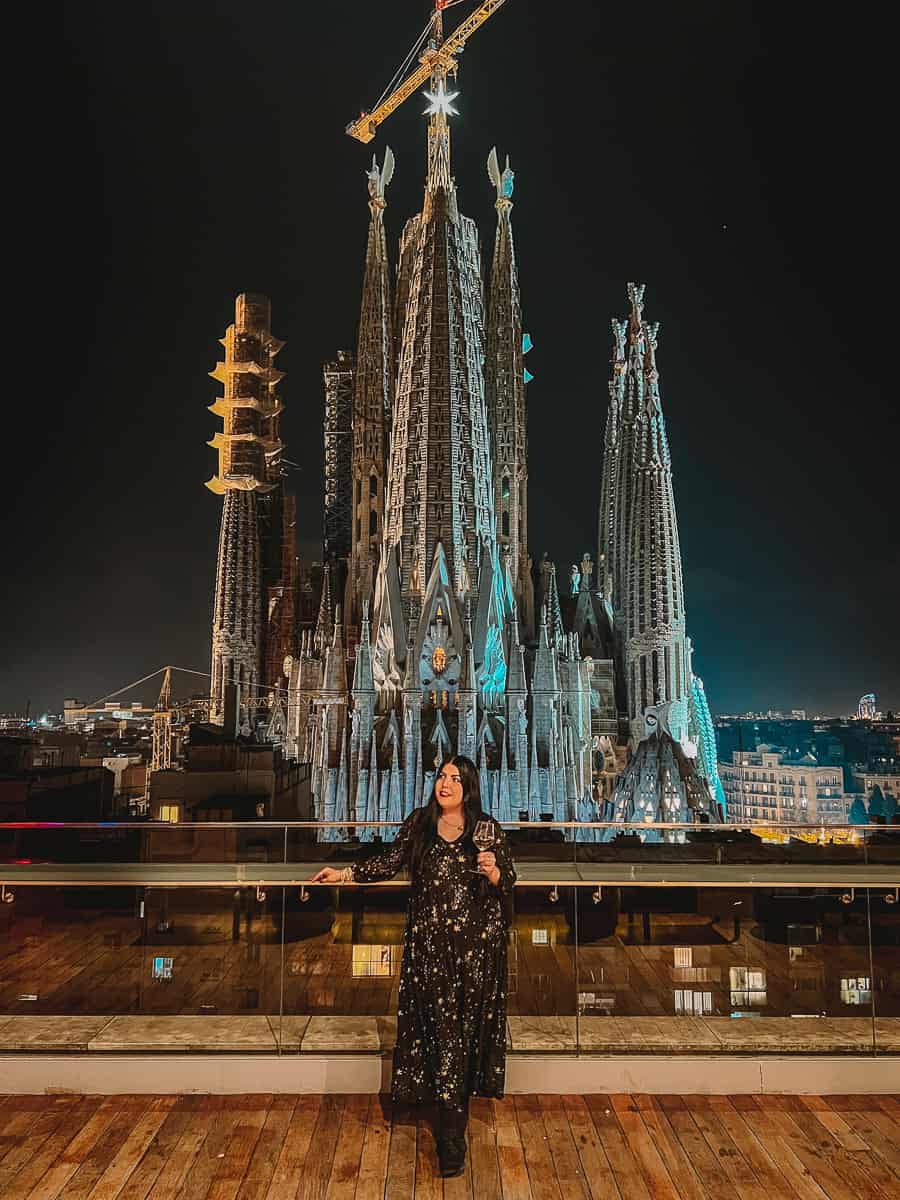 Save time and book a tour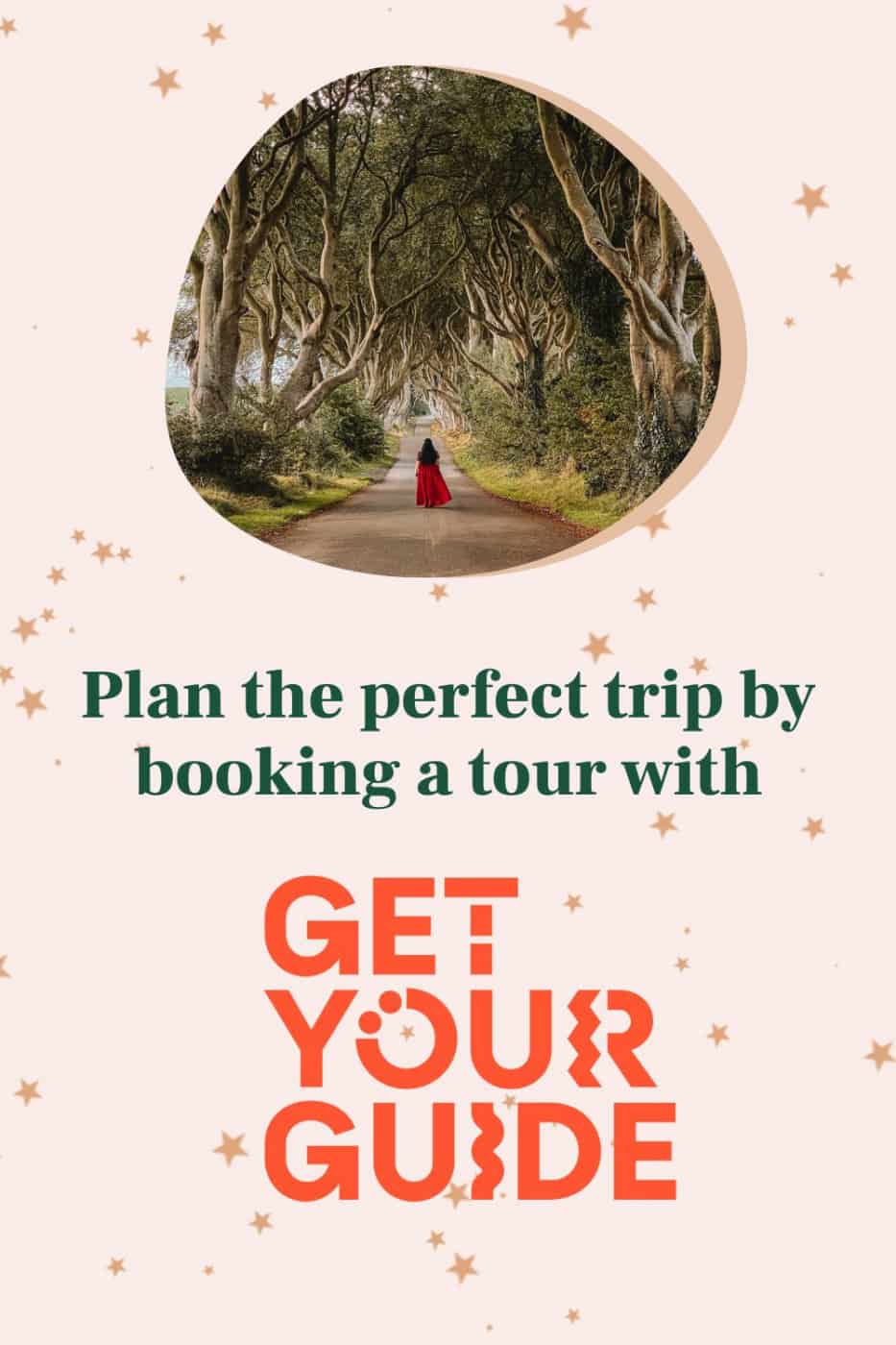 Book tours & tickets for Barcelona!
Read more of my Barcelona guides
30+ Instagrammable Places in Barcelona
Magical Sant Pau Recinte Modernista guide
Secrets of Pont Del Bisbe Bridge
How to visit the Kiss Wall in Barcelona
Visit Gaudi's Fountain or Cascada Monumental
Palau de la Musica Catalana guide
How to visit the Barcelona Bunkers del Carmel
Save the magical El Bosc De Les Fades for later!