Although many visitors to County Durham make a beeline to High Force, I wouldn't leave the North Pennines AONB without stopping at Low Force waterfall too.
It is not as dramatic but the scenic cascades over the Whin Sill of the River Tees are just as breathtaking to behold.
What's even better is that this waterfall is completely free to visit and makes a fabulous pitstop on a road trip.
Fans of Netflix's The Witcher may also recognise this waterfall as a filming location in series 2 featuring Yennefer and Ciri!
Here is a complete guide on how to visit the magical Low Force Witcher filming location on the River Tees, Durham.
What is Low Force waterfall?
Low Force is a series of cascades that fall in the River Tees in Upper Teesdale, County Durham. The water is forced through a gorge in layers of hard dolerite rock called Whin Sill or whinstone.
The Whin Sill formed nearly 300 million years ago from molten rock and was cooled underground! Over the centuries, water erosion from the river has carved it into a series of levels and caused the waterfall to form!
It's a popular tourist attraction in the North Pennine AONB and also has recently been featured on Netflix's The Witcher season 2!
Low Force waterfall Witcher series 2 filming location!
Of course, another reason why you should visit Low Force waterfall is the fact that is a Netflix's The Witcher series 2 filming location!
As I am obsessed with the show, I had been following the filming updates so I knew that they had chosen this waterfall for the series. But, I wasn't quite sure where it would be featured.
Well, The Witcher series 2 has finally been released and Low Force is featured in series 2, episode 7 'Voleth Meir'.
This is when Ciri and Yen have fled the Temple of Melitele without Geralt and are on the run from 'Fire F****r'.
They are on horseback and they reach a river that they cannot cross as the footbridge is broken. That is Low Force waterfall!
As Yen still doesn't have her magic, she's trying to teach Ciri how to control her chaos so they can cross. She tells Ciri to try and fix the bridge but it doesn't work.
Ciri gets frustrated, panics, and then ends up screaming and teleporting them across the river instead.
These scenes all happen here on both sides of the River Tees at Low Force along the Whin Sill. So, you can visit both of these Low Force Witcher series 2 filming locations for yourself while you're here.
As well as this location, you can find many Witcher filming locations across the country like Gordale Scar and Plumpton Rocks in Yorkshire.
Also, Fountains Abbey was featured in the show when Yennefir saves Cahir.
In the Lake District, you can visit some spectacular locations like Blea Tarn, Rydal Cave, and Hodge Close Quarry!
Click here to watch the Witcher series 2 Low Force Waterfall scene with Yennefer and Ciri!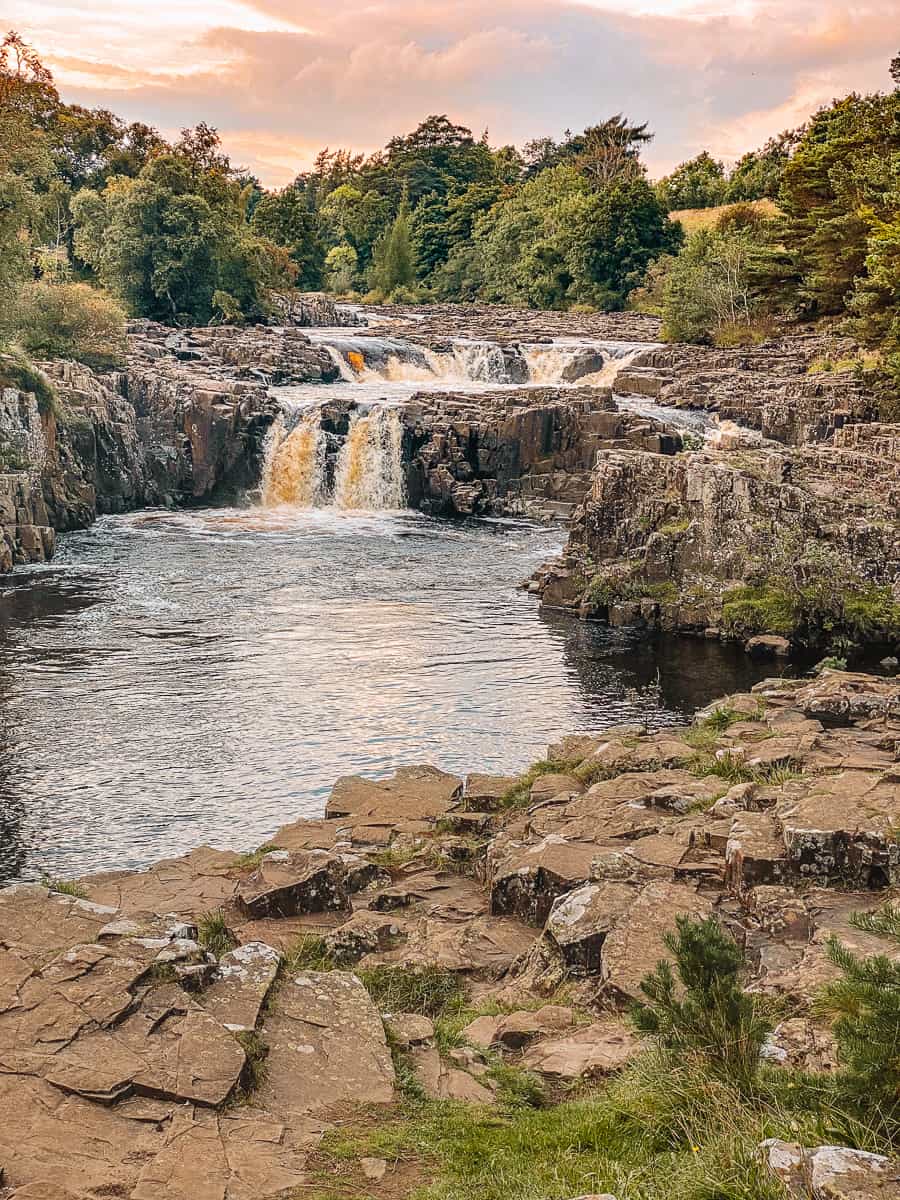 How to visit Low Force waterfall
Low Force lies on the River Tees in amongst the North Pennines AONB in County Durham. It lies on the wider Raby Estate.
The easiest way to access Low Force is by driving there as it is quite a remote area. You'll find it near Middleton-in-Teesdale.
It's a 20-minute drive from Barnard Castle, a 30-minute drive from Raby Castle, and a 1-hour drive from the city of Durham.
Low Falls postcode is Barnard Castle, DL12 0XF. Click here for a Google Pin!
Once you reach the parking area, the walk down to the waterfall is around 5-10 minutes.
Low Force Waterfall bus – if you're not driving in the North Pennines, there is a bus stop right by the access gate to the waterfall. There is a bus service from Middleton-in-Teesdale.
Low Force parking
There is some free parking available nearby Low Force as you drive down the B6277. This is near the turning for Bowlees Visitor Centre.
This lay-by can take a few cars but it does tend to fill up fast, especially in the summer and on weekends. Alternatively, there is a free lay-by around the corner further up the road.
If all these lay-by spaces are full, there is a Bowlees Visitor Centre Car Park just opposite where you can park up and walk over to Low Force from there. This is also free parking but paid by donation.
I visited around 6 pm on a late summer evening and by this time there was no one around at all! So, I had the waterfall pretty much to myself.
You will have to cross or walk along the main road in order to access the visitor gate to the waterfall.
Low Force waterfall walk
It's fairly easy to find Low Force waterfall once you've parked up here. It only takes you around 5 minutes to get there from the parking areas. But, I'll give you some easy directions and let you know what to expect on your visit.
Once you've parked up in either lay-by or the Bowlees Visitor Centre, you'll need to make your way over to the main gate to access the pathway to Low Force waterfall. This is on the B6277 road.
Head through the gate and follow the pathway down towards another gate. Then, in the distance you'll see a stone stile. This is pretty slim so you'll need to turn sideways in order to head through it!
Watch out for the sheep grazing in this area. If you have a dog, make sure to keep them on a lead.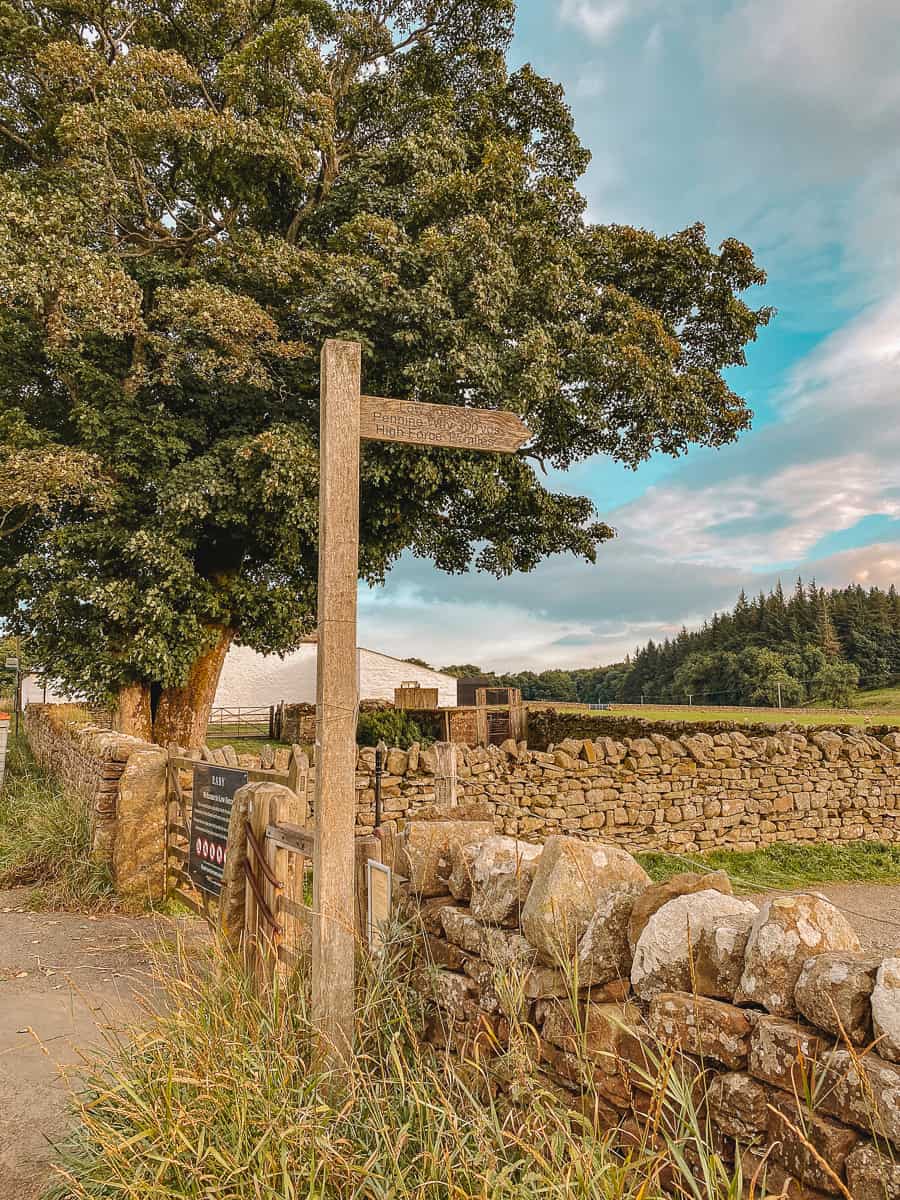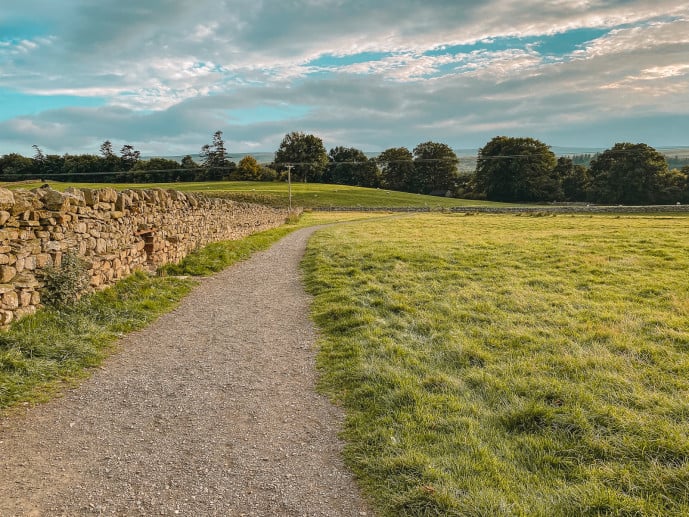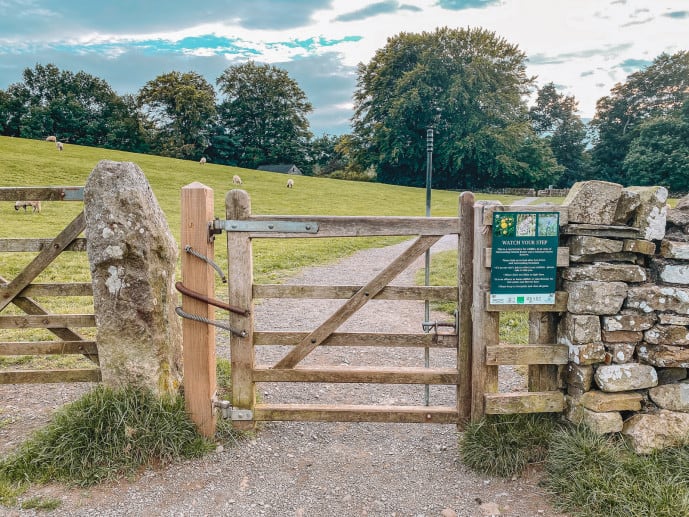 Walk down to the falls
Once you're through the stile, you'll see a path leading downwards into the woodland beyond.
There are some steps that gradually lead you downwards towards the River Tees.
You'll see a footbridge directly ahead of you. At this point, make a right and then you'll arrive at the viewing platform for Low Force waterfall.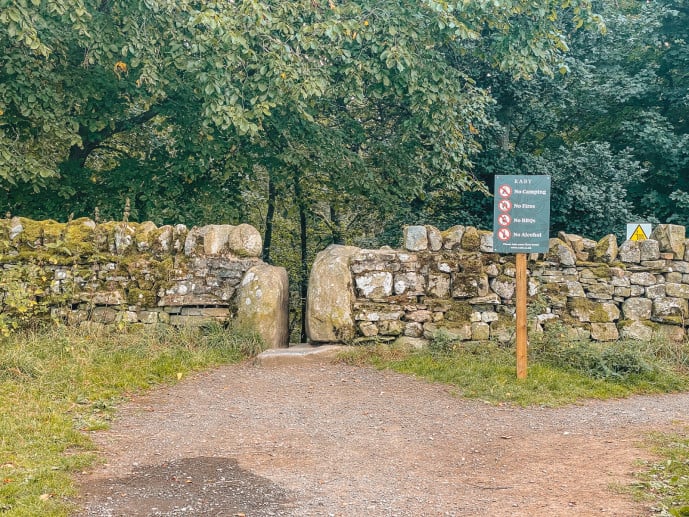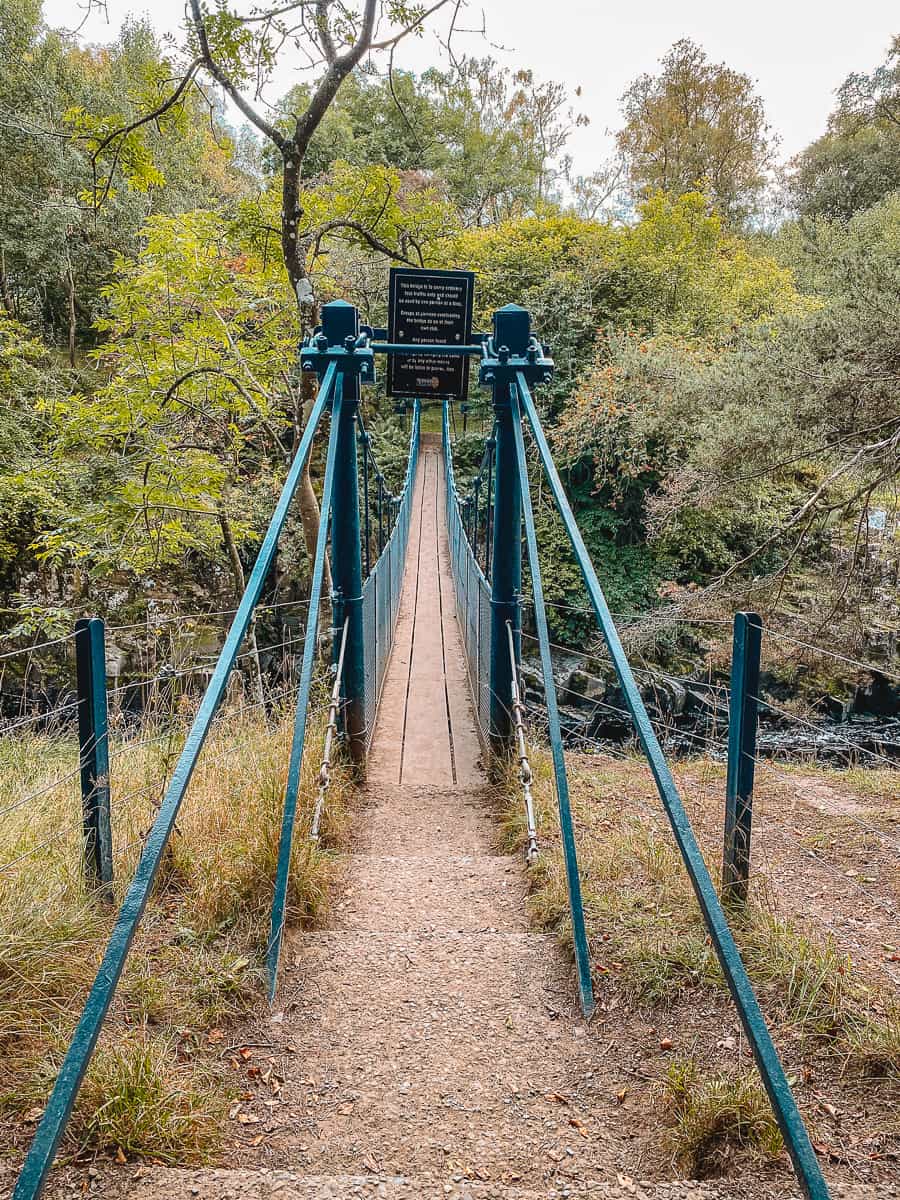 Visit Low Force falls
Once you arrive at the viewing platform, you can get amazing views of Low Force Waterfall.
You'll see the water crashing over the Whin Sill and it really makes a roar as it falls into the river below. Although not as tall as High Force waterfall, the series of cascades are breathtaking to watch.
The area to the right is where Yennefer and Ciri are standing as they are trying to outrun the 'Fire F****r'.
This is where Ciri attempts to summon the wooden bridge with her chaos. It fails and she screams so they end up teleporting across instead to the left-hand side.
Ciri is bleeding out of her nose and eyes and apologises but Yen replies "When you have power like this, never apologise"!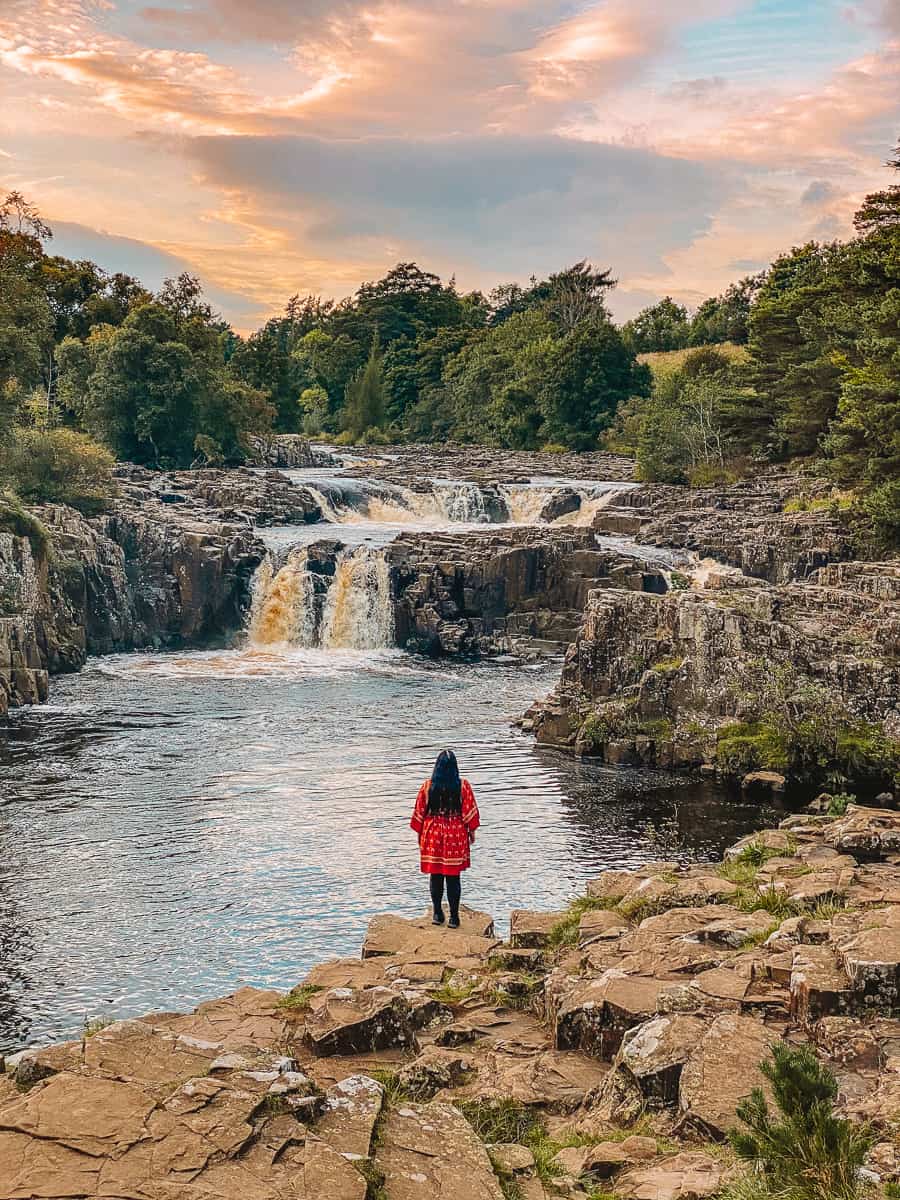 Crossing the Low Force suspension bridge or Wynch Bridge
Luckily for us mortals, we don't need magic in order to cross the River Tees to the other side! There is a small suspension bridge that has been built to allow you to do it.
After you've visited the viewing platform, you can turn around and make your way back to the suspension bridge in order to cross the River Tees.
This is called the Wynch Bridge and it was built in 1741. It is believed to be the first chained suspension bridge created in England.
It was built by public subscription so that miners could walk from Holwick to the Middleton mines.
Although it is relatively safe to cross as it's been strengthened over the years, the sign does warn that no more than two people should be on this bridge at any one time as it is quite wobbly! So, take care as you go!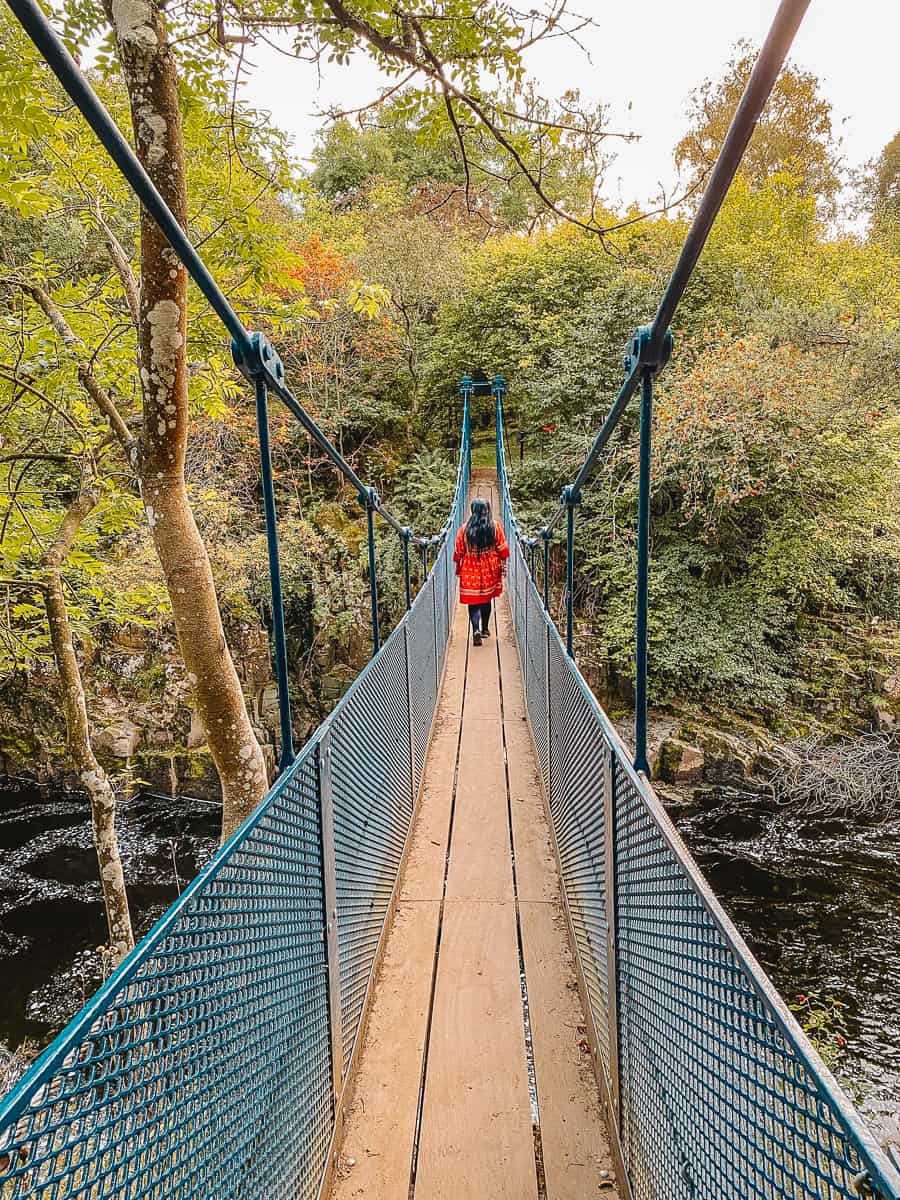 Low Force opening times and ticket prices
The great thing about visiting Low Force waterfall is that it is completely FREE to visit. There's even free parking nearby, so it's a great budget activity in the North Pennines AONB.
Also, Low Force Waterfall is not a gated attraction, so you can visit 24 hours a day, 7 days a week.
I would say that you should visit with a reasonable amount of daylight left though – you won't see much otherwise!
Low Force waterfalls FAQs
How tall is Low Force waterfall? Low Force waterfall is 18 feet tall or 5.5 metres high. But, it's the series of cascades that make this waterfall dramatic and beautiful.
Can you kayak on Low Force? Yep, many people opt to kayak on the River Tees and traverse from High Force to Low Force. It doesn't look like it's for the faint hearted though!
Can you swim in low force waterfall? No, it is not encouraged to swim in Low Force waterfall due to the heavy current. It can be dangerous.
Is Lower Force waterfall dog friendly? YES! I saw many walkers here taking their dogs out for a walk. You just need to keep them on a lead at all times due to the wildlife and steep drops.
Why not visit the High Force waterfall next? Another Witcher filming location!
After your visit to Low Force, why not head over to High Force Waterfall a little further up the River Tees?
High Force is far more dramatic and you'll see the water crashing down through an ancient gorge from heights of 21 metres into a plunge pool below.
It's a breathtaking sight and regarded as one of the most spectacular waterfalls in England. For Witcher fans, you'll also love the fact that this waterfall is another Witcher filming location!
There are two ways that you can visit High Force after your visit to Low Force;
Drive up to High Falls Car Park – You can drive up the hill to the High Force car park to see the waterfall. The High Force hotel car park does come with a charge of £3 for parking and £2 per adult for entry to the falls. Children's tickets are £1. It's then a short scenic walk through the woodlands to the waterfall.
Low and High Falls waterfall walk – If you wanted to, you could trek from Low Force waterfall to High Force. This is a 5-mile circular on the The Pennine Way footpath route from Bowlees visitor centre. You won't get 'official' entrance to the falls this way but you will still be able to see High Force from above the clifftop and it's free!
Click here to read my complete guide for visiting High Force Waterfall!
Looking for more places to visit in the North Pennines & County Durham?
After your visit to Low Force and High Forces waterfall. What now? Well, luckily there are plenty more things to do in this area of the North Pennines AONB.
You can head to the Bowlees Visitor Centre and find more trails to explore the Pennine Way. Or, you can head over to Summerhill Force and Gibson's Cave.
A little further along the way, you could visit Cow Green Reservoir with Cauldron Snout waterfall.
There are plenty of castles to visit including Barnard Castle and Raby Castle if you fancy stepping back in time.
You could head to the Durham Heritage Coast to the likes of Seaham and Blast Beach, the notorious 'Alien Beach' and a Last Kingdom filming location.
Or, why not head to the city of Durham to visit their fabulous Durham Cathedral? This has over 1000 years of history and was a Harry Potter filming location!
Click here to read my complete Harry Potter guide for Durham Cathedral!
Save this Lower Force waterfall Witcher filming location for later!