As the largest castle in Wales and the second largest castle in all of Britain, there are plenty of things to do in Caerphilly Castle on your visit.
It has a history of over 700 years and so has seen many owners, sieges, and battles in its time. It's now famous for its toppling tower or the 'Welsh Tower of Pisa'!
Fans of BBC's Merlin will love visiting Caerphilly Castle as it appeared in three seasons of the show.
It makes the perfect day trip from Cardiff as there are plenty of other amazing things to do in this area of South Wales too.
Here are all the magical things to do in Caerphilly Castle Wales on your visit!
Caerphilly Castle history
Caerphilly Castle has a huge history that started over 700 years ago with an English nobleman called Gilbert de Clare.
He decided to build this castle, along with the nearby Castell Coch, the defend the English territories from the Welsh Prince Llywelyn ap Gruffudd.
It was a large fortress that withheld a siege but eventually was destroyed by the prince. It was then rebuilt and became Wales's largest castle!
By the 14th-century, it remained the property of the English crown and inspired Edward I's iron ring castles that he built.
It eventually was gifted to the Earls of Warwick but when Henry VII took the throne he gifted the lands to Jasper Tudor. Eventually, it fell into ruin.
During the English Civil War, the castle became caught in an attack between the Royalists and the Parliamentarians, and one of the towers was caught by cannon fire that started the famous 'Caerphilly Castle Leaning Tower'.
Eventually, the Marquesses of Bute owned the land and ruins of Caerphilly Castle. John Crichton-Stuart, the 3rd Marquess of Bute, inherited the ruins and decided to restore the castle with his enormous wealth.
In 1947 his grandson sold off the family's estates and donated Caerphilly to Wales. It's now owned and protected by Cadw as a tourist attraction!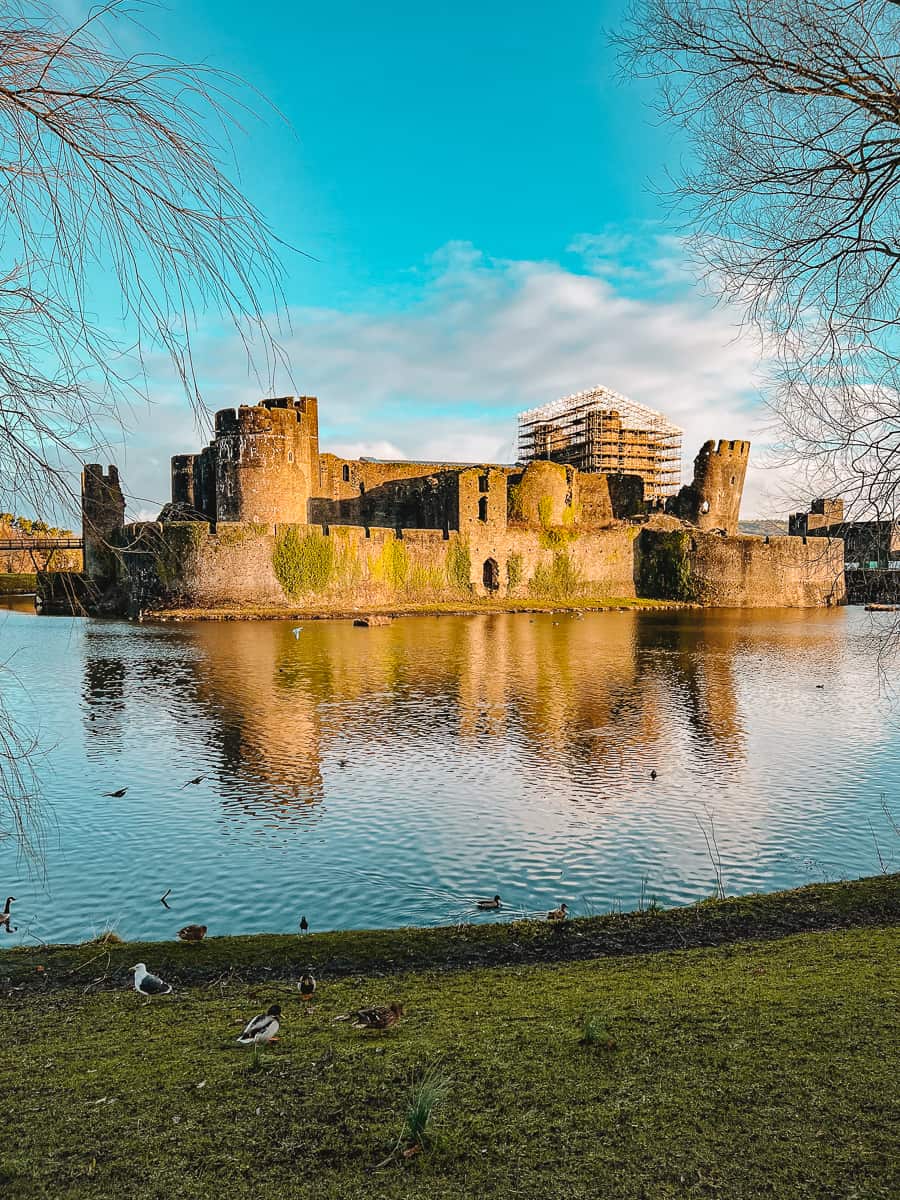 Is Caerphilly Castle haunted?
YES! Caerphilly Castle is supposedly haunted by a 'Green Lady' who appears in the castle towers at night.
So say, Gilbert de Clare was married to Princess Alice de la Marche of France and it was well known that she hated her husband.
One day, a handsome Welsh Prince came to visit the castle called Gruffudd the Fair, or Prince of Brithdir and he was instantly attracted to her.
They got talking and eventually, the pair fell in love and started an affair. But, the Welsh Prince Gruffudd felt guilty about the sins he had committed.
Gruffudd decided to admit his sins to a priest out of guilt but the priest unbeknownst to him was loyal to de Clare and betrayed him.
When Gilbert learned of the affair he sent Alice back to France and decided to go after her lover Gruffudd with his men. After he won the fight, Gilbert executed him.
When Alice later heard of this news in France, she instantly dropped dead of a broken heart and her ghost haunts the castle to this very day!
Caerphilly Castle facts
Caerphilly Castle is the largest castle in Wales and the second largest in Britain at 30 acres in size. It is second to Windsor Castle that is the largest.
It was built in just three years from 1268 – 1271 by an English nobleman called Gilbert de Clare as a defence against the last Welsh prince Llywelyn ap Gruffudd.
This castle is meant to be the inspiration for Edward I's 'Iron Ring' of castles spread throughout Wales to assert English power.
The Earls of Warwick owned Caerphilly Castle, including the famous 'King Maker' Richard Neville, until he fall out of favour. It then passed on to Jasper Tudor, the uncle of Henry VII before it fell into ruin.
Caerphilly Castle's leaning tower was caused by an attack during the English Civil War.
In the 19th century, John Crichton-Stuart the 3rd Marquess of Bute, inherited the castle. He had a fascination with medieval architecture and so used his wealth to restore the castle ruins.
Magical things to do in Caerphilly Castle
So, what is there to do at Caerphilly Castle while you're here? Well as Wale's largest castle you'll find an endless list.
From climbing castle towers, visiting dragons, seeing medieval trebuchet's and chasing filming locations – it's an incredible place to visit.
Here are all the magical things to do at Caerphilly Castle.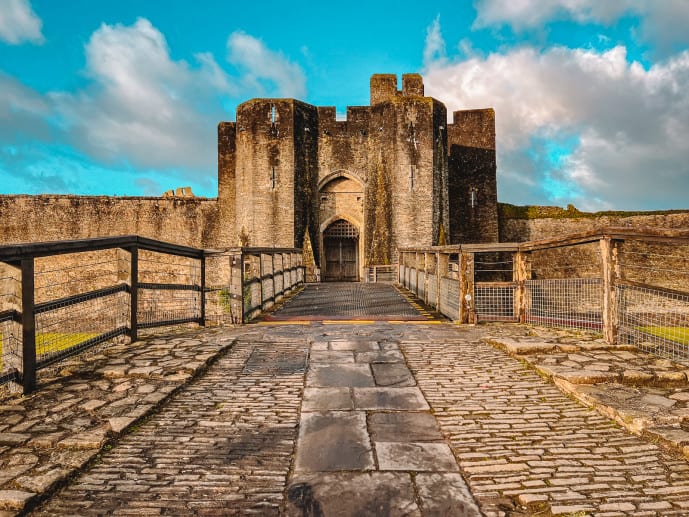 1. Take a Caerphilly Castle walk around the lake
Even if you don't choose to go inside the castle itself, the Caerphilly Castle walk around the lake is a must.
It's a flat and scenic stroll you can take around the old medieval moat and you can walk pretty much the whole way around the fortress!
The views of the castle over the water are spectacular and you can get some great photos of the reflections if it's a clear day.
You'll find benches all the way around the lake, so it's perfect for a picnic with a view. Just watch out for the angry geese!
2. See the Caerphilly Castle leaning tower
One of the most distinctive features of Caerphilly Castle is its toppling tower which many call the 'Welsh Tower of Pisa'.
The tower crumbled during the English Civil War during a siege and it has continued to topple ever since. But, as the foundations run far below ground, the chance of it falling completely is minimal.
Today, Cadw has placed a wooden statue of the 3rd Marquess of Bute beneath the Caerphilly Castle leaning tower as if he's trying to stop it from falling.
It's a tribute dedicated to him as he saved this great castle from ruin!
3. Visit the Caerphilly Castle dragons in the Dragon's Lair
I hadn't done any research before visiting Caerphilly Castle, so it was a really nice surprise to find the Dragon's Lair on my visit!
The Caerphilly Castle dragons have been here for a few years now and the castle is always finding fun ways to present them around the fortress.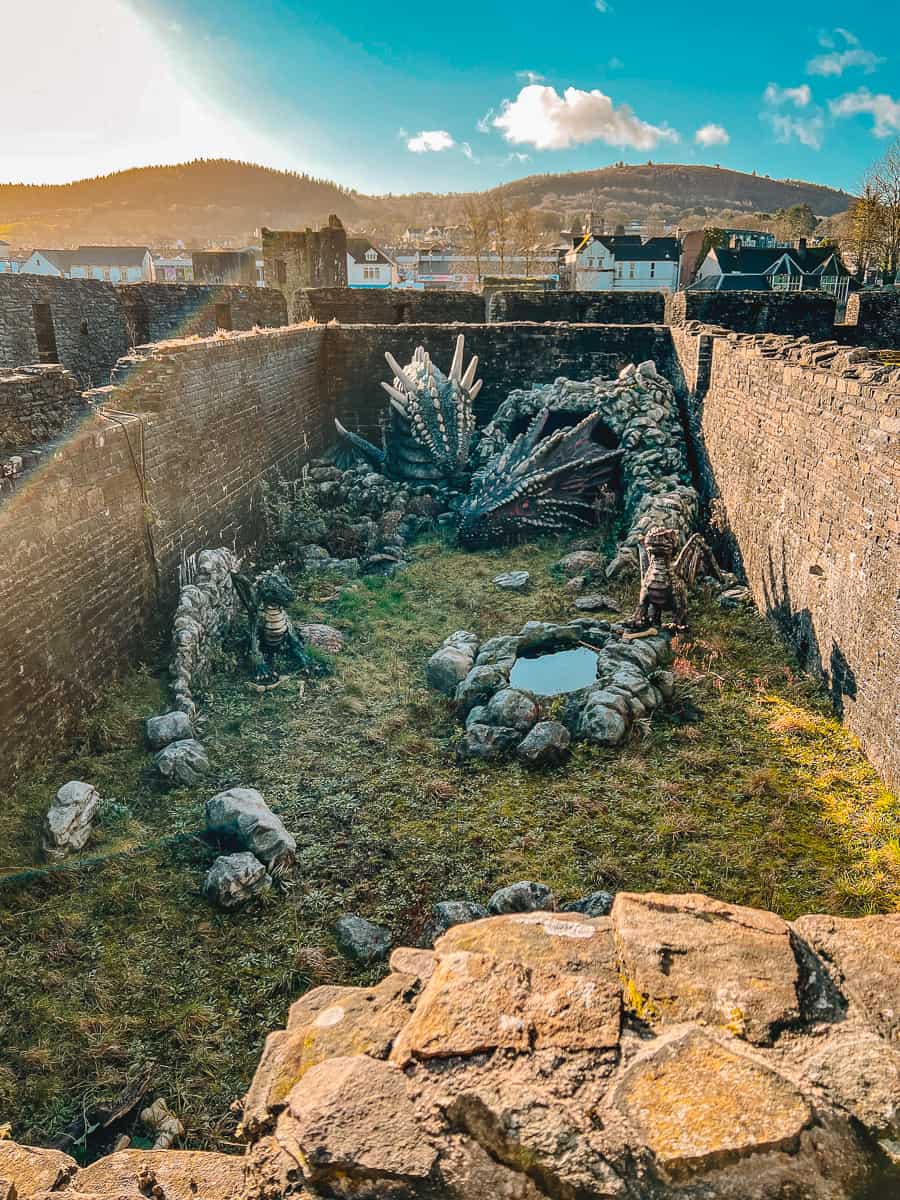 They are called Dewi and Dwynwen and they are in love. You'll see them both entwined in an embrace or "cwtch" in Welsh. You can read all about their romantic story online.
Now, the famous dragon couple is a family and has two babies. They are all waiting for you in the Dragon's Lair which is right next to the topping tower. But, approach with caution!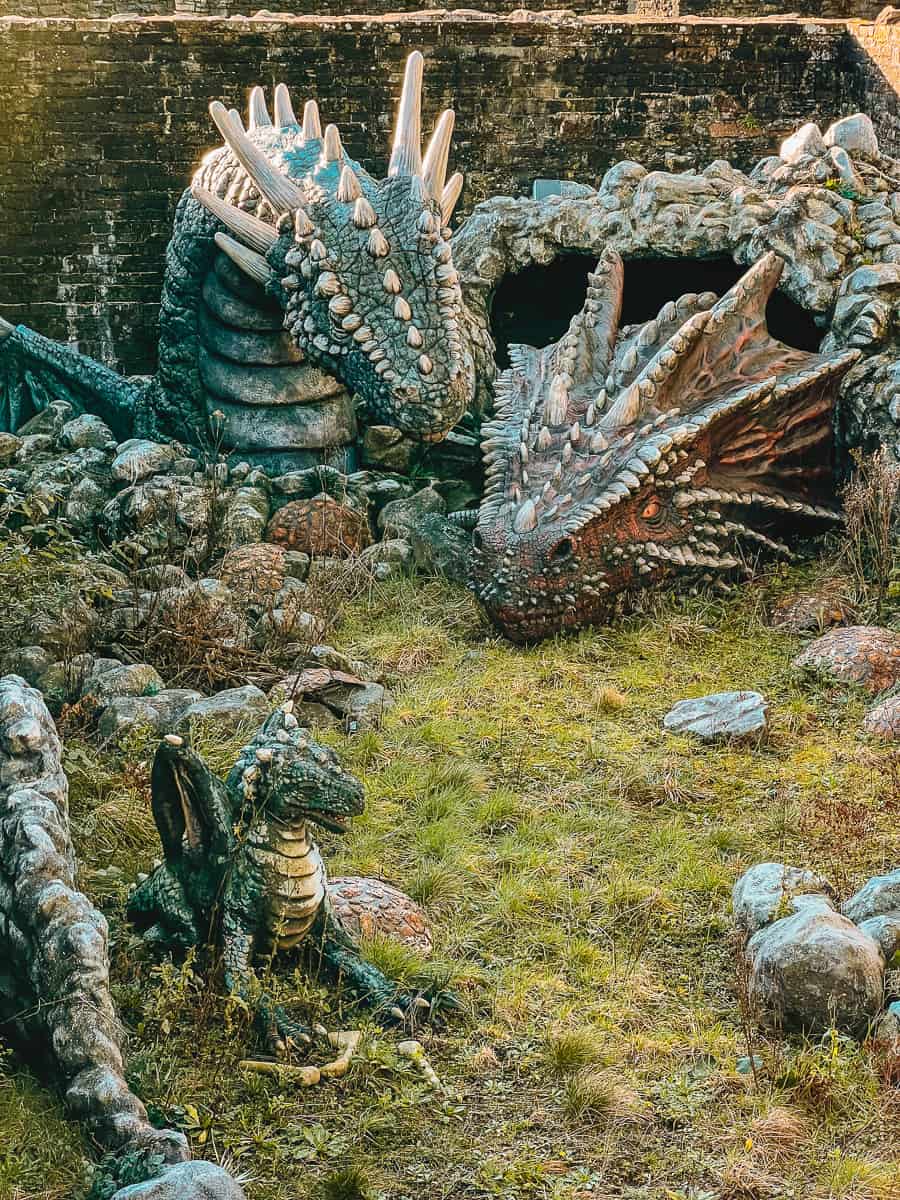 4. See the Great Hall & staterooms
Most of the rooms at Caerphilly castle now stand empty but there are a few rooms in the towers that have been decorated like the medieval chambers that would have been here centuries ago.
One of the most impressive rooms in the castle has to be the enormous Great Hall that can be found at the bottom.
Although there was a great hall here since the 13th-century, the one we can visit today was renovated by the 3rd Marquess of Bute.
This ended up being my favourite room as they had a crackling fireplace and music playing. You could just imagine it filled with people, food, and entertainment in medieval times.
This is a popular wedding location, so it may be closed on your visit if there is a ceremony taking place that day!
5. Climb up the winding staircases to see the views
What I love about castles are the old winding staircases that lead you to all sorts of nooks, crannies, and vantage points!
Caerphilly Castle is no different and it can be a labyrinth to navigate! You can wind up the staircase to its many towers and viewpoints on top of the castle.
In medieval times, these towers acted as a lookout to watch for encroaching Welsh enemies who wanted to attack the English.
Some of the tallest towers here allow you to look over the town of Caerphilly and over towards Cardiff on a clear day.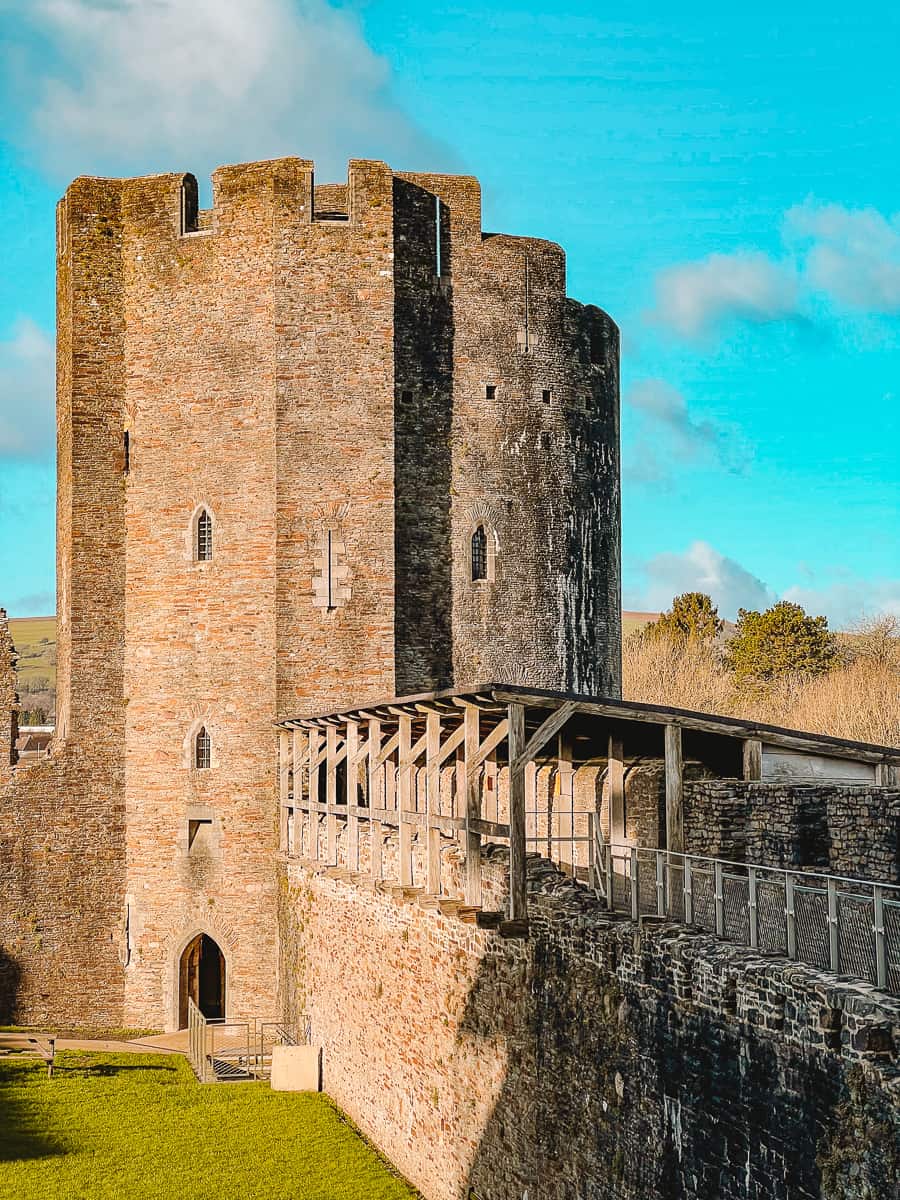 6. Chase Merlin filming locations!
Did you know that the BBC TV show Merlin was filmed at Caerphilly Castle? In fact, three seasons of the show were filmed here!
In the second season, we see Caerphilly Castle in episode 4 'Lancelot and Guinevere'. Caerphilly Castle acts as Hengist's Fortress! The Great Hall was mainly featured as Hengist's Hall where we meet the Wilddeoren!
In series 3, we see Caerphilly Castle again when Merlin visits Gwaine after Arthur has travelled to the Perilous Lands in 'The Eye of the Phoenix'.
Gwaine is caught up in a bar brawl with some money lenders. So, Gwaine and Merlin make their escape by jumping off the castle walls onto a clump of hay! It's one of my favourite scenes.
It also reappears later as both the inside and outside of the Fisher King's castle where Merlin and Gwaine save Arthur!
Caerphilly Castle also briefly appears in the fifth season during 'The Diamond of the Day'. The castle is a garrison that Morgana and Mordred attack.
Click here to watch Merlin & Gwaine escape the castle guards!
What has been filmed at Caerphilly Castle?
So, it's not just Merlin who has filmed at Caerphilly Castle over the years. Many other period dramas have chosen this amazing castle due to its vast size.
You may recognise Caerphilly Castle from 'The Spanish Princess' on Starz. This is the location in series 2, episode 7 where King Henry VIII orders the execution of Lord Stafford.
You'll see where Lord Stafford was brought to the execution block on the grass below and Queen Catherine watches until the very end from the wooden ramparts above.
Click here to watch the 'Fallen' Spanish Princess scene at Caerphilly Castle
As well as that, you'll find Caerphilly Castle in many other TV productions including;
Doctor Who (2011 & 2015)
Wolf Hall (2015)
Galavant (2015)
Restoration (1995)
Sword of the Valiant (1984)
Gawain and the Green Knight (1973)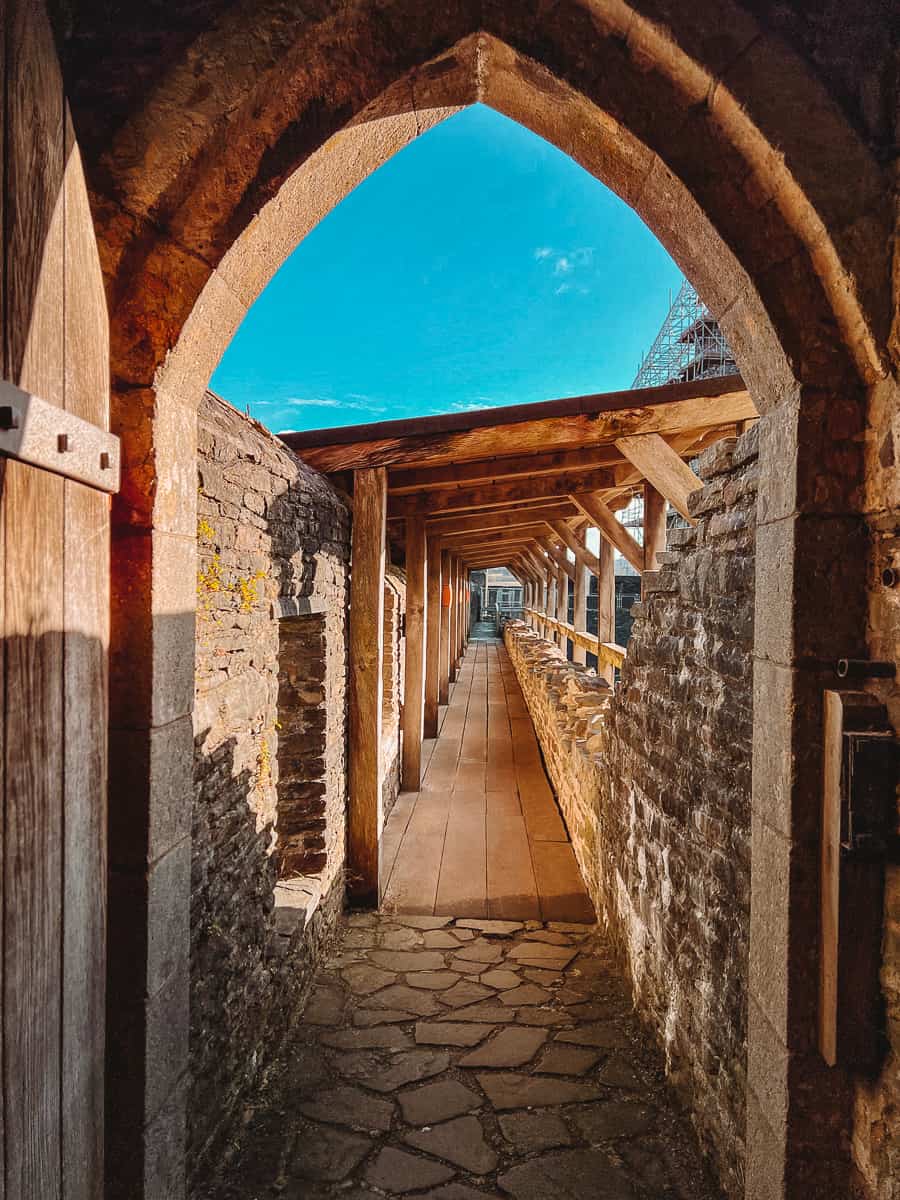 7. Admire the siege weapons!
If you head out of the castle and over the moat towards the ticket entrance, you can take a right to see the siege weapons.
Caerphilly Castle has seen its fair share of sieges over the years, the major ones being in the 13th-14th centuries. In fact, a six-week siege was led (and won) by a Lady!
It sounds weird but I love medieval trebuchets like this and it's so exciting to see it launch, I'm such a history geek.
Inspired by the Middle East, they work on a counterweight system that essentially hurls huge stones at the castle walls to break its defenses.
It was a mammoth task to load and work a trebuchet, depending on the size it could take a team of up to 20 grown men to pull the contraption into place and launch the ammo!
The trebuchets were made of English oak trees and weighed tonnes as well as the rocks they would have loaded it with.
During a siege, the weapons may not have only been rocks. Dead cows, pigs, fireballs, and even beehives were commonly launched to make life uncomfortable for the enemies behind the castle walls.
There are only a few places around the country that have trebuchet replicas that actually work so they are a rarity to see.
Caerphilly Castle still launches it on rare occasions for visitors. At Warwick Castle, they still have one that works and they throw flame balls into the air!
How to visit Caerphilly Castle
Caerphilly Castle makes a fabulous day trip from Cardiff as the castle is only a 20-minute drive from the city along the A470 road!
You can also get a direct train from Cardiff to Caerphilly in around 30 minutes and the castle is a short walk from the station.
From London, Caerphilly Castle is around a 3 hour drive. Or, you can take a train from London Paddington to Cardiff Central. Then a direct train to Caerphilly Station with Transport for Wales.
Caerphilly Castle postcode is CF831JD. Click here for a Google Pin!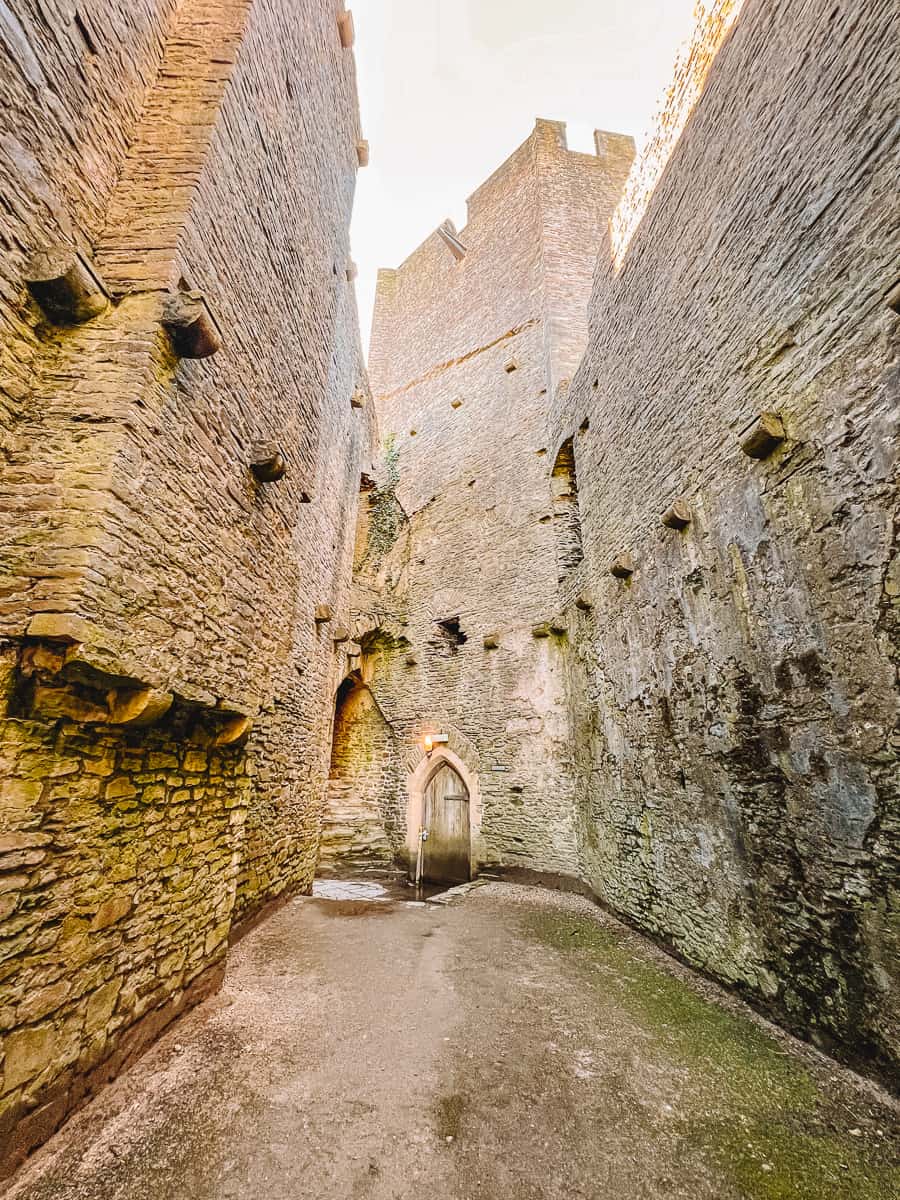 Caerphilly Castle parking
There is no official Cadw car park for Caerphilly Castle as the castle is located in the centre of town.
But, there are two car parks situated around the castle that are just a short walk away from the ticket entrance.
The Caerphilly long stay car park on Crescent Road is an ideal choice as it's much bigger than the short stay.
From the car park, simply cross over the road and make your way around the lake to visit the largest castle in Wales!
Alternatively, you could park in the short stay Twyn car park that is chargeable but there is not much space there and it fills up rather quickly.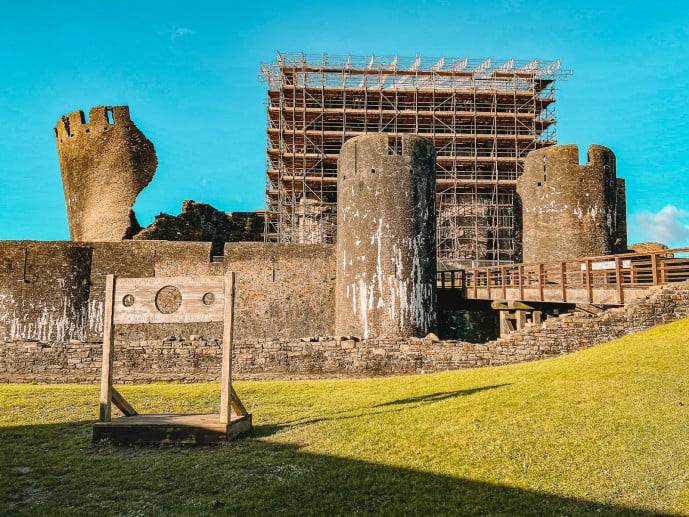 Caerphilly Castle opening times and prices
Caerphilly Castle is typically open from 10 am – 4 pm in winter and 9.30 am – 5 / 6 pm in the summer season.
Like most Cadw properties the castle closes for one hour at lunchtime to allow the staff to have a lunch break. So, I would avoid visiting at this time!
Caerphilly Castle ticket prices also change with the seasons. In winter, you'll pay £9 for an adult ticket and £6.30 for child and concession tickets. In summer, this goes up to £10.10 and £7.20!
Click here to check the latest opening times and prices for Caerphilly Castle
Are you looking for more Merlin filming locations nearby?
Although most of Merlin was filmed in Château de Pierrefonds in France, there are plenty more Merlin filming locations that you can visit after Caerphilly Castle in this area.
Just a ten-minute drive away is the fabulous Castell Coch that featured as Princess Elena's home in 'The Changeling' episode.
Nearby in Fforest Fawr, you can find Three Bears Cave which was the location where Arthur was explaining the 'giant baby rats' to Merlin called the Wilddeoren in the Tunnels of Andor.
You could also drive down to Dunraven Bay on the Glamorgan Heritage Coast where Arthur and Merlin decide which chalice is poisoned in the Labyrinth of Gedref.
Most Merlin filming locations can be found in the Wye Valley and the Forest of Dean. The most important one is Puzzlewood. Here, you can see where they filmed many scenes for the show and they even have Morgana's Hut still on display.
There's also Raglan Castle, Chepstow Castle, and Goodrich Castle. Plus, you can visit King Arthur's Cave near Symond's Yat and the aMazing Hedge Puzzle.
One of my favourite Merlin filming locations has to be Speech House Lake that featured as the Gates of Avalon.
Plus, there are plenty more locations in the Forest of Dean like Clearwell Caves and Cannop Ponds!
Click here for my Merlin travel guide for Puzzlewood in the Forest of Dean!
Caerphilly Castle FAQs
How far is Caerphilly Castle from Cardiff? Caerphilly Castle is a 20 minute drive from Cardiff. You can take the A470 road there! There is also a direct train that will take you from Cardiff to Caerphilly station in 30 minutes.
Can you walk around Caerphilly Castle? YES, there is a scenic Caerphilly Castle walk you can take around the lake! It's got some of the best views of the castle and topping tower.
How long is a visit to Caerphilly Castle? I would plan at least 1-2 hours for your visit to Caerphilly Castle. As the largest castle in Wales there is a lot to do there!
Is Caerphilly Castle the biggest in Wales? YES, Caerphilly Castle is the largest castle in Wales and the second largest in Britain at 30 acres.
How far is Caerphilly Castle to Castell Coch? It's a 10 minute drive from Caerphilly Castle to Castell Coch along the country roads. You can also get two buses from Caerphilly to the village of Tongwynlais where Castell Coch is located. Then, it's a short walk up the hill!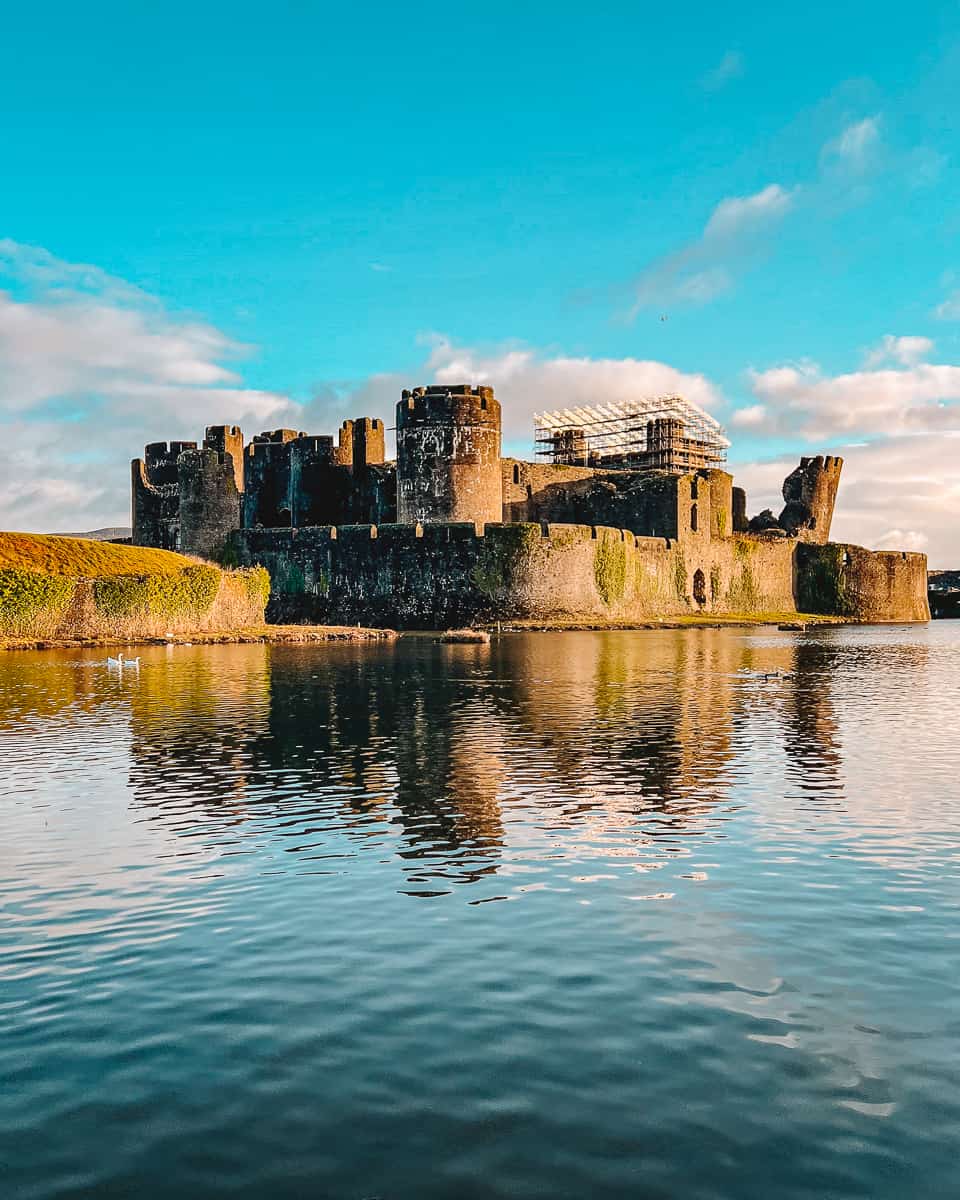 Read more of my South Wales blog posts
The best bookshops in Hay-on-Wye
Why you must visit Llanthony Priory
The most crooked church in Britain
A complete guide for Barafundle Bay Beach
How to visit Dobby's Grave at Freshwater West
A complete guide for the Green Bridge of Wales
How to visit the Blue Lagoon in Wales
The best things to do in Monmouth
The Monnow Bridge & gate guide
Save these things to do in Caerphilly Castle for later!