One of the hidden gems in the Peak District has to be a rocky outcrop called Ramshaw Rocks.
Unlike other busier gritstone escarpments like Stanage Edge and Bamford Edge, you'll find this area to be almost empty!
It's very easy to access as there is parking nearby so you can just take a leisurely stroll around the area and admire all the strange rock formations.
If you're a fan of the BBC TV series Pride & Prejudice (1995) you may recognise Ramshaw Rocks as they used it as a filming location for the show. You can recreate your Elizabeth Bennet moment here.
Here is how to visit Ramshaw Rocks Peak District and the Pride & Prejudice connection!
What are Ramshaw Rocks?
Ramshaw Rocks is a rural gritstone escarpment and rocky outcrop located high above Leek in Staffordshire.
The entire area is spectacular and is filled with all sorts of jagged and oddly shaped rocks.
As it stands around 460 metres (1509 feet) above sea level, you get wonderful views of the countryside from here.
This area is popular with hikers, rock climbers and fans of the Pride & Prejudice TV series.
Ramshaw Rocks Pride & Prejudice filming location
Ramshaw Rocks was also a filming location in the BBC TV Series Pride & Prejudice (1995).
In the series, we see Elizabeth Bennet walking in the Peak District with the rolling hills of the countryside in the backdrop.
She's seen to be hiking over one of the quirky rock formations at Ramshaw Rocks before she heads down to Pemberley (Lyme Park) and stumbles into Mr. Darcy.
If you're a fan of the show, you will love visiting this location as you can recreate your very own Elizabeth Bennet moment and stand exactly where Jennifer Ehle did!
Love Pride & Prejudice? Click here to read how to visit Mr. Darcey's Pemberley
How to visit Ramshaw Rocks
Ramshaw Rocks are in a remote location near Leek in the Peak District. By far the easiest way to access them would be to drive.
They are nearest to the towns of Leek and Buxton and you'll find the turning for Ramshaw Rocks on the A53 road. Be careful as it's a VERY tight bend.
Public transport to this area is limited and, if you are using buses/trains to get around the national park, it's probably easiest to incorporate these rocks as part of a longer walk like the Roaches circular.
But, there is a 108 bus service heading to Ashbourne from Leek and Buxton and it stops at the Upper Hulme opposite the 'Winking Man'. You can then walk 1.3 miles or 20 minutes to the rocks.
Ramshaw Rocks address is Leek, ST13 8UG. Click here for a Google Pin!
Ramshaw Rocks parking
One of the best parts about visiting Ramshaw Rocks is that there is FREE and convenient parking right next to them on the aptly named 'Back Of The Rocks' road.
So, you can park up for free at the 'Ramshaw Rocks lay-by' and then it's only a 1-minute walk to the rocks. You don't even have to leave your car to see them but I would recommend exploring.
It's refreshing not having to complete a lengthy walk to see some of these fabulous formations in the Peak District.
Parking places are limited though and I would recommend visiting early in the morning or later in the evening to guarantee a space.
This is especially important if you're planning to visit on a sunny weekend, bank holiday and/or school holidays.
Things to do in Ramshaw Rocks
1. Explore the quirky rock formations
From the car park, you literally only have to walk around a minute to get to the escarpment and follow the well-trodden paths around the site to explore.
There's no 'set route' and so you can easily just keep walking around until you find different rocks and views.
If you follow the path, you'll eventually reach a hillside that has jagged rocks like the ridges of a dragon's back! This is where you can ascend up the hillside to reach the summit.
From here, you can get incredible views of the Peak District and see for miles if it's a clear day.
2. Have fun finding animals and weird shapes
A fun thing to do whilst you're here is to look around and see if you recognise any animals or objects in the rocks.
Whilst I was here, I saw some kids pointing out all sorts of animals like hens, dolphins, and sharks!
There are some quite funny ones too that look like someone putting up a middle finger…or something that's very lewd *ahem*.
You can find all sorts of weird and wonderful shapes here depending on where you look. Just bring some imagination.
3. Find the Ramshaw Rocks Pride & Prejudice rock
The reason why I was so excited to visit this location is due to the fact that they filmed Pride & Prejudice here.
In the series Elizabeth Bennet is seen walking along these rocks and I've always wanted to visit to recreate this moment from the TV show.
It's very easy to find this particular rock formation you can see it clearly from the parking area.
If you follow the closest path from the lay-by up to the rocks, turn right, and then you'll reach this rock in a few minutes. It's really easy to access and pretend to be Lizzie!
4. Go on a Ramshaw Rocks walk
There are so many walks that you can take from Ramshaw Rocks in this area like the Roaches, Hen Cloud, and Lud's Church.
But, you don't have to go that far to enjoy some of the countryside. You could head just to Hen Cloud or Gradbach Hill.
On a clear day, the views from this area are fabulous. You could bring a picnic to enjoy this area with some lunch. Just make sure to bring all your rubbish home with you.
4. Visit Lud's Church
Not far from here, you can access the wonderful emerald chasm of Lud's Church.
Despite the name, it's not actually a church but a beautiful gorge that is covered in moss and overgrowth!
The name comes from services that used to be held here although there are local legends that this is a place where people worshipped the Devil too.
You can walk to Lud's Church from Ramshaw Rocks as part of the longer Roaches walk. But, the easiest way is from the Gradbach car park.
Click here for my complete guide on the Easy Lud's Church walk from Gradbach
5. The Roaches walk
Many people visit Ramshaw Rocks as part of a longer circular hike that covers Lud's Church, Hen Cloud, Ramshaw Rocks, and finally The Roaches.
It's a 5.5 kilometre (3.4 miles) walk and is very scenic and takes you over the rolling hills of Staffordshire.
You can start from the Lud's Church End in Gradbach or Roach Road from the Roaches area.
Click here to read the complete Roaches route on All Trails
Ramshaw Rocks opening times and prices
Ramshaw Rocks are open 24 hours a day to visit but I wouldn't recommend visiting in the dark as there is no lighting whatsoever.
It's also completely FREE to visit, including the parking, so it makes a great budget activity in the Peak District.
Visit Longnor next aka The Inn at Lambton
If you are a fan of the BBC Pride & Prejudice TV series, there is another filming location just down the road from Ramshaw Rocks.
Chapel Street in Longnor Village was used to play the street for 'The Inn at Lambton' where Elizabeth stays with her Aunt and Uncle near Pemberley House.
Although it doesn't look exactly the same as it did in the series (it was filmed a while ago now), it's still amazing to visit.
Click here to read my complete Pride and Prejudice guide for Longnor
Looking for more Pride and Prejudice in the Peak District?
Did you know that there are plenty of Pride and Prejudice locations in the Peak District that you can visit?The best one, in my opinion, has to be Chatsworth House aka Pemberley!
Jane Austen actually visited this house when she was writing the famous novel whilst staying Bakewell and she used it as inspiration for Mr Darcy's residence.
But, today, Pride and Prejudice fans will love the fact that it was used as the filming location for Pemberley in the 2005 movie starring Keira Knightley and Matthew Macfadyen!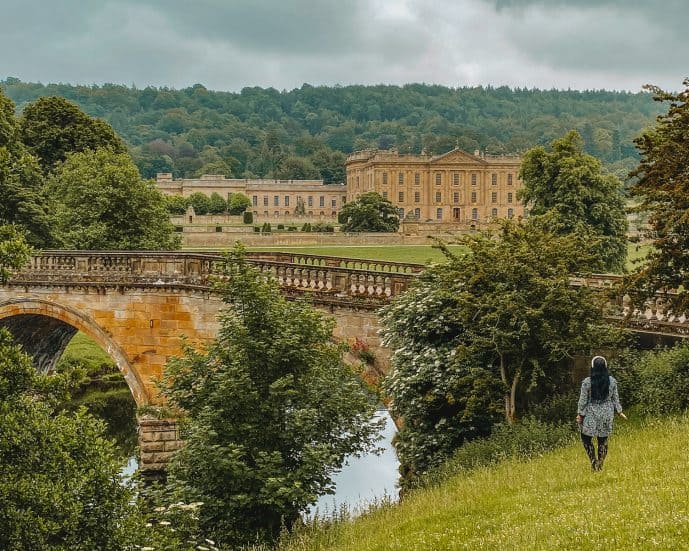 If you wanted to visit the BBC's version of Pemberley and the famous reflection pool of Mr. Darcy then you can head up to the National Trust Lyme Park and House in Cheshire.
You can even visit the pond where Darcy gets his shirt wet, and buy some Colin Firth souvenirs in the gift shop.
Sudbury Hall was also featured in the TV series which was used as the location where Elizabeth Bennet saw Mr. Darcy's painting.
Stanage Edge is where Elizabeth Bennet stands with her dress flowing in the wind at the start of the movie and Haddon Hall was transformed into the busy Inn at Lambton for the 2005 production.
Read more of my Jane Austen travel guides!
Stourhead Pride and Prejudice guide
A self-guided Jane Austen tour of Lyme Regis
Things to do in Lacock Village, Wiltshire
Read more of my Peak District guides
Chee Dale Stepping Stones walk
Why you must visit Scrivener's Books
Things to do in Eyam Plague Village
The easiest way to find Thor's Cave
The best things to do in Milldale
How to find Robin Hood's Cave in Stanage Edge
A magical easy walk to Lud's Church
How to visit & cross Dovedale Stepping Stones
Why you must visit Peakshole Water Castleton
How to visit Little John's Grave in Hathersage
How to visit Malfoy Manor in real life from the Deathly Hallows
A complete visitor guide for Monsal Head viewpoint
Best things to do in Ashford in the Water
Save how to visit Ramshaw Rocks for later!