The landscaped gardens of Stourhead are often referred to as a living work of art with grand temples, gothic cottages, and magical grottos surrounding a show-stopping lake!
Towering over those gardens is the classic Temple of Apollo which provides breathtaking views of the whole estate.
Jane Austen fans will no doubt recognise this monument from the incredible Pride and Prejudice movie starring Keira Knightly and Mathew Macfadyen.
This is the iconic location where the brooding Mr. Darcy makes a botched first proposal to Miss Elizabeth Bennet (against his better judgement)!
Here's a complete guide for visiting the Temple of Apollo Stourhead and how you can walk in their footsteps at this Pride and Prejudice film location.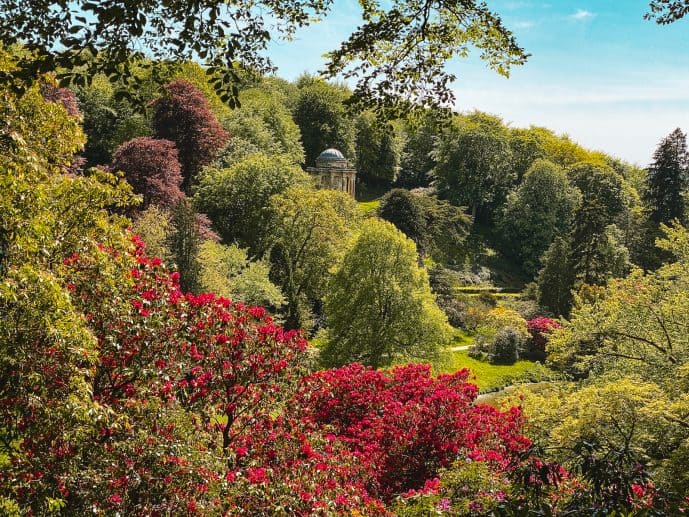 Temple of Apollo history
Stourhead's landscaped gardens were the brainchild of Henry Hoare 'The Magnificent, who inherited Stourhead house from his grandfather Richard Hoare, Lord Mayor of London.
He was one of those rare gentlemen gardeners who transformed his family estate into a living work of art after his Grand Tour of Europe in the 1740s.
Henry Hoare was so inspired by his travels he wanted to represent his hopes and beliefs about the world through his own living fresco.
He worked closely with the architect Henry Flitcroft to build many of the monuments you see around the lake like the Temple of Flora, The Pantheon, and all the mystical Grottos.
The circular Temple of Apollo was introduced to the gardens in 1765. It was actually made to overshadow the Temple of the Sun at Kew Gardens built by William Chambers.
Of course, Apollo is the sun god in Greek and Roman mythology without whom no garden would flourish. So, it makes perfect sense that it was perched on the highest part of the estate overlooking the sparkling Stourhead lake!
On a sunny day, the views from here are unrivalled and you can take in all of its luscious splendour.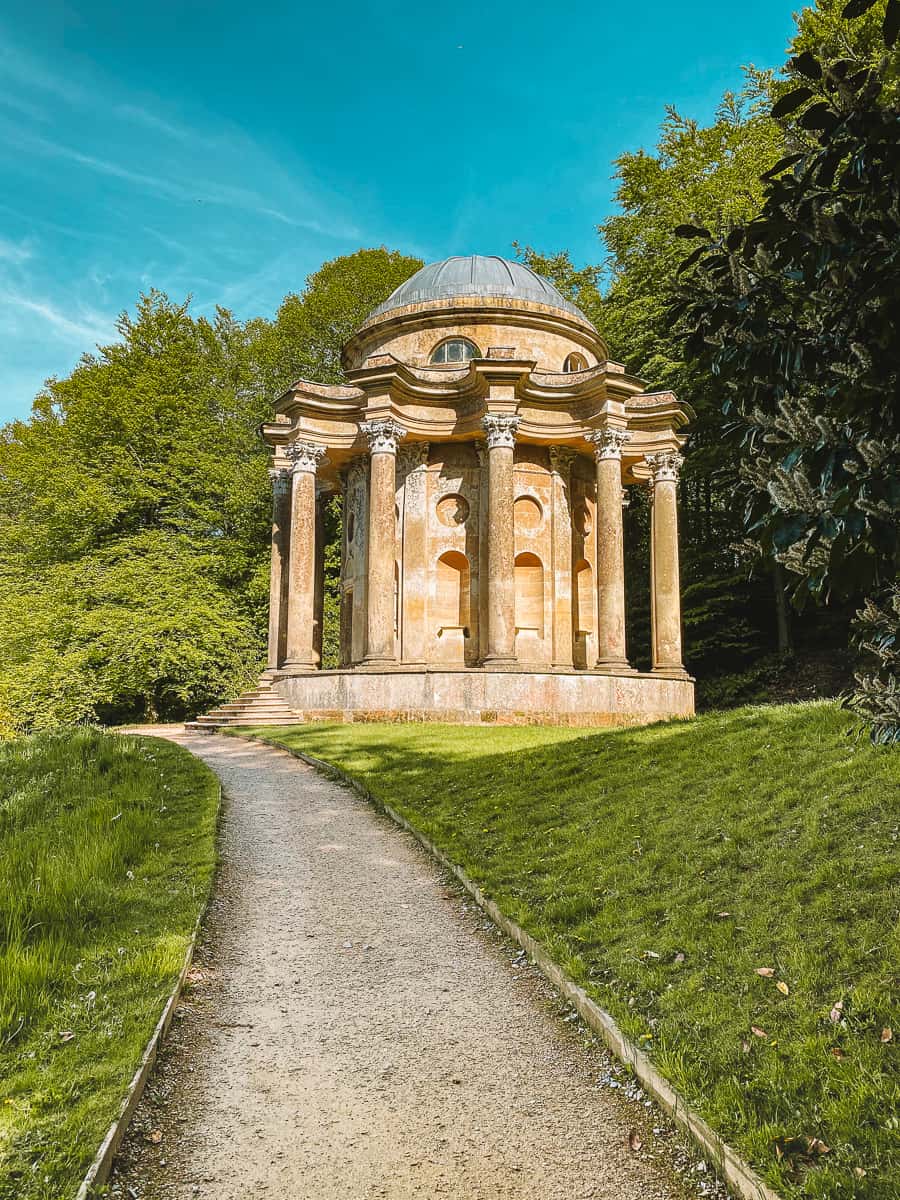 Visit the Temple of Apollo, Pride and Prejudice Stourhead film location!
It may be over 15 years since the Pride and Prejudice movie came out, but I'm still not over the amazing chemistry between Mr. Darcy and Lizzie Bennet!
Keira Knightly and Mathew Macfadyen were so good in bringing this famous Jane Austen story to life, I must have watched the movie a hundred times over.
Of course, nothing compares to the 1995 BBC TV series, but there is one scene in the movie that is simply iconic.
If you haven't guessed it yet, I'm talking about that heated proposal scene. Where Mr. Darcy proposes to Miss Elizabeth Bennet in the pouring rain!
Darcy's first proposal is, in a word, terrible. He basically tells Elizabeth she's inferior, has no connections, no money, and her family has shown complete impropriety.
He then tells her he loves her despite his higher rank and better judgement. Then, he stupidly expects her to accept his hand on the spot!
As you can imagine, it's a firm no from Lizzie along with some heated words about his supposed 'gentlemanly' character.
Oh, it's just fabulous. If you haven't seen this scene, stop what you're doing and watch a video of it here!
The Temple of Apollo at Stourhead is the location where they filmed these steamy scenes and I was in my element exploring it. I would recommend a visit for any Jane Austen fan.
The gardens are owned and protected by the National Trust, so it's quite easy to visit and makes a great day out at all times of the year. In fact, many people say you should visit in all four seasons to see what it has to offer!
How to find the Temple of Apollo at Stourhead
If you wanted to visit the Pride and Prejudice film location for yourself, you only need to visit Stourhead House and Gardens in the county of Wiltshire.
They are tucked away in the countryside near the county border of Somerset in the South West of England.
Once you reach the gardens on the estate, you'll need to follow signs for the Lakeside Walk at Stourhead in order to access the stairs that leads up to the Temple of Apollo.
The National Trust provides a handy map for you at the entrance. I would highly recommend bringing one around with you as there is so much to see and do here.
Take the Lakeside walk
The stairway up to the Temple of Apollo can be found on the Lakeside Walk on the Stourhead estate.
This is just inches away from the Palladian Bridge which is where Elizabeth Bennet runs over in the rain. This is just before the proposal scene after the Mr. Collins church service in the Pride and Prejudice movie.
Look out for a grotto along the lakeside walk path and you'll see a sign that leads you inside the grotto to the steps leading up to the temple.
There are in fact two grottos that lead you up to the Temple of Apollo, so you have a choice.
The one closest to the bridge is more of a gradual walk through a tunnel and then a steep hill. The grotto further along from the bridge has steps leading all the way up.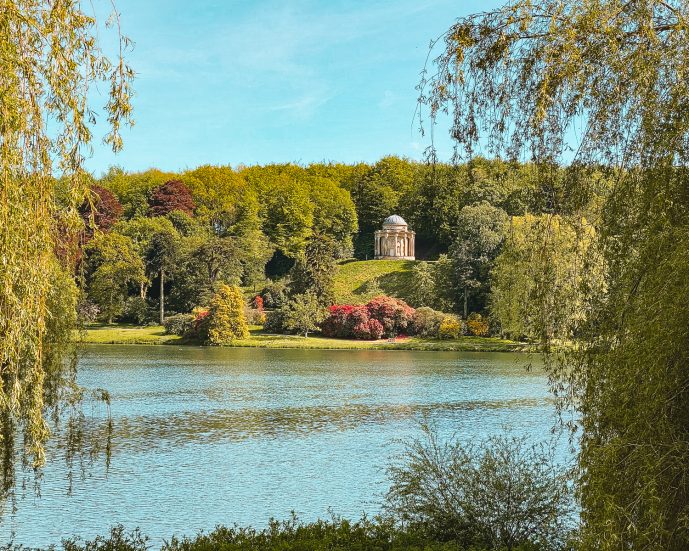 Head up the steps through the pretty grottos
One of my favourite parts of Stourhead was the fact you walked through so many mystical grottos on your visit.
Originally, these grottos were built as a respite for the summer heat so that visitors could cool down during their stroll. This would have been especially important during the 18th-century with all that heavy linen clothing!
On my visit, it was a really hot and sunny day so I was equally thankful for these grottos to cool me down.
Head through the grotto and follow the stairs up the hillside. You can't get lost as there is only one path that leads you here.
I will say that although the walk isn't too steep, there are a quite few stairs to traverse so this walk may not be accessible for everyone.
You'll be climbing over 40 steps to the top! There are benches on the way for those that will need to rest.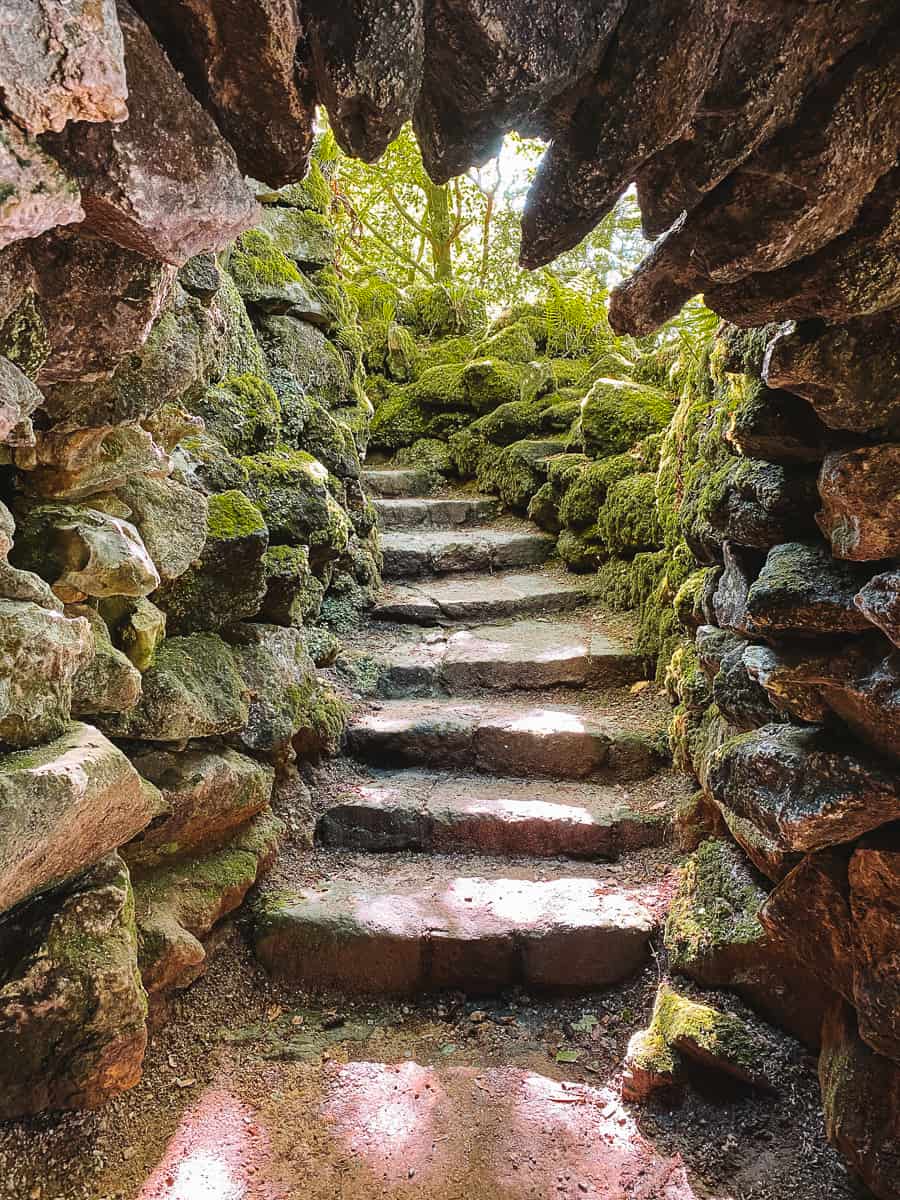 You've reached the Temple of Apollo!
You will definitely be panting when you reach the top of the hill but it will be so worth it when you see the Temple of Apollo.
Although around the lake it looks quite small in the distance, when you arrive you'll be amazed by the sheer size of it!
You can walk up the steps and all the way around this circular temple. Look out for the 12 Corinthian columns. There are also niches all over this temple that used to have statues inside them.
Today, only a few statues remain. Many statues that were originally placed here during Henry Hoare's time were moved to Stourhead house centuries later for protection.
Take in the incredible birds eye views of Stourhead
The views from The Temple of Apollo are breathtaking, in fact, Horace Walpole described the view as "one of the most picturesque in the world."
The unobstructed views from this height allow you to look all over the lakeside. On my visit in spring, the Rhododendrons were out which is what Stourhead is world-renowned for!
It created pockets of vibrant pink in amongst the green over the turquoise lake that sparkles and it was a spectacular sight.
Walk in the footsteps of Mr. Darcy and Elizabeth Bennet
Pride and Prejudice fans will swoon over this moment as they can follow in the footsteps of Miss Elizabeth Bennet and Mr. Darcy!
I've wanted to visit this very spot for years and so finally being able to see it was a dream. In fact, any lover of Jane Austen's stories will fall in love with this spot.
You're so far away from any signs of modern life here, it will feel like you've been transported back in time. It was the perfect place to read a book!
Thankfully, it wasn't pouring down on my visit like it was in the movie and it was very quiet so I had it all to myself.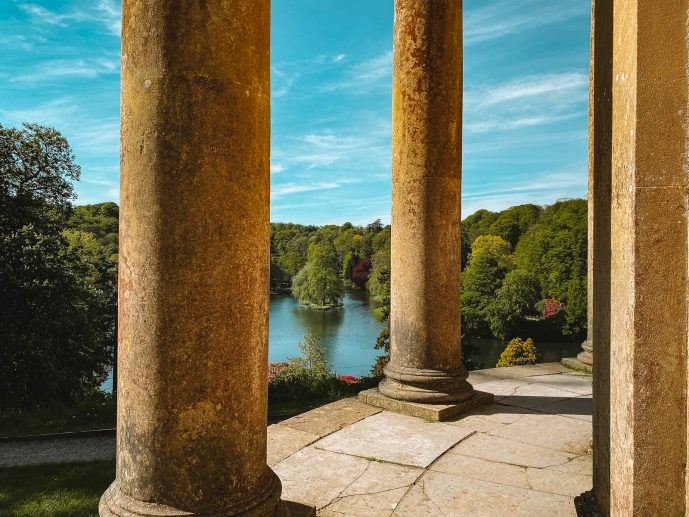 What's inside the Temple of Apollo Stourhead?
Unfortunately, the temple was closed off for visitors on my visit but apparently, it's painted inside with a wooden roof. I've also heard it's not as grand as the mini Pantheon with all the statues on display.
There are a few windows that let in some light and, at the top, there is a gold sunburst in honour of Apollo.
It's actually a popular wedding venue, so you'll often see it decked out in bouquets' and couples will register their vows here. Sounds like the perfect fairytale location to me!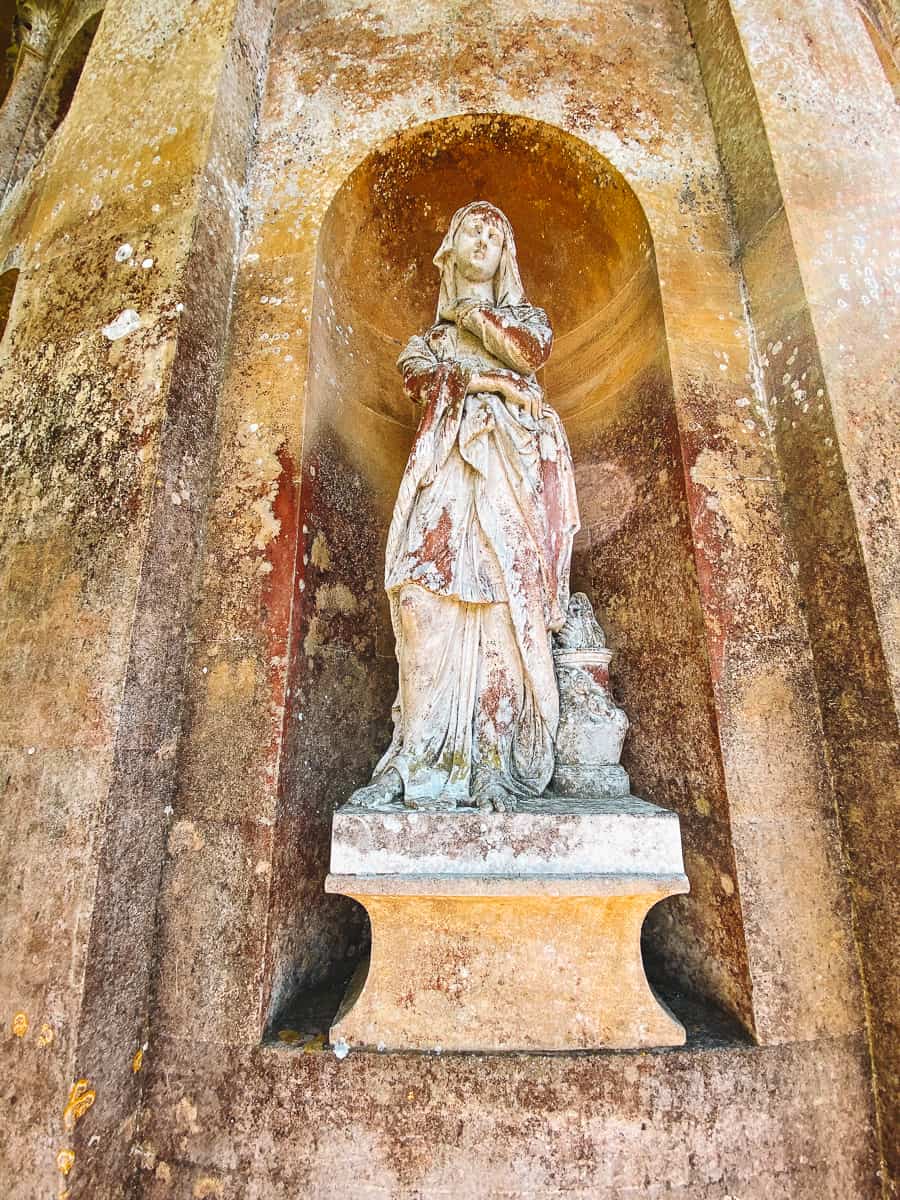 Make sure to visit the Palladian Bridge next
Once you've reached the bottom of the hillside again, make sure to check out the Georgian Palladian Bridge that stands over the lake!
This also features in Pride and Prejudice and you see Elizabeth Bennet run over it towards her destiny in the rain after the (rather boring) service with Mr. Collins.
It was inspired by the 16th-century architect Palladio and was built with five arches in 1762. The design was meant to create an illusion that a river flows under it towards the village!
Although fashionable in the Georgian era, Palladian Bridges in Britain are quite rare now. This is one of three that survive in the country.
Even more amazing things to do at Stourhead
There is only one word to describe Stourhead and that is idyllic. It really is like walking through a portrait and there is so much to see and do.
On the lakeside walk, there are many highlights including numerous grottos, the Temple of Flora, the Pantheon and waterfall cascades. Plus, plenty of blossoms and exotic trees.
One of the highlights of your visit would be a tour around the impressive Stourhead House which was the Hoare family home. It was the very first manor house that fell into the care of the National Trust.
Inside, you can see numerous portrait galleries, a gigantic library with a Lunette window and the impressive 16th-century Pope's Cabinet made for Pope Sixtus V.
As well as the house and gardens, there is the quaint Stourhead village with St. Peter's Church. You could pop into The Spread Eagle Inn for lunch or go shopping in the art galleries and boutiques.
A little further out is the magnificent King Alfred's Tower, a three-sided folly built by Henry Hoare in honour of King Alfred the Great!
How to get to Stourhead in Wiltshire
If you wanted to visit this Pride and Prejudice film location, you only need to visit Stourhead House and Gardens which is in Wiltshire on the county border of Somerset.
Nearby towns include Shipton Mallet, Melksham, Frome, and Wells. It's also close to top attractions like Longleat Safari Park and Stonehenge.
The Stourhead postcode is Mere, Wiltshire, BA12 6QD
The easiest way to access the estate would be to drive as it's in a remote part of the countryside. The nearest train stations to Stourhead are Gillingham and Bruton roughly 7 miles away.
However, if you wanted to visit car-free, there are buses to Stourton from Warminster, Shaftesbury, and sometimes Frome. Although they are infrequent. You could also cycle here along the Wiltshire Cycle Way!
Stourhead opening times and prices
As Stourhead is now owned and protected by the National Trust is does cost a fair bit to enter but it's so worth it!
Ticket prices are £18 for an adult and £9 for a child with discounted family tickets available. Parking also costs £4 for the day.
As always, National Trust Members get inside for free as well as a free all-day parking ticket.
Opening times change throughout the seasons but usually, the gardens open slightly earlier at around 9.30 am and will remain open until 5 pm.
Stourhead house will open for tours slightly later at around 11 am – 3-pm.
Click here to check current Stourhead opening times and prices before you go!
Why not visit Pemberley?
Did you know that you can visit Pemberley in real life in the Peak District?
It's called Chatsworth House and it's said that Jane Austen took a tour here on her visit to Bakewell and it inspired Mr. Darcy's home.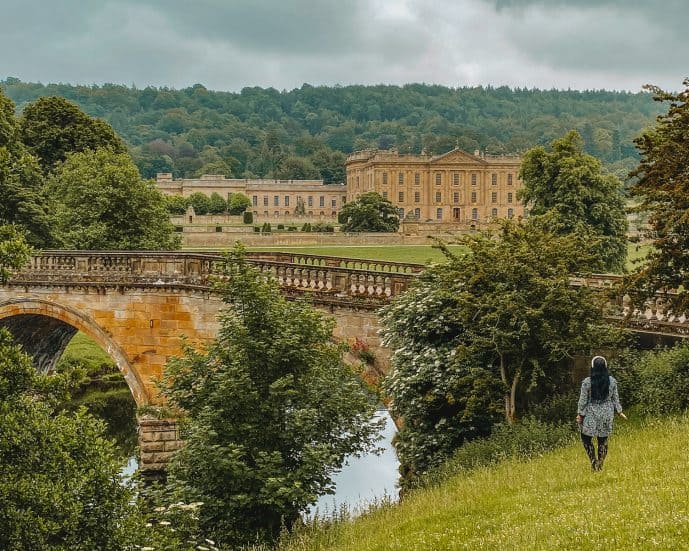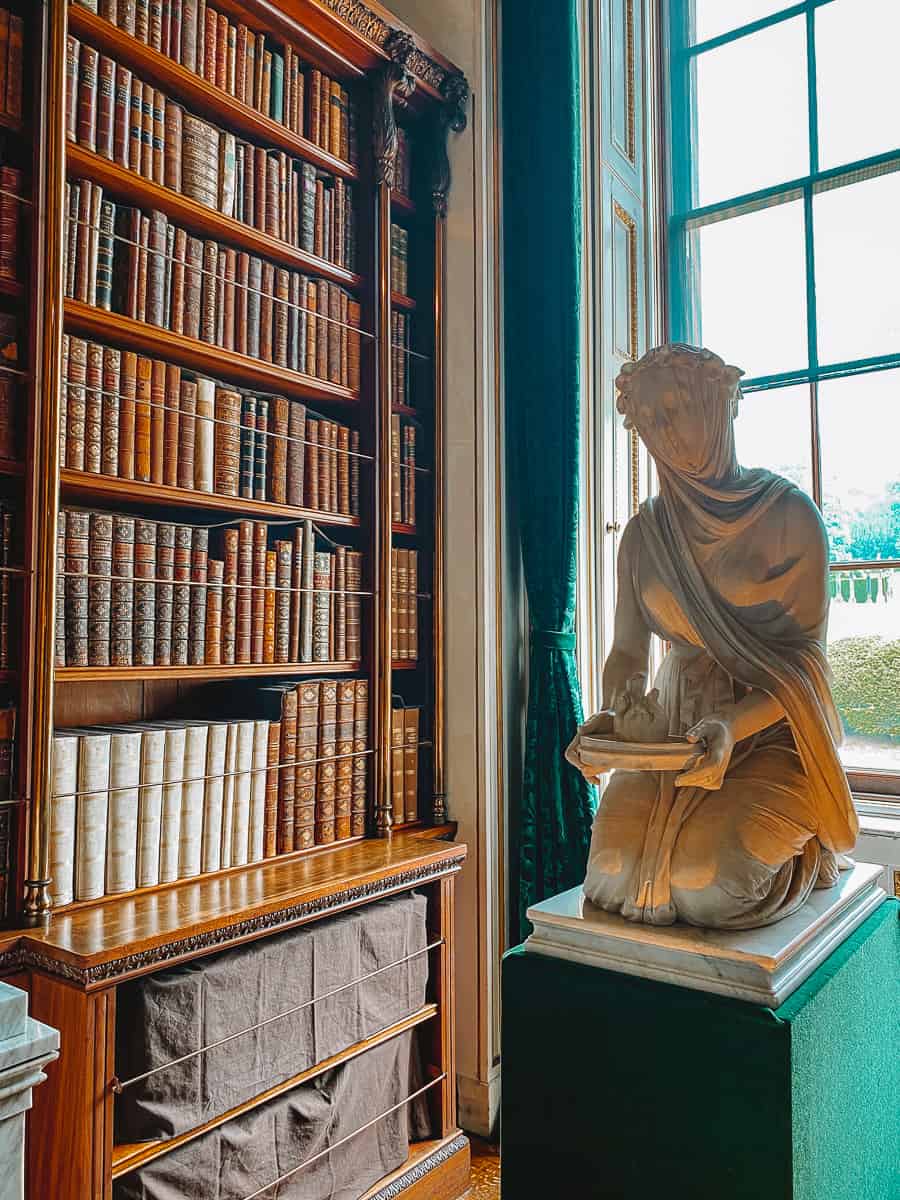 As well as being a Pride and Prejudice filming location it's one of the most impressive stately homes you can visit in the UK.
Inside, you can explore the grounds, the staterooms, the Painted Hall, and the Sculpture Gallery as Lizzie did on her tour.
There is even a statue of Mathew MacFadyen as Mr. Darcy in the gift shop. It's a must for any Pride and Prejudice fan.
Read how to visit Mr. Darcy's Pemberley in the Peak District here!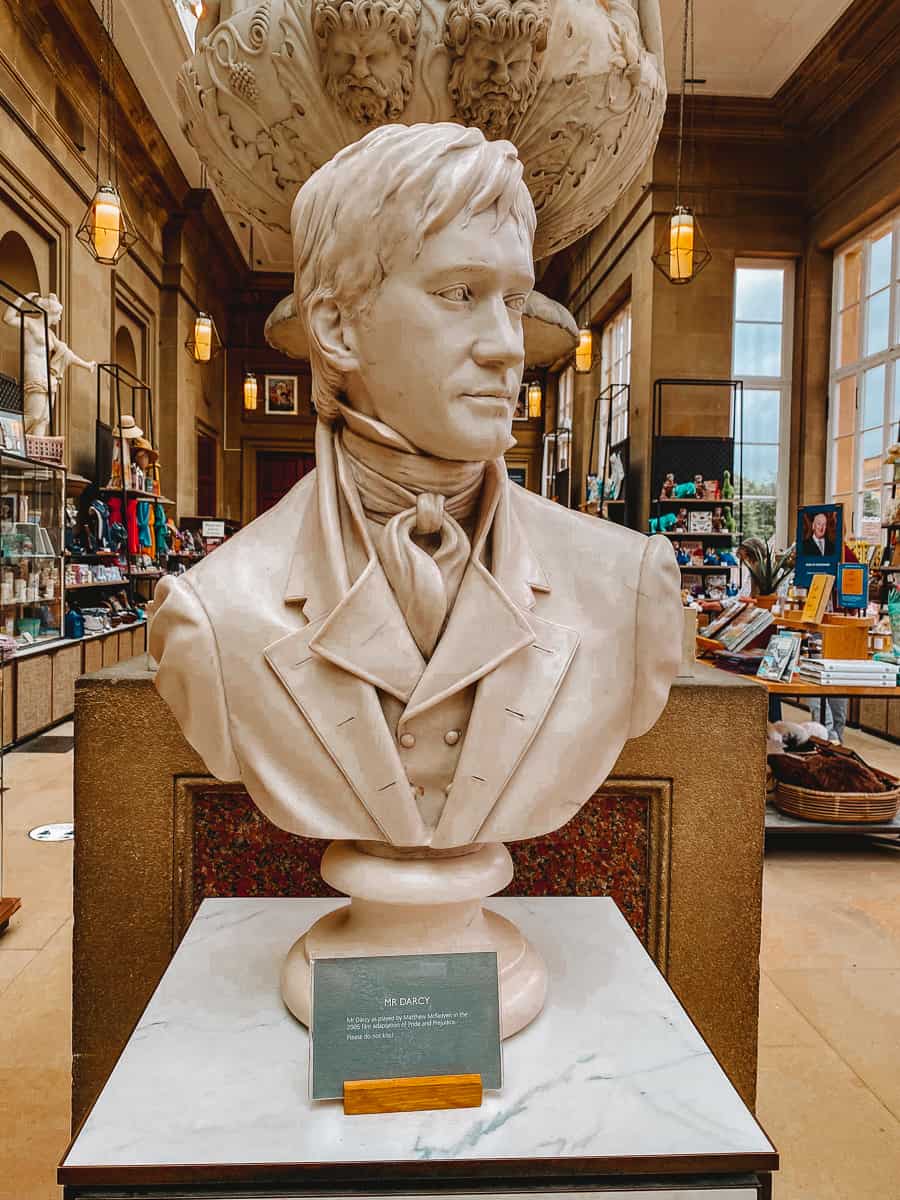 Read more of my Wiltshire and Somerset guides
The best places to visit in Lacock and all the Harry Potter locations
How to visit Imber, the abandoned ghost village in Wiltshire
Is Castle Combe the prettiest village in England?
How to visit Stonehenge for Free
Visit the Medieval Cheap Street in Frome
A complete guide for Avebury stone circle
A stroll down Vicar's Close in Wells
How to walk up Glastonbury Tor
Why you must visit Burrow Mump
The abandoned pier of Weston-super-Mare
Visit the Swiss-style Rickford Chapel
Save this Stourhead Temple of Apollo Pride and Prejudice film location for later!