One of the most Instagrammable places in the New Forest has to be the ornate chateaux-style Brockenhurst Gatehouse.
Also known as the North Lodge Brockenhurst, this gorgeous building forms part of the Brockenhurst Park estate as an old entryway for carriages.
It was designed by Alfred Waterhouse and was built in the 19th-century. Today, it's a quaint cottage you can rent in the countryside and a hidden gem that's perfect for photography!
Here is a complete guide for The Brockenhurst Gatehouse with the history and how to visit.
Brockenhurst Gatehouse history
The North Lodge forms part of the expansive Brockenhurst Park that lies close to the church of St Nicholas in the village.
The land was purchased in 1769 by Edward Morant who was a wealthy sugar plantation owner. With his wealth, he commissioned for a Georgian Mansion to be built along with a landscaped garden.
The house was extended in 1865 and along with it, a manicured garden was built that included artificial lakes, topiary, fountains, and even a boathouse.
It was around this time that North Lodge on the estate was designed in a French chateau-style by Alfred Waterhouse.
Waterhouse was part of the Victorian Gothic Revival movement and designed famous buildings such as the National History Museum in London.
He designed this brick gatehouse to be incredibly ornate with lots of intricate carving work. You can easily see the Morant coat of arms above the archway that would allow passage for carriages visiting the house.
In the 1950s, the Morant Family moved out to Roydon Manor and the new owners had the old house demolished and replaced with a new one in the 1960s.
Luckily, the owners decided to keep this chateaux-style building is still part of the Brockenhurst Park estate in the New Forest.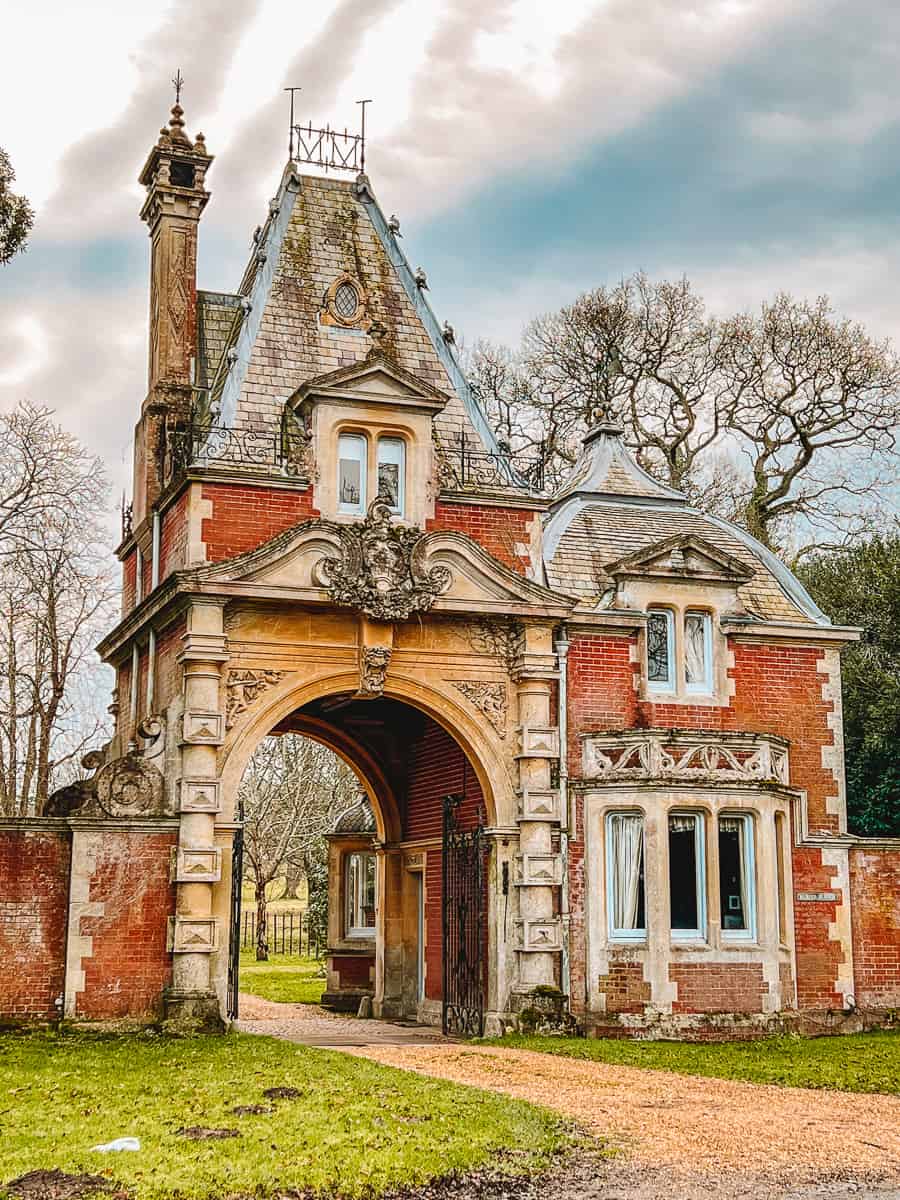 Where is the Brockenhurst Gatehouse in the New Forest?
North Lodge can be found in the village of Brockenhurst in the New Forest in Hampshire.
It forms part of the private Brockenhurst estate but you can see this gatehouse tucked away on Mill Lane in the village.
The New Forest is a great day trip if you're visiting England's south coast and the nearest city is Southhampton.
The postcode for The Brockenhurst Gatehouse is Mill Lane, Brockenhurst SO42 7AB
How to visit the Brockenhurst Gatehouse
The easiest way to access the Brockenhurst Gatehouse is to drive as it's located in a remote part of Brockenhurst.
There is limited parking available on Mill Lane where you can stop to get out and take a few photos of this incredibly ornate building!
Another way to access the gatehouse would be to walk over from Brockenhurst village itself. It's a 6-minute walk from Brockenhurst Railway Station.
Head to Lymington Road from the Brockenhurst Station Approach and then turn left onto Mill Lane. You'll eventually come across the Brockenhurst Gatehouse there.
This area is popular with cyclists and walkers but you'll be sharing the road with cars on a narrow country lane. So, mind out for oncoming vehicles as you go!
What to expect on your visit
I'm going to be honest, there is not a lot to do here other than to admire the ornate gatehouse and take a few photos.
The grounds beyond the gatehouse are private and the North Lodge is a cottage that is sometimes rented out for guests. So, always remain respectful if there is someone staying there.
Even if it's a sweeping visit, I would say it's worth a stop for a few photos if you're on a New Forest road trip.
It was one of the most beautiful buildings that I saw in the New Forest and I loved the intricate carving work.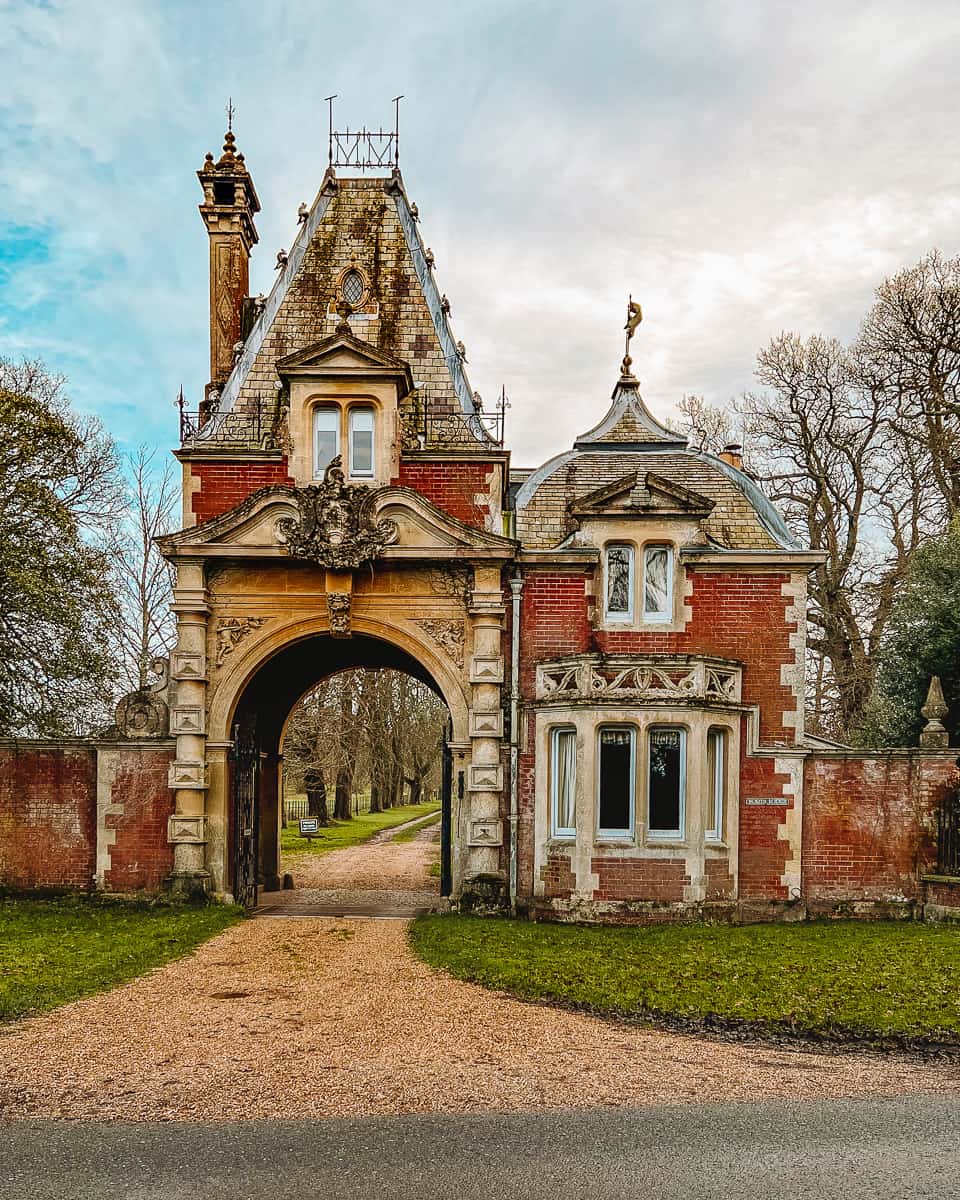 Can you go inside the Brockenhurst Gatehouse?
No, Brockenhurst Park and the North Lodge gatehouse are both private properties and so you can only see inside if you have booked to stay as a guest.
The ornate cottage is a two-bedroom property, with three beds, that can be booked for up to four guests. As well as a lounge where you can cosy up to the fireplace in the winter months.
There is also a bathroom, kitchen and washing machine facilities available. So, it's perfect for a self-catered week away.
It has free parking, a private garden, and you also get access to the private grounds to wander at your leisure while you're here!
Click here to book your stay at North Lodge in Brockenhurst Park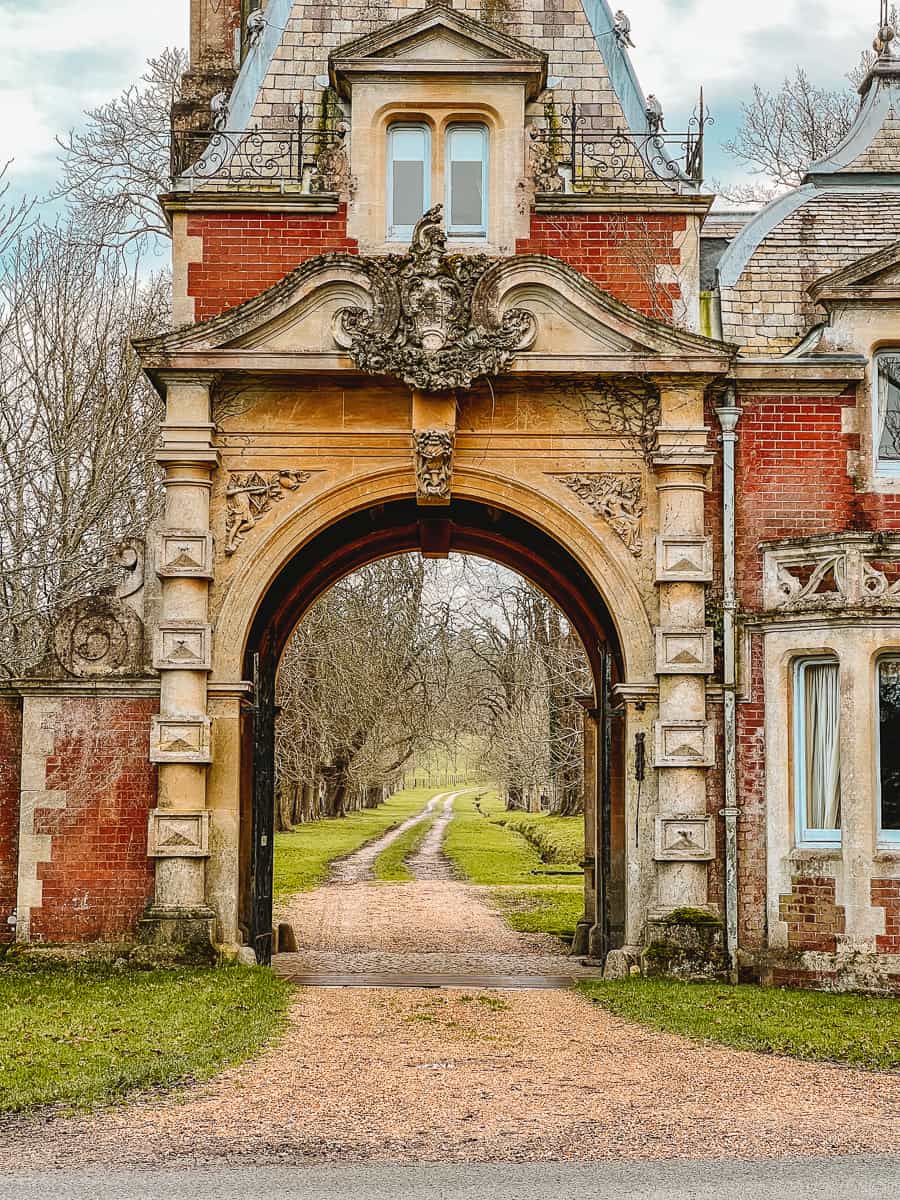 Brockenhurst Gatehouse photography tips
The Brockenhurst Gatehouse is open 24 hours a day to visit as it's located on Mill Lane. So, you can stop by here anytime to take some photos and it looks wonderful all year.
You'll notice that the foliage around North Lodge changes with the seasons and always brings something new. I would go as far as to say that you can't take a bad photo of this gatehouse as the ornate features are so wonderful!
The only photography tip I will give is that the sun rises behind this gatehouse in the morning, so I would opt to visit at sunrise or later in the afternoon when the lighting is softest.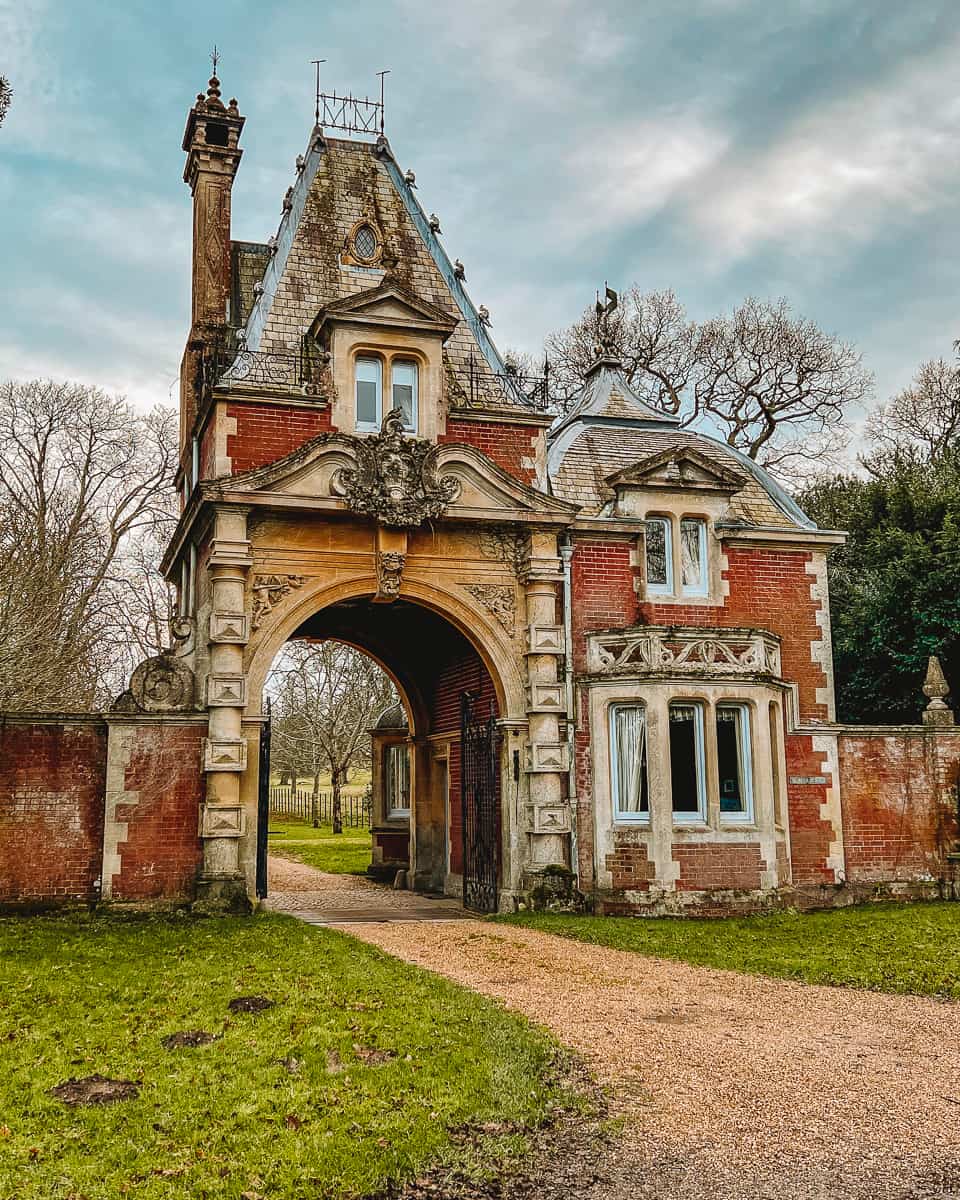 Are you looking for more places to visit in the New Forest?
After your visit to North Lodge, there are lots of things to see and do in the New Forest. A popular attraction is to spot some of the New Forest ponies that wander freely here. Beachern Wood is a great place to admire them.
If you wanted to see some more wildlife, I would highly recommend the Bolderwood Deer Sanctuary. There is a free car park and a viewing platform to catch a glimpse of the herd.
There are also plenty of quaint villages like Brockenhurst to visit. You could make a stop at Burley which is famous for its white witches! You'll find lots of witchcraft shops dotted about as well as tearooms and fudge shops. Click here to read my Burley village travel guide!
Beaulieu is another famous village and is known for its historic abbey dating back to the 13th-century. Today, you can visit as part of a tourist attraction along with the Motor Museum.
Or, why not visit the historic Maritime village of Buckler's Hard? It's here that Naval Ships were built for Lord Nelson's fleet! You can learn more about their story in the Maritime Museum.
Save this Brockenhurst Gatehouse for later!