One of the most iconic views in England can be found from the historic Gold Hill in Shaftesbury. A steep cobblestone street that is lined with a row of gorgeous thatched cottages.
It's known as "one of the most romantic sights in all of England" as from here, you get endless views over Thomas Hardy's Blackmore Vale that are worthy of a postcard.
It's also famous for featuring in the Hovis TV advert 'Boy on a Bike' in the 1970s and they even have an honorary Hovis loaf statue.
Here is a complete guide for visiting Gold Hill Shaftesbury and everything you can do on Hovis Hill in Dorset!
What is Gold Hill in Shaftesbury?
Gold Hill is a steep cobblestone hill in the market town of Shaftesbury in Dorset that has a picture-perfect view of the countryside.
This quintessential street overlooks Thomas Hardy's Blackmore Vale and the rolling hills. Indeed, this panoramic view is sure to take your breath away and is popular with photographers all year.
This viewpoint has been referred to as "one of the most romantic sights in all of England", so it's well worth popping by for a visit if you're in the South West!
Gold Hill history
The tall stone wall and buttresses that line Gold Hill are the remains of the famous Shaftesbury Abbey that was established by King Alfred the Great in 888AD. They are now Grade I listed and are thought to have been built in the 1360s.
At the top of the hill is the 14th-century St Peter's Church which is one of the only buildings in Shaftesbury that is dated before the 18th-century. The gorgeous row of quintessential thatched cottages that snake around the hill date back to the 1700s.
This iconic view has been featured in many paintings and postcards through the years but also has been featured on television too. You'll recognise this hill from a 1967 production of Thomas Hardy's 'Far From The Madding Crowd'
Also, this cobblestoned hill became famous for featuring in the 1973 Hovis TV advert 'Boy on a Bike'!
Did you know? Gold Hill is the fifth steepest street in England. It's part of a list by the Ordinance Survey including Steep Hill in Lincoln!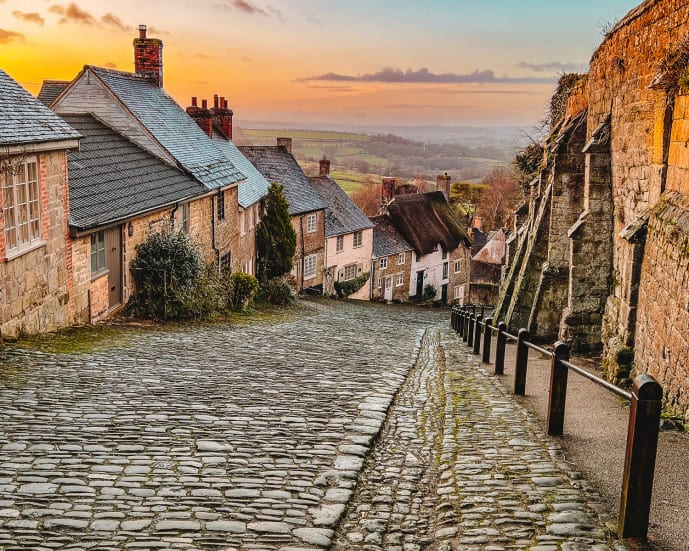 Visit the real Hovis Hill from the Boy on the Bike TV advert!
Many people call this cobblestone street 'Hovis Hill' as it featured in a TV advert for Hovis Bread in 1973.
The Hovis advert is called 'Boy on a Bike' and features a boy pushing his bike up Gold Hill for a bread delivery. After he delivers the bread, he freewheels back down the cobblestones to Dvorak's New World Symphony!
Although the advert was made some time ago, it's continually voted as one of Britain's favourite TV adverts of all time.
This advert is what made Gold Hill famous and helped towards the renovation of the street in the 1980s. Today, you'll find an honorary Hovis bread statue at the top of the hill that tells you the full story.
Click here to watch the Gold Hill Hovis advert "Boy on a Bike" that made this viewpoint famous!
How to visit Gold Hill in Shaftesbury
If you wanted to visit Gold Hill, you'll need to make your way over to the historic market town of Shaftesbury. It lies in Dorset, close to the border of Wiltshire.
The easiest way to visit Shaftesbury would be to drive. But, there are public transport options available as Shaftesbury has a railway station and bus connections to cities like Salisbury.
Once you arrive in Shaftesbury, the top of Gold Hill can easily be found from Shaftesbury's High Street behind the Town Hall and St. Peter's Church. Or, you can find the bottom of Gold hill from Layton Lane.
Gold Hill postcode is Gold Hill, Shaftesbury, SP7 8HB.
Things to do in Gold Hill
So, what is there to do in Gold Hill while you're here? Well, beyond the amazing views, there are a few attractions that you can visit that make a trip worth your while.
There is a museum, an art gallery, a pub, and you can take a stroll around the quaint town of Shaftesbury to boot. Here are all the things to do in Gold Hill Shaftesbury!
Admire the endless views of Thomas Hardy's Blackmore Vale
So, the main attraction to Gold Hill is the spectacular views you can get from the top of the ancient cobblestone street.
You'll find the thatched cottages snaking around the lane and above the rooftops, you'll catch glimpses of the rolling hills of Blackmore Vale.
On a clear day, you can see as far as Glastonbury Tor and Melbury Hill! So, it's worth visiting when the skies are clear.
It's definitely worth getting your camera ready for your visit. You can't really take a bad photo of Gold Hill as the views are so romantic.
See the walls of Shaftesbury Abbey founded by King Alfred the Great
Although Shaftesbury has had a settlement since before Saxon times, the riches of the town quickly flourished when King Alfred the Great established Shaftesbury Abbey in 888AD.
It quickly became one of the most influential religious buildings for women in the Kingdom of Wessex with his daughter Æthelgifu instated as the first abbess.
The abbey was a huge complex and dominated the landscape and these walls were built in the 14th-century. Although the abbey was dissolved in 1539, the abbey walls still remain today.
You can still see them towering over the cottages on Gold Hill. These are now Grade I listed.
The ruins of Shaftesbury Abbey is now a popular museum & garden you can visit from April – September. Click here for more information.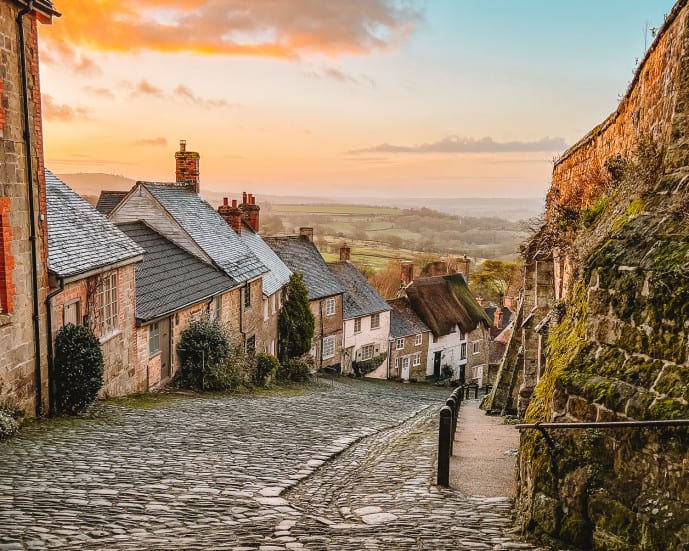 Pop inside the Gold Hill Museum
If you were interested in learning more about the history of Gold Hill, then you should definitely pop inside The Gold Hill Museum.
It's set inside a historic priest's house that used to be part of St Peter's Church and is now a modern exhibition that tells the story of Shaftesbury.
You'll find eight galleries to explore that cover pre-history, the foundations of King Alfred the Great, Shaftesbury Abbey, rural life througoh the centuries and present-day!
There is also a display about the Hovis Advert "Boy on a bike" that made Gold Hill famous and the important renovation works. It's definitely worth popping inside!
The Gold Hill Museum is usually open from 10.30 am – 4 pm and is FREE entry! Check here for the latest opening times.
Have a drink at The Salt Cellar
Whenever I have seen this view on Instagram or my Pinterest board. I did think to myself 'this would be an amazing place to watch the sunset with a drink in hand'. So, I was so happy when I saw that there is a bar right at the top of it.
It's called The Salt Cellar and it has tables outside which give you a perfect view of the Blackmore Vale countryside over the cobblestones and cottages of Gold Hill.
It would be amazing to sit outside with a drink and some food on a summer evening. So, I'm determined to go back when the weather is a bit warmer.
Click here to see a menu for The Salt Cellar bar!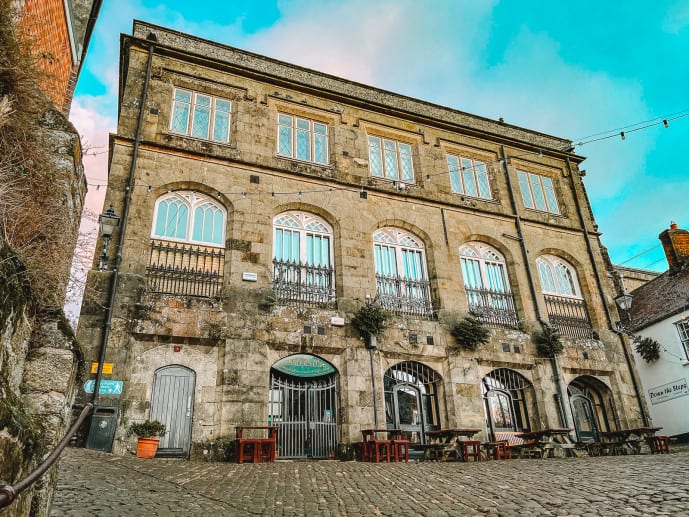 Visit the Gold Hill Gallery
Right at the top of the hill, beside the Hovis Loaf, is a building that houses the Gold Hill gallery.
It's an art gallery and antique dealership and you can pop inside and take a look at what they have to offer.
Many of the artwork found in here is inspired by the local landscapes including Gold Hill, Blackmore Vale, and beyond!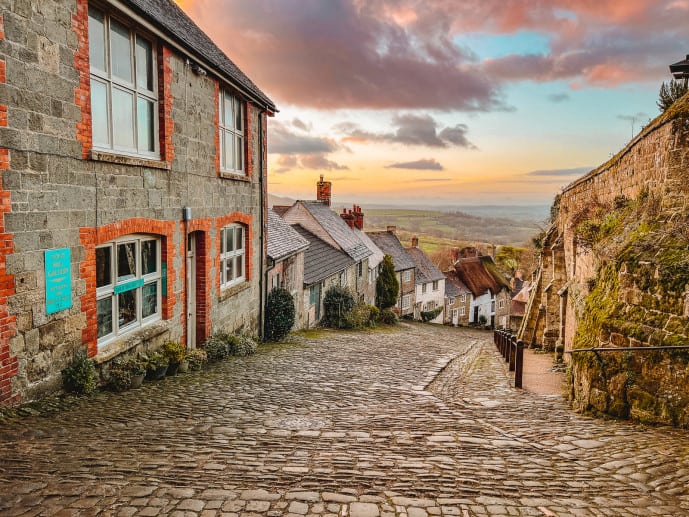 Attend the annual Gold Hill Festival
If you plan on visiting Shaftesbury in the summer, you may be lucky enough to see the annual Gold Hill Fair/Festival organised by the Shaftesbury Rotary Club. Each year, the town holds a festival to celebrate the town and its heritage.
It usually starts with a parade featuring notable council and town members, brass bands, and flagbearers. After, the event is in full swing, there will be lots of entertainment, music, food stalls, and even Morris dancers.
It's a free community event and anyone is free to attend if they are visiting Shaftesbury that day!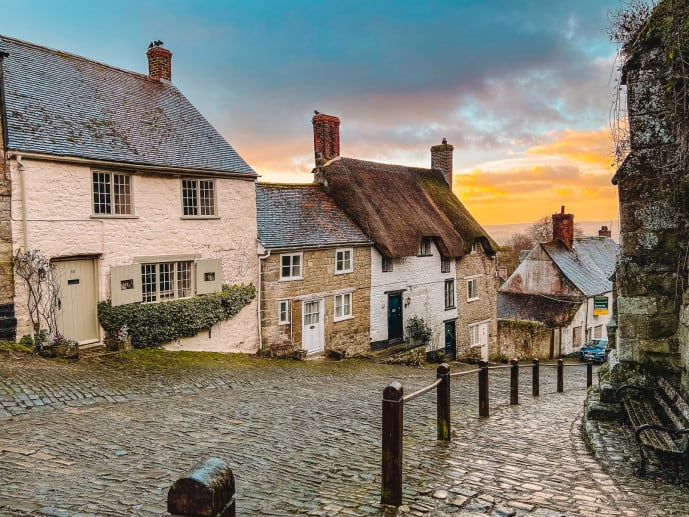 Explore the quaint market town of Shaftesbury
Of course, you cannot visit Gold Hill without having a look around the historic market town of Shaftesbury on your visit.
If you head upwards beyond The Salt Cellar Bar on Park Lane, you'll come across the Shaftesbury Town Hall and St Peters' Church.
Beyond that, is the main High Street that has many shops to pop into or you can follow the Shaftesbury Heritage Trail around the town if you were keen to learn more about the history.
You can visit the famous Shaftesbury Abbey Museum & Garden or pop up to Shaftesbury Castle Hill for endless views of the countryside!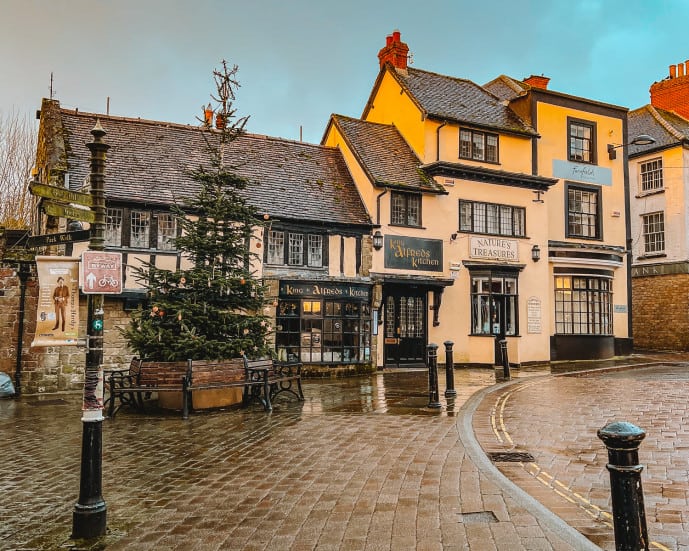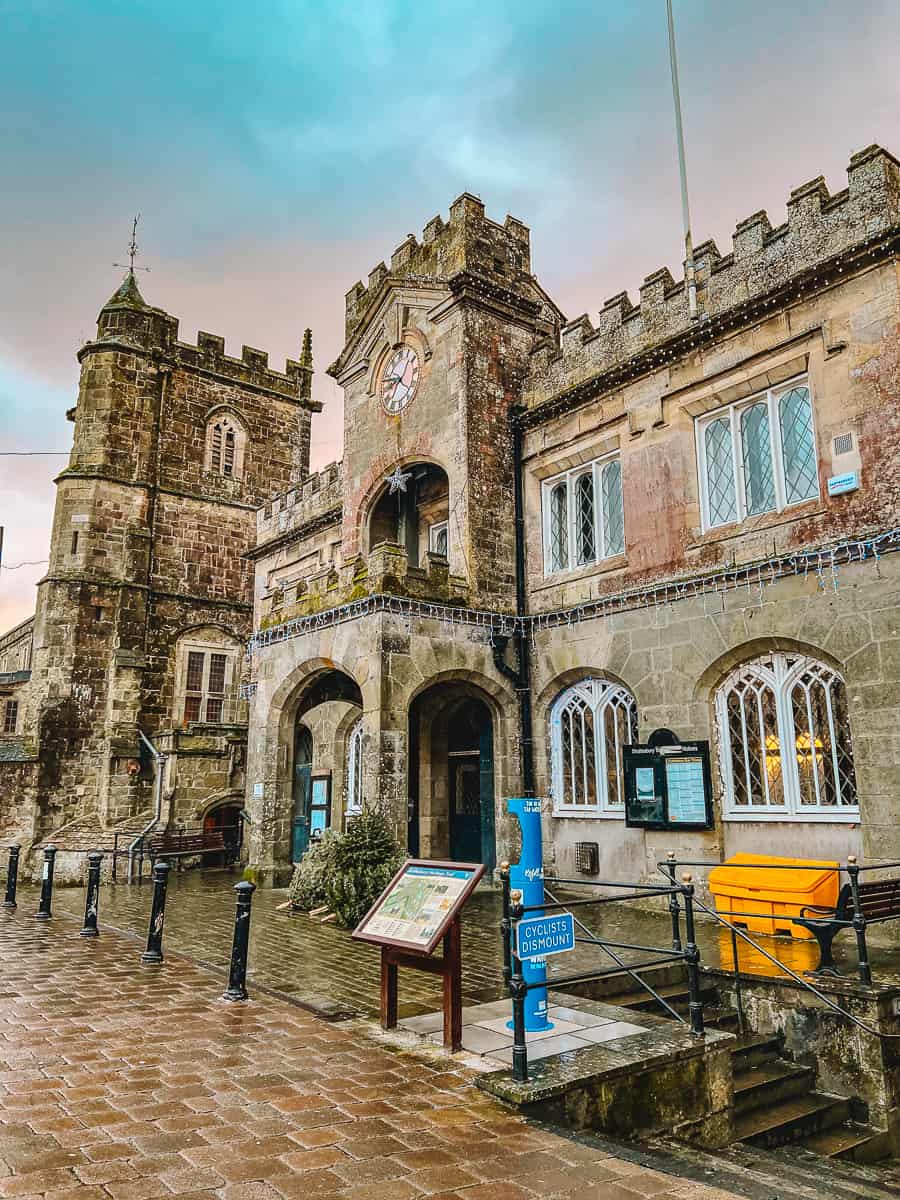 Practical tips for visiting Gold Hill
By far the best time for photos here would be at sunrise or near sunset when the lighting is softest.
Despite it being a tourist attraction, Gold Hill is still a residential street. So, always be respectful of residents if you're visiting in the early hours for photography
The cobblestones can get VERY slippy if it has been raining. When this happens it's always best to use the railings provided near to the Shaftesbury Abbey walls as it is so steep.
Even if it hasn't been raining walking along these cobblestones can be a bit of a challenge. So, mind your step as you walk down!
Gold Hill parking
There are quite a few visitor car parks in Shaftesbury that you can use to make your way over to Gold Hill.
Angel Lane Car Park is near to the main High Street at the top of Gold Hill or you can use the Bell Street Car Park near to the train station.
There is also some off-road parking to be found at the bottom of Gold Hill on Layton Lane near the Ye Olde Two Brothers pub. But, always park with consideration.
You'll then have to make your way up the hill which is a bit of a feat in itself and may leave you breathless!
Read more of my travel guides on Dorset and Wiltshire
How to visit Stonehenge for FREE
Glastonbury Tor – Visit the Isle of Avalon!
A complete guide for Cheap Street in Frome
A Jane Austen guide to Lyme Regis
How to visit the abandoned Imber Village
A complete guide for Silbury Hill
Celebrating the Summer Solstice at Avebury
Why you must visit West Kennet Long Barrow
Places in Wiltshire that will blow your mind
Save this Gold Hill Shaftesbury post for later!