Did you know that there is a whole craze over the Walls of Disney in Walt Disney World?
Some of these Disney Walls are really easy to spot and some people like to keep the ones they've found hidden.
But, no sweat, this post will reveal all the secret Walls of Disney and how to find them to sprinkle a bit of magic into your Instagram feed!
Many of the Walls of Disney have become so big, they have their very own dedicated Instagram accounts and hashtags.
Thousands of Disney fans follow them to see other creations people have made. Some, are a little bit harder to spot.
Here's the scoop on the 14 secret Disney Walls to find on your next Disney vacation!
What are the Walls of Disney?
The Walls of Disney aren't an official list but an unofficial craze of walls that Disney fans have deemed photo-worthy.
These aren't just in a specific park but can be found all over Walt Disney World in the Disney Parks, Disney Resorts, Disney Springs, and Boardwalk.
The Disney Walls craze has also reached further afield with Anaheim, Pais, and the Asian parks following suit.
These walls are colourful, quirky, fun, and completely photogenic! So, they're perfect for Instagram.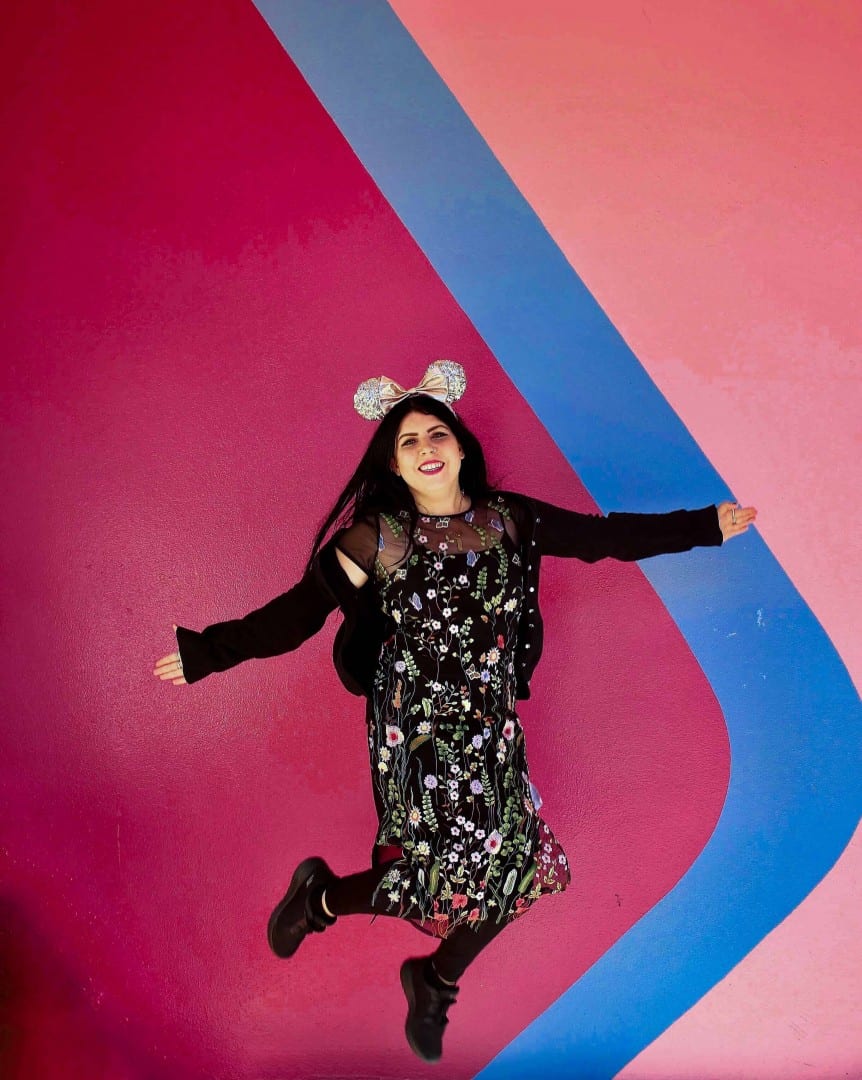 What counts as a Wall of Disney?
There aren't really any rules! New trending walls pop up all the time and sometimes, it doesn't have to even be a wall.
So, if you see a part of the park you think is photo-worthy, why not try to start a new Disney Walls trend?!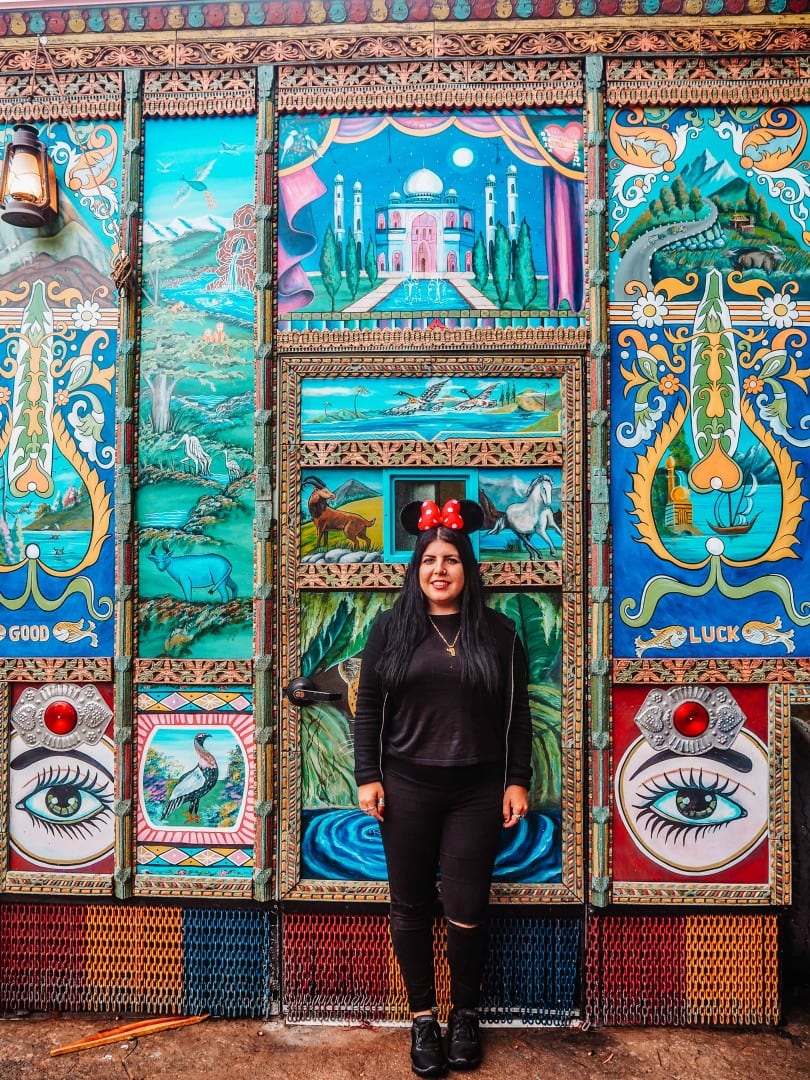 What makes a good Walls of Disney photo?
There isn't a magic formula to what makes a good Disney Walls photo! But, here are some tips to help you out;
Show off your ears to sprinkle a little Disney Magic
Be creative, bold and different
Have fun! There really is no right or wrong with the Walls of Disney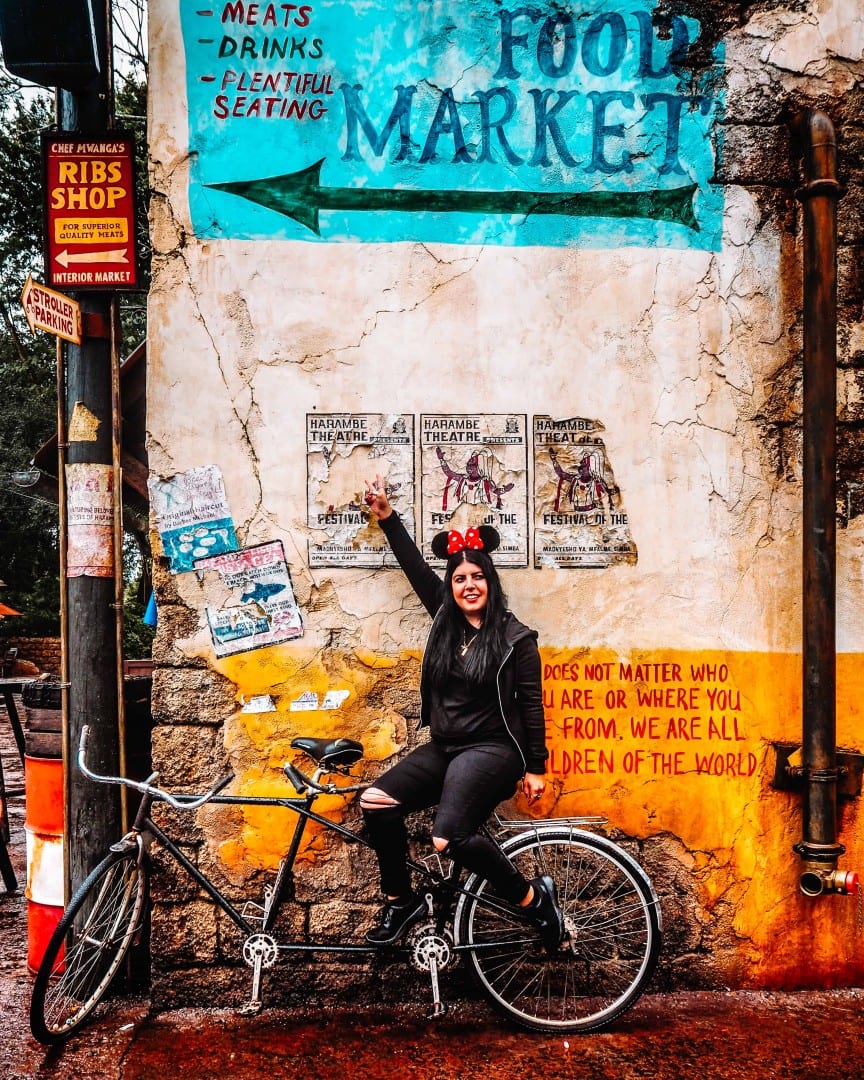 14 Walls of Disney and how to find them!
1. The Purple Wall in Magic Kingdom
As Walt says; it all started with a mouse. But, the Disney Walls trend all started with The Purple Wall!
With its own Instagram account @purplewallphotos and dedicated hashtag #thepurplewall; this really is the most iconic and famous Disney Wall of the lot.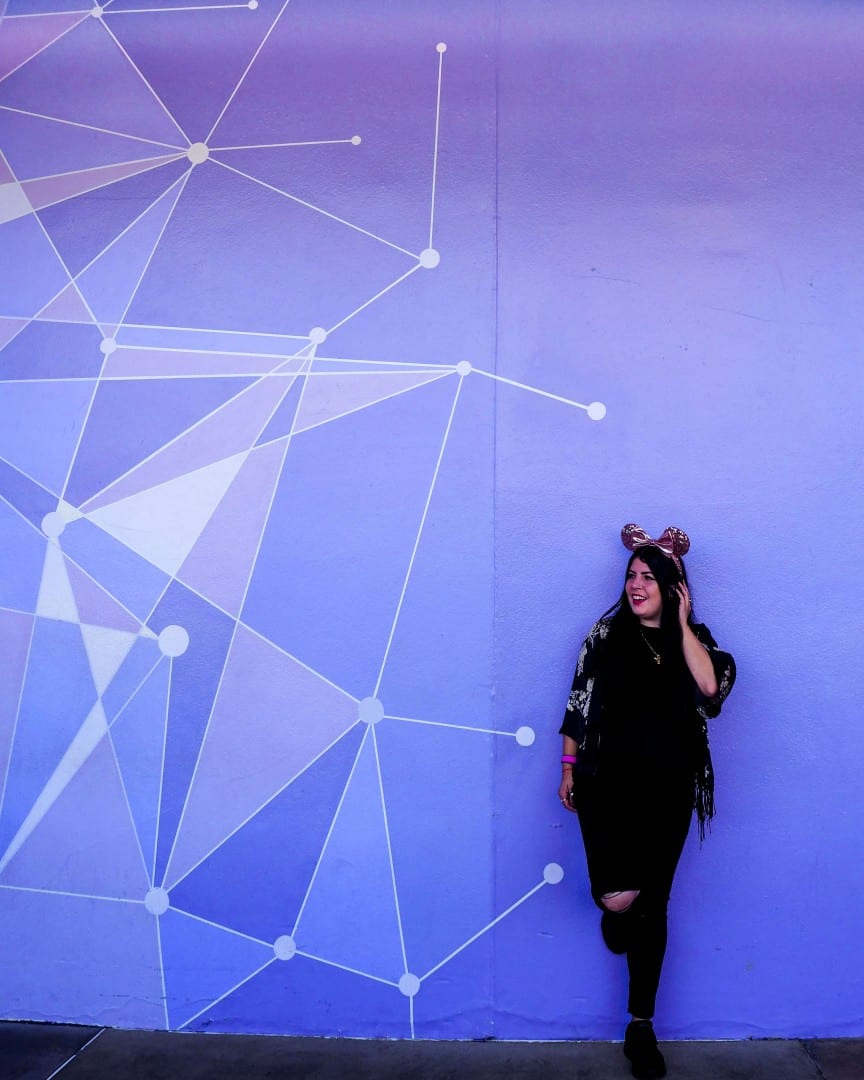 You may have heard the saying "meet me at the purple wall" and this was officially coined by Disney when they revamped The Purple Wall to add a galactic theme. They also have a photo pass experience here.
They made limited edition Purple Wall Magic Bands, a "meet me at The Purple Wall" baseball cap, and even made a Purple Wall slushy drink for the occasion. More recently, they sell Purple Wall cotton candy too.
You can find The Purple Wall at the entrance of Tomorrow Land from Main Street USA. It's next to the ramp leading up to the Tomorrow Land Terrace under the People Mover.
If you did want to know more, I've created a whole guide about this Purple wall here.
2. The Bubblegum Wall in Epcot
The Bubblegum Wall falls just behind The Purple Wall as the second most famous Disney Wall in Walt Disney World.
This Disney Wall can be found in Epcot at the exit of Project Tomorrow after the Spaceship Earth ride. You'll instantly recognise it with its famous block pink colours with a blue stripe running through it.
This is a pretty crowded spot with people exiting Project Tomorrow, but if you stand to the side you can easily get your photo!
Again it has its own Instagram account @bubblegumwallphotos and hashtags #BubblegumWall and #BubblegumWallPhotos that you can check out for some photo inspiration.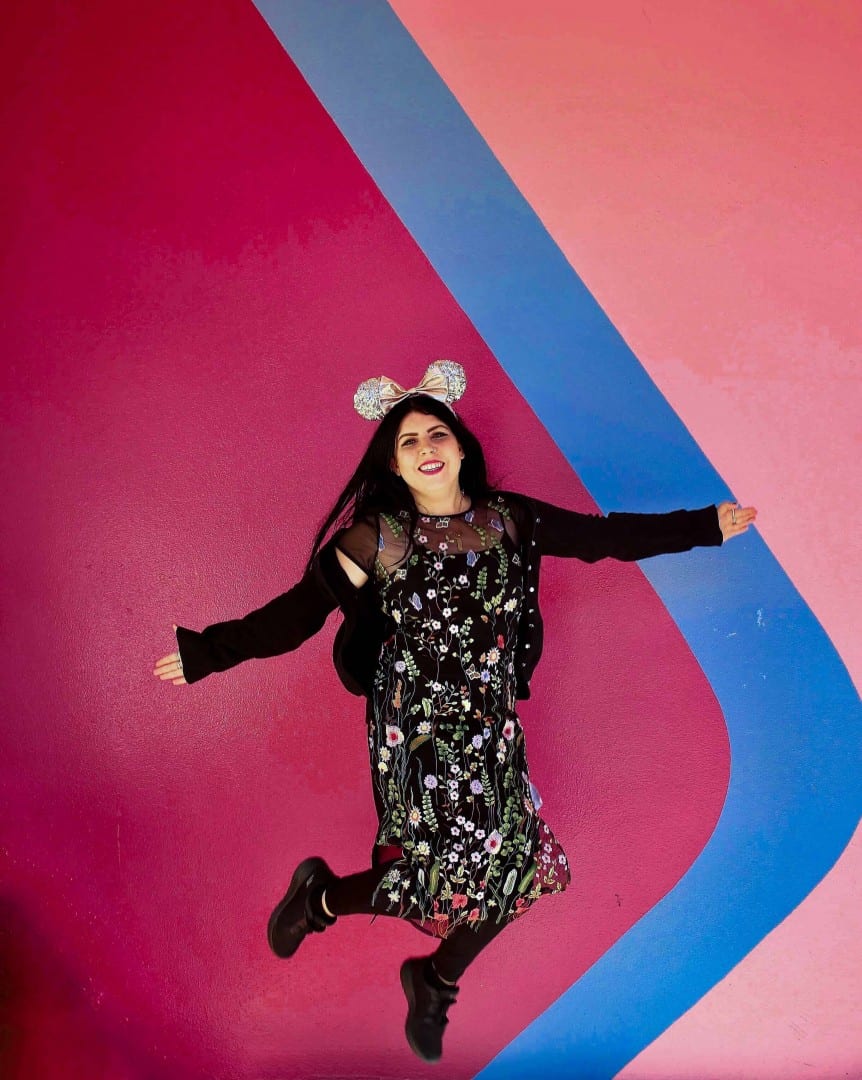 3. The Blueberry Wall in Epcot
The Blueberry Wall is just in front of the Bubblegum Wall and has the sign for Project Tomorrow hanging above it!
It's a Disney wall that is a gorgeous blueberry shade with a light blue line snaking through it. It's really easy to capture as it's not as crowded.
4. The Toothpaste Wall in Epcot
Another famous wall in Epcot is what has been nicknamed The Toothpaste Wall. This is because it's full of layers of turquoise and blue hues which looks like toothpaste.
This wall can be found in the Living Seas Pavilion in Epcot, at the exit of the Finding Nemo ride.
5. Fichwa Fellow Wall in Animal Kingdom
The Fichwa Fellow can be found outside of the Harambe Market food court in the Africa section of Animal Kingdom.
Fichwa actually means hidden in Swahili so it's a hidden Mickey too if you're looking for them!
Here you can pose with the Fichwa Fellow sign or ride to Wanjohi Refreshment Cycle, the choice is yours.
Read more about all the best Harambe Market photo spots here.
6. We Are All Children Of The World Wall in Animal Kingdom
Just opposite the Fichwa Fellow is the famous Harambe Bicycle Wall or the We Are All Children of the World Wall.
The bicycle is attached to the wall and doesn't move so you can do all sorts of poses here! If you're short like me it's a little bit of an effort to climb up haha.
It's a beautiful photo spot with lots of colour, character, and an inspiring message to go with it.
Read more about all the Harambe Market photo locations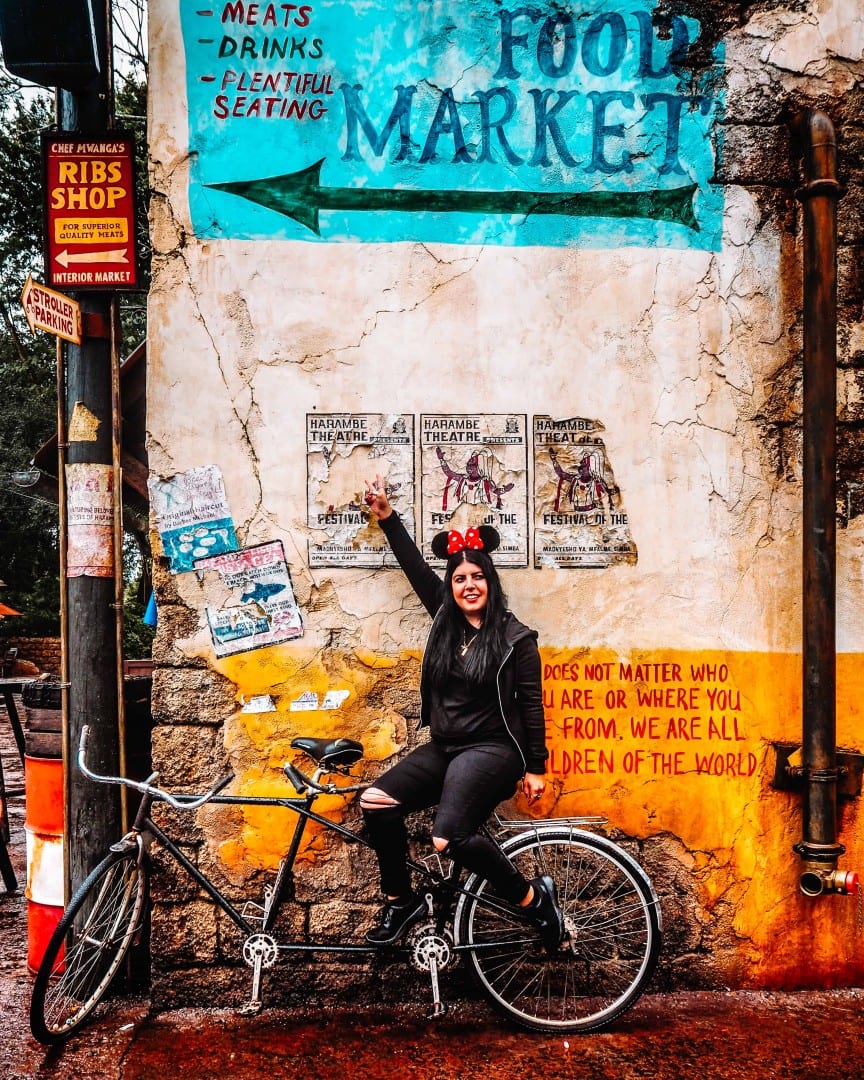 7. You Are Most Beautiful Wall in Animal Kingdom
Another one to feature in the Walls of Harambe is the You Are Most Beautiful Wall. This one is a little difficult to find, but I'm here to help you out!
If you head into Harambe Market food court in Animal Kingdom, you need to head over to a Crew Members Only door on the park side. The You Are Most Beautiful Wall is located at the entrance of the kitchens.
This is a gorgeous and fun photo spot with another inspiring message.
Can't find it? I've got a step-by-step guide on how to locate this Beautiful wall here.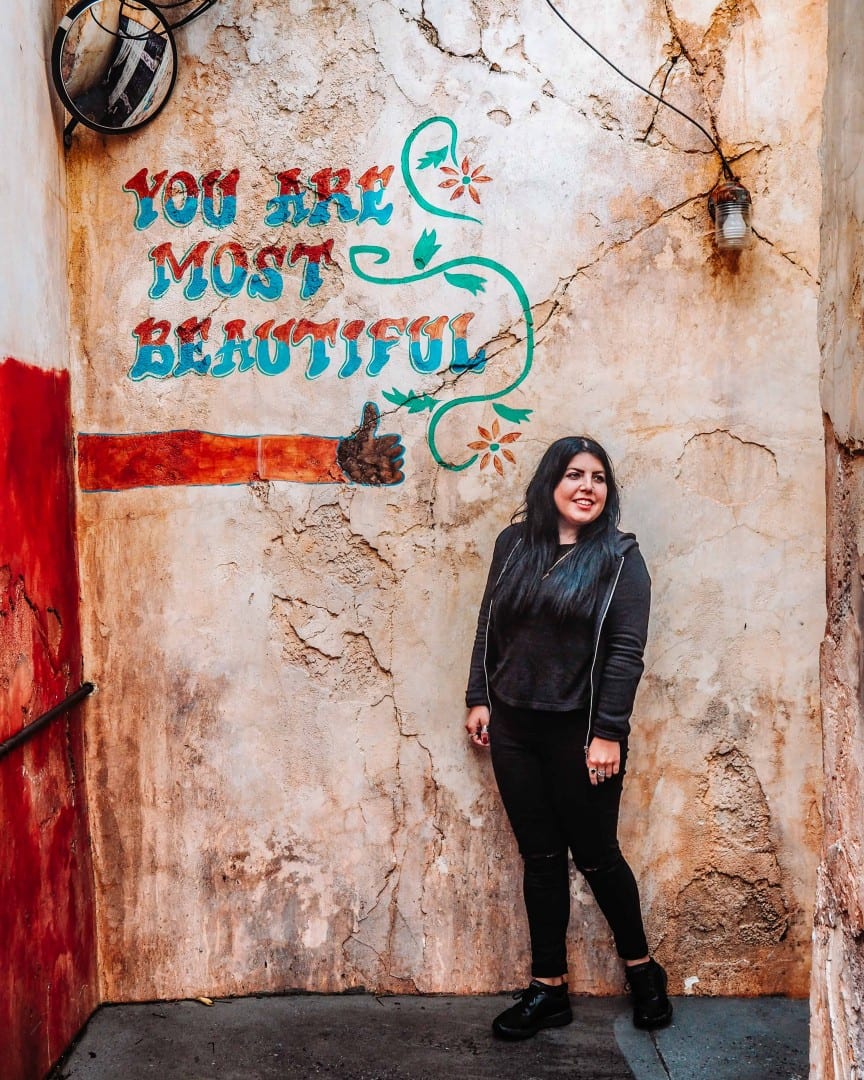 8. Tangled Wall in Magic Kingdom
Another unlikely photo spot but one of my personal favourites, The Tangled Wall can be found in the Tangled Bathrooms in Fantasyland, Magic Kingdom.
Inside the bathrooms is a gorgeous pink and yellow floral mural painted on the wall. Outside you can get a fun photo with the Tangled Lanterns, Hookhand at the Piano poster, or the Vladimir poster too – there are lots of amazing photo opportunities here.
You will get a few funny looks as you're capturing it, I mean it is a restroom. But, it's worth it for those photos so…YOLO!
9. Moss Wall in Pandora, Animal Kingdom
This is a new edition to the Disney Walls trend and can be found in Pandora: The World of Avatar in Animal Kingdom. If you didn't fancy waiting a few hours for the Avatar Flight of Passage ride, then you can have some fun snapping some photos around the area.
The Moss Wall or Mossy Wall, can easily be found next to Pongu Pongu in the Valley of Mo'ara. You'll recognise the green moss and colourful night blossom. There's even a bench to sit on next to it!
The World of Avatar also has many photo locations that you can shoot here. Why not pose next to the floating mountains, or visit at night when the whole place lights up like the Na'vi River Journey? It's something that cannot be missed!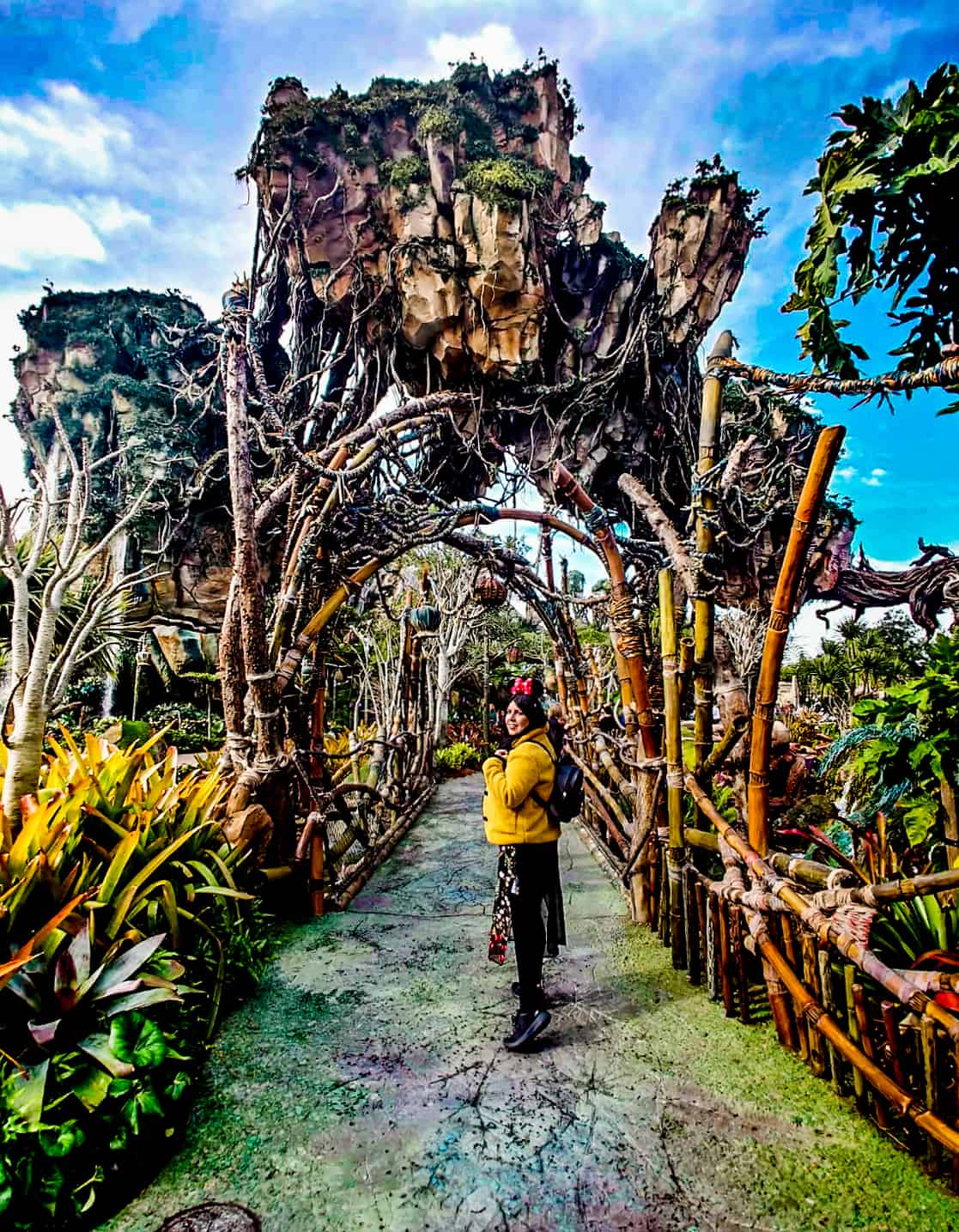 10. Muppets Wall in Hollywood Studios
Who doesn't love The Muppets? They are definitely a classic family favourite and you can get your own photo of them on your trip to Hollywood Studios.
The Muppet's Wall can be found when exiting The Muppet-Vision 3D ride just before you enter the Muppets Studio gift shop.
You will need to snap your photo in between the crowds leaving the show, but thankfully there is a gap of around 15 minutes to do so.
Hashtag: #MuppetsWall
11. The Candy Stripe Wall in Magic Kingdom
Stalking and looking at all the super cute Disney-inspired confectionary is my little guilty pleasure on Main Street USA.
So, it's rather fitting that Main Street has its very own Disney Wall too! The Candy Stripe Wall can be found inside the Main Street Confectionary shop.
This shop is like the store of my dreams and you can find the cast members hard at work making those magical Disney candy apples too!
12. Anandapur Indian Food Truck in Animal Kingdom
This isn't technically a wall but it's really colourful, pretty, and looks like a wall in the photos if you angle it right. The Anandapur Indian Food Truck can be found in the Asia section of Animal Kingdom as you're walking towards the Expedition Everest Ride.
Unfortunately, it doesn't sell Asian food but it does serve yummy soft-serve ice cream.
If you head to the back of the truck, this is where you will find this colourful photo spot. It's Indian inspired and you'll find the Taj Mahal, Bengal tigers, and murals in all different colours of the rainbow.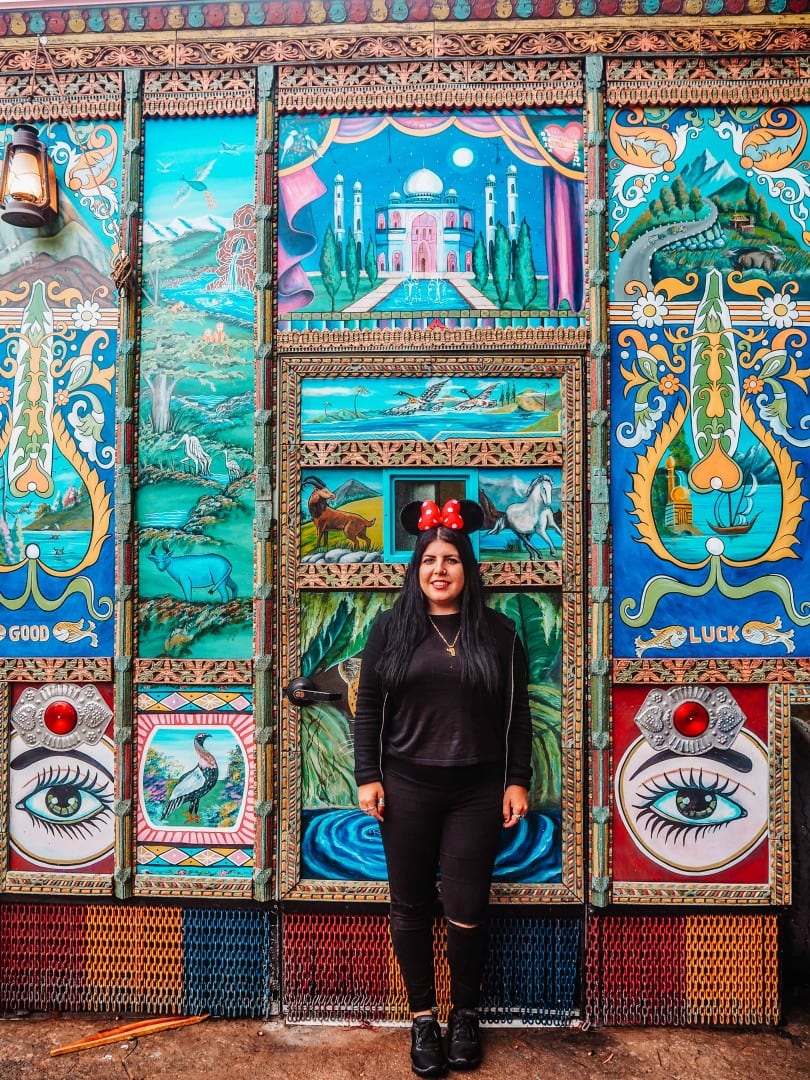 The Land Wall in Epcot or The Mosaic Wall
This is a multi-coloured tiled wall that can be found in The Land in Epcot. It is around the same area as where 'The Land' sign hangs inside.
It's a beautiful abstract array of tiles in all different colours, so it's the perfect muse for a photoshoot.
14. Rose Gold Wall in Epcot
The Rose Gold Wall is one of the newest crazes and has iridescent shades of pinks and golds, hence the nickname The Rose Gold Wall.
Again, this is becoming a favourite spot for Disney fans and, with the arrival of the rose gold and millennial pink Minnie ears and merchandise, it's the perfect companion to show them off!
You can find The Rose Gold Wall in the Mission:Space pavilion in Epcot.
Walls of Disney Instagram account and hashtag
If you did get some pretty photos of Disney Walls on your trip, did you know that there is a dedicated Instagram account to the Walls of Disney? This will show you all the Disney Walls from around the world and their locations.
Here you can see new Disney Wall trends popping up and get some inspiration for your Instagram photos. Or, if you're like me, serious FOMO and wanting to fly back there ASAP!
Make sure you tag Walls of Disney in your photo creations and use the hashtag #wallsofdisney to have the chance to be featured.
Looking for more Instagram locations in Disney?
There are plenty more photo-worthy spots in Walt Disney World than just the Walls of Disney! Cinderella's Castle, The Tree of Life, The Epcot Ball, and even the Disney Resorts and Boardwalk provide some magical photo spots for your account.
To help you find them, I've put together a whole list of Instagrammable photo spots in Disney that you can find here so you don't miss any! Or, You can read my guide all about the most photo-worthy Disney food here.
Read more of my Walt Disney World guides
A Free Disney Day Out at the Boardwalk
Unmissable Mickey Food finds in WDW
A complete Be Our Guest restaurant review
Like it? Pin it!