It was my first time landing in the vibrant and rambunctious city of Fes in Morocco and what better way to start off the adventure than staying in Riad Dar Seffarine!
As soon as I walked into this oasis from the chaos of the Medina, I knew then that I never wanted to leave.
Although this Riad is spectacularly grand with high walls and the most gorgeous Moroccan design, it doesn't lose its cosy, friendly charm. With its welcoming owners and staff, you'll feel more like family when you leave.
Here's why you should check into Dar Seffarine on your visit to Fes!
Getting to Fes
Fes has its own airport 'Fes Saiss' with regular flights running to and from London daily. Despite it being a short 3-hour flight, you'll end up in an exotic paradise full of palm trees, camels, and the desert.
If you're already in Morocco, Fes is situated around 3 hours from Casablanca and 8 hours from Marrakesh! You can easily get a train, bus, fly between the two or hire your own transport and drive yourself.
If you're heading via the bus, I would highly recommend CTM which is cheap and have excellent service.
Although I couldn't get my international card to work via their website, you may have more luck. If not, you can book your tickets across Morocco with them and I would do this as far in advance as you can as they sell out fast.
The top reasons to choose Dar Seffarine – the best riad in Fes!
1. It's an oasis in the heart of Fes Medina
As you get your taxi from the new city of Fes, you'll slowly notice going back in time until you reach the Old city.
Surrounded by a fortress, the Medina is the perfect place to get lost. Although this is often part of the fun, make sure you ask for someone to meet you and show you to Dar Seffarine.
Locals are friendly and will guide you on your way but be selective on who you ask; you could end up paying for it.
Dar Seffarine is only a two-minute walk from the Kairaouine Mosque and the Chaouwara tanneries; Fes' most iconic spot.
As you arrive you'll be greeted with a warm welcome and a fresh pot of Moroccan tea! So refreshing after hustling through the Medina.
2. It's as old as Fes itself
Originally built around 600 years ago, this Riad is one of the oldest in Fes Medina. Despite having a long history that ended up with it being in ruins, it still has many of the original details today.
You'll feel like Moroccan royalty as you wind your way through the corridors and stairways. The tiles, the gold doors, the sumptuous furnishings all make this place stand out from the crowd!
Click here to read my complete travel guide for Fes
3. The owners renovated the building themselves
It took 3 years of hard work to save this Riad from ruin and the owner's Kate and Alaa have done a fantastic job. Alaa is originally an architect from Iraq and Kate is a graphic designer from Norway.
Together, with their skills, they have created a masterpiece that can host visitors from around the world.
The most amazing thing is that most of the original details like the tiles, rooms, and doors have been retained through the process.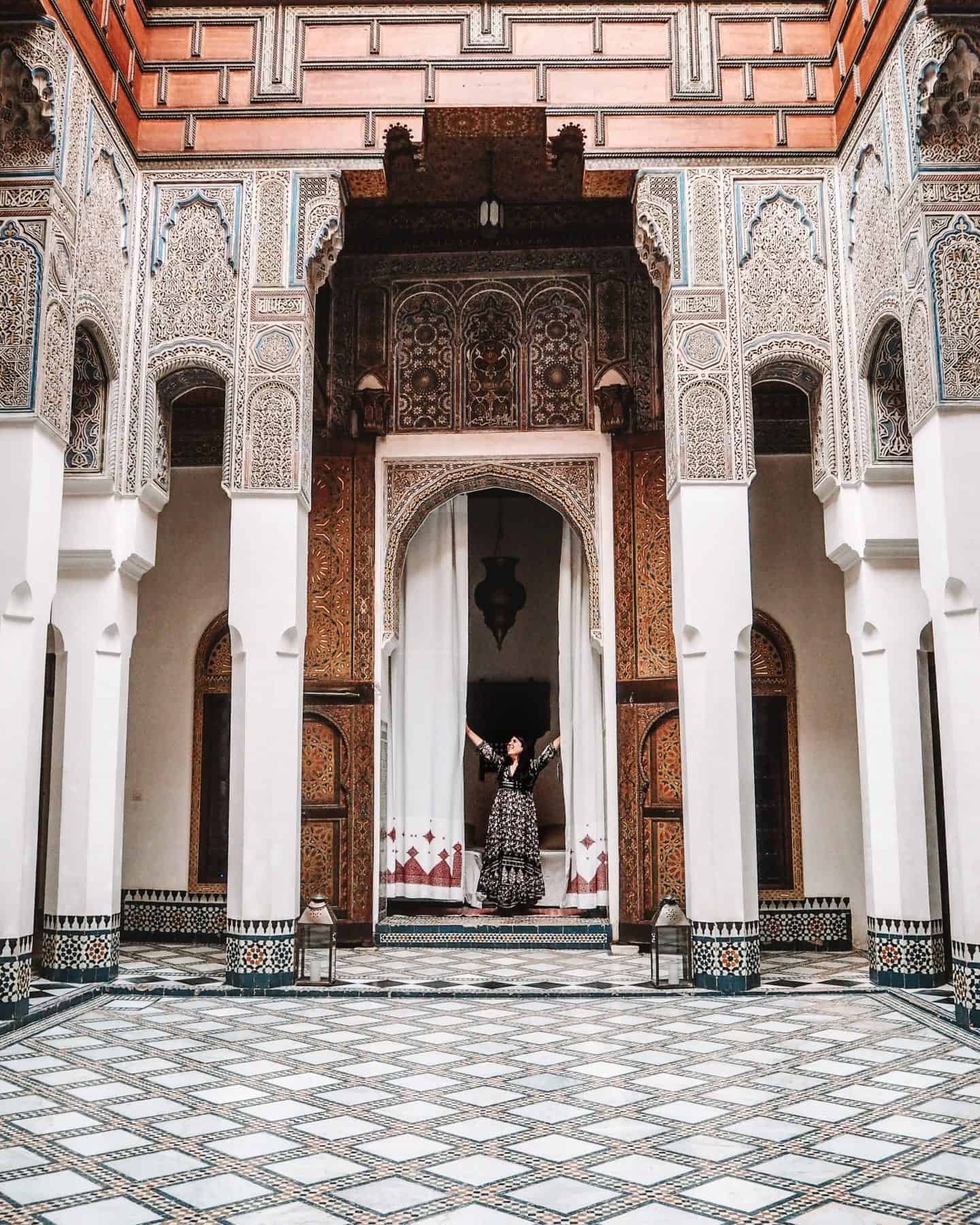 4. The Moroccan details in each room are spectacular
Your jaw will literally drop as you walk inside your room. With the beautiful wooden furnishings, traditional Moroccan tiles, and gold lanterns and shades, you'll step back in wonder.
As this hotel only has 7 rooms and suites, it's more than spacious and each room is unique in its design.
Each room comes with a private bathroom, powerful air conditioning, and the comfiest bed to feel at home in!
5. You can enjoy the panoramic view from their terrace
As you wind up the stairs, you'll eventually arrive on top of the Riad which has the most breathtaking view.
Best paired with sunset, you can relax with a drink as the sun goes down and take in the whole city.
My personal favourite was watching the city light up and taking in the evening call to prayer from here, I had to pinch myself that I was actually here.
6. Meals are more of a family affair
Meals at Dar Seffarine are often like the ones you have at home.
Where everyone sits at the same table and discusses and reflects on their day.
As I was a solo traveler, this was the perfect opportunity to meet new people and get to know other travellers from around the world.
I met a couple from Australia, Canada, and France and a family from Sri Lanka. It was such a lovely time getting to know everyone.
The food, which you will need to request in advance is better than any I had in the Medina (no lie) due to the fact it's homemade in the Riad.
We had a lamb tagine with prunes and almonds (Fes' customary dish), Cous Cous with lashings of raisins, and the tastiest fig desert. I really feel that food that's made from the heart tastes so much better. Dinner is 200MAD per person but you won't get better!
You can enjoy breakfast on their terrace and have a selection of coffee, tea, eggs, fruit juice, bread, fresh fruit and so much more.
7. You'll never want to leave
From the moment I arrived to the moment I left, I felt right at home. It's like a little hideaway from the chaos outside and you will honestly want to stay there forever.
It will add a touch of luxury to your visit to Fes and you will cherish the memories that you make here long after you've left.
Don't miss out on Dar Seffarine the best Riad in Fes, it waits to delight in you!
I would make sure that you book in advance as rooms fill up quickly! Click here to make a reservation.
With thanks to Dar Seffarine for hosting my stay, although I was a guest all thoughts, photos and opinions are entirely my own.
Heading to Morocco? Read more of my articles!
The ultimate 2 weeks in Morocco itinerary
The top things I wish I knew before travelling to Morocco
What to wear in Morocco as a woman
Solo female travel tips for Morocco
How to avoid scams at Fez Tannery
Trying a Camel Burger in Morocco
Visiting the Golden Doors of Fez Royal Palace
Is Riad Fes worth the price tag?
Taking a Sahara Desert Tour from Marrakesh
Top places to visit in Chefchaouen
Save this Dar Seffarine review for later!