If you're looking to explore some of the historic sites in Fes, then I would recommend heading up to the Merenid Tombs (Marinid Tombs).
These burial chambers are the final resting places of Merenid royalty but they are covered in a shroud of ancient mystery. No one actually knows who is buried here!
Although these tombs were once part of a royal necropolis, all that remains now are skeletal ruins of what they once were.
As this graveyard is located high up on a hilltop today, it also provides one of the best viewpoints in the city!
From here, you can see one of the best panoramas of the Medina so it's a really popular place to enjoy the sunset.
I actually visited this area twice on my visit to Fes. I have to admit, listening to the evening call to prayer when the sun was setting is the most magical feeling in the world!
Here's a complete guide for visiting the Merenid Tombs in Fes with tops tips for keeping safe.
What are the Fes Merenid Tombs or Marinid Tombs?
The Marinid Tombs was previously a royal necropolis for the Merenid dynasty of sultans who ruled over Fes starting from the 13th century.
Although it used to be a huge memorial site for royalty, nowadays this site is just a fraction of what it once was.
Today, you'll find just a couple of desolate and ruined burial chambers that lay barren and empty on the hillside above Fes El Bali! Just below, there are also the crumbling remains of an old city fortification wall.
Although the tombs are no longer in the state of their former glory, the removal of the majority of the necropolis has made way for an unobstructed panorama of the city.
So, in recent years, this site has mainly been used by locals and passing tourists as a sunset lookout point as opposed to its archaeological attraction.
Merenid Tombs history & ancient mystery!
The mysterious thing about the Merenid tombs is that no one really knows who is buried here at all!
All we do know is that this was the former royal necropolis for the Merenid Dynasty who ruled over Fes from the 13th – 15th centuries. Hence, where the tombs get their name.
They conquered the city of Fes in 1250AD and then decided to make the city their capital. To mark their rule, they built a royal palace in the Fes El-Jadid area as well. This is located on the site of the Royal Palace in Fes today!
Surprisingly, despite it being here all these centuries, there has never been an archaeological survey carried out on the burial site.
But, many people predict from the records of the Merenid Sultan dynasty that this necropolis is dated around the 14th century.
To this day, no one knows who was really laid to rest here! There are no names that mark the tombs and, even if there were, the markings were destroyed years ago.
There are a few local legends of curses and mysteries that shroud the place because of the lack of recorded history. But, these legends didn't seem to stop people who made conquest on the city.
Indeed, by the 15th century, the Merenid Dynasty fell due to a coup in the city. The last Merenid Sultan was executed in 1465 and it made way for new rulers, the Wattasid's.
With little care for their predecessors or the dead, the Wattasid's and their successors ransacked and looted every last valuable item out of these tombs! It seems, even the skeletal remains as they would have been placed inside the crypt.
Not to mention the locals taking pieces of the tomb structures for building materials.
This is largely why there are hardly any chambers from this once great necropolis left standing at all. Those that are left are empty and crumbling away.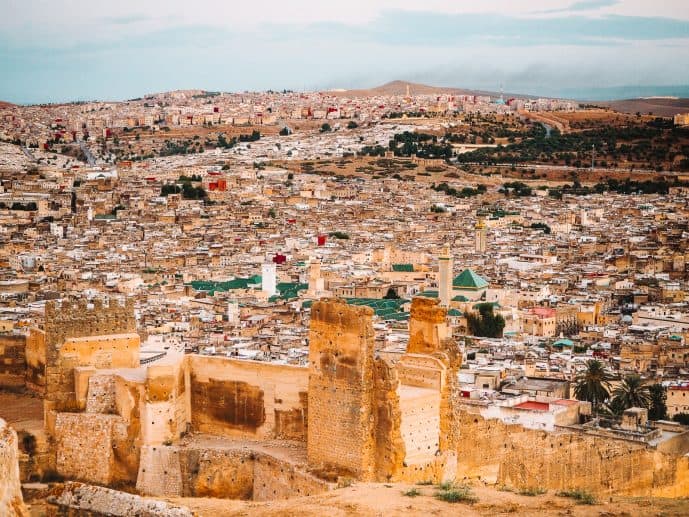 Why visit the Merinid Tombs?
Although the state of this royal graveyard does paint a pretty gruesome picture and there's not much left of an ancient burial site to see. Don't worry, it is still worth making a journey up here!
The views from this hill, high above the medina, more than make up for the rotting tombs and their miserable appearance.
Personally, I actually really loved the fact that these chambers are ruined. They have an air of mystery about them and you can explore the standalone archways and structures to your heart's content!
The hillside where they stand is a huge area. So, there's lots of room to hike and explore or sit for a while to enjoy the views.
It has an air of calm from the bustling busy city of Fes below!
The best time to visit
Having been to see the tombs both during the day and at sunset. I have to admit, I much preferred the latter!
There's something so magical about watching the sun over the horizon here and seeing the sky change different colours.
All the buildings in Fes are made with buttery stone, so you'll get to see a birds-eye view of the hotchpotch of houses in the medina. As well as the minarets of mosques and shepherds grazing their flock below.
The medina will be washed over with different hues of pinks, oranges, and purples. You'll hear the sound of the evening call to prayer too and it will be an evening to remember.
A small warning about safety before you go!
Although this is a popular lookout point for tourists, be aware that pickpocketing and muggings take place around here especially at night time.
I was warned about this by many locals in the hotels and restaurants I stayed in. Unlike the medina, this place is really remote.
So, although it's a great sunset point, it's not recommended to stay until nightfall when it gets really dark. Especially for tourists who are likely targets.
I went alone as a solo female traveller during the day thinking it would be safer and I had a guy follow me down the street. All the way from the bus station!
I didn't think much of it at first until he started to follow me up to the tombs as well. I couldn't see anyone around as the graveyard was so remote. So, l started to panic and ran up to the top of the hill towards the tombs.
I freaked out and alerted a local man who pointed me towards the tourist police who was thankfully up there on horses. They immediately rode down the hill and asked the guy why he was following me.
Once the policemen returned up the hill they told me that he didn't want to do me any harm but 'wanted to be my tour guide' (yeah right!).
Sorry but, even if that were true, it made me feel so on edge and uncomfortable. It was the only time in Morocco I've really felt uncertain of my safety.
In the end, the policeman asked if I could hitch a ride back down with another tour group to the medina as he didn't want me to walk back alone.
I'm not trying to put you off visiting as it's normally really safe during the day. But, I wouldn't go alone as I did.
I'd make sure you travel with someone, with a tour guide or have a means of transport available to you just to be sure.
The next time I visited at sunset, I took a taxi up to the hill and back. There were far more people up here at that time and I felt so much more comfortable.
If you're concerned about solo female travel in Morocco – look up my top tips here!
How to visit the Merenid Tombs in Fes
There are a couple of options on how to visit the tombs in Fes. But, this depends on what part of the medina you're located and staying in;
How to walk to the Merenid Tombs in Fes
The most economic and scenic way to make your way up to the Marinid Tombs would be to walk.
The location is not far from the Fes El Bali area of the Medina, the Fes bus station, and Borj Nord museum.
I decided to take the walk along the Avenue des Merenides passed the Marinid garden towards the hill and it took me around 20-30 minutes to reach there. Although I spent most of that time panic running. I don't recommend this route alone.
Alternatively, from Bou Inania Madrassa the walk will take around 30 minutes. It's also around 8 minutes walk from Borj Nord museum.
It will be quite a hot walk during the day, so bring water with you as there are no facilities whatsoever at the tombs!
Taking a taxi to the Merenid Tombs
Although not my preferred option, I personally feel it's safer to take a taxi. This is especially important at sunset so you're not walking back in the dark.
It will cost you around 20/30 MAD one way (£2/£2.50) from just outside the Fes Medina area.
The Medina is car-free, so you'll need to grab a taxi on the outskirts of the old city.
They will find parking up the top of the hill and can take you straight there by road!
Although it's easy to find a taxi to take you up to the tombs, it's not so easy to find one to take you back.
So, you could hire a taxi and ask it to wait for you. This is what I did and lots of people tried to bribe my taxi driver to take them down the hill and offer to pay him more money!
But, thankfully, he was kind and waited for me. I paid him around 50 MAD in the end (£5) but it was worth it for peace of mind.
What to expect while you're here
During the day, I didn't see another soul up here! It was completely empty and it was a great opportunity to snap some photographs of the place.
I quickly understood the reason why though, it was roasting up here in the midday sun!
As the area is like a barren desert and largely uncovered, there is no shelter and you're completely exposed to the sun and heat.
A few days later, when I returned for sunset, I was completely gobsmacked at the transformation!
There were swarms of tourists and couples who had gathered on the hill to watch the sunset show.
It was quite hard to get photos this way but a top tip I have is to walk down the hill towards the old city fortification walls. This way, you can avoid some of the crowds for a great photo opportunity.
Remember to explore the lower city fortification walls & Bab Guissa too
This whole area on the outskirts of the Medina is fascinating to explore, especially if you love scenic views and historical monuments.
In complete contrast to the compact bustling bazaar below, you'll just find remote hilltops and ancient fortifications dotted around this area!
One of the places I really loved exploring was the old city wall that could be found just at the bottom of the Merenid Tombs site.
If you get to the bottom of the hill and cross the road, you'll find a crumbling old wall that used to be a gateway to the city! Although it's not as high as the vista at the tombs, it's far more peaceful.
If you carry on further, you'll eventually reach Bab Guissa which is a 12th-century arched city gate!
You'll most likely see shepherds around here herding flock and drying out leather skins in the midday sun!
If you're looking for another museum, why not check out Borj Nord nearby? It's a 16th-century fort inspired by the Portuguese! Today it's a museum of Arms.
Opening times and entry fees
The Merenid tombs are open 24 hours a day in Fes and there is no entry fee to visit either.
It makes it a great budget activity while in the city. But, as before, don't go late at night! I found the Medina much safer.
Looking for more things to do in Fes?
Fes is not as glamorous as Marrakesh but it is richer in so many ways as you can get far more cultural experiences.
There are plenty of attractions hidden away in the Medina and beyond that, you could visit next.
Some of my favourite places were the Bou Inania Madrasa, The Chouara Tannery, and the Royal Palace Doors of Fez!
Also, if you're looking for some amazing places to eat, you can start off at the famous Café Clock who are known for their camel burgers!
Click here to read my complete Fes travel guide with more things to do!
The best place to stay in Fes
Fes is full of riads and hotels and it can be hard to know what to book as it seems there is an endless choice!
But, there are a few I would highly recommend you check out;
Dar Seffarine – This family run property used to be a palace that went into ruin. Now, its been restored back to its former glory! It has some incredible boutique rooms and their home made tegines at dinner are to die for. They also have a gorgeous view from their rooftop! Click here to read my full review or click here to check dates and rates.
Riad Fes – This is one of the most high end hotels in the city. This 5* property has jaw dropping decor and another incredible view from the rooftop. You can enjoy cocktails overlooking the view, swim in their pool or eat at their fine dining restaurant. Click here to read my review or book your stay here.
Read more of my Morocco articles!
The ultimate 2 weeks in Morocco itinerary
The top things I wish I knew before travelling to Morocco
What to wear in Morocco as a woman
Solo female travel tips for Morocco
Taking a Sahara Desert Tour from Marrakesh
Top places to visit in Chefchaouen
Save this Merenid Tombs Fes guide for later!