If you're wondering what the Arniston House Outlander location was in the series. You've come to the right place.
Arniston House in Midlothian featured in Outlander series 4 as the theatre in Wilmington that Claire and Jamie attend a play.
As the ancestral home of the Dundas family for over 450 years, there is so much to discover within its walls. Also, If you're an Outlander fan, it's well worth booking a tour to see behind the scenes.
Here's a complete guide to the Arniston House Outlander film location.
Arniston House Outlander Locations
I have to admit that series 4 of Outlander, to me, was rather disappointing. I'll watch series 1-3 over and over again but series 4, I have only ever watched once.
So, I completely spaced on Arniston House when I was researching Outlander locations on Visit Scotland's Outlander map.
But, as it was Outlander, I thought I must check it out. Unfortunately, on my tour inside Arniston House, there was no photography allowed but I will point out the Outlander scenes that were filmed here.
1. The theatre entrance and lobby of the Wilmington Theatre
In series 4, episode 8 'Wilmington' Arniston House featured as the lobby and entrance to the theatre in Wilmington.
You can see this from the outside of the house and Claire and Jamie join Governor Tyron for the performance.
Unfortunately, there is strictly no photography inside the house at all, so I can't show you the lobby area but it is spectacular.
The Palladian mansion was completed by William Adam and later his son John Adam. So, inside there is gorgeous carving work and those faux doors that 18th-century houses all seem to have here!
2. Where Claire operates on Edward Fanning
Later on in the episode, Claire saves Edward Fanning's life in the same area.
Edward Fanning complains of a hernia and, if Claire doesn't operate on him, he will die from the blood circulation being cut off.
The lobby was used for this scene again and apparently, the staff was able to watch the scenes being shot from the upper floors – so lucky!
Where was the Wilmington theatre filmed in Outlander?
The Wilmington Theatre where Jamie and Claire sit and watch the performance can be found in Glasgow at St Andrew's in the Square in Glasgow.
Also, later in the series, scenes of Frank asking Brianna to move back to England were shot outside of St Andrews in the Square.
It was previously an 18th Century former church but now is a centre for Scottish Culture.
Although Visit Scotland's map and Google say It's open daily. It's actually only open on Tuesdays from 11 am – 1.30 pm. Which is quite limited!
There is also a café called Café Source that is underneath the church open Wednesday – Saturday. Typical I arrived on a Monday and both were closed!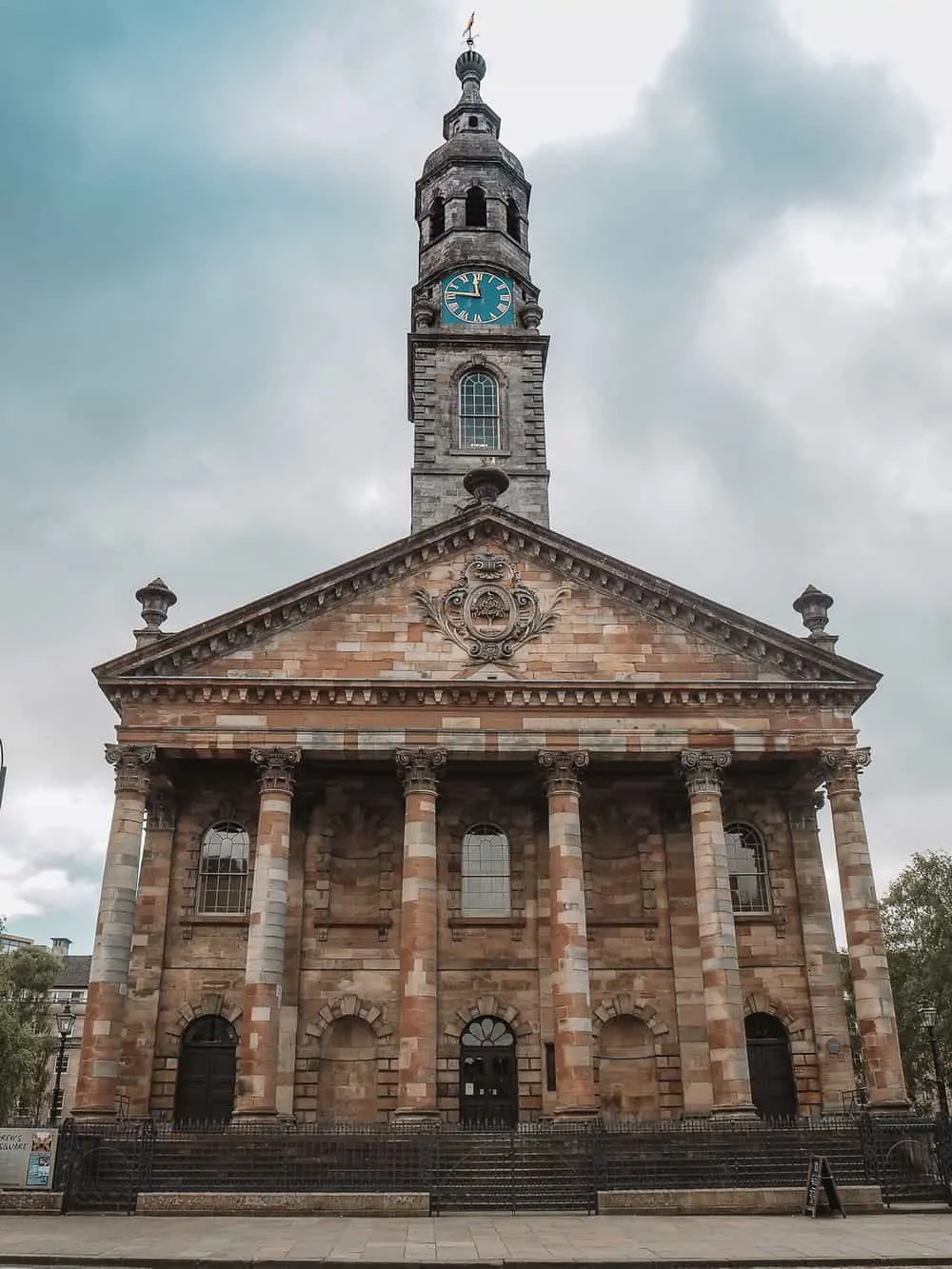 Arniston House History
The Dundas family is well known throughout Scotland. There is a Dundas street in Edinburgh (and on further inspection worldwide!) and there is even a statue of Henry Dundas on top of the Melville Monument too.
That man was Henry Dundas, 1st Viscount Melville, but often he is nicknamed the 'Uncrowned King of Scotland'. He was the MP for Midlothian in 1774.
In the Middle Ages the Arniston Estate was a royal hunting park and was gifted by King David of Scotland to the Knight's Templar. This is how the nearby village of Temple got its name.
After that, the estate was granted to the Dundas family in 1571, and Dundas Castle was built on the site. Robert Dundas inherited the property and asked William Adam to design the house in 1726.
In the 1950s it suffered from dry rot due to negligence from the owner at the time. So, it went through significant restoration and now has been restored to its former glory! One of my favourite rooms was the restored Chinese room that had hand-painted wallpaper imported from China.
It's now owned by Althea Dundas-Bekker who I had the pleasure of meeting while I was here. It was surreal meeting a member of such a noble family and I loved learning about her ancestors from her.
Booking an Arniston House Outlander tour
If you're keen to book an Outlander tour of Arniston House, then fans are in luck! Arniston House regularly hosts bespoke tours of the house with a tour, lunch, and Q&A.
If you are just wanting to do a house tour, you can visit the house on certain months throughout the year.
Usually, it's between May – September and takes place on Wednesdays and Thursdays (sometimes Sunday's. Tours cost £7 per adult and, when I visited, it was a tour for just me!
There are also private group tours too that require a minimum amount of people. The grounds are open and free of charge between those hours too.
Exploring Arniston House Gardens
Once you're done with your tour inside Arniston house, you can then explore the gorgeous grounds surrounding it!
Arniston House has a beautiful sunken garden on the grounds. It slopes down into a basin and, when I visited in June, it was so lush and green.
There were waterfalls, rose bushes, and manicured gardens which were lovely to browse. But, as it was June, the midges were out too that ate through my tights. So, my visit was short-lived.
How to get to Arniston House in Scotland
Arniston House is in Midlothian and the nearest city is Edinburgh. The drive should take around 40 minutes depending on traffic.
It's easiest to arrive by car and parking is FREE just outside of the house if you're going on a tour.
If you do try to attempt to visit on public transport you may be in for a long walk as the nearest bus stop is Braidwood bridge. I use Travel Line Scotland to plan journeys by public transport.
Bonus location nearby: Dalhousie!
As I made my way over to Arniston House, I saw a sign for Dalhousie Castle and I thought 'That name sounds familiar'. Turns out I was right!
If you remember in series 2, episode 4 'La Dame Blanche' Jamie and Claire are discussing what to call their first baby. Jamie suggests the name Dalhousie like the amazing castle there much to Claire's disgust.
Well, after I realised that, I had to stop off and check it out. Dalhousie Castle is now a resort and spa that you can book for the night. I didn't have the chance to check inside but the castle is gorgeous!
Outlander locations to visit around Arniston House
Once you're finished exploring Arniston House, there are plenty of Outlander film locations close by that you can explore.
It will make the perfect Outlander day trip from Edinburgh!
Click here to read my ULTIMATE list of Outlander locations in Scotland! Or read my complete list of Outlander spots in Edinburgh here
Preston Mill and Phantassie Doocot
If you're looking to visit Lallybroch Mill where Jamie strips off to fix the waterwheel, then look no further than Preston Mill and Phantassie Doocot!
As well as visiting the Outlander film site for yourself (unfortunately, there is no guarantee of any red-haired Highlanders about) you can take a guided tour of the mill and learn about how they made flour all those years ago.
Another Outlander scene you may not know they filmed here was the backroom in Cranesmuir Church in the Witch Trial. In this scene, Ned Gowan asks Geillis to give herself up to save Claire.
There's a great little display by the gift shop that shows you some behind-the-scenes photos of the filming and some signed photos from Sam Heughan and Caitriona Balfe.
Around the mill, you can take a country walk to the historic Phantassie Doocot or explore the quaint village surrounding it. The choice is yours.
Click here to read more about visiting this Preston Mill Outlander location
Newhailes Estate
Newhailes Estate is just a few miles out of the city of Edinburgh and makes a great day out in the countryside. It's a FREE National Trust for Scotland area so makes a great budget day out.
In Outlander, Newhailes house featured in season 4 as Governor Tryon's residence in North Carolina.
Unfortunately, when I visited they had shut the house for renovations so I couldn't go inside. But, you can still recognise the exterior of the house from the episode.
As well as visiting the house, there are multiple walking routes that you can take in the area, Weehailes for kiddies, a Doocot, and much more. It makes a great day out as well as ticking an Outlander film site off your list.
Click here to read my complete Outlander guide for the Newhailes Estate
Gosford House
If you're looking to experience a bit of Paris in Scotland, then head over to Gosford House in East Lothian! Gosford House featured as the Royal Stables of Versailles in Outlander Series 2. If you remember, it was the time when Jamie was helping the Duke of Sandringham choose a horse.
As well as featuring as Versailles, Gosford House was also the location of the Dunsany residence, Helwater Estate, and it also made an appearance as the Earl of Ellesmere's home too.
Gosford House is only open to the public on certain days of the year, so make sure you plan your visit accordingly.
Click here to read all the Gosford House Outlander locations and how to visit!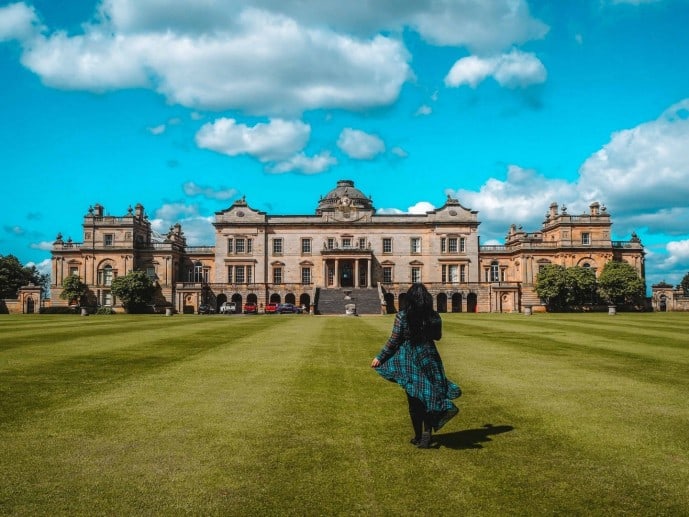 Glencorse Old Kirk
One of my all-time favourite episodes of Outlander is the wedding episode and so a visit to the kirk where Jamie and Claire tied the knot was at the top of my Outlander bucket list.
Luckily for Outlander fans, Glencorse Old Kirk is open for visitors and, even better, open for weddings too! So, if you did want to get married in the same place that Jamie and Claire did you're welcome to.
Tours do need to be booked in advance and cost £10 per person but it is SO worth it in my opinion. Many fans re-enact scenes from the episode and even bring their own cutouts of Jamie. So, go wild!
Click here to find out how to visit the Glencorse Old Kirk Outlander wedding location!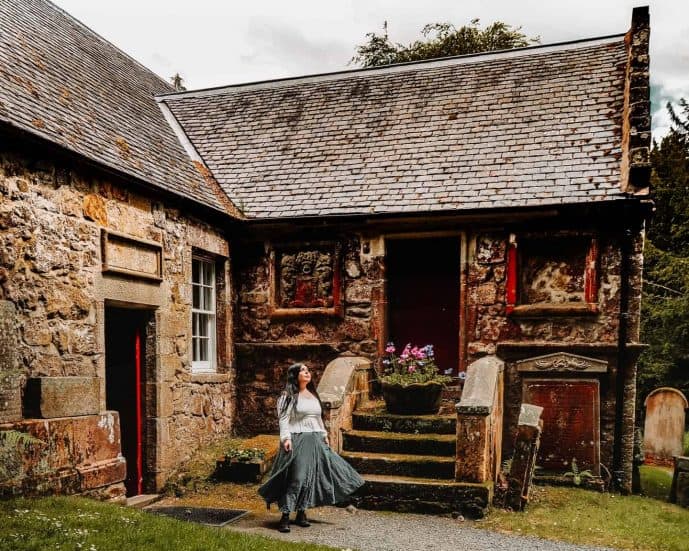 Roslin Glen Country Park
About a mile down the road from Glencorse Old Kirk is another film location that featured in a notable scene from the series. Most fans will remember that gut-wrenching scene where Jamie says "you're tearing my guts out Claire"!
Well, you can visit the location where Claire and Jamie had that heated argument at the Gunpower Mills in the Roslin Glen Country Park.
It's a free park that is open to all just a few miles outside of Edinburgh and makes a great budget day out. Finding the Gunpowder Mills is a little bit of a challenge though.
Click here to read my complete guide with directions for how to find the Roslin Glen Outlander location!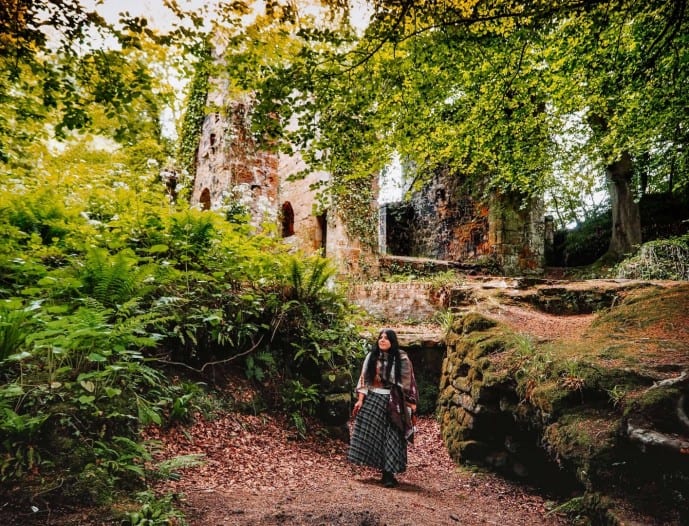 Save this Arniston House Outlander location guide!