The Newhailes Estate is a popular stop just outside of Edinburgh that holds the ancestral home of the Dalrymple family.
It has many acres to explore, a play area, café, and was an Outlander film location!
In series 4 of Outlander, the Newhailes House Outlander location was Governor Tryon's residence in North Carolina.
Here's a complete guide to finding Outlander at Newhailes House in Musselburgh.
What was the Newhailes House Outlander location?
The outside and inside of Newhailes House featured as Governor Tyron's residence in North Carolina. It featured in Outlander series 4, episode 1 'America The Beautiful'.
Firstly, we see Newhailes House in Outlander when Claire and Jamie are invited to dinner. Then, later on, Jamie is invited to discuss the land grants with Governor Tyron.
Unfortunately on my visit, Newhailes House was undergoing a huge project to eliminate moths from the property.
Click here for more details on visiting Newhailes House!
Newhailes House history
This incredible Palladian-style mansion was originally named Whitehills and was built in 1686 by the architect James Smith. He intended to live at the property, but then eventually sold the estate to John Bellenden who sold it on to Sir David Dalrymple.
He was the 1st Baronet of Hailes and renamed the house Newhailes after Hailes Castle which he owned.
Sir David Dalrymple, 3rd Baronet, was a member of the Scottish Enlightenment, and many famous literary works and 1st editions can still be found inside the library at Newhailes.
When he died without heirs, the house passed down through several generations. Eventually, in 1997 it was acquired by the National Trust for Scotland and opened to the public.
Things to do on the Newhailes Estate
Beyond an Outlander location of Newhailes House, there are so many things you can do around the Newhailes Estate!
It's a huge area, covering 80 acres of parkland and there's something for everyone here.
1. Visit the Ha-Ha and the Doocot
You're probably wondering what a Ha-Ha is! Well, in planned or landscaped gardens a Ha-Ha is a sunken fence that would be built up with a stone wall.
The point of this was to give the viewer the illusion of an unbroken, rolling garden that also stopped livestock from entering. It's currently being refurbished at the moment, but should be fixed soon.
A Doocot in Scotland is known as a Dovecot and at Newhailes it's home to the Doocot Diner!
2. Take an 18th century woodland walk and visit the Shell Grotto
There are many walking trails around Newhailes Estate that will take you all over the park. Many are marked and are named after popular trails from years gone by.
I decided to take the Ladies Walk which was very relaxing and not very hard at all. I loved how quiet the walk was and it brought you right into nature with fantastic views.
The most interesting find was the Shell Grotto on the grounds. It's one of the finest examples of an 18th-century shell house in Scotland which is a sort of folly. Years ago, the inside would have been completely covered shells.
The Dalrymple family collected shells from Musselburgh, the Forth, and even as far away as the East Indies. There is also a Tea House on a Palladian Bridge nearby.
3. Take the kids to play in the park Wee-hailes
Wee-hailes was packed to the rafters when I visited in the Summer Holidays and does look like a lot of fun for Children. It looked like a whole village with treehouses, suspended walkways, slides, ball pits, and more!
The kids were having a blast and it must be such a great day out for them. Adults must supervise children but there is a great café to get a coffee and cake if you need some energy.
How to get to Newhailes Estate
Newhailes Estate is in Musselburgh which is only a 15-20 minute drive from Edinburgh depending on traffic. I stayed in the Holyrood area and my drive was 10 minutes.
If you would rather get public transport there is a bus stop at Newhailes Roundabout which is a 2-minute walk to the park. I use Travel Line Scotland to plan my journeys with public transport in Scotland.
Newhailes House opening times and prices
When the Newhailes House restoration project is finally finished and it opens to the public again in March 2020, it is open by guided tour only. Prices will be available in 2020.
Typically the house is open from April – September but the full visiting hours will be on the website. The Wee-Hailes park is open from 10 am – 5 pm. Children cost £5 and Adults £1. Children must be supervised.
The estate is open all year to the public and is FREE to visit.
Click here for full details on the Newhailes Estate opening times and ticket prices.
Parking at Newhailes Estate
Exploring the grounds of Newhailes Estate is completely free but parking does have an all-day charge of £5 if you're not a National Trust for Scotland member.
There are limited spaces next to the park, but there is an overflow nearby.
Outlander locations near Newhailes House
I have lots of information and tips about many of the Outlander locations in Edinburgh that you might like to read!
Click here to read my ULTIMATE list of Outlander locations in Scotland!
On the Royal Mile, you can visit Bakehouse Close that featured as Alexander Malcolm's Print Shop and you can visit Tweeddale Court nearby where Claire is reunited with Fergus.
A Colonnades afternoon tea is a must for Outlander fans as this is also the interiors of the Governor's Mansion in Jamaica. Or, you can follow in the footsteps of Jamie and Claire to the World's End Tavern where they save Mr. Willoughby.
Read more: Outlander Walking Tour of the Royal Mile (with Map!)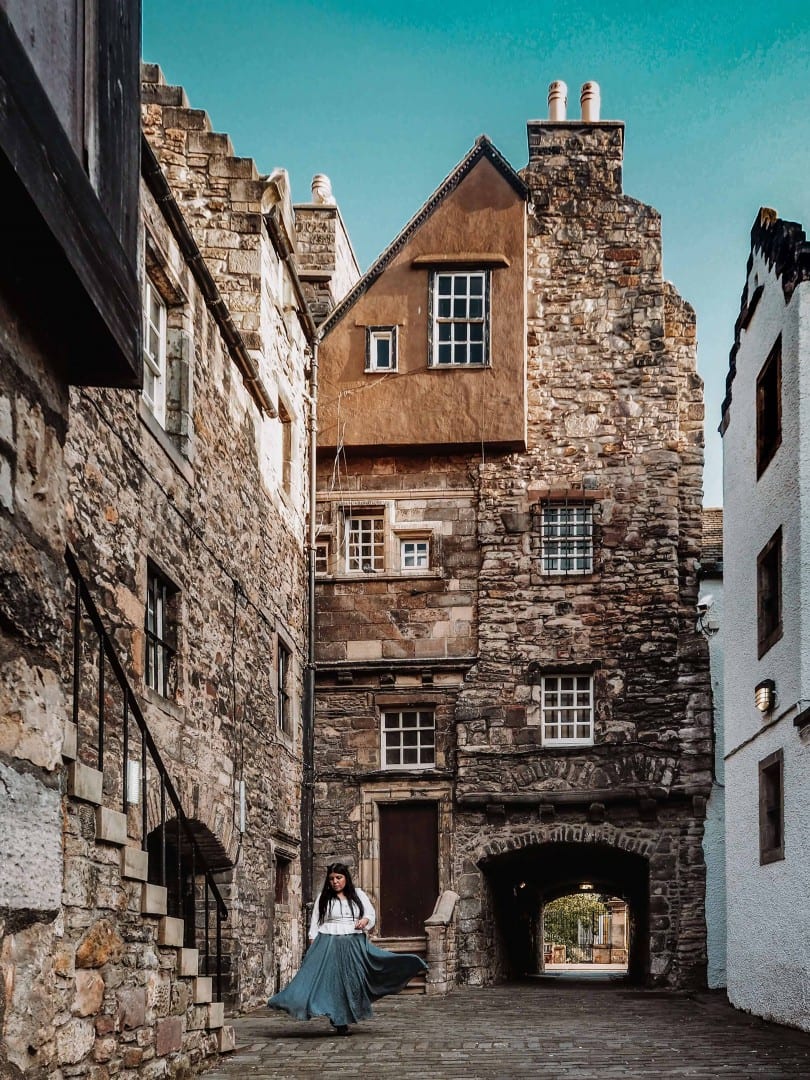 Summerhall nearby has a lecture room that featured in the series as a lecture room in Boston and Craigmillar Castle doubled up as Ardsmuir Prison. Roslin Glen has some Gunpowder Mills that featured in a heartfelt argument from series 1 too.
Gosford House played Helwater Estate and Preston Mill featured as Lallybroch Mill.
See my complete list of Outlander locations around Edinburgh!
Midhope Castle will give you the chance to visit Lallybroch, otherwise known as Broch Tuarach, Abercorn Church is also nearby.
Or, head to all the Outlander spots on the Hopetoun Estate, including the Duke of Sandringham's red room.
Blackness Castle featured as Fort William and you can find Wentworth Prison at Linlithgow Palace.
Doune Castle is the famous Clan MacKenzie Castle Leoch, Drummond Castle Gardens played the gardens of Versailles in Paris.
See where Claire and Frank said their goodbyes at Bo'ness Station or visit Deanston Distillery to see Jared's wine store in La Havre.
Falkland is featured as 1945 Inverness and you can spend the night just like Claire and Frank or head to the previous Royal Borough of Culross to see Cranesmuir, the Black Kirk, and the gardens of Castle Leoch.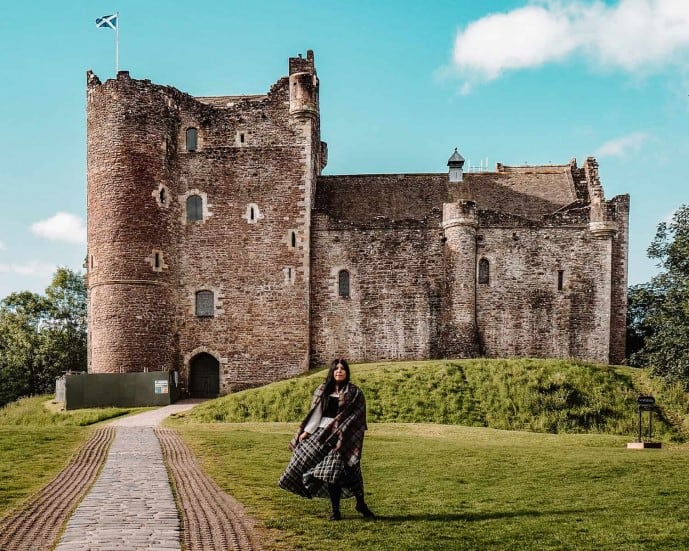 Save this Newhailes House Outlander guide for later!