When I first visited Nepal, it was for a long weekend break in Kathmandu from Delhi.
Knowing that I wouldn't have enough time or the fitness to trek to anywhere near base camp and beyond, I just couldn't leave this Himalayan country without seeing the tallest mountain in the world!
The mighty Mount Everest.
An Everest mountain flight is the perfect option for those that are on time constraints in Nepal or would like to see the mountain range in its entirety from above before/after their long trekking adventure begins.
Seeing the Himalayas from the air was spectacular and captivating, there's something about these forces of nature that is almost too awesome to behold.
They're like a siren to many and call you in, some never make it out.
Luckily for me, it was a crystal clear sky kind of day. Not a single cloud in the sky. So, we jetted off to do our round trip of the mountains and meet the big guy.
In this post, I'll cover if it's safe, and what it's like to take an Everest flight from Kathmandu.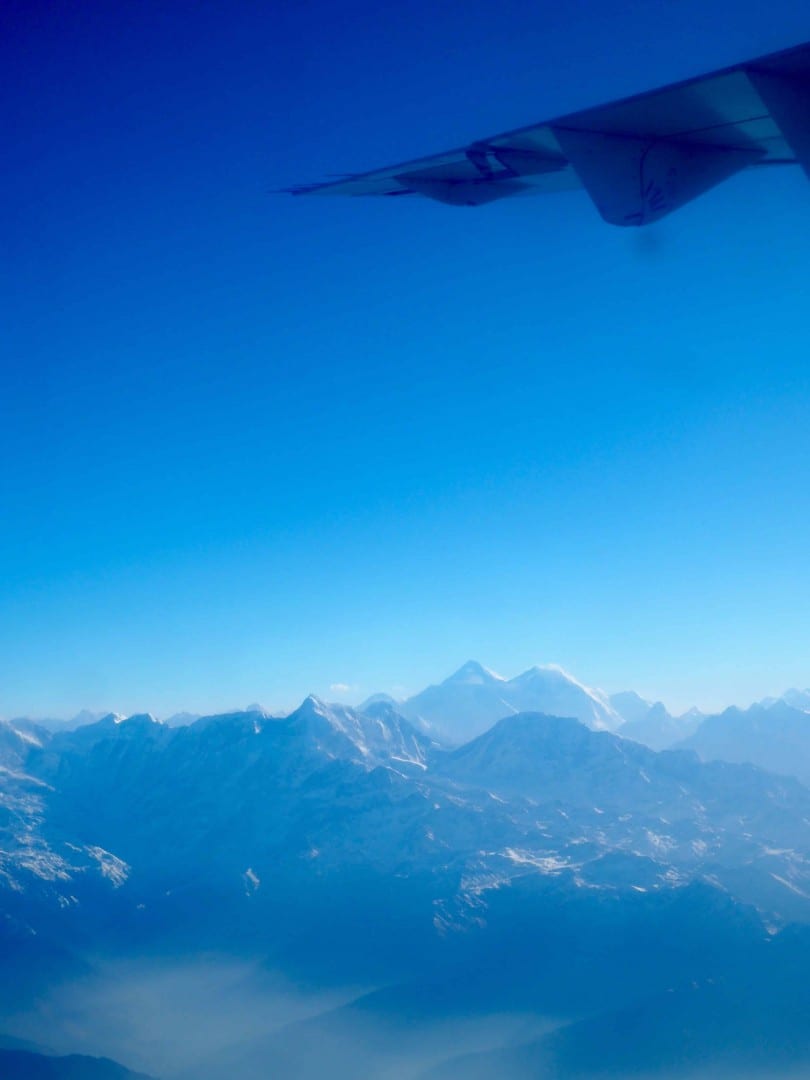 This is the ULTIMATE Everest mountain flight tour review
The best airline for an Everest mountain flight – are Everest flights safe?
The first and foremost thing that popped into my head when I was thinking of booking a flight ticket to the mountains was the number of accidents that are reported in Nepal.
I was frantically searching for the stats to make sure that I wasn't heading into a disaster zone.
But, when searching, I didn't find much and it's actually the flights landing at Lukla (for Everest base camp) that have the most issues as it's a steep curve in a mountain range.
Any reputable airline will not fly over the mountains when it's bad weather here.
In any mountain country, the weather can change at any moment and those high peaks can easily get shrouded in clouds in a matter of minutes.
The airlines will not fly in bad weather and so you will be told on the day if the flight is going to head out.
If it's bad weather, you will be told to come back the next day or refund your money.
By far the safest airline that I found from Everest mountain flight reviews from other travellers was Buddha Air.
This was closely followed by Yeti Airlines. Most offer the same service which is an hour's flight experience over the mountains.
But, Buddha claims to go slightly closer to the mountains than most and you're guaranteed a window seat so I decided to pick them.
How much does an Everest mountain flight cost?
The Everest mountain flight experience flight is not cheap, so if you're on a budget you may want to give it a miss!
In 2020, it was $190 USD (£140) by booking directly online via the Buddha Air website.
This is the price for foreign nationals but if you're Nepali or Indian you will be paying half that price around $80/90.
I'm used to tourist attractions having a different price tag for foreigners which is fair enough. But, in Nepal even buses and hotels have different price tags for Nepal and Indian nationals! Crazy.
I'm sure that you may get a different or cheaper price if you book directly through a travel agent who will take you through each airline, what service they provide, and the cost.
I waited until the day before I knew it was going to be a clear morning on the weather forecast and booked online.
This way, I knew I was guaranteed blue skies or at least the odds would be better in my favour than just booking it randomly!
If you're worried about it being booked up, don't be. There are around 6/7 flights that go daily and they will put more planes on if people want to fly.
When I was waiting at the airport, there were so many mountain flights taking off in the morning, that I got a bit confused as to which one mine was.
Where does and Everest mountain flight fly from?
All the Everest mountain flights take off at around 6 am in the morning time from Kathmandu to try and beat the cloud cover.
They will all fly from the Tribhuvan International Airport which is located on the East side of the city.
You will need to make sure you have a taxi transfer booked to get you there on time. It's good to note that this airport is not a 24-hour type of place.
When I arrived in my taxi around 5.30 am, there was a MASSIVE queue of backpackers waiting to get inside the airport.
All had their big bags with trekking gear, boots, pickaxes, and roll mats tied to their bags!
We all had to wait in this tiny little area by the doors to get inside. This works just like a normal airport so before you enter you will need to scan your bags.
Try not to let your little bag for your flight get crushed by the big backpacks being loaded into the scanner.
Checking in for your Everest mountain flight at Kathmandu airport
Like any airline, you will need to check into your Everest mountain flight.
So I headed to the Buddha Air counter in the airport and wait in the 'queue'. When I arrived there was no one checking people in and so I had to wait in a pretty weird line for a while before the staff arrived for their shift.
You need to bring the printout of your booking confirmation with you for check-in.
I'm sure that your phone confirmation barcode will work just as well. I brought my passport but I don't think it's necessary.
Top tips for picking your seat
You won't be assigned a seat online so if you're after a certain seat, I would make sure you ask the counter to assign you.
By far the best seat that you can get is the seat right at the back as you won't have a big plane wing blocking your view of the mountains!
Knowing which Everest flight is yours
As there are many different airlines that fly to the mountains each morning, you will need to know what flight is your one when boarding.
It's a small waiting area in the domestic departure lounge but you will find that all the flights which are heading out to Lukla fly first and the airport clears out quite quickly.
Your flight ticket should have a number assigned to it and this is the one to look out for on the TV screens.
You will hear 'mountain flight' is called and the number. Although I was told my Everest mountain flight was heading out at 6 am, it was actually almost 7 am before I took to the skies.
I think it goes in order of who booked first, but I can't be sure.
What does the plane look like for your Everest mountain flight
When we were called, we all piled onto an airport transfer bus and headed out to our plane.
I was a little skeptical as I had head reports of it being a tiny little tin can. But, the plane that I flew on was quite spacious.
It was almost like a normal domestic plane with two seats on either side. But, don't worry, no one will sit by you on the other seat as it's a guaranteed window seat!
You're given a little booklet which has the whole mountain range on there so you can try and match it up to what you're seeing outside.
The hostesses are also happy to tell you the names of the mountains and of course, point out Everest!
Meeting the pilots and the crew in the cockpit
Each passenger will be asked to come up to the cockpit to have a look at an unaltered view of the mountain range.
The pilot will point out where Mount Everest is. I would make sure you bring your camera and snap like mad as you only get a few minutes!
The Mount Everest experience on your Everest flight!
From my seat, I was struggling to match up which mountain peak was Mount Everest.
Obviously, I knew it was the tallest one but there are just so many, I couldn't work it out. Then, I was asked to make my way into the cockpit and the pilot explained to me which one was Everest. Then, I finally saw it!
The legendary Mount Everest. Just looking at the size of it and the jagged mountain range surrounding it, makes you wonder about the effort it must take to try and climb it.
So many people have tried, some failed and some never come back. It's unfathomable. But, I can also see why it draws you in.
For climbers, it's the ultimate challenge. It takes months, even years of preparation and training. It's an incredible feeling seeing it.
Is an Everest Flight worth it?
It was a spectacular flight and I was so happy I decided to do it in the end.
I would say that it was well worth the money. When else can you say that you've seen the tallest mountain in the entire world!?
Of course, this price is also a fraction of what you would pay to trek to Everest Base Camp or indeed try and attempt Everest!
Plus, if you have no time or hope of trekking like me, this is definitely the way to go :P .
As a little added touch, you even get a souvenir certificate to say that you've seen it. A new super tourist level for me was unlocked: Ultimate! ;)
Heading to Kathmandu? Read more of my blog posts!
My ULTIMATE Kathmandu Bucket List
Visiting the Garden of Dreams in Kathmandu
A complete guide for Pashupatinath Temple
How to get around Nepal by bus
Here are some more articles on Nepal
Why you need to visit Chitwan National Park
The truth on elephant safaris in Nepal
Top tips for visiting Lumbini – the birthplace of Buddha!
My complete guide for the birthplace of Buddha
How to travel overland from Nepal to India
Save this Everest Mountain Flight review for later!