If there was one place that I could return to in Kathmandu right now, it would be the Garden of Dreams!
You're probably wondering, why? Well, because, beyond all the amazing temples and mountains, this little paradise in the middle of the busy metropolis was such a relief.
Kathmandu is an incredible city to visit, but it's also massively polluted, noisy and you'll find traffic and the honking of horns everywhere.
The Garden of Dreams was an escape from all of that. As soon as you enter, you'll find an oasis of calm with green grass, fountains and flowers – rather than concrete buildings and dust!
It's the perfect place to relax and wind down, especially if you've had a busy few weeks of trekking.
Here's a complete guide to the Garden of Dreams Kathmandu and why you need to visit!
Heading around Kathmandu? Check out my ultimate Kathmandu bucket list or see my Nepal archives!
What is the Garden of Dreams?
The Garden of Dreams (Swapna Bagaicha), also known as the Garden of Six Seasons, is a neo-classical planned garden that is based in the Kaiser Mahal district of Kathmandu.
Built all the way back in the 1920s, you'll find a beautifully preserved paradise filled with green grass, trickling fountains, amphitheatres, flowers and pagodas!
It's not a huge place to explore. But, for a city that has buildings pretty much built on top of each other, it's a rare occurrence in the capital of Nepal to find so much greenery in one place.
It will certainly be a welcome sight from the busy streets of Thamel outside, you'll almost forget that you're here.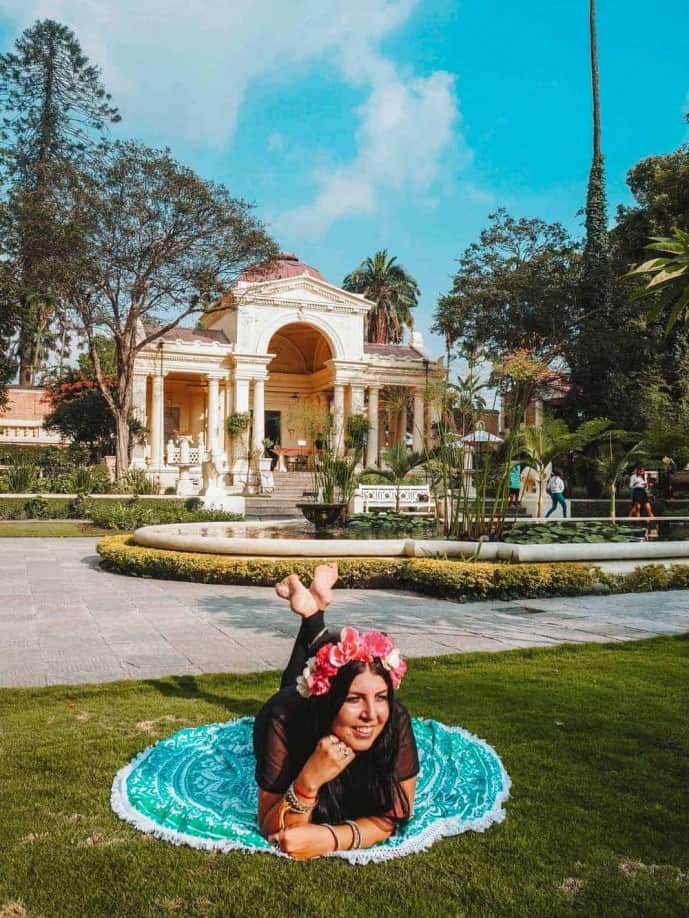 Garden of Dreams history
So, what's the story behind this formal garden from the past? Well, it's actually quite an incredible one and what you'll see today is a grand estate in a renaissance.
Originally, these gardens were known as the Garden of Six Senses and were built for the famous Field Marshal, Kaiser Sumsher Rana in the early 1920s.
The Kaiser was the third son of the reigning Maharaja and Prime Minister at the time. The garden was built in Kaiser Mahal, which used to be the entrance to the former Royal Palace, and was instantly made famous.
It was built in the British Edwardian Style by landscape artist Kishore Narshingh and was deemed one of the most sophisticated gardens in the country at that time.
It contains six pavilions which represent the six seasons of Nepal.
For a long time, the gardens were the private property and estate of the Kaiser Sumsher Rana. Then, on his death in 1964, the gardens were handed over to the Nepalese Government to manage.
Unfortunately, the gardens were altogether abandoned and were subject to decades of neglect. So, in the year 2000, a huge project was undertaken to revive the old gardens.
It took seven years to completely renovate them with the help of Austrian Development Aid but, because of significant damage, only half of the original gardens were able to be recovered.
A lot of the design has been kept with the Kaiser Shumsher in mind and it's linked to a lot of his extensive book collection in his library.
Today, the gardens have been opened once more and renamed the Garden of Dreams. It's now open to the public for everyone to enjoy them!
Is it worth visiting?
100% YES! I can't tell you how much you'll appreciate the calm of these beautiful gardens when you're in Kathmandu.
As I've mentioned before, Kathmandu is an incredibly busy city. It's always moving and there is constant traffic, dust, noise and craziness.
But, when you enter these gardens, you'll come away from all of that and just find tranquillity. You can stop and breathe a while and you'll be surrounded by beautiful flowers and plants.
As well as a gorgeous garden to escape and relax in, there are also a few things to do here that make it worth visiting.
Things to do in the Garden of Dreams
1. Relax on the green
This is what most people do when they visit. There are lots of green spaces to chill in the sunshine! You'll thankfully escape all the noise and just be able to relax a while here in peace and quiet. So, make sure you bring a book along.
If you don't have your own blanket with you or pillows, the gardens themselves provide some lawn mats that you can borrow.
A lot of sites say that you can bring a picnic here but, this is not true. You're only allowed to bring a bottle of water, juice and small snacks inside. If you were feeling peckish you could eat in the Kaiser Café (more on that below).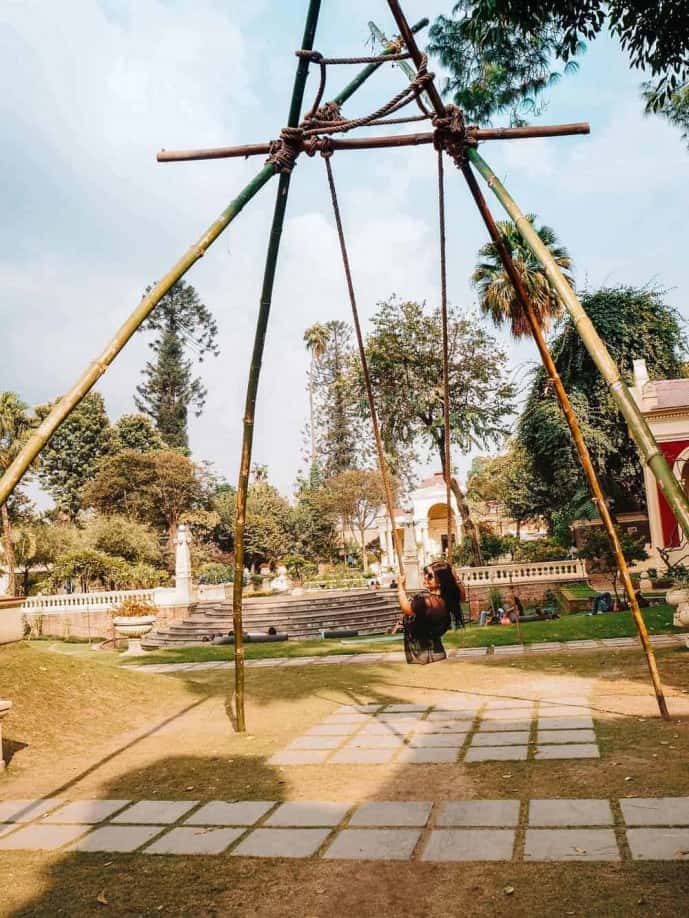 2. Explore the pagodas and museum
I really have to give a shout out to the Austrian government for the work they have done on renovating these gardens – they are absolutely gorgeous!
They are built around six pagodas which represent the six seasons in Nepal. As well as these, you'll also find urns, fountains and gorgeous tropical flower displays.
I fell in love with the neo-classical design. Every corner had a pretty statue, water feature, gateway or exposition. There are also lots of cute squirrels who run around and take some snacks when people aren't looking.
I also found the little museum particularly interesting which explained the history of the gardens and more information on the renovation project!
You can find so much detail and delight around these gardens, so, I would leave lots of time to explore.
3. Eat at the amazing Kaiser Café
If you were feeling a little peckish while you're inside the Garden of Dreams, I would highly recommend popping inside the amazing Kaiser Café while you're here.
It's run by Dwarika's hotels, which is a luxury 5* resort company that has a swanky property here in Kathmandu.
But, don't panic! I know hearing '5*' makes it sound like it's going to be super-pricey. But, actually, their prices are really reasonable – even for backpacker budgets!
Of course, it's not going to be as cheap as Dal Bhat, but it doesn't hurt to splurge on a little treat from now and then.
I popped in here for a cake and coffee on a sunny afternoon. They have the most amazing menu of treats on offer! I decided to indulge in a delectable slice of Key Lime Pie and washed it down with an iced coffee.
I loved it so much here, I visited three times over! I still have dreams about that slice of pie today haha.
As well as popping in for coffee, the restaurant has a lunch and dinner menu. Their offerings include local dishes and international cuisine.
It's good to note that if you want to eat at the Kaiser Café, you will still have to pay an entry fee for the Garden of Dreams.
Practical Information
Tickets prices & opening times
Ticket prices are 200 Nepali Rupees per person. I know, it is a bit of a chunk out of your budget but it is SO worth visiting. Having this peace and quiet, even for a few hours, is worth its weight in gold!
The Garden of Dreams is open from 9 am to 10 pm every day of the week. So, there's a great window of time to plan a visit.
Where is the Garden of Dreams in Kathmandu?
The gardens are located just two minutes walk from the busy tourist district of Thamel.
It's within Kaiser Mahal on Tridevi Sadak and is just next door to Himalayan Java Coffee – somewhere I would highly recommend visiting! Their coffee is amazing. Plus, they have a nice outdoor seating area.
How to reach the Garden of Dreams
More than likely, you will be staying in the Thamel district of Kathmandu. This is where the majority of tourist hotels are based and backpacker accommodations too.
If you're based in Thamel, the gardens are only a short walk away on Tridevi Sadak and you can easily get here on foot by following the streets to Kaiser Mahal. You can use Google Maps to locate it or the best way is to ask a local for directions.
If you're based outside of Thamel, you can easily rent a taxi to take you to Kaiser Mahal road. Usually, you can hail a taxi down anywhere on the streets of Kathmandu. Just make sure to bargain hard.
From my personal experience, the public buses in Kathmandu are frequent and cheap but they run on a strict route system and don't always take you where you need to go. So, always double-check with the driver or money collector that the bus will take you to the correct place!
Where to stay in Kathmandu
Luckily, there are plenty of places to stay in and around Kathmandu;
Celebrity Status – The Dwarika's Hotel – this award-winning heritage resort is possibly the grandest hotel in Kathmandu Valley. It's more of a resort and it has an outdoor pool and four restaurants to choose from! It's modelled on the palaces of Newar Kings. It's just seconds away from Pashupatinath Temple in Kathmandu. Click here to book.
Middle Budget – Karma Boutique Hotel is a great place to stay in Thamel. They have comfy, boutique rooms that have traditional decor. I stayed here on my first visit and loved the friendly service and buffet breakfast! Click here to book.
Backpacking – Poshtel111 – A recommended travellers hostel with comfy beds and a sun terrace at the top! Also, there is a bar and a shared lounge. It's located just a few hundred yards from the gardens. Click to enquire.
Heading around Nepal? Check out my related articles!
The ultimate list of things to do in Kathmandu
Taking an Everest flight in Nepal
A guide for Pashupatinath temple
The ultimate guide for Chitwan National Park
A simple guide for Nepal Buses
Heading to India? Check out my direct bus guide and what to expect on the Sonauli border!
Like this Garden of Dreams Kathmandu guide? Save it for later!