If you're backpacking on a budget and can't afford to fly. Or, if you're from India and don't have a passport. Crossing overland from India to Nepal via an overland border is an easy option.
Although it does take a lot of your time (depending on where you're heading from), it's worth the long journey to save some much-needed dollars (or rupees should we say :P)!
I crossed over the Sunauli Border from India to Nepal and vice versa on my recent trip.
Although in general the process was meant to be quite simple, it really wasn't plain sailing!
It was long, dreary, dodgy in parts (especially around the border), and more than a little stressful.
So, hopefully, my account of things can give you some tips on what time to go, what to avoid, and how to make the process a little simpler for you.
Here's all you need to know about crossing over the Indo-Nepal Sunauli border!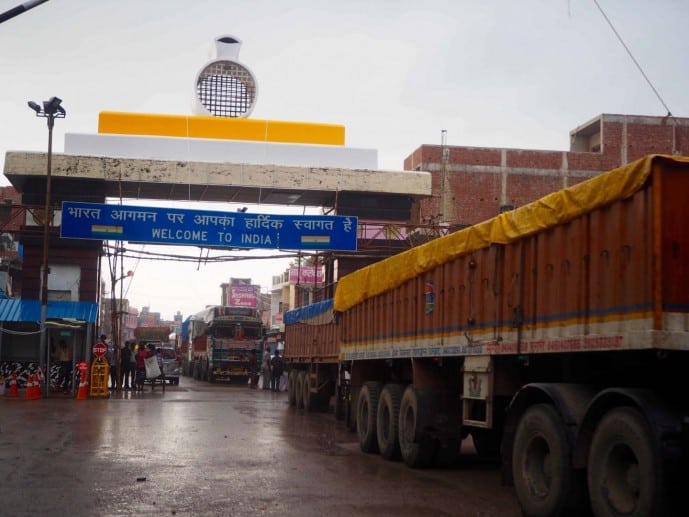 How to reach the Sunauli Border in India
Getting to the Sunauli Border can be quite a lengthy process from India. Most travellers choose to leave from Varanasi which is around a 10-hour bus journey from the Sunauli border.
When you get through the Nepal border, the main cities of Chitwan, Pokhara, and Kathmandu in Nepal are a further 6/7 hours bus journey away (no trains run in Nepal) so it's quite a long journey to take in one day!
I decided to get the new A/C Indo-Nepali 'friendship' bus which was a comfortable semi-sleeper Volvo.
It's a direct bus that heads from Varanasi to Kathmandu via Sunauli Border and takes around 15 hours (supposedly).
In the end, it actually took around 30 hours which was horrendous, but, as a means to an end. If this is the route you're planning to take, you can see how to book the bus and more about the journey in my article
'Varanasi to Kathmandu: there is a direct bus!'
Update: It seems that a private company called 'Asian Shinas Tours and Travels' has taken over this service starting from mid-February. I did not have any experience with this company. So, make sure to read reviews. This now runs at 10 pm at night from Varanasi bus station. Also, if you're trying to book too far ahead (let's say 3 months) you won't find any buses. You can only book these a few weeks ahead of travel plans.
You can also get the train from Varanasi to Gorakhpur which runs daily.
From there get a local bus to the Sunauli Border, hop through the Nepal border immigration and then make your way to one of the main cities via the bus stand on the Nepal side (do not book tickets via the Indian side as you could get scammed!).
From Nepal, the easiest place to stay is Lumbini if you're planning to head into India via the Sunauli Border. You can check out the birthplace of Buddha and then make your way nice and early the following day. It's around 30 km from the Sunauli border.
What are the Sunauli Border opening times?
The Sunauli border is open 24 hours a day but only for people walking through.
So, if you were heading via local buses to the Sunauli border, you can walk through the Sunauli border into Nepal and then catch an onward bus from the bus stand on the Nepal side.
I'm not sure what buses will be running at that time at night, however. So, best to go during the daytime to avoid getting stuck.
Vehicles have to make it to the Sunauli border by 9.45 pm to be allowed through.
Otherwise, you will have to wait until the Sunauli border opens early morning (around 6 am).
You can see the queue of truckers below who didn't make it and were waiting until morning.
Some practical information about the Sunauli Border
In a word, the Sunauli Border is dodgy.
There is really nothing nice about the place at all. It had a weird vibe, especially at night and it felt like everyone was trying to scam you.
It literally is just a void of a town that acts as a throughway for people travelling through. So, I would try to spend as little time here as possible here.
Having been here both in the day and at night, the night is definitely the worst!
This is where scamming comes out three-fold, random guys approach you as you're making your way through and it's just plain creepy *shivers*.
Here are some tips to help you avoid scams at the Sunauli Border;
Bus travel: If you're hoping to catch a bus onward into Nepal, do not book this until you're passed the Sunauli border and are in Nepal. The Indian side is notorious for scams and selling 'fake' bus tickets.
Currency Conversions: Be prepared to pay out the nose for your currency to be converted here! You will need US dollars to pay for your Nepali VISA and the exchange rate for these is terrible here. I would try getting some before you reach.
Don't accept any US dollars that are older than 2003, the Nepal border won't accept them and these guys at the Indian side of the border will give definitely try to give you these.
Always have an exchange rate app on your phone and negotiate with these guys. I got Nepali rupees as the rate was better, but I did have to beg the border to let me through playing on the fact they made me change it ;)
Rickshaws: A lot of the rickshaw drivers at the Sunauli Border will tell you that there is flooding ahead and give a wealth of excuses as to why you need to get a rickshaw. It's all not true and the between the Indian and Nepali immigration counters walk is less than a kilometre. The only reason why I got one on the way back was that the torrential monsoon rains hit and we would be wet through.
Hotels: Don't stay overnight in Sunauli if you can avoid it! I read so much information on how the hotels are awful, the food will give you food poisoning, and about intimidation on buying bus tickets and changing money. I personally would never stay here after having been here. If you do decide to stay (or have to!) don't venture out at night.
Visa requirements for Nepal
Always check the Nepal immigration site for requirements for your country. In 2023 the overland VISA costs were;
15 days = $30 USD
30 days = $50 USD
90 days = $125 USD
You need US dollars to buy a Visa that is newer than 2003. You can pay in Nepali rupees but you will have to beg them as they don't usually take them. I also had to pay a little extra but I had no choice.
You will also need a passport-sized photograph of yourself for your Visa form.
If you don't have this a photocopy can be arranged on the Indian side.
It's good to note that if you're from India or a SAARC country, you do not need to go through immigration and can walk straight through.
My friend is Indian and when we went through the Sunauli border for my immigration into India, they stopped him and told him that his Indian ID card wasn't proof of his citizenship only his nationality.
Personally, I think they were after some money but with a little 'oh, we didn't know' etc. we got through.
My advice would be if you're all Indian in your group to just head through. Don't stop.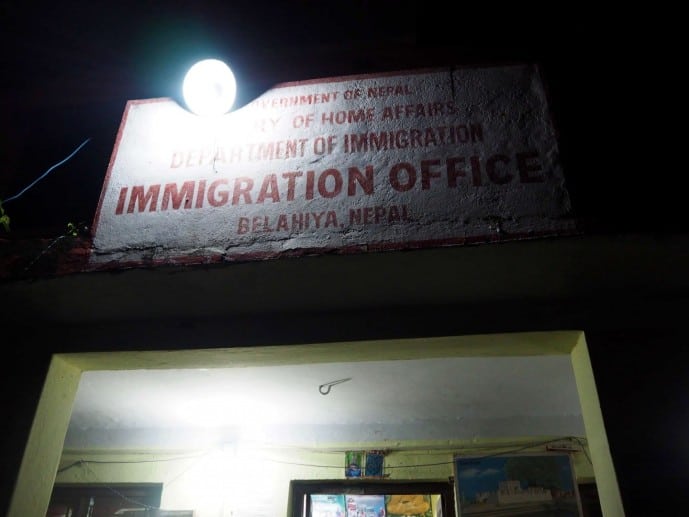 Visa requirements for India
You cannot get an Indian Visa overland or on arrival in India.
You will need to apply for a tourist/business visa in advance of travel. These can be arranged in Nepal or at home before you go.
You will need to get a normal tourist Visa printed on your passport. You can check the Indian immigration website here for requirements.
You cannot get an e-Visa for overland travel into India.
Both on my way in and out of Sunauli Border Indian immigration, tourists were being advised by Kathmandu airport to head to the Sunauli Border with their e-Visa to get into India.
You have to enter the airport that you stated on your e-Visa. The reason for this is that the Sunauli border doesn't have any technology to take fingerprints and so they cannot stamp you into India without your biometrics.
You cannot enter overland into India with an e-Visa. Don't even try it, it will waste your time and money.
Onward journey from the Sunauli Border into India or Nepal
Once you're through to Nepal via the Sunauli Border, you can easily catch one of the many buses that are heading to where you want to go.
There will be buses headed out to Kathmandu, Pokhara, Chitwan, and Lumbini, just ask on the Nepali side how to get there.
Do not book bus tickets on the Indian side, these will most likely be fake.
As I was on the direct bus from Varanasi to Kathmandu, when we got through the Sunauli border (by a hair as we were running late!) we just headed straight out to Kathmandu.
That took us an extra 18 hours to reach there. It was a hell of a journey. Next time, I would head to Chitwan as it's not so far.
If you're heading back into India via the Sunauli Border, you will need to get a local bus to Gorakhpur and then from Gorakhpur to Varanasi.
We were waiting/hoping for an air-conditioned bus into Varanasi and we were told it was going to arrive at any minute. But, we waited two hours and then just decided to hop on a local bus.
The journey from the Sunauli border to Varanasi took around 12 hours. It was horrendous, the bus driver had a gun pulled on him and there was a fight on the bus, but we made it back safe!
Is travelling overland via the Sunauli Border worth it?
In some ways travelling over the Sunauli border is worth it. It was cheaper than flying and it was a bit of an adventure, but I'm not sure if I would do it again.
From Lumbini, the journey was a lot shorter but we had a local bus which was bumpy, hot, dirty, and pretty rough.
At one point our bus driver got into a fistfight with an angry driver with road rage! Totally scary.
Luckily, he was okay and seemed to just bounce back from getting punched 4 times in the head! But, I never got a local bus again after that. No way.
If the traffic is quiet, it should only take you 15 hours to get from Varanasi to Kathmandu via the Sunauli border, which is pretty good. So, it's all about how much time and budget you have.
But above all else, the Sunauli Border was definitely an adventure. This is why I will treasure it as a funny memoir for my books!
Read more of my Indian articles
My complete Varanasi travel guide
The ultimate Rajasthan itinerary
My complete guide for Rishikesh
Read more posts on Nepal
The ULTIMATE Kathmandu bucket list
What to expect before visiting Pashupatinath Temple
Why you need to visit Chitwan National Park