There's no doubt about it, I fell in love with Rishikesh as soon as I arrived.
The beautiful hills which fall into each other, the clean, green flowing mother Ganga, and the peaceful vibes that seem to be all over the place are infectious. I was hooked.
Rishikesh is the birthplace of yoga and came into international fame after the Beatles stopped here to stay at an Ashram in the 60s.
Today, people from all over the world visit to learn how to become yogi instructors, attend the annual yoga festival and learn how to better their meditation from the gurus.
Although in the peak seasons of winter it can get pretty crowded, I've never felt anything but great as I've been wandering around.
People are friendly, it's incredibly cheap and it's generally an awesome place to be! There are plenty of things to do here that don't involve yoga if that isn't your thing too.
Here is my ultimate Rishikesh travel guide with 10 reasons to visit the birthplace of yoga!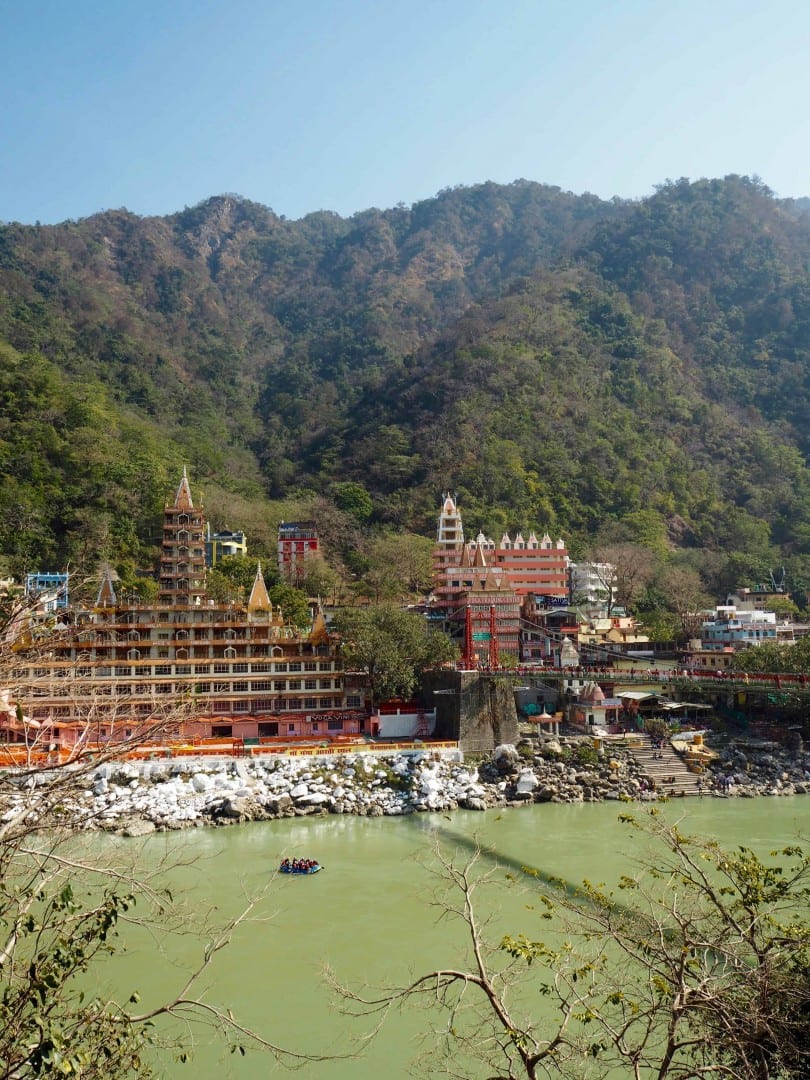 My Rishikesh travel guide & 10 reasons to visit Rishikesh
1. It's the birthplace of yoga
Notably, the main thing that draws people here, aside from the fact it's on the foothills of the Himalayas, is that it provides lessons in Yoga and meditation.
You can learn from some of the best yogi instructors in the world and what better place than where yoga was born?!
It's a pilgrimage of the spirit and mind and some say it will change your life. You can get involved in many yoga retreats and intense courses if this is what you would like to do.
Most travellers stay at an Ashram while they're here. There are so many to choose from, it's best to just go with your gut feel and/or budget.
I stayed at Yog Niketan by Sanskriti which is a hotel 'ashram' not far from Ram Jhula. Every morning, you could wake up to fantastic views of the mountains and the Ganges river.
My friend and I, who are totally NOT yoga bunnies, decided we would try a yoga session here. It was complimentary each morning so we thought why not.
It was a pretty painful experience and I definitely learned that I need to do a lot of work on my flexibility!
The yoga instructors here are pretty intense and they will definitely correct you if you're going wrong.
Which is part of why they're so good! So many times I was in the A-frame or "mountain" and the instructor kept saying "keep your back straight, straight, STRAIGHT" lol.
I definitely didn't find my calling. We essentially did a lot of sun salutations for around an hour and by the end of it, I had a good workout.
It felt really good to get up at sunrise and do something positive to start the day. I would highly recommend it.
2. You can take a dip in the Ganges river
The river Ganges snakes through the middle of Rishikesh and it adds such a colourful addition to the foothills around it.
Although the Ganges in Varanasi is extremely dirty and polluted, the source of the river is only 40 kilometres away from here and making it extremely clean.
You will see Sadhu and Hindu pilgrims bathing in the Ganges here each morning and throughout the day. You may also see little empty bottles and jugs for sale as you walk around with 'Ganga Jal' on the side.
This is for those who have visited to take some of the Ganges homes with them!
If you would also like to do this, the bottles will cost you around 10 rupees. It's just making sure it doesn't leak in your luggage!
You should definitely take a dip in Mother Ganga while you're here. As a woman, I didn't feel comfortable stripping off as the boys do. So I just dipped my tootsies in. It was Indian winter time and so the water was freezing!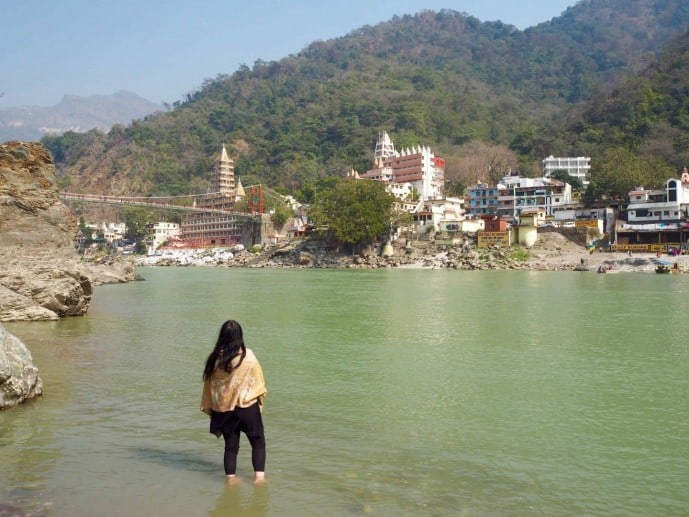 3. You can visit the abandoned Beatles Ashram
Possibly the coolest attraction in Rishikesh is the fact you can visit the abandoned Beatles Ashram.
This ashram became famous after the band visited here in the 60s.
Along with their strict meditation instructions from their guru, this ashram inspired the Beatles to write many songs on the White Album.
Although it does have a hefty price tag of 500 rupees for a foreigner, it's worth having a peek inside and is a must for any Beatles fan.
To read more about it see my article: Exploring the abandoned ashram in Rishikesh.
4. You can witness the famous Aarti at Triveni Ghat
My favourite part of visiting Rishikesh was witnessing the amazing Aarti at Triveni Ghat.
Hindus make a pilgrimage here as it's a sacred site and a meeting of the three holy rivers; the Ganges, the Yamuna, and the Saraswathy.
It is said that if you bathe in the waters of this holy Ghat, your sins will leave you.
The Aarti here is something you simply cannot miss on your visit. It is an amazing feeling watching the flames, hearing the Bhajans, and feeling the energy.
It starts around 6.30 pm each evening so get there early to guarantee a seat in peak season.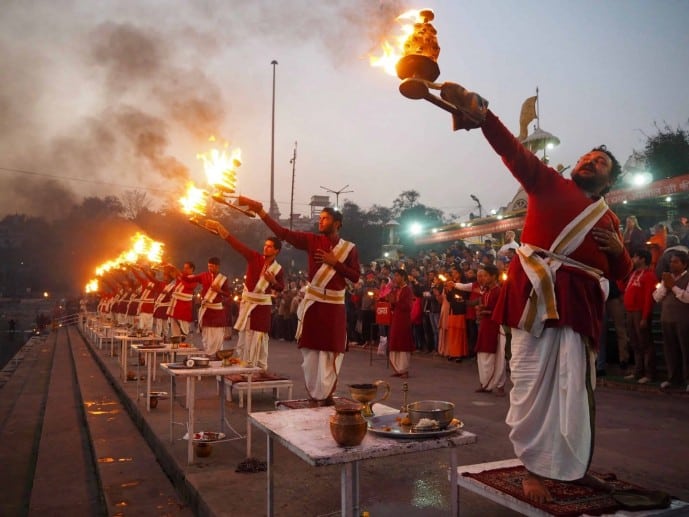 5. Feel some shanti vibes at The Little Buddha Café
This is my all-time favourite Shanti, Shanti café in Rishikesh and possibly India so far! You can just relax here, away from the streets and feel-good vibes.
The café provides panoramic views of the hills, Lakshman Jhula, and the Ganges river from their open viewpoint.
They serve up the most amazing lemon, ginger, and honey tea (which I'm obsessed with) and a great menu of Indian and International cuisine.
I love the 'Falafel all' platter on their menu. I could literally sit here all day, listen to their awesome music and just watch the world go by. You have to visit it.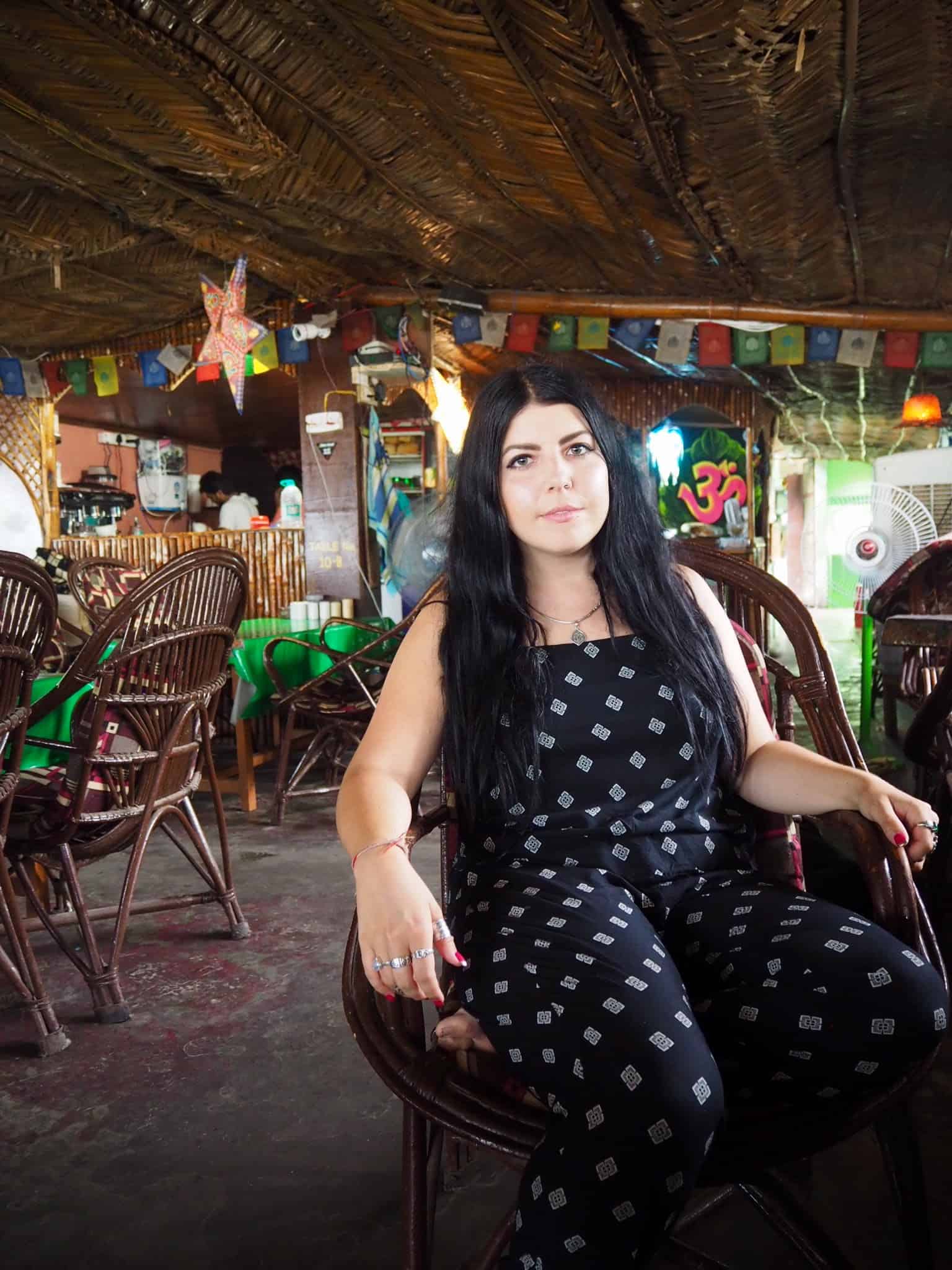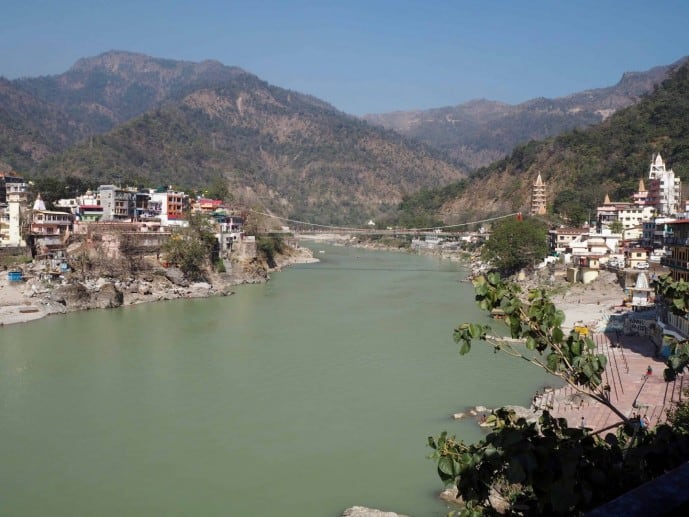 6. Walk over the suspension bridges, Lakshman Jhula and Ram Jhula
The two suspension bridges which allow for an easy crossing over the Ganges should be a bit of an eyesore.
But, they actually complement and even improve the setting as you walk around the town.
Although the bridges are relatively narrow, you'll find the traffic is busy at all times of day!
Bikes, cows, selfie-takers, luggage carriers, and monkeys are among those that use the bridge so be prepared to make way. They also move quite a lot with the wind, so it may be pretty shaky if the winds are high.
Lakshman Jhula is the bigger and more picturesque of the two and is where many of the hotels and restaurants are including the German Bakery. To get to Ram Jhula it's an easy 2/3km walk.
Read more – The most Instagrammable places in Delhi!
7. It has an amazing white sand beach on the banks of the Ganges
A really beautiful, peaceful place to visit and to dip in the Ganges is the white sand beach.
Located around 500m from Ram Jhula, it's a great place to sit and relax, meditate or meet some locals.
I've visited Rishikesh twice now. Once in Indian winter, when the water levels were low and the sand was white.
Most recently, I visited in monsoon season where the water levels were high and the beach was almost black due to the muddy waters from the mountains! During this time, you need to be careful of the flowing river.
You shouldn't swim when the tide is high as you could be pulled away by the current.
As the water levels were getting to a dangerous level, a security officer ushered everyone off the beach, including the cows. So, tread carefully unless you want a ride down the river of course!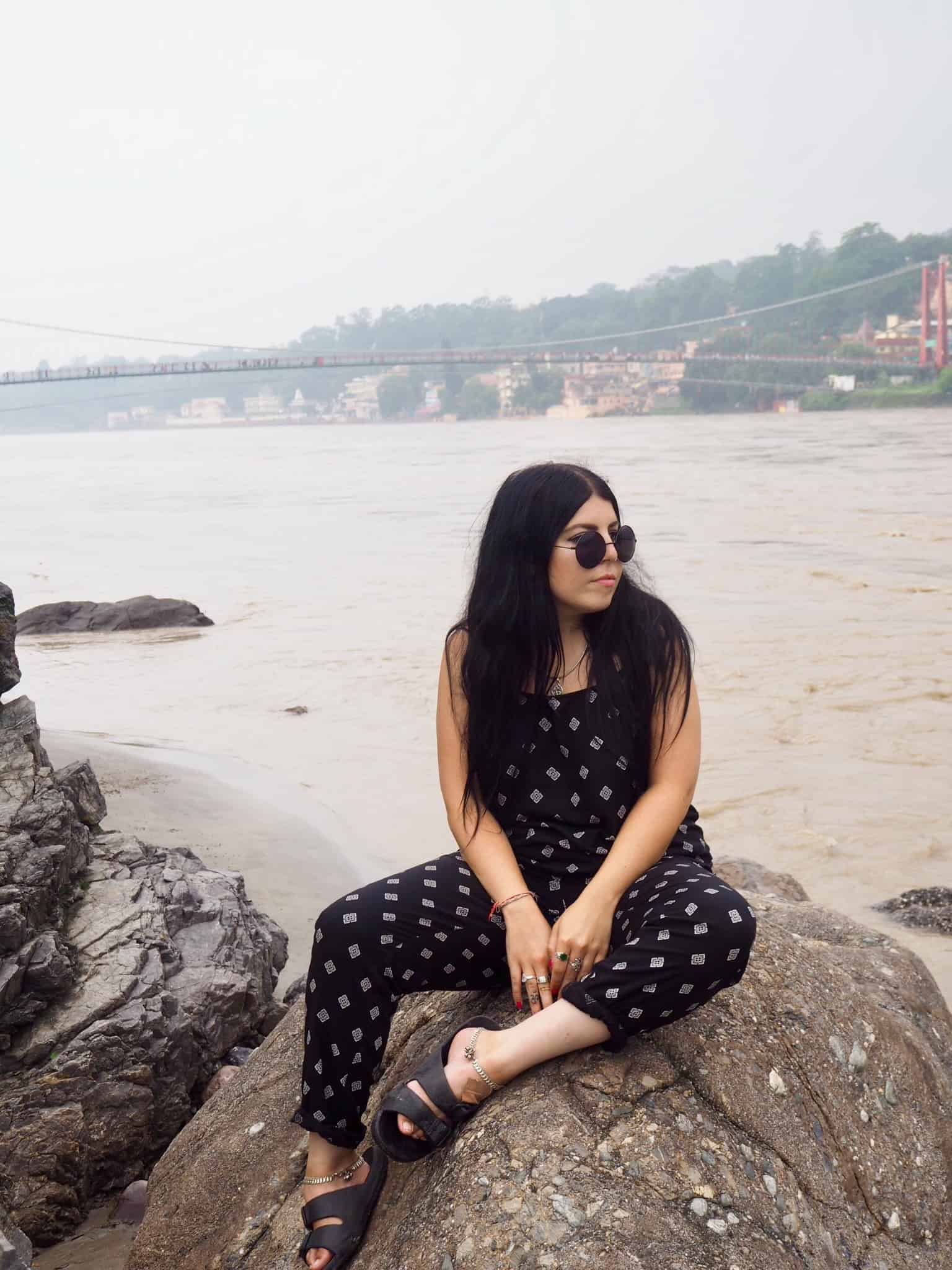 8. Go white water rafting, zip-lining, or on an adventure
Although since the 60s this has been a location of peace and tranquillity, nowadays a lot of people visit to get involved in the many adrenalin activities which are on offer.
All over the town, you'll see shops advertising boating/rafting, ziplining, speedboating, treks into the mountain, and more.
There is so much to choose from, making it the home of adventure!
Personally, I didn't go white water rafting when I was here last time but it's definitely on my list.
The second time I visited, the water levels were too high during the monsoon. So, I'm determined to come back and do it another time. Always ensure you book a safe, reputable company for the rafting.
9. Visit the amazing temples
As Rishikesh literally sits on the banks of the Ganges, there are dozens of temples and ghats here.
In the evening time, you will see many temples performing the nightly aarti.
You'll see flaming candles and the sound of chanting fill the air. The most striking Hindu temple to visit here is next to the Lakshman Jhula.
The Tera Manzil temple is dedicated to Lord Shiva and is fascinating to walk around.
As you make your way to the top, there are hundreds of shrines dedicated to different Hindu deities.
When you reach the top, a priest will bless you with a Tilak (vermillion blessing or red dot) of Lord Shiva's trident.
You can also take home some blessed Ganga Jal in one of the brass pots they have there.
Not only is this temple great for some spiritual awareness and learning about Hindu culture, it provides awesome views of the Ganges and Rishikesh.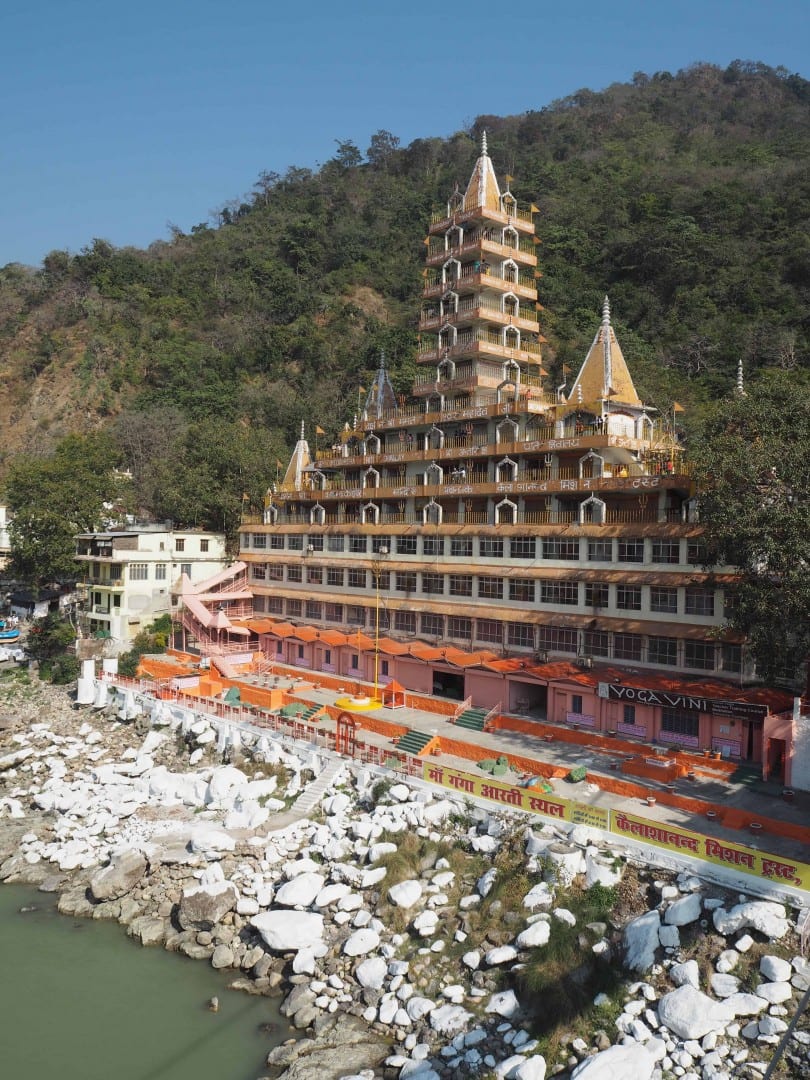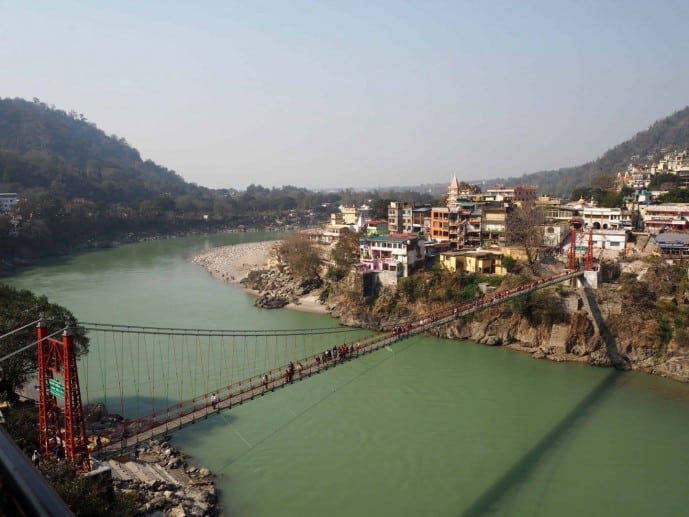 10. Feel refreshed in body and mind
A lot of travellers, Indians, and people from all over the world escape to Rishikesh to help their inner peace.
Meditation and Yoga are tried and tested natural ways to help stress and calm the mind. So, where better to come than here?!
I definitely feel that if I felt lost in my life or needed some direction, this is going to be the first place I call on.
Although I didn't personally visit for a spiritual calling, there's no doubt that the energies here made me feel at peace.
If you haven't thought about visiting Rishikesh, I would change that now! Put it on your list and allow yourself a few days of peaceful vibes.
Heading to the North of India? Read more of my posts!
Manali to Leh by road, all you need to know
What it's like to travel to Leh, the land of high passes
Off the beaten track Ladakh, Thiksay, She, and more
A guide to Manali, the hippie town in Himachal
Top things to do in Mcleodganj
A complete Bhagsunag waterfall guide