If you're looking for a complete Mussoorie travel guide, keep reading.
The hill stations in the north of India are some of the most beautiful sights your eyes can behold in this amazing country.
The famous locations like Shimla and Manali of Himachal draw many tourists and are probably on your bucket list, but have you heard of Mussoorie?
It's the tiny, picturesque hill station underdog which you've never heard of. Sitting in Uttrakhand, it's a smooth 30km uphill from the capital city of the state Dehradun.
It stands at 2000 metres above sea level, so you'll definitely feel the altitude and a massive drop in temperature!
For me, it was amazing just to get here and feel cold. Even though it is the monsoon period right now in India; in Rajasthan, it still can be extremely humid and sticky.
Mussoorie is quiet, peaceful, and sits above the clouds. It's named the Queen of Hills and quite rightly so!
When you alight from the bus stand, you'll be greeted by the green rolling hills, rice terraces, and chilly mist which creates a very cool setting for a getaway.
Here's my complete Mussoorie travel guide with the top things to do in Mussoorie hill station!
How to travel to Mussoorie Hill Station in India?
Mussoorie is accessible from the capital city of Dehradun in Uttrakahand. It's close to Delhi and you can get there in around 6 hours by bus journey up north.
It's super cheap to grab a bus from Kashmere gate and will cost you around 600 rupees for an AC Volvo bus. For non-AC or government buses, it will be half the price.
The easiest and cheapest way to get up the hill from Dehradun is to take one of the local government Volvo buses up the winding roads.
A single ticket will cost you next to nothing at 56 rupees. As it's government-funded, you have a guarantee of not getting ripped off.
A big tip for getting the local buses in India is to sit by the window! A lot of them are non-AC and so, if it's hot, it can get stifling.
Luckily, this bus service is heading up into the mountains and so you may find you're a little chilly!
If you're planning to fly, the nearest airport is Jolly Grant which sits between Rishikesh, Dehradun, and Haridwar. From here, you will need to get a taxi up to Mussoorie.
The best place to stay in Mussoorie
In the summer months, hill stations are where everyone wants to be to escape the heat. So, be prepared to pay a lot of money for a room during this season anywhere up north.
Mussoorie is no exception. Luckily for me, I arrived in the monsoon where the rain cooled everything down.
It's classed as 'low season', so the hotels are cheap and cheerful.
Plus, as the weather was cold, I didn't need an air-conditioned room which made it even cheaper!
Top tip for booking a hotel in Mussoorie
Rather than book online, I've gotten into the habit of just turning up and negotiating rates while I'm here.
You'll find a lot of hawkers approach you to book rooms when you're in any place in India. So, you're always guaranteed to find somewhere.
This way, you can save some serious money as the hotels charge more online.
This is because the hotels have to pay a commission to advertise on company websites such as Booking.com and Makemytrip.
So, if you're negotiating directly, you may get a better deal. These online room prices also don't always include the new GST (Goods and Services Tax) which is a standardised tax across all of India. So, you may have to pay that extra to the hotel.
Like with any hill station, it's always important to check where your hotel is based. A lot of the hotels will advertise for the area, but it may be too far out from the centre and all the attractions.
This means that you'll be paying more for taxis or rickshaws if you don't want to walk everywhere. The best bet is to stick in and around Mall Road. This is where the action is!
These roads have all the shops, cafés, restaurants and hotels you could want so you're never too far away if you need something.
My hotel recommendations for Mussoorie
If you're looking for luxury, I would personally recommend a night's stay at the Welcomhotel The Savoy.
Although located on the busy Mall Road, it's perched high on a hill out the way from the traffic.
It's like a fairy tale palace in the hills. For more budget range, there is Hotel Paradise Mansion which was clean and quiet too.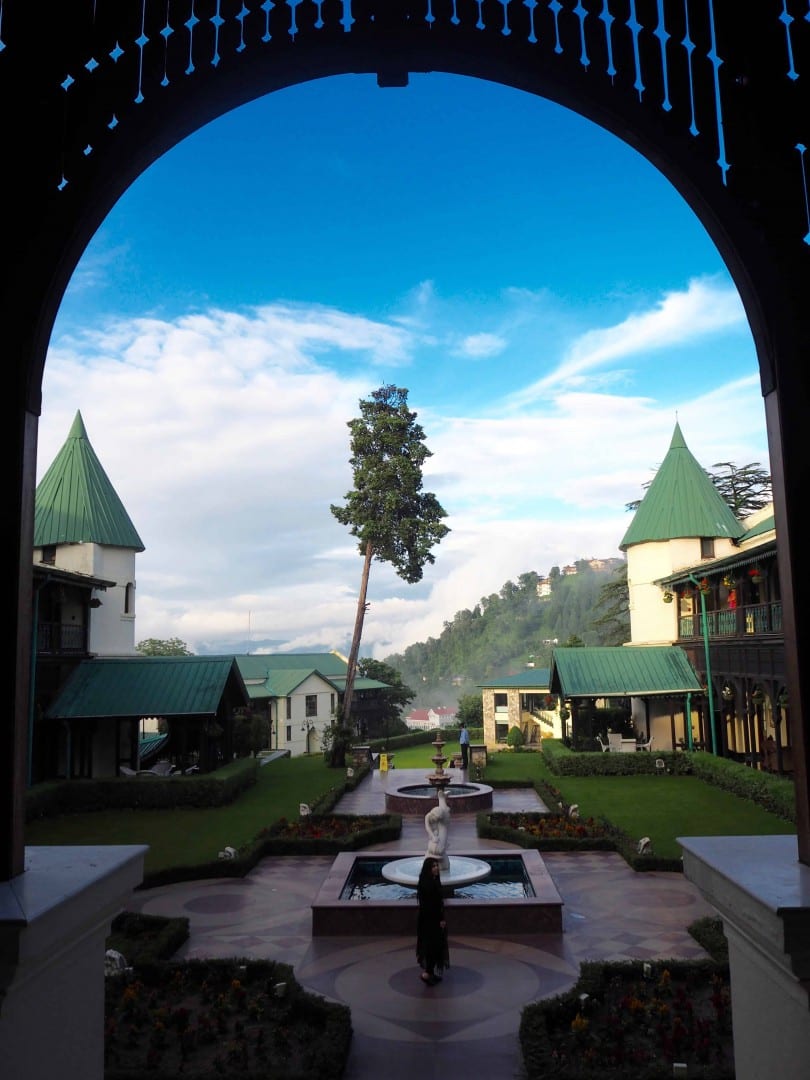 Top things to do in Mussoorie Hill Station
As it's a popular family holiday destination to escape the heat, you'll find that there are lots of things to do in Mussoorie that are geared it all up to suck the rupees out of you.
Wax museums, aquariums, arcades, and all the commercialised fun is all here for you to enjoy if that's what you would like to do.
Personally, as the monsoon season has made the hills a beautiful glistening green, I wanted to see some of the natural beauty that the Doon valley of Uttrakahand had to offer.
Mussoorie hill station is a jewel in itself and there are lots to get stuck into. Here are the top places to visit in Mussoorie!
Camel Back Road
The easy flat stroll along Camel Back Road is the perfect escape from the busy Mall Road which sits behind it if you're not looking to trek up to the peaks.
During this 5 kilometre walk, you can see beautiful panoramic views of the Himalayas, forestry, and the famous Camel Rock.
As it was monsoon season and the rain creates a mist, it was quite difficult to pinpoint the Camel Rock. But, luckily, I caught a picture of it just for a second.
How to see Camel Rock in Mussoorie
It's located high on the hill, so you'll need a pretty good camera lens to get a shot of it.
Here is my ultra blurry picture for your amusement haha! Even with my DLSR camera, I didn't stand a chance of getting a good picture in the mist.
Top places to visit on Camel Back Road
When you carry on around the hill, you can see view area points along the way.
My favourite viewpoint was the Hawa Mahal Pagoda which is nearest to the library end of Mall Road.
It was a cute little archway, which, on a clear day, can provide some incredible views of the hills.
As I was here during Monsoon, I didn't get perfect views but it was magical walking through the clouds.
Every so often, the hills would shine through and then cloud over again. It was a fascinating time!
Mussoorie Municipal gardens
Located 5km outside of Mussoorie is the Municipal gardens are a pretty place to visit.
Boasting a flower show, boating on the lake and a waterfall it's a welcome distraction for an afternoon.
How to reach Mussoorie Municipal Gardens
To get here, you can hire a rickshaw from Mall Road for 150 rupees each way. Getting a rickshaw to the gardens in monsoon sounds fun, but when the heavens decide to open, they open UP! It was tropical heavy rain.
Luckily, the rickshaw driver had an umbrella and his rickshaw had a little plastic cover you could put in front of us. At one point, the driver asked us to get out and walk for a few minutes in the rain due to it being uphill.
The poor guy must have been knackered. As it was raining cats and dogs outside, the road was flowing like a river! We had to make a run for it!
We got absolutely soaked head to toe and so when we got to the gardens we sought shelter in the food court.
What is inside Mussoorie Municipal Gardens?
The park costs 18 rupees to enter which is dirt cheap and does have a nice waterfall.
I wanted to go boating, but as the guys were literally taking buckets of yucky water out of them, I thought I'd give it a miss!
The waterfall is definitely worth a see, it's not natural but you could never tell. It's really picturesque.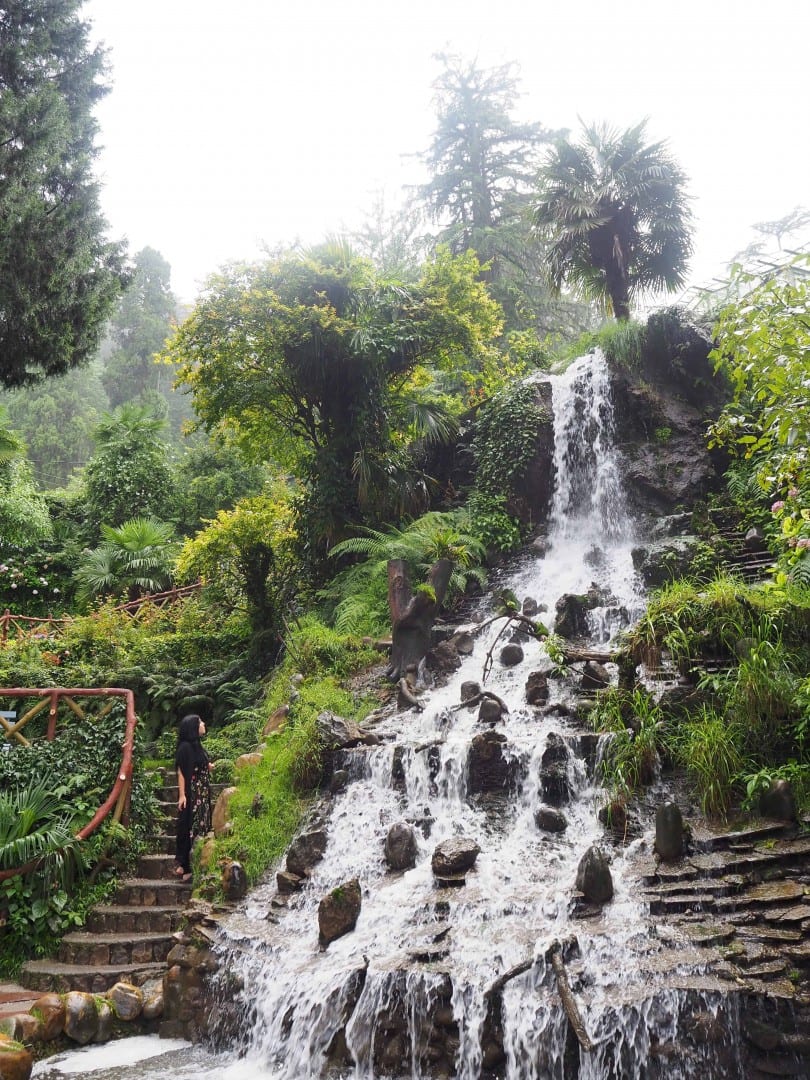 Kempty Falls
This was one of my favourite things to do in Mussoorie, although it's not really in Mussoorie hill station at all!
All the pictures of Mussoorie advertise these falls as a way to draw you in, but the falls are actually located around 13 kilometres away downhill in a little place called Kempty. But, the journey is SO worth it!
In peak season, these falls attract thousands of tourists a day as you can bathe in the cool waters below. But, if you go in the off-season, you pretty much have this to yourself which is pretty awesome!
I read that if there was heavy rain, they may not allow swimming in the falls due to it being dangerous. So, I was crossing everything as I wanted to jump in :P
The journey down to Kempty Falls
We got up nice and early and made our way over to the falls. I also read online that the walk down was pretty treacherous so was hoping to get the cable car that runs up and down to the swimming point.
But, as it didn't open until 9 am, we headed down by foot. The step way to the falls was completely fine!
It's pretty safe, just go easy when it's been raining as you could slip over. Although it is a natural waterfall that is accessible for free and it's open from sunrise to sunset, the whole of the Kempty Falls area is overrun with shops, restaurants, attractions, and rides.
I was a little disappointed as it's an area of natural beauty, so it should really be preserved as such. Let's just say, I didn't expect a 3D simulator right next to it!
But, this is India so I guess it's just the way it is. When you reach the falls, there's a safe area for swimming.
Swimming in Kempty Falls
You can hire swimsuits, lockers, and towels at a cheap price if you find yourself without. The force of the falls during the monsoon was truly amazing!
It was pretty cold as it was monsoon time, but it felt amazing to get in the water.
Being a woman travelling in India, I don't always like to show off my body as it's not really accepted their culture and draws in some attention I would rather avoid.
So, I would recommend covering up if you do decide to go for a dip. After, you can enjoy a nice chai to warm you up!
Mussoorie Mall Road
The Mussoorie mall road is similar to those in other hill stations and is a great central location to base yourself.
The buses will run to either end of this road, either the Library end at Gandhi Chowk or the Picture Palace side. Either one provides great access to hotels, restaurants etc.
But, if you end up at the wrong end you could face a 4km walk so best to get a rickshaw!
The best part for me of the mall road was the awesome views. You would get amazing views of the mountains in one minute, then it would completely cloud over. So, you felt like you were walking above the clouds!
Great restaurants are here including the Mountain Café for coffee, Argarwal's vegetarian restaurant, and the Mussoorie sweet shop which serves up the best Gulab Jamun dessert on the strip!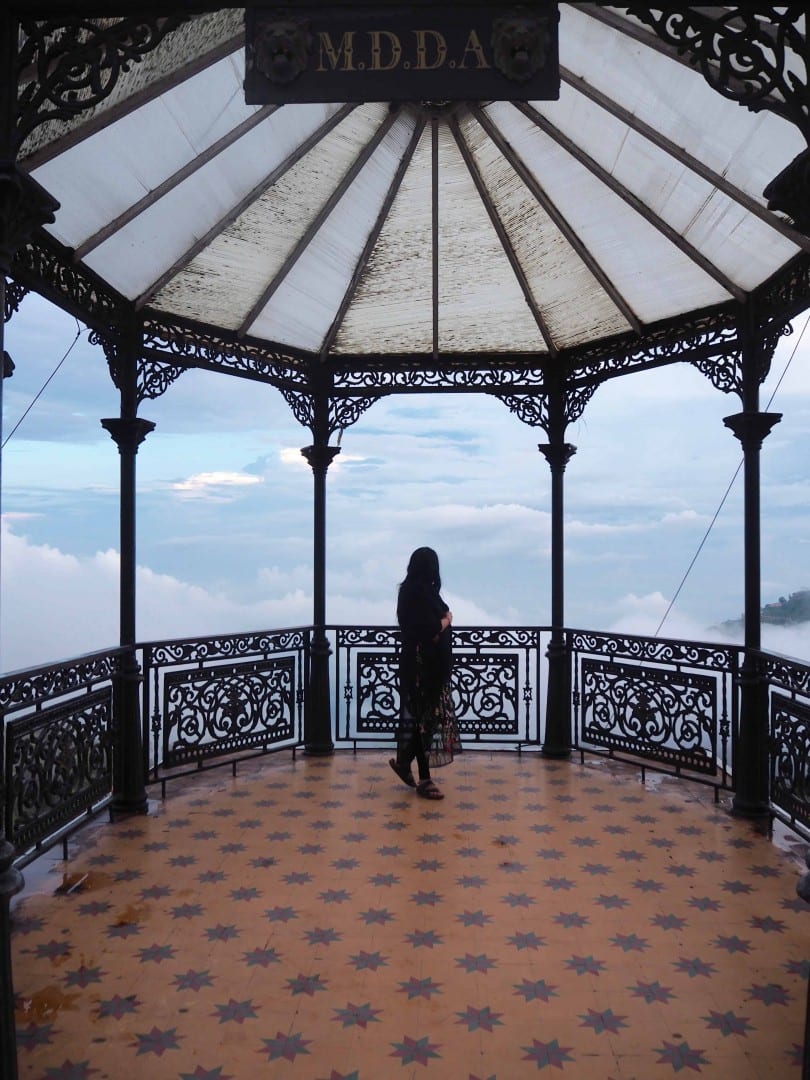 Afternoon Tea at the Savoy Hotel Mussoorie
During monsoon season, it can be quite difficult to find stuff to do as India only sees rain like this for 2 months of the year!
I'm finding that escaping into beautiful cafés for chai or a ginger lemon honey tea is a great monsoon activity.
If you're a fan of heritage hotels, look no further than a cup of coffee at the Savoy.
You can enjoy a few hours in their grand dining room. The staff here were so lovely and let us have a look around the Savoy hotel Mussoorie.
They took us into their ballroom and the chandeliers were so perfect. I could only imagine what it would have been like when it opened in 1902!
Save this Mussoorie travel guide for later
Mussoorie Hill Station was honestly so beautiful. I couldn't believe how close this was to Delhi, so it's the perfect getaway to paradise if you're tired of the busy city and stifling heat!
I would definitely recommend this place in monsoon season as it doesn't have the stickiness that comes with the humidity from the rain in other parts of the country. It was so lovely just to feel chilly.
This is just one of the many places in Uttrakhand which is outstandingly beautiful.
Read more on the North of India!
If you're exploring the North of India, then you must read some of my informative articles;
Manali to Leh by road, all you need to know
What it's like to travel to Leh, the land of high passes
Off the beaten track Ladakh, Thiksay, She and more
A guide to Manali, the hippie town in Himachal
Top things to do in Mcleodganj
A complete Bhagsunag waterfall guide
The ultimate Rishikesh travel guide
Visiting the Beatles Ashram in Rishikesh