Varanasi can be an intense experience, even for the most experienced traveller. It's a complete culture shock and somewhere that you will never forget after you've left.
A rollercoaster of emotions and fascinating at the same time, you will definitely feel a presence in this holy city for sure.
This was the first place that I ever visited in India and, although I don't regret diving in at the deep end (literally), I'm not sure if it was the best choice as a solo female traveller.
It was terrifying and I had to give myself a pep talk just to leave my hotel room (lol).
But, once I left my cave, I couldn't believe what I was missing out on.
It's definitely important to know where to go, how to stay safe, and what not to do in this beautiful, crazy, chaotic city of the dead.
So, here are some travel safety tips you need to know before you visit Varanasi!
My top Varanasi travel tips
Possibly the most important is to come with an open mind to experience, learn and understand the culture here and what this holy city represents.
Those who practice the Hindu faith are meant to do a pilgrimage here once in their lifetime and bathe in the holy river Ganga (the Ganges to us western folk).
It's the holiest of all the holy Hindu cities in India and those who are cremated here will receive salvation for their souls and eventually make their way to Nirvana.
Don't be put off visiting here due to the cremations, you don't have to see them if you don't want to!
But, if you do, it's not as scary an experience as you might think. I cover this in more detail in my post 'What it's like visiting the Varanasi cremation ghats'.
2. Ladies, dress conservatively
India is quite a strict country on dress code anyway and showing too much flesh can bring some unwanted attention, especially if you're pins are pale as a ghost-like me.
Varanasi is a holy city and funerals are happening every day on the river.
So, make sure you cover your legs and shoulders. Now, I'm not saying you need to go full Indian and were a Sari or Punjabi suit but a cotton top that covers the shoulders and a maxi skirt or trousers would be fine.
3. Watch out for scams
There are countless scams that are commonly used to get tourists to cough up their rupees.
Some, I have been subject to myself, and some I heard about from my tour guide.
Some people will ask for money for wood for their families' funeral, take you for a better view of the cremations or take you to 'halfway houses' telling you that the people inside are waiting to die.
Boat riders will always ask for a ridiculous amount of money for a boat tour at first and taxi drivers will also pair up with these to get a commission from you.
The same goes for tourist shops. It's all about a commission!
My biggest tip would be to use common sense and arrange a boat tour and shopping on your own.
4. Do not bathe in the Ganga (river Ganges)
This is a holy pilgrimage site and swimming or dipping your feet in here as a tourist is a big no, no.
Not that you would want to when you see the colour of the water due to the pollution.
I honestly can't believe that people drink it, but it happens every day.
There are bodies, ashes, animals, rubbish, hair, and all sorts that get thrown in here and so it's best to leave the swimming and washing the locals.
5. Watch out for bulls and bull crap
There seem to be a ton more bulls here in Varanasi than anywhere else in India.
As Varanasi was founded by Lord Shiva and bulls are meant to be the living embodiment of Shiva, it does make sense.
But, it can be quite scary to move around a massive bull in the teeny tiny little alleyways.
When I was walking down one of these said alleyways, a bull got scared of the bikes coming through and started to charge at me!
Luckily, my tour guide threw me up against the wall away from the horns or it would have been painful.
There's also a lot of cow dung all over the streets and so be careful of getting it in between your toes or slipping on it. I would avoid pretty sandals (lol) :P
6. Be careful where you choose to eat
Varanasi is a pretty congested and filthy city and the hygiene of the restaurants is questionable.
My tour guide also suggested that I should eat at my hotel and avoid picking places close to the river.
Even if the restaurants are hygienic, the streets around them are not so make sure you thoroughly wash your hands before you begin eating.
There are a lot of tourist places which you can find on Tripadvisor which are tried and tested by other travellers, or you could try some fresh street food.
Always make sure it's piping hot and fresh before you eat it.
7. Stay safe when trying Bhang Lassi
Bhang is edible cannabis that a handful of legal government shops will sell you.
Hindus will usually eat this around festivals (especially ones celebrating Lord Shiva as he eats Bhang) or have it in a traditional Lassi.
Bhang is a mind-altering drug and although it may sound trippy and fun, it's best to stay safe and even more so if you're by yourself.
Always make sure you buy from a government-approved shop and you try with other people around you.
If you're worried about it, don't try it as it could be scary.
8. Keep your valuables safe
Varanasi is notorious for pickpockets, especially around the Cantt train station so make sure you keep your bags locked up and in your sight at all times.
It's also important to do this around the main ghat, Ganga aarti's in the evening time and when you're walking through the market.
If you're concerned, I would leave your valuables in your hotel room.
9. Haggle, a lot
It can get exhausting, but practicing and becoming more confident with your negotiating skills will mean you get a fair and honest price.
Although you're pretty much on a losing streak anyway if you're from the West, make sure you persevere.
I found that in Varanasi everything from Tuk-Tuk's, shopping, taxi,s and food would have quite a high price attached to it. Especially, the boat rides.
Oh, the boat ride haggling was fun. At first, our taxi driver took us to a 'boatman' who quoted us 1800 rupees for an hour's tour with the rowboat.
Having done a boat ride here before and knowing the price, I almost laughed and refused. This proceeded with him following us for 20 minutes all the way down to the river despite us saying 'NO' a thousand times.
Knowing it was better to organise myself to avoid paying a commission, I started to haggle with all of the boat riders down by the main ghat and got all sorts of excuses as to why they were charging 800 per hour.
Eventually, after a few 'walk away' tactics, they got the price down to 300 per hour. An honest price.
Make sure you pay no more than 500 per hour. You may pay more at sunrise.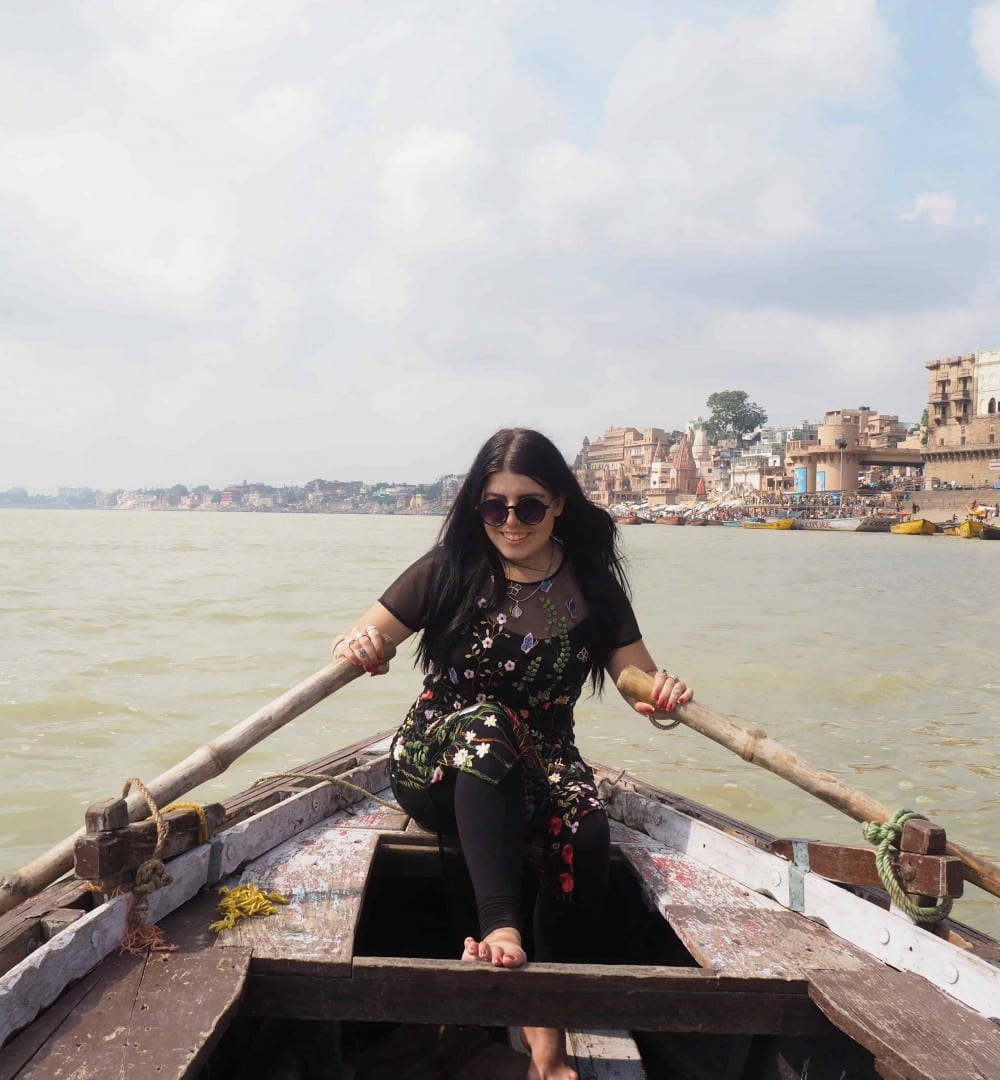 10. Do NOT take photos of the cremation ghats
Not that you would, but it's best to mention that it is completely prohibited to take pictures of the cremations taking place.
You have to think that you're techincally attending someone's funeral and it's a form of disrespect.
I wouldn't even have your camera or phone on show near the burning ghat or you may hear shouting from afar.
As soon as you're past the cremations, it's perfectly fine to take pictures of the other ghats, there are 84 beautiful ones to choose from.
11. The pollution can be horrendous so take precautions
In the city streets, I couldn't believe the congestion and traffic.
The horns made my ears bleed and the fumes from the vehicles, especially when we were stuck in a queue, just got a bit too much for me when I was travelling back in a Rickshaw.
If you have any sort of asthma and or breathing difficulties, I would recommend a taxi to make sure you've brought an inhaler with you.
Or, you could wear an anti-pollution (vog mask) to try and stop some of it from getting in your lungs. Yuk!
12. Be careful venturing out at night alone
Personally, after the Ganga aarti took place in the evening time, I'd venture back to my hotel and stay there.
Varanasi is totally not a party place and walking down the labyrinth of alleyways can be a tough job in the day, let alone at night.
So, if you are planning on heading out in the evenings, I would try and buddy up with someone.
If you're a female travelling solo, I would avoid it altogether as I found there were way too many hawkers, people trying to get me to buy beer and hash and it was just downright creepy.
13. Wash after watching the cremations
There is ash flying everywhere around the burning ghats whether you're watching from above, from the ghats, or on the boat offshore.
Some priests, including one I met for a chat with my guide, cover themselves in the ashes of the dead.
To make sure, I would wash your hair and your clothes after you have watched the cremations leaving no trace on you.
…And finally, the most important tip of all, enjoy it!
Although Varanasi does sound pretty intense from these tips alone, it's actually one of the most amazing cities that you will ever visit in your lifetime.
It's definitely up there in my top 5 Indian destinations and I would have no trouble coming back for a visit.
Want to read more on Varanasi?
Check out my honest and informative articles on Varanasi below;
My complete Varanasi travel guide
An honest solo female guide to Varanasi
What it's like visiting the Varanasi cremation ghats
How to travel to Nepal from Varanasi
Read more of my India articles
The ultimate Rajasthan itinerary
A first timers guide to Jaipur
My complete guide for Rishikesh
Save these Varanasi safety tips for later!