Old Manali is the zen, hippie town of Himachal Pradesh and many travellers head up here during the harsh summer months and Indian monsoon rains.
During the peak season, Manali essentially becomes the 'Goa of the North' that has oodles of markets, cafés and traveller hangouts to relax in.
One that almost could be considered legendary in Old Manali is the Bob Dylan Café or Dylan's Toasted and Roasted Coffee House.
This friendly boho-chic roastery is busy almost every day. It's packed full of travellers who want to relax awhile, have good conversation or something to eat!
Not only that, but it serves up some of the best coffee I've had in all of India. Trying a cup along with their signature Dylan's Cookies is easily one of the best foodie experiences you can have here.
It's all backpackers seem to talk about while in this hippie town and no visit would be complete without it. Here's a complete review!
A little introduction to the hippie town of Manali
The Hippie Trail has become synonymous with India ever since it became a term! Some say it really began in the 70s when the Beatles visited India. They gained a lot of interest and popularity for 'the mystic East'.
Lot's of travellers would hitchhike from Europe in the West, over Afghanistan and end up in Goa. Where they finally burned their passports, never to return home.
Although that trail is now pretty much buried. The 'hippie effect' and spirit has still taken hold on many towns and villages across India, Goa and beyond.
Manali has become the new base for drifting travellers when the monsoon rains hit the south. So, you'll find plenty of Goan restaurants that have an outlet here up in Old Manali too!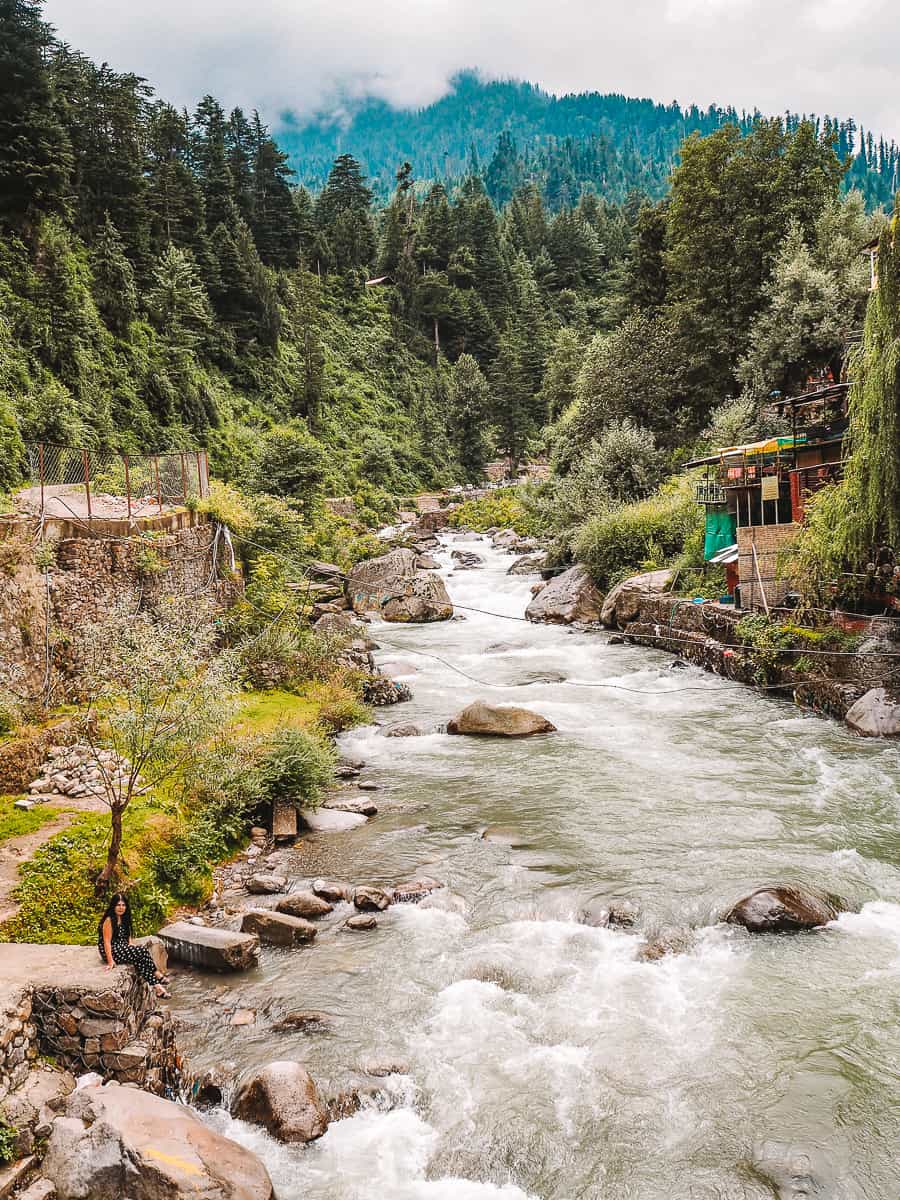 In recent years, Manali has also become synonymous with the 'Hummus Trail' as it has been dubbed.
This is when Israeli youths, who are legally obligated by the government to serve in the army, come to 'blow off steam' after their service in India.
So, you'll usually find lots of Israeli travellers here enjoying their freedom and therefore lots of businesses have catered for them. Seeing Hebrew on menus and being able to access lots of amazing Israeli cuisine is not uncommon in Manali.
One of the guys I was talking to in a café even said being here was like being in 'Little Israel'!
So, I guess if we mix the two elements of a hippie lifestyle and backpacker travellers from overseas, you get Old Manali!
Instead of hitting up the main tourist attractions around the area. A lot of backpackers who base themselves in Old Manali like to relax, smoke, eat and find a place to have a good conversation with other travellers from around the world.
That's where Dylan's Coffee House comes in!
The history of Dylan's Toasted and Roasted Coffee House in Manali
Dylan's Toasted and Roasted Coffee House is legendary in Manali today and you won't find a backpacker in town who hasn't heard of it or visited there.
This word of mouth reputation is probably what has kept it so popular over the years. Whereas many other restaurants come and go with the seasons.
The Dylan Café opened its doors all the way back in 2005. It was the brainchild of Raj 'Dylan' Nalwa and his two American friends, Jesse and Eric.
They had the idea of creating a coffee house in Old Manali that not only served good food but also provided a place in which travellers from all over the world could hang out.
At first, it was called 'Double Vision'. This concept was that the coffee house needed to make money but also it provided a meeting place that was welcome to all.
It started to gain popularity in the town but many of the travellers who visited didn't really understand the concept of 'Double Vision' or what it meant.
One day, some travellers and artists painted a colourful mural on the café wall which included Bob Dylan. This painting attracted a lot of attention in the town and people then kept referring to it as simply the 'Dylan Café'.
So, Dylan's Toasted and Roasted Coffee House was born!
Their friendly and welcoming staff always make anyone's visit and, ever since it keeps winning Indian business awards. They even have another cafe in Arambol Beach in Goa.
Now, many people say you haven't visited Manali unless you step inside and try Dylan's famous coffee and cookies.
This IS the best coffee in Manali!
I may be being a little bold here but I'd say this place serves up some of the best coffee in Manali by far. In fact, this was some of the best coffee I have had in India so far!
And that's saying something considering I was an ex-pat living in Delhi and have travelled to 22 states in India over the last three years!
Although India is very good at chai and tea. I have to admit, coffee is always a bit hit and miss. I don't consider myself a 'coffee snob' but it's usually too gritty. I won't even get started on those 1 rupee 'Bru' sachets you get on trains which are just like drinking brown water.
As I had just arrived in Manali on an overnight bus and pretty much have caffeine as my blood type, I was in need of a good pick me up.
Dylan's Toasted and Roasted was just the kick in the head I needed! Simply sipping on a cup of their black roasted coffee was the best feeling.
There wasn't just one option of simply 'coffee' on the menu either. They actually have different types of roasts and brews. As well as serving up iced coffee, shakes, mochas, lattes – you name it!
It was like a coffee snobs paradise and definitely a luxury that you don't often get in the North Indian mountains.
If you do happen to buy a cup while in Manali, make sure you pair it with a couple of their legendary chocolate cookies too!
You must try their legendary Dylan's cookies!
The fact that the famous Dylan's cookies have an International fan appreciation club on Facebook is enough to tell you how good these cookies actually are!
The owner even organises meetups in Israel centred on baking these delightful cookies for travellers who remember them.
These cookies are all the backpackers speak of in the town and every other review on Tripadvisor raves about these gooey treats. Trust me, you have to try them while you're here!
But, I guess you're probably wondering by now, why are these cookies so good? What makes them so special?
Well, when you order one of these cookies it will come freshly baked out of the oven in the shape of a gooey dough ball! Then, when you bite into it, the cookie is full of melted chocolate in the middle.
It honestly melts in your mouth and they become oh-so addictive! At only 50 rupees a piece it's easy to buy a whole tray of them. They have both milk chocolate and white chocolate options.
Like I'm pretty sure I still dream about these yummy cookies at points. You must try them!
What food do they serve at Dylan's Cafe?
As well as the famous cookies, there are savoury food options and light snacks to buy for breakfast, lunch and dinner.
You'll find a lot of international cuisine here catering for backpackers. There are pancakes, burgers, sandwiches, salads, garlic bread, falafel, fries, curries and desserts too.
I didn't personally eat lunch or dinner here as I was always too full from stuffing my face with the cookies! But, from what I saw on other travellers tables, the food looked really tasty.
Top tips for visiting
Manali is a seasonal town to visit in India as it's up in the mountains. Winters can see it completely snowed under with no transport to access it! The most attractions and restaurants open from around April – September. So, if you did want to visit Manali, I'd plan to travel around the summer/early monsoon.
This cafe is full pretty much every single day! Even in the overflow at the back. So, you may have to wait for a table.
Saying that, most travellers sit together inside and all share the sofas and seats. It's fun that way as you can meet new travellers!
If you visit earlier in the morning you have the best chance of snapping up one of their shakes. By the afternoon, you may find that they've run out of stock.
If you order the famous Dylan's cookies, you may be waiting a while. They are really popular as they are made fresh to order for you. But, it's SO worth the wait. Trust me.
The café takes cash only as with most places in the mountains as there is barely any signal for card readers. There are very few ATMs in Old Manali, so I'd bring lots of cash with you.
They often hold movie & jam nights in the back room, so if you want to be involved come here in the evening and see what's happening!
Dylan's Toasted and Roasted Coffee House opening times
The coffee house is only open in season from April to November. They're open from Monday – Saturday at 9am – 11pm
But, the cafe is completely closed on Sundays!
How to find it in Old Manali
The great thing about Old Manali is there is one (steep!) road in and out. So, you can't really get lost!
Most of the restaurants and shops in this part of town are located on this one road.
Dylan's Cafe is really easy to spot nearer the bottom of the hill and entrance to Old Manali. It has a huge sign with the name of the café plus the famous Bob Dylan mural that can easily be seen from the road.
If you're staying in Old Manali, the coffee house is easily accessed by walking and I would always recommend that over a tuk-tuk or motorbike. Old Manali has a single narrow road that sees a lot of congestion as it is. Vehicles here cause a lot of bottlenecks.
If you're based in New Manali, you can get a rickshaw to Old Manali from there. But, walking is better for the environment and the stroll is easily doable within 20 minutes.
I'd highly recommend the 'Manali Nature Park' route with the beautiful groves of Deodar trees as opposed to the roadside to make it a more enjoyable walk!
Looking for more things to do in Manali?
Beyond the cafés and restaurants, the scenery of Manali is breathtaking! As it's located high up in the mountains of Himachal Pradesh, you don't have to go far to see the views. They will be all around you!
If you do fancy exploring some of the areas, there're lots of amazing attractions and treks to explore.
You could head over to Vashisht and see the incredible waterfall there. Or, stay local and visit the Hadimba temple to learn about local Hindu culture.
I loved my day trip up to the Rohtang Pass, also known as India's most dangerous road! We hired a car with some other travellers and made the journey up into the mountains. You can read about that here.
A few days later, we then also made our journey up to Leh Ladakh via the same road. If that is your plan next make sure you read my bus journey guide here. Or, my Ladakh travel guide here.
There are so many amazing things to see in Manali. So, make sure you read my complete Manali travel guide for more options.
Read more of my North India blog posts!
Here are some more articles for exploring Himachal Pradesh & beyond;
Off the beaten track Ladakh, Thiksay, She and more
Top things to do in Mcleodganj
A complete Bhagsunag waterfall guide
The ultimate Rishikesh travel guide
Visiting the Beatles Ashram in Rishikesh
Save this Dylan's Toasted and Roasted Coffee House Manali review for later!