The Pushkar camel fair was my favourite festival on my first trip to India. It's not every day you can witness hundreds of decorated camels together in one place!
I would even go as far as to say this is a 'must-see' event if you find yourself in Rajasthan around November.
Local farmers and traders from all over the desert state of Rajasthan will come here to sell anything from camels, bulls, prized horses, and much more.
But, there is so much more to this festival than just trading animals.
As a tourist, you can even get involved with camel safaris, enjoy the delights of the crazy local funfair and compete in moustache or turban tying contests!
Keep reading to find a complete guide to the Pushkar Camel Fair.
What is the Pushkar Camel Fair?
The Pushkar camel fair is a livestock festival that happens annually and falls on the Kartik moon according to the Hindu astrological calendar.
Kartik Poornima is the full moon day and the main day of the fair.
This is also where you will catch hundreds of Hindus bathing in Pushkar's holy lake.
According to legend, this is the day that Lord Brahma, the creator of the world in Hindu mythology, created the very lake which still stands today.
Although the festival 'proper' is a weeklong event, there is actually quite a lot to see the week building up to it!
So, you can stay here for the whole fortnight to catch all the activities going on.
It's one of the world's largest camel fairs and in recent years has become a huge tourist attraction as it's a feast for the eyes with over 400,000 visitors each year!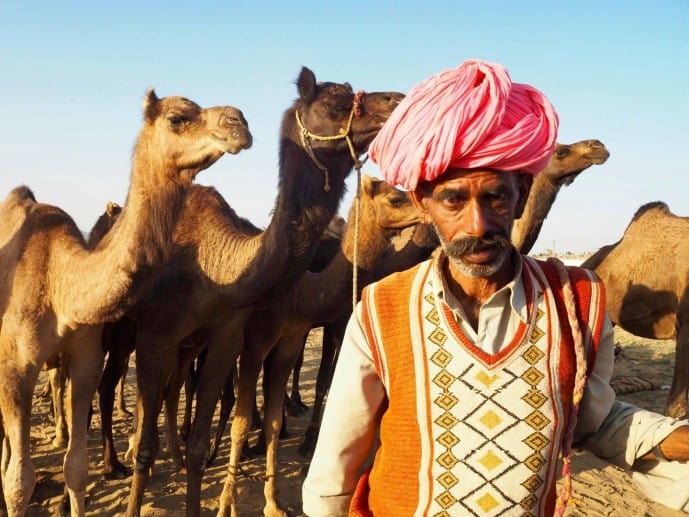 How to get to the Pushkar Camel Fair
To reach the Pushkar Camel Fair you will need to make your way to Pushkar in Rajasthan.
Pushkar is easily accessible from all over Rajasthan but the best place to pull into by train is Ajmer.
This is the nearest largest city and provides a quick 30-minute journey to Pushkar over the hilly mountain pass road. The views are amazing on this journey so look outside!
Private taxis will cost you a pretty penny so it's best to get an auto-rickshaw from the train or bus station. The price is around 400 rupees and less if you share!
If you're on a tight budget you can get the local bus for a measly 12 rupees! the buses are like a rusty bucket and packed to the rafters but it's a short journey and dirt cheap.
Where to stay during the Pushkar Camel Fair
Hotel room prices go through the roof during the Puskar Camel fair as it's peak season and people will pay it!
The place also pretty much sells out during this time so best to book in advance if you can.
There's a 5 star Westin resort if you're budget can afford it and Hotel Brahma Horizon or the Heritage Treebo are good midrange options.
These are further out than the main lakeside area but are peaceful and away from the noise!
Shiva guest house and Zostel are on the backpacker budget end and provide cheap accommodation in private rooms or dorms.
Pushkar Camel Fair Camping
But, the absolute best way to experience the Pushkar camel fair is to camp! Now, I'm not talking about music festival camping. No, no.
Camping in India is pretty much like a normal hotel room but with a tent over your head.
It's luxury camping or 'glamping' which is a better word! I stayed at the Royal Heritage Camps and Safaris which was beautiful.
It was nicely decorated, had a private porch and the bathroom shower had better water pressure than my apartment in Delhi!
There was great A/C which was needed in the boiling heat during the day but at night it was downright FREEZING! So, you're best to layer up or bring a hot water bottle with you :P
You can check out their website and rates here.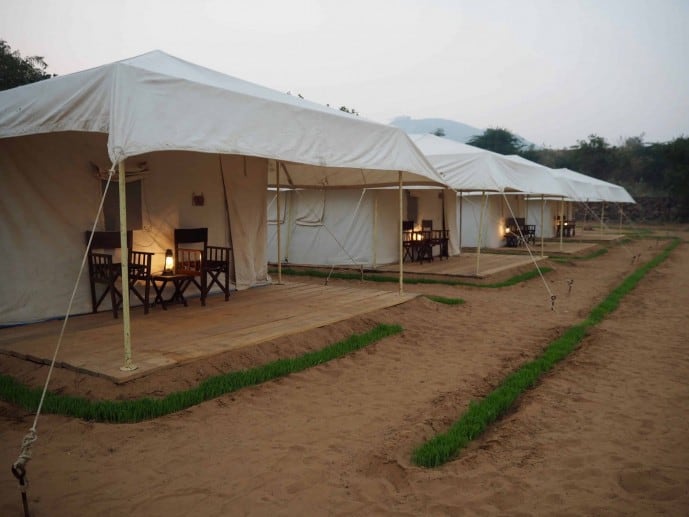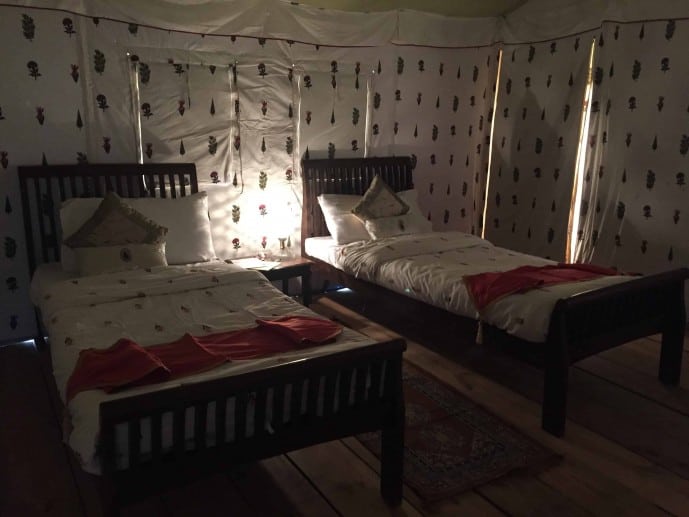 Things to do in the Pushkar Camel Fair
Meet the Camels at the fair!
I love camels. I love the way they look, their funny little faces and their attitude problems!
They're a little sassy, like me and so naturally we're soul mates.
Camels from all over Rajasthan visit the Pushkar Camel Fair.
Camels from Punjab and beyond will be showcased here and to help with selling them, they're decorated in all sorts of colourful pom-poms, anklets, flowers, and flair!
You can definitely spot a good camel here and they're all up for sale if that's your wish.
For me, it was photography gold! I loved meeting these guys and coming up for a closer look.
Take a ride into the Pushkar desert
If just looking at these beauties isn't enough for you, you can go on a camel safari into the desert!
The options are to go bareback or lie on one of the cute little Rajasthani carriages.
Personally, I did both while I was here!
Riding a camel is a novelty at first but the very height of them, the jumping around, and the horror of getting on and off can get a bit much. I much prefer sitting like a Maharani (queen ;) ) in the tent.
The best time to leave is about an hour before sunset. Although Pushkar is a holy city that bans alcohol and meat, in the desert it's all game.
You can order a beer from your camel rider and a guy will deliver it on his scooter. This is India!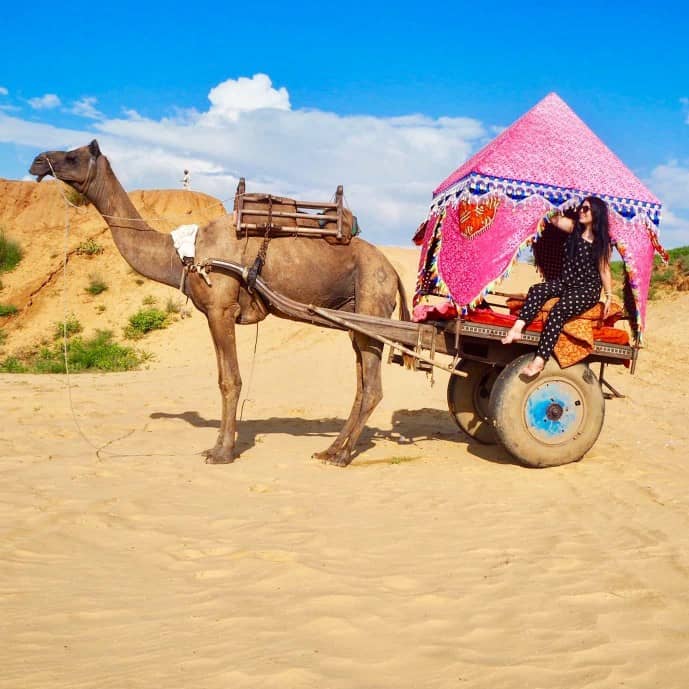 How to book a Pushkar desert safari
I wouldn't book this beforehand and I've never booked tours ahead of time in India.
It's far cheaper and easier to just book while you're here. That way you can negotiate and check all that's included before you hand your pennies over.
Prices are paid by the hour and you should haggle for a good rate! I paid 400 in the camel fair which I think included a commission for my guide.
You can also do night safaris where you camp in the desert but prices are hiked up during this time.
Gypsy villages
On my Pushkar camel safari, we rode into the Rajasthani desert and came across some of the Gypsy villages which were pocketed through the dunes.
Here, they run small businesses including dressing up in traditional attire! I know it's super touristy but I absolutely LOVE dressing up in beautiful Indian clothes!
So, I always do it whenever I travel to the different states in India. One day I want a photo of every one of them. Watch this space.
You'll also find some of the boys that have DSLR cameras wandering around.
For a small fee, they will take your photo and print it instantly on their photo printing machines, they make great souvenirs to take home.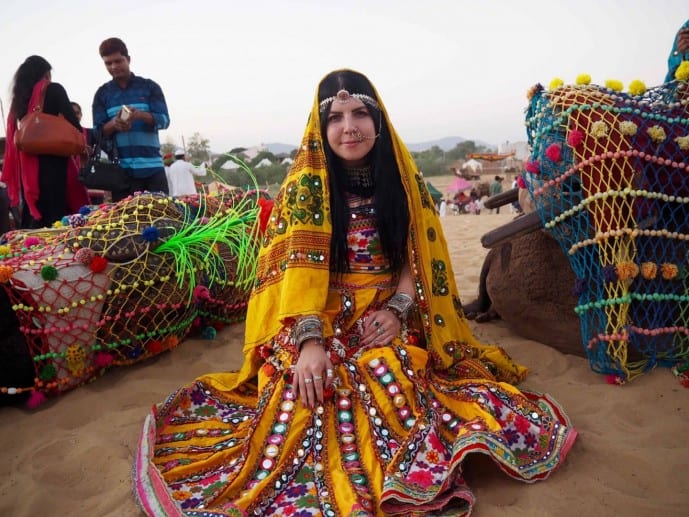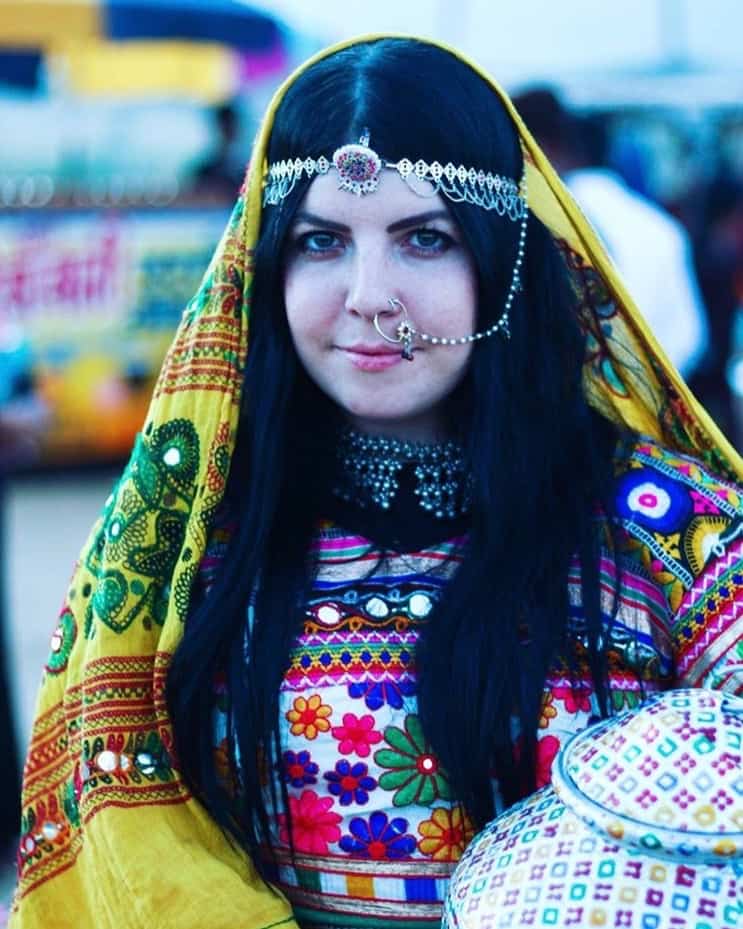 Pushkar Camel Fair competitions at the polo ground
Each day during the fair 'proper' they have competitions at the Polo ground in the afternoon and it's not just locals that take part, tourists can compete too!
You can sign your name up at the desk and they will call you when the competition is going to start.
You get the chance to win a camel fair trophy and get some serious bragging rights.
Competitions include turban tying, cricket matches, musical chairs, and water pot racing! It's really funny to watch so make sure you stick around.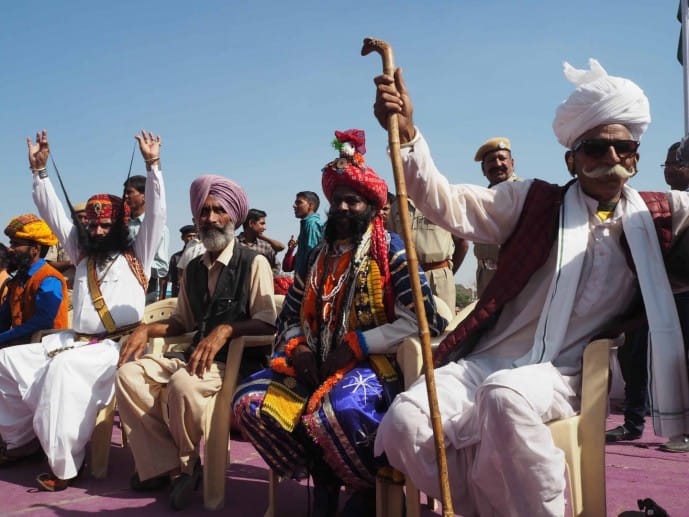 My absolute favourite competition, however, is the moustache contest!
Here, you'll see Rajasthani men who've been grooming and growing their hair all year just for this very competition.
Some of the moustashes were of insane lengths and the costumes were awesome to boot!
I couldn't stop laughing as they made their way down the catwalk. It was just hilarious!
This is the guy who won below, it was great meeting him and copping a feel of his prized moustache.
People were even selling his portrait photo as souvenirs…ummm I think I'll pass!
Have a blast at the funfair
You've experienced funfairs in the west but have you been to an Indian funfair?
The rides look like they're about to fall to the ground but they're perfectly fine!
They're also cheap and a hell of a lot of fun.
You can get a spectacular aerial view of the whole Pushkar camel fair and beyond if you take a ride on the Ferris wheels and it's even better at night time.
Tacky-looking Mickey Mouse bouncy castles, creaking pirate boats, and hoop throwing stalls are here too.
You can even catch a magic show, circus performance (which was awkward to watch) and get your fortune read.
The fair does come with some ear-blowing music and it's unnecessarily loud but that's India. They don't do noise by half measures, do they?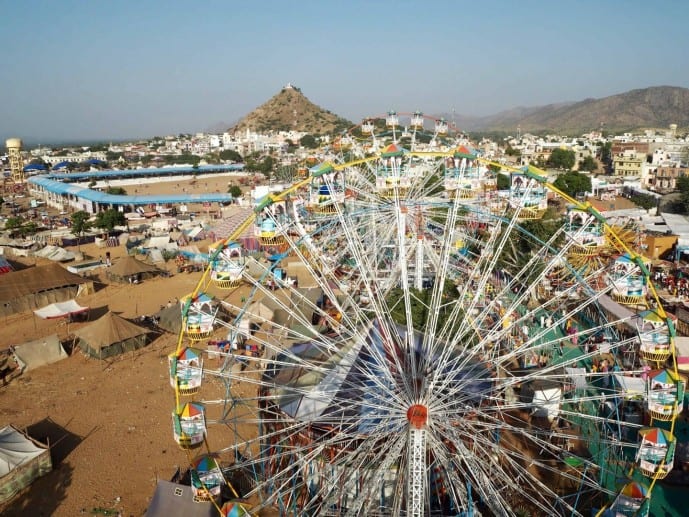 Party once the sun goes down
Once the beautiful orange sunset has ended in Pushkar, you can catch one of the many performances which take place in the evening time.
Traditional dancing, bridal dress modelling competitions, and concerts from famous local singers are all here to watch for free!
The crowds get pretty rowdy but it's got a really good atmosphere to it.
You can sip a chai from the many wallas (vendors) walking around and enjoy watching the locals dancing to the music.
Frame of the fair
The Pushkar camel fair is a photographer's dream as there are so many colours, characters, and camels to take snaps of.
My camera reel was full of amazing captures and I still look at them from time to time as it was an amazing adventure.
You will also see other professional photographers here too clicking away like mad and some even stay here for a whole two weeks to make sure they get the best photos.
That's because there is a competition called 'frame of the fair' which awards the best picture submitted with a $5,000 dollar reward!
Don't forget to explore Pushkar while you're here
Of course, the camel fair is fun, but Pushkar itself is a true hidden gem in Rajasthan.
It's a moment of calm amongst the chaos of the bigger cities and it's worth a visit even when the camel fair isn't here.
You can stroll around the gorgeous holy lake, visit the only Brahma temple in the world, watch the famous maha aarti and trek up to the Savitri temple for sunrise.
If you want to find out more see my complete Pushkar travel guide here!
What I'd do at the Pushkar Camel Fair next time
If my budget can stretch it I would love to get an air balloon ride at sunrise over the Pushkar Camel Fair!
I've never been in one and it's been on my bucket list for a few years now.
I can't imagine how awesome it is to see all the hustle and bustle of the traders as the sun comes up.
I'd also like to compete in some of the competitions here (not the moustache contest of course!).
Last time I chickened out but next time I go I want to take part and try winning that awesome trophy!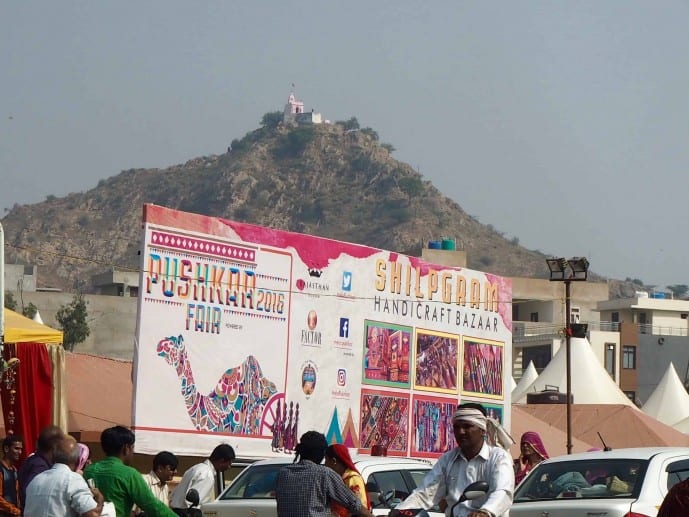 Make sure to put the Pushkar Camel Fair Guide on your list!
The Pushkar camel fair is up there as one of my favourite experiences while I've been in India.
I plan to go back year after year to experience it all over again as I just love the atmosphere and everything that's going on.
There is honestly so much to do and if you can bag a room while you're here, it's worth staying for a few days to enjoy the festivities!
Don't miss this incredible event while visiting the desert state of Rajasthan!
Read my top tips for Holi Festival next!
Heading around Rajasthan? Check out these posts!
My complete guide to the Pink City of Jaipur
A photography guide for Jaipur
A complete guide for the Blue City of Jodhpur
My top travel tips for Jaisalmer
A camel safari in the Thar desert
Why Bundi has to be on your bucket list
Top places to visit in Bikaner
Visiting the rat temple in India