If you're heading to Rajasthan I already, without a doubt, know that you're going there for a camel safari in Jaisalmer.
Or, at least, to head into the mysterious Thar desert and discover its secrets for yourself.
A camel safari in Jaisalmer is an essential part of any Rajasthani adventure and should be high up on your Indian bucket list.
It's something that I would recommend everyone experience, at least once.
Riding out to the sand dunes on your new furry friend, gazing in awe at the vibrant colours of the sunset, and sleeping out under the stars all make it an unforgettable trip.
But, there are a few things to know before you get too excited and go ahead and book one!
So, I've put together my crucial Jaisalmer camel safari travel tips to ensure you have a great time.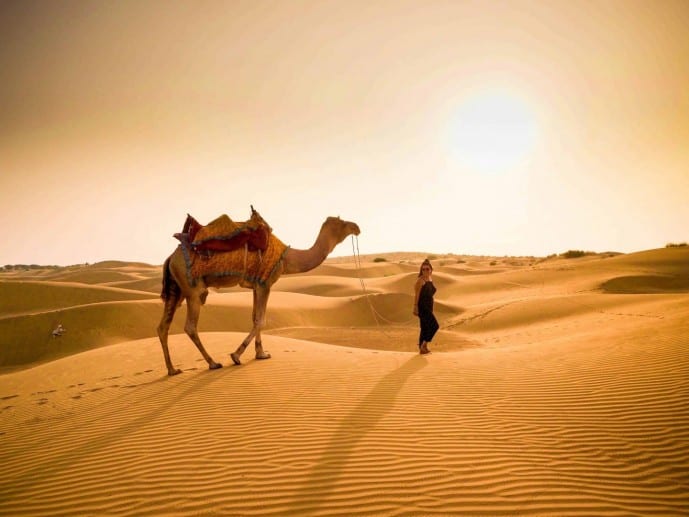 So, what exactly IS a camel safari in Jaisalmer?
Typically a camel safari in Jaisalmer includes a transfer from Jaisalmer to a camel point in the Thar Desert.
You then ride a camel for one to two hours (two is plenty, or your bum will be dead!) and then watch the sunset on the dunes.
From there, you'll eat dinner at a camp or out in the desert, watch a dance show and sleep out in the desert.
This could be on a cot under the stars (out in the open on the dunes) or camping in a tent.
Although it is called 'camping', it's actually more like luxury camping or glamping! Some tents will have double beds and even running hot water!
These are my top tips for a great camel safari in Jaisalmer
1. Pick the right season
A camel safari in Jaisalmer sounds like fun and games until it's April and your skin is melting due to it being 40 degrees in the shade.
Rajasthan reaches temperatures of up to 52 degrees during summer (April – June) and so you definitely don't want to pick the wrong season!
June – early September is also monsoon and, although Rajasthan doesn't see constant floods of rain, you definitely don't want to be caught out in it when it falls!
You could be sleeping open air in the desert and it would totally suck if you were wet through.
During this time the sunsets are also not so pretty, due to the cloud cover.
The best time for a camel safari in Jaisalmer and to visit the Thar desert in Rajasthan would be anywhere from September – March as this is India's winter season.
These months have pleasant temperatures and dreamy sunsets which produce a sky full of colour!
I personally waited until the winter season to experience Jaisalmer. I just couldn't imagine going at any other time.
2. Don't book a Jaisalmer Camel Safari advance
This is a top tip I would give anyone travelling to India; don't book any transport, hotels or attractions in advance.
Sure, you can book in your hotel for the first night to make sure you have somewhere to head from the airport but after that, I wouldn't bother.
Not only may you experience delays due to transport or falling head over heels with a place and wishing you had spent more time there, but you also could be paying over the odds online.
I would highly recommend waiting and booking a safari in Jaisalmer upfront.
3. Don't pick the first option, shop around
Your hotel may offer you a Jaisalmer camel safari service and the touts in the market streets can be very persuasive, but I would personally do some shopping around before picking a company.
Although the whole of Jaisalmer offers a desert safari service of some kind, I would do some research online, double-check the prices, what's included, and if it's definitely what you want.
Don't make the mistake of picking the first one as you may find that it's overpriced, or badly organised.
Prices can vary greatly depending on the service and where you're staying. For example, if you're staying in a 5* resort, you can obviously expect a 5* price.
Furthermore, if you're looking to spend a night out under the stars on the dunes, you can expect to pay a lot less than a luxurious camping/glamping experience.
My hotel, Helsinki House, offered two types of Camel safari in Jaisalmer. One was a backpacker-priced sleep on the dunes with a camel safari, transfer, and meals for around 1800 rupees (£20).
The other was a more tailored camping experience for around 3-4000 per person (£35-£40)
There are so many booking offices in town, so try out a few and make sure you're getting a good price! Remember, you can haggle and all prices are up for negotiation. This brings me to my next point of…
4. Check what's included
A lot of travellers I met complained of getting ripped off for a Jaisalmer camel safari.
They didn't get to ride the camel enough or a meal wasn't included that they were expecting.
Although it doesn't seem like much, having everything you expect to be included can make the difference of whether you have a great camel safari or not.
So, it's important to make sure you ask these questions before booking;
What sand dunes are we going to?
How long are we going to ride the camel?
Will we be sleeping out in the desert on cots? Are we provided a blanket?
Will we be camping and what is the name of the camp? what facilities does each tent have?
…and, saving the best til' last, do you offer a discount?! (Lol)
5. Pick private dunes over Sam sand dunes
Jaisalmer's desert isn't like Dubai with miles and miles of untouched dunes. It's actually a desert with lots of foliage and there are specific areas of dunes that tour operators visit with tourists.
Sam sand dunes are the most popular due to their convenient location and you'll find that many of the camps are based in this area.
This means that you'll be joined by loads of tourists which may not be as enjoyable. It sees over 400 tourists per day!
I know, for me, I wanted a more private tour and experience, so, I made sure I shopped around.
Luckily, Helsinki House owned private dunes a little further afield.
This meant that there would be hardly anybody there and was the perfect setting for photography.
If you would like to check the Helsinki House dates and rates, see here.
6. Come prepared and bring supplies
Thar desert is boiling in the day (even in winter) and then very cold at night.
So I would make sure that you bring the right gear to protect yourself from the harsh conditions.
Bring suncream for the sun beating down on you, water to make sure you're hydrated, warm clothes for the night spent out in the desert.
Plus your camera to record all the great memories!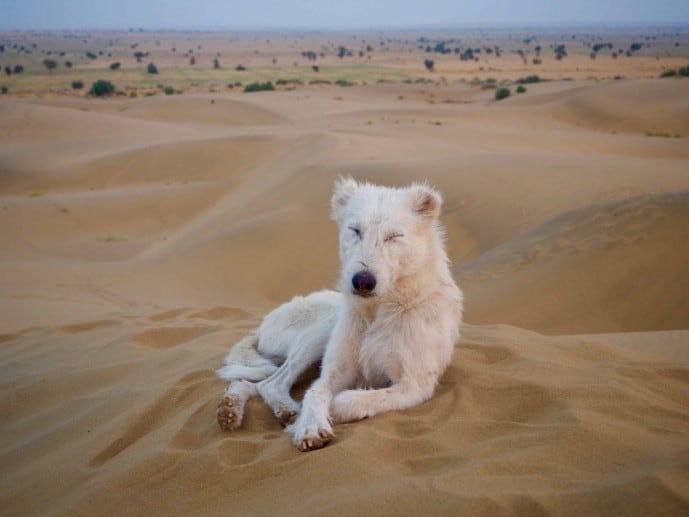 7. There are experiences for all budgets
A lot of people think that spending a night out in the desert has to be a 'backpacker experience'. But this is far from the truth.
Jaisalmer offers a massive range of luxury desert camps from Camp E Khas to the out-of-this-world luxury Serai camp.
You really don't have to want anything in these places!
You'll be waited on hand and foot and feel refreshed, rather than sandy, after your stay.
8. Make sure to enjoy your Jaisalmer camel safari!
The most important tip, enjoy the experience! Relish in the mysteries of the Thar desert. Make some furry camel friends, be bedazzled by the colours in the sunset, and marvel at the blanket of a thousand stars!
There's little to no light pollution in the desert so you will literally have a thousand stars shining just for you.
This was by far one of my favourite experiences in India to date.
I'm pretty sure I've left my heart in Jaisalmer and will make it a mission to go back.
If you would like to read more about what to get up to in the golden city.
You can read my essential guide to Jaisalmer here with the top things to do!
Read more on Jaisalmer
A complete guide for Bada Bagh
Visiting the amazing Patwon Ki Haveli Museum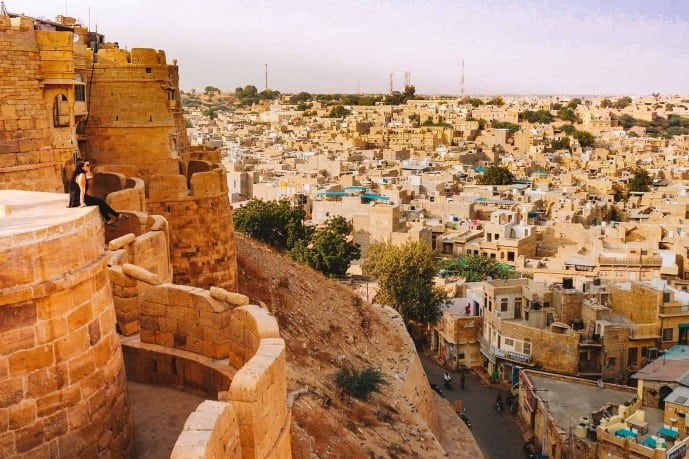 Heading around Rajasthan? Check out these posts!
My complete guide to the Pink City of Jaipur
A photography guide for Jaipur
A complete guide for the Blue City of Jodhpur
Why Bundi has to be on your bucket list
Top places to visit in Bikaner
Visiting the rat temple in India
Save these Camel Safari in Jasailmer tips for later!