I've never been much of a happy camper. I mean, I've stayed in (pretty terrible) tents at festivals and learned the harsh lessons through my aching back of an air mattress being compulsory!
But, in all honesty, I'm over it. Glamping, for me, is the only way to go if I want an adventure in the countryside.
Having just returned from a long weekend in Devon with friends at the Reforge Retreat, I'm officially hooked!
If you're not sure what glamping means, it's essentially posh camping.
Where you don't have to struggle with tent pegs, drown in a leaky tent or work out how to shove the tent back into those tiny little bags (why do they make those so small again?!).
Glamping is a little bit of luxury without losing the outdoorsy nature that regular camping brings.
It's certainly growing in popularity more and moreover the years with there being no end of glamping sites to choose from. But, I feel that the Reforge Retreat Devon will steal your heart through its character and friendly residents.
Here are the reasons why you should choose them for your next glamping holiday!
1. Reforge Retreat is based in the gorgeous Devonshire countryside
I absolutely love getting out and into nature, so the fact that this campsite was tucked away in the Devonshire countryside was right up my street.
The campsite is located in a little village called Black Torrington.
This is twenty minutes from the Cornwall borderline, close to Bude, and on the gateway to Dartmoor National Park.
I would definitely say you will need your own mode of transport to reach Reforge Retreat.
Devon and Cornwall are renowned for their little villages and winding country roads. As data signal can also be tricky, make sure you have a Satnav to find your way around.
As soon as you get here you'll be immersed in nature. Reforge is actually a medieval farm, spread over 20 acres, that has been here for more than a thousand years!
You can go for walks around the campsite and grounds, along the meadows. There are even two lakes here and one where you can go bat watching. It's a nature lover's dream.
2. You can stay in the cutest colourful bell-tents
I think the main thing that sealed the deal was the incredible bell tents you can call home for the weekend! They were all so colourful, psychedelic, and cosy inside!
Each tent, which can fit four, comes complete with air mattresses, bedding for one bed (you can pay for extra bedding), solar lighting, cushions, a sitting area, and fire pit to make your own campfire!
Our tent had a wooden platform which was ideal for the washout of a Bank Holiday weekend. There's no electricity but, you can charge your phones and electronics in their kitchen area onsite.
Aside from the bell tents, you can also book a gypsy caravan or the artist's hideaway which is more of an apartment.
Pitching up a tent in the meadow will only cost you £10 a night and lakeside camping is £15.
Click here to see their official Reforge site for more details and bookings
3. You can meet your friendly furry neighbours
The thing that really added a homely touch to this beautiful farm was meeting all the animals that are eager to meet you!
As soon as we arrived we had Mogwai the cat running around us wanting to play, it was honestly the cutest thing.
I mean, will you look at those eyes!?
Then as we wandered around the site we met Galahad the goat and the cute piglets who were always excited and ran up to the fence.
They were happy as pigs in the muck (quite literally) and so we always found little bits of mud on our sleeves after we stroked them. My favourite thing to do in the mornings, way says hello!
Then, I've saved the best until last, Mallicks!
He's the sweetest little pigmy goat that was rejected by his mother. Now, the owners of the retreat are his parents!
He's so boisterous and likes to try and butt your feet and legs, footballs, and anything going. I honestly fell in love with him and wish I could have taken him home.
4. Exploring around the Reforge Retreat is a dream
This place has no end of facilities and things to get up to while you're here. You can take a walk around the meadows or grab a book and relax in their hammock glade. They have board games, arcade games, a clubhouse to keep dry should it rain. It really has it all.
If you would rather come for more of an event here, then the whole place can be reserved for a special occasion. A yoga retreat, murder mystery, or medieval banquet perhaps?
5. It has a Medieval Bar on site with strawberry beer on tap
What could be cooler than a medieval bar onsite serving strawberry beer (Frulli) on tap?! Especially as this place is a little out of the way, having this time capsule to hand was a great way to meet people over a drink in the evening.
When you walk in, it's like a step back in time! The place has remained the same for more than 70 years and it's like a treasure trove of antiquities and curiosities. You have to see it to believe it.
The owner's Faith and Julian were really nice to get to know. Faith is the kindest hostess and Julian is an actor and has featured as a Landlord in the BBC1 production of Poldark (I'm obsessed with the series) and the Indie movie Baghead.
6. It has a wide range of Reforge Retreat facilities on site
You don't have to pack up your camping stove or worry about bringing too much kitchenware with you. The clubhouse has a kitchen with microwaves, a fridge, kettle, hobs to cook with, pots, pans, plates, cups, cutlery, can, and bottle openers. Just bring whatever food and drinks you like and get cracking.
There are also bathroom facilities including two electric showers which was a godsend with the chilly mornings!
7. It's on the border of Cornwall
Reforge was the perfect base for day trips out to Cornwall.
In just a short drive you could explore the sunny seaside town of Bude, King Arthur's castle Tintagel, Boscastle and the witchcraft museum, the Eden project, the lost gardens of Heligan, and the Jamaica Inn (an actual pirate pub!).
If you were up for a long day out you can visit Land's End which is the last piece of England!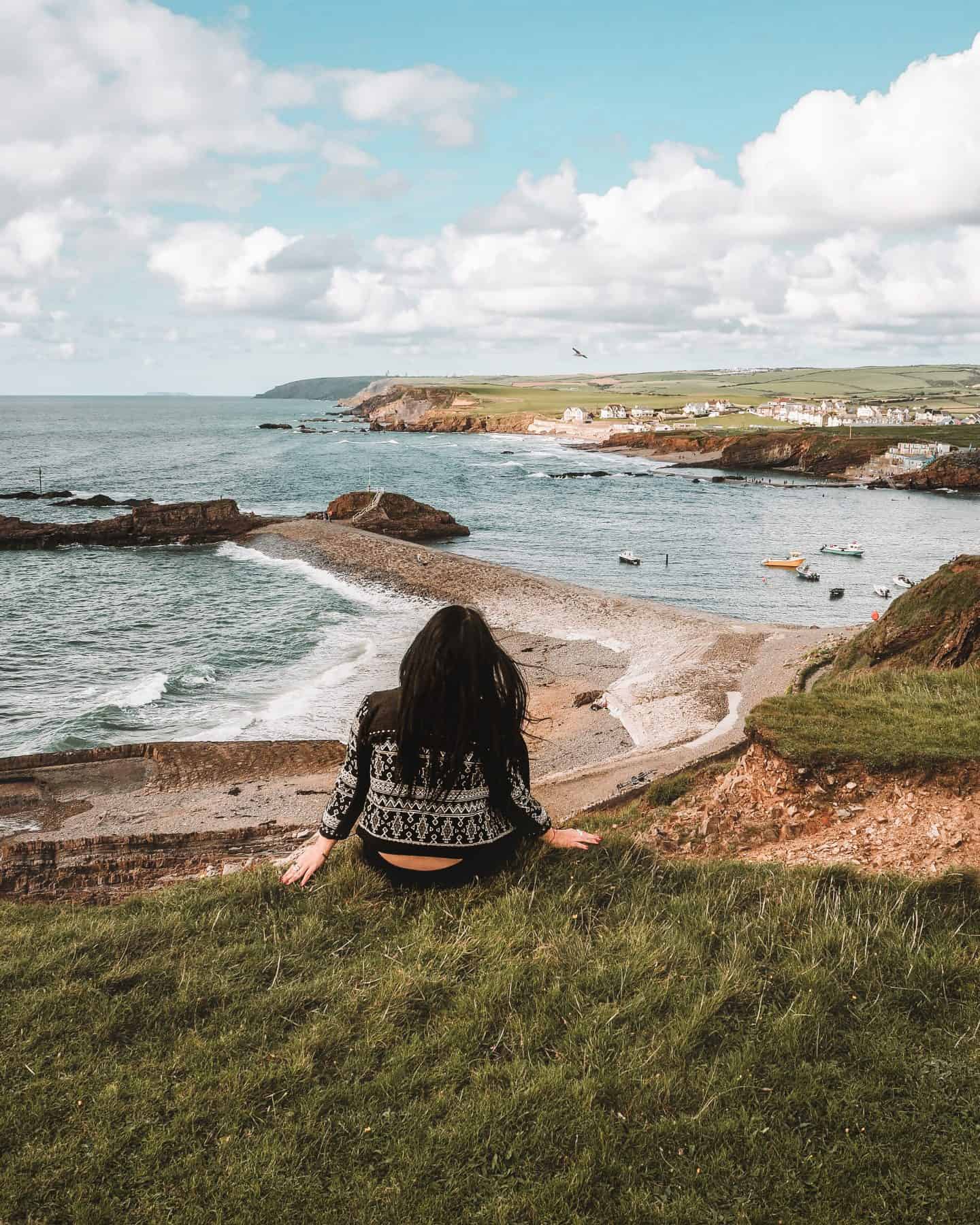 8. You'll never want to leave
I'm officially hooked on glamping now and felt right at home in the Reforge Retreat. I was so sad to leave the bell tent I called home for the few days I was there.
It was so refreshing for the soul to get out into nature and explore the countryside. For us, it was a perfect location in between Devon and Cornwall so we could adventure out and see what gems it had to offer!
It's somewhere I wouldn't hesitate to visit again, even just to meet my new furry friends and grab a pint of strawberry beer at the Inn.
Make sure you book the Reforge Retreat for your next glamping holiday in Devon. It's a home away from home.
For bookings and enquiries, find Reforge Retreat's official website here.
I was not sponsored and paid for the Reforge Retreat with my own pennies. All views, photos and opinions are my own.