If you're looking for some amazing photography locations on the Isle of Anglesey, then you cannot miss this colourful row of houses beside the sea in Beaumaris.
Locally known as Beaumaris West End, this street is full of gorgeous terraced townhouses that are painted in every colour of the rainbow.
Many photographers and artists have captured this iconic scene on Chapel Street. So, you'll find postcards and portraits of them almost everywhere on the island.
It was one of my favourite photography locations on my recent road trip and I would highly recommend paying a visit.
Here's a complete guide to the rainbow row on Beaumaris West End, including the history, how to visit and my top photography tips!
The history of Beaumaris West End
Beaumaris has a history dating back centuries, all the way back to the Viking era! But, it really began development in 1295 when Edward I of England built Beaumaris Castle after conquering Wales.
The West End of Beaumaris, however, would be developed much later on and this adorable row of vibrant houses was constructed in 1869.
Houses 1-6 on Chapel Street was built over a cluster of small dwellings in the Baron Hill estate. There is also a number 7 that was built around a decade later.
The whole row of colourful houses are now Grade II listed and a small waymarker reading 'The West End, 1869'' can be seen from the front.
Although not much is known about this residential area, their bright colours definitely draw attention to the town!
The history of colourful houses in Wales
You'll often find that many coastal towns and villages in Wales are filled with pastel-coloured buildings.
There is a local legend that says the bright shades are a legacy of the fishermen who worked there.
There is a myth that the fishermen would paint their terrace homes on the dock in different colours so they could recognise their home from the sea!
Much later, when tourism picked up in the Victorian era, many fishing villages kept their colourful houses to encourage tourists to visit.
This is also most likely the case with Chapel Street in Beaumaris West End! As they are placed near the entrance of the town, they really invite you in.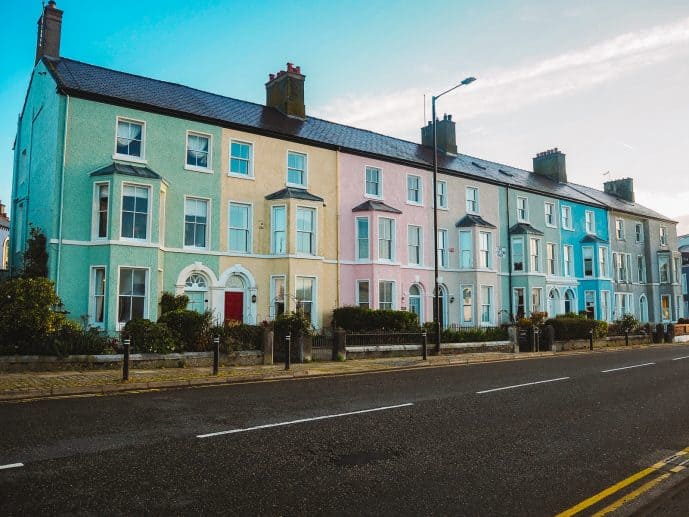 Where to find the colourful houses in Beaumaris
The West End of Beaumaris can be found to the south of town and this set of houses can be found on Chapel Street.
If you're driving into Beaumaris from the Menai Bridge, you'll probably pass them as they are located by the main through road of the A545.
If you wanted to stop for a photo, there is some roadside parking located just before Chapel Street near the promenade which is time-restricted.
The postcode for Chapel Street is LL58 8BD.
Or, it's easy enough to head into the town of Beaumaris and park up in the main car park.
From there, you can then walk to Chapel Street from Beaumaris Castle in around 10 minutes by heading straight down Castle Street.
If you're heading into Beaumaris by bus, there is a bus stop at West End on the Arriva Wales 58 service to Llangoed.
My top photography tips!
Beaumaris West End really is the postcard-worthy view of this seaside town.
Many photographers and artists have captured these iconic terrace houses and so you must make sure that you bring your camera on your visit.
I would normally say that the best time to visit for photography would be just before sunrise or after sunset. This is always when the lighting is softest and so it really brings out colours through a lens.
However, in this case, I actually think that visiting these colourful houses later in the morning is a better idea. This is because the sun shines on them and it really brings out their gorgeous colours!
I was here really early in the morning during blue hour and the sun wasn't quite hitting the houses yet. So, the photo results were a little disappointing.
One of the best spots for photographing these houses can be found on the promenade by the sea. Just keep walking along Chapel Street next to the A545 and pick your spot!
Alternatively, the small pebble beach below the prom which appears at low tide is a lovely angle for photos too and it helps to avoid some of the cars driving by.
Can you stay in one of these pretty pastel houses?
Yes, you can stay in one and what's even better is that you can stay in a pink one. It's called Lluest but it has a local nickname of "The Pink House"!
It's a Grade II listed, four-floor townhouse. The rosy self-catering holiday home provides unobstructed views of Snowdonia and the Menai Straits.
It's a huge property that sleeps 10 people with 5 bedrooms. So, if you and your family wanted to sleep over it seems like the perfect place.
If you were interested in booking a stay, see here.
Looking for more things to do in Beaumaris?
Beaumaris is a gorgeous seaside town in North Wales. Although the beaches aren't the best to be found on Anglesey Island it has a wealth of history, shopping and attractions to offer visitors.
You can visit Beaumaris Castle which has its own moat, or you could learn about prison life during the Victorian era at Beaumaris Gaol.
If history isn't your thing, there are many colourful and independent boutiques to go shopping in. Or, you can grab a bite to eat in the many pubs, restaurants and cafés here.
Beaumaris Pier is a highlight for many where you can stroll out over the Menai Strait and look over the peaks of Snowdonia National Park.
If you wanted to head out on open waters, you could set sail on a boat trip to Puffin Island and there are also rib tours on offer that head under the famous Menai bridge!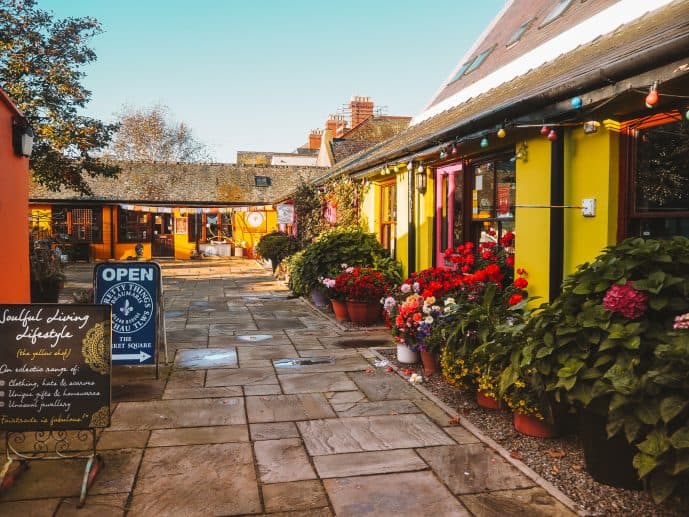 Are you on an Anglesey adventure?
The Isle of Anglesey makes an incredible road trip in North Wales.
The most famous attraction is the atmospheric tidal island of Ynys Llanddwyn. You can walk over here from the Blue Flag status Newborough Beach when the tide is low. So, plan your visit in advance!
From Beaumaris, you can easily cross over the famous Menai Strait over Menai Bridge. Or, you can visit the ancient burial chamber of Bryn Celli Ddu.
No visit to this island would be complete without a photo stop by the longest street name in Great Britain – Llanfairpwllgwyngyllgogerychwyrndrobwllllantysiliogogogoch.
Or, you can head over to the dramatic South Stack Lighthouse on the far end of the island to spot seals sunbathing! Nearby, you can cross over to Belfast or Dublin via the Holyhead Ferry Terminal.
There really is so much to explore here, so leave plenty of time to fit everything in!
Read more of my North Wales blog posts
How to visit the magical Fairy Glen
Where is the Lonely Tree in Lynn Padarn?
When does Tu Hwnt I'r Bont turn red?
What is the Ugly House in Snowdonia National Park
The legend of Gelert the Dog in Beddgelert
Pont-y-Pair Bridge in Betws-y-Coed
How to visit the ancient Roman Penmachno Bridge
The history of Sappers Suspension Bridge
Save these Beaumaris Colourful Houses for later!