Looking back at my visit to Snowdonia National Park, one of my favourite memories was strolling across the historic Pont-y-Pair Bridge in Betws-y-Coed.
As strange as it's going to sound, it was at this moment that I realised just how beautiful the village was. It was like walking through a postcard and didn't fail to win me over with its charm!
You see, the Pont-y-Pair is not just a bridge. It's a cornerstone of history and one of the most iconic settings in North Wales.
Picture a medieval packhorse bridge within the magical Gwydir Forest which crosses over the Llugwy river. Gorgeous Victorian houses surround the scene and, all the while, a fierce waterfall flows underneath. Bubbling like a cauldron!
I really do believe that no visit to Betws-y-Coed would be complete without a visit here. So, make sure you don't miss it on your trip.
Here's a complete travel guide with the history, how to find it, and what you can expect.
The history of Pont-y-Pair bridge
This gorgeous bridge that spans over the Afon Llugwy River was originally built in the 1500s by Hywel Saer Maen. 'Saer Maen' is the Welsh word for a stonemason.
Its original purpose was to provide a means for packhorses to cross over the river. But, it was later widened in the 1800s to allow stagecoaches to use it too.
You see, years ago, the only way that passengers travelling on coaches from London and England could access the town of Conwy was via a rather risky ferry over the estuary. They would then make their way over to Holyhead for the ferry crossings.
But, there was a fateful accident on the Conwy ferry in 1806 where 11 people died. So, after that, coaches approaching from London wanted to avoid this route at all costs!
They instantly looked for other routes to access Conwy. But, in 1806, most of this area was still very rural with little or no infrastructure. There were hardly any paved roads to access villages, let alone bridges to cross over its rivers!
So, in reaction to the accident, the Pont-yr-Afanc bridge was completed in 1808.
This crossing then saw stagecoaches divert through Betws-y-Coed and cross over the Pont-y-Pair bridge. In turn, people were introduced to its beauty and charm.
Thomas Telford's new road
However, it was really Thomas Telford's 'new' Betws road (or the A5 as it's called today) that put tourism in Betws-y-Coed on the map!
Although this new development meant that the Pont-y-Pair bridge was largely abandoned by coaches in the 1820s. The new Telford road made the village far more accessible and saw tourists arrive in their droves!
The popularity of Betws-y-Coed started to pick up and an artist colony was slowly being established in the area. Hotels were created for tourists and, from there, it boomed.
By 1887, the Pont-y-Pair bridge became one of the most popular tourist attractions in the village! It was also featured on postcards and idyllic canvas paintings.
Even today, this delightful five-arched bridge with a craggy gorge and cascades never fails to bring in the crowds. Thousands of pedestrians and cars cross over and enjoy the views from it every year.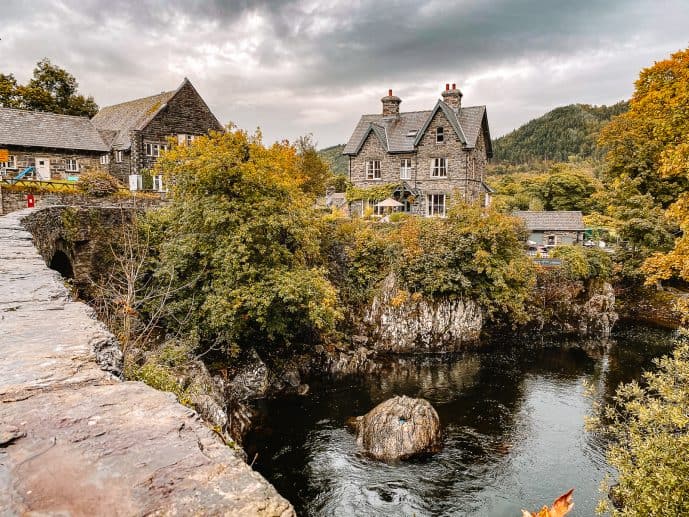 What does Pont-y-Pair mean in English?
I may be a little biased but I absolutely love the Welsh language and accent. It's got such a lovely sound and some Welsh words are just awesome.
The phrase Pont-y-Pair actually means the Bridge of the Cauldron! 'Pont' being the Welsh word for bridge, 'y' being 'the' and 'Pair' being 'cauldron'.
This is because the waterfalls that flow under the bridge arches really roar and make a sound similar to a cauldron bubbling over!
If you were curious, Betws-y-Coed translates in English to Prayerhouse-in-the-Woods!
How do you pronounce Pont-y-Pair?
So, you probably already know that Welsh words are rarely spoken like they're spelt. I guess that's the magic of Celtic languages!
Although it does look like it's meant to be pronounced 'Pont – e – Pair' with 'Pair' sounding like the Pear fruit. It's actually nothing like it.
In the Welsh language (Cymraeg), its name is spoken a little differently. It's actually pronounced like 'Pont – uh – Py – er'.
With the long 'y' part being like an 'uh' as we're in North Wales (In South Wales it's like an 'e') and the end part being like how you'd say funeral pyre with rolled r.
Don't worry if you can't get it straight away. Most people pronounce it wrong anyway and it's easy to do.
Even though my family is Welsh and Cymraeg was my Nan's first language for a long time, I've never quite got the hang of it.
That's why there are so many English counterparts to traditional Welsh names in the area as they are notoriously hard to pronounce!
For starters, the Afon Llugwy River that flows under the bridge is pronounced like 'shig-wee'. But, that's a lesson for another day…
Where is Pont-y-Pair bridge in Betws-y-Coed & how to visit?
The Pont-y-Pair Bridge is really easy to locate and find once you reach the tourist village of Betws-y-Coed deep within Snowdonia National Park. It's an area in the far North of Wales.
From the train station, you can be there in five minutes walk if you head in the direction of Olif and the Swallow Falls.
There are plenty of tourist signs dotted about in the village to guide you so you have no chance of getting lost. But, the visitor centre is really friendly and has tourist maps if you'd prefer.
Most of the time, you'll find all the tourists strolling up and down the picturesque high street filled with Victorian buildings.
It's a lovely introduction and you can't help but fall in love with all the adorable hotels, cafés, and boutiques.
The turning for the Pont-y-Pair bridge is located by the Hawkshead outdoor shop and opposite the famous Pont-y-Pair Inn.
It is also good to note that the bridge is open to the public 24 hours a day and there's no charge to visit! So, you can fit a stop into even the tightest of Snowdonia itineraries.
Pont-y-Pair car parking
There is a conveniently located Pont-y-Pair Car Park you can access just over the bridge next to the Cunningham's Outdoor Clothing Store.
Parking is reasonably priced at £3 for 4 hours and it's a great spot to access any of the Gwydir Forest walks from here. Just bring cash as hardly any of the car parks here take cards or are contactless.
But, as Betws-y-Coed is so small, you could park up in any of the Pay & Display car parks within the village to access it.
Personally, I parked up outside the 'new' St Michael's Church and it's only five minutes stroll from there.
If you didn't have time to stop and explore, you do have the option of driving over the Pont-y-Pair bridge instead!
It's a single-track crossing open for motor vehicles and this B road will eventually lead you towards the quaint market town of Llanrwst! Perfect for a Snowdonia road trip.
Things to do while you're here
So, what is there to do while you're visiting this famous Cauldron bridge?
You may be surprised, but there is actually quite a lot! I spent way more time here than I originally thought I would.
That's because I couldn't get enough of the incredible views and had my camera out snapping a thousand photos.
Also, I found the sounds that the waterfall makes strangely relaxing as well. Here's what you can look forward to on your visit;
Take in and photograph the picture-perfect views
In all of Betws-y-Coed, the Pont-y-Pair bridge has to be the most scenic area.
It's like walking through an oil painting hanging at a gallery. You can just imagine popping this idyllic scene into a gold gilt frame!
As you cross over it, you'll find quaint Victorian buildings on the river banks that overlook the River Llugwy with its bubbling waterfall. To top it off, it's all beautifully framed with trees from the Gwydir Forest.
You'll also find spectacular and serene views around this bridge as well as walking over it. So, make sure to plan plenty of time to explore the area.
If you're into your photography like me, you'll be obsessed with capturing every angle. As I visited in Autumn, I loved the colours from the leaves changing.
I have to admit, I wasn't brave enough to climb over the rocks below to get those shots of the archways. But, it's an option if you're confident and steady on your feet.
See the Pont-y-Pair waterfall of the bubbling cauldron
If you missed it earlier, the name Pont-y-Pair translates in English to the 'Bridge of the Cauldron' due to its fierce waterfall that bubbles underneath its arches.
So, you simply must check it out while you're here. In fact, you'll probably hear the crashing sounds of the cascade way before you arrive.
It's really easy to spot the waterfalls from on top of the bridge. You can see the force of the water swirling and crashing through the craggy rocks below.
It really does look like a witch's cauldron bubbling over while making a brew!
Spot some birds, wildlife & jumping salmon!
If you visit Pont-y-Pair at the right time, you may be able to spot some of the wildlife that makes a home here.
Many people have reported spotting a graceful heron that sometimes flies over the river. It finally settles on the river banks looking for something to eat.
Or, you may be lucky enough to see one of the famous 'leaping salmons' that make an appearance.
What usually happens is that they swim upstream and then try to jump upwards through the gorge!
You'll need to be pretty quick to catch the jumping salmons though. So, keep your eyes peeled around the area where the waterfalls swirl around the rocks.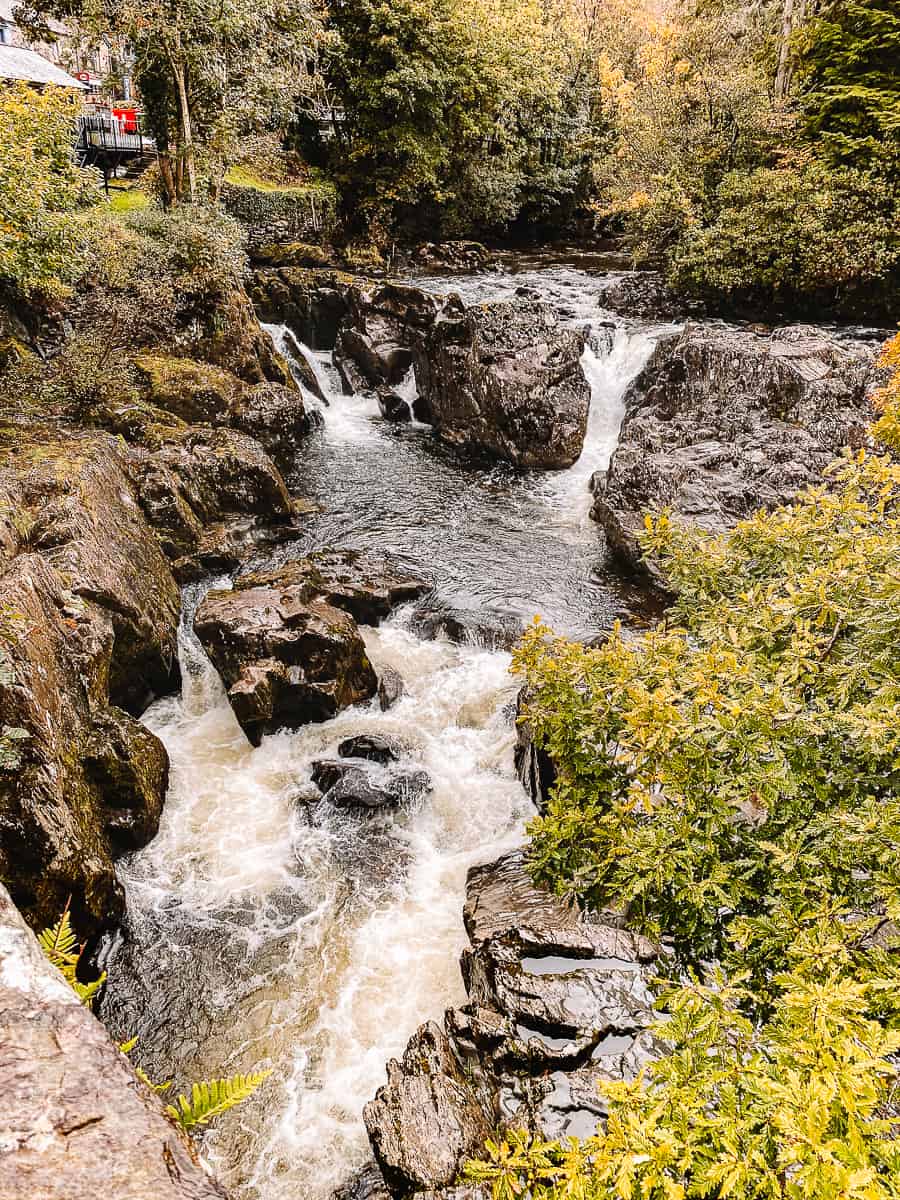 My top tips for visiting
As this bridge has access for both cars and walkers make sure to mind out for traffic while crossing. Prepare to be beeped at if you stand in the middle of the road!
There are plenty of amazing places to photograph the bridge. Personally, I loved the views from the high street by the Hawkshead shop. But, there are also nice angles as you walk inside the Gwydir Forest.
You don't have to go hiking in order to enjoy this bridge and the waterfall. It's in the middle of the village and a popular picnic spot in the summer.
The force of the falls largely depends on the amount of rainfall that has been happening in the area. If you go after some particuarly heavy rains, the falls are absolutely incredible!
A lot of tourists climb on the rocky gorge next to the river bank to get some great photos of the falls through the arches. But, I swear, my heart almost came out of my chest watching it. Just be super careful while exploring, especially when it's wet. Don't go too close to the rivers edge and mind your footing.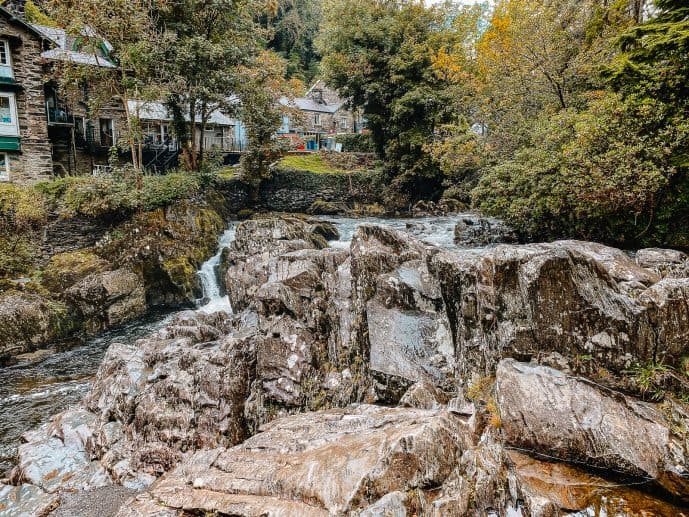 Can you jump off Pont-y-Pair Bridge?
Absolutely not and it's actually really dangerous to even attempt doing so. There are signs warning you not to do it.
Although this used to be a popular 'rite of passage' in years gone by, it's now illegal and something you can get arrested for.
I don't know why people would want to do it anyway, really! Beneath the bridge, there are so many jagged rocks in the limestone gorge and the strong current of the waterfall would carry you away in an instant.
After too many accidents, some with tragic circumstances, it's now monitored by CCTV and it's often patrolled by security.
I know I'm going to sound boring but it's not 'cool'. It's reckless and simply not worth compromising your safety or that of anyone else's who may have to help you.
Looking for more amazing attractions in & around Betws-y-Coed?
Betws-y-Coed is one of the most popular villages in the whole of Snowdonia National Park and for good reason!
It's incredibly quaint with some beautiful scenery. But, more than that, it has lots of facilities like cute cafés, shops and tourist attractions too.
Other bridges worth visiting here are the Roman Penmachno bridge, Waterloo bridge, and the scenic Miner's Bridge too. The Miner's Bridge can be accessed on an easy walk through Gwydir Forest.
You could also check out the gorgeous Sappers Suspension Bridge which also has scenic views. It's hidden away and a little hard to find so here's some directions.
You could pop into the many Betws-y-Coed shops and boutiques. You will find (naturally) a lot of hiking shops with an endless choice of gear.
But, there are also some incredible boutiques and art galleries for those that would prefer some retail therapy and unique Snowdonia souvenirs.
There are countless café and restaurants in the town to choose from but the popular Caffi Caban-y-Pair is a traveller favourite.
Around the area, there are also some fantastic attractions to explore like the attractive Swallow Falls! This was a personal favourite of mine that you can read about here.
You could hike to the nearby Fairy Glen to visit a gorge straight from a storybook or why not stop by the Conwy Falls and cafe?
Talking of rural cafés, I absolutely loved the Ugly House or Ty Hyll. Plus, Tu Hwnt I'r Bont is a must stop if you're in the area.
Why not book a night at the Pont-y-Pair Inn nearby?
Although Betws-y-Coed is full of famous hotels, the Pont-y-Pair Inn is a perfect choice if you want to experience some of the village's charming views!
It's set in a delightful Victorian building, right on the high street and many of their boutique rooms provide an aerial view overlooking bridge. Plus, they have a popular traditional restaurant onsite.
I mean, it must be so incredible to wake up to this scene every morning! Can you imagine?
As well as enjoying the Betws attractions on your front door, you're also on a gateway to explore more of Snowdonia National Park. Capel Curig and Llanberis are just a short drive along the A5.
Read more of my North Wales posts
The legend of Gelert & how to visit his grave
The top places to visit in Beddgelert
Where is the lonely tree of Llyn Padarn
Look inside the Smallest House in Great Britain!
A complete guide for the Conwy Town Walls
How to do the Llyn Idwal Circular Walk
A complete guide for the Dinas Emrys Walk & Dragon legend
How to see the Bodnant Garden Laburnum Arch
How to visit Pistyll Rhaeadr Waterfall
Gladstone's Library – Stay in the UK's only residential library
How to visit Dinorwic Quarry Wales
Save this Pont-y-Pair Bridge guide for later!