Mirissa, for me, was one of the highlights of exploring the beautiful Sri Lankan south coast.
Imagine a gorgeous stretch of sand, swaying palm trees, fresh coconuts and crystal clear sea! It was paradise and I was simply able to relax here after a few busy days of exploring Colombo.
However, being the impatient type and never one to sit on a beach all day. I definitely appreciated the fact that there were plenty of things to do in Mirissa as well.
From exploring palm tree hills, boat rides, gorging on yummy food and scrabbling to tidal island viewpoints. There are so many things to keep you occupied if you need the distraction!
Here's my complete guide and all the amazing things to do in Mirissa, Sri Lanka.
Heading to the south coast of Sri Lanka? See the best places to visit here. Also, Don't forget about travel insurance! I always book with World Nomads. Click here for a FREE quote.
The best time to visit Mirissa
The absolute best time to visit Sri Lanka south coast would be in the dry season which happens from December to around March time.
This is when the weather is best and, more importantly, it's dry. However, you will see accommodation prices skyrocket over that time.
Visiting Sri Lanka in the off season or the rainy/monsoon season is also an option. But, as the name would suggest, it can be on and off with tropical storms. This can make visiting the beach and some attractions more complicated.
I visited on the tail-end of the rainy season in October and still found it was intermittent downpours all the time! However, the accommodation was much cheaper.
The best month for both budget and weather, in my opinion, would be April. This is when the weather is still good from the dry season but the prices drop down quite a bit.
The very best things to do in Mirissa
1. Visit Coconut Tree Hill
This highly Instagrammable mound of palm trees is quickly becoming one of the top things to do in Mirissa.
It's really easy to see why. Not only is this quite an easy viewpoint to reach, it's also the perfect place to get some gorgeous photos!
If photos were what you were after here, I would recommend visiting this place really early. If possible, I would turn up for sunrise.
It may be a bit of a struggle but, from around 9am, this place gets PACKED! People visit for photos, hang around to enjoy the views, some people sunbathe here. So, getting here early will beat the crowds.
Although this place looks amazing in photos, the journey here may not be what you're expecting.
Make sure to read my detailed guide on finding the palm tree hill and what to expect!
2. Relax on Mirissa Beach
This is what most people come to Mirissa for. To relax on the sand, swim in the sea and simply enjoy being in amongst the tropical palm trees while the day goes by.
The great news is Mirissa Beach is pretty clean and well maintained. So, you shouldn't have any trouble finding a nice spot to perch on for the day.
The only drawback about Mirissa Beach is that is does pull in the crowds. Plus, you'll find a lot of vendors who bother you while you're sunbathing (top tip: bring headphones!).
If you were looking for a quieter beach to relax on without the crowds, I'd recommend the not-so-secret "Secret Beach". More details below.
3. Chill out in one of the beach bars
One of my favourite parts of exploring the Mirissa coastline was all of the amazing beach bars that were along the strip.
These huts are a great break from catching a tan and they have an awesome menu of cocktails, coconuts and local cuisine.
There are a couple of great ones to choose here on Tripadvisor but one my favourites was Surf Bar.
Make sure you get a seat by the front so you can enjoy your lunch with a view of the sea!
4. Climb over to Parrot Rock viewpoint
When you're on Mirissa beach, you may see a small rocky tidal island that sits on the tip of the coastline. What you're looking at is Parrot Rock!
This is another popular viewpoint in Mirissa that has an exceptional view of Mirissa beach and coastline.
Again, this is another place that looks really easy to access in photos but the reality is quite different.
If you're visiting in the rainy season, like I did, you'll probably need to wade through waist-high sea water in order to access it. Then, you'll be scrabbling over quite sharp rocks and mud to get to the summit.
My top tip would be to bring a waterproof bag for your electronics and wear some decent shoes so you don't get hurt. Also, watch out for turbulent waves and high winds, these can cause accidents to happen!
Beyond that, once you get up here, the views are outstanding and its an unmissable photo opportunity. you may even get lucky and see some sea turtles hanging around the mound.
Read more: my complete guide for Parrot Rock
5. Discover the "Secret Beach"
As I mentioned earlier if you were looking for a place to escape the crowds on the main Mirissa Beach. I would highly recommend you visit the "Secret Beach".
Now, this is not so much of a secret to be fair. Many people know about this beach and it's actually one of the top things to do in Mirissa. There's even a Google map pin of it and a beach bar there!
It's called Secret Beach for a reason; it has far fewer people than the main beach. Which is a great thing, especially if you're visiting in peak season.
To access the Secret beach in Mirissa on foot, you'll need to hike up a pretty steep path on Harbour Road for around twenty minutes. So, I'd recommend walking early to avoid the harsh sun. Alternatively, you could hire a scooter or a Tuk-Tuk to help with the journey.
The journey is well worth it as you'll find a secluded paradise on the island! It actually has three beaches to explore that all form part of Secret Beach. It has far fewer visitors and vendors, plus there are swings and all sorts to find. Enjoy!
6. Sip on a fresh coconut!
I'm pretty sure my blood type turned into coconut water while I was in Sri Lanka. I couldn't get enough of sipping on fresh coconuts everyday.
Usually, while you're sitting on the beach, you'll find vendors who will ask you if you want to buy a coconut.
If you say yes, just watch what happens next.
To my surprise, the guy literally climbed up the tree and cut me a coconut down! Then, he cut a whole in the top of the coconut for me to drink out of it.
After I had sipped all the juice out of the coconut, he then cut it in half and also cut a make-shift spoon out of the shell. This is so I could scrape the coconut jelly out!
It was a bit of a revelation for me as it's the first time I had ever eaten a coconut like this. Usually, in the UK, our coconuts are already pre-packaged and prepared.
After that, I was hooked and had fresh coconuts from the tree almost daily. It was so refreshing.
If you were after a cold coconut, many of the beach bars keep them on ice.
I would HIGHLY recommend trying one in Sri Lanka. But, don't blame me if you can't stop!
7. Visit the Dewmini Roti Shop
If you were feeling peckish for food, there are plenty of amazing restaurants dotted around Mirissa. But, there's only one No. 1 Dewmini Roti Shop.
This family business is run by the kindest souls and they cook up some of the best roti on the south coast!
Their restaurant pretty much does what it says on the tin – they do only have roti on the menu. But, these are delicious and really cheap eats.
They have all sorts of roti that you can imagine here. Cheese roti, avocado roti, traditional roti, even chocolate roti!
Usually, travellers choose two roti's from the menu for dinner. They're then freshly made for you in the kitchen.
As well as the restaurant, the Dewmini Roti Shop also runs popular cookery classes if you're interested. You make your own traditional food and then all enjoy it together afterwards. It looked like so much fun.
8. Go whale & dolphin watching
A really popular thing to do in Mirissa is to go whale watching. Here, there have been many Blue Whales spotted off of the coast.
Usually, you rent a boat with a group of passengers and then head off together! You'll usually see the fins of whales, or, if you're really lucky, the whale will come fully out of the water.
As well as Blue Whales, there are many schools of dolphins who swim around here as well.
Whale watching in Mirissa will cost you around 6000 rupees per person. I know, it is not the cheapest of activities but it's well worth doing if you manage to spot some!
It's good to note that the whaling season is from November to April. So, make sure you plan a trip around that time if Blue Whales are something you wanted to see.
9. Snorkel in Turtle Bay
If your budget can't stretch to whale watching but you did want to see some wild animals off the coast. You could choose to go snorkelling in Turtle Bay.
You don't have to hire a boat for this one. Just rent or buy a snorkel in the town and then swim in the crystal clear waters around Mirissa.
The area around Parrot Rock is particularly popular as you'll spot many fish and sea turtles in the Biodiversity Zone!
The waters here are calmest from November to April. Unfortunately, in rainy season, snorkelling can be a little disappointing. The turbulent waves bring in a lot of debris and sand which makes the water a little murky.
10. Learn how to surf at Weligama
A great benefit of being on the Sir Lanka south coast is that the surf here is perfect if you were keen on riding the waves.
Weligama, which translates to Sandy Village, is the perfect place to learn how to surf if you've never done it before.
The coastline is around 2 kilometres and the waves are perfect. So, all you need to do is either rent a surfboard or attend a class at surf school!
Lessons are around 2000 – 3000 rupees and the classes range from complete beginners to the more advanced.
There is no need to book online. Usually, you can just pop into their hut on the beach and enquire about the next class.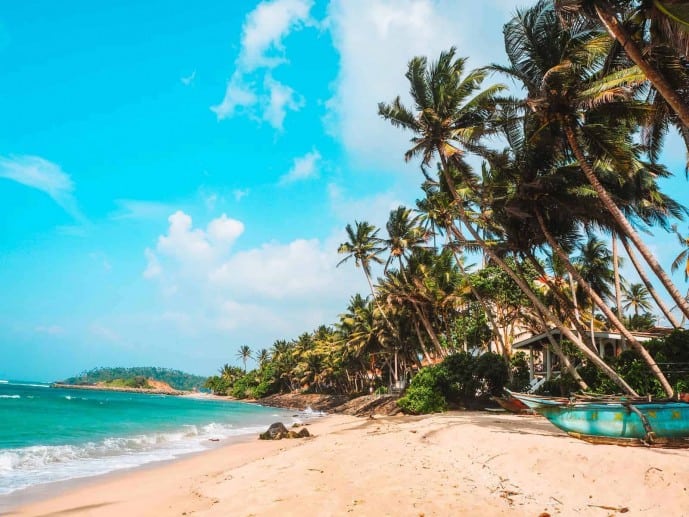 11. Take a day trip to Unawatuna
Another awesome thing about the south coast is that you can easily beach hop in a matter of minutes.
Whether you grab one of the public buses or rent a tuk-tuk, getting to the other beaches nearby is really quick!
There are many beaches that are worth stopping on, but one of my favourites has to be Dalawella near Unawatuna.
Not only are there some amazing restaurants and cafés here but Dalawella is another beach that escapes some of the larger crowds in Unawatuna.
Another highlight of visiting this beach is that it's home to the highly Instagrammable rope tree swing! Although it looks really pretty, it's much harder than it looks to actually swing on it.
Although it used to be completely free, you'll now pay around 500 rupees to have a go at swinging from a palm tree.
Read more: Instagram vs. reality on this palm tree swing!
12. Make sure to visit an ethical sea turtle sanctuary
Turtle Hatcheries are everywhere here on the south coast, but it's really important to make sure you choose an ethical one that is more like a sanctuary.
I know that there are many people who would say that no turtle hatchery is ethical. But, unfortunately, sea turtles are almost becoming extinct in Sri Lanka.
Years ago and even today, sea turtles and their eggs are a delicacy here in the country. The high demand and foraging for turtle eggs mean that turtle numbers are suffering.
So, it's important that there are people looking out for (and saving) turtle eggs. So the turtles can actually hatch and reach the ocean safely.
There is also the matter of sea turtles being injured at sea. The high amount of boats and their propellers mean that turtles lose their fins and damage their shells all the time. This means they can no longer swim in the wild and could find themselves in more danger from predators.
Therefore, it's important for turtle sanctuaries to exist to allow for the injured sea turtles and turtle eggs to have a safe home.
I will not recommend a particular turtle hatchery here as I don't endorse those. But, I would definitely advise you to visit a sanctuary and do some research before you visit one.
Don't visit a turtle hatchery that is solely focussed on making money. Or, one that offers activities that allow you to swim with turtles. Choose one that looks after the sea turtles and has their welfare in mind.
13. Stop by the Doctor's House
If you were looking for an awesome hangout while in Mirissa, why not pop to the Doctor's House?
This awesome beach bar used to be the home of a former Dutch and Ayurvedic hospital and is over 200 years old!
Although not in central Mirissa, it's only a short bus ride away in the nearby beach village of Madiha.
It's probably one of the most popular traveller hangouts on the south coast and you'll find that it packs out nearly every day and night.
If you were here to party in Sri Lanka and not wanting to sleep too much, this would be the place for you. They also have a hostel here, so you can stumble back to your bed onsite in the early hours!
14. Visit Galle Fort!
Another day trip you can take from Mirissa is the charming town of Galle and its amazing colonial Fort!
It was first built by the Portuguese in 1588 and then was built on extensively by the Dutch in the 17th century.
Today, it's a UNESCO World Heritage Site that you can explore and there is so much to see and do!
You can head over to Galle Fort Lighthouse, stroll along the fort ramparts, visit the old Dutch hospital or the pop inside the many churches as well.
As well as taking in the heritage sites, there are plenty of AMAZING shops and restaurants here on Pedlars Street. My favourite was Rocket Burger – you have to sample their mouthwatering menu!
Again, Galle Fort is only a 30-minute bus or tuk-tuk ride away from Mirissa. I think it cost me all of around 30 rupees cents on the local bus to get there.
Click here to read more places to visit in Galle Fort
Where is Mirissa in Sri Lanka and how to get there?
Mirissa is located on the south coast of Sri Lanka in the Matara District of the Southern Province.
It's around 150 kilometres from Colombo and it's really easy to get a train here from the capital city. That's what I did and it took around 3 hours.
The cost of a ticket is only around 500 rupees for an upper class carriage. If you don't mind roughing it in the lower class, like I did, it will cost you around 2-300 rupees.
The train will drop you right in the heart of Mirissa, so it's a really easy way to get here if you've just flown into the country to start your vacation.
Alternatively, if you wanted to visit Mirissa while you're staying in Galle or Unawatuna. It's really easy and cheap to reach here by public bus.
There is only one road along the south coast. So, just grab any bus heading over to Tangalle from Galle or Unawatuna and hop off when you reach Mirissa!
Travelling around Mirissa
Most of the attractions on this list can easily be accessed on foot from the main beach of Mirissa. It's actually more fun this way as you get to explore the coastline and meet the locals!
But, if you didn't feel like walking to Secret Beach or the Dewmini Roti shop etc., you can always enquire about hiring an auto-rickshaw for your journey. Just remember to haggle hard as they can rip you off.
Many travellers opt to rent a scooter on the south coast and to get around Sri Lanka. So, this is another option.
The best place to stay in Mirissa
As a popular beach town, Mirissa has plenty of accommodation options available to you while you're here. These range from expensive resorts down to cheap backpacker hostels.
Personally, although I was on a budget, I wanted some privacy in my own room. So, I rented a cute little place in a quiet part of Mirissa called Maison D'Hotes Sanda Beach.
This friendly hotel was just a minute walk from the famous coconut tree hill. Plus, it was far enough away from the road so I could get some sleep away from traffic noise!
I would highly recommend them as my room was spotless and the family were so helpful in giving me tips for the rest of my travels in Sri Lanka. Plus, their homemade hoppers for breakfast were to die for.
Click here to enquire about booking a room!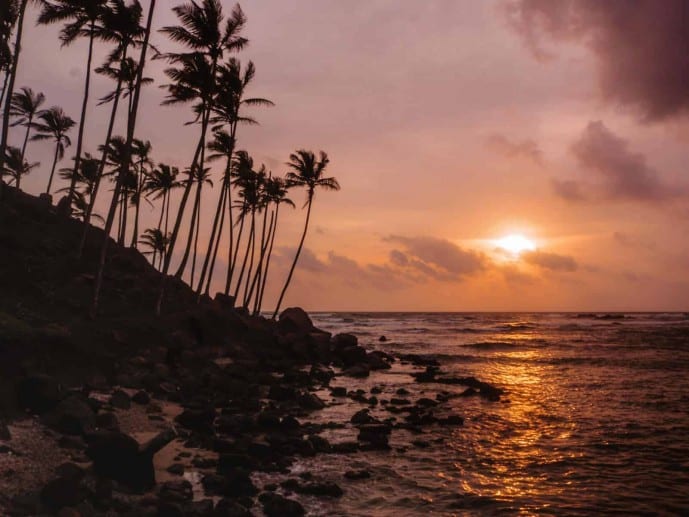 Read more of my Sri Lanka travel guides
My ULTIMATE Sri Lanka Bucket List
The top places to visit in Galle Fort
A complete guide for Nuwara Eliya
Tips for hiking up Sigiriya Rock
The ancient town of Polonnaruwa
The Ultimate Udawalawe Safari guide
Save my things to do in Mirissa post for later!